Browned butter frosting is a brilliant fall frosting for either apple cake or carrot cake when you need something different and extra special.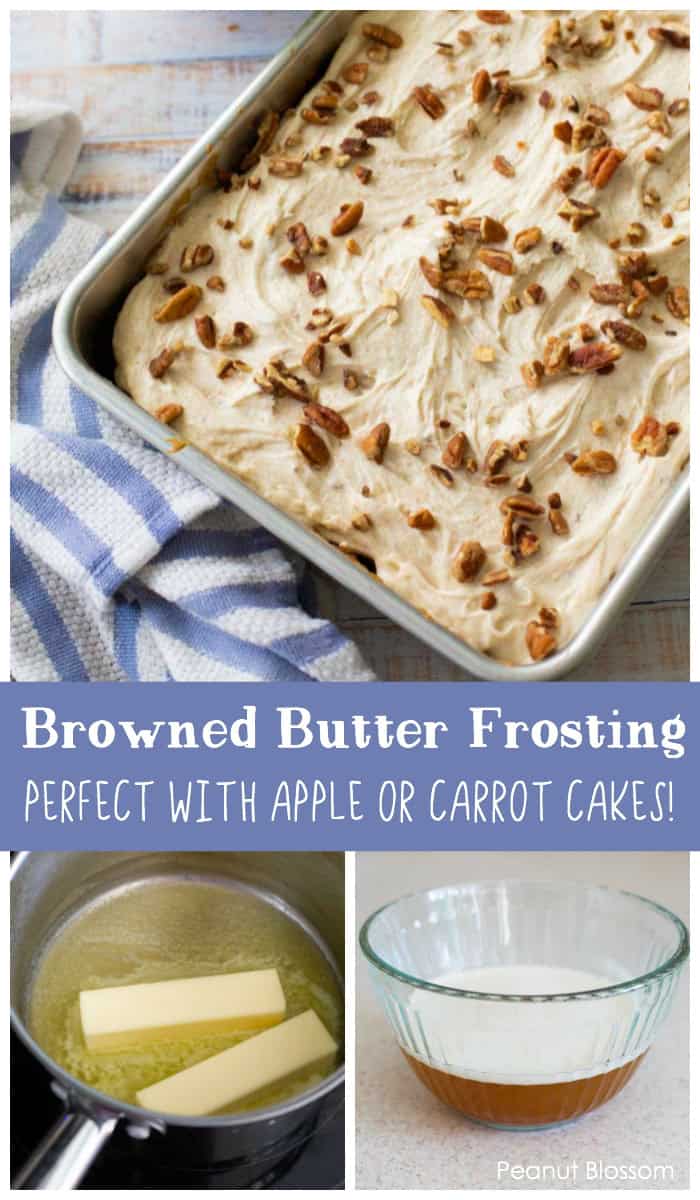 In my opinion, the very best part about our fresh apple cake is the browned butter frosting on top! It may be the entire reason I was interested in making the cake in first place. You can get the full apple cake recipe right here but I felt the frosting deserved some major attention, too.
Are you familiar with browned butter? It takes the deliciousness of regular butter and amplifies it into something soooooo much better.
The best part? It is insanely easy to make.
I didn't want you to be nervous about making browned butter frosting so I wanted to give you the easy steps to use to make this fantastic frosting for your next apple cake or carrot cake. Pretty much any cake that has cinnamon, nutmeg, and similar fall spices. You could probably even turn pumpkin muffins into cupcakes with a dollop of this frosting!
RELATED: Best-ever pumpkin bread recipe that would be amazing with this frosting.
How to make browned butter:
Step 1:
Melt the butter in a saucepan over medium heat.
Step 2:
Once the butter is fully melted, continually stir it so it doesn't burn.
Step 3:
Stir the butter while it cooks and foams and bubbles. Watch for it to begin to turn a nutty brown color. Watch very carefully and pull the butter off the stove burner before it gets too dark and then burns which can happen quickly once it has started to brown.
See?? Making browned butter is easy peasy. If you can melt butter, you can do this. Then once you have your browned butter, you can turn it into this deliciousness: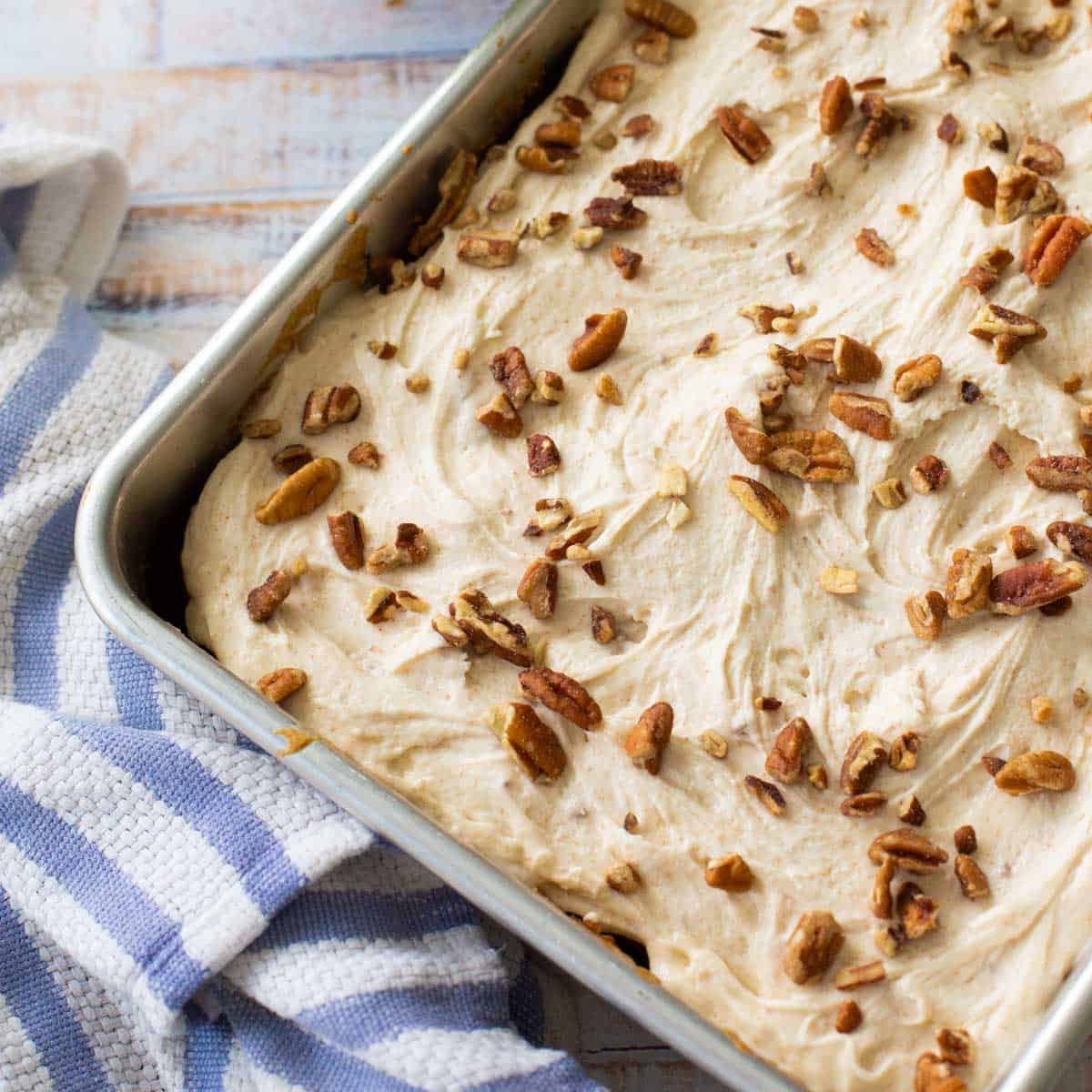 What does browned butter frosting taste like?
This homemade browned butter frosting has a delicious nutty flavor to it. The only other ingredients after your browned butter are powdered sugar, milk, and a touch of vanilla.
The texture of the frosting is extremely light and milky/creamy. It is smooth and easy to spread.
If you try to put it on a cake that hasn't completely cooled, it could very easily melt and turn into a puddle. So, be careful to cool your cake all the way first.
I chilled our apple cake overnight and the frosting became thick just like buttercream does. You'll definitely want to keep anything you frost with it refrigerated because of the milk it calls for.
How to make browned butter frosting: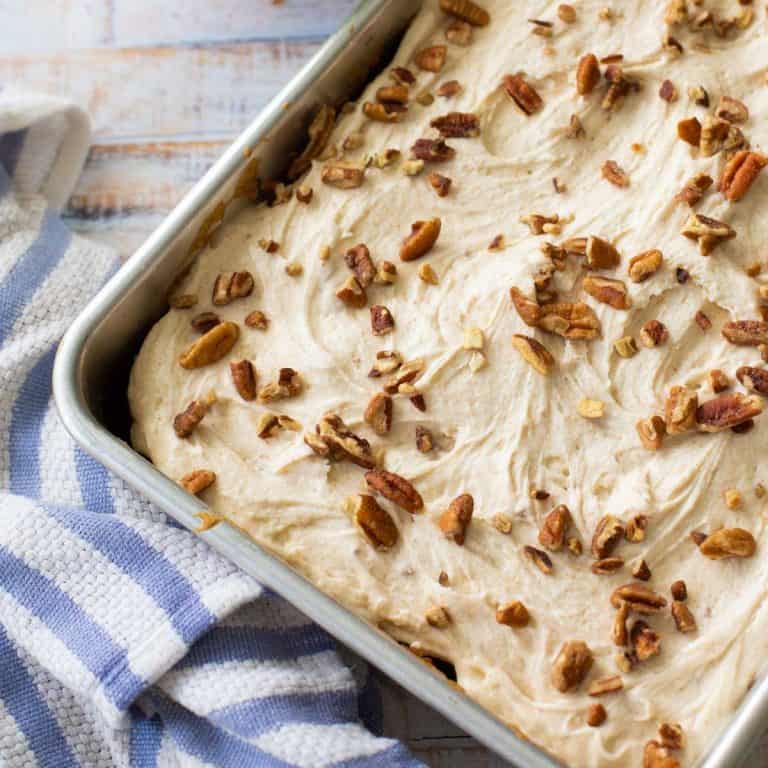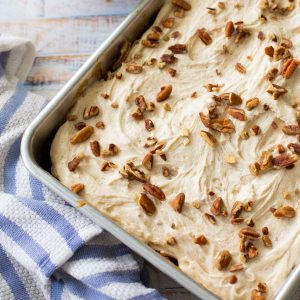 Browned Butter Frosting
This browned butter frosting is so easy and SO delicious it is going to become your new fall favorite dessert topping. Slather it on our favorite apple cake or a carrot cake, pumpkin muffins, or gingerbread cookies. You'll never look back.
Ingredients
1

cup

(2 sticks) butter

1

(16 oz) package of powdered sugar

¼

cup

milk

1

teaspoon

vanilla extract
Instructions
Melt the butter in a sauce pan over medium heat for about 6 – 8 minutes. Be sure to stir it constantly so the butter doesn't burn. It will bubble and foam, but just keep stirring. When the butter has a nutty aroma and has turned golden toasty brown, pour it into a small bowl and place it in the fridge to cool for 1 hour.

Once the butter has started to solidify, scrape it into a mixing bowl. Beat the butter with the powdered sugar adding a little at a time and drizzling in a bit of the milk.

Once everything has been added, scrape the sides of the mixing bowl and beat for 1 minute.

Scrape the sides and add the vanilla. Beat again for one more minute or until everything is light and fluffy.

Store any dessert you use this on in the refrigerator so the milk doesn't spoil.
Save This Recipe to Your Recipe Box
Find this delicious recipe next time you visit by saving it to your very own recipe box on my site. All your favorites stored in one easy place!
Looking for more easy desserts to use this browned butter frosting?
You could top any of these easy and delicious desserts with this frosting: