Easy almond icing is the perfect frosting for a sheet cake, pan of brownies, bundt cake, or homemade cupcakes. Thick and creamy and so easy to spread, it can be tinted a special color or topped with sprinkles for easy cake decorating in just minutes.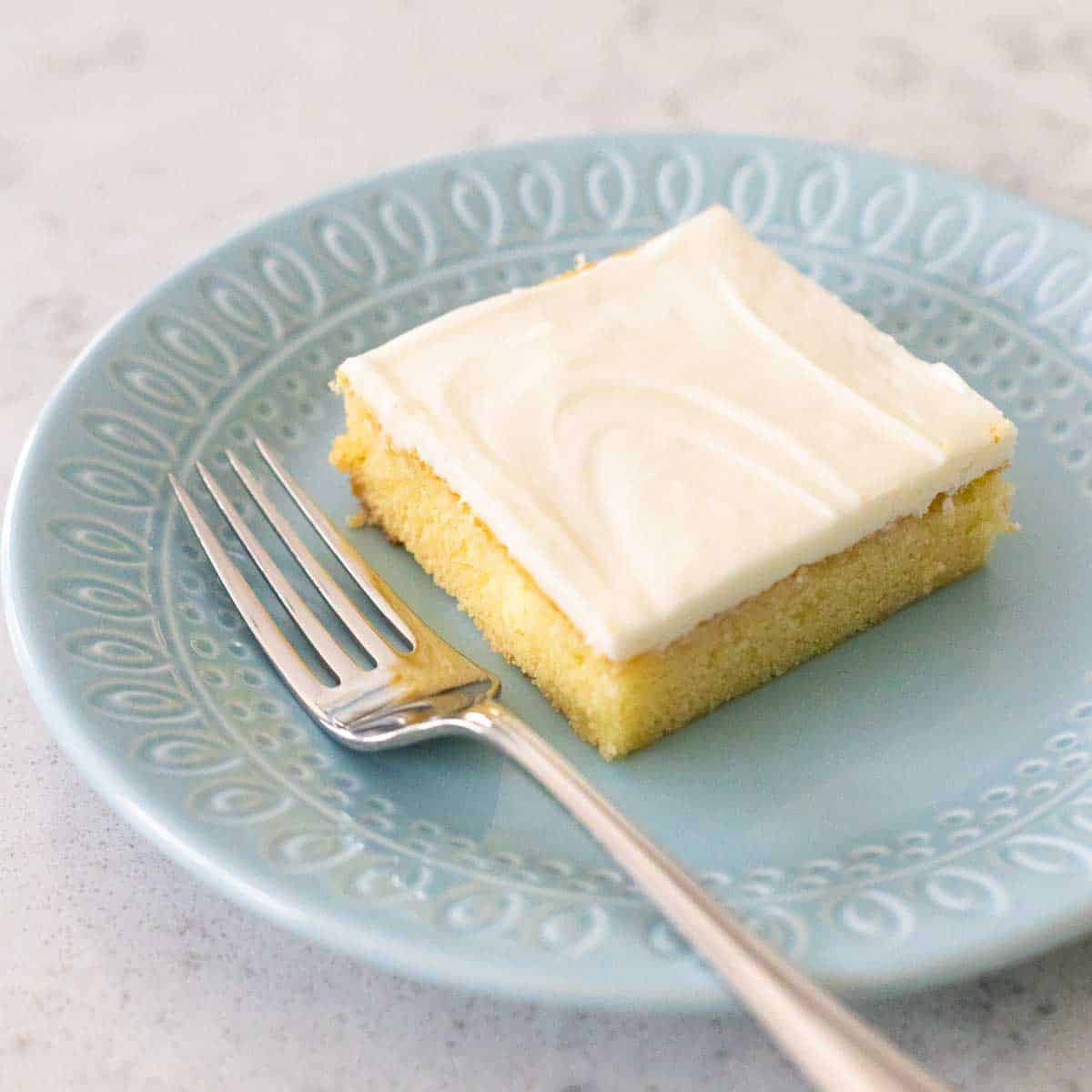 When I made this easy almond icing to top my favorite almond cake, I nearly swooned after the first taste test.
This is absolutely my new favorite icing recipe for easy homemade cakes. It would be the perfect frosting for a lemon cake, vanilla cake, or chocolate cake.
It comes together quickly in just minutes, is thick enough to spread and stay put, and makes a stunning smooth topping for a special treat.
Jump to:
Why This is the Best Recipe
My oldest daughter and I strongly agree that almond extract is the secret ingredient in most of our favorite desserts. This is the best almond icing recipe because:
Delicate Almond Flavor: The sweet icing has just a hint of almond that will perfectly accent a wide variety of desserts.
Thick and Fluffy: The icing has a thick and fluffy texture that is much easier to spread than traditional frosting but holds its shape better than a thin glaze.
Easy to Make: Just a few ingredients, a hand mixer, and less than 5 minutes and you're ready to ice your dessert.
Gorgeous Smooth Surface: The texture will hold the shape of the swirls you use when spreading it but it will settle into a smooth and glossy surface for your dessert.
Ingredients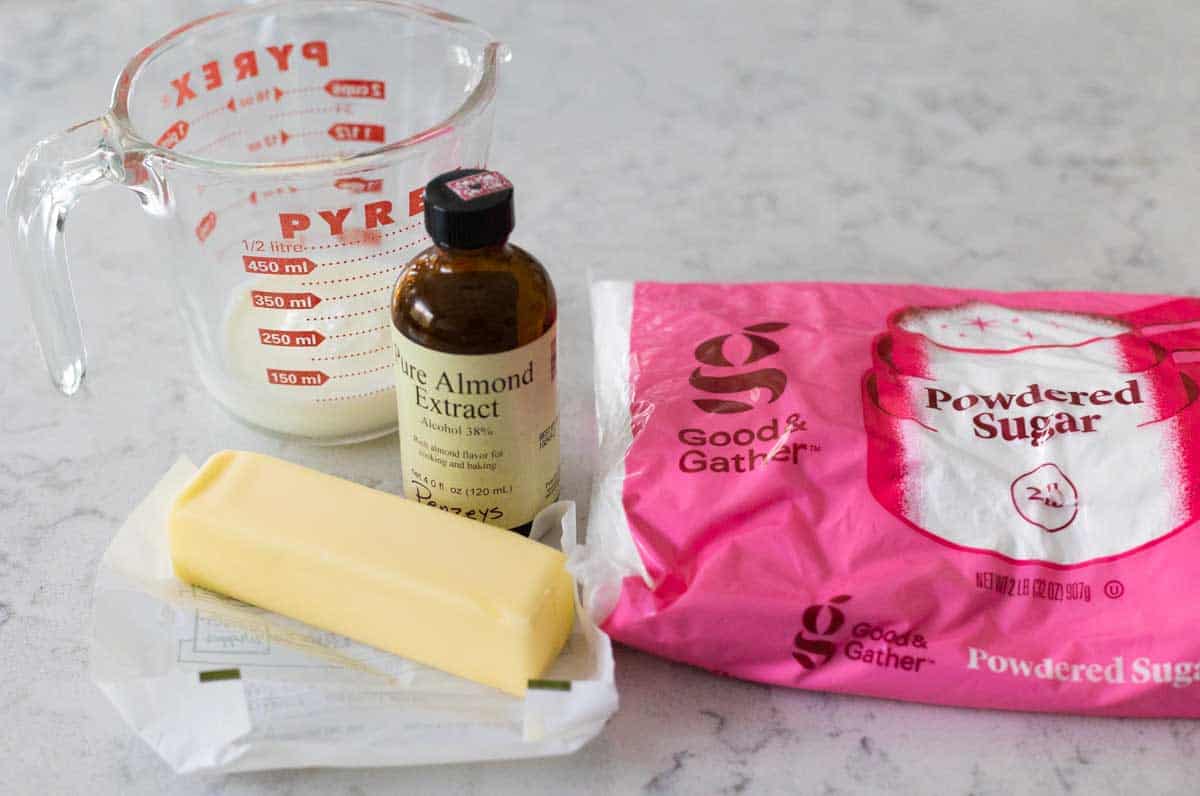 This budget friendly cake icing can be made with just a few easy ingredients:
Butter: I used salted butter. If you use unsalted, you'll want to add two pinches of kosher salt.
Milk: I used 2% milk. You can use any milk you have on hand but fat free milk may make the texture a little thinner.
Almond Extract
Powdered Sugar
Kosher Salt: Just a tiny pinch of salt enhances the sweetness of the icing.
Make the Icing
First, melt the butter in the microwave and add it to a large mixing bowl.
Powdered sugar tends to make a bit of a mess if the bowl is too small, be sure you've got room for it in the bowl.
Add the milk and almond extract and stir them in. Add the powdered sugar on top.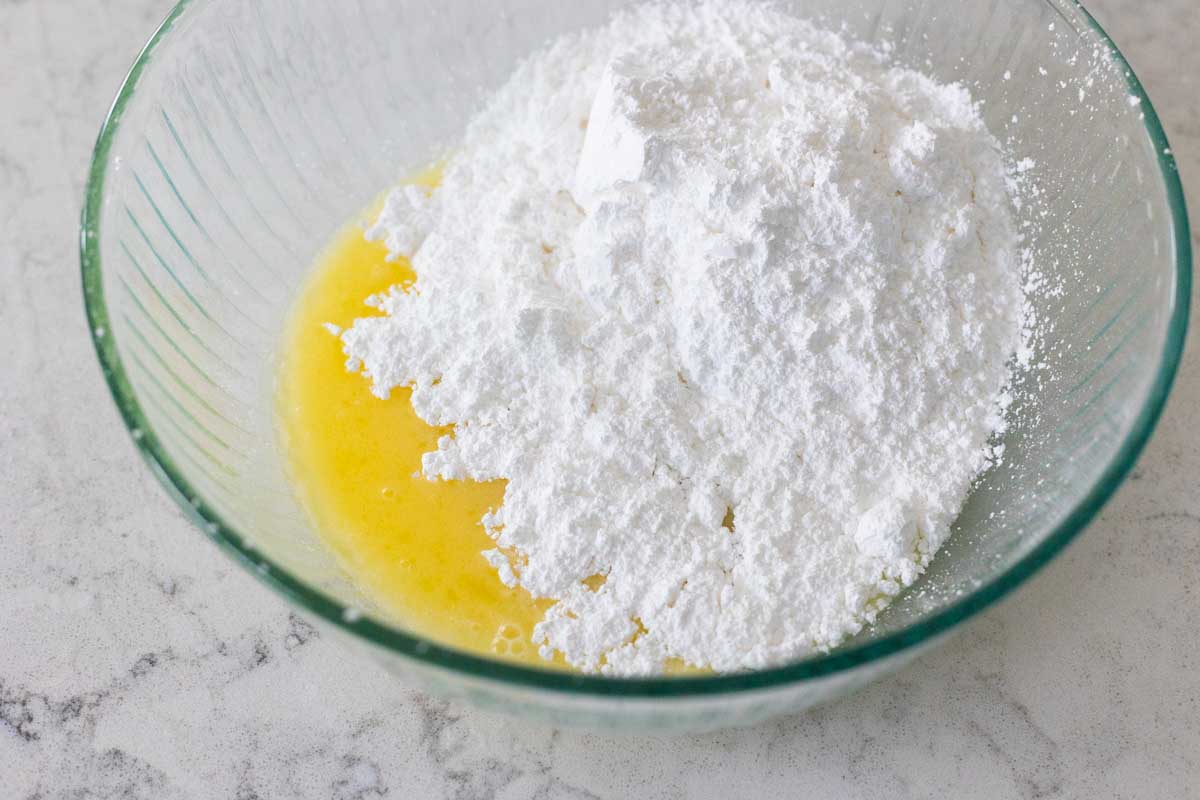 Use a hand mixer to stir the powdered sugar into the butter on low speed for 30 seconds.
Once it has been incorporated, increase the speed to high and beat it for 1 - 2 minutes or until the icing is thick, smooth, and slightly fluffy: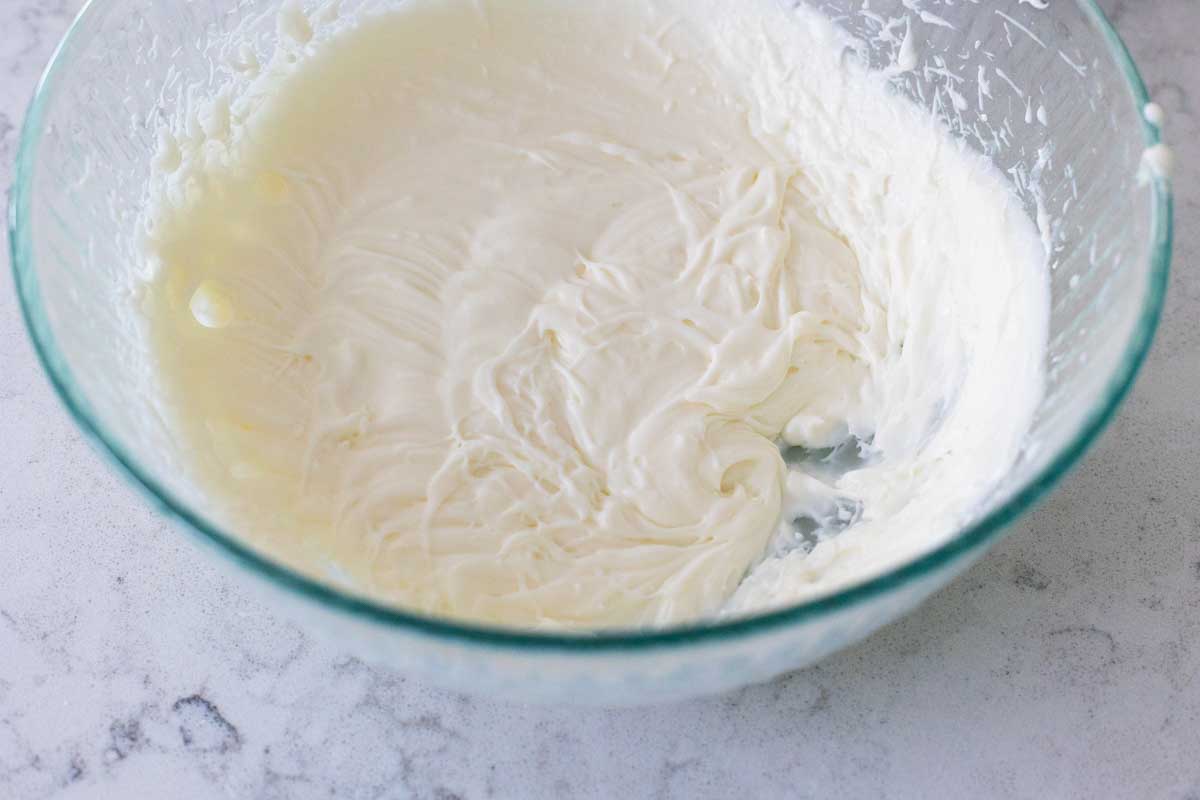 Spread the Icing
Be ready to put the almond icing to use as soon as it is finished. It is so soft and easy to work with but will begin to set within a few minutes.
The icing will be thick enough to spread with a spatula or butter knife and works best on completely cooled cakes: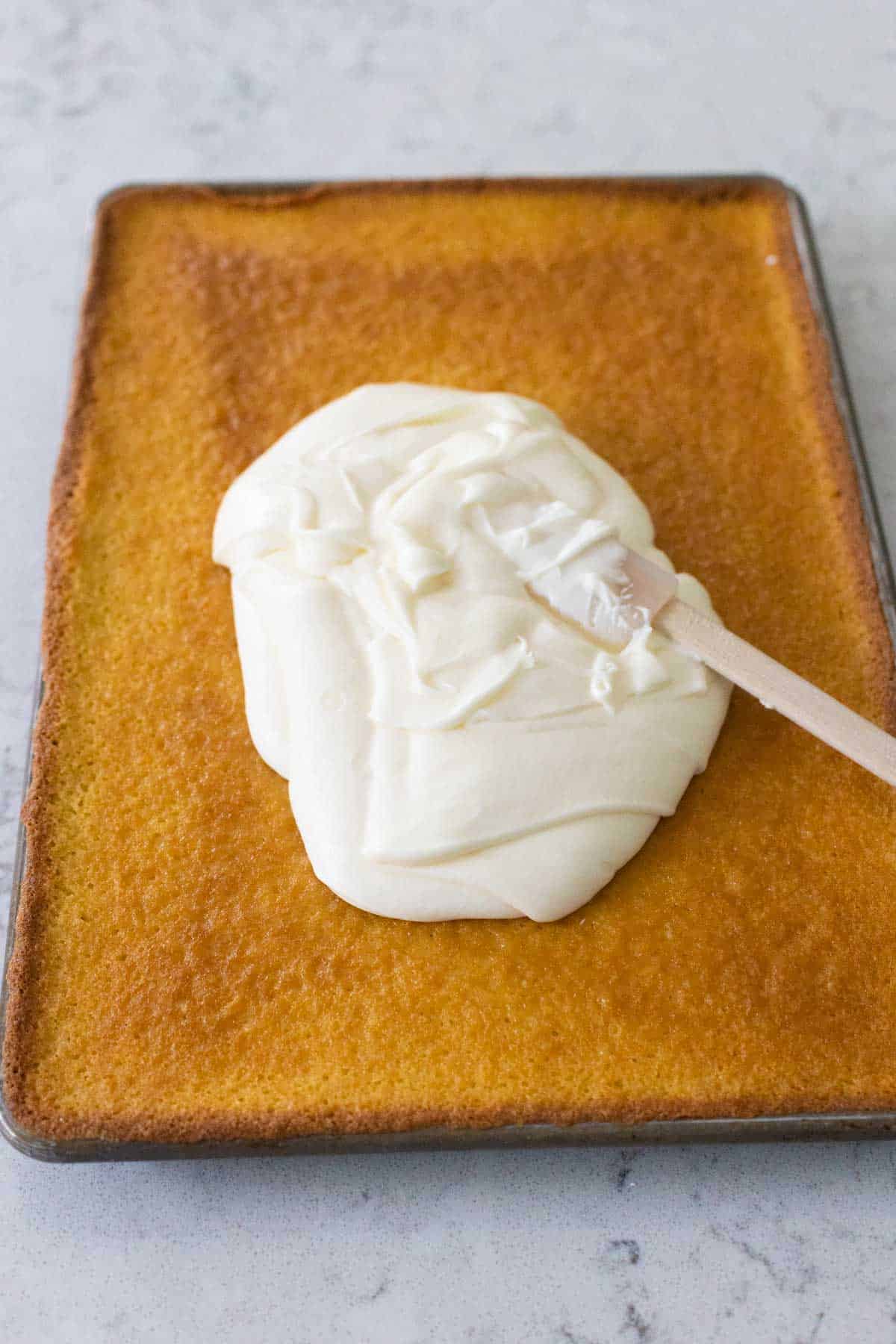 Decorate the top of your cake with gentle swirls in the icing for a classy plain white frosted cake.
You could also tint the icing with food gel or plan to add sprinkles to the top for simple festive decor: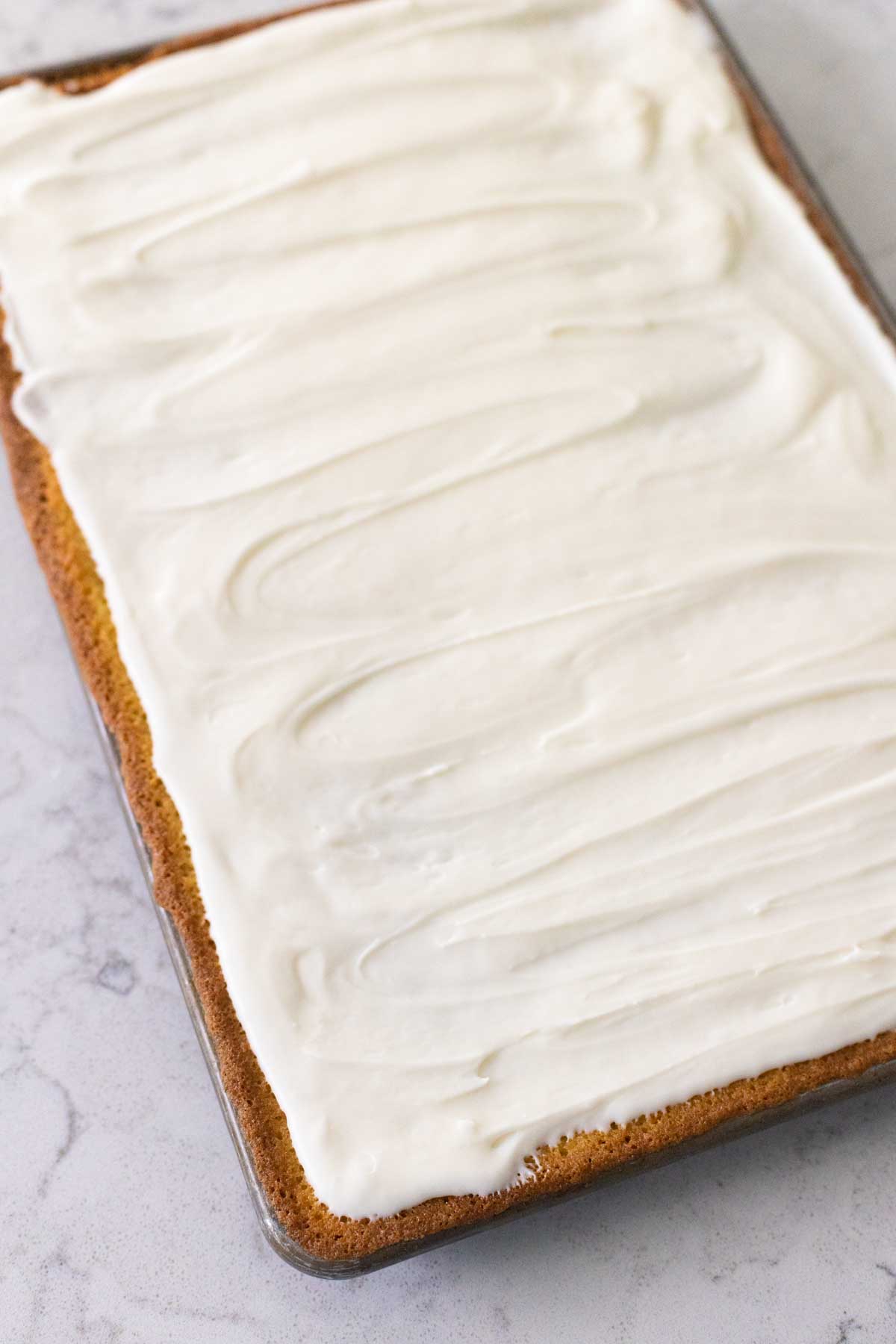 How to Use Almond Icing
The obvious choice for using this almond icing recipe is to frost my classic almond cake. They are a match made in heaven.
If you find you love this recipe as much as I do, you'll want to use it on other desserts, too.
You could make a simple box cake mix in a 9 x 13-inch pan and this would be an instant upgrade from the prepared canned frosting from the store.
Add my easy pineapple filling to the cake and chill it. Then top that with a layer of almond icing.
Make an apple almond cake by using this recipe instead of the browned butter frosting on my apple cake.
You could spread it over my orange chocolate chip bundt cake instead of the chocolate ganache.
Bake a pan of the best homemade brownies and let them cool completely. Ice them with almond icing for a chocolate almond brownie treat.
📖 Recipe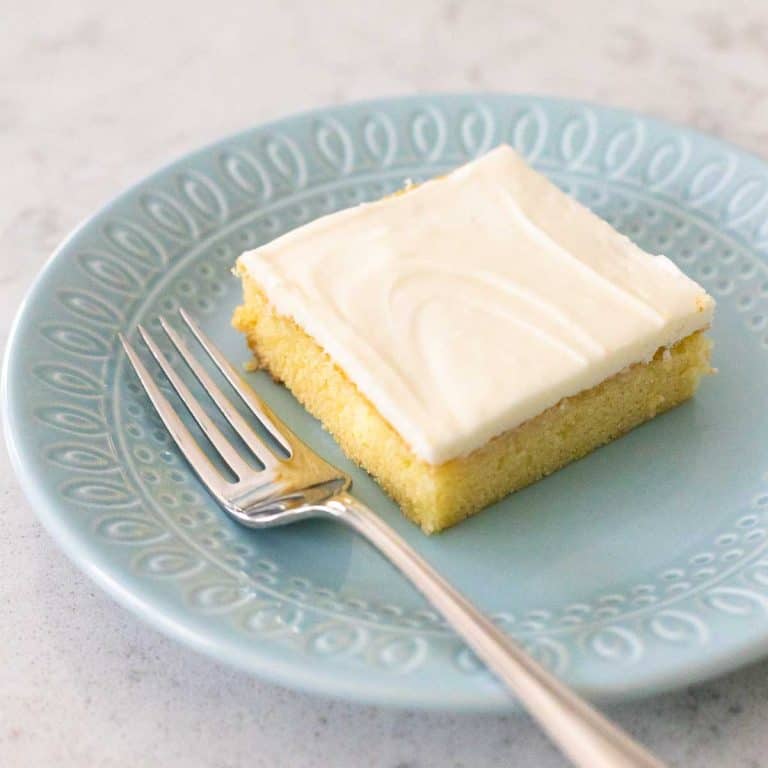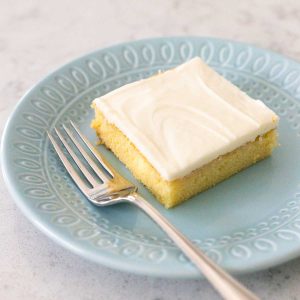 Almond Icing
This easy almond icing takes just 5 minutes to make and is thick enough to spread onto a prepared sheet cake, bundt cake, or cupcakes.
Ingredients
½

cup

(1 stick) butter

⅓

cup

milk

½

tsp

almond extract

4

cups

powdered sugar

Pinch of kosher salt
Instructions
Melt the butter in the microwave on HIGH. Pour it into a large mixing bowl.

Add the milk and almond extract and stir them in to the butter. Add the powdered sugar to the mixing bowl.

Use a hand mixer on low speed to incorporate the powdered sugar, about 30 seconds. Then increase the speed to medium-high and beat for 1 - 2 minutes or until thick but light and fluffy. Add the pinch of kosher salt and beat it in for 5 seconds.

Spread the almond icing immediately onto a prepared dessert.
Save This Recipe to Your Recipe Box
Find this delicious recipe next time you visit by saving it to your very own recipe box on my site. All your favorites stored in one easy place!
More Easy Cake Baking Tips