This orange chocolate chip bundt cake is perfect for a spring party. It features a bright and zesty orange flavor with a rich chocolate ganache on top.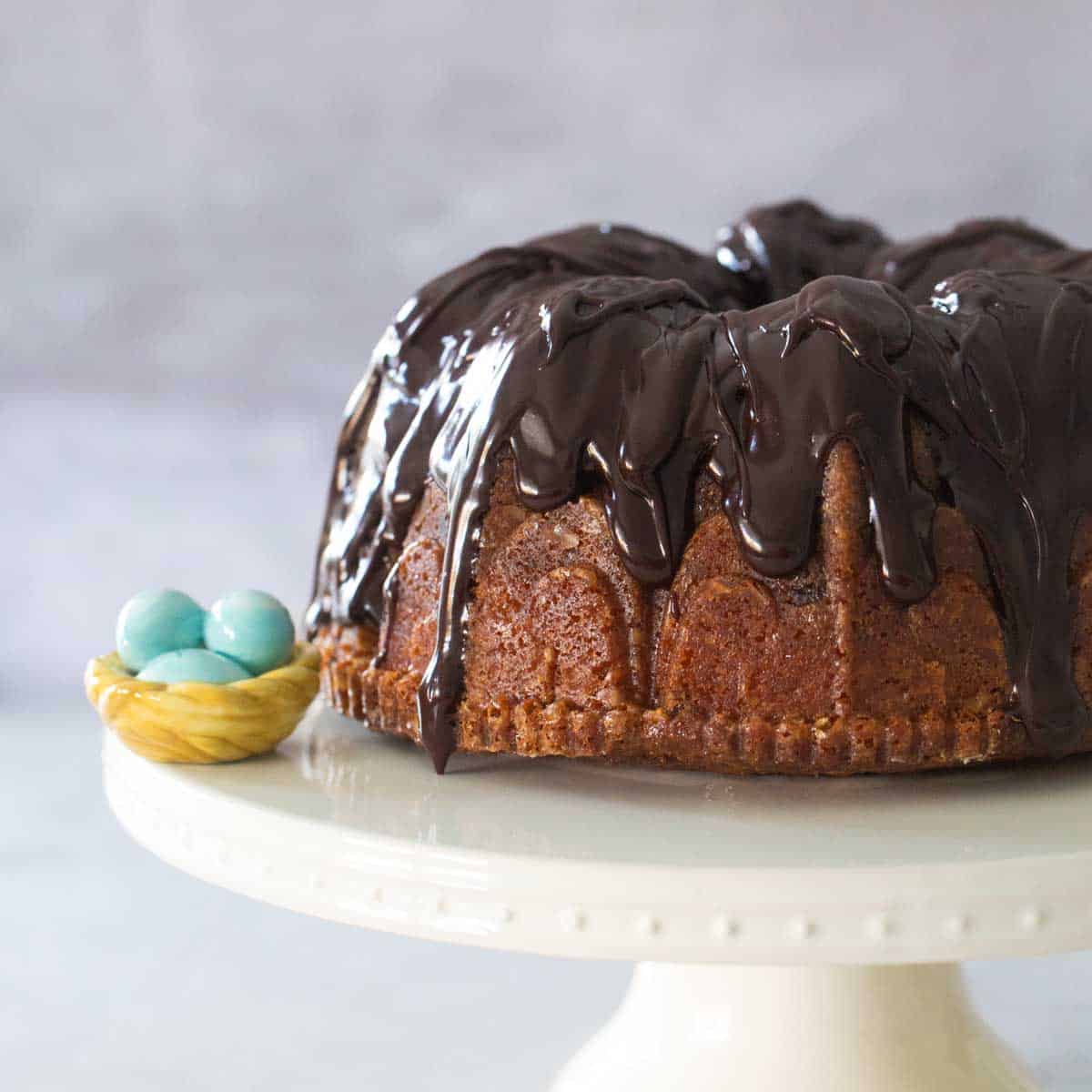 We have an ongoing debate in our household . . . See that cake above? What does your family call something that looks like that?
I insist it is called a "bundt cake" meanwhile Tim is ready to die on the hill that calls it an "upside-down cake" because it is baked upside down.
No amount of explaining the difference between this and a pineapple upside-down cake will convince him.
Let's just say, he's lucky he's cute.
He's also lucky enough that I will bake this amazing orange chocolate chip cake from scratch for his birthday upon request. He lists it among the top cakes of all time and I've been making it for him on and off over the last nearly 20 years.
Normally we inhale it so quickly, there's no time for photos to share with you. When he asked for it for his birthday again this year, I thought NOW is finally the time!
Jump to:
Why This Recipe is the Best
The bright and zesty orange flavor with the rich chocolate ganache on top is one of my very favorite flavor combos of all time.
It makes an amazing Easter dessert in spring but we've been known to bake it as a special Christmas cake, too.
The cake has a beautiful crumb and the crust pops out of a bundt pan so beautifully.
It's a great make ahead dessert, you could bake the cake the day before and simply frost it with the ganache the morning before you serve it.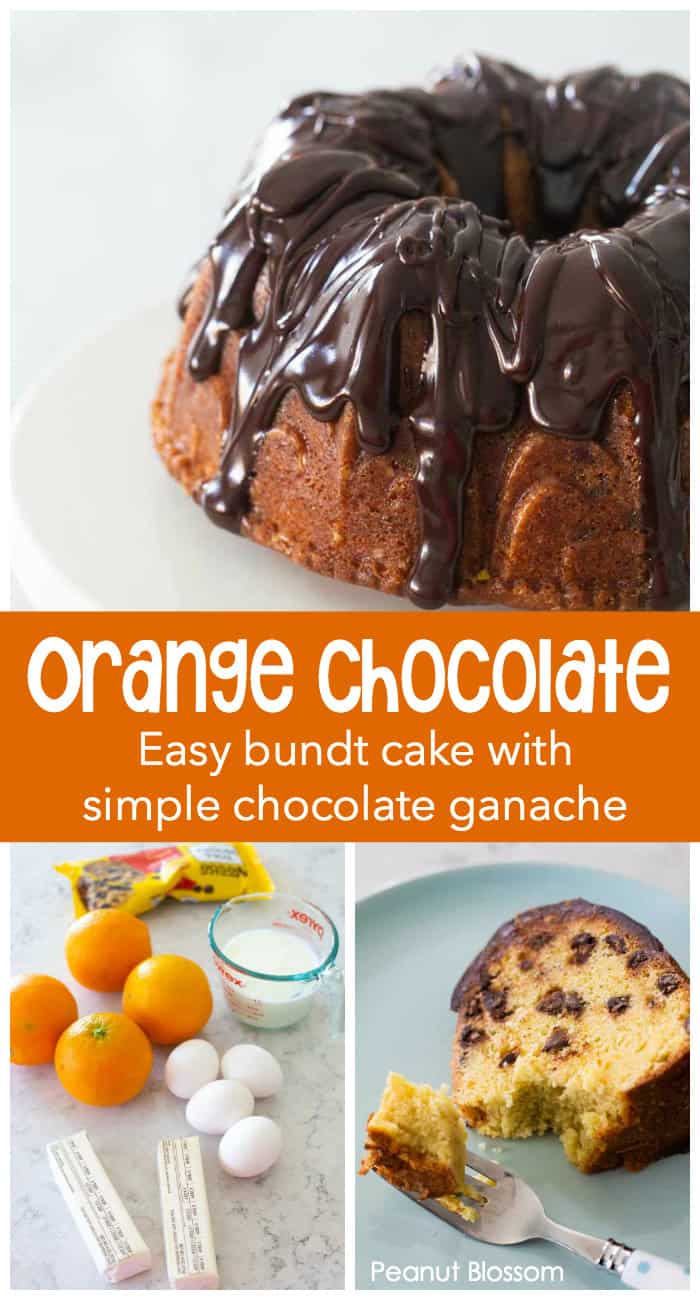 Ingredients
I love this cake because most of the ingredients are things I already have in my pantry!
Flour
Sugar
Butter
Eggs
Heavy cream: This is for the ganache. You can skip it if you want to frost the cake with a vanilla glaze or powdered sugar.
Buttermilk
Orange juice and orange zest from fresh oranges
Vanilla extract
Baking powder and baking soda
Chocolate chips
Instant coffee granules: This is also for the ganache. It enhances the rich chocolate flavor but does not make it taste like coffee.
Prep the Bundt Pan
The most important thing to do when baking a bundt cake is to prepare your bundt pan so your pretty baked cake comes out smoothly.
I have a gorgeous fleur de lis bundt pan with intricate detailing that makes stunning cakes but can be tricky to use.
I spread softened butter into all the nooks and crannies with my finger tips and then shake 1 - 2 tablespoons of flour all throughout the pan while holding it over my sink.
I turn the pan on its side and gently tap it against the rim of my sink to help evenly coat every inch of the surface of the pan.
Alternatively, you could purchase a canister of Baker's Joy flour spray, but I prefer the taste of the butter on the outer crust of the cake!
Essential Tips for Baking the Best Bundt Cake
The difference between a good cake and an amazing one is all in the little attention to details as you prep it.
A little effort at the front makes a cake your family will be begging for year after year.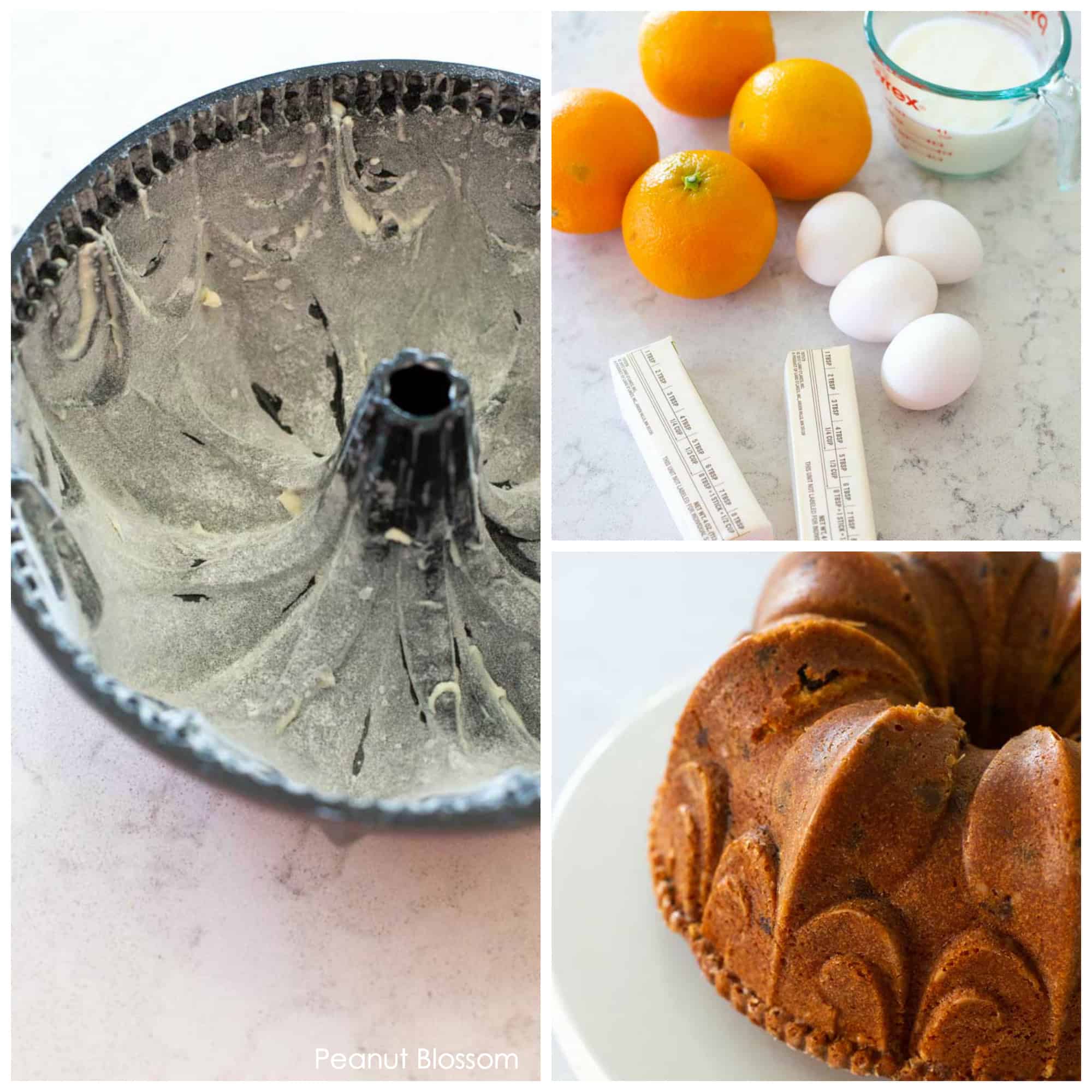 Tip #1: Use Room Temperature Ingredients
Before you do anything, set out the butter, eggs, and buttermilk to come to room temperature.
Cold liquids can make softened butter curdle in the batter, you'll definitely want to avoid that.
While you prep your bundt pan and prepare the orange zest and juice, your dairy can gently warm on the counter.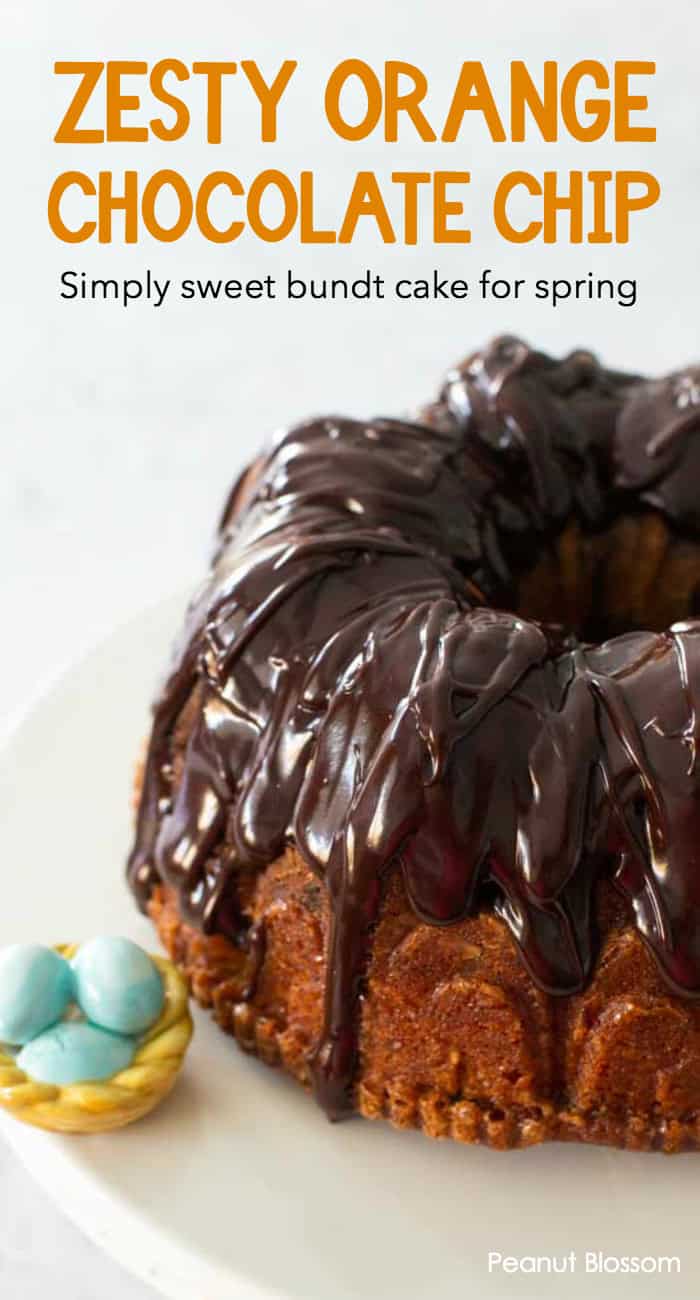 Tip #2: Pastry Brush Clean-Up
When you turn the finished baked cake out onto the wire rack to cool, some of the butter/flour coating from your pan may cling to the elaborate designs of the bundt cake.
Clean that up with a very gentle brushing with a clean pastry brush. Don't poke the cake or brush too hard or the cake might break and get more crumbly.
But, this is a very thick cake, not a light spongy one. It can handle a light brushing.
Tip #3: Don't Skip the Orange Glaze
You're going to look at the recipe and be tempted to skip the glaze. You will think "But, isn't the chocolate ganache enough?"
No. No, it isn't. Do not skip the glaze.
It only takes a few minutes and it is the secret to a mind-blowing cake your friends will beg for again and again.
The cake will soak up most of the glaze and as it cools it adds a hint of sugary crispness to the outside. It is soooooo good.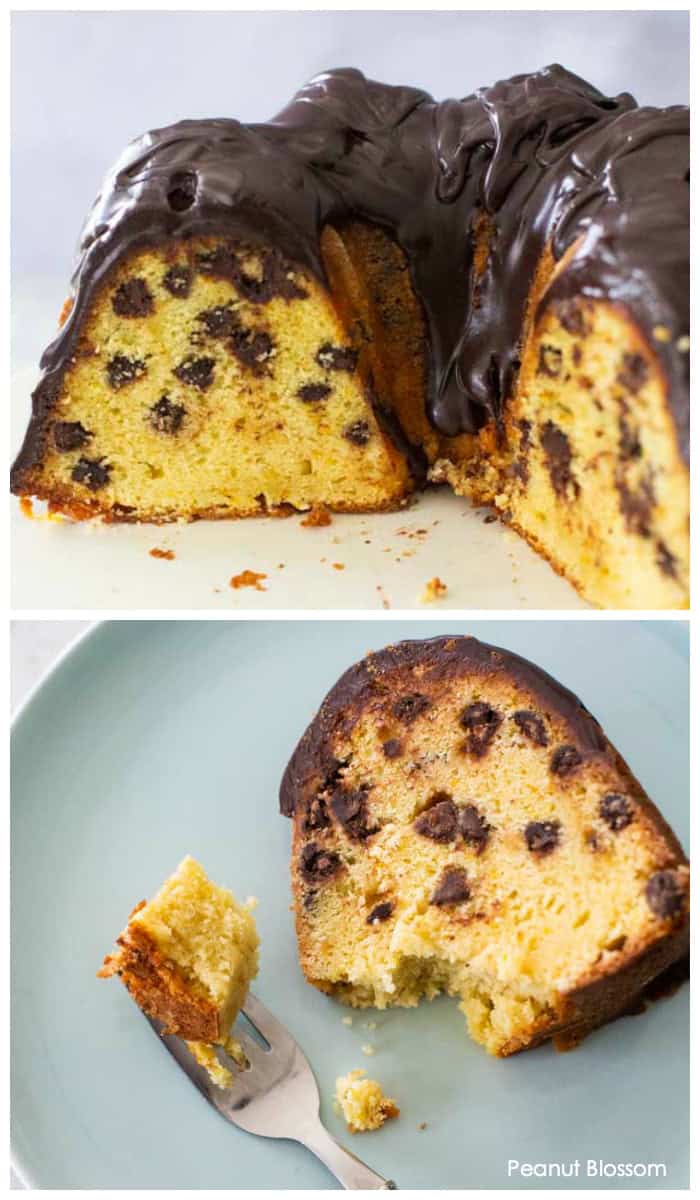 Tip #4: Don't Skip the Instant Coffee
If you're going to skip anything, in my opinion, skip the ganache altogether. I personally love the cake with just the simple orange glaze.
My family would strongly disagree, though. They think that rich chocolate topping is essential to the finished bundt cake.
Don't be intimidated by the word "ganache", you're making essentially melted chocolate chips. You can do this, I promise it is super easy.
If you make the ganache, do not skip the instant coffee. It doesn't make the cake taste coffee-like and your kids may not even know it is in there. However, the coffee helps accent the chocolate flavor so that it isn't sickeningly sweet.
I keep a small jar of instant coffee in my pantry just for this case. If you've never worked with it, you can get it right on Amazon, easy peasy.
Make Ahead Tips
You can bake the cake and coat it with the orange glaze the day before your party. Store it at room temperature covered in foil.
Then, frost it with the chocolate ganache the morning before you plan to serve it.
You could also bake the cake and freeze it topped with the orange glaze (but not the chocolate ganache!) and simply thaw it in the fridge overnight before you plan to serve it.
More Delicious Desserts
Looking for more easy desserts for a spring gathering? Don't miss some of my favorite treats to bake for my family: