Easy bake hello dolly bars are filled with shredded coconut, chocolate chips, and chopped pecans. They make a perfect easy Easter dessert to bake with kids.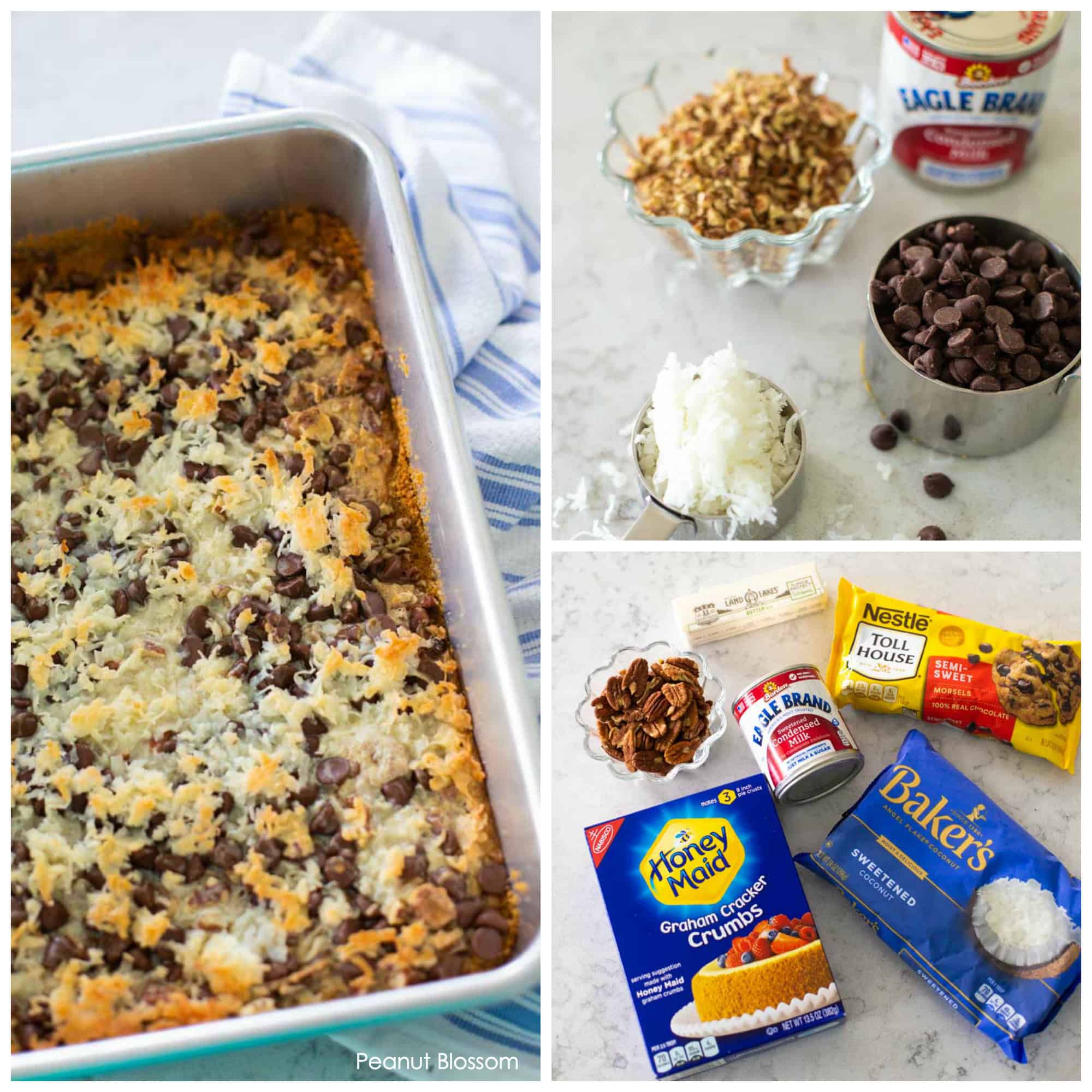 When I was just learning how to bake, I spotted a classic recipe for Hello Dolly bars in an issue of Everyday Food by Martha Stewart.
At the time, I was working in an office where my co-workers enjoyed homemade goodies. My good friend Zina heard about the recipe and begged me to bake them for her.
The baking session that evening had an epically horrible ending:
On our limited budget, I had splurged on pricey pecans and coconut and lovingly sprinkled them all over the graham cracker crust. The apartment smelled like heaven as I opened the oven door to take them out.
Perfectly golden and toasted, they looked just like Martha's photo. I was SO proud.
I grabbed the pan with my oven mitt but failed to secure the parchment paper they were baking on. As I tipped them up to get them out of the oven, the parchment slid RIGHT OFF the baking pan taking my gorgeous hello dollies right with it. They spilled ALL over my hot, open oven door, gooey chocolate chips melting right into every nook and cranny of the oven hinges.
Tim said he could hear the moment my heart broke.
Pushing back my tears, my gut reaction was to scoop up what was left of the crumpled mess on the parchment. I remember angrily shoving the melted mish-mash into a gallon-sized zip-top baggie. The next day I brought it to Zina at the office with my tale of woe.
And why is Zina still my friend today? Because she took one look at the bag and said:
"That's going to make an AMAZING ice cream topping."
She went out on her lunch break for a pint of vanilla ice cream and turned lemons into lemonade.
It took me over 15 years to even dare to make this recipe again. This time, I've perfected it for newbie bakers out there. I wanted to help you avoid my tragic ending.
These absolutely delicious Hello Dollies are totally fool-proof. I pinkie-swear there be no parchment paper issues because I've reworked the whole treat to avoid using it altogether! Take that, Martha.
A perfectly easy recipe for beginner bakers: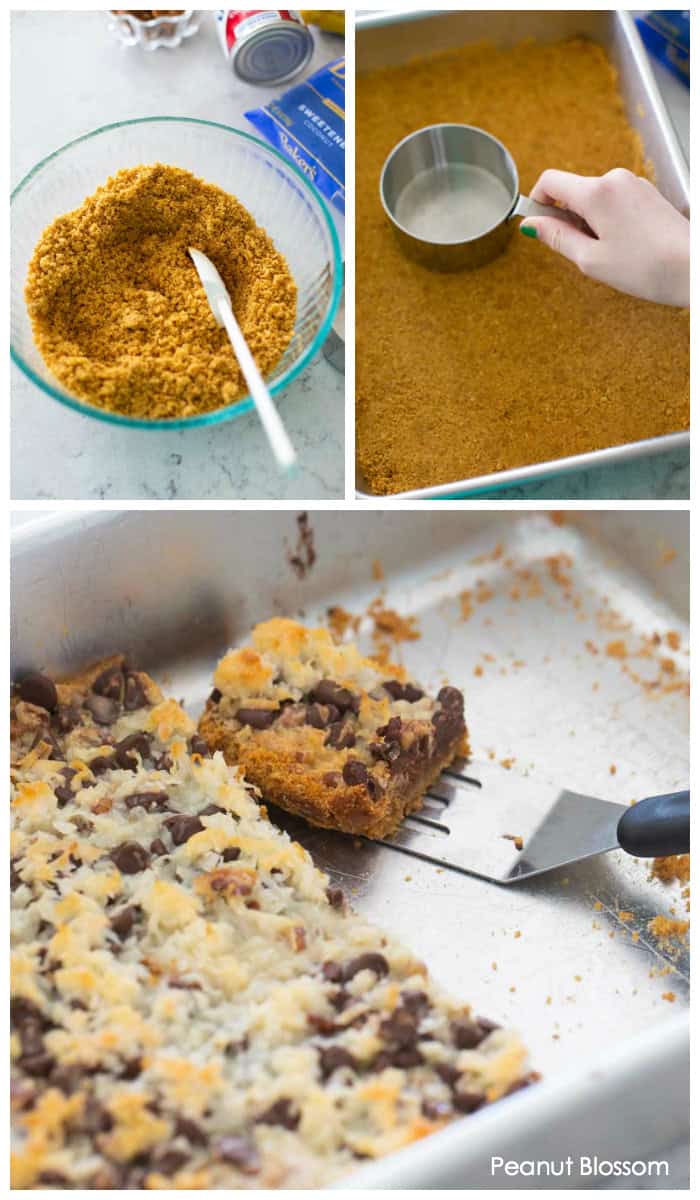 Step 1: Use a high-walled baking pan!
No parchment here, we're going to bake our Hello Dolly bars in a 9 x 13 baking pan with high walls.
Spray it with cooking spray, the bars will come right out.
Mix together the graham cracker crust and press it firmly into the pan. We like to use the bottom of our measuring cup to smooth it out.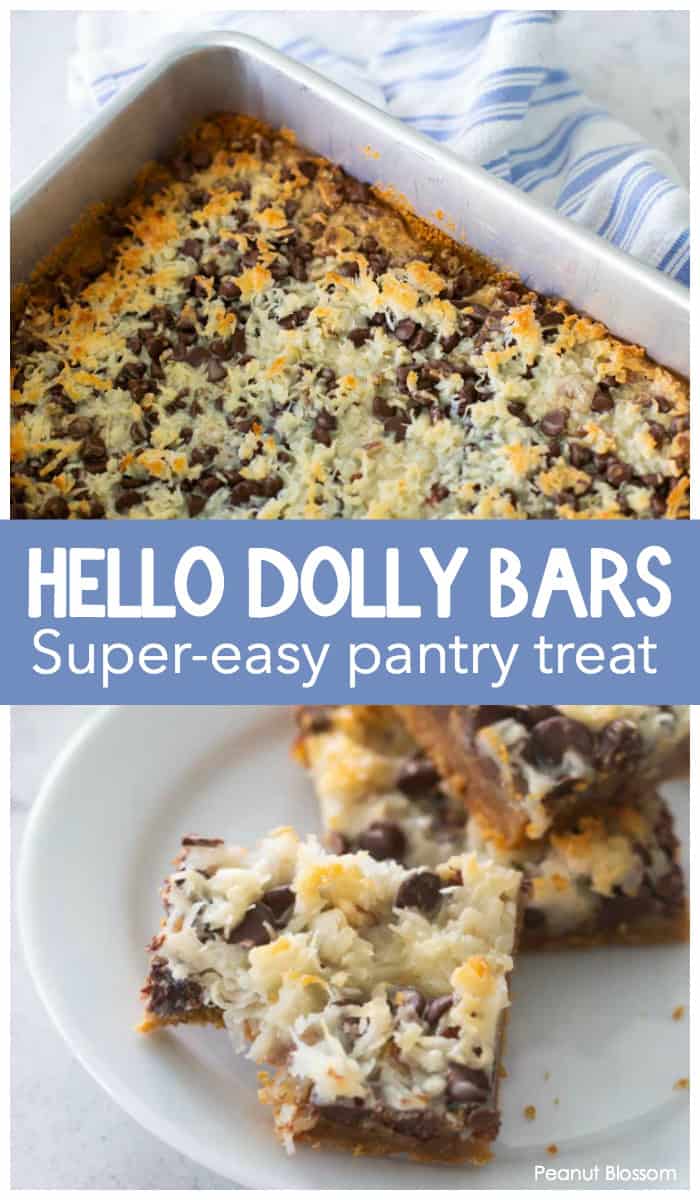 Step 2: Sprinkle the toppings over the top
I just love this recipe so much because it uses simple pantry ingredients: shredded coconut, chocolate chips, and chopped pecans.
That combo is my favorite, but if you're missing the chocolate chips or the nuts, you could leave them out or substitute them for another flavor (butterscotch chips or chopped almonds, for example.)
The coconut itself is pretty important though. It holds them all together with a nice chewy, crispy crunch.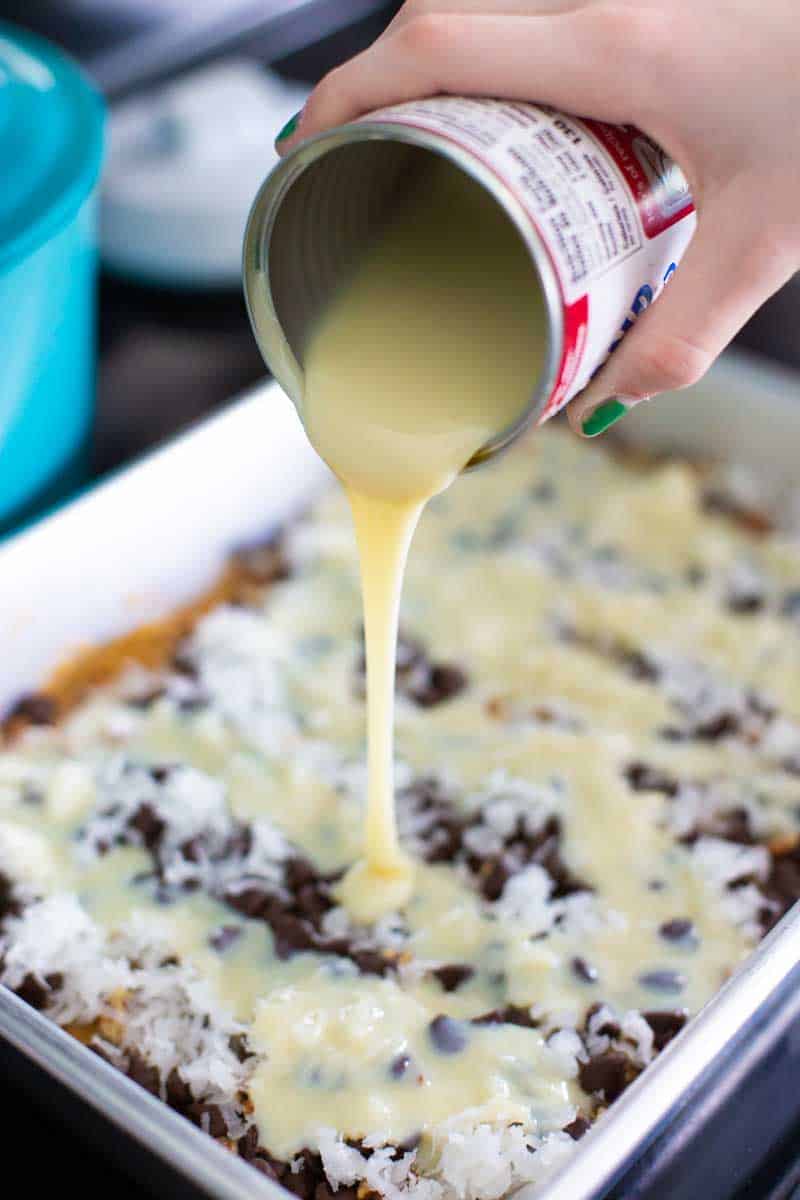 Step 3: Pour the sweetened condensed milk over the top and bake
Use the entire can! Just pour it over the top, no need to spread it out. It will spread on it's own in the oven.
We like to drizzle it into every little corner as much as possible, though.
Bake the bars until they are toasted and bubbly, about 20 - 25 minutes.
Let cool completely before cutting to serve.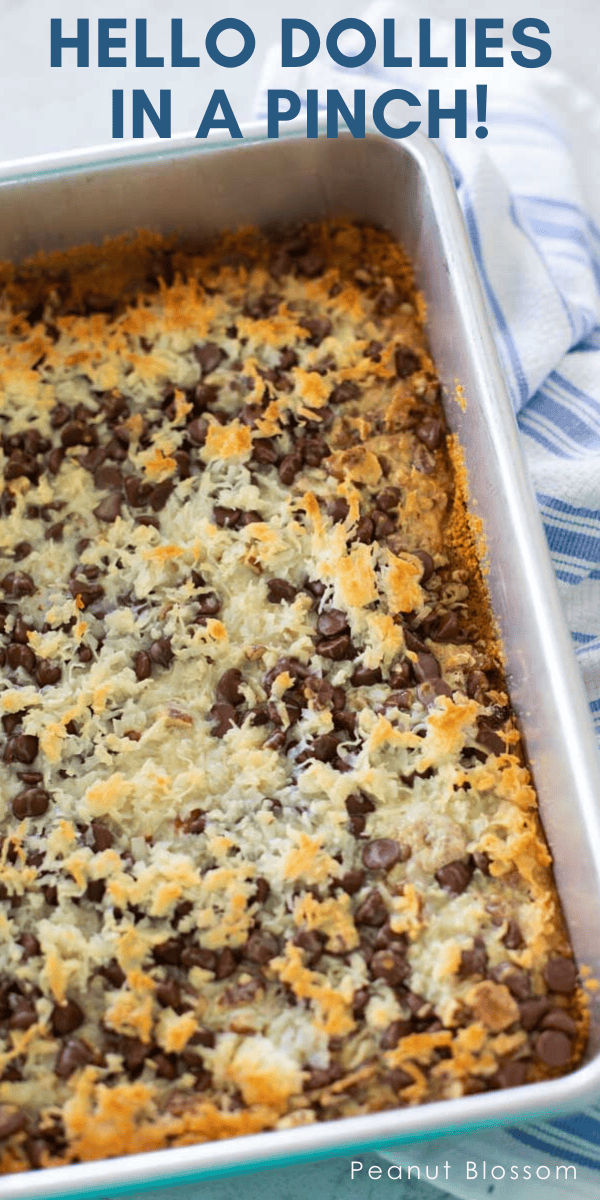 Do kids like coconut and chocolate chip bars?
I was a little worried my girls wouldn't like these but I had a craving for them myself. Neither one is a big fan of coconut.
They saw me slicing in and got super curious. I cut them each a small square to taste-test and they downright swooned.
Despite the coconut, the Hello Dollies are a huge hit at our house now.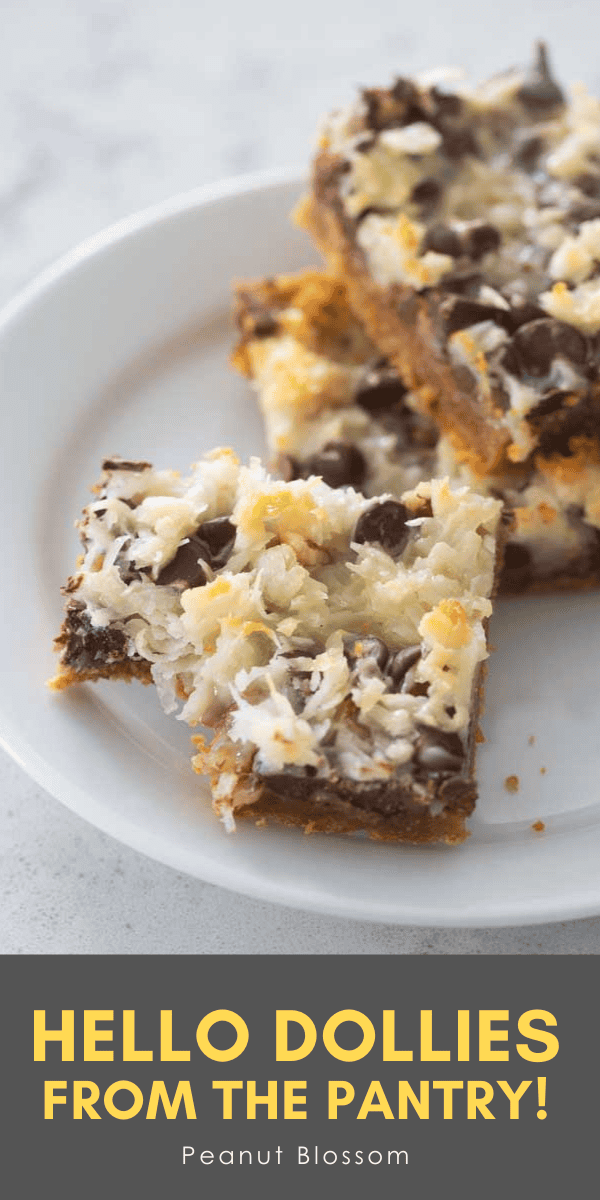 Can you bake these dessert bars ahead of time?
I think the texture is at its very best the day you bake the Hello Dolly bars. That said, if you need to make them ahead of a party, they will definitely hold up for a day in an airtight container.
We just popped a lid on our baking pan to store them and then cut them into bars right before serving.
I especially love this baking pan set for exactly this reason. The treats always bake perfectly and I love the lightweight lid on top for storage.
Looking for more easy recipes to bake with kids?