This easy brownie recipe is perfect for kids in the kitchen.
Surprise mom and dad with the best homemade brownies they've ever had.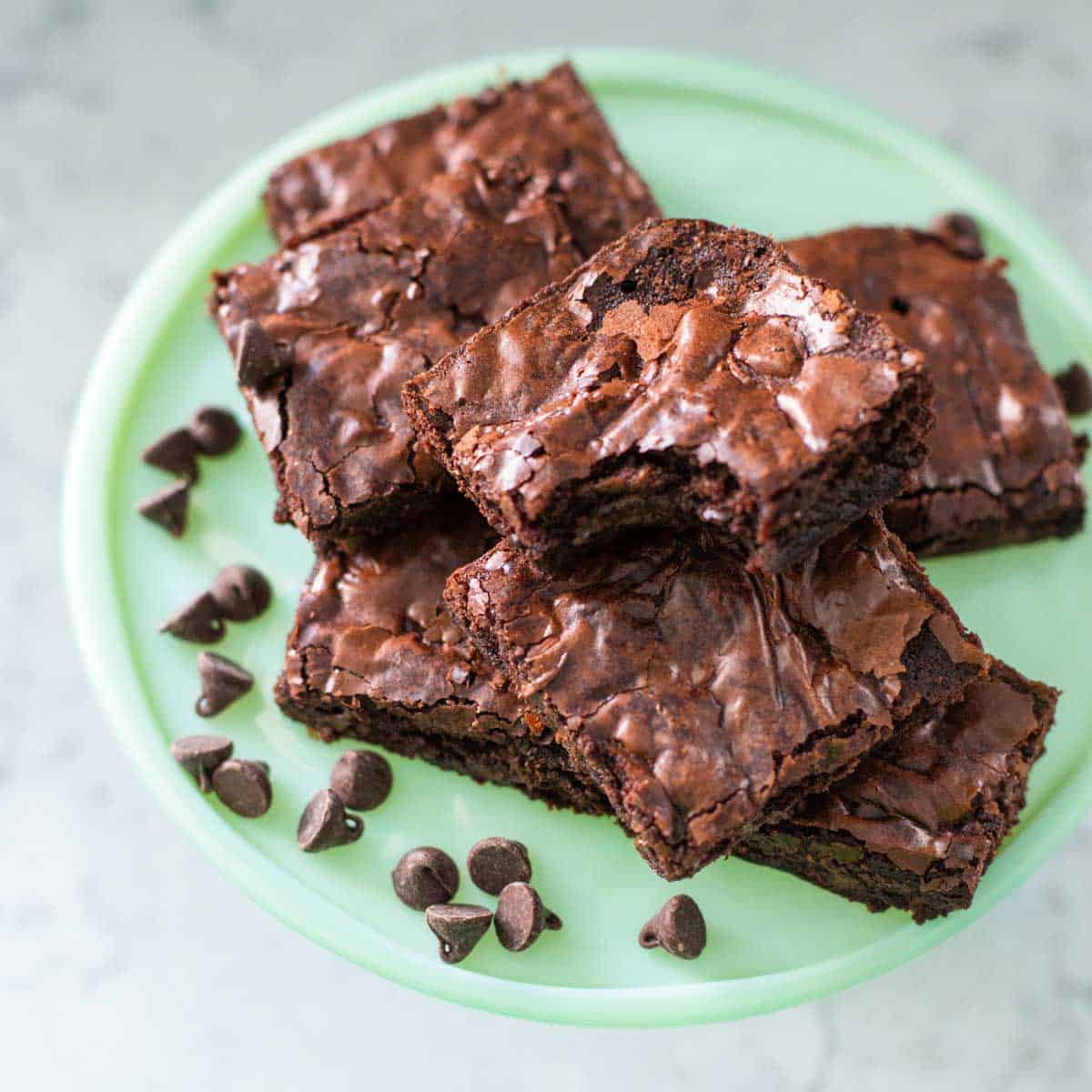 Chocolate is my favorite because . . . it's chocolate, who doesn't like chocolate?
I love baking for my family because it makes me feel awesome to see their happy, appreciative smiles. My favorite thing in the world to bake for them is these brownies because my mom absolutely can't say no when I suggest them.
They get so excited when they can smell the chocolatey goodness coming from the oven and discover I'm making them.
Seriously, when I make these brownies, they never last longer than two days in our house. We love to eat them while we spend time as a family reading or watching tv in the evening.
I shared my best tips for making this super-easy brownie recipe filled with chocolate chips. Kids can totally make them on their own or with a little help from mom and dad.

Jump to:
How to Make the Best Brownies
Ingredients You Need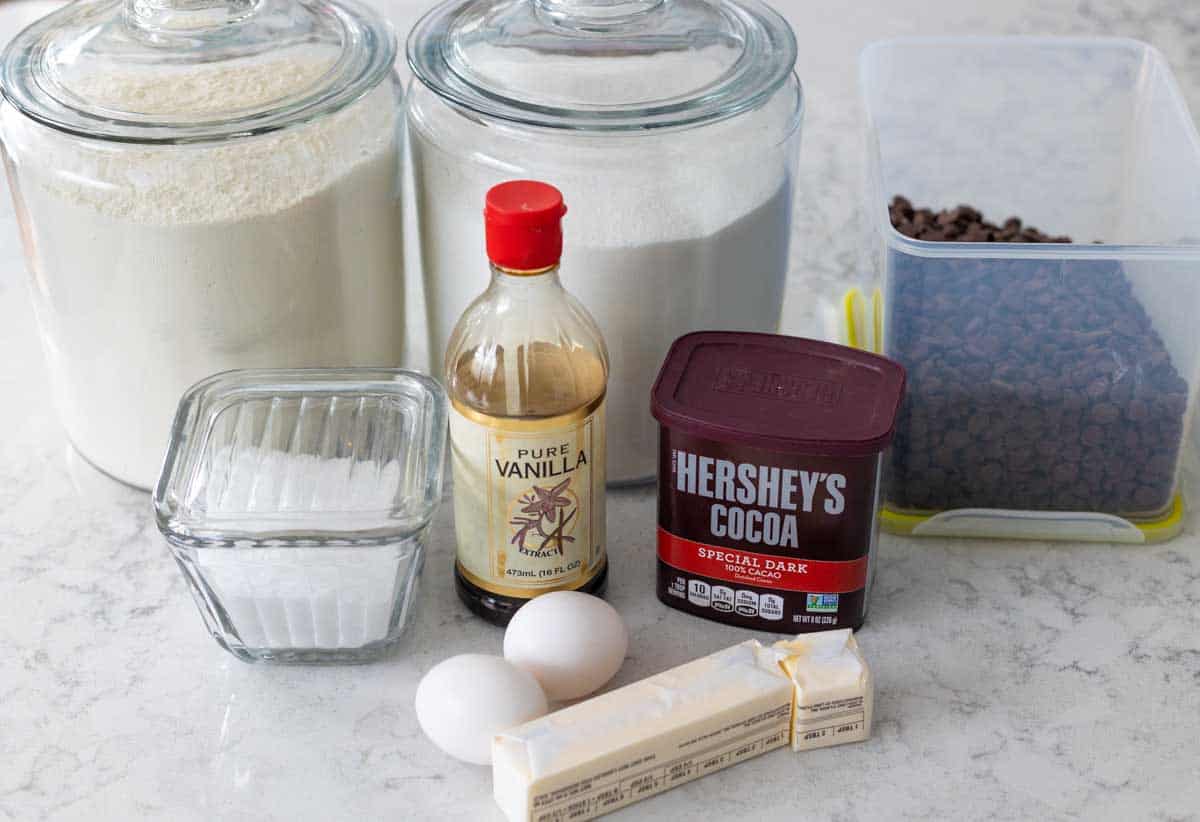 You only need a few ingredients from the pantry to make homemade brownies from scratch:
Flour
Sugar
Eggs
Butter: I always use salted butter but you can use whatever your family has.
Unsweetened Cocoa Powder: We usually use Hershey's Cocoa because it is easy to find in the baking aisle at the grocery store.
Chocolate Chips
Vanilla Extract
Kosher Salt
Prepare the Pan and Preheat the Oven
Get everything ready for the brownies.
First preheat the oven to 350°F and grease a baking pan.
I prefer to use a 9 x 13-inch metal baking pan because the brownies cook evenly and it makes excellent crunchy corners.
For extra buttery flavor, I always rub the inside of the baking pan with softened butter.
I just drop the butter into the pan and use my fingers to rub it all over the bottom and up the sides of the inside of the baking pan.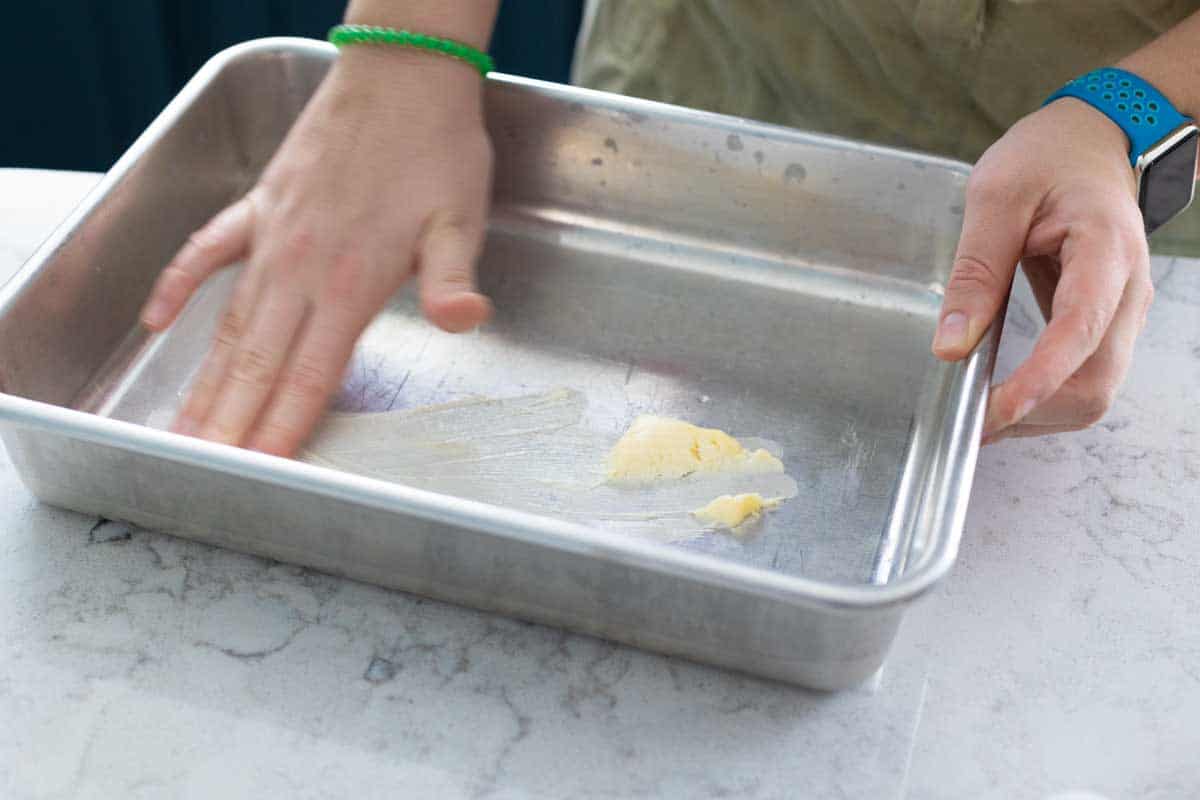 We jokingly call this "Butter Smooshing" and it is one of the first jobs mom let me do in the kitchen when I started baking with her years ago.
Prepare the Brownie Batter
Homemade brownies are almost as easy as using a box mix. The only difference is that you need to melt the butter and and melted chocolate chips for extra richness.
First, melt the butter in a microwave safe bowl in the microwave on HIGH heat for 1 minute. You can use a fork to whisk in any butter pieces that haven't completely melted at this point.
Add sugar to a large mixing bowl and pour the melted butter in. Whisk them together.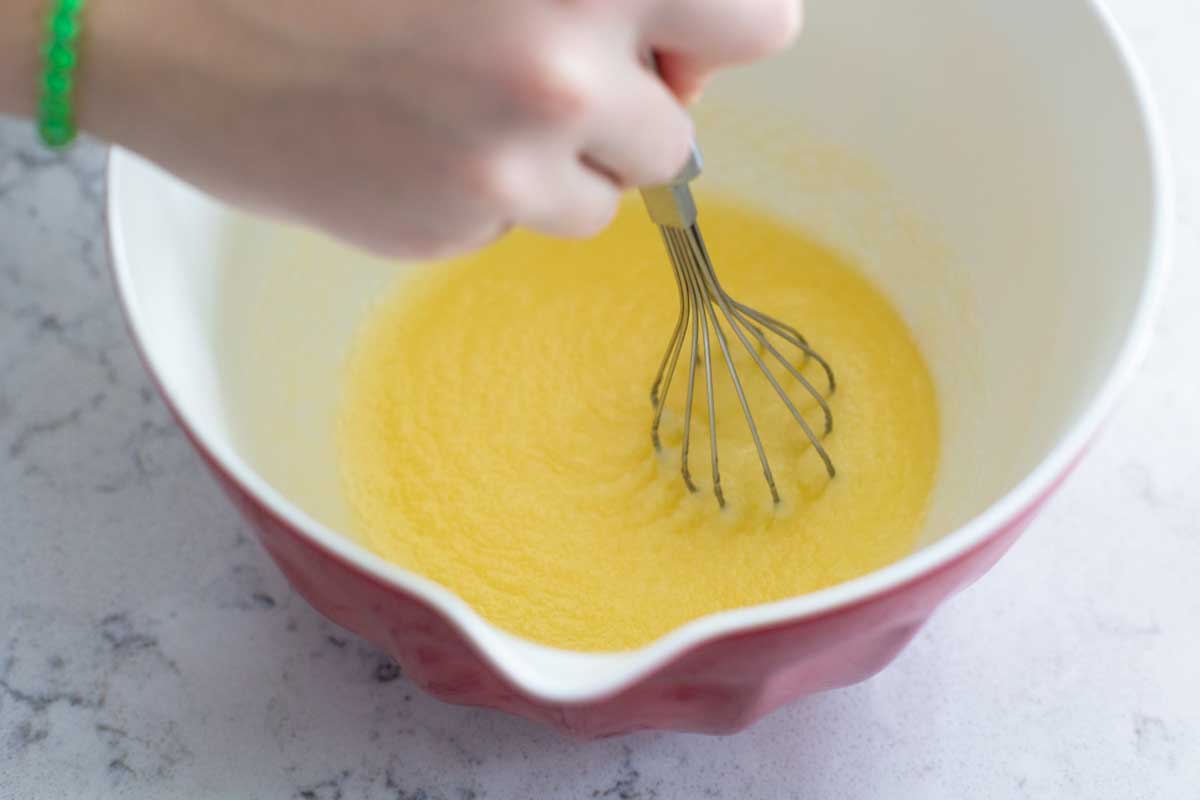 Crack the eggs and add them with the vanilla extract to the mixing bowl. Whisk them together.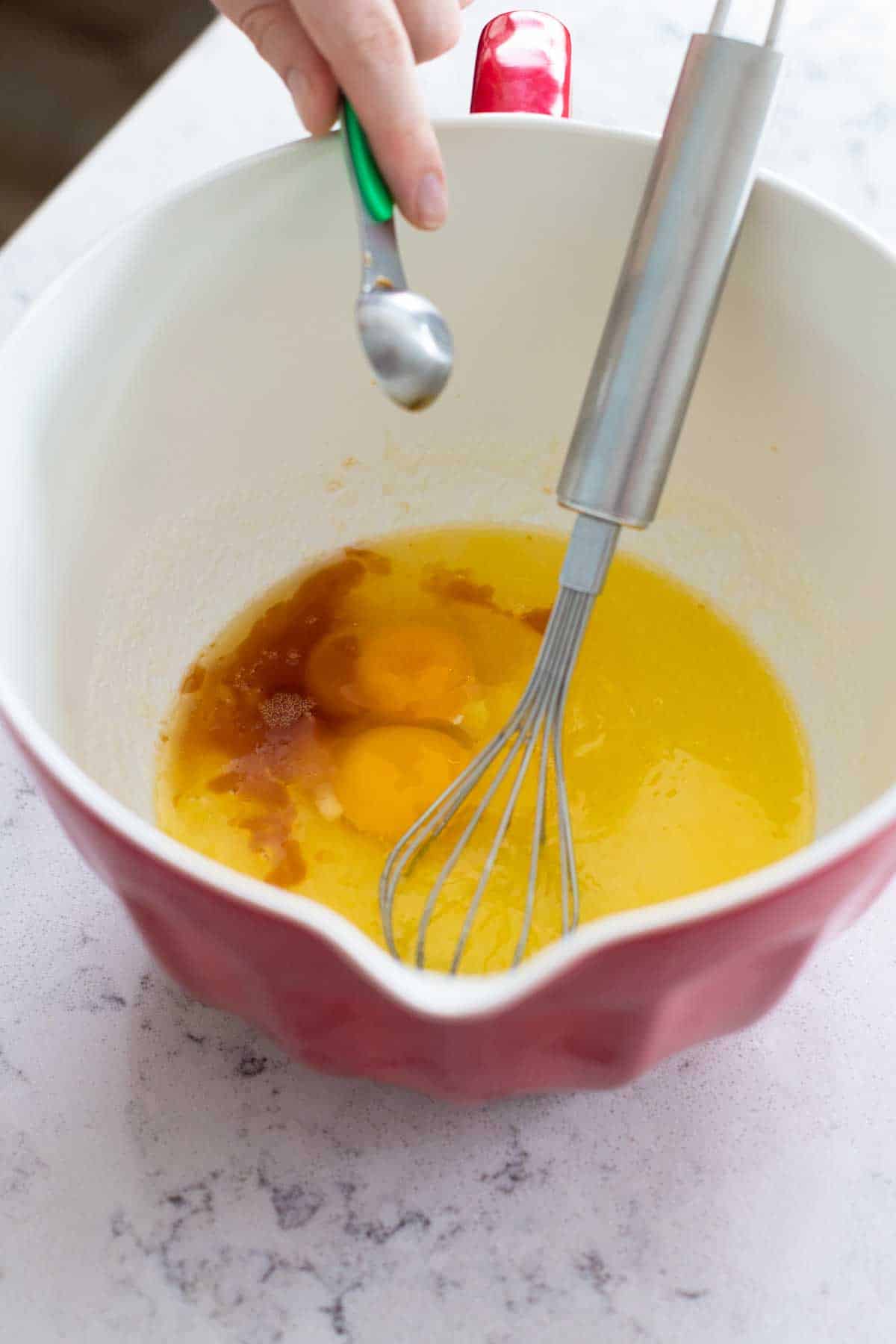 Place the chocolate chips in a microwave safe bowl and melt them on HIGH for 15 seconds.
Stir them with a spatula and then cook them again for 15-second increments. Stir between each cooking time and repeat until they are completely melted.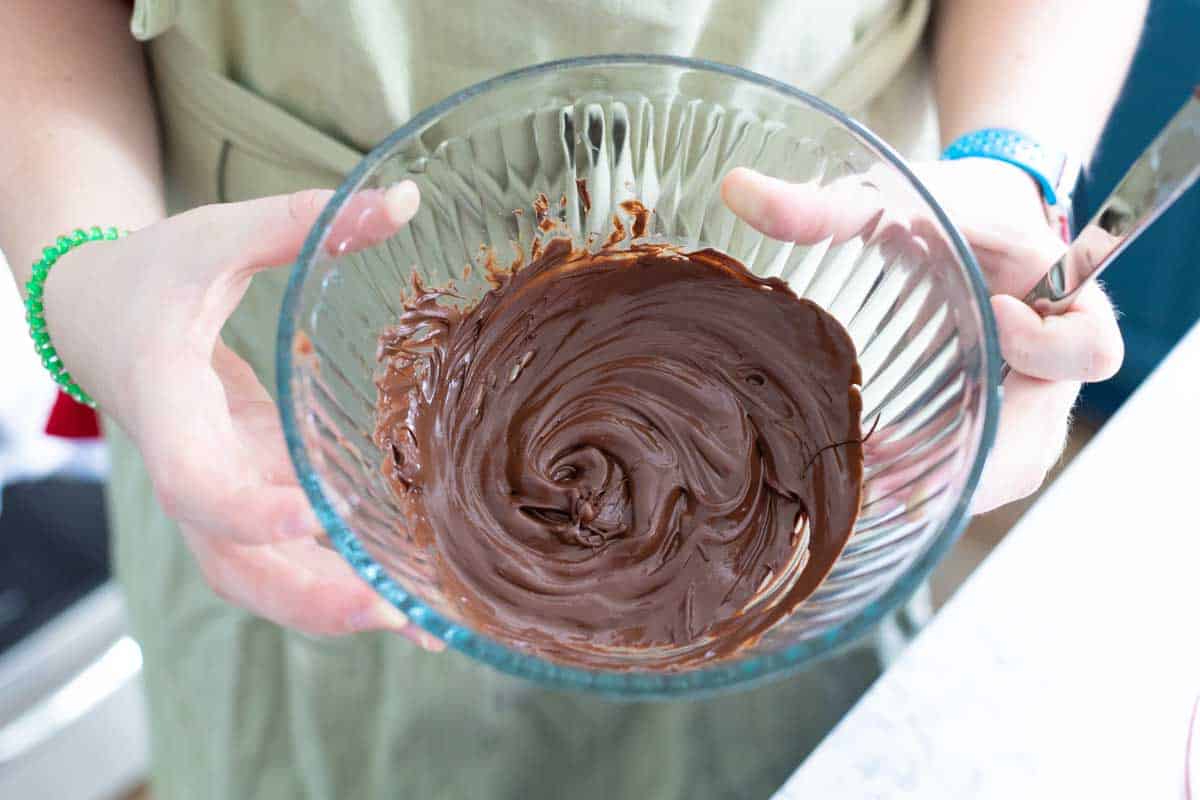 Scrape the melted chocolate into the mixing bowl and whisk it together.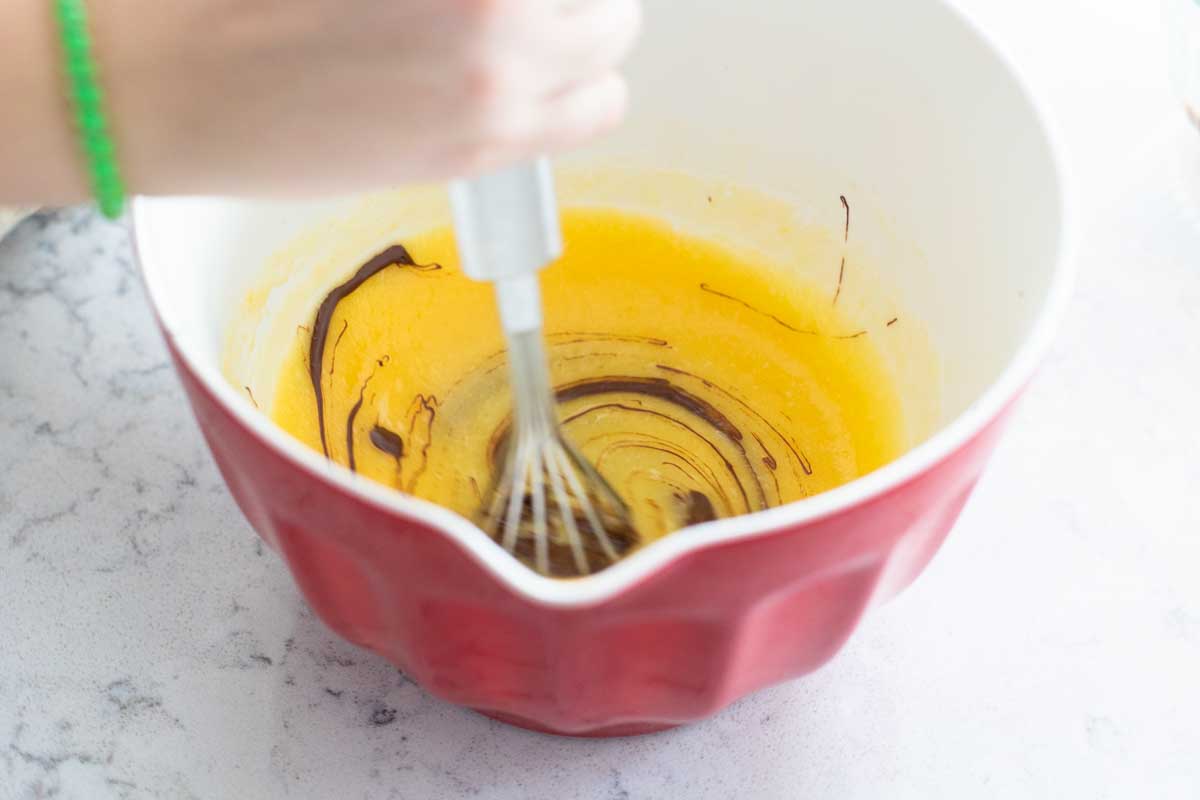 Add the flour, cocoa powder, and kosher salt to the bowl.
Whisk it into the batter until there are no more dry pockets of flour.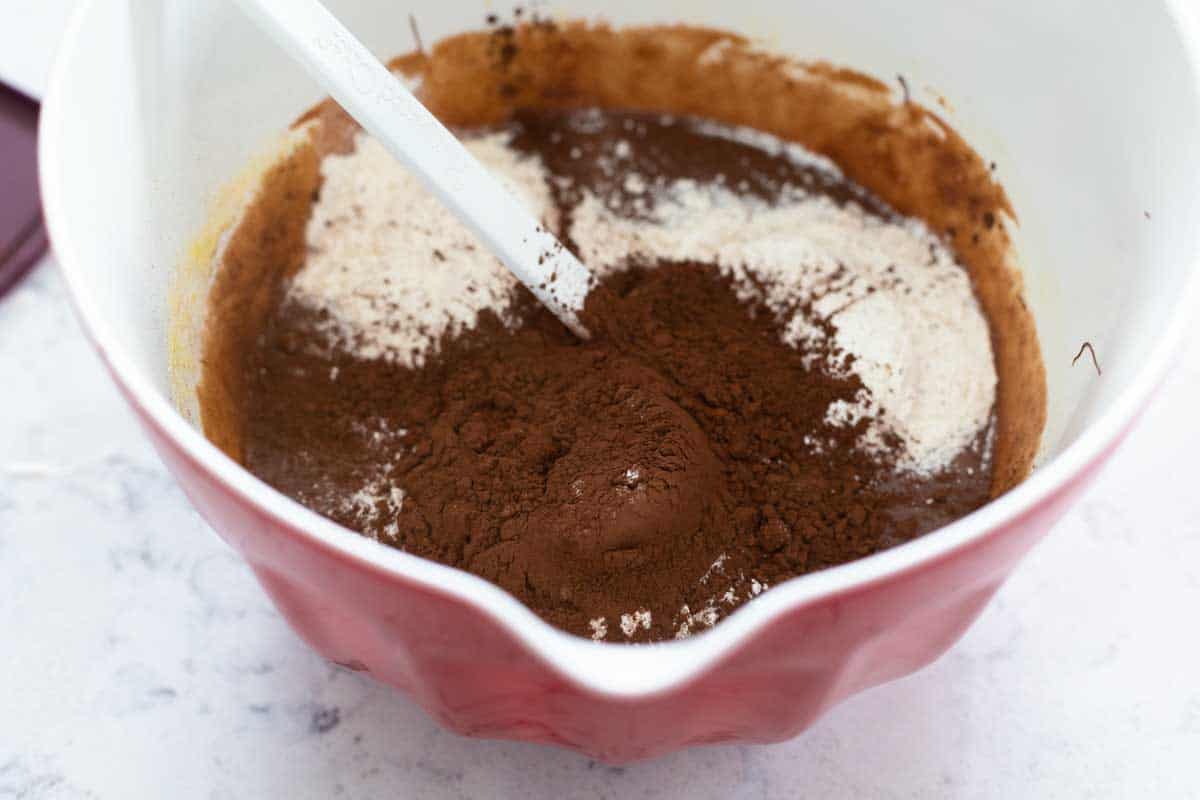 Now comes my favorite part: MORE chocolate chips!
My brownies are the best because not only are they rich and fudgy, but you get more bites of yummy chocolate chips in each brownie bite.
I always add extra chocolate chips because my dad loves the chocolate chunks inside his brownies.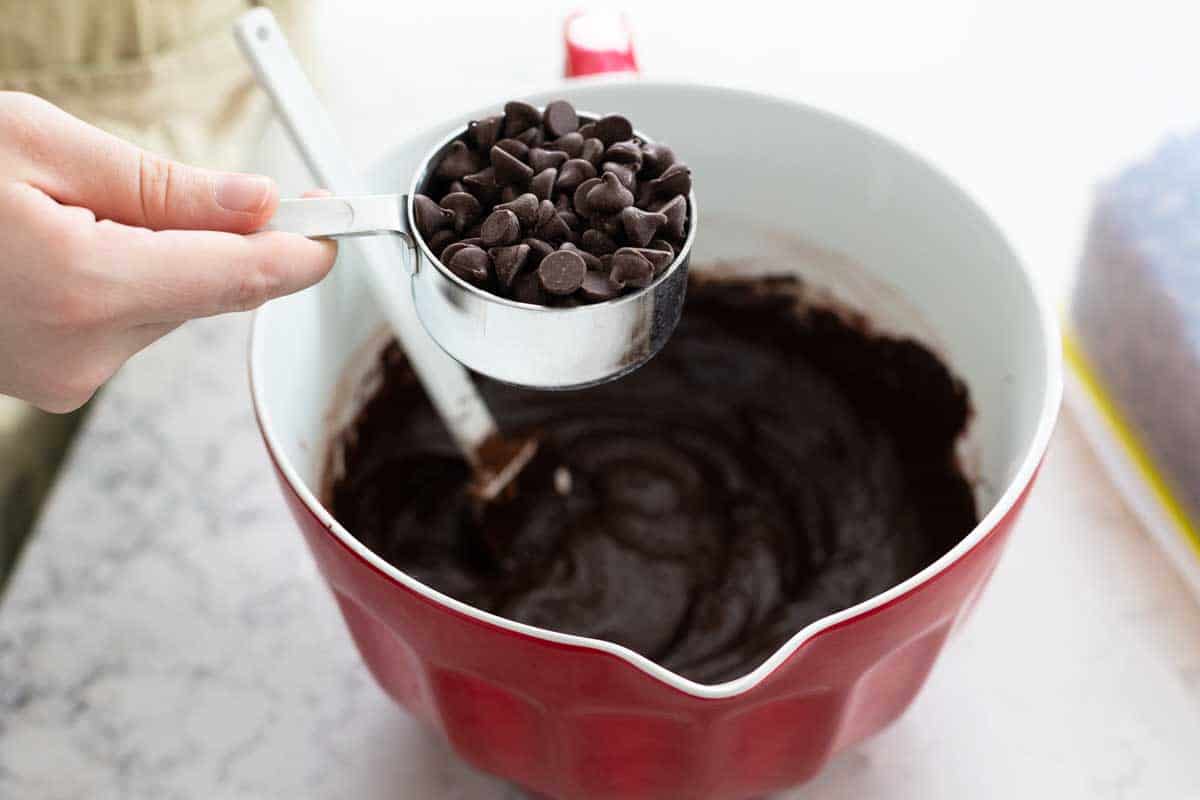 Stir the chocolate chips into the batter until they are well combined.
As you see, everything gets mixed together in one bowl and it doesn't make a ton of dishes.
Scrape the Batter Into the Pan
Now that the brownie batter is ready, it is time to put it into the baking pan you rubbed with butter.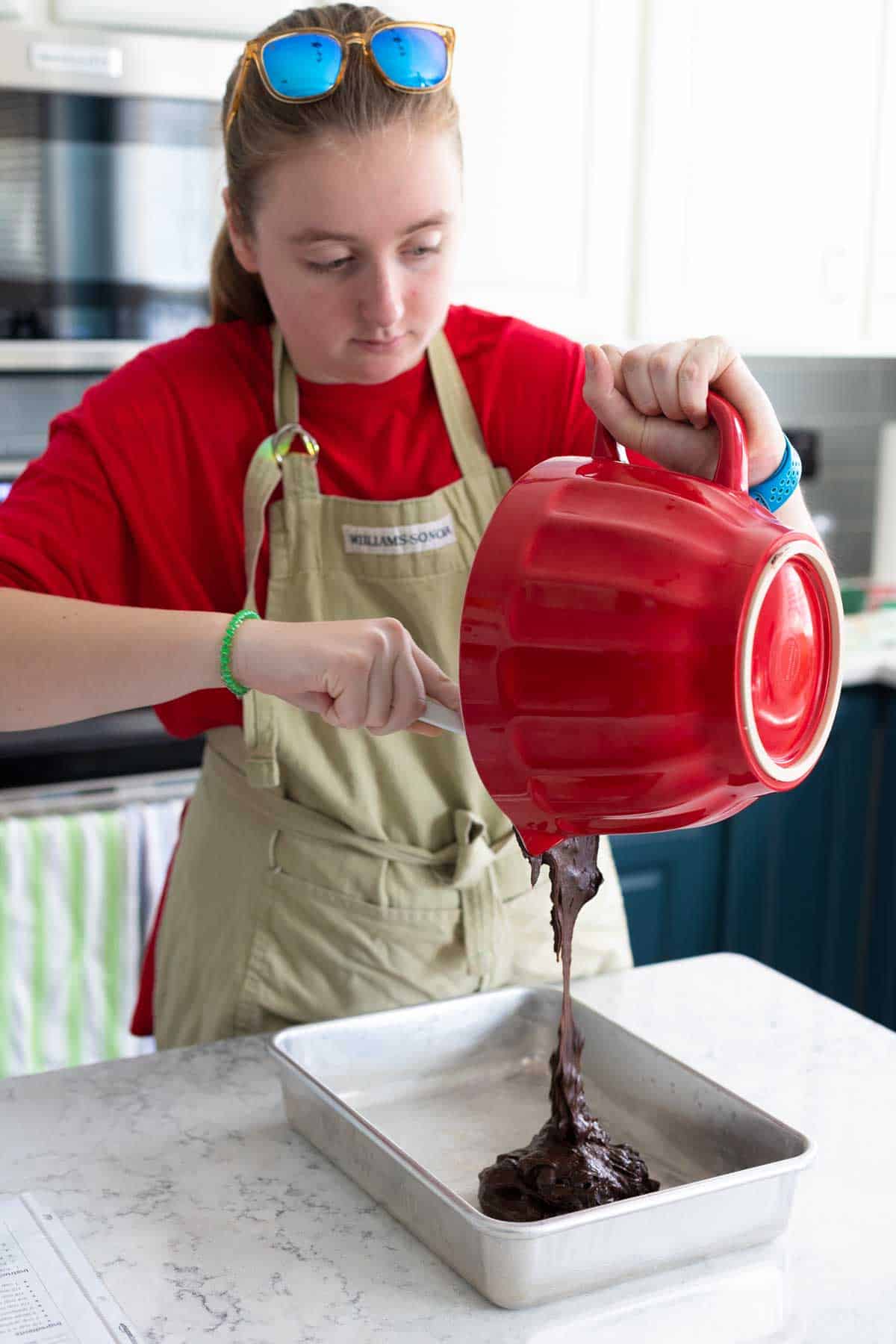 The brownie batter will be pretty thick. You will want to scrape it out of the mixing bowl with a large spatula.
You can see how thick it is and all the chocolate chips peeking out here: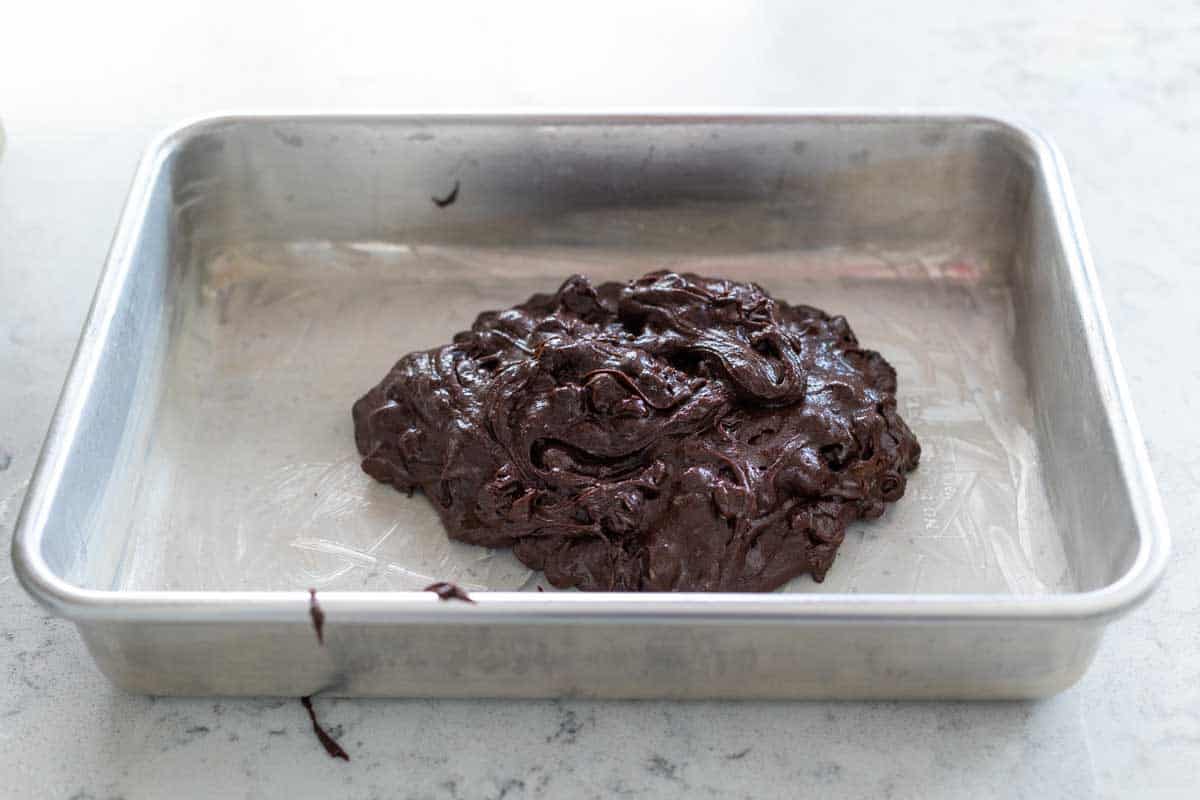 It is important to smooth out the brownie batter into an even layer. You can't just leave it in a big dollop like this.
Instead, use your spatula to smooth it out like this: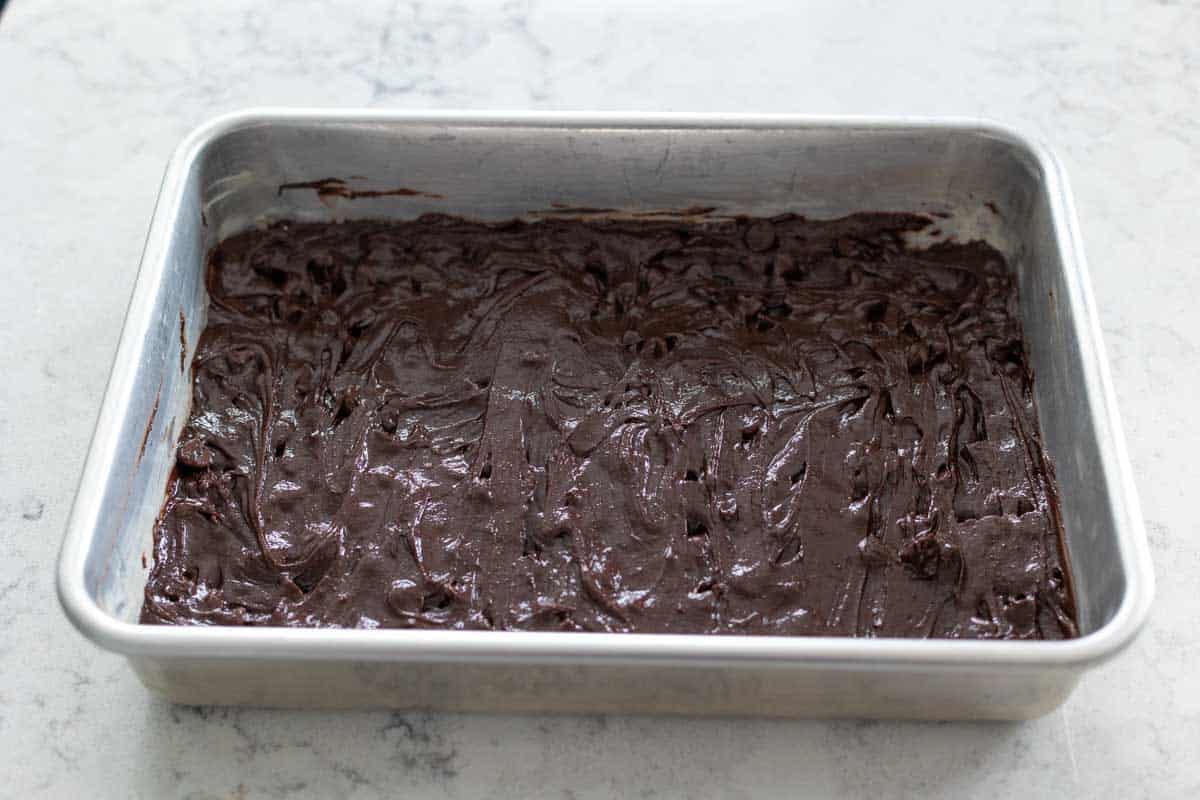 Bake the Brownies
By now your oven should already be preheated and ready for your brownie pan.
The brownies only take 30 minutes to bake.
While they're in the oven, I listen to music and do the dishes. I know mom will let me bake again if the kitchen is clean when I'm done.
There are so few dishes from this recipe, I have no problem getting them all done before the brownies are out of the oven.
When the timer beeps, I stick a toothpick into the center to see if it comes out clean. I poke it a few times just to be sure I didn't accidentally poke a melted chocolate chip.
Serving Tips for the Best Brownies
My family fights over the corners, they have the best texture of the whole pan.
You can eat the brownies warm or at room temperature.
We usually eat them just plain but if you wanted to be extra special, you could serve them in one of these delicious ways:
How to Decorate Brownies
While plain brownies are super delicious, you can actually decorate them for holidays and other special events, too.
Here are my favorite ways to decorate brownies:
Use Frosting and Sprinkles
If you frost the brownies with frosting, you could add your favorite sprinkles to the top to decorate them.
With Colorful M&Ms
For my school's bake sale at Christmas time, I pressed red and green M&Ms into the top of the brownie batter after I smoothed it into the even layer before I baked them.
Don't try to stir M&Ms into the brownie batter, their candy coating will break. It is better to gently press them into the top with your fingers so the colors show up better.
Look how fun and festive they turned out: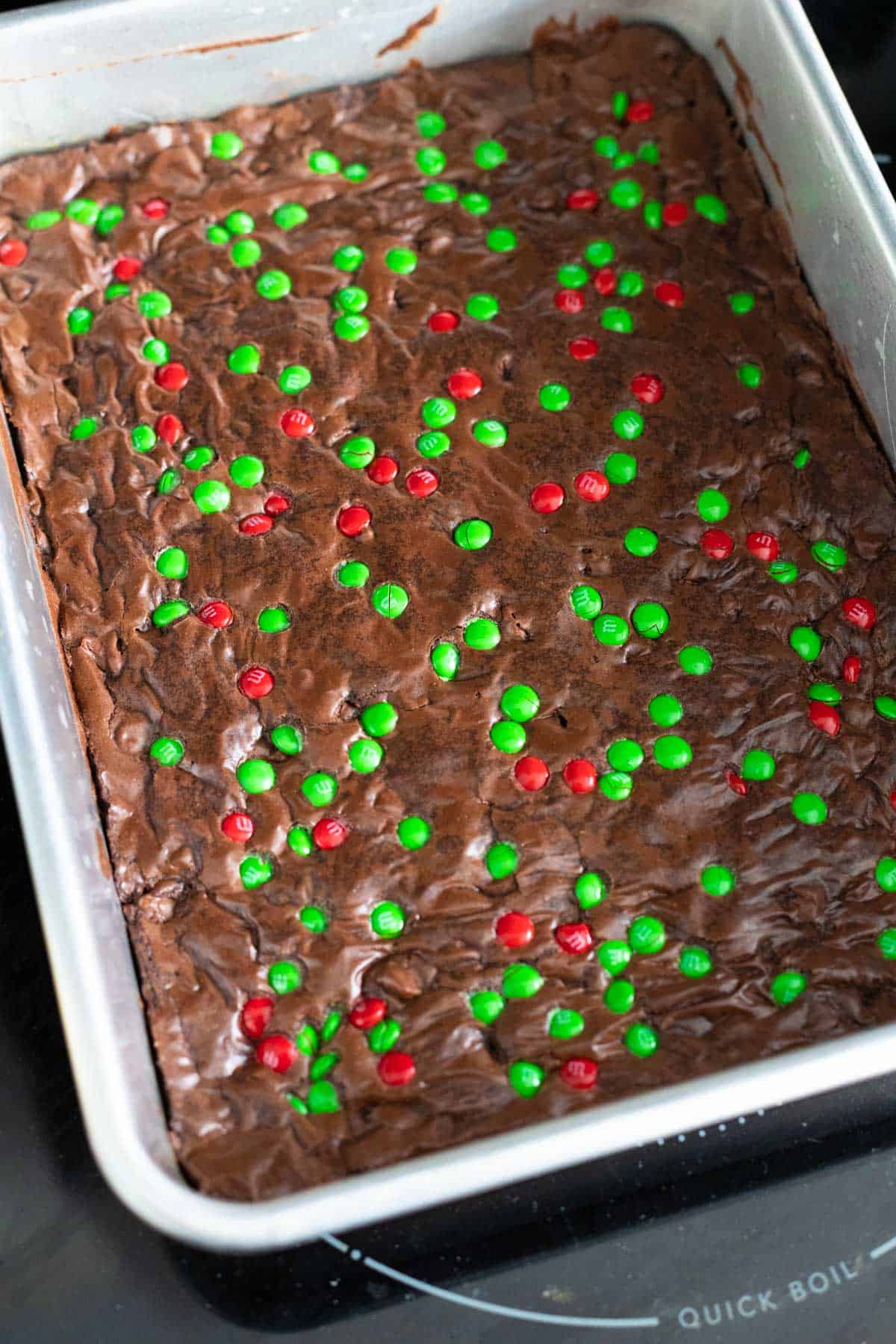 Spooky Brownies for Halloween
My mom made these cute Halloween cupcakes with spider webs and candy corns. You could add spider web icing to brownie tops, too!
Just cut the brownies into squares before piping on the spider webs.
Or, plan to frost the entire pan of brownies and decorate with Halloween candy corn or sprinkles.
More Baking Recipes Just for Kids
My mom and I love to bake together for all the holidays and make homemade birthday cakes.
She took some of our very favorite family recipes and put them in a baking book just for kids.
If you like this brownie recipe, you will love the other desserts she included in The Ultimate Kids' Baking Book. Be sure to check it out!
📖 Recipe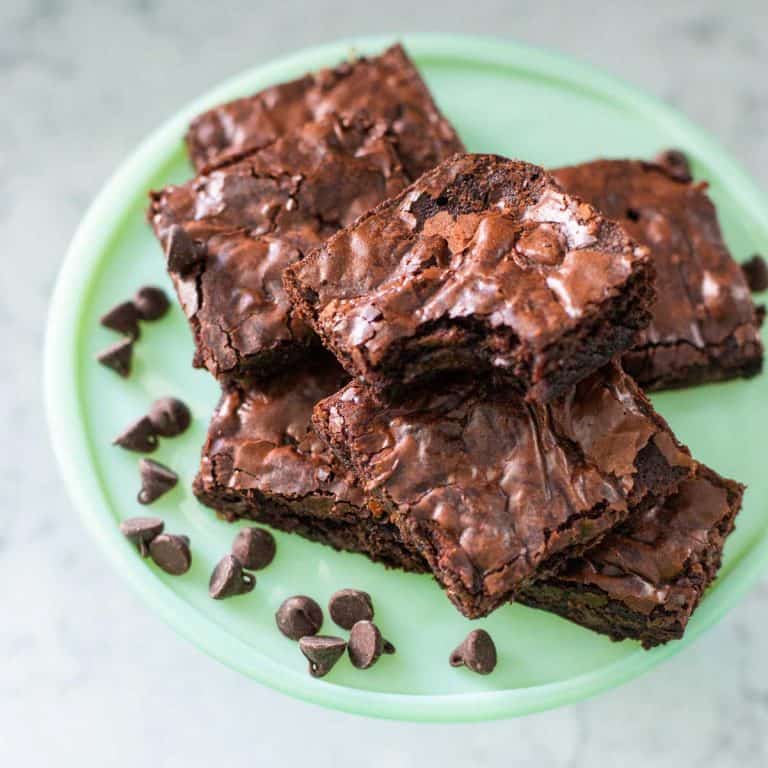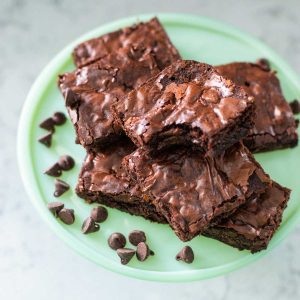 Easy Brownies for Kids
These are the BEST brownies for kids to bake for their families. Chewy centers with crispy edges and loaded with extra chocolate chips for the fudgiest brownies ever.
Ingredients
1

tablespoon

butter

softened for pan

½

cup

(1 stick) + 2 tablespoon butter

melted

1

cup

sugar

2

eggs

2

teaspoon

vanilla extract

½

cup

chocolate chips

melted

¾

cup

flour

¼

cup

unsweetened cocoa powder

½

teaspoon

salt

1

cup

chocolate chips
Instructions
Grease a 9x13-inch pan by rubbing the softened butter all over the inside of the pan.

Melt the remaining butter. Add the sugar to a mixing bowl and pour the melted butter in, whisk together until combined.

Add the eggs and vanilla to the mixing bowl and whisk together until combined.

Add ½ cup chocolate chips to a microwave-safe bowl and heat on HIGH for 15 seconds. Stir and continue to heat in 15-second increments, stirring each time until smooth and melted. Scrape all the chocolate into the bowl with the sugar, whisk together until combined.

Add the flour, cocoa powder, and salt into the mixing bowl and stir together until there are no dry pockets of powder. Add the remaining chocolate chips and stir until combined.

Scrape all the batter into the prepared pan and spread evenly into the corners. Bake for 30 mins or until a toothpick comes out clean. Just be sure you haven't poked a chocolate chip. Brownies can be enjoyed warm but let them cool for 5 minutes before cutting.
Recipe Notes
These brownies have never lasted more than two days in our house but if you need to store them, we recommend keeping them in an airtight container.
Save This Recipe to Your Recipe Box
Find this delicious recipe next time you visit by saving it to your very own recipe box on my site. All your favorites stored in one easy place!