Easy strawberry sauce for cheesecake, topping pancakes or French toast, drizzling over ice cream, layering into a trifle, or spooning over Greek yogurt for a breakfast parfait. You can make the recipe in 15 minutes and freeze it up to 1 year!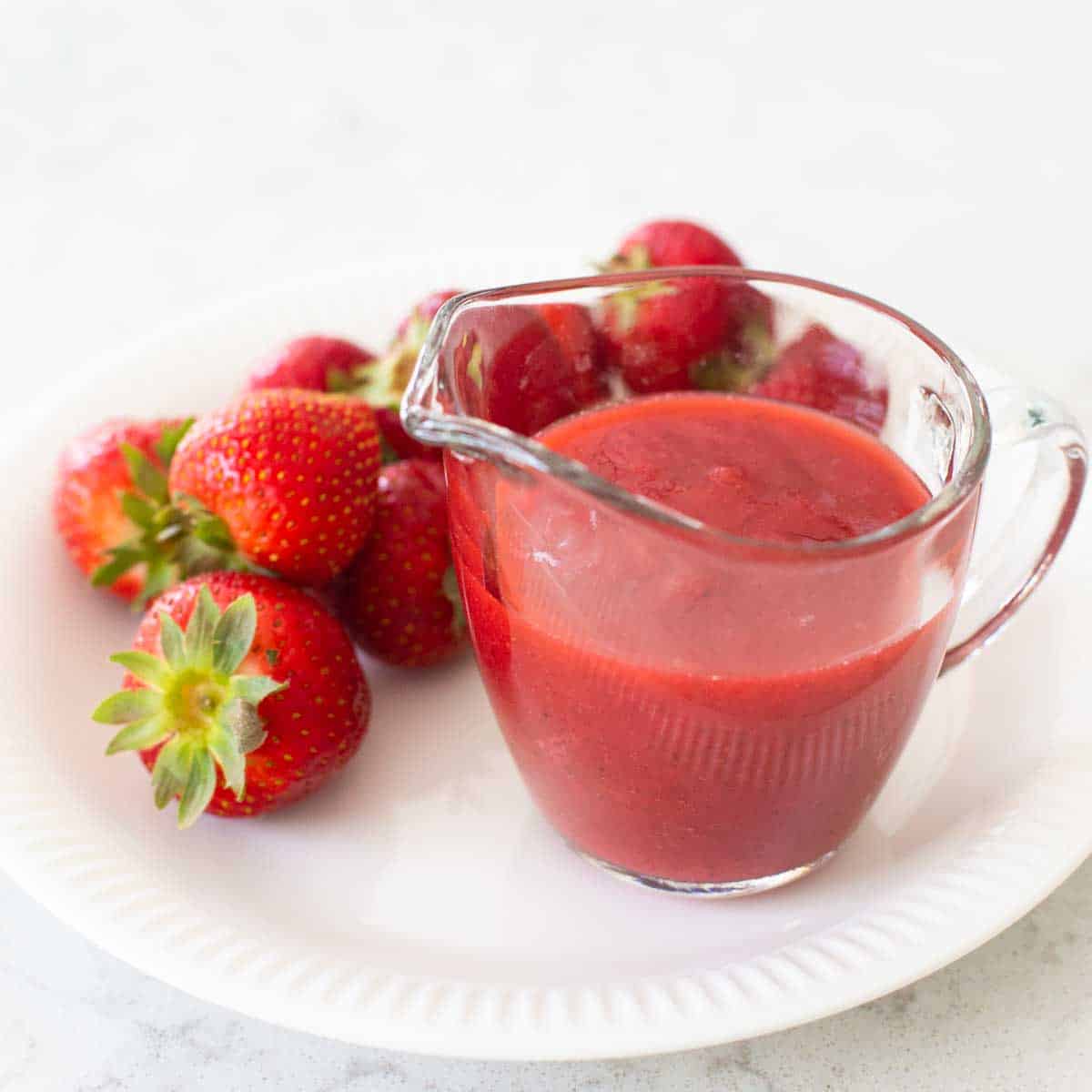 When strawberries are at their peak, I'm always on the lookout for the easy fresh strawberry recipes to use up every last berry before they're gone.
We had the most perfect strawberries in the fridge that just went a little bit too ripe overnight.
You can freeze overripe strawberries for protein smoothies for the kids later but I already had some prepped in my freezer.
So with this batch of perfectly sweet berries that were just a little too soft to eat fresh, I decided to turn them into an easy strawberry sauce that is perfect for spooning over a plain cheesecake, bowl of vanilla ice cream, or tons of other sweet serving ideas.
Jump to:
Why This is the Best Recipe
I love recipes that use up a single container of fresh produce and don't require a ton of ingredients.
This strawberry sauce is made with just 1 container of fresh strawberries from the grocery store.
When I take advantage of the grocery store BOGO deals, my family tends to fly through the first strawberry container while the second one ends up neglected. Never again!
You'll be able to make the whole recipe in 15 minutes, but truly it only takes about 2 minutes of hands on time.
Ingredients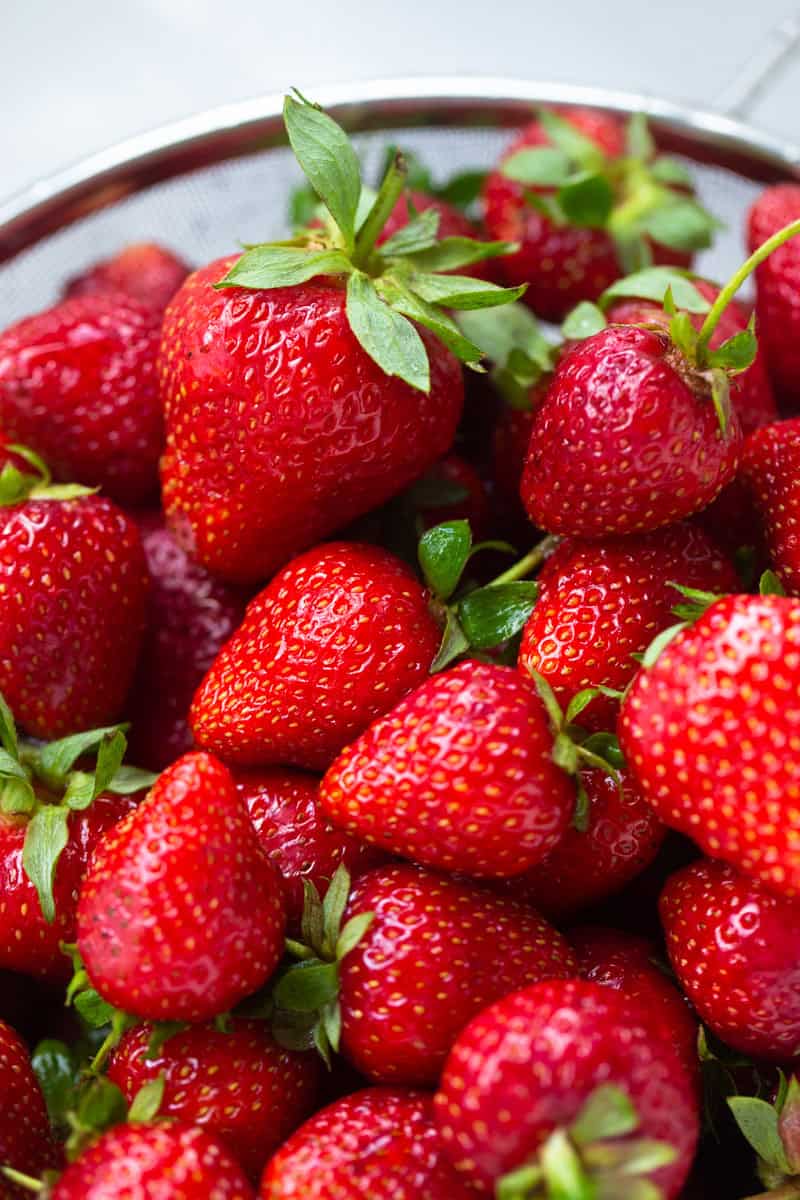 The ingredients are so very simple:
Fresh Strawberries: Overripe berries are actually perfect for this because they are super juicy and already soft. So even if the strawberries are looking a little wrinkly or soft, they're perfect to use as long as they haven't gone moldy.
Sugar
Fresh Lemon Juice
Optional: Vanilla extract or vanilla sugar. I added just a touch of vanilla sugar to my batch and it was delicious!
How to Make the Sauce
Rinse the strawberries in cold water and slice the leafy tops off. Cut the berries in half and add them to a large saucepan.
Add the sugar and fresh lemon juice and stir them into the berries.
Cook over medium heat until the juices from the strawberries dissolves the sugar and the mixture begins to bubble.
Simmer for 15 minutes and mash the berries gently with the back of a wooden spoon as they cook.
They will continue to get softer and softer as they simmer.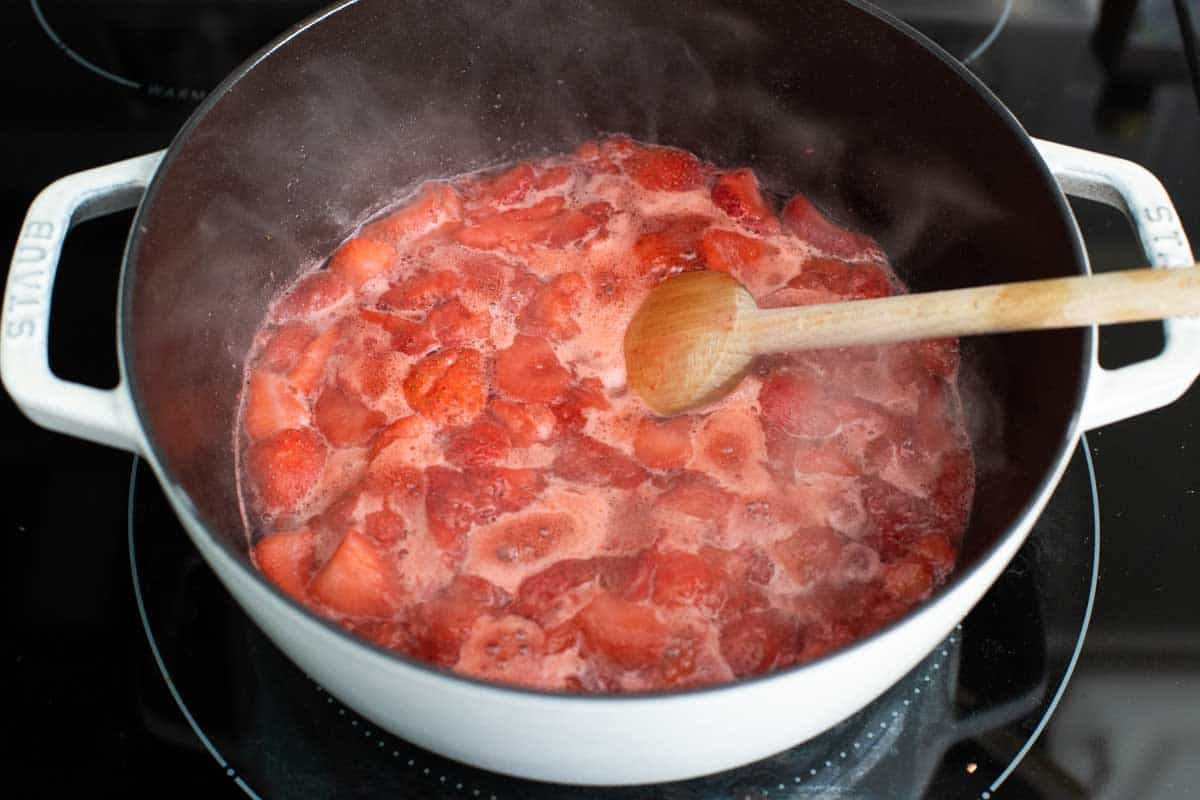 Puree the Strawberry Sauce
I use an immersion blender to puree my strawberry sauce right in the saucepan where I cooked it.
The immersion blender is one of my favorite kitchen tools because it is easier to wash and store than a traditional blender.
If you don't have an immersion blender, you can use a ladle to transfer the strawberry sauce to a countertop blender and puree it there.
You can find a very budget-friendly immersion blender here if you're interested.
Make Ahead and Freezer Tips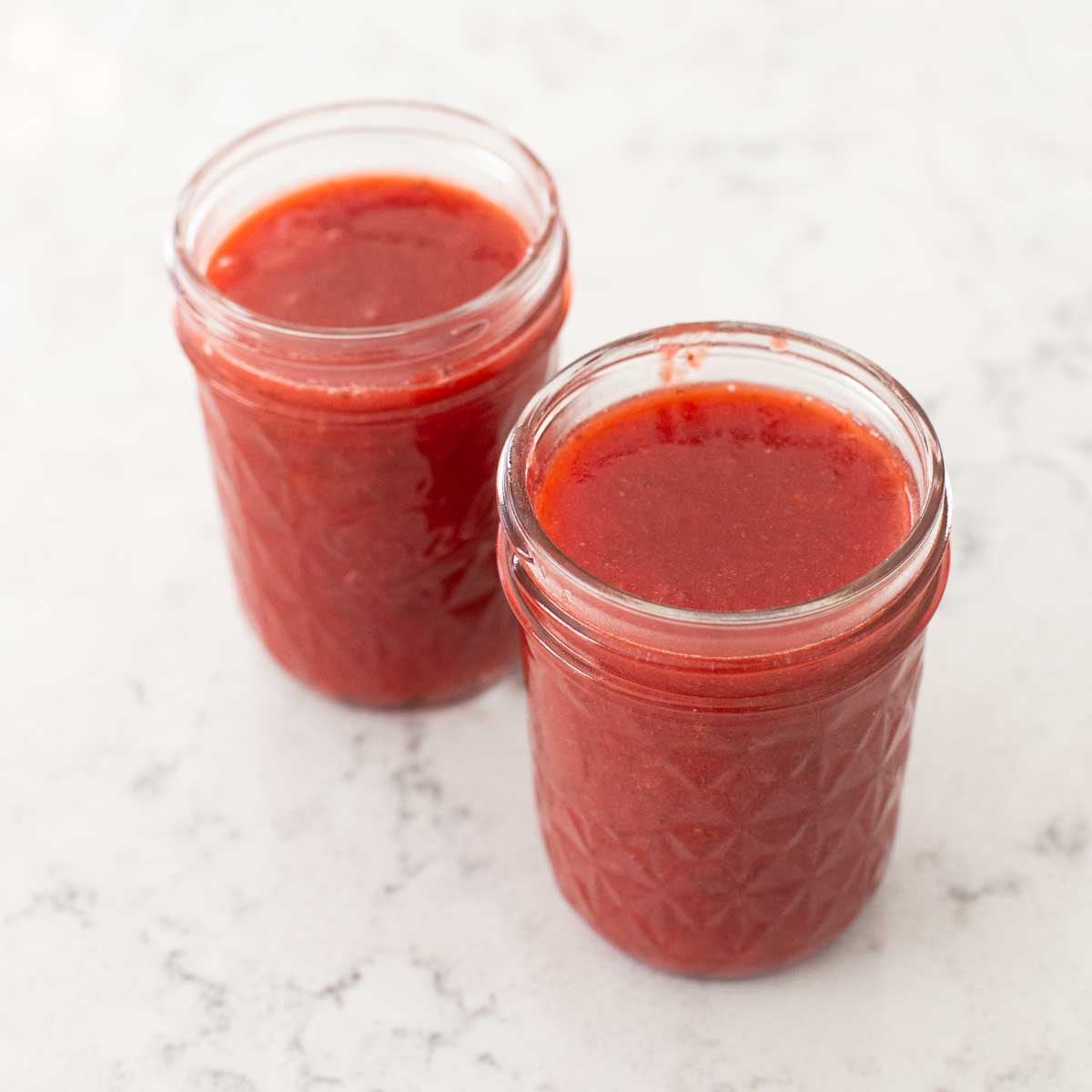 You can store the fresh strawberry sauce in clean mason jars in the fridge for up to 7 days.
To freeze the strawberry sauce, you'll want to leave at least 1-inch of space at the top of the jars because the sauce will expand as it freezes.
If your jar is too full, it will crack as the sauce expands and make a big mess.
You can freeze the strawberry sauce for up to 1 year.
How to Use Strawberry Sauce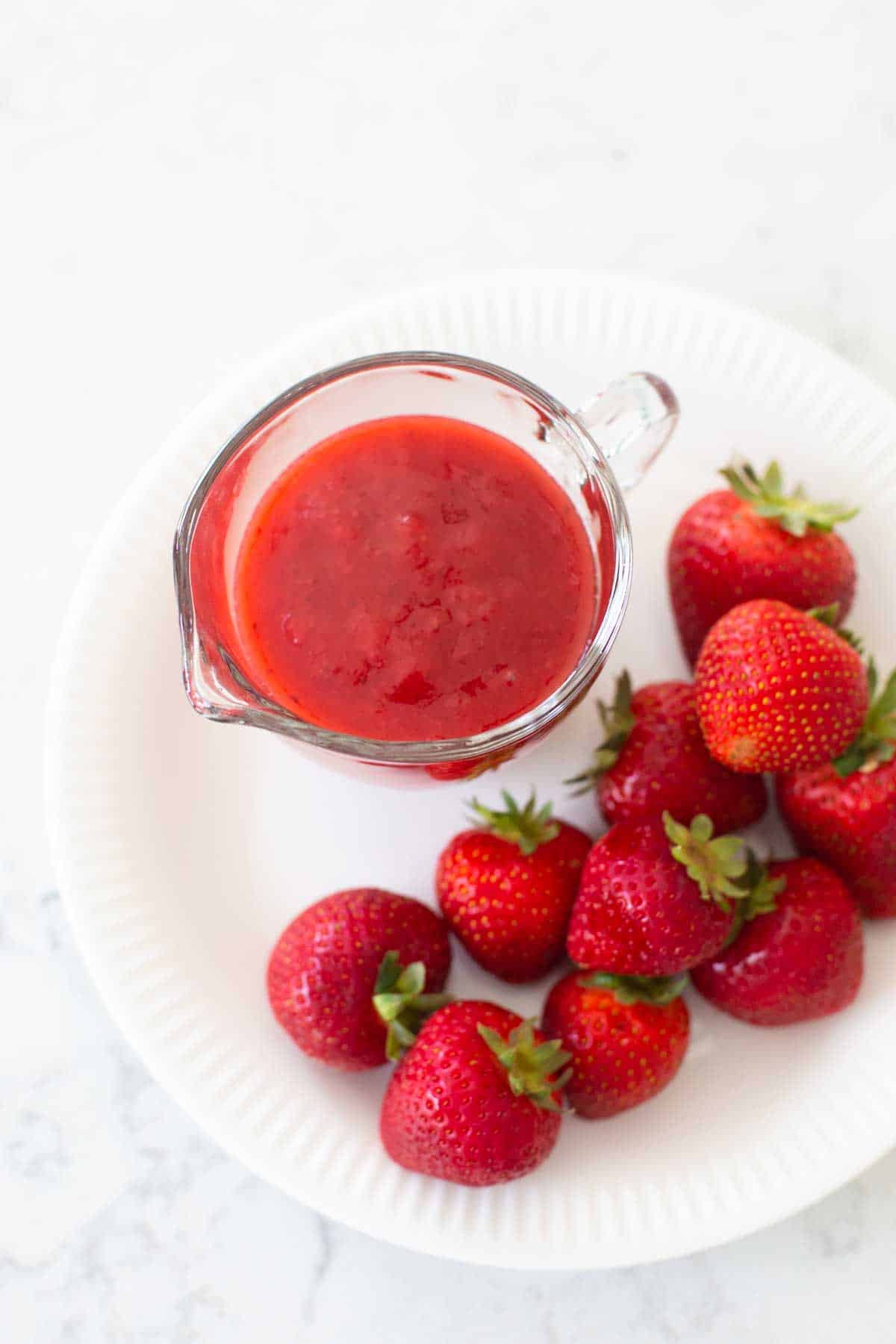 I think the strawberry sauce is absolutely delicious served either hot or cold.
This makes it the perfect pick for using on:
Strawberry Pancakes: Add a drizzle with more sliced fresh berries and whipped cream.
Strawberry French Toast: Use in place of syrup on a few slices of French Toast.
Strawberry Biscuits: Add a dollop to a warm fresh biscuit with butter.
Strawberry Cakes: Add a drizzle to a slice of cake. It's a little bit too thin to use as a cake filling unless you cook it longer and let it thicken up more.
Strawberry Waffles: Make homemade buttermilk waffles, you could stir the strawberry sauce right into the batter or drizzle it over the top.
Strawberry Cinnamon Rolls: Drizzle the sauce over the top of fresh baked cinnamon rolls in addition to or instead of the icing.
Greek Yogurt Parfait: You could drizzle a little into your morning yogurt and top with homemade granola or fresh berries. It's a great way to sweeten unsweetened yogurt.
Strawberry Cocktails: You can use strawberry sauce as an ingredient to make a strawberry-flavored cocktail like this delicious strawberry spritz that would be perfect for a summery party.
Easy Strawberry Sauce Desserts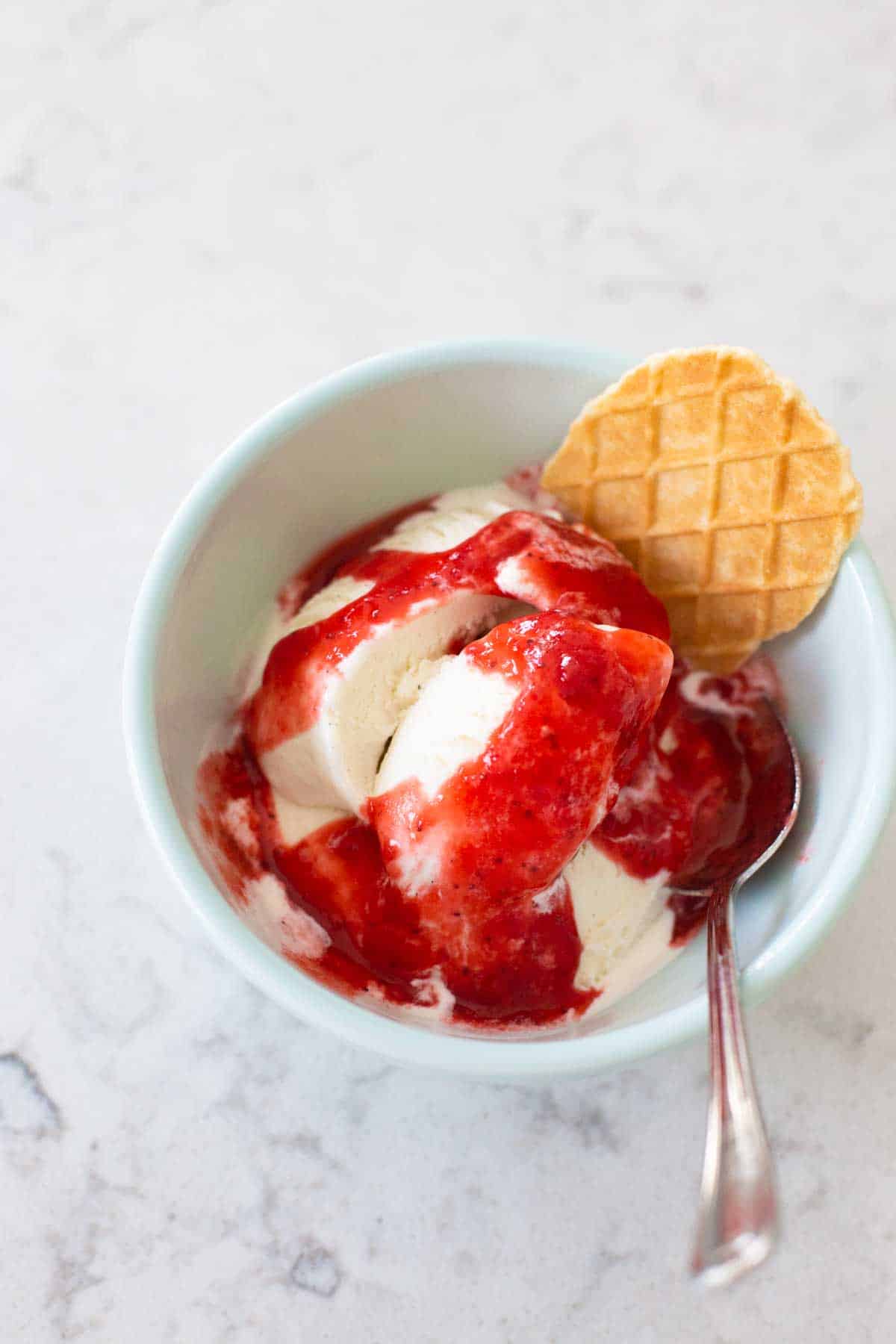 Once you have a jar of homemade strawberry sauce in the fridge, there are so many super easy desserts you can dress up with it:
Strawberry Sundaes: Drizzle it over a bowl of vanilla ice cream. You could add more fresh strawberries, chocolate chips, or crushed ice cream cones for a crunchy topping.
Strawberry Sauce for Cheesecake: Buy a plain vanilla cheesecake at the store and drizzle this sweet sauce as a cheesecake topping with whipped cream for garnish.
Strawberry Angel Food Cake Trifle: Spoon the sauce over a slice of angel food cake or layer cubes of cake with Cool Whip, fresh strawberries, this strawberry sauce in a trifle dish.
Strawberry Pound Cake: Thaw a frozen pound cake, slice the cake and griddle each slice in a little butter. Drizzle the strawberry sauce over the top. You could add whipped cream or vanilla ice cream.
Strawberry Vanilla Pudding: Buy a large tub of vanilla pudding and serve it in parfait cups with a drizzle of strawberry sauce and Nilla wafers for garnish.
Chocolate Strawberry Flourless Torte: Drizzle the sauce over a slice of my chocolate flourless torte. It would be delicious next to or in place of the creme anglaise sauce.
Chocolate Strawberry Brownie Sundae: Layer warm chocolate brownies with vanilla ice cream and a drizzle of this strawberry sauce.
📖 Recipe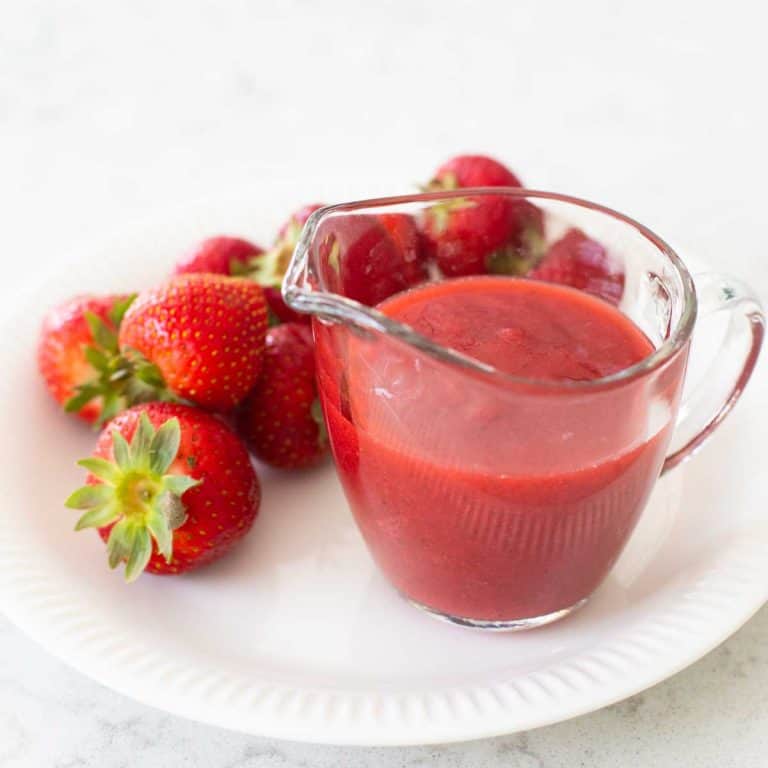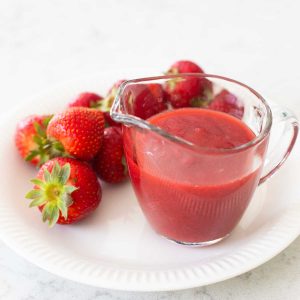 Strawberry Sauce
Easy strawberry sauce for cheesecake, pancakes, ice cream, and more! This delicious fresh strawberry recipe is the perfect way to use up the sweet berries of the season. Freeze a batch so you can use it all year long.
Ingredients
1

pint

fresh strawberries

about ½ pound

⅓

cup

sugar

Juice from ½ fresh lemon
Instructions
Rinse the strawberries and cut the leafy tops off. Slice the berries in half and add them to a large sauce pan.

Add the sugar and lemon juice to the strawberries and stir them together.

Heat over medium-low heat until the juices release from the strawberries, the sugar dissolves in the liquid, and the mixture begins to bubble.

Cook for 15 minutes, mashing the strawberries with the back of a wooden spoon as they cook to help release all the juices from the fruit.

Use an immersion blender to puree the sauce right in the sauce pan or transfer the mixture to a countertop blender to puree.

The sauce will be very loose and thin when warm but will thicken when used chilled from the fridge.
Recipe Notes
Make Ahead Tips:
The strawberry sauce can be made up to 7 days in advance and stored in the fridge in an airtight container.
You can freeze the strawberry sauce for up to one year. Simply thaw in the fridge overnight and reheat in the microwave or in a saucepan over the stovetop if you desire warm sauce.
Save This Recipe to Your Recipe Box
Find this delicious recipe next time you visit by saving it to your very own recipe box on my site. All your favorites stored in one easy place!