Rich and fudgy chocolate flourless torte is a perfect gluten-free dessert but we guarantee every last guest will love it!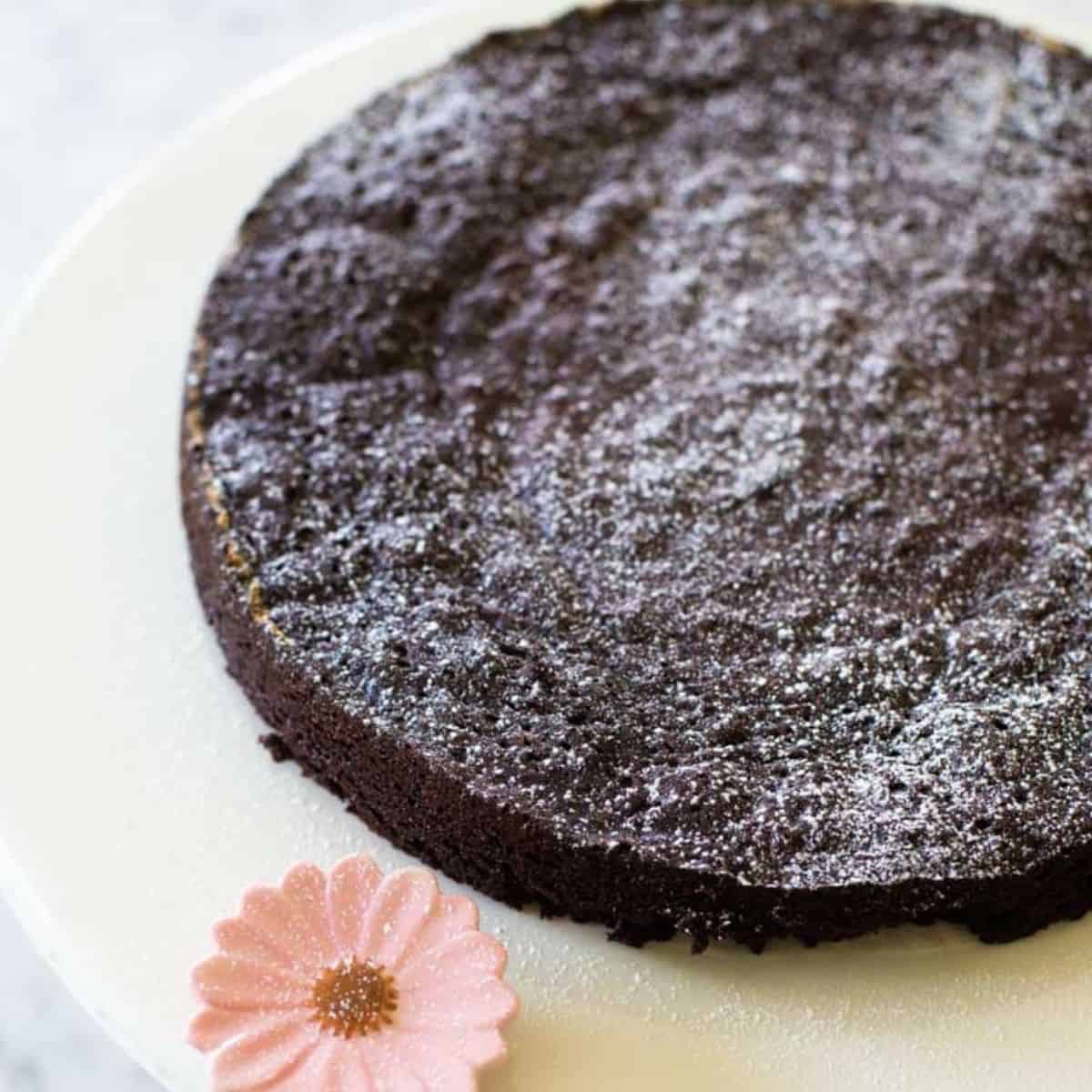 My mom isn't a fan of birthday cake. She just cringes at towering layer cakes covered in frosting. So when her birthday rolls around, she gleefully requests this rich and decadent chocolate flourless torte with a creamy Creme Anglaise sauce drizzled over the top.
Finding a torte that had exactly the right texture as her all-time favorite restaurant dessert took some trial and error but I've finally nailed it.
This treat is perfect for anyone looking for a gluten-free dessert but even those that don't follow a gluten-free diet will absolutely love it. This chocolate torte is more decadent than most any other dessert I bake!
My favorite part? It is so easy, even my kids could bake it! This one-bowl recipe comes together quickly with very little mess to clean up.

Jump to:
Why This Is the Best Recipe
One Bowl: The chocolate batter is mixed together all in one bowl for easy clean up.
Fudgy Texture: The torte is denser than a brownie but lighter than fudge.
Easy to Make: The recipe is so simple, your kids could even make this for a special treat.
Gluten-Free: It's a perfect recipe for serving at a party with guests who need a gluten free option.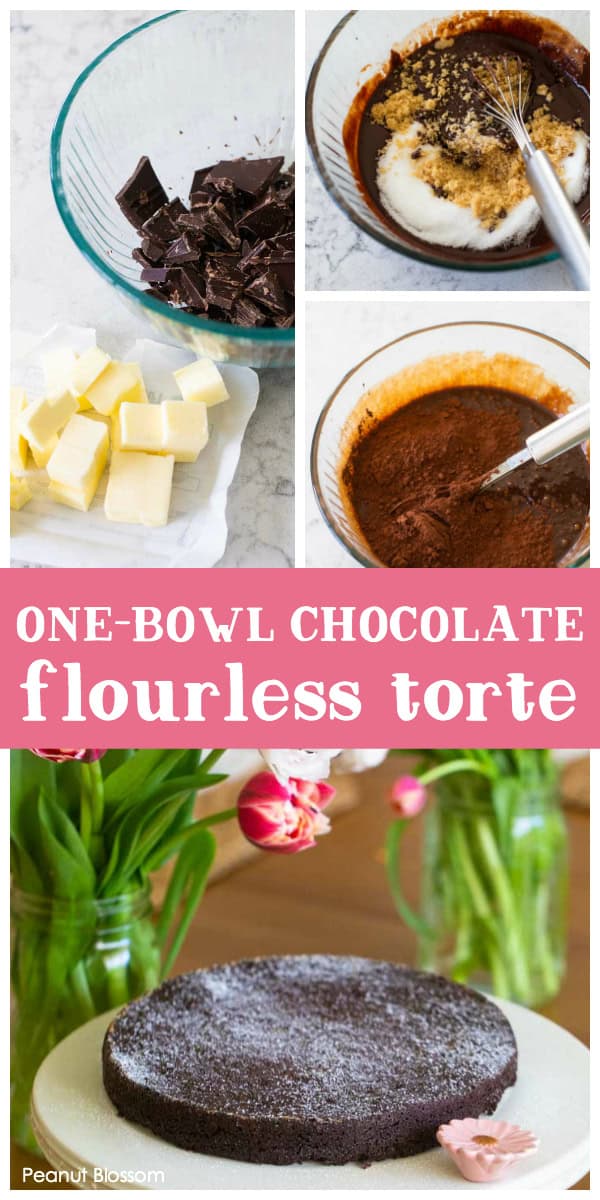 The Difference Between a Torte and a Cake
My mom and I both wondered the answer to this question: What makes this a chocolate torte and not a chocolate cake?
The answer is that a torte uses very little (if any) flour while a cake relies on flour and baking powder.
So, you could call this a "chocolate flourless cake" if you think you could sell it better to your kids. "Brownie pie" could also work.
Our family insists on calling it a torte because it just sounds so darn fancy.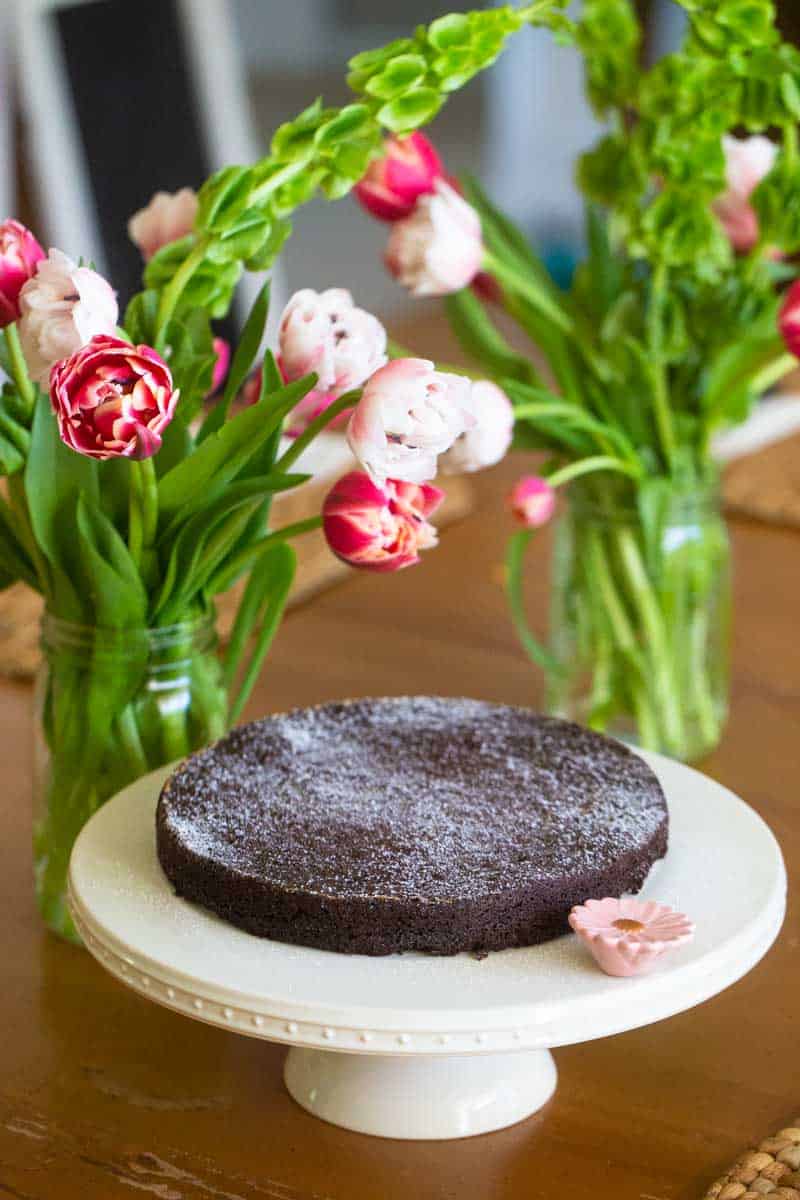 How to Garnish a Chocolate Torte
When I served this as my mom's birthday cake, I kept it super simple. I just dusted on a pretty coating of powdered sugar after the torte had completely cooled.
You could add fresh berries, strawberries, blackberries, or raspberries would be insanely good.
We love to drizzle a creamy vanilla sauce over the top. You can get our recipe for Creme Anglaise here. But if you're serving it during the holiday season, you may also love this easy amaretto cream sauce.
Is It Kid-Friendly?
Absolutely! This is a great kid-friendly recipe. The batter comes together using the microwave and one mixing bowl.
You may want to help them prepare a springform pan with parchment paper and put the pan in the oven for them, but they can do the rest.