This Creme Anglaise recipe is the perfect vanilla sauce for drizzling over a chocolate flourless torte or other simple dessert.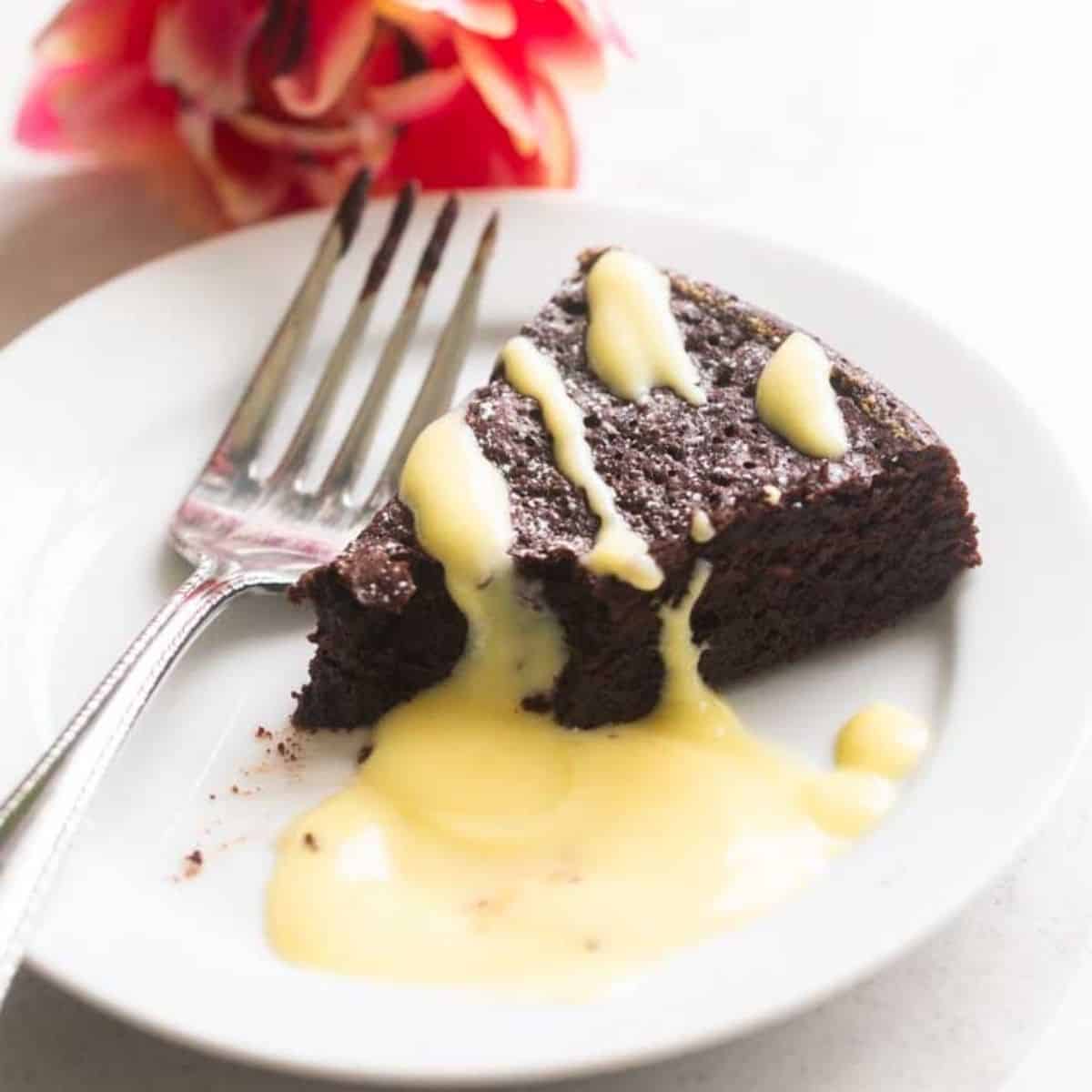 There was a restaurant in my hometown that always served the best homemade desserts and pastries. Their chef introduced our family to our favorite rich and decadent chocolate flourless torte with a rich vanilla sauce they nicknamed "Saucy Anglaise."
My mom simply could NOT resist that dessert any time we dined there. She very rarely ordered dessert at restaurants, so this was a huge deal.
A couple years ago, she asked me if I could possibly recreate her favorite dessert for her birthday. It took a bit of trial and error, but I was finally able to nail it. Now, this is her favorite treat every May.
The recipe for the Creme Anglaise (a rich vanilla custard sauce you can drizzle over any dessert) is deceptively easy as long as you follow a few very specific steps.
The list of ingredients is short but the instructions are long just so I can walk you step-by-step through making an absolutely perfect vanilla sauce.
It is so good, you're going to want to drink it with a straw all by itself! I'm tempted each and every time I make it.
P.S. Don't miss the chocolate flourless torte recipe that I make to go with it. Each recipe is great, but together they are magic.
Jump to:
Ingredients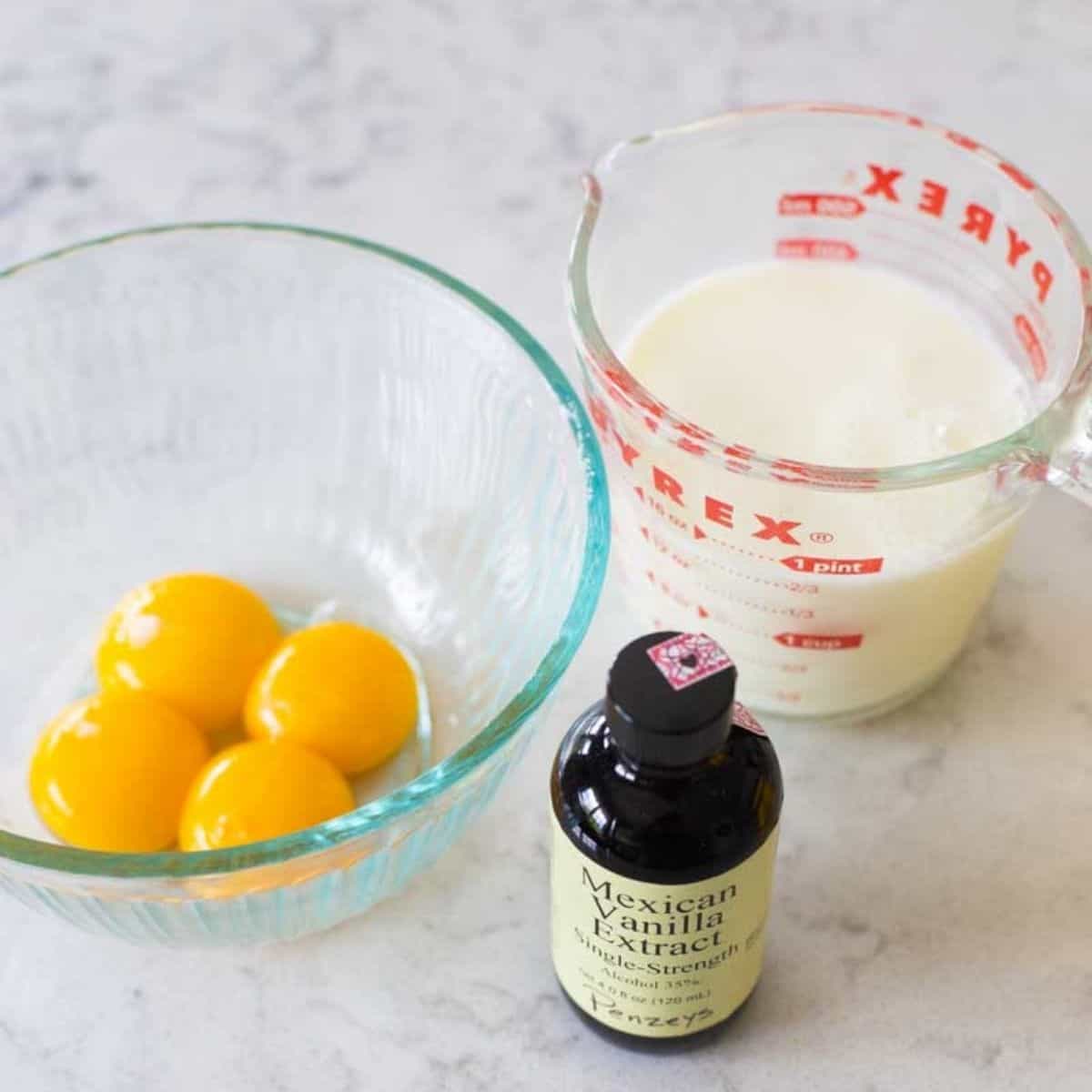 There are very few things you need to make a homemade creme anglaise, the trick is just in how you assemble them.
You'll need:
Eggs
Sugar
Milk
Cornstarch
Vanilla
Grand Marnier
How to Make Creme Anglaise
Follow these steps carefully and you'll have a rich and creamy vanilla custard sauce in no time.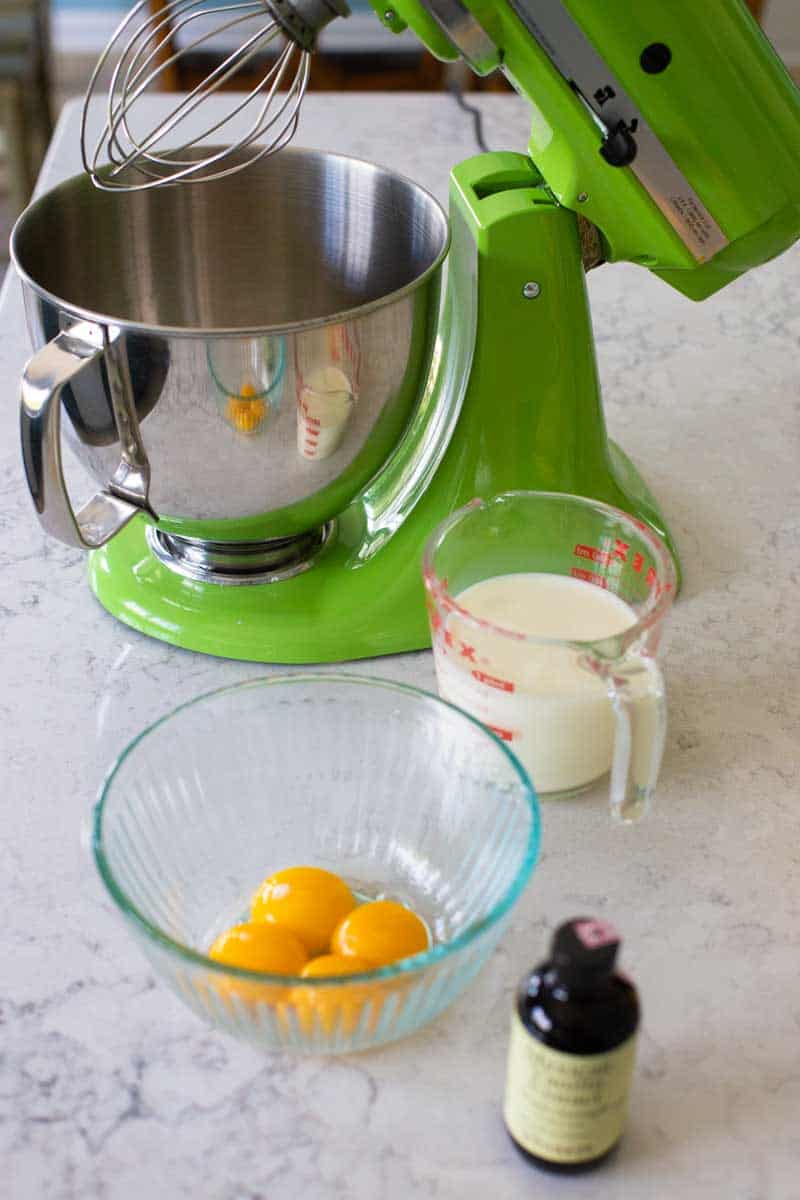 Step 1: Prep Your Tools
There isn't that much work involved in making the vanilla custard sauce but it will all go far easier for you if you spend just a minute preparing all your tools.
Set out your mixer with the paddle attachment.
Set out a clean mixing bowl or large measuring cup with a wire mesh strainer over the top for you to strain your final custard. When it is ready to be removed from the heat, you'll want this ready for you to move quickly.
Set a cooking thermometer near the stove. You'll need it for scalding your milk and for cooking the custard.
Step 2: Beat the Egg Yolks
Beat the egg yolks in your mixer on medium speed for 3 minutes. The eggs will turn light yellow, increase in volume and become quite thick.
Add the cornstarch and beat them together.
Step 3: Scald the Milk and Temper the Eggs
You need scalded milk for the Creme Anglaise to work well.
What is scalded milk? It's simply milk that has been heated to 180 degrees but not boiled.
It should only take you a couple of minutes at most. Simply heat the milk in a saucepan over medium-high heat. Stir it constantly so it doesn't stick to the bottom of your pan. Test the heat with the thermometer you placed near the stove.
Once the milk is ready, it is time to add it to the eggs. This is the one tricky part where you need to be extra careful.
How to Temper Eggs:
If you dump the hot milk into the eggs, they will immediately cook and scramble. To avoid this, you need to get them used to the hot temperature of the milk. This is called "tempering eggs."
Turn your mixer on low speed. You want the eggs constantly moving while you drizzle in a little hot milk. Start with just a splash or two of milk and let the eggs mix together with the heat.
Then, slowly drizzle the milk down the inside of the mixing bowl into the eggs. The mixing bowl wall will slightly cool the milk so it doesn't overwhelm the eggs.
Once all the milk is mixed in, congratulations you've got a vanilla custard!
Step 4: Finish Over Medium Heat
Transfer your vanilla custard to a clean saucepan. Heat it over just-under medium heat while stirring constantly.
Heat the mixture until it is thickened and coats your spoon. You'll know it is finished if you can run your finger down the spoon and the sauce leaves a neat line.
Do NOT cook the custard higher than 180 degrees or you'll scramble your eggs.
Immediately pour the custard through your prepared mesh strainer. This will collect any bits of cooked egg you might have missed and ensure you've got a perfectly smooth sauce.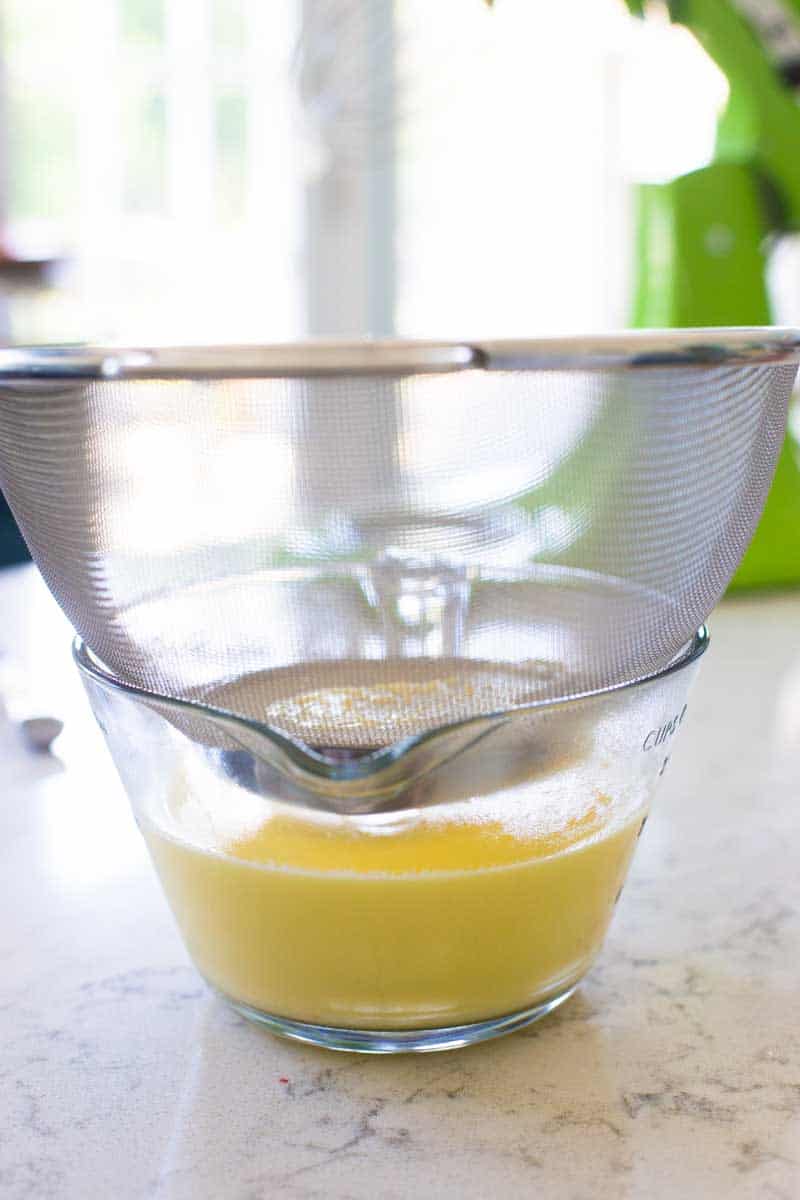 Step 5: Add the Vanilla
Whisk in the vanilla extract. You can stop here and have a perfectly delicious vanilla sauce.
If you want to take things another step farther, add 1 ½ teaspoon of Grand Marnier and/or the seeds from half a vanilla bean pod.
The orange-flavored liqueur makes an amazing addition to the sauce and complements the rich, fudgy chocolate flourless torte we serve it with. The vanilla bean seeds make the sauce look a little like melted ice cream, which is exactly what I told my kids it was!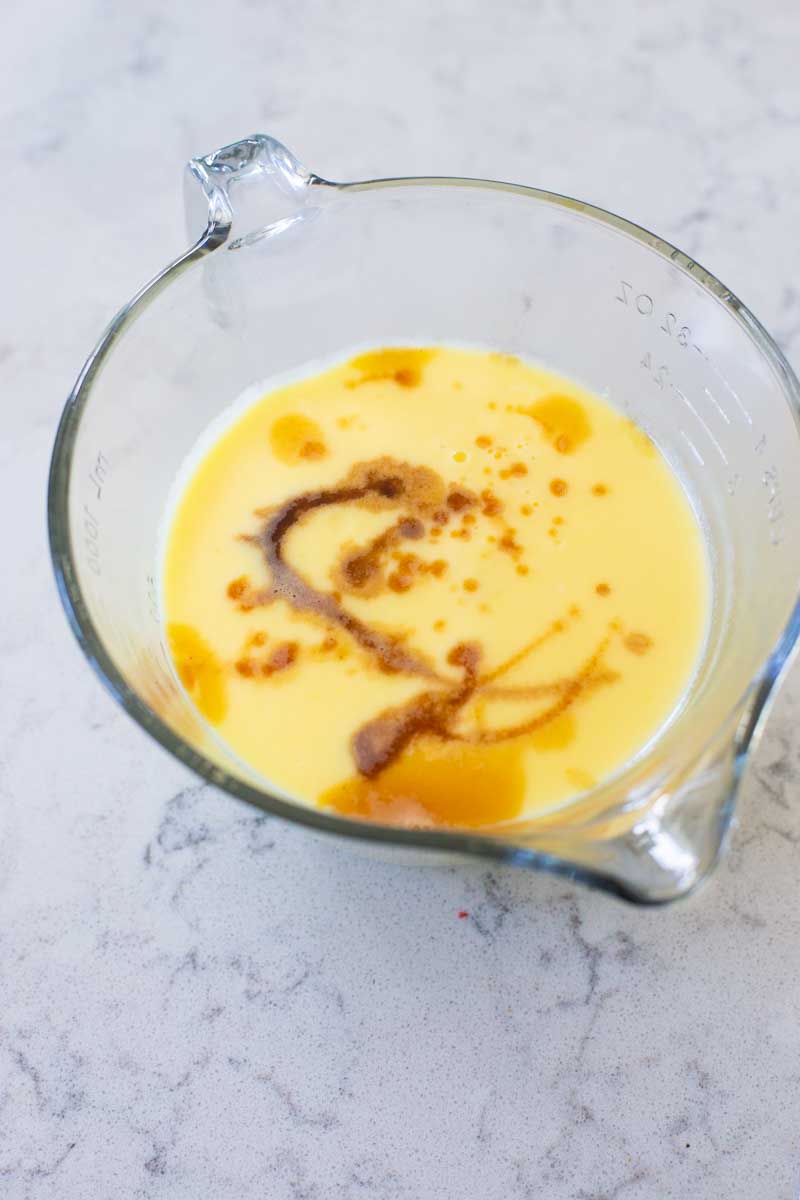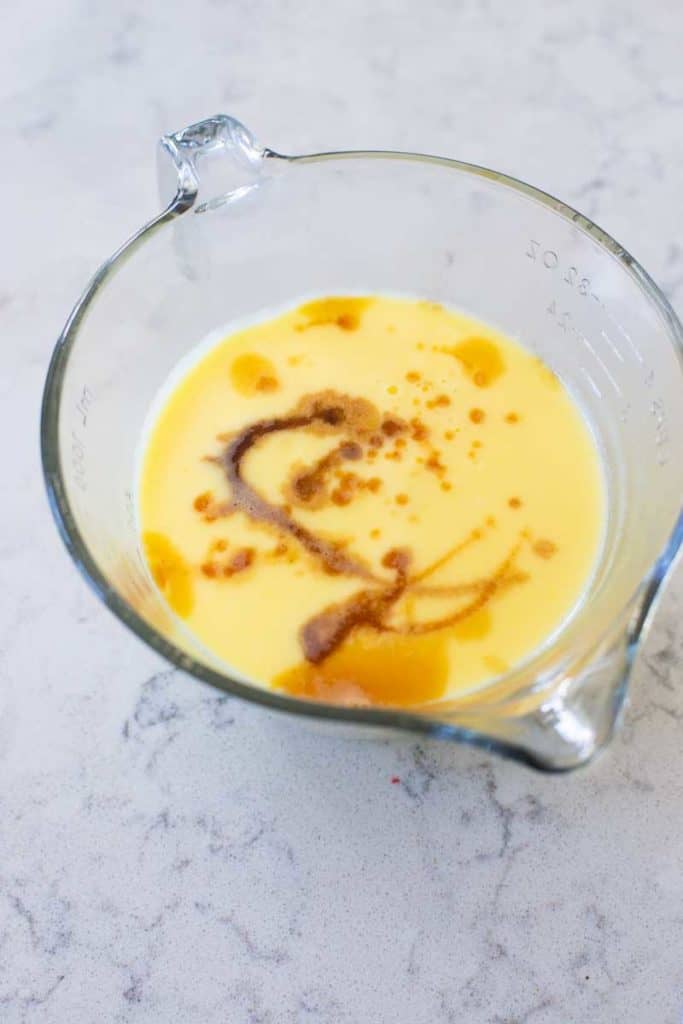 If you've tried this creme anglaise sauce or any other recipe on PeanutBlossom.com please don't forget to rate the recipe and let me know where you found it in the comments below. I love hearing from you!
FOLLOW along on Instagram @peanut.blossom as well as on Pinterest and Facebook.