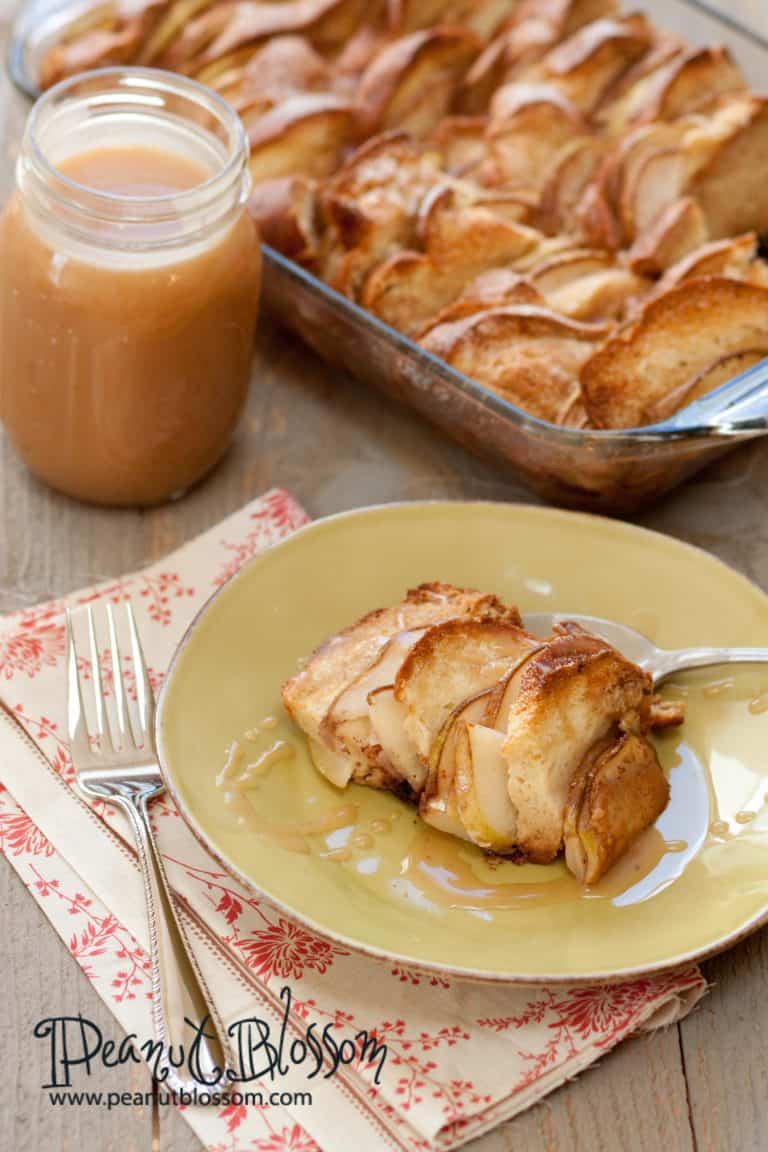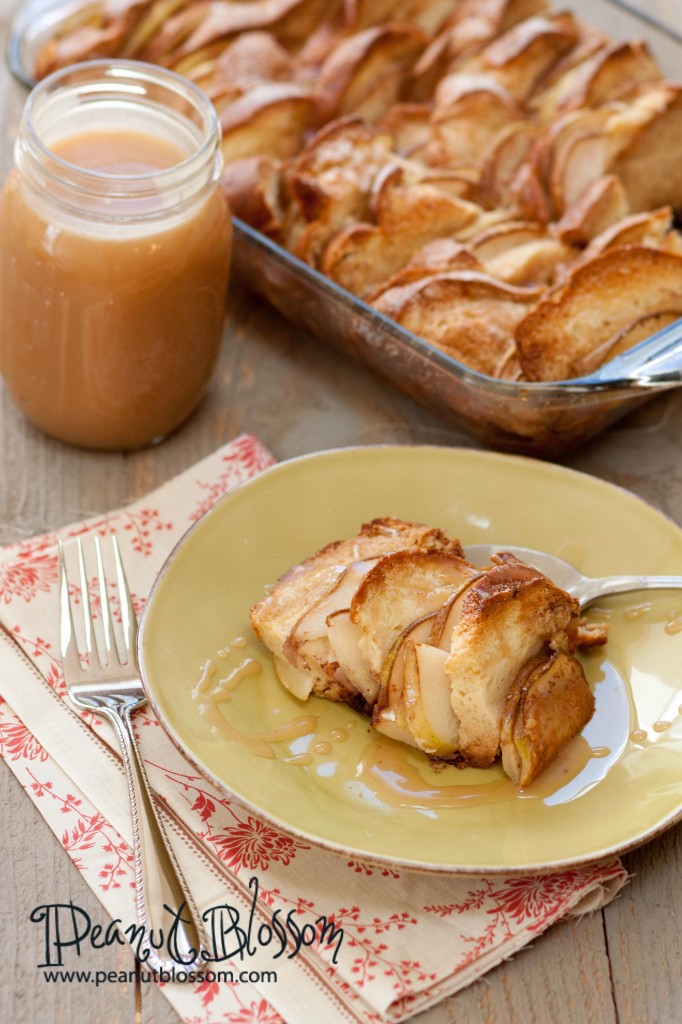 Handyman Tim is finally home after a very, very, very long work trip. The girls and I have been surviving on a lot of frozen pizza, mac and cheese, and simple dinners. I find it so difficult to gather the energy to cook elaborate meals when he is gone since it seems like such a waste of food when we have the equivalent of 1.5 persons eating it.
The moment he returns I head back to the kitchen and we eat like Kings for a few days. What better way to welcome him home than with some of his favorite foods and yet another stab at his favorite dessert--bread pudding. I've tried and tried to make a good bread pudding. It has been his birthday/special celebration request several times and I have yet to find a recipe that is "perfect" in his eyes.
This one still didn't hit the mark but it is as close as I've come yet. I personally think it beats out any other attempt by a mile. Today I present: Chocolate pear bread pudding from the latest Everyday Food magazine: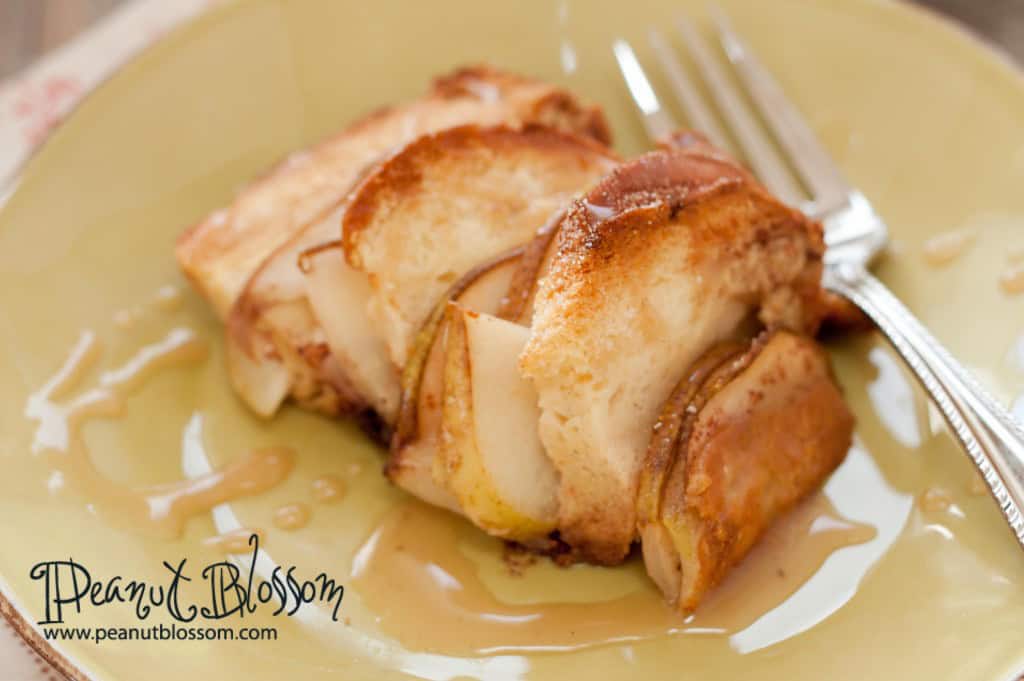 I used our favorite challah bread, sliced very thin vs. cubed like other variations I've tried. Fresh ripe pears are also sliced very thin and layered amongst the bread slices. 3 oz of bittersweet chocolate is chopped and sprinkled on the bottom of the pan. It melts and forms a nice dark layer beneath the pudding.
I know the best bread puddings usually have a little drizzle of sauce to go with them. The recipe didn't state any suggestions, so I went out on a limb and made a batch of Salted Caramel Sauce. That stuff is nectar of the gods and is deserving of it's own post tomorrow.
Could someone please push that bread pudding off to the side so I can lick the plate clean of the caramel? Thanks.
I should note though, Little Pea thought this dessert was fantastic. She loved the pears and gobbled it up. Minus the chocolate and caramel sauce, I would feel ok about serving this as a breakfast casserole for a special occassion too. But then again, if the occassion is "special", maybe leave the chocolate.
Chocolate Pear Bread Pudding
from Everyday Food magazine
Ingredients:
- unsalted butter, room temperature, for baking dish
- 3 oz bittersweet chocolate, coarsley chopped
- 7 oz challah bread, cut into ½ inch slices, halved diagonally
- 1 ½ pounds firm but ripe pears, such as Anjoy or Bartlett (about 3), cored and very thinly sliced
- 3 large eggs, plus 3 large egg yolks
- 1 ½ cups whole milk
- 1 ¼ cups heavy cream
- ½ cup packed light brown sugar
- 1 tsp ground cinnamon
- ¼ tsp fine salt
- 1 tbsp sanding or other coarse sugar
Method:
Preheat oven to 325 degrees. Butter a shallow 2-quart baking dish and sprinkle bottom evenly with chocolate. Arrange brioche in dish, alternating each slice with 3 or 4 pear slices.
In a large bowl, gently whisk together eggs and egg yolks, milk, cream, brown sugar, cinnamon, and salt. Pour mixture evenly over bread and pears and let sit 5 minutes. Sprinkle with sanding sugar.
Bake until bread is puffed and custard is just set. The original recipe calls for 50-60 minutes, mine took nearly an hour and a half. Let cool slightly. Serve warm or at room temperature. To store, refrigerate, covered, up to 2 days.