This deliciously easy triple berry sauce is made with fresh or frozen blackberries, blueberries, and strawberries. It makes the perfect cheesecake topping.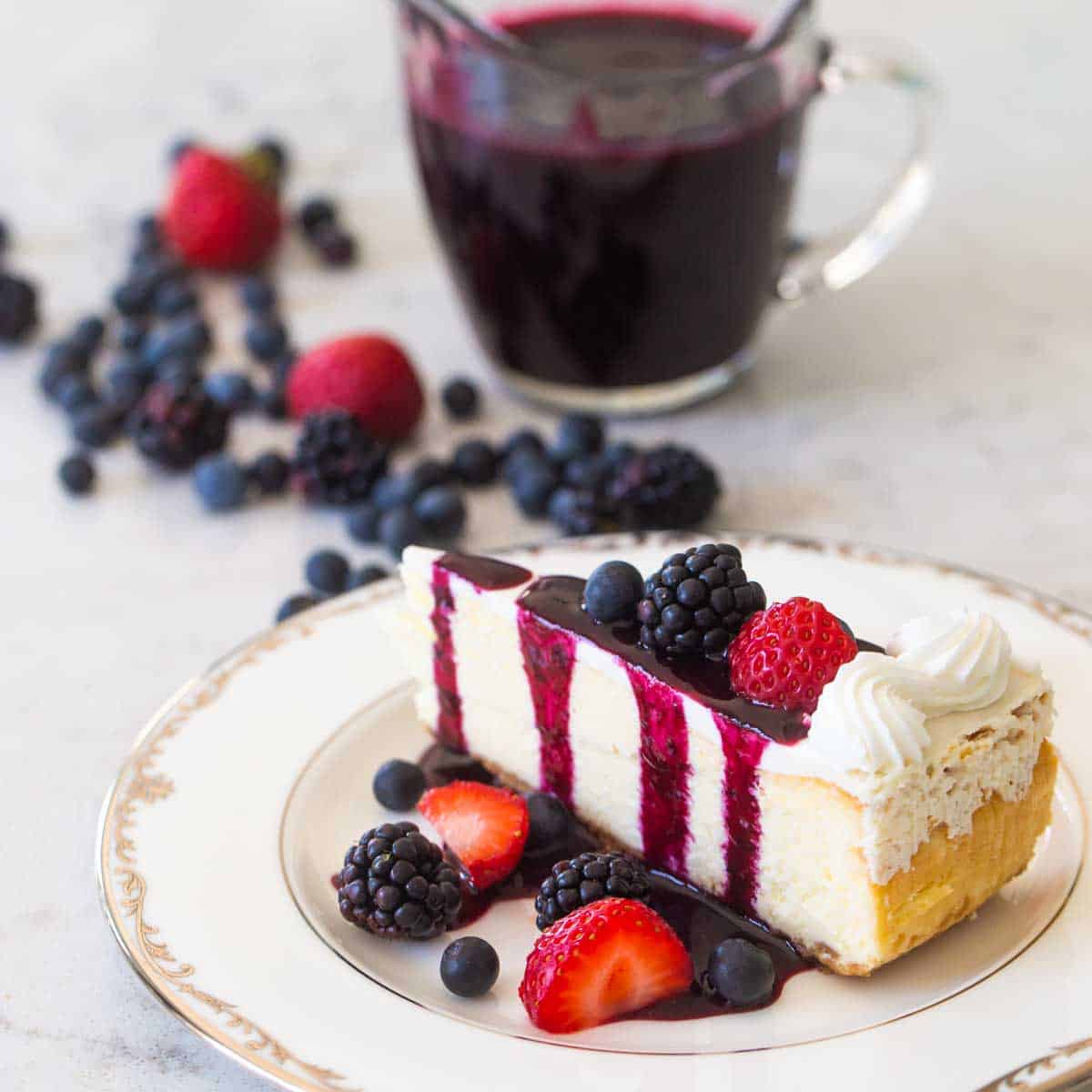 While I was at Costco picking up supplies for our at-home anniversary dinner, I spotted their simple plain vanilla cheesecake completely by accident.
For our little family, I would NEVER buy that giant cheesecake, but in that moment, I decided that the $14 treat was cheaper than dessert x4 at a fancy restaurant and grabbed it.
I knew we had a super-fresh carton of handpicked blackberries and another container of fresh-picked blueberries sitting on the counter at home because I had just taken the girls blackberry picking for the very first time.
I added a carton of fresh strawberries to my shopping cart and headed home.
Since this dessert was for my anniversary celebration, I didn't want to do anything more than necessary to make it.
I sat at the kitchen island and talked my girls through the process of prepping this super-easy triple berry sauce for topping our cheesecake.
I didn't have to lift a finger once they got started! The kids were thrilled to contribute to the anniversary meal in such a special way.
RELATED: For kids that prefer to bake the entire dessert from scratch, don't miss The Ultimate Kids' Baking Book.
Jump to:
Ingredients
I love how fresh and easy the ingredients are for this simple dessert sauce:
Blackberries
Blueberries
Strawberries
Sugar
Lemon juice
You can use either fresh or frozen fruit to make the recipe. See the recipe card for more details.
How to Make It

Step 1: Wash fresh berries by hand & trim the strawberries
If you're using frozen berries, skip this step!
Fresh berries are very delicate. Turn the water on cold and use low water pressure. Rinse the berries carefully by hand or with a strainer.
Trim the green tops off of the strawberries and discard them. Then slice the strawberries into smaller chunks.
Step 2: Mix the berries with sugar and simmer
Add the clean berries to a large saucepan. Gently stir together with ⅔ cup sugar and 1 tablespoon of lemon juice right in the pan.
Heat the berries over medium heat until softened and the sugar is completely dissolved. Then simmer for 5 minutes so the sauce starts to thicken.
Step 3: Blend and strain the sauce
You can transfer the sauce to a blender to puree or use an immersion blender right in the pan.
We've gotten so much use out of our immersion blender over the years and I find it is a much safer option than pouring hot liquids into a blender when cooking with kids. We love this simple hand blender.
Once the sauce is pureed, slowly pour it through a kitchen strainer set over a clean bowl to strain out all the seeds and pulp.
Serve the Sauce Hot or Cold
This is a super versatile dessert sauce that can be used in a long list of delicious recipes either hot or cold.
For our cold cheesecake, we chilled the sauce in the fridge for several hours.
Cold Dessert Ideas
Chill the berry sauce and you could drizzle it over these tasty dessert ideas:
Ice cream sundaes
Drizzling over slices of cake
Berry trifles made with pudding and pound cake
Merengue nests topped with fresh berries and sauce
Miniature shortcakes with whipped cream
Use as a fresh fruit cheesecake topping
Warm Dessert Ideas
Use the berry sauce right after making it while it is still warm and drizzle over these yummy recipes!
HINT: You could always reheat it gently in a small saucepan over medium-low heat, too.
If you've tried this triple berry sauce or any other recipe on PeanutBlossom.com please don't forget to rate the recipe and let me know where you found it in the comments below. I love hearing from you!
FOLLOW along on Instagram @peanut.blossom as well as on Pinterest and Facebook.
📖 Recipe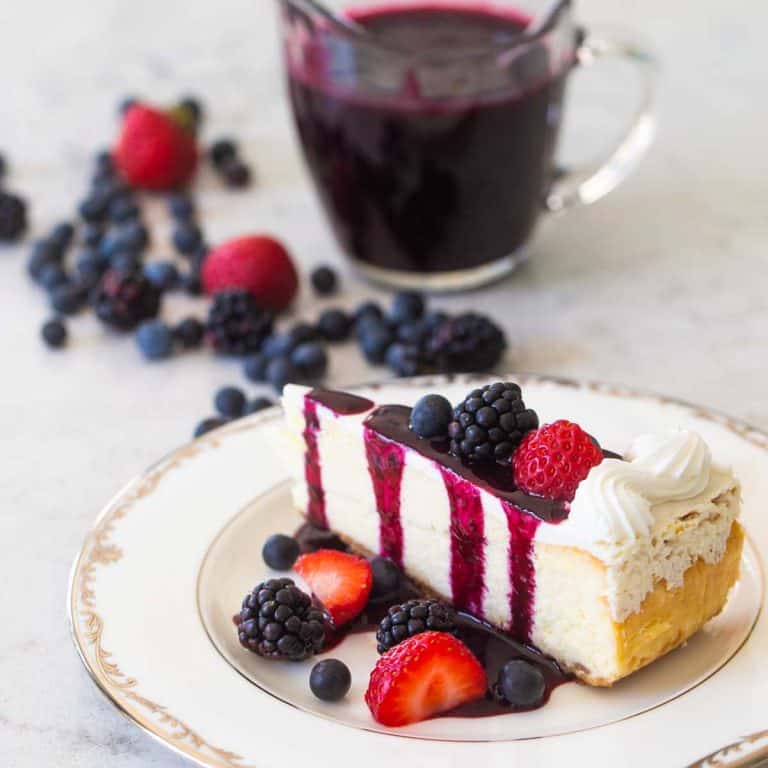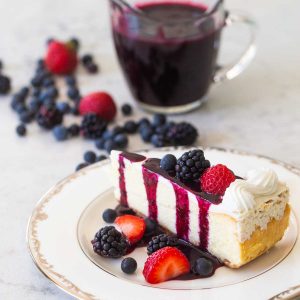 Triple Berry Sauce
This simple triple berry sauce is so easy to make using fresh or frozen blackberries, blueberries, and strawberries. Drizzle it over cheesecake or your favorite dessert.
Ingredients
1

cup

blackberries

1

cup

blueberries

1

cup

strawberries

¾

cup

sugar

1

tablespoon

fresh lemon juice
Instructions
Wash and drain the fresh blackberries and blueberries (or simply measure the frozen fruit if using.) Add the berries to a large saucepan.

Wash and drain the fresh strawberries and trim the green tops off. Cut into smaller chunks and add them to the saucepan. (Simply measure the frozen strawberries if using.)

Gently stir together the berries with the sugar and lemon juice.

Heat the berries over medium heat until the sugar is completely disolved into the juices and the berries are soft. Turn the heat down to low and continue to simmer for 5 minutes or until the sauce begins to thicken.

Use an immersion blender to puree the berries right in the pan. OR carefully transfer the mixture to a traditional blender and puree.

Set a strainer over a clean storage bowl. Carefully pour the sauce through the strainer to remove the seeds and pulp. Either serve the sauce immediately or you can chill it in the fridge until serving.
Recipe Notes
Make-ahead tips:
This can be made the day ahead and stored in the fridge until serving.
You can also freeze the sauce in an airtight container. Defrost in the fridge the night before serving and whisk to revive the consistency.
Save This Recipe to Your Recipe Box
Find this delicious recipe next time you visit by saving it to your very own recipe box on my site. All your favorites stored in one easy place!