This buttermilk waffles recipe is perfect for beginner bakers to make for their families. Kids will love having a big double batch of batter to make homemade freezer waffles for busy school mornings.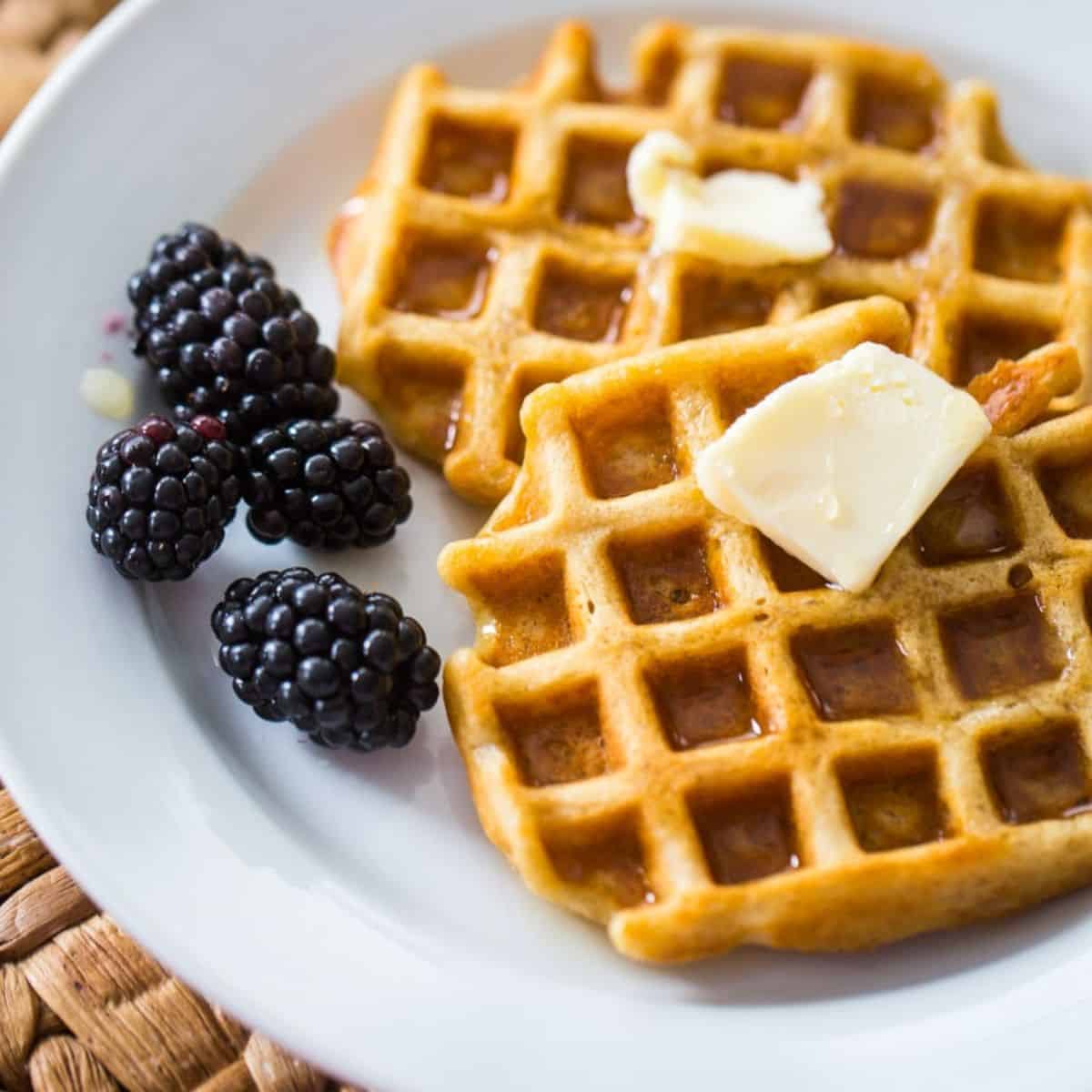 The great debate every weekend in our family is: Pancakes or Waffles??
We each have our favorite breakfast recipes that we rotate through but these easy buttermilk waffles come up a lot more frequently than most.
The last time I made them, I had just finished making the homemade blackberry jam and I knew I just HAD to have them on the fresh waffles with a smattering of fresh blackberries on top. It was everything I hoped it would be.
I was so hungry that morning, we sat down to enjoy our waffles before I had finished griddling up the entire batch of batter.
When breakfast was over, I headed back to the waffle iron to finish off the remaining waffles for breakfast leftovers the next day.
But if you can find the strength to be patient, you can make the entire batch of waffles and serve them family style at the brunch table for everyone to enjoy together.
Jump to:
Ingredients
I love how wholesome homemade from-scratch buttermilk waffles are to make. Just take a peek at the short list of ingredients:
Flour
Sugar
Baking Powder & Baking Soda
Buttermilk
Eggs
Butter
Vanilla Extract
Apple pie spice (or Cinnamon)
How to Serve Waffles Family Style
The last thing I want to do during the weekend is feel like a short order cook in my own kitchen. Serving up hot waffles fresh from the waffle maker, one at a time to whoever has an empty plate, is not a relaxing way to spend the weekend.
Instead, I prefer to preheat the oven to 220°F with a large baking sheet inside.
As I prepare the waffles, I transfer them directly to the oven to keep warm so that I can serve a large platter of waffles all at once and sit down and enjoy breakfast with my family.
This is an especially great trick because the waffles tend to get even crispier edges that simply soak up the softened butter and maple syrup!!
Make Ahead and Freezer Tips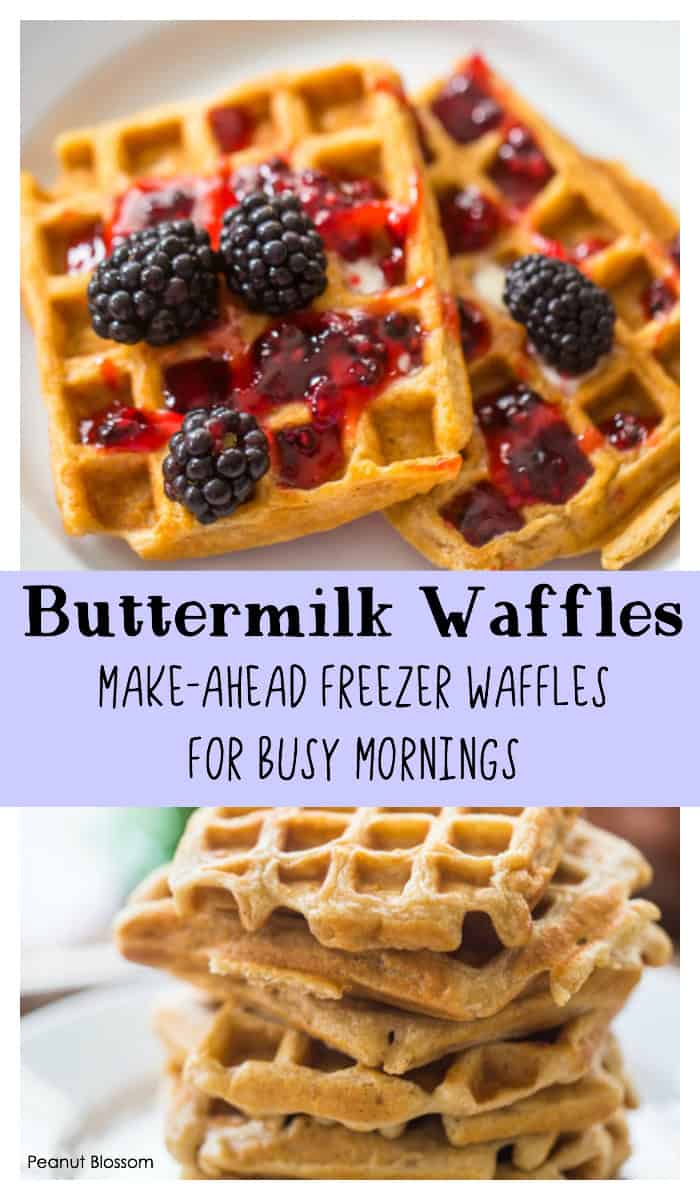 I usually make a big double batch of batter because our family LOVES leftover waffles during the week.
Store them in single layers between waxed paper and we just pop them in the toaster to heat through.
One or two light rounds of toasting and the buttermilk waffles come out crisp and fresh, almost more delicious than the first day we make them if that is even possible!
But if your kids get tired of having waffles every day, you can absolutely freeze these waffles for another day.
Just be sure to keep the waxed paper between them so they don't stick together.
You can toast the waffles directly from frozen but it may require another round of toasting to make sure they are heated all the way through.
Don't try to microwave them, or they will lose their delicious texture.
Serving Suggestions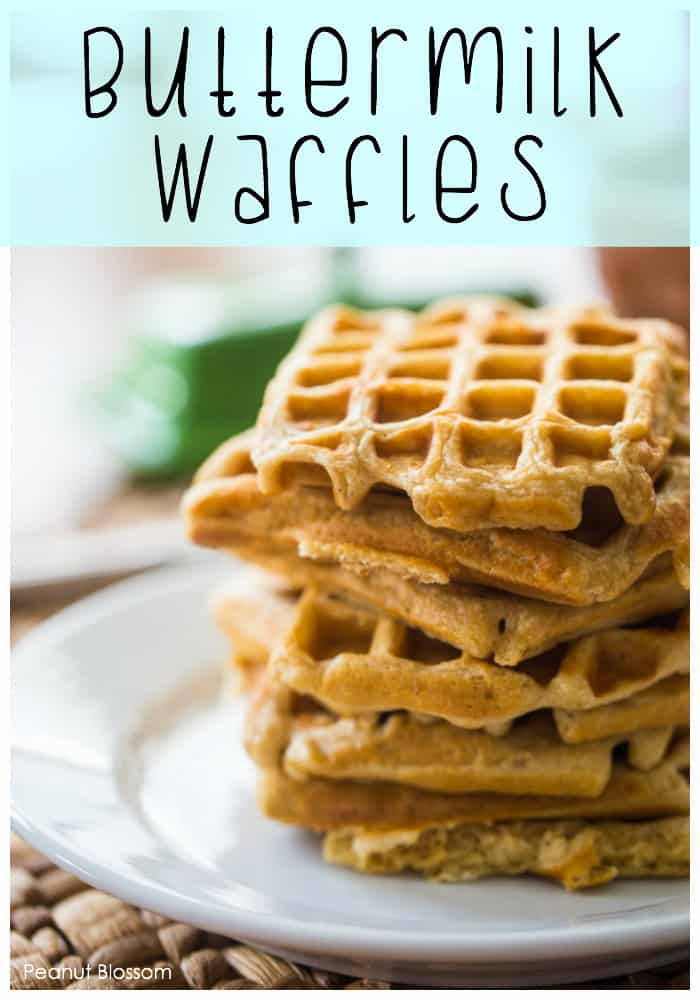 Our favorite part of this homemade waffles recipe is that you can top it with all different kinds of flavored syrups or spreads and completely change the experience.
It's a perfect base vanilla waffles recipe to top with any of these ideas:
📖 Recipe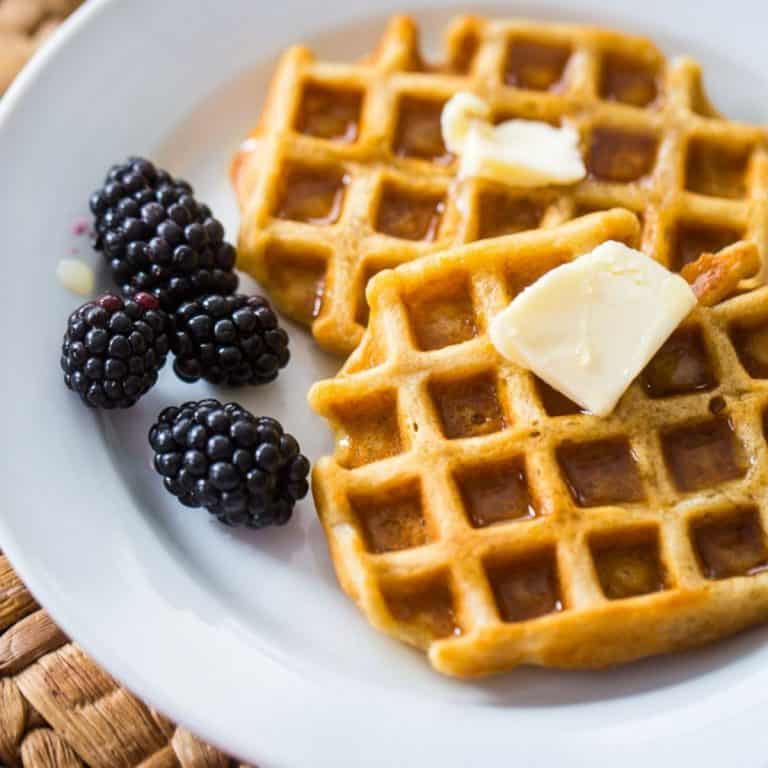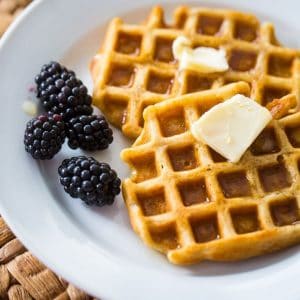 Easy Buttermilk Waffles
These sweetly spiced vanilla buttermilk waffles are a perfect make-ahead breakfast for busy mornings or for a relaxing weekend brunch. Kids can reheat them in the toaster for fresh and crispy waffles all week long.
Ingredients
2

cups

all-purpose flour

2

tablespoons

sugar

2

teaspoons

baking powder

1

teaspoon

baking soda

1

teaspoon

pie spice

½

teaspoon

salt

½

cup

1 stick butter, melted

2

cups

low-fat buttermilk

2

eggs

1

teaspoon

vanilla extract

Cooking spray for waffle iron
Instructions
Preheat the oven to 220°F. Place a large cookie sheet in the oven to warm up.

Preheat your waffle iron and set the cooking spray and a pair of tongs nearby.

In a large mixing bowl, whisk together the flour, sugar, baking powder, baking soda, pie spice, and salt.

Place the butter in a microwave safe bowl and melt on high for 20 - 30 seconds. Set next to the mixing bowl and let it cool slightly while you measure the next few ingredients.

In a large measuring cup, measure the buttermilk. Crack the eggs into the cup. Add the vanilla extract. Whisk the wet ingredients together until smooth. 

Pour the buttermilk mixture into the dry ingredients and stir together. Batter will be slightly lumpy but there should be no dry pockets of flour. Then, slowly drizzle in the melted butter while whisking the batter constantly. This will help prevent the warm butter from cooking the raw eggs in the batter.

Spray your waffle iron with a light coat of cooking spray and then pour the batter into your waffle wells according to the instructions for your machine. For our 4-waffle iron, we use a ⅓ cup measuring cup to scoop batter into each waffle well. Cook the waffles for 3 - 6 minutes, depending on your iron. Waffles should be golden brown. 

Use the tongs to transfer the waffles to a clean plate and then transfer them from the plate to the cookie sheet in your oven. Keeping the waffles in a single layer in the oven while you cook the remaining batch will help ensure the waffles are crispy and warm when you serve them family-style.
Recipe Notes
To bake make-ahead waffles: You can cook all the waffles in batches in your waffle iron. Let them cool completely and then wrap them in layers of wax paper in an airtight baggie. Keep in your fridge for 3 - 5 days and reheat in the toaster to make them crispy. To freeze the waffles: Wrap in single layers with wax paper and store them in an airtight bag or container in the freezer for 3 months. Let thaw overnight before reheating or allow extra time in the toaster to heat them through.
Save This Recipe to Your Recipe Box
Find this delicious recipe next time you visit by saving it to your very own recipe box on my site. All your favorites stored in one easy place!