Homemade birthday cake waffles are a fun make-ahead breakfast to spoil your birthday kid. Filled with colorful sprinkles and topped with whipped cream, it's the perfect way to start their special day.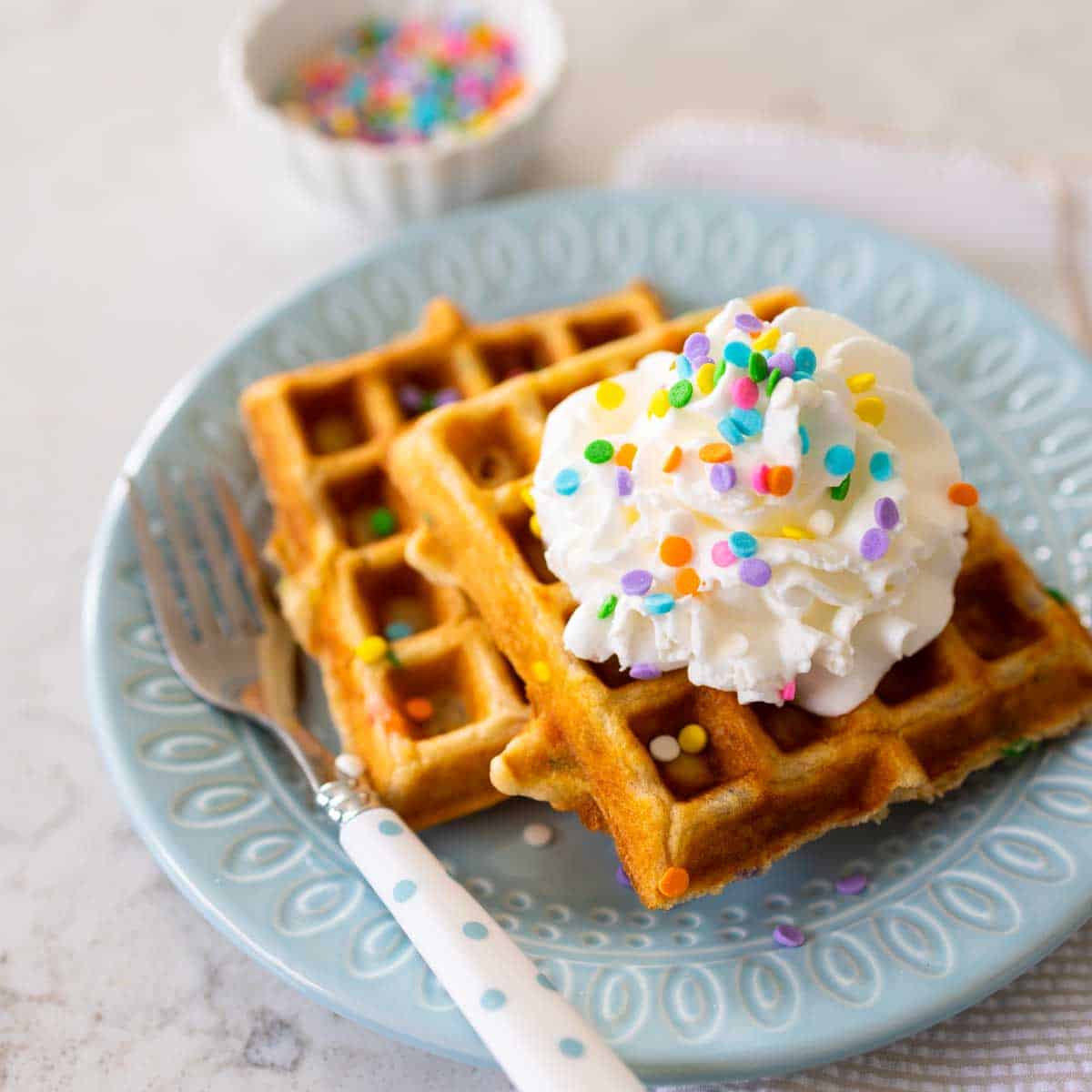 I love to make my kids' birthday extra special, right from the moment they get up on their big day.
But when a birthday falls on a school morning, how can you take a minute to make breakfast a little better?
Make a batch of these homemade birthday cake waffles fresh for a weekend birthday or you can store them in the fridge for a few days or even freeze them ahead of time and simply reheat them in the toaster on a school day.
The not-too-sweet waffles have colorful funfetti sprinkles inside and taste amazing with a dollop of whipped cream. Your kids will feel like birthday royalty!
Jump to:
Why This is the Best Recipe
These homemade birthday cake waffles are the best because:
From Scratch: They are made completely from scratch but still so very easy.
Better than Frozen Waffles: Homemade waffles taste soooo much better than the kind in the grocery store freezer department.
Freezer Friendly: But if you love the convenience of frozen waffles, you can absolutely make these ahead and freeze them.
Thick and Fluffy: These waffles are so satisfying because they are nice and thick but still very fluffy. Reheat them in the toaster if you want crispy edges.
Ingredients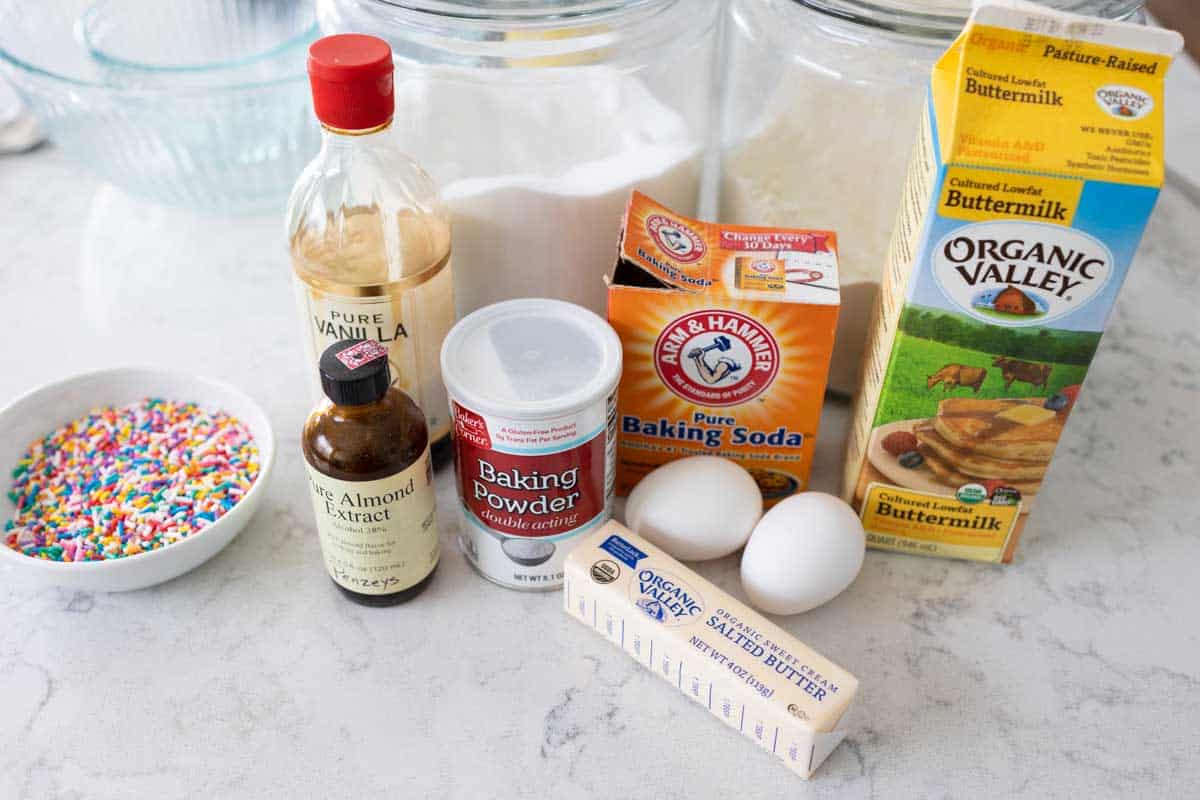 My birthday cake waffles are a spin-off on my classic buttermilk waffles recipe. All you need to make them is:
Buttermilk: I love Organic Valley buttermilk because the date keeps so much longer in my fridge but if you don't have buttermilk on hand, be sure to see my buttermilk substitution below.
Eggs
Butter
Flour
Sugar
Baking Soda
Baking Powder
Salt
Pie Spice: I have a spice blend in my pantry that includes cinnamon, nutmeg, cloves, and ginger. You can use your own favorite baking spice blend or just use cinnamon.
Vanilla Extract
Almond Extract
Buttermilk Substitution
If you don't have buttermilk on hand, you can make your own substitute with milk and lemon juice or vinegar.
For 1 cup of buttermilk, pour 1 cup of milk into a measuring cup and add 1 tablespoon of fresh lemon juice or white vinegar.
Stir and let sit for 5 minutes before using in your recipe.
Or you could just try to make these cake mix pancakes instead.
Make the Waffle Batter
First, measure all the dry ingredients into a large mixing bowl.
Add the flour, sugar, baking powder, baking soda, salt, and pie spice or cinnamon and whisk it all together.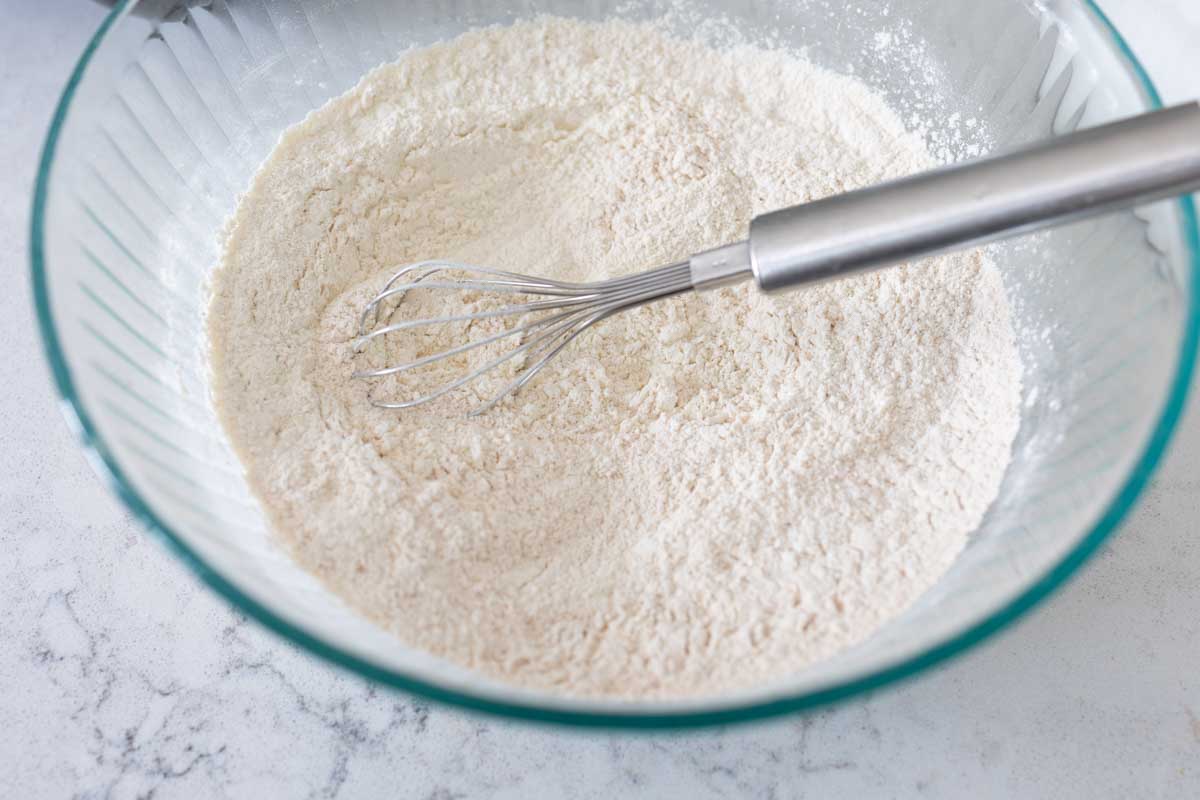 In a separate bowl or large measuring cup, whisk together the liquid ingredients.
To make sure that hot melted butter doesn't cook your raw eggs, melt your butter in a small bowl and set it aside to cool slightly while you measure the buttermilk and other ingredients.
Measure the buttermilk, add the eggs, vanilla extract, and almond extract. Whisk them together until smooth.
While whisking, slowly drizzle in the cooled melted butter.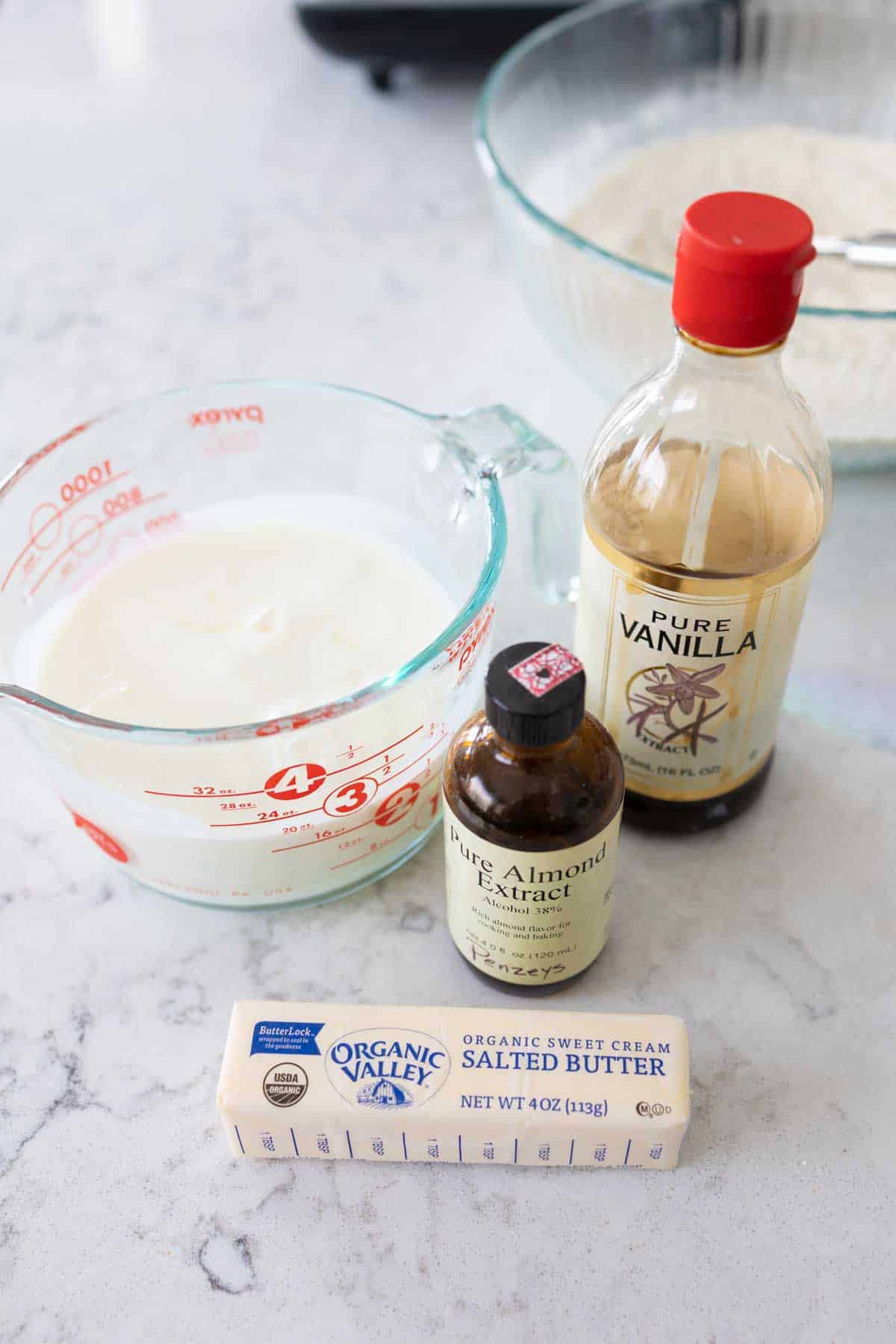 Pour the wet ingredients into the bowl of flour and sugar and stir to combine completely.
The batter may appear a little lumpy like this: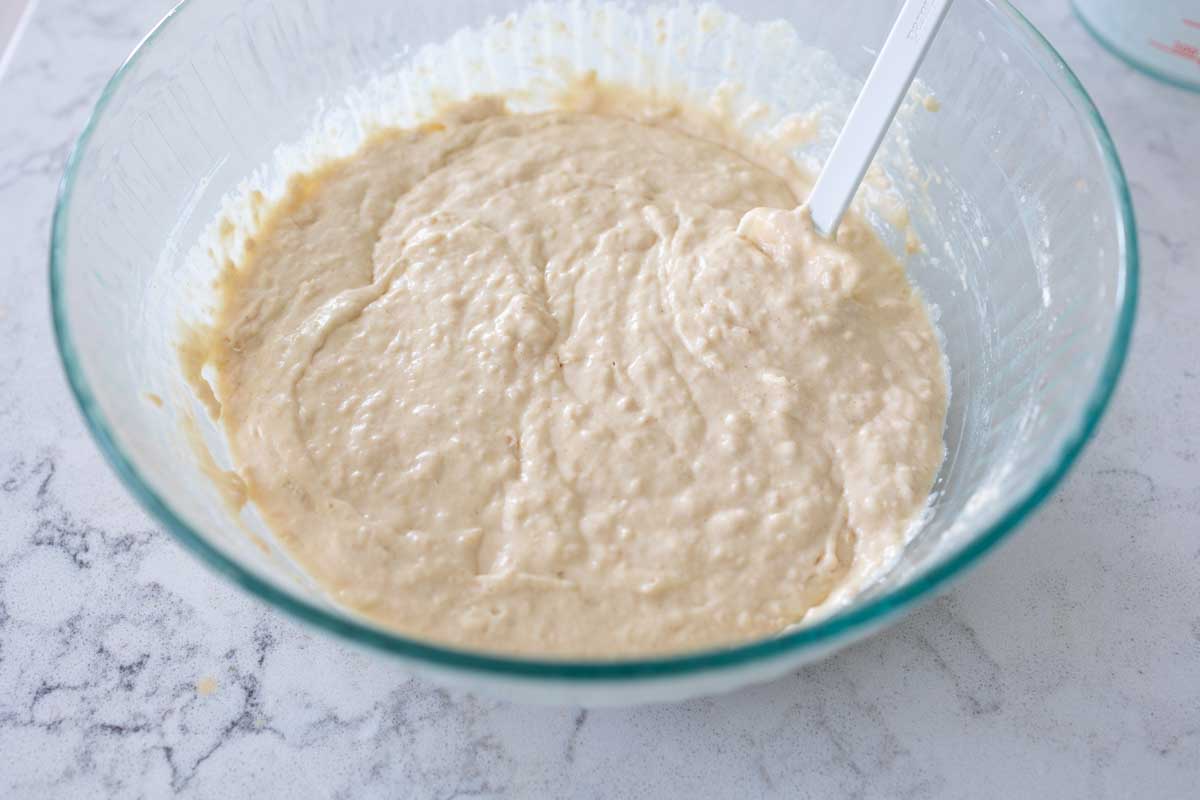 Choose Birthday Sprinkles
Now the fun part!
What makes these birthday cake waffles so amazing is not just that they taste like a sweet birthday cake, but that they are filled with fun and festive sprinkles.
When choosing sprinkles, you want to be sure that your sprinkles don't bleed colors into wet batter or your waffles will turn out grey.
I tested these two kinds of sprinkles and they worked perfectly in this recipe:
Pastel Sequins (LEFT)
Rainbow Jimmies (RIGHT)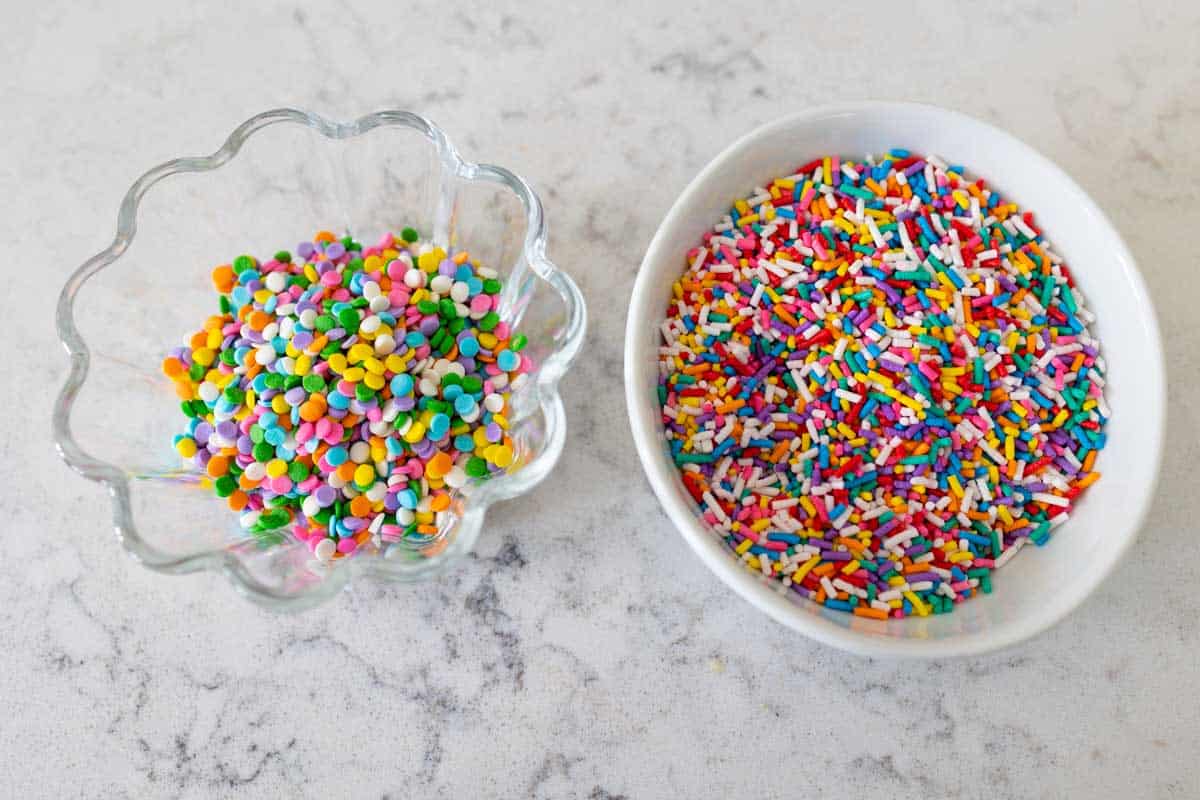 Add the sprinkles of your choice to the birthday cake waffle batter right before you are about to cook them, just to be safe.
Don't let them sit too long in the batter or even the best sprinkles may start to bleed color into the batter.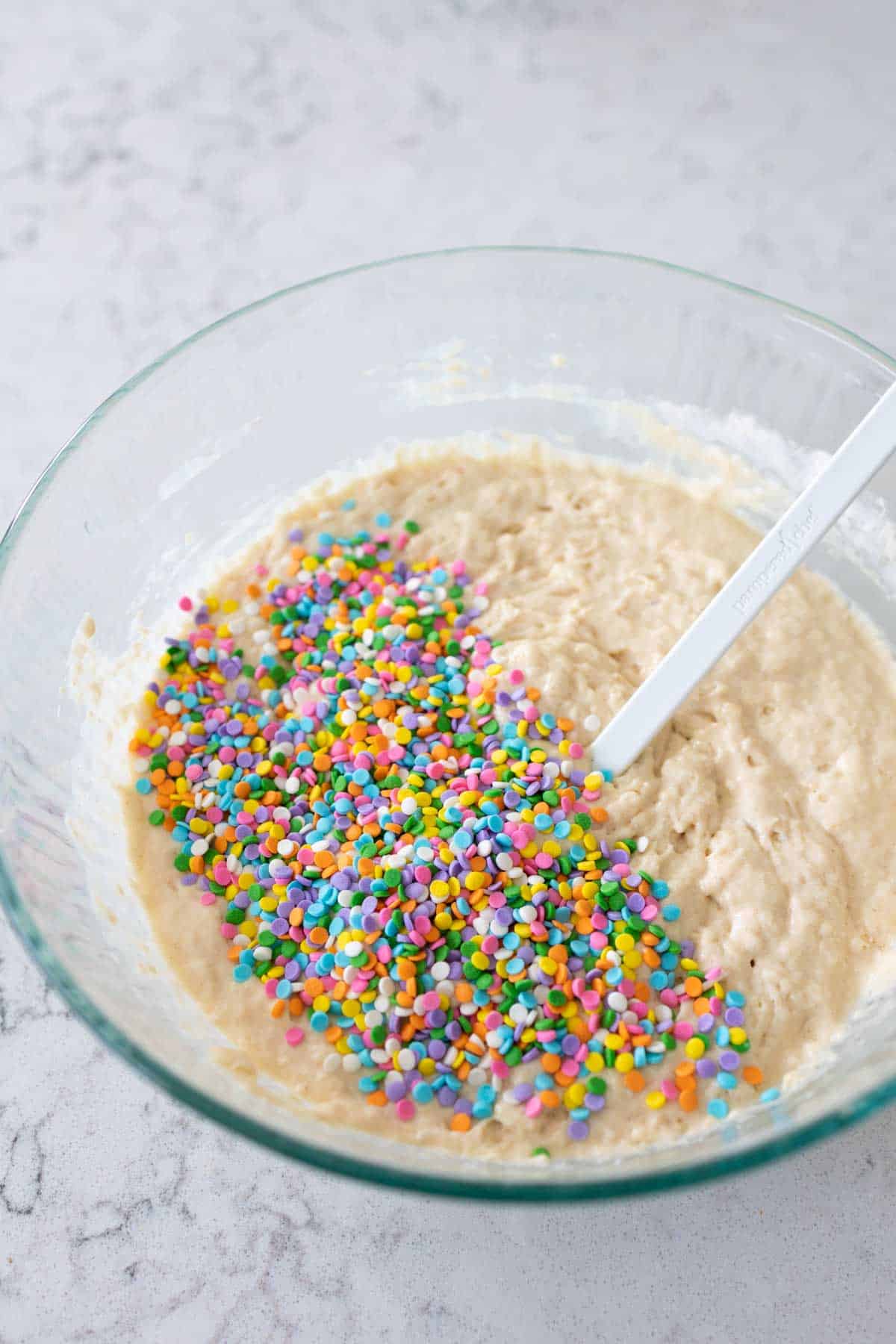 Cook the Waffles
Preheat your waffle maker according to the manufacturer's instructions.
Ours has a green light on top that glows when it is ready.
Spray the waffle maker with cooking spray and then scoop ⅓ cup waffle batter into each well.
Check your waffle maker manual to see if your waffle wells need a different quantity.
Cook the waffles for 4 - 5 minutes or until golden brown and cooked through.
Serving Suggestions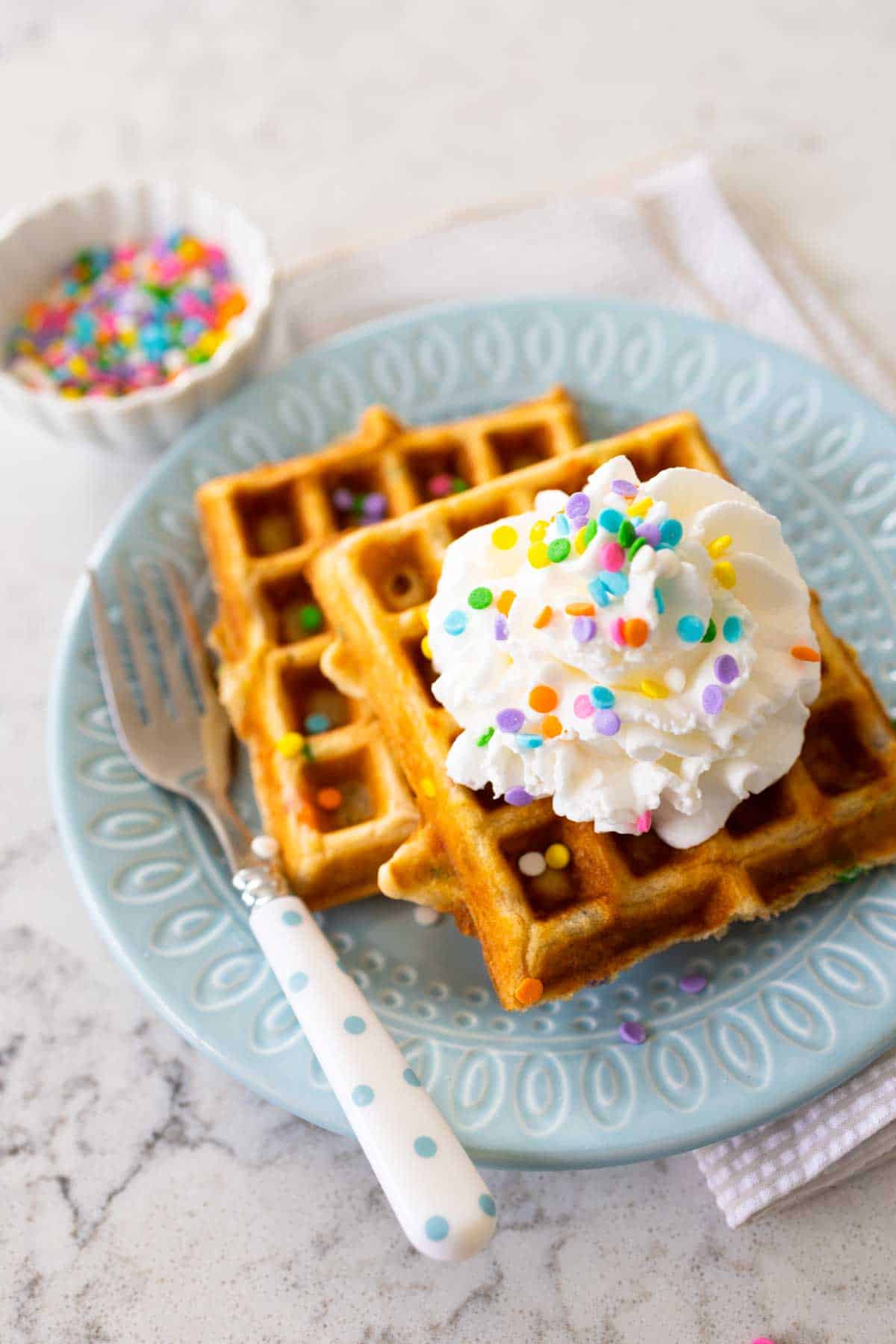 Whether you're planning a relaxing birthday brunch on the weekend or you need a quick birthday breakfast before school, these waffles are the perfect pick.
Pair them with a side of peppered bacon for a little more protein.
The waffles have just the right amount of sweetness to them and would be delicious with a gentle dusting of powdered sugar.
Or, you could top them with whipped cream, vanilla glaze, or strawberry jam.
Make Ahead and Freezer Tips
I made these waffles days in advance and simply stored them in a ziptop baggie in the fridge.
Lay the waffles between sheets of waxed paper or parchment paper to prevent them from sticking and make sure they are completely cool before you seal the bag or they'll steam inside and become soggy.
You can freeze the waffles between layers of paper in an airtight container and then:
defrost them in the fridge over night
microwave them until heated through or heat them in your toaster or toaster oven
We prefer using the toaster because it gives the waffles an awesome crispy texture.
📖 Recipe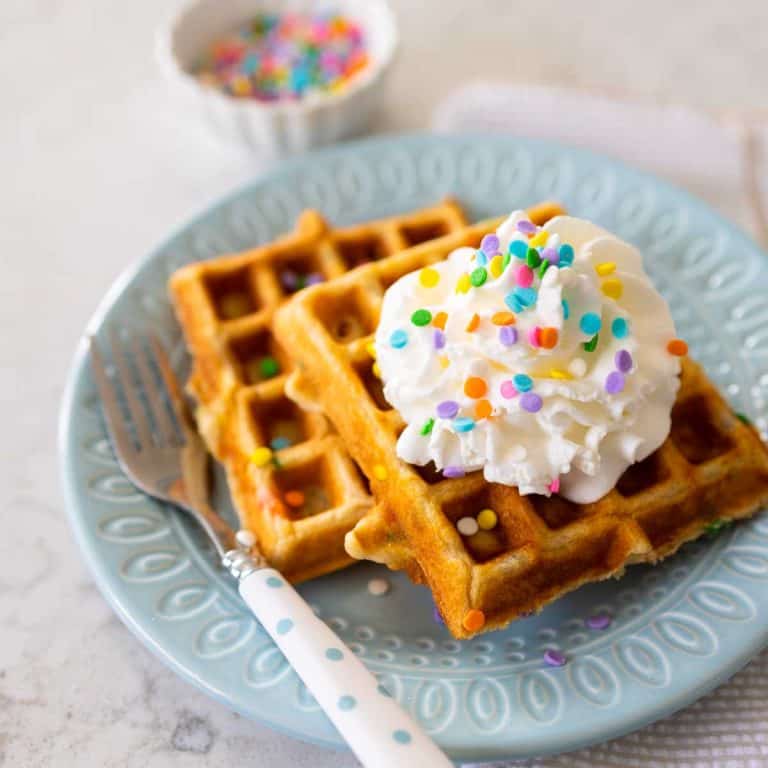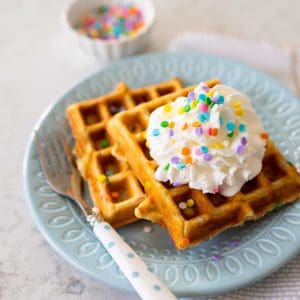 Birthday Cake Waffles
These easy homemade birthday cake waffles taste just like birthday cake and are filled with funfetti sprinkles. Serve them with whipped cream or your favorite jam. They're an easy make ahead birthday breakfast because they can be frozen and heated in the toaster.
Ingredients
2

cups

all-purpose flour

3

tablespoons

sugar

2

teaspoons

baking powder

1

teaspoon

baking soda

1

teaspoon

pie spice or cinnamon

½

teaspoon

salt

8

tablespoons

(1 stick) butter, melted and cooled

2

cups

low-fat buttermilk

2

eggs

2

teaspoon

vanilla extract

¾

teaspoon

almond extract

⅓

cup

sprinkles
Instructions
In a large mixing bowl, whisk together the flour, sugar, baking powder, baking soda, pie spice or cinnamon, and salt. Set aside.

Melt the butter in a small bowl and set aside to slightly cool.

In a second mixing bowl or large measuring cup, whisk together the buttermilk, eggs, vanilla extract, and almond extract. While whisking, drizzle in the melted butter.

Pour the buttermilk mixture into the dry ingredients and stir until combined. Batter may be a little lumpy.

Preheat your waffle maker. When it is ready, stir in the sprinkles to the batter. Don't let them sit in the batter too long or the colors may bleed.

Spray the waffle maker with cooking spray and spoon ⅓ cup batter into each waffle well.

Cook for 4 - 5 minutes or until waffles are golden brown and crispy.

Serve immediately with whipped cream or jam or see directions for freezing in the notes.
Recipe Notes
Make Ahead and Freezing Tips
Completely cooled waffles can be stored in an airtight container in the fridge or freezer. Layer the waffles between parchment paper or waxed paper so they don't stick together.
Defrost in the fridge overnight and then reheat them in the toaster.
If you forget to defrost them, you can heat them in the microwave directly from the freezer. We still recommend a final toaster session for crispy edges.
Save This Recipe to Your Recipe Box
Find this delicious recipe next time you visit by saving it to your very own recipe box on my site. All your favorites stored in one easy place!