Pumpkin pecan waffles are an easy waffle maker recipe to make ahead for a busy week. They can even be frozen if you want to save them for a simple holiday brunch. Serve with powdered sugar, maple syrup or even a handful of butterscotch chips sprinkled over the top!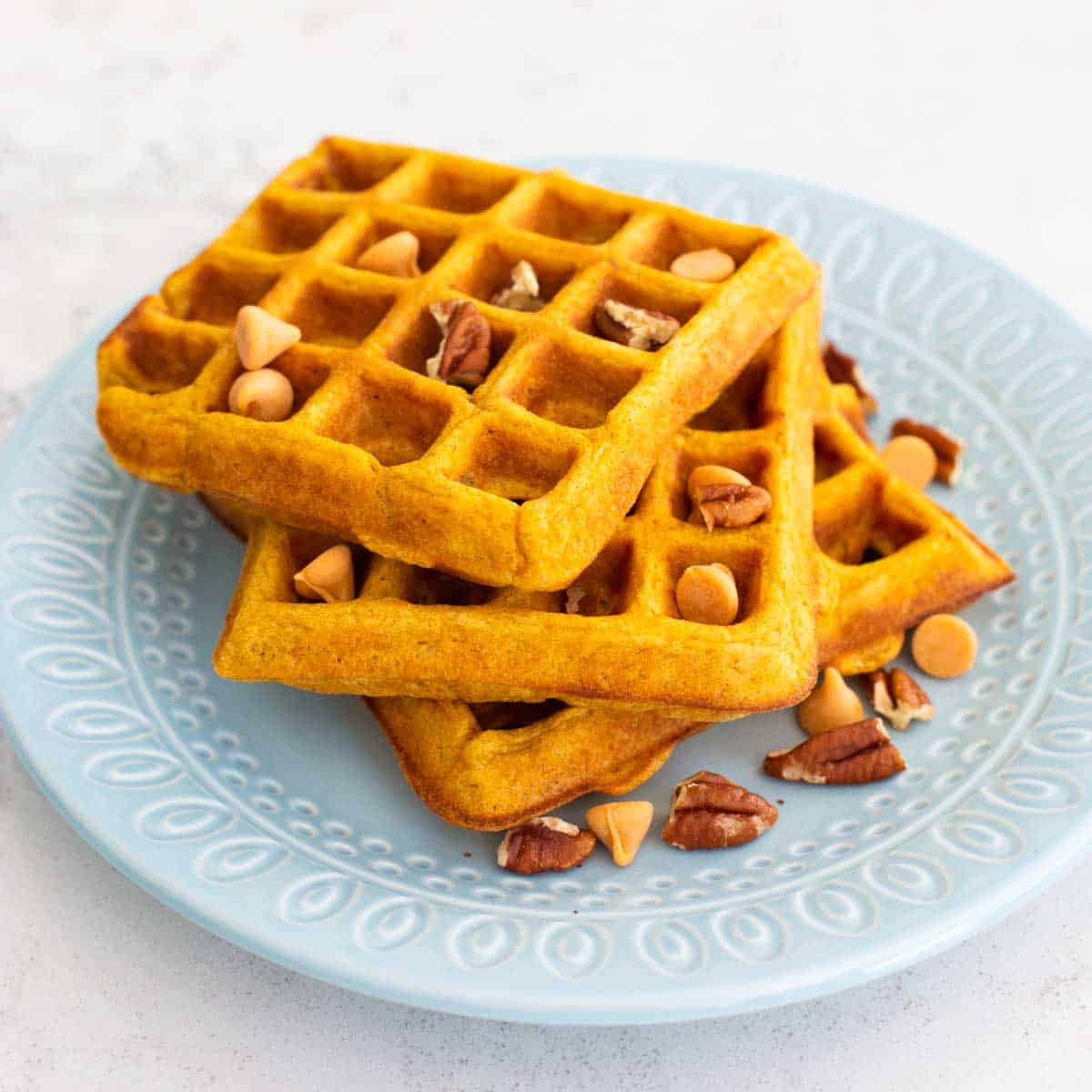 Pumpkin pecan waffles are a perfect seasonal breakfast recipe for a fall weekend brunch.
They'd be perfect for making all fall long but they'd be especially fun to make ahead for a special breakfast treat on Thanksgiving morning or even for your Christmas breakfast.
Easy to make fresh if you want, you could also freeze the waffles for later.
My kids love them as is and we eat them even on busy school mornings!
Jump to:
Why This is the Best Recipe
My kids used to love a famous store brand that made pumpkin spice waffles in the frozen section but they've been discontinued for years.
This recipe is even better than frozen waffles because:
Real Pumpkin: This isn't just a "pumpkin spice" flavor, there is actually pumpkin in the batter.
Real Pecans: I love the crunchy texture of the chopped pecans right in the batter, but if you prefer you can save them for just sprinkling over the top of the waffles. This is a great alternative if you have allergies in the family.
Make Ahead & Freezer Friendly: Love the ease of frozen waffles? You can absolutely freeze these waffles for busy weeks. Just thaw in the fridge overnight or thaw them in the microwave and pop them in the toaster to crisp up.
More Satisfying: Frozen waffles are usually very thin, these bake up as nice, thick waffle maker waffles and are great for hearty appetites.
Ingredients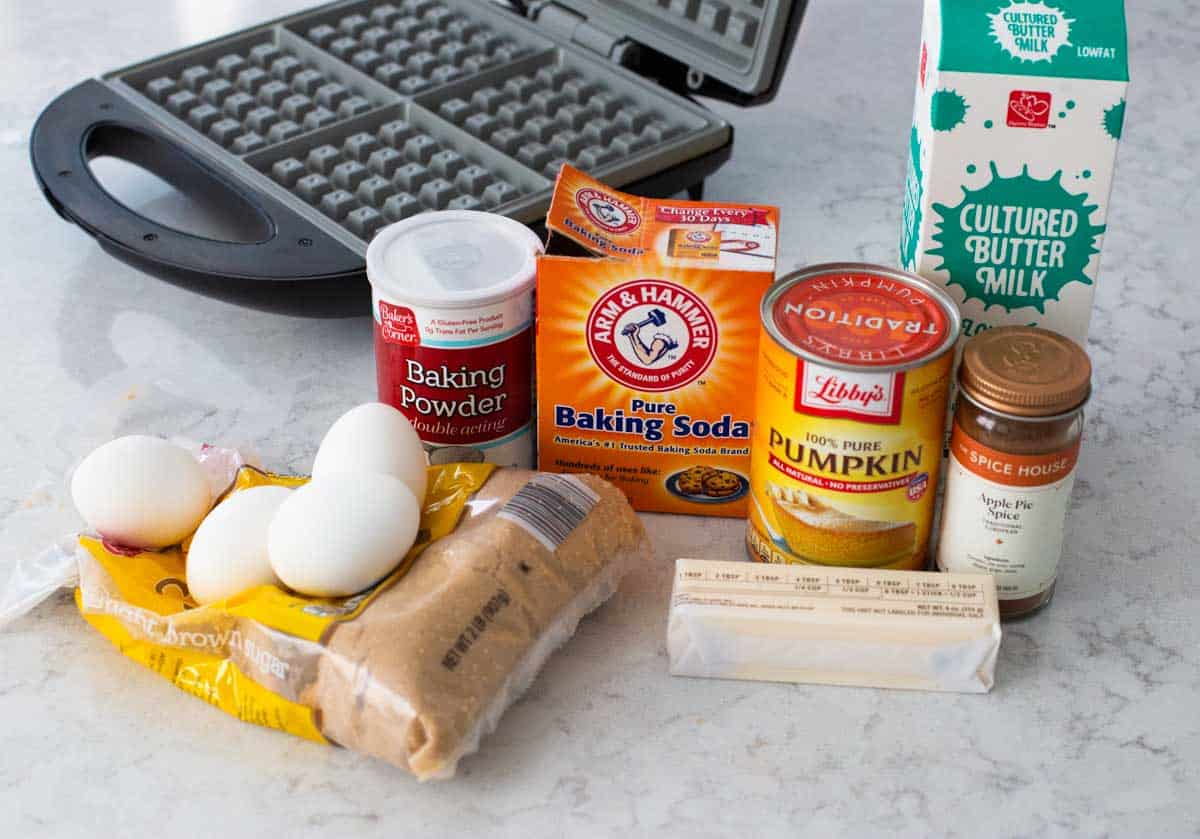 You probably have most of the ingredients to make this recipe sitting in your pantry right now!
Canned Pumpkin
Pumpkin Pie Spice: Or any pie spice blend, really. I love apple pie spice blend too!
Buttermilk: Or you can substitute with 1 cup milk with 1 tablespoon lemon juice to create 1 cup buttermilk. Check the recipe card below for the quantities.
Chopped Pecans: If you've got allergies in the family, you can skip this ingredient altogether and the recipe will be just pumpkin waffles and totally delicious.
Flour
Brown Sugar
Baking Soda
Baking Powder
Eggs
Butter
Important Butter Trick
Microwave the butter to melt it and let it cool while you're preparing the waffle batter. You don't want the heat of the hot melted butter to cook the eggs in the batter.
Make the Waffle Batter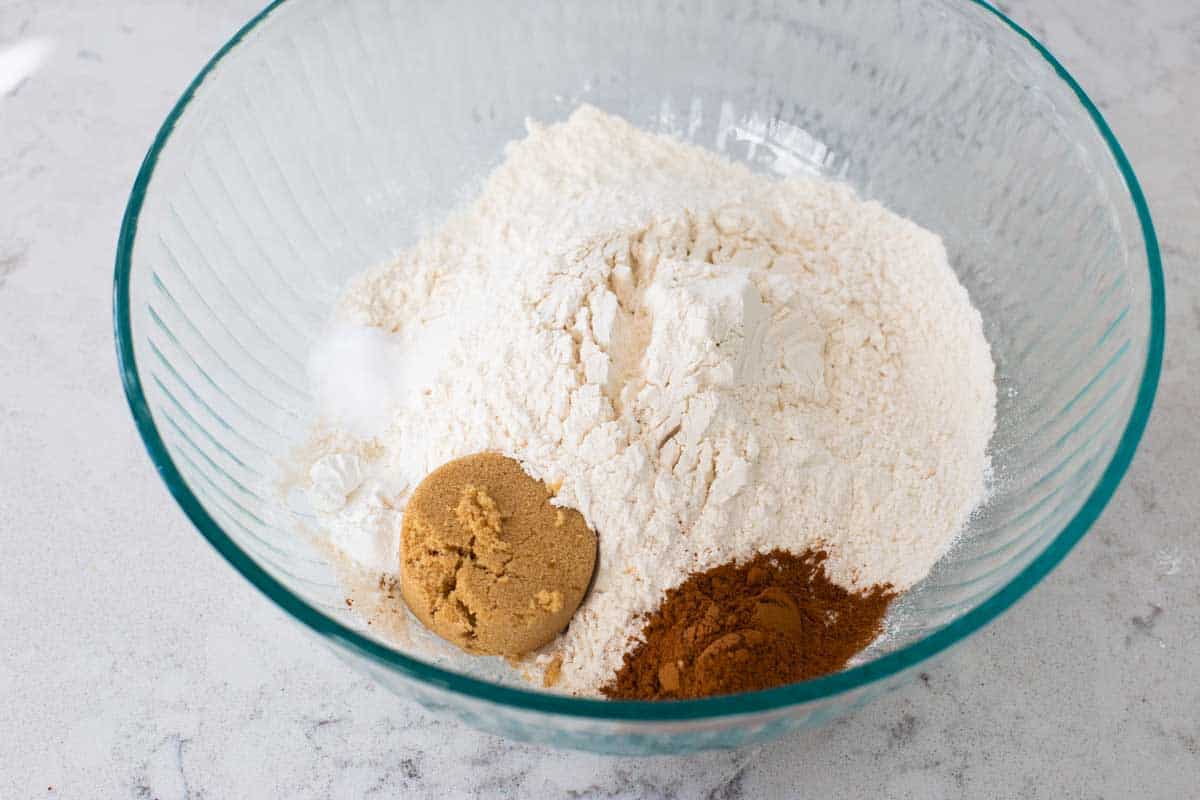 To make this easy recipe, simply add all the dry ingredients to a large mixing bowl and whisk them together.
In a separate liquid measuring cup, measure the buttermilk and crack the eggs right into the cup.
Whisk them together until smooth and add to the dry ingredients.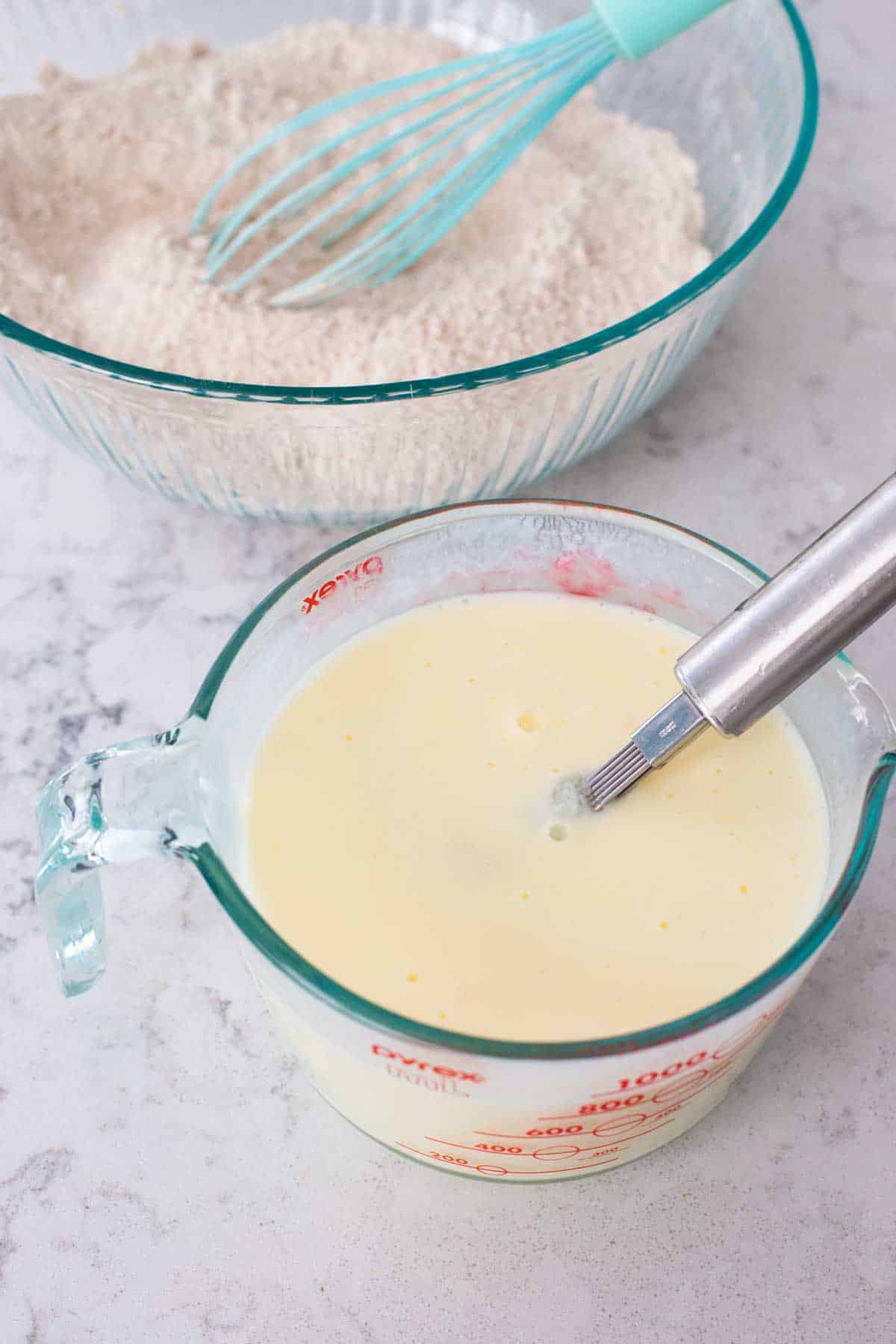 Drizzle in the melted butter to the batter while stirring it so the warmth of the butter doesn't cook the eggs.
Add the pumpkin to the waffle batter and stir to combine.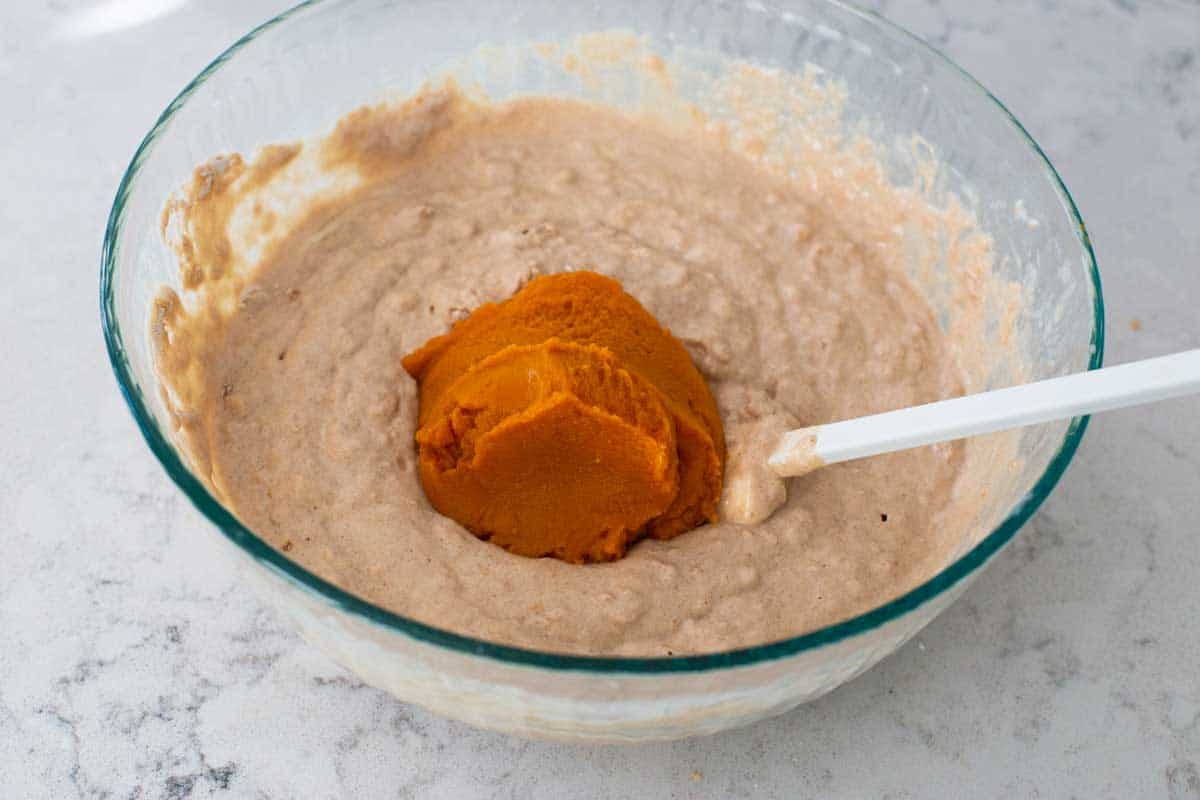 You now have three choices to pick from to complete your waffles:
Make Pumpkin Pecan Waffles: Stir in the chopped pecans right into the batter before you cook them.
Make Pumpkin Pecan Studded Waffles: Pour the batter into the waffle iron and then sprinkle some pecans into just a few of the waffles that you want.
Make Plain Pumpkin Waffles: Reserve all the pecans from the batter and just sprinkle it over the top of the plates that want it or skip the pecans altogether.
Cook the Pumpkin Waffles
Preheat your waffle maker according to the appliance manual.
When it is ready to go, spray a little cooking spray on the waffle grids.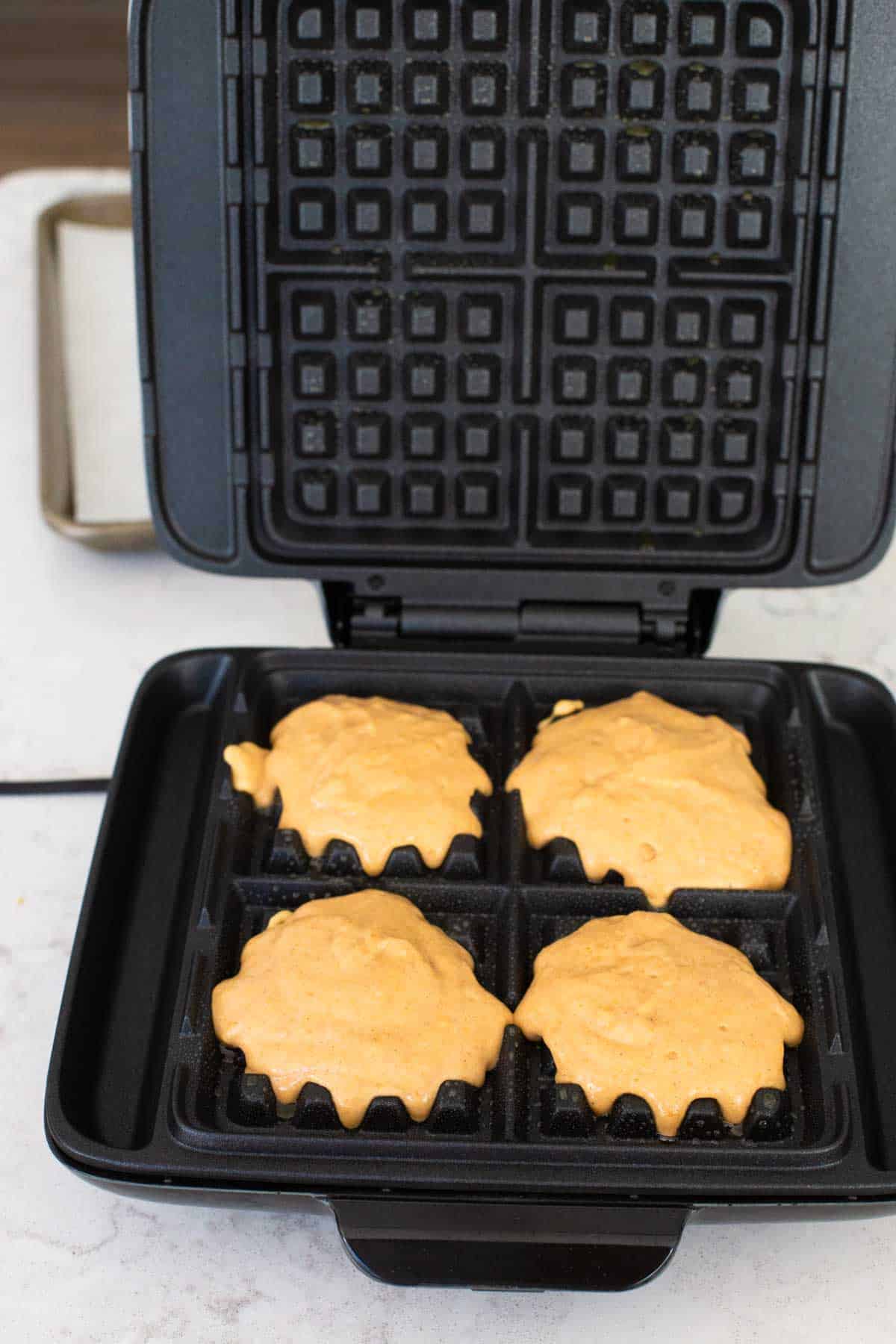 My waffle maker works best with ⅓ cup waffle batter spooned into each waffle well.
If your maker is bigger or smaller, you may need to adjust the quantity of batter.
My waffle maker cooks waffles in 5 - 6 minutes.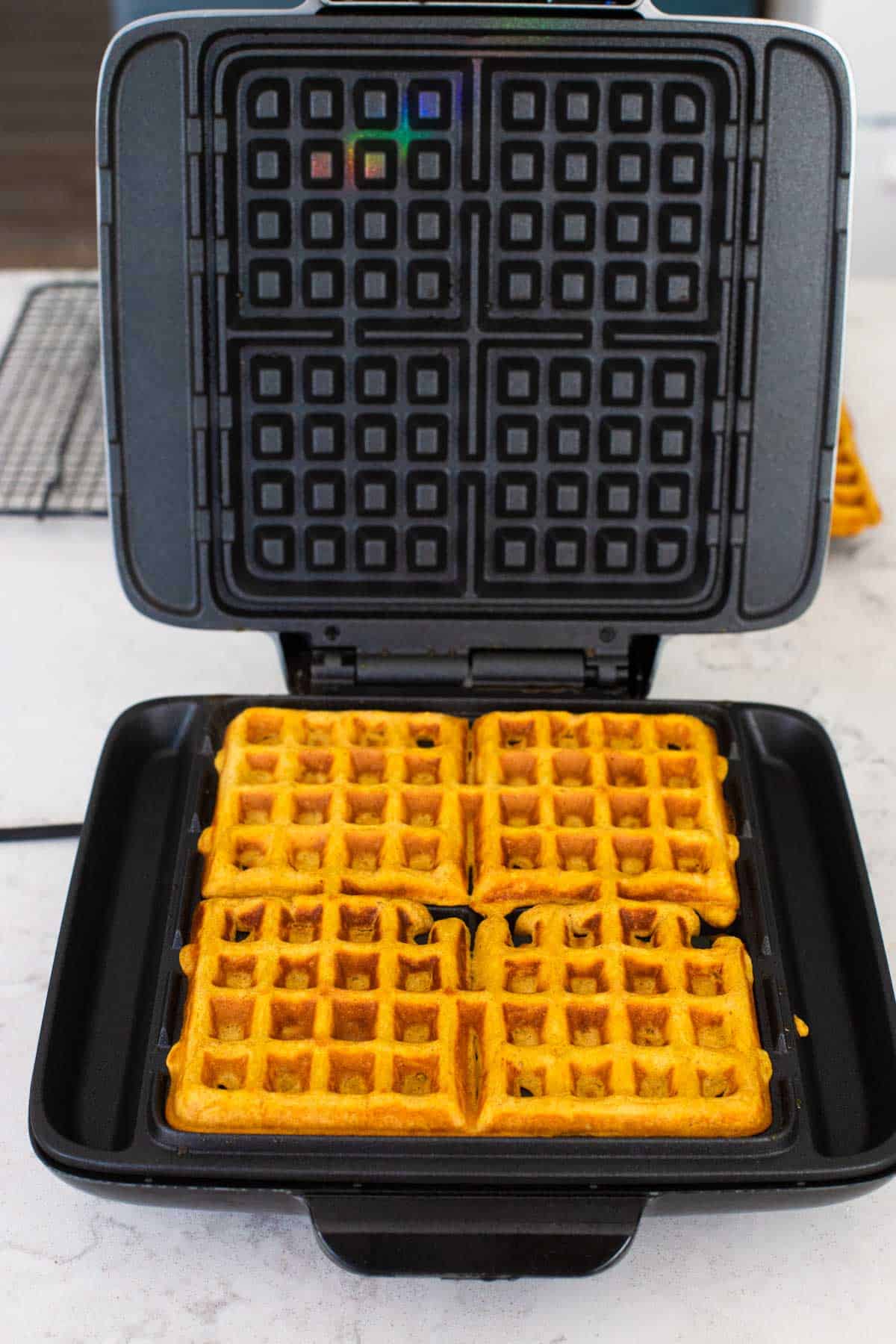 How to Serve Waffles Family Style
If you don't want to feel like a short order cook and stand in the kitchen making waffles while everyone else is at the table eating them fresh off your griddle, you'll want to make the whole batch and keep them warm.
Preheat the oven to 225°F and set a large baking sheet inside.
Transfer the baked waffles to the baking sheet to keep warm while you finish all the waffle batter.
Make Ahead and Freezer Tips
If you want to make the pumpkin pecan waffles ahead of time and enjoy them all week long or in a few weeks as a special holiday brunch, you can absolutely make them ahead.
Cool and Store the Waffles
If you're making the pumpkin waffles ahead of time, you need to completely cool them before storing.
You don't want any of the condensation that will form from warm waffles building up steam in your container.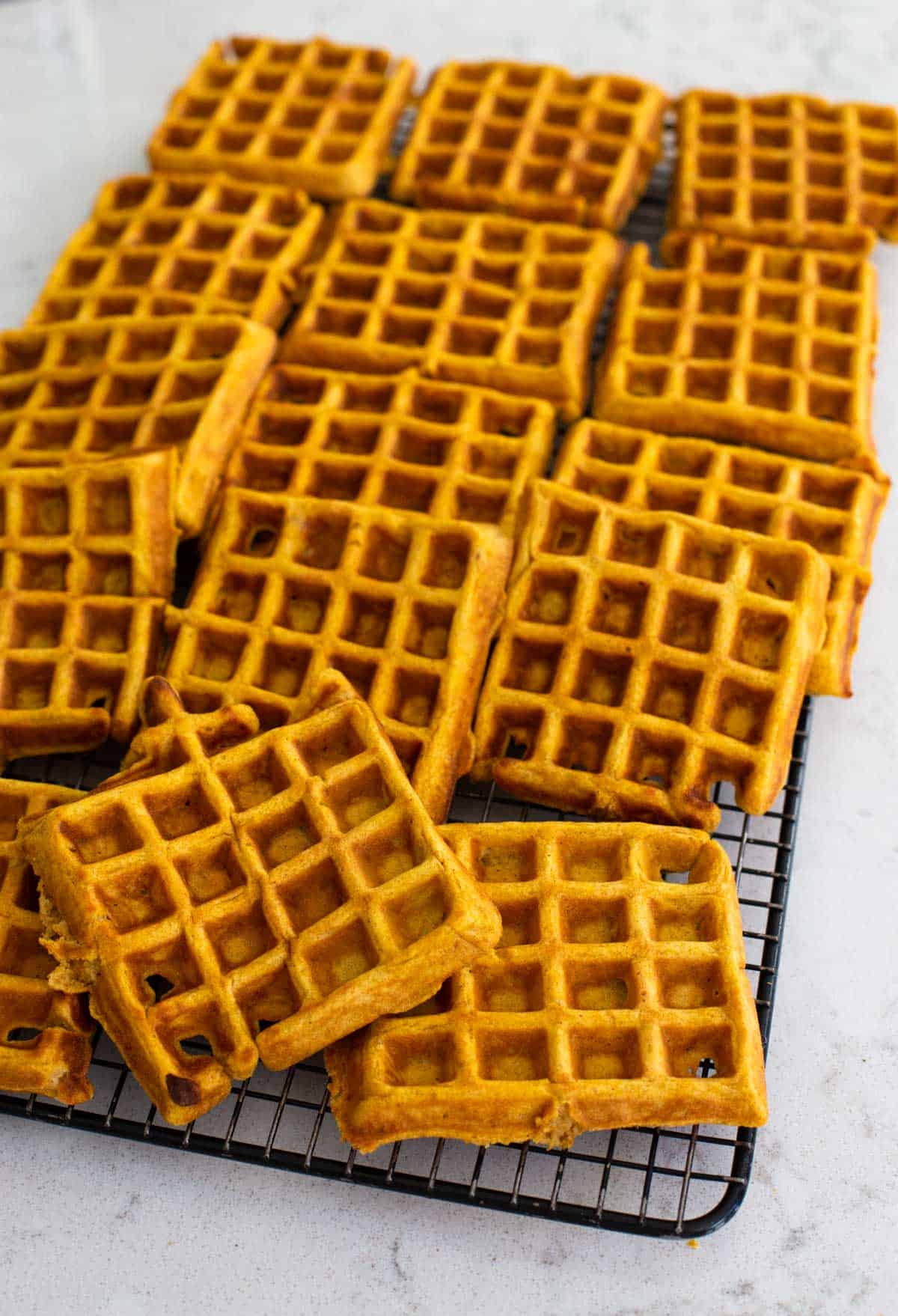 Transfer the waffles to an airtight container with wax paper between layers to help prevent them from sticking together.
You can keep the waffles in the fridge for up to 5 days or in the freezer for up to 6 months.
Reheat the Waffles
Thaw frozen waffles in the fridge overnight before you plan to use them. Or, you can defrost them in the microwave.
If you're heating up just 1 - 2 waffles, you can reheat them in the toaster. They'll get nice and warm and crispy.
If you're heating up a larger batch, preheat the oven to 350°F.
Place the waffles in a single layer on a baking sheet and bake them until heated through and crispy. About 5 minutes or so.
Serving Suggestions
I love these pumpkin pecan waffles for even a busy school morning. We pop them in the toaster and eat them on the run in the car just as-is.
But, if you want to slow down and enjoy a fancier breakfast, weekend brunch, or even a unique holiday dessert, here are a few ways to enhance the waffles:
Serve the pumpkin waffles with a side of warm homemade cinnamon applesauce.
Make a batch of peppered bacon as a savory side dish.
Enjoy a pumpkin waffle sundae and top the pecan waffles with a scoop of vanilla ice cream and a drizzle of salted caramel sauce over the top.
More Pumpkin Recipes
If you love all things pumpkin and love to bake canned pumpkin recipes, you won't want to miss these reader favorites:
📖 Recipe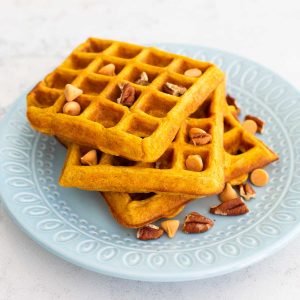 Pumpkin Pecan Waffles
Delicious homemade pumpkin pecan waffles are an easy recipe for your waffle maker and can be made ahead for a busy week or frozen for a holiday breakfast. Serve them with a dusting of powdered sugar or maple syrup but a handful of butterscotch chips really puts the recipe right over the top!
Ingredients
4

tablespoon

butter

2 ½

cups

flour

¼

cup

brown sugar

4

teaspoon

pumpkin pie spice

2

teaspoon

baking powder

½

teaspoon

baking soda

½

teaspoon

salt

2 ½

cups

buttermilk

4

eggs

1

cup

canned pumpkin

½

cup

chopped pecans
For Serving: Optional
Powdered sugar for dusting the tops

Maple syrup

Butterscotch chips: you can add ½ cup to the waffle batter before cooking or sprinkle them on top if you love butterscotch
Instructions
Melt the butter in a microwave safe container and let it cool slightly as you prepare the batter.

In a large mixing bowl, add all the dry ingredients from flour through salt. Whisk them together.

In a large liquid measuring up, measure the buttermilk and crack the eggs. Whisk them together until smooth.

Pour the buttermilk mixture into the mixing bowl and stir it together. While stirring, slowly drizzle in the prepared melted butter. You don't want the heat of the butter to cook the eggs so keep the batter moving until incorporated.

Add the pumpkin to the batter and stir until evenly combined. Finally, stir in the chopped pecans.

Preheat the waffle iron and when it is ready spray it with cooking spray.

Add the waffle batter to your waffle iron according to the directions. For my standard machine, ⅓ cup batter for each waffle well is the right amount. You may need to play with that for your waffle maker.

Serve the waffles immediately or store them on a baking sheet in the oven set at 225°F if you want to serve the waffles family style all at once.
Recipe Notes
Make Ahead Tips
Homemade pumpkin pecan waffles can be made ahead and stored in the fridge for up to 5 days. Keep them in an airtight container or plastic zip top baggie separated by wax paper so they don't stick together.
They can also be frozen if stored with the wax paper to prevent sticking. Simply thaw them in the fridge overnight before using them.
To reheat a prepared waffle: Simply pop the waffle into a toaster to reheat a thawed waffle. Alternatively, you can lay them in a single layer on a baking sheet and heat them in the oven at 350°F until warmed through and crispy.
Save This Recipe to Your Recipe Box
Find this delicious recipe next time you visit by saving it to your very own recipe box on my site. All your favorites stored in one easy place!