This easy pumpkin pie is the perfect first recipe for a new Thanksgiving host. Learn how to bake a perfect holiday pie with just 10 minutes of prep. It tastes even better cold the next day which makes it a perfect make ahead dessert!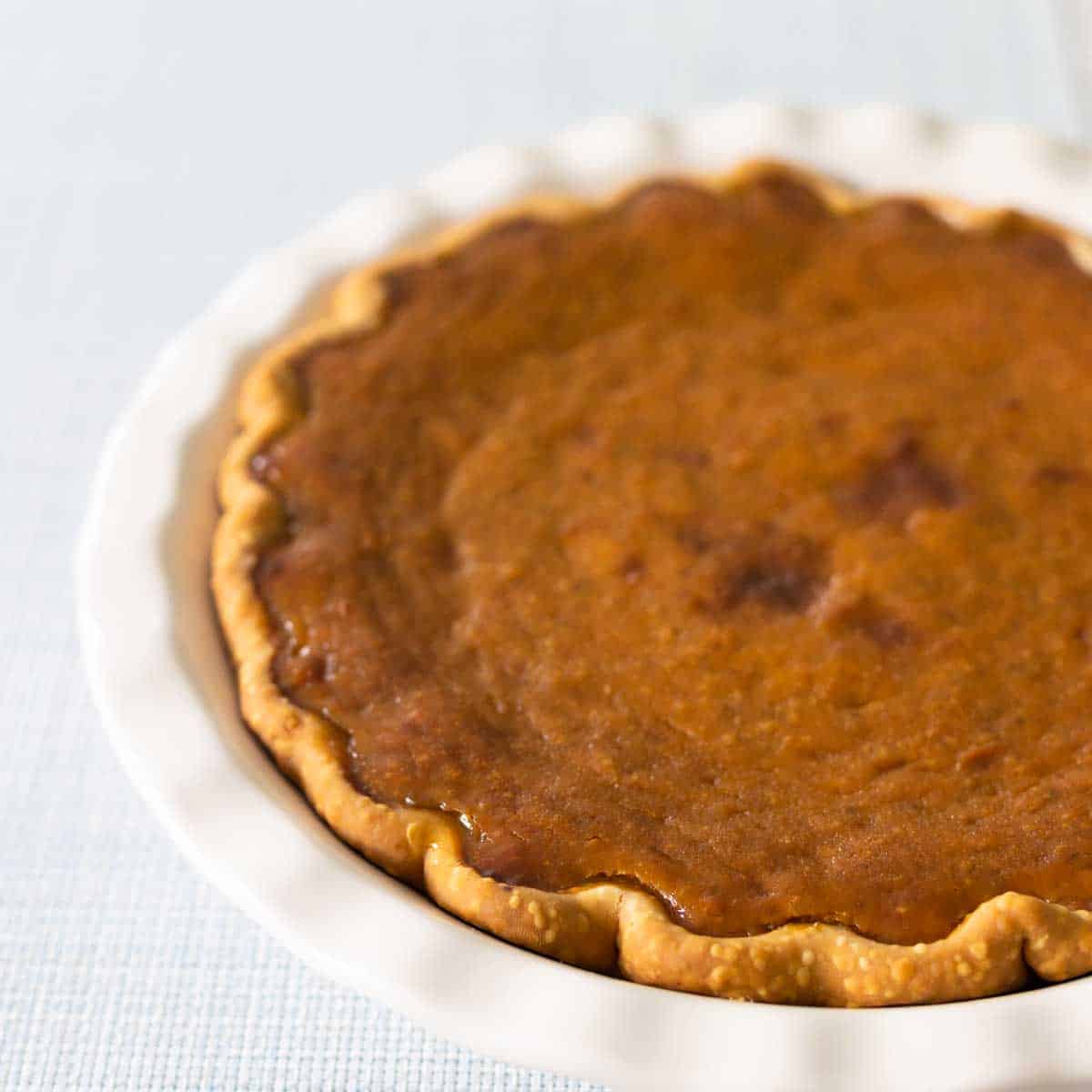 Pumpkin pie is often the Thanksgiving dessert that most people buy from the grocery store bakery.
It's really a shame because if you knew just how simple this easy pumpkin pie recipe is, you would totally bake it homemade instead.
This is actually the classic Libby's pumpkin pie recipe that is found on the canned pumpkin label!
Why am I sharing it here?
Because you don't always have the can of pumpkin right in front of you and the instructions on the package leave a lot of questions unanswered for new bakers.
How do I know? Because I've been baking this exact pumpkin pie since the very first Thanksgiving I ever cooked and I remember struggling to decode some of the instructions when I was a new baker myself.
I hope this step-by-step post helps give you the confidence you need to bake the pie yourself this holiday season.
Jump to:
Why This is the Best Recipe
When it comes to traditional Thanksgiving pies, I'll be honest: this pecan pie is my absolute favorite.
However, my daughter insists that pumpkin pie is her all time favorite and since Thanksgiving is all about variety and options, I bake this every year.
I think this is the best easy pumpkin pie recipe because:
Time Tested: I've been baking this easy pumpkin pie as long as I've been hosting Thanksgiving.
Quick and Easy: The filling takes just a couple minutes to beat together.
Perfect Flavor: The balance of spices and pumpkin smell just like the holiday.
Easy Peasy Crust: Use my tips for baking a store bought pie crust and this dessert is even faster to prep.
Ingredients
This easy pumpkin pie is so popular because the list of ingredients is so short:
A Can of 100% Pure Pumpkin: Not pumpkin pie filling, puréed pumpkin.
Canned Evaporated Milk
Store Bought Pie Crust: For real, just take this shortcut! It will look amazing and taste great. This is a big reason this pie recipe is so easy!
Eggs
Sugar
Cinnamon
Ginger
Cloves
Prep the Pie Crust
The pumpkin pie filling will take you almost no time at all to prepare.
Get your pie crust prepped first.
Lay the pie crust in a 9-inch pie plate and crimp the edges.
If you're baking your first-ever pie (or haven't been pleased with your pie efforts so far), you'll want to take a minute to go read my tips for baking a perfect store bought pie crust here:
Make the Pumpkin Pie Filling
First, make the spiced sugar.
Add the sugar to a small mixing bowl. Add the cinnamon, nutmeg, and cloves. Whisk them together until evenly combined.
This helps ensure the spices are evenly distributed in the pie filling and you don't get a big clump of cloves in one bite of pie.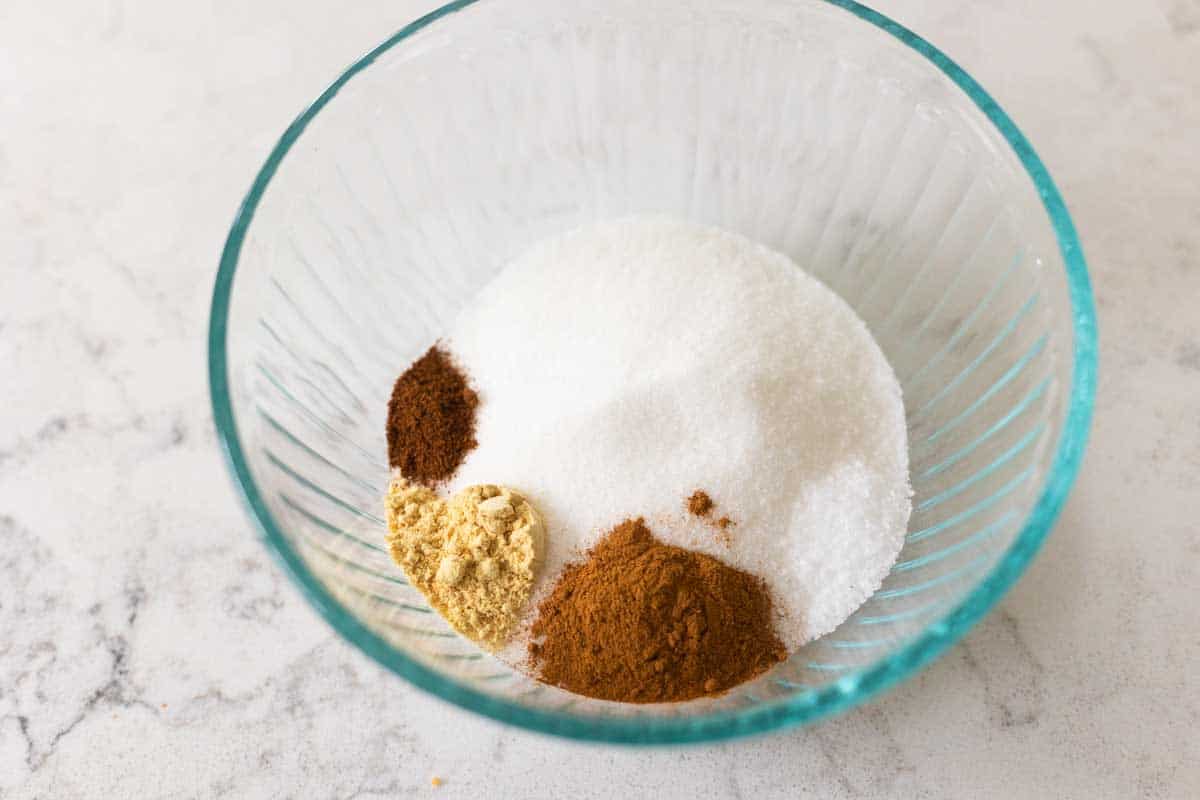 Then add the eggs to a large mixing bowl.
Use a hand mixer to beat them until smooth.
Add the canned pumpkin and spiced sugar to the bowl and beat them together on low speed until just combined.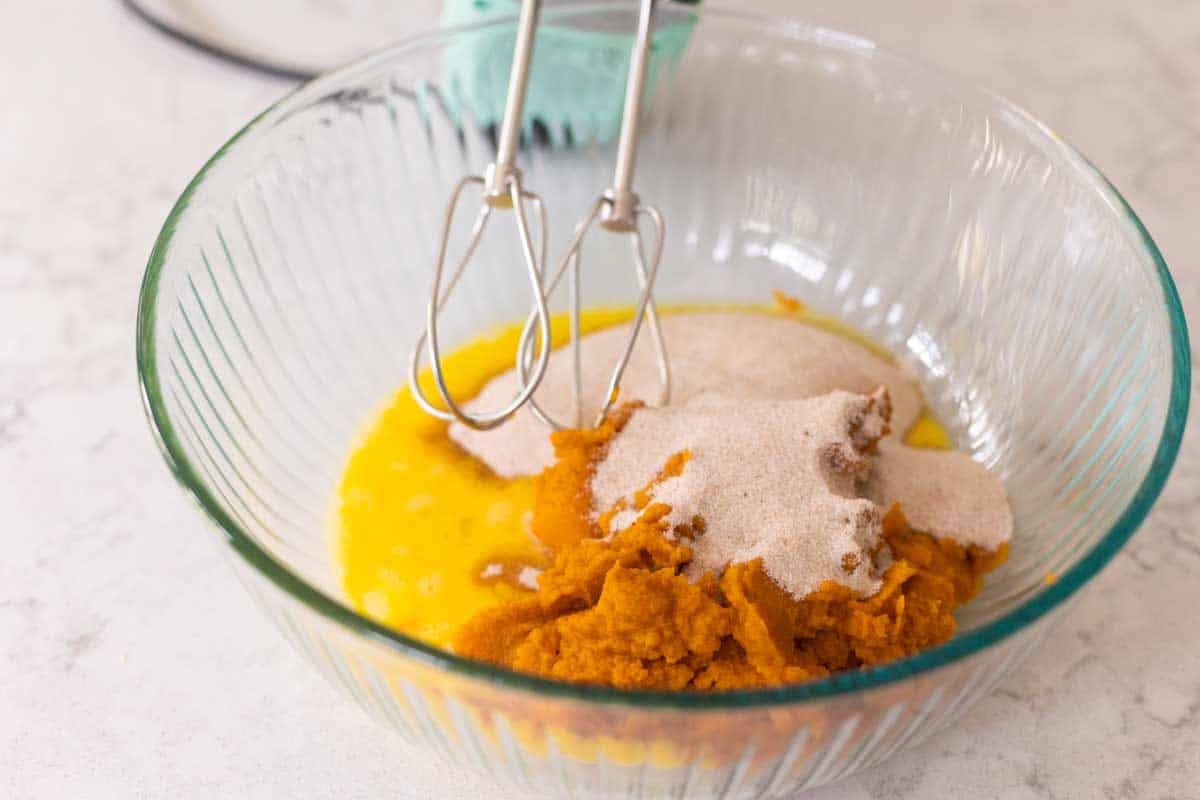 Then with your mixer on medium-low speed, drizzle in the evaporated milk.
Beat until smooth.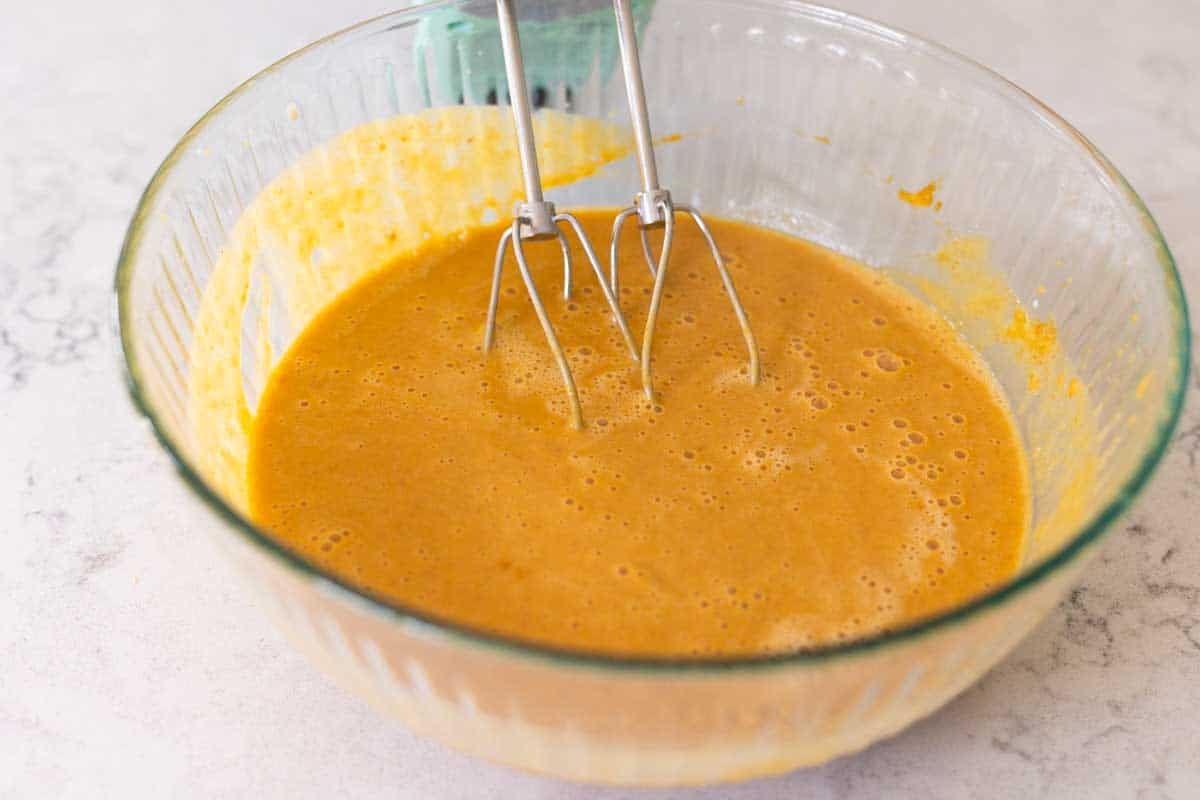 Baking Instructions
Preheat the oven to 425°F.
Place the pie crust dish on a baking sheet. This will protect your oven from any over flow spills.
Pour the pie filling into the crust. You may find that depending on the size of your pie plate that you have a little bit of filling that won't fit.
See how my filling comes up to the edges but leaves just a ¼ inch of space? Don't fill your pie any farther than that level or it will over flow.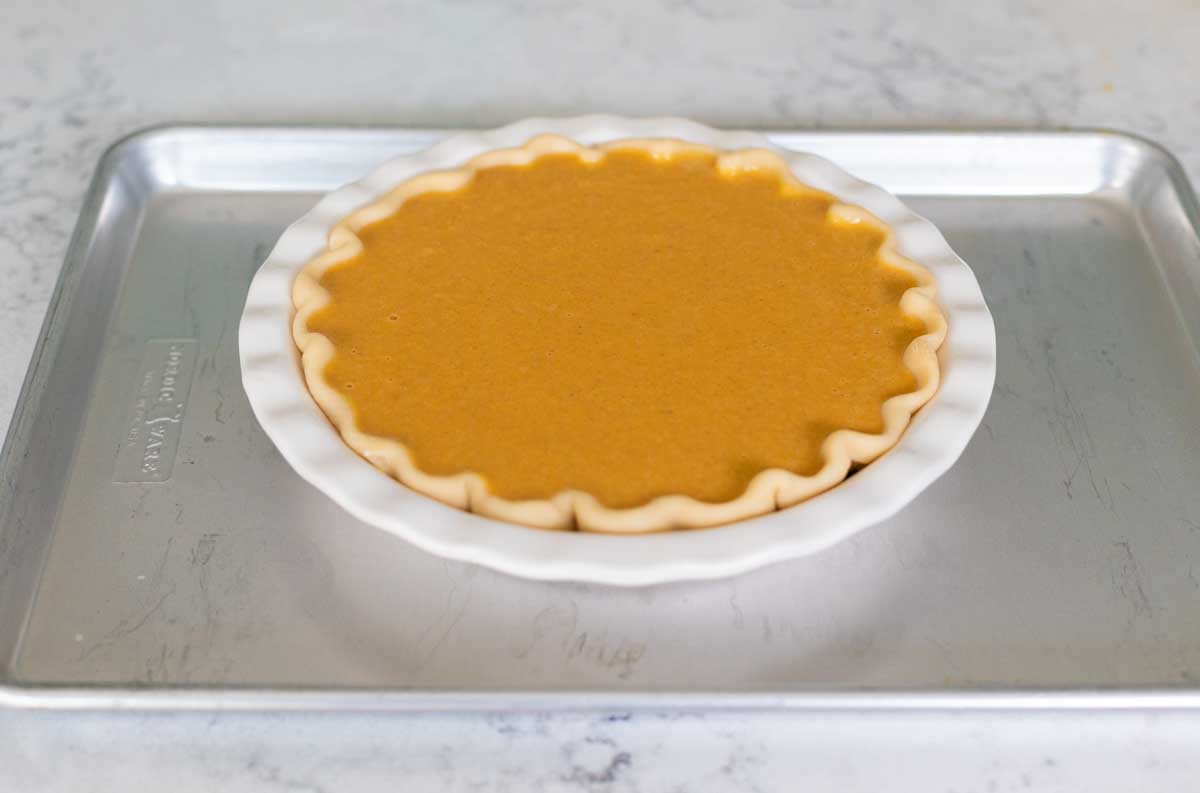 Place the entire baking pan into the oven and bake the pumpkin pie for 55 minutes.
Check the pie after 30 minutes and keep an eye on the pie crust. If the pie is getting too dark, you can cover just the edges with strips of aluminum foil to prevent it from getting any darker.
How to Know the Pie is Done
The pumpkin pie is finished baking when the entire surface of the pie has puffed up like this: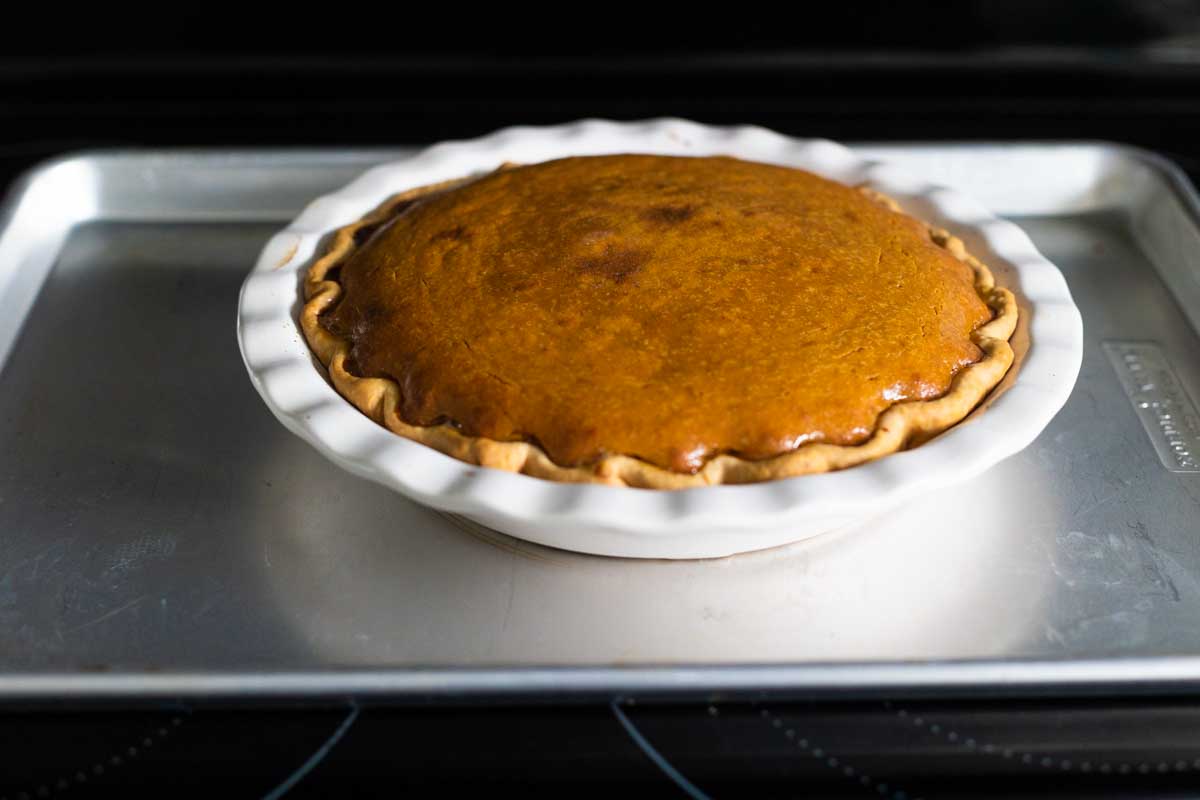 An under baked pie will not have a dome shape, the center will still be sunken.
Pull gently at the edge of the baking sheet. The pie filling should just barely jiggle when you move the dish.
Even if the center has puffed up, the pie is not done if it sways too much when you jiggle the baking sheet.
If you really want to be extra sure the center is completely baked, you can insert the tip of a paring knife. If it comes out clean, the pie is done.
A Note on Oven Temperature
My oven is a bit older and gets a lot of use. Because I use an oven thermometer, I know it bakes on the weaker side of things.
For my oven, 425°F for 55 minutes gave me a perfect pumpkin pie and golden brown pie crust.
For newer ovens or ovens that don't get much use, you may find that baking the pie for 425°F for 15 minutes and then dropping the temperature down to 375°F for the remaining time may work better.
The important part is to keep an eye on the pie crust and how dark it is and the center of the pie filling. The crust should be golden brown and the center mostly set and puffy.
Cool the Pie
Let the pumpkin pie cool for at least one hour before serving.
Don't be alarmed, that puffy center will immediately start to fall and set. This is normal.
Make Ahead Tips
You can make the pumpkin pie up to 24 hours in advance of your holiday.
Store it in the fridge covered in aluminum foil.
You can freeze the baked pumpkin pie for up to 3 months. Let it cool completely first and then wrap in aluminum foil before freezing.
Let thaw in the fridge overnight before serving.
Serving Suggestions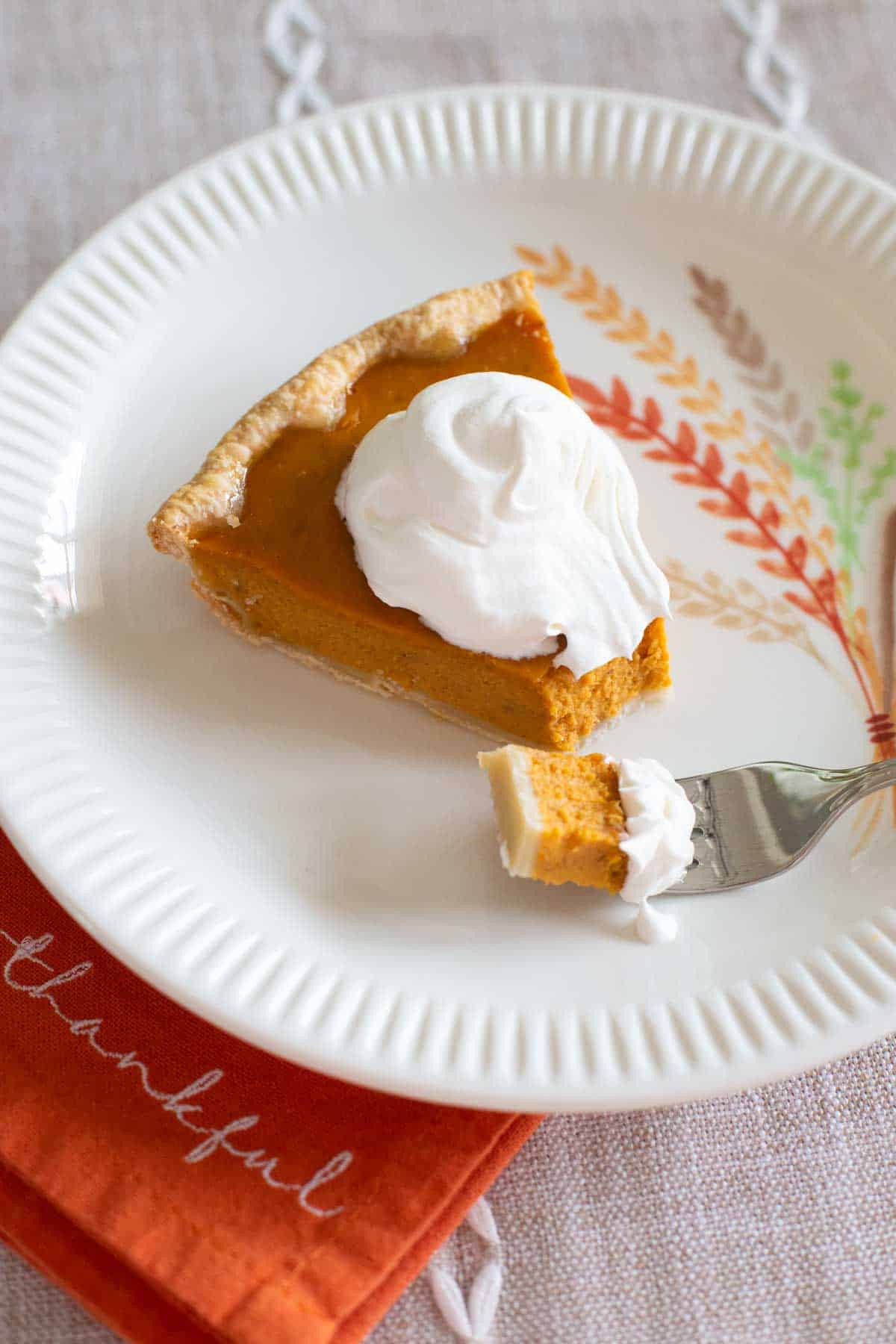 In our house, we love to serve this easy pumpkin pie cold from the fridge.
I bake it in advance on purpose so I can chill it overnight before Thanksgiving.
We top it with a giant dollop of Cool Whip but you could make homemade whipped cream if you're feeling fancy.
If you want to dress up this easy pumpkin pie, you could plan to sprinkle chopped pumpkin spice pecans or candied nuts over the top, add a drizzle of salted caramel sauce, or grate a little fresh nutmeg over the top of the whipped cream.
More Holiday Pies
Thanksgiving is ALL about the pies, isn't it??
With my easy pie recipes you can have a stunning dessert table for the holiday:
More Pumpkin Recipes
If you love all things pumpkin and love to bake pumpkin recipes all throughout the fall, you won't want to miss these reader favorites:
📖 Recipe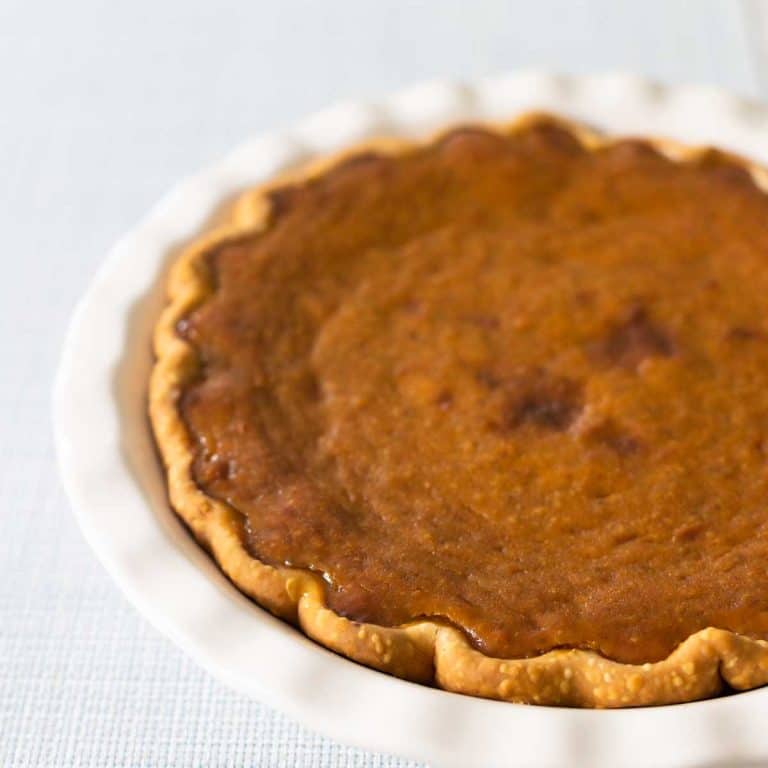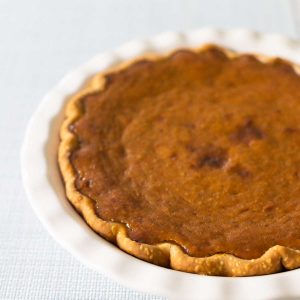 Easy Pumpkin Pie
This easy pumpkin pie recipe takes just 10 minutes to prep and is perfect for a first time pie baker. Make a delicious Thanksgiving pie to add to the family feast in just minutes.
Ingredients
1

pie crust

prepared homemade or refrigerated crust

¾

cup

sugar

½

teaspoon

kosher salt

1

teaspoon

cinnamon

½

teaspoon

ground ginger

¼

teaspoon

ground cloves

2

large eggs

1

(15 oz) can 100% pure pumpkin

1

(12 fl oz) can evaporated milk

or 1 ½ cups
Instructions
Preheat the oven to 425°F. Unroll the pie crust and place it in a 9-inch pie dish. Crimp the edges and set aside.

Combine the sugar, salt, cinnamon, ginger, and cloves in a small bowl. Set aside.

Add the eggs to a large mixing bowl and beat them with a hand mixer for 1 minute. Add the entire can of pumpkin and the prepared sugar mixture. Beat until smooth, about 1 minute.

Slowly drizzle in the can of evaporated milk while beating the pumpkin mixture on medium-low speed. Once thoroughly combined, scrape the mixture into the prepared pie dish. You may have ¼ - ⅓ cup pie filling leftover that won't fit in the pie shell depending on the depth of your pie plate. Just discard that extra if needed.

Place the prepared pie dish on a baking sheet before placing in the oven. Bake the pie for 55 minutes.

How to Tell the Pie is Done: The center should be puffed up and have risen above the outer edges of the pie. The pie will just barely jiggle when you pull at the baking sheet. To be completely sure it has baked through, you can insert a paring knife tip into the center and it should come out clean.
Recipe Notes
Perfect Pie Crust
Depending on the kind of pie crust you use and your oven, some crusts will darken more quickly than others as the pumpkin pie bakes. 
Check your pie after 20 minutes. If the crust appears to be darkening too quickly, you can cover the edge loosely with aluminum foil strips to prevent it from browning too much.
Pumpkin Pie Storage Tips
Once the pumpkin pie has cooled completely, it can rest at room temperature for several hours. For longer storage (6 hours or more), keep it chilled in the refrigerator.
Save This Recipe to Your Recipe Box
Find this delicious recipe next time you visit by saving it to your very own recipe box on my site. All your favorites stored in one easy place!