Store bought pie crusts are one of the most helpful tools for busy holiday baking. Learn how to bake a perfect holiday pie with this easy shortcut.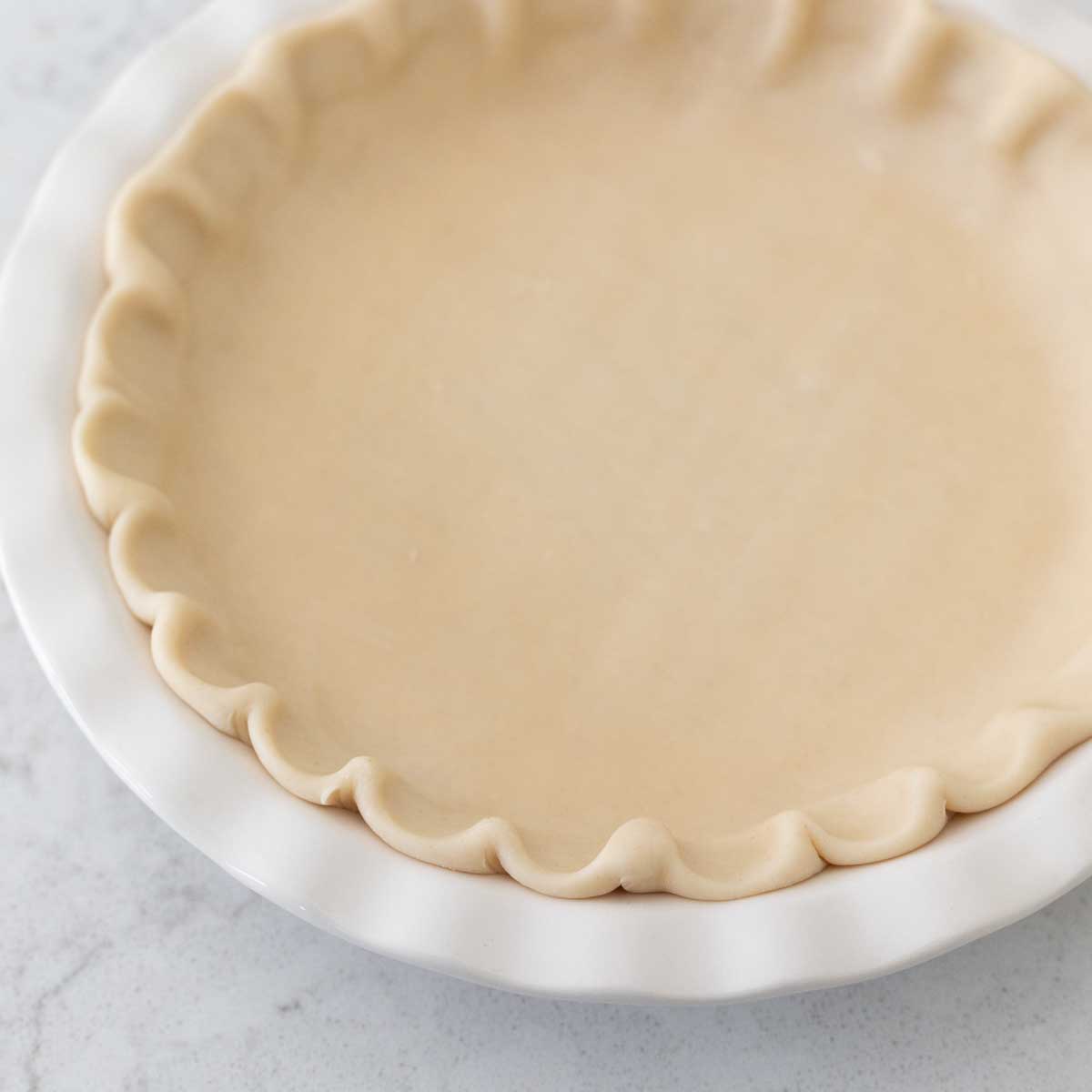 There is so much work involved in cooking and baking for a big holiday meal for your family.
Smart home cooks know to take easy short cuts where they can find them.
As much as I love to bake from scratch, when I'm in charge of the entire holiday menu I absolutely use a store bought pie crust to make my dessert prep go a little faster.
With a few handy tricks I'm about to share, you can learn to bake a stunning holiday pie with a store bought pie crust.
I'm not saying your family won't know it is a store bought pie crust, I'm saying they won't care when they bite into the delicious pie filling you will pair with it!
And YES: Even if you use a store bought crust, that holiday pie is 100% homemade.
It will definitely taste better than any premade pie you buy at the grocery store bakery because the crust will be crispy and the fillings will be fresh.
Jump to:
When a Store Bought Pie Crust Can Be Best
Once I finally learned how to make homemade buttery pie crust, I thought that was the only recipe I'd ever use.
But let's be honest, family life is BUSY. And when you're in charge of most of the prep work for a holiday meal, you need helpful shortcuts wherever you can get them.
You should feel NO GUILT about baking with a store bought pie crust because:
Consistent and Reliable: You never have to worry about getting the dough texture just right. The pie dough will be the same every time you use it.
Budget Friendly: With the price of butter going up and up, a store bought pie crust can be much easier on the family grocery bill. Especially if you find them on sale because . . .
Freezer Friendly: Stock up when they do go on sale, you can store them in the freezer for later!
Tasty & Pretty: You can still have an absolutely delicious homemade pie using a store bought crust. Use my tricks below to make it as pretty as possible!
In fact, I actually think a store bought pie crust is the best choice when you're baking a single crust pie like a pecan pie or pumpkin pie for Thanksgiving. It will fit so well in your pie dish and you don't need to measure it at all.
Helpful Tools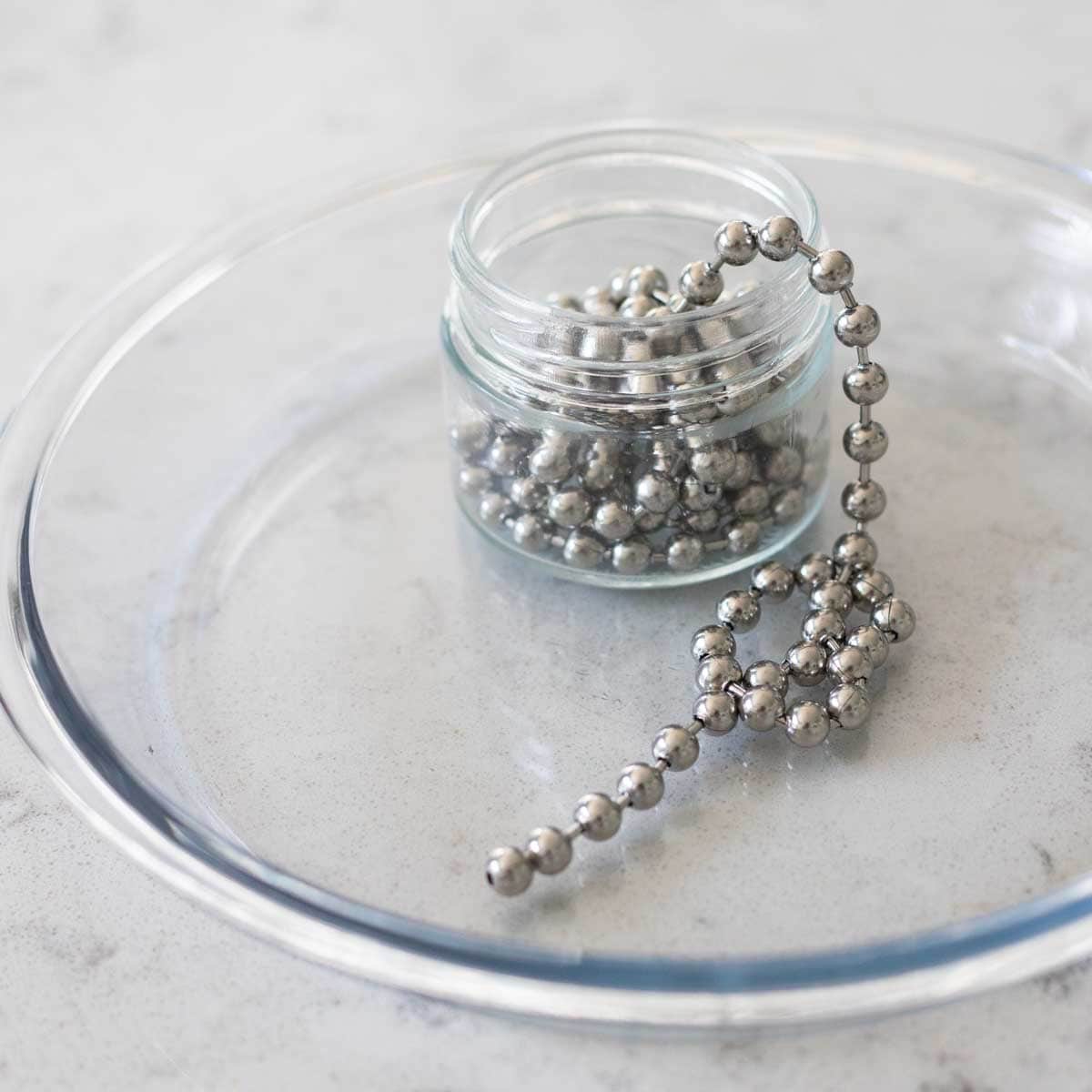 Even if you're going to take the store bought pie crust shortcut, you'll find it helpful to have a few of these pie making tools handy:
Pie Plates: I have both clear glass 9-inch pie dishes and ceramic deep dish pie plates. I use store bought crusts in both and they work great.
Pie Weights: A set of ceramic pie weights or pie chain come in handy for blind baking crusts. See my notes on blind baking below.
Aluminum Foil: The best tool I've found for covering pie edges so they don't over cook, this works so much better than any pie shield I've tried.
Pizza Stone or Baking Steel: For getting a perfectly cooked bottom crust use a baking steel. See my notes below!
1. Freezing Tips
Perhaps my favorite thing about using a store bought pie crust is that I can stalk the sales at the grocery store and buy them cheap so I can freeze them for holiday baking later.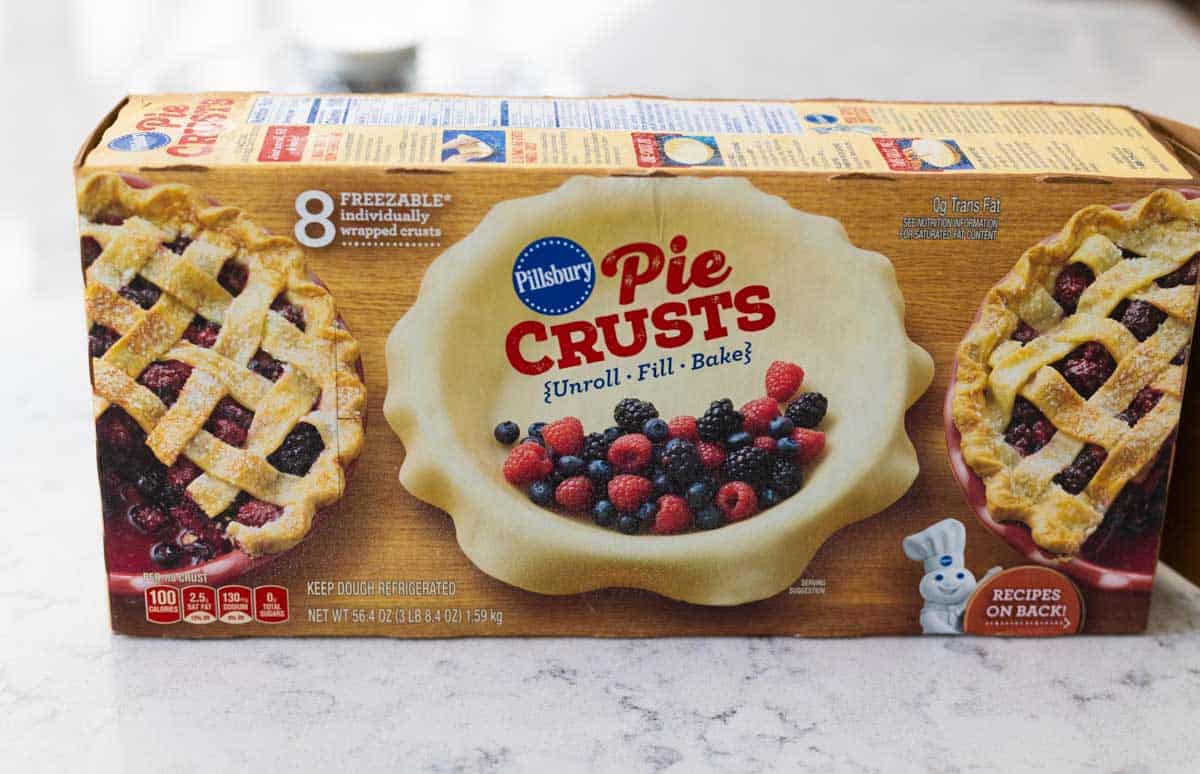 Last year I spotted this bulk box of pie crusts at Costco and immediately snapped it up for my freezer.
Each individual pie crust is wrapped in plastic so you can just use one or two crusts as needed for your pie.
To thaw a frozen pie crust, just leave it on your counter for 60 minutes before baking. Keep it wrapped and sealed while it thaws so it doesn't dry out.
If you know you won't have 60 minutes to wait, you could plan ahead and put it in your fridge to thaw there overnight.
Let it rest 15 minutes on the counter while you prepare your pie filling.
2. Rolling Out the Dough
My second favorite thing about using a store bought pie crust is that you don't have to worry about rolling it out into a perfect circle.
That work has already been done for you!
Most store bought pie crusts will fit just perfectly into a regular 9-inch pie dish.
However, if you plan to use it in a deep dish pie pan, you may want to unroll the dough onto a very lightly floured working surface and gently roll it out just a smidge more so it has more room for a crimped pie edge.
3. Make Pretty Pie Crust Edges
A store bought pie crust is just perfect for baking a one crust pie like my easy pecan pie or easy pumpkin pie.
1. Unroll the Dough: Gently unroll the pie crust and center it over a 9-inch pie dish.
2. Tuck the Edges Under: The pie dough will have natural curves from being rolled in a log. I place mine on the pie dish so that the curves face down. This makes tucking in the edges of the pie so much easier because you're working with the dough instead of against it.
Work your way around the edge of the pie dish and tuck the edges of the crust under towards the dish as you see in photo #2: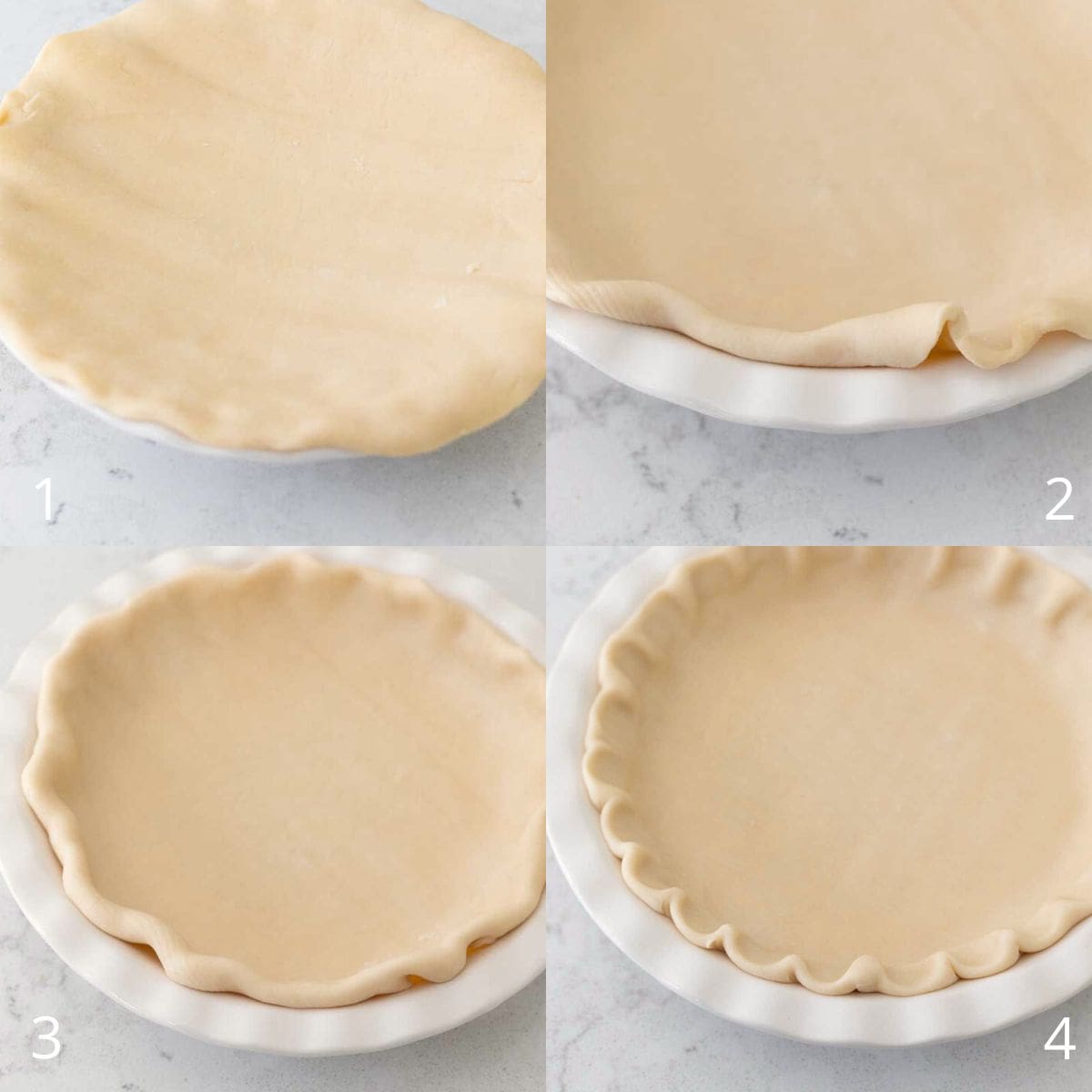 3. Smooth the Bottom: Once the edges have been gently tucked under, gently pat the bottom of the pie crust into place. Work from the center towards the edges and make sure the dough has been carefully eased into place without stretching it.
4. Crimp the Edges: The easiest way to finish the edge of the pie is to gently pinch the dough between your fingers. I use the same finger to mark the width and hold it against the edge of the pie plate while pressing the dough with my other hand towards my finger. With one crimp in place, I lift my fingers and repeat around the entire edge of the pie.
4. Blind Baking a Single Crust Pie
Blind baking a pie crust means you bake the pie crust alone without any pie fillings.
This can be helpful if you have a delicate pie filling that shouldn't bake as long as the pie crust needs to get crispy.
You can blind bake a pie crust part way and then finish it with filling in place in the oven.
You can also blind bake a pie crust to a complete golden brown finish and then fill with a cream filling that doesn't get baked.
To blind bake a store bought pie crust, get your pie dough into place and crimp the edges first.
Then, place a piece of parchment paper over the top.
Fill the parchment with ceramic pie weights or a metal pie chain.
Don't have either one handy? You can also use dried beans or lentils but you'll have to throw them out after using them this way.
I prefer the pie chain because I can use it again and again.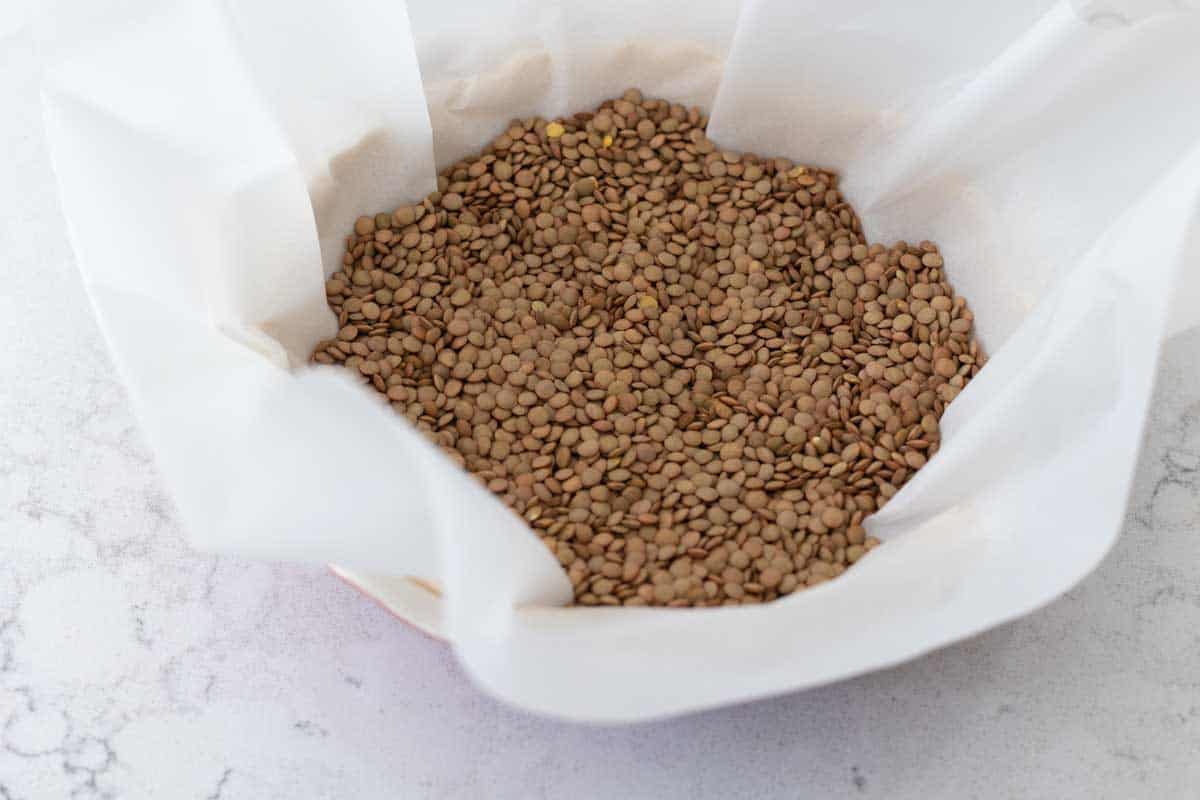 Then blind bake the pie crust as needed for your recipe. Remove the weight and parchment paper and finish as directed.
5. Crispy Bottom Crusts
Whether you're blind baking a single pie crust or baking the full pie, getting a perfectly cooked bottom crust is an essential skill for pie baking.
Pies tend to bake from the outer edge inwards. The center takes the longest to bake and the most common mistake is to pull the pie from the oven before the center has finished.
You can still get a perfect crispy bottom pie crust with a store bought pie crust if you use the awesome baking trick I learned from baking homemade pizzas.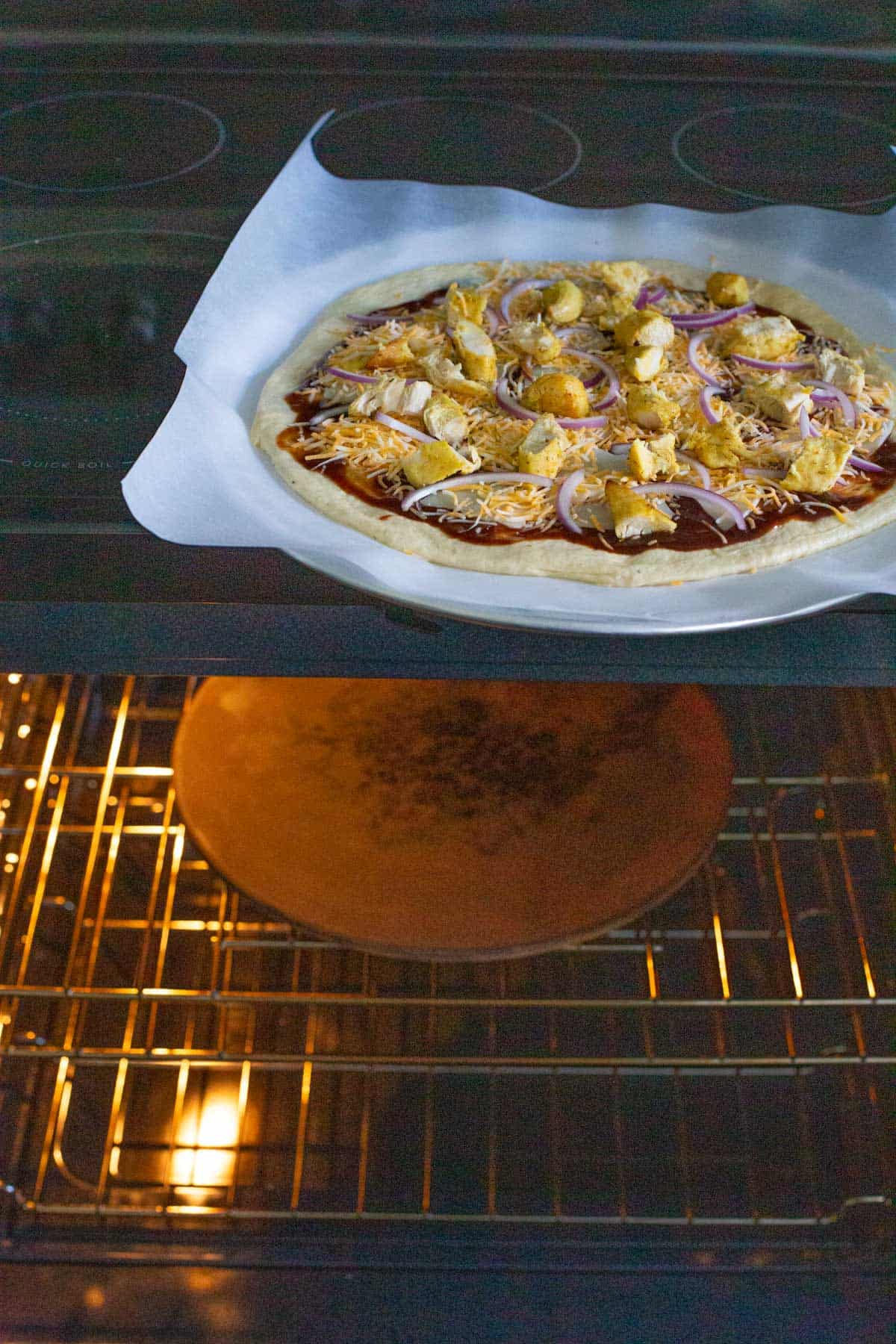 Place a pizza stone or a baking steel inside your oven on the rack where you plan to put the pie. Let it heat up while the oven preheats and let it warm through for at least 30 minutes.
Don't have a pizza stone or baking steel? This trick also works with a large baking sheet. Let the solid metal surface get blazing hot in the oven.
Then when your pie is ready to be baked, place it directly on the hot stone, steel, or baking sheet.
The flat, even surface will help the bottom crust to bake perfectly.
IMPORTANT SAFETY NOTE:
If you plan to use a baking steel or baking stone, do NOT place a pie in a ceramic or glass baking dish direct from the freezer to the stone. The heat will crack your dish.
This trick will work with a room temperature pie dish.
If you plan to freeze your pie and bake it directly from frozen, you should use a metal pie plate instead.
Easy Pie Recipes
Now that you know how to work with the store bought pie crust, let's take a look at some perfect easy pie recipes.
As important as the pie crust itself is to your final pie, your family is going to notice the pie filling much more.
I've been baking my Thanksgiving pecan pie with a store bought pie crust forever. The recipe is just so easy and it is always a huge hit.
And a classic but easy pumpkin pie is perhaps the best first holiday pie for a new baker. Use my easy tips and a store bought pie crust and it is nearly foolproof.
Want to try your hand at the best apple pie ever?? DEFINITELY focus on the apple pie filling. Use King Arthur's apple pie filling with a store bought crust until you feel more confident about trying a homemade pie crust from scratch.
More Pie Crust Recipes
When you DO have a little more time and you want to try your hand at a homemade pie crust, here are a few of my favorite recipes: