A regular home baker tested King Arthur's most popular apple pie recipe to see if it turns out just like the catalog photo.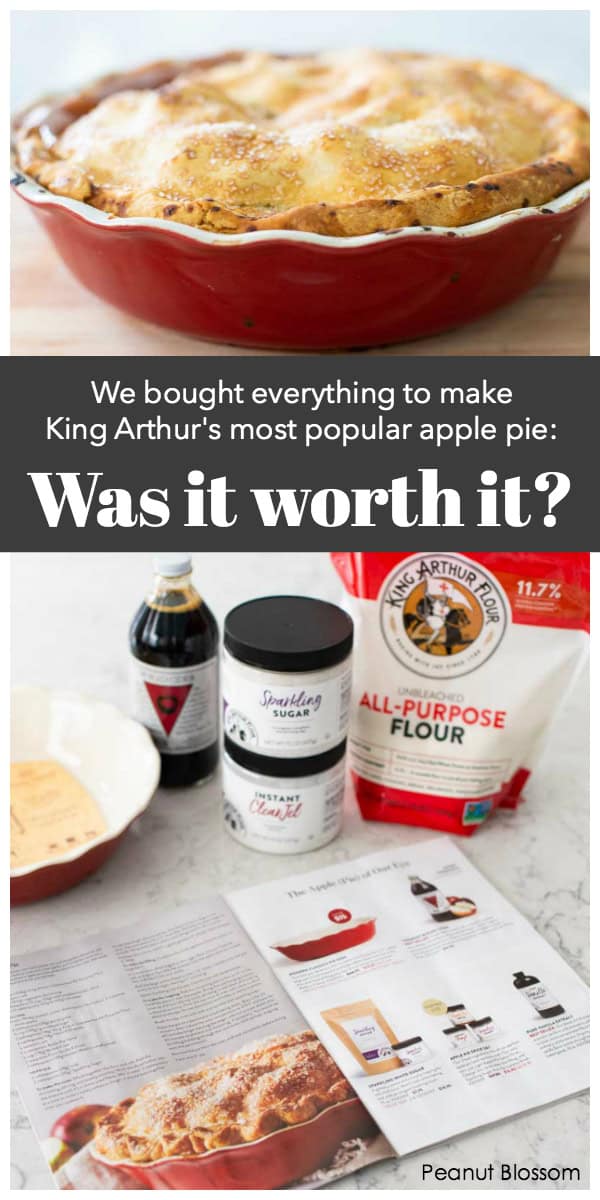 I made an apple pie for my husband the first year we were married and it was OBVIOUS that it didn't meet his expectations. I'm pretty sure the phrase "this isn't like grandma's" was uttered.
Almost 20 years went by and he never got another apple pie from me.
But love forgives and this year I'm bound and determined to make the perfect apple pie that will have been worth a 20-year wait.
We got a catalog from King Arthur Baking a few weeks ago with an amazing apple pie slice on the front cover. Tim was practically drooling over it as we enjoyed our morning coffee.
When I saw the two-page spread with the apple pie recipe right next to all the "secret ingredients" they recommended, I started laughing:
"Wouldn't it be fun to buy every last thing they suggest and see if we can recreate this??"
15 minutes later I had EVERYTHING, right down to the exact pie dish they used in the photo, ordered and on it's way to our house for a test.
To ensure I was working with the best possible materials, I even researched the best apples for making apple pie before our annual trip to the apple orchard on Friday. By Sunday the game was on!
This is what I learned about baking the perfect apple pie from King Arthur Baking. I hope it helps you in your baking endeavors this fall.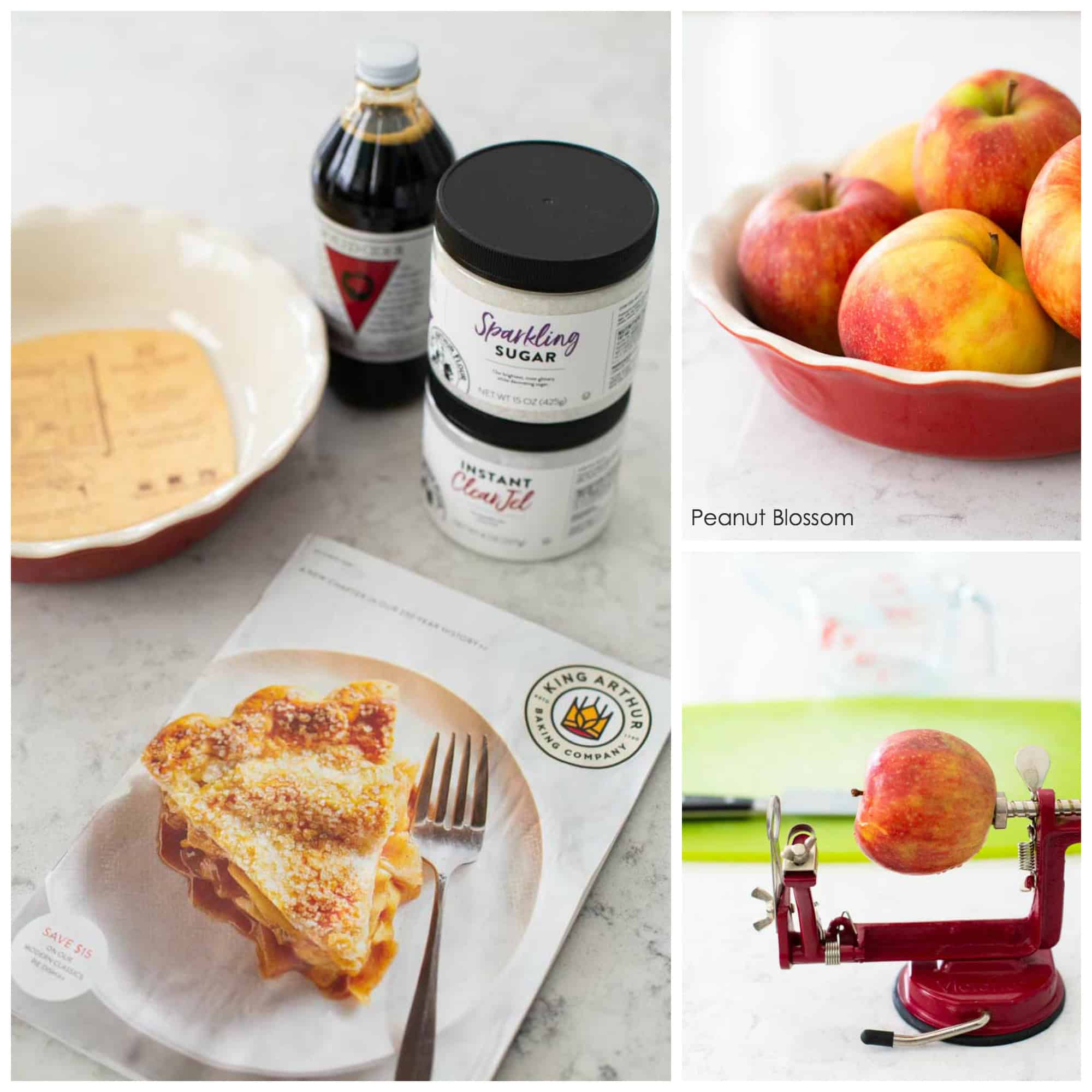 5 things we learned when we baked King Arthur Baking's apple pie recipe:
1. The From-Scratch Homemade Pie Crust:
The crust is by far the best part of a fruit pie. Getting this part right is essential. You can have the best fruity pie filling in the world but with a substandard pie crust, it will all be for naught.
King Arthur's recipe calls for both vegetable shortening and butter. They said it would be the flakiest crust we've ever had. I followed the instructions exactly and unfortunately, that was not the case for us.
Ease of rolling out: The instructions said to process the dough until it was a "barely formed" ball that I had to squeeze together. I formed the discs as instructed and chilled for 40 minutes before rolling. The dough kept breaking at the edges when I rolled. When I tried to transfer it to the pie dish, it fell apart in my hands. After a few attempts, I finally got something solid in the dish.
Ease of pinching the top crust: The dough was so fragile that pinching the crusts together caused the top crust to break. I gently patted everything into place and kept going. Sadly, the part that broke leaked apple juices during baking but it didn't affect the texture.
Final baked texture: Rather than a "flaky" texture, I would say the crust had more of a crumb/powdery texture. We can definitely taste the butter, the flavor of the crust was fine, and it baked up to a beautiful golden brown on both the top and the bottom of the pie.
Final thoughts: This was the most difficult pie crust recipe I've tried this year. I would not recommend it for a new baker. It tasted fine but wasn't as flaky or as buttery as we prefer.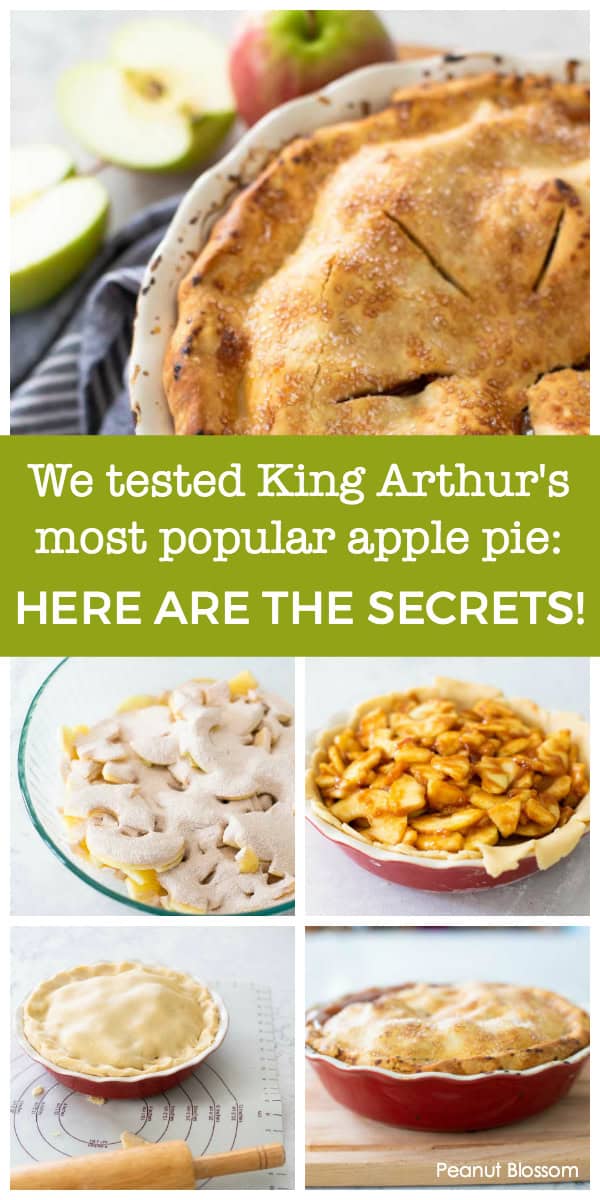 2. Should you buy the ceramic pie dish?
The King Arthur apple pie was photographed in a beautiful, bright red, ruffled ceramic pie dish. It makes a stunning presentation at the holiday table, but how does it work for baking a pie?
From all the research I've done this year, I know that metal pie dishes are far superior to glass or ceramic ones if you want a crispy bottom pie crust. The metal transfers the heat more quickly and efficiently and toasts up that bottom crust evenly. (That's precisely why I've been baking my slab pies in a metal pan.)
If you are using a ceramic baking dish like King Arthur's and you want to avoid a soggy, undercooked pie crust, you need to bake it on the bottom rack of your oven. This puts the bottom crust even closer to the heat source to help ensure you get a crispy bottom crust.
You'll know the pie is ready when the filling has been bubbling hot for at least 10 minutes. Do not take it out of the oven before then.
I had to tent my pie to keep it from over-browning on the top and added 10 minutes to the baking time from the original recipe. My oven runs really hot, so your pie could potentially require a few more minutes than that.
So was the pie dish worth it?
They are running a sale on the pie dish and I do believe it still produced a perfectly cooked pie crust. It will look gorgeous at the table when you serve it. So if you love it, absolutely buy it. You can find it here.
If you're not fussy about the presentation dish, this metal pie pan is a frugal alternative that will let you bake the pie in the center of the oven.
3. Are King Arthur's secret ingredients for the apple pie filling worth it?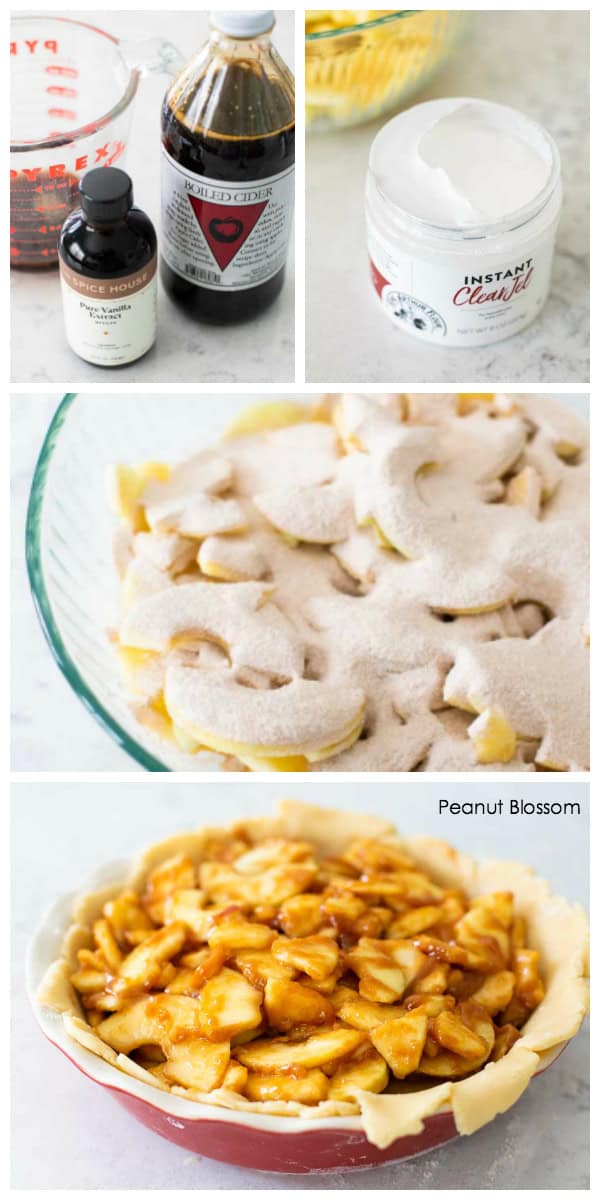 The apple filling portion of King Arthur's apple pie recipe is what truly intrigued me. I knew I already had a pie crust I love to use, but their apples looked so gorgeous and glossy in that catalog photo.
Their recipe calls for these special ingredients:
The boiled apple cider comes in a clear bottle and requires refrigeration after you've opened it. The smell is quite strong and borderline unpleasant, in my opinion. The color is a deep, rich reddish-brown and it poured like a thin syrup. The recipe calls for ¼ cup of the boiled cider to be added to the fresh apples.
ClearJel is an item I've seen called for in several pie recipes, not something particularly unique to King Arthur. It works like cornstarch or flour to help thicken the pie filling. I haven't wanted to spend the extra money for such a single-purpose item in my pantry, but since we wanted to test everything right down to the last ingredient, I splurged on a jar.
Now that I've used ClearJel, I can absolutely see why it is so popular. The sauce around the apples cooks up so clear and glossy. It made a fantastic presentation for the pie.
According to King Arthur Baking, if you plan to freeze your apple pie, ClearJel is an ideal choice for thickener.
Final thoughts on the pie filling:
It. Was. Incredible. By far and away the most delicious apple pie filling I may have ever had. It looked gorgeous and tasted even better.
If you buy nothing else from King Arthur, I'd highly recommend indulging in both the boiled apple cider and the ClearJel.
And while you're ordering special ingredients, maybe pick up everything you need to make this jaw-dropping Cinnamon Swirl Bread.
4. Is the sparkling sugar worth it?
I am not a fussy pie baker. I try to be frugal with my ingredient choices and make recipes that are fairly simple. I was skeptical about the recommendation to buy the sparkling sugar for the top of the pie crust.
Here are a few things I realized:
Pie crusts are not sweet: They rely on the filling to bring the sweetness. The apple pie is much more tart than sweet and it is refreshingly juicy. We loved the little spike of extra sweetness on the top crust.
Pie crusts aren't always pretty: Unless you're making lattices or extra-fancy cut out shapes, a pie top is really rather . . . brown. The sparkling sugar added just a touch of pretty to the top we really enjoyed. I wish I would have sprinkled even more on top, I think I was a little too light-handed.
Sometimes you like a little extra texture: The sugar gave an extra crunchy bite to the top of the pie crust that was really pleasant. If your fruit filling is going to be on the softer side, it can be nice to have that extra texture.
Final thoughts on the sparkling sugar:
I'm definitely glad I bought it. The tub is going to last me for several pies and will be fun to play with. Is it essential? No. Will it make your pie feel more festive and special for the holidays? Definitely. You can get a tub for yourself here.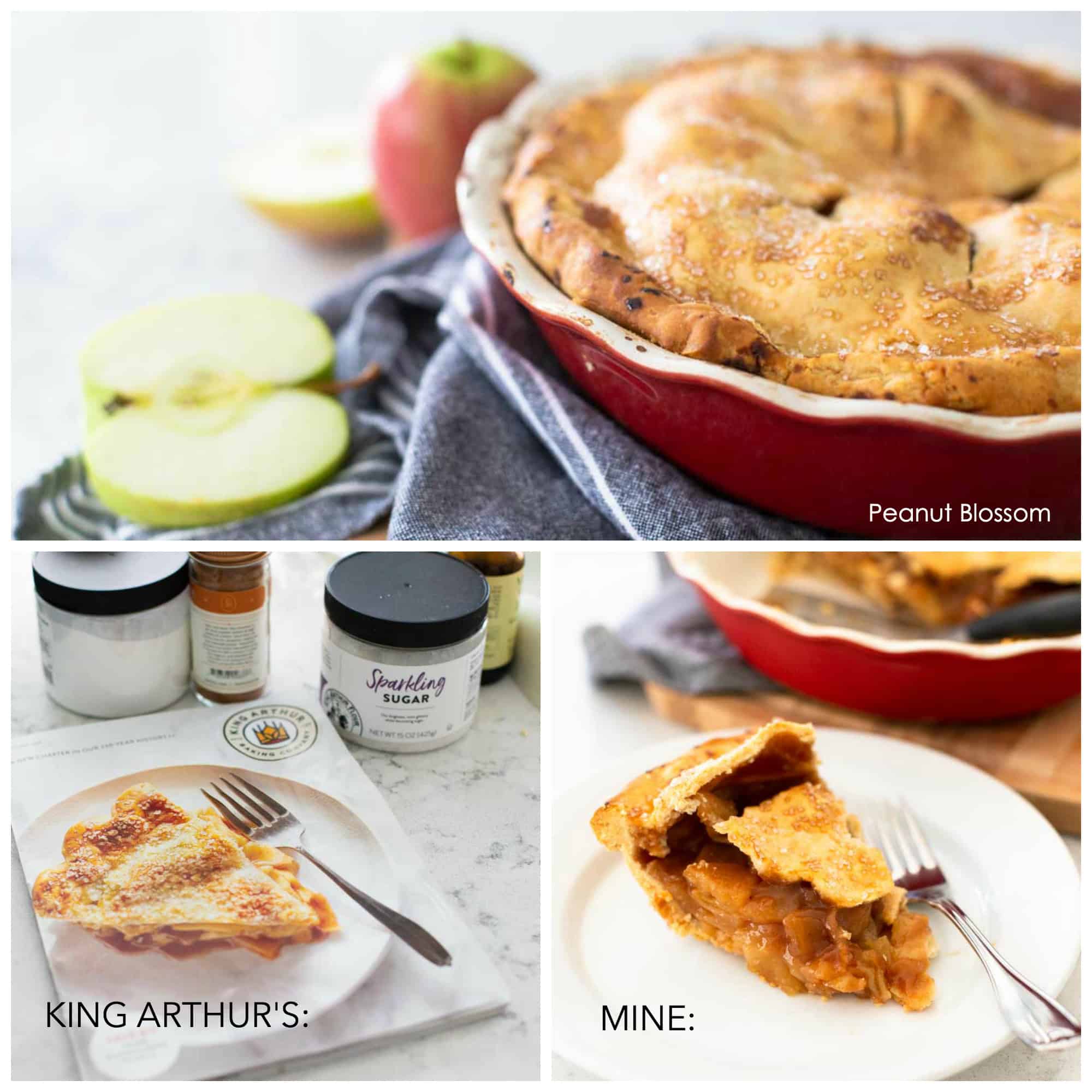 5. Hot or cold?
I have always loved warm pie with cold vanilla ice cream on top melting all down into the filling. Since we wanted to taste-test the recipe exactly as it was written, we let it cool as recommended and ate it without the ice cream.
The slightly still warm pie was delicious. We enjoyed it as we ate it.
However, we stored the leftover pie in the refrigerator overnight. The chilled slices we ate the next day were out of this world. The pie filling was even more mind-blowing the next day, ice-cold from the fridge.
Tips on making the PERFECT apple pie for Thanksgiving:
The King Arthur apple pie recipe is so crazy close to perfect. If I had to choose which elements mattered most, this is how I would assemble a perfect pie:
First, use a different pie crust, one that you are more familiar with or that has better instructions. Honestly, a store-bought pie crust would be easier to work with if you're worried about being new to pie baking. Both Pillsbury and Trader Joe's have prepared pie crust doughs that taste great.
Second, ABSOLUTELY make King Arthur's pie filling. Buy both the boiled cider and ClearJel.
Third, make it pretty with the sparkling sugar and the ruffled pie plate. (Or bake the pie in a frugal metal pan and just slip it inside a fancier dish you already own.) You'll feel like a master baker.
Lastly, bake the pie the day before and refrigerate it! This is the perfect make-ahead dessert for the holiday. Cold from the fridge with maybe a dollop of whipped cream?? YES. So, so good.
📖 Recipe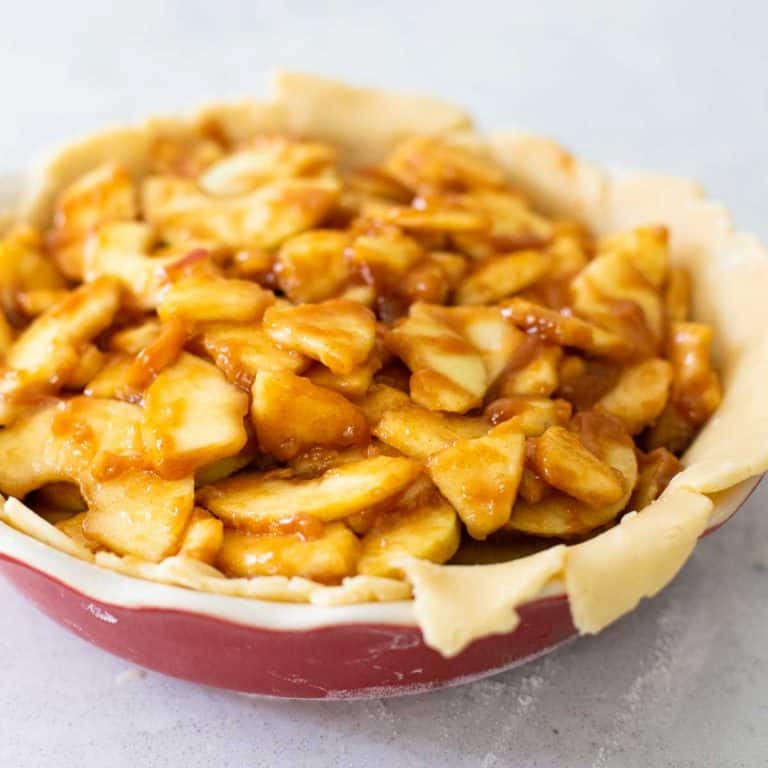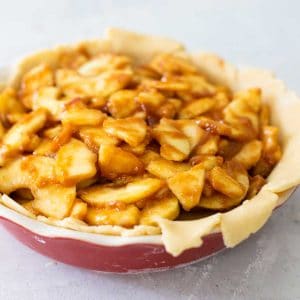 King Arthur's Apple Pie Filling
Pair this amazing apple pie filling with your favorite crust recipe for the perfect apple pie.
Ingredients
8

cups

from 3 ¼ pounds of whole apples peeled, cored, sliced apples

2

tablespoon

lemon juice

¾

cup

sugar

2

tablespoon

flour

2

tablespoon

Instant ClearJel

¼

teaspoon

salt

1 ½

teaspoon

apple pie spice

¼

cup

Boiled Cider

2

teaspoon

vanilla extract

2

tablespoon

butter

diced in small pieces

1

double-crust pie crust recipe of your choice or a prepared pie dough from the refrigerated section of the grocery store

2

tablespoon

milk

2 - 3

tablespoon

Sparkling Sugar
Instructions
To make the filling:
Combine the sliced apples and lemon juice in a large mixing bowl.

In a small bowl, whisk together the sugar, flour, Instant ClearJel, salt and spice. Sprinkle the mixture over the apples and stir to coat. Stir in the Boiled Cider and vanilla.
To assemble the pie:
Spoon the filling into your favorite pie crust. Dot with the butter cubes and top with the second pie crust. Pinch the pie crust edges together and slice venting holes in the top of the pie.

Brush the top crust with 2 tablespoon of milk and sprinkle evenly with the Sparkling Sugar.
Bake the Pie:
Preheat the oven to 425°F. Place the pie on a parchment-lined baking sheet. Bake for 20 minutes, then reduce the temperature to 375°F.

Bake for another 40 minutes or until you see the filling bubbling hot through the vent holes for at least 10 minutes.

Check after just 25 - 30 minutes of baking and tent the pie crust edges or top with aluminum foil if it is starting to get too dark.

Remove the pie from the oven and cool completely before slicing.
Save This Recipe to Your Recipe Box
Find this delicious recipe next time you visit by saving it to your very own recipe box on my site. All your favorites stored in one easy place!
Looking for more apple recipes?