This sweet cinnamon swirl bread is easy enough for a beginner baker. Cut it into slices for the best toast you've ever had, you'll find it tastes just like a warm cinnamon bun with a rich, cinnamon-packed filling.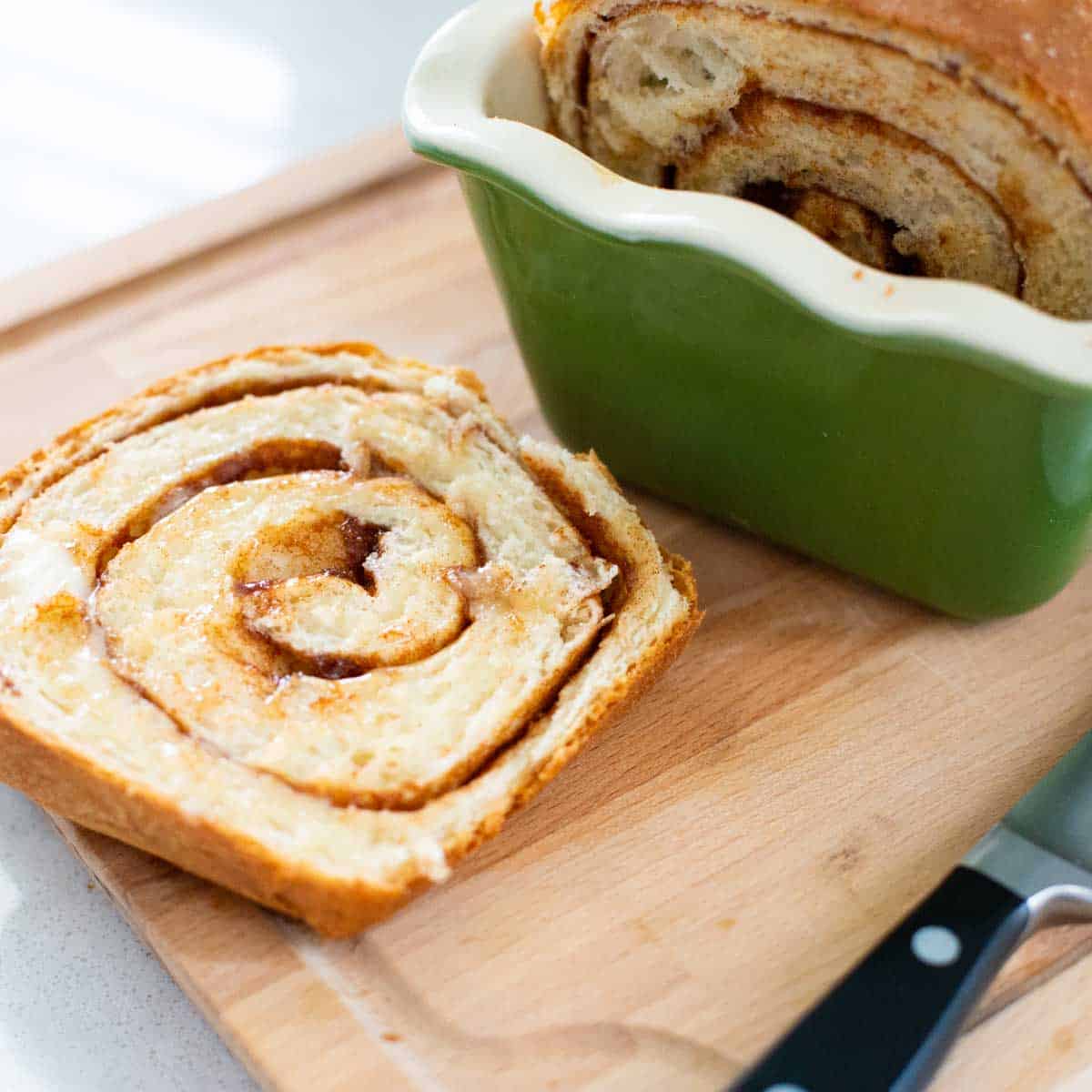 I have been craving homemade cinnamon buns for MONTHS.
First, there was a run on yeast. Then I couldn't find bread flour to save my life. When I was finally able to refill my pantry, the first recipe I tried wasn't what I had in mind.
I reached out to my friend Melissa who happens to be an amazing home baker and mom of four strapping teenage boys.
I knew I asked the right person for help when her response was: "Cinnamon rolls can be such a pain. You need to bake this cinnamon swirl bread instead! It is so much easier but has all the same flavors."
Easier? Same flavors? Ok, SOLD.
This bread was so fantastic, I had to pass on the favor and share it with you. Add it to your baking rotation stat and you can thank me later.
Jump to:
How to Make Cinnamon Swirl Bread
Normally, I prefer to make homemade bread in my bread machine. Measure the ingredients, dump in the bowl, done.
You can find my favorite bread machine recipes here.
However, this particular bread recipe requires making the dough in your stand mixer and rolling it out by hand.
But don't let that scare you!
It may have a few more steps than a normal bread machine recipe, but I pinkie swear it was so much easier to do than cinnamon rolls, for sure.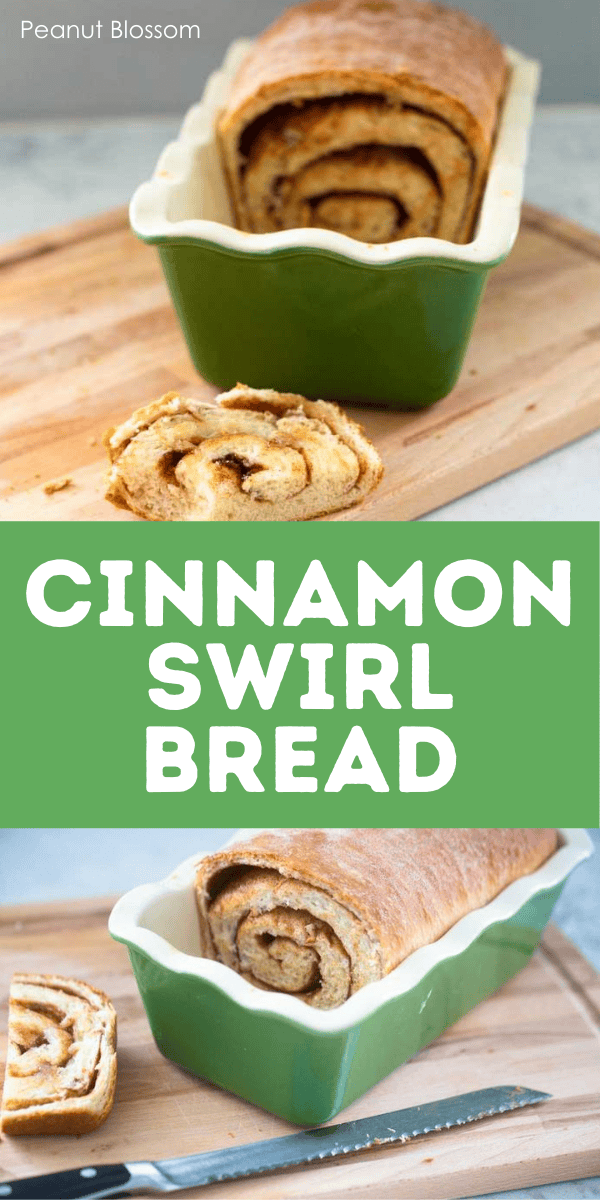 Ingredients
There are three unique ingredients you'll need in your pantry to make this cinnamon swirl bread:
The only thing that made me hesitate with Melissa's recommendation was the declaration that it is absolutely essential to order the Baker's Cinnamon Filling mix from King Arthur Flour.
I'm not generally keen on recipes that have a required hard-to-find ingredient I can't get at my local grocery store, but her rave review of the recipe had me curious.
I ordered the cinnamon filling and gave it a try. I immediately saw why Melissa loves it so. I can add my hearty agreement that it is worth the extra step.
You simply measure out enough of the Baker's Cinnamon Filling Mix and just add water. Stir together the mixture with a fork and you've got instant cinnamon filling that will remind you immediately of a Cinnabon.
You will also need powdered dry milk. I ordered it from King Arthur Flour at the same time as the cinnamon mix but that particular ingredient can be found fairly easily at most grocery stores and is very inexpensive.
Lastly, instant yeast is essential for this recipe. If you've done any bread baking at all, you'll be familiar with this ingredient. If this is your first attempt at bread-baking, you need to choose between buying yeast in packets or a larger quantity of jarred or packaged yeast.
Which Yeast to Use
If this is your first time buying yeast, you'll just need to choose one of these options:
Instant Yeast Packets:
Pros: The yeast stays fresh in single-portion packets. You'll use one packet for this bread recipe.
Cons: You'll have to rip open more than one packet for some recipes and may have some waste. You'll also have far less yeast on hand if you find you really enjoy bread baking.
Jarred or Packaged Instant Yeast:
Pros: You can measure exactly the yeast you need for each recipe and always have plenty on hand.
Cons: Once you open the container and expose the yeast to the air, you'll need to use the yeast before it expires. Store it in the fridge to help extend its life.
If yeast is still difficult for you to find, just buy whatever instant yeast you can get your hands on. It will all work. I was able to add the SAF Red Instant Yeast to my order at King Arthur. This was a new-to-me brand, so I'm extra glad I also ordered this storage container. Once you open the SAF package, it is nearly impossible to store the yeast properly without some sort of container.
How to Form the Swirl
Good news for beginner bakers: this dough is really easy to work with. It is soft and pliable and super-easy to roll out.
To assemble the swirl bread, you roll out the dough to a large rectangle, spread the cinnamon filling over the top leaving an inch-wide border around the perimeter.
Roll the bread up tightly starting at the narrow end. Place the rolled log of dough in a bread pan and bake.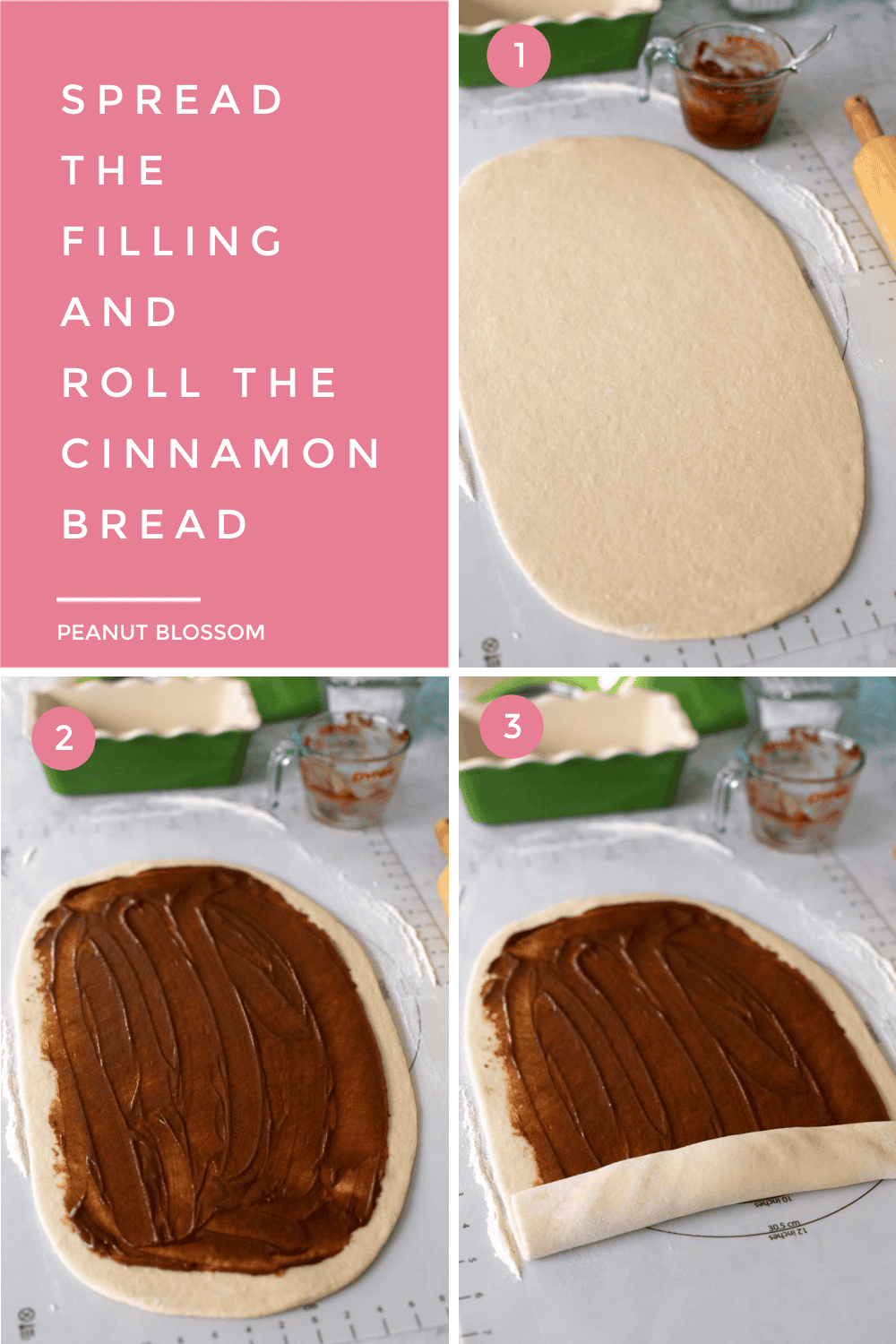 The loaf popped easily right out of my buttered bread pan. It cuts cleanly into neat slices.
Our family enjoyed it warm from the oven with just a little slather of butter for good measure. The next morning, we toasted it for breakfast and it heated up perfectly.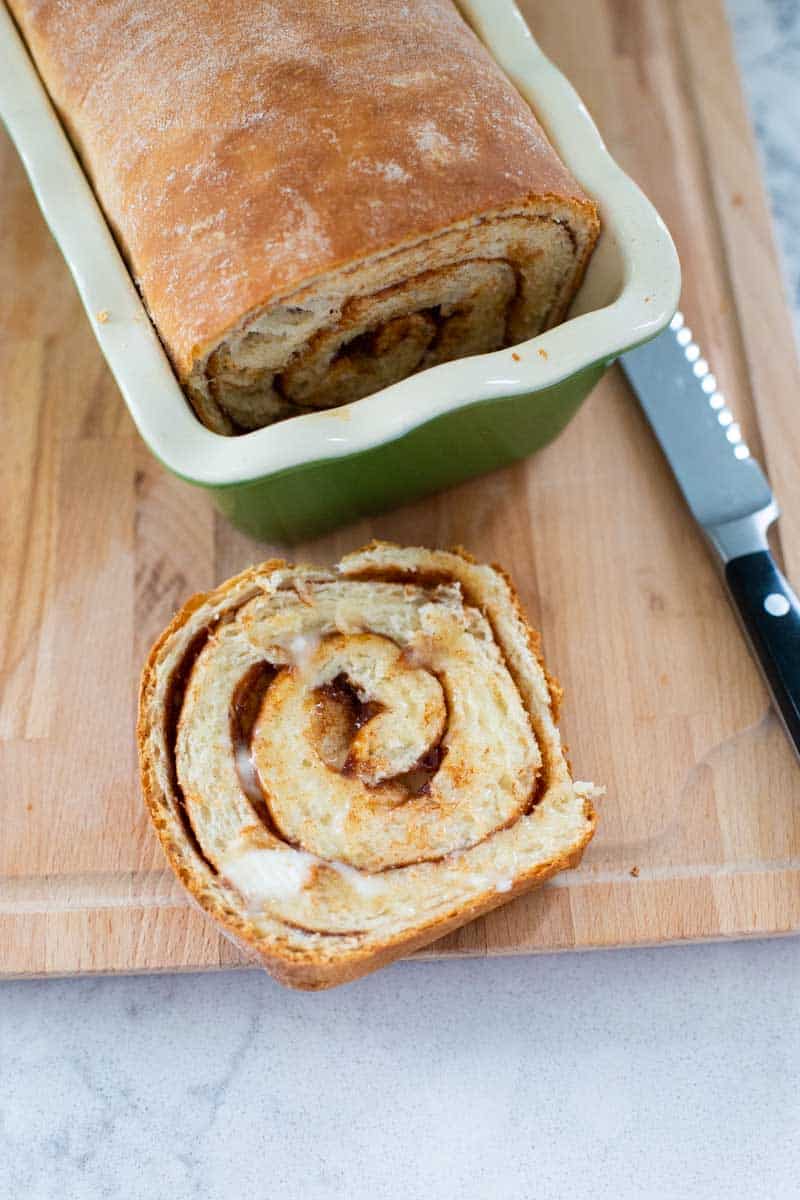 Cinnamon Pull Apart Bread Variation
As much as I love the soft texture of this cinnamon swirl bread, another fun way to make a similar treat is to try my cinnamon pull apart bread.
Rectangles of dough are coated in cinnamon sugar and butter and then baked in a bread pan for crispy edges that you can pull apart:
Could Kids Bake This Cinnamon Bread?
I let my kids help in the kitchen with just about any recipe if they are showing interest.
Of all the yeasted recipes I've made, this bread is one of the easiest. I think it would be a perfect place to start in introducing homemade bread to kids.
They will love to spread the cinnamon mix and roll up the final loaf. It is just hands-on enough to be fun without being too intense with the steps.
The recipe for this bread is featured on the packaging of the cinnamon mix but I tweaked it to add more information for beginner bakers.
I've found that traditional shorthand recipes tend to leave out crucial steps that kids or new bakers need to find success.
But if you feel the recipe is still too challenging, your kids will absolutely love making these cinnamon sugar topped dessert bars. My crescent roll cheesecake tastes just like a cinnamon churro on top!
📖 Recipe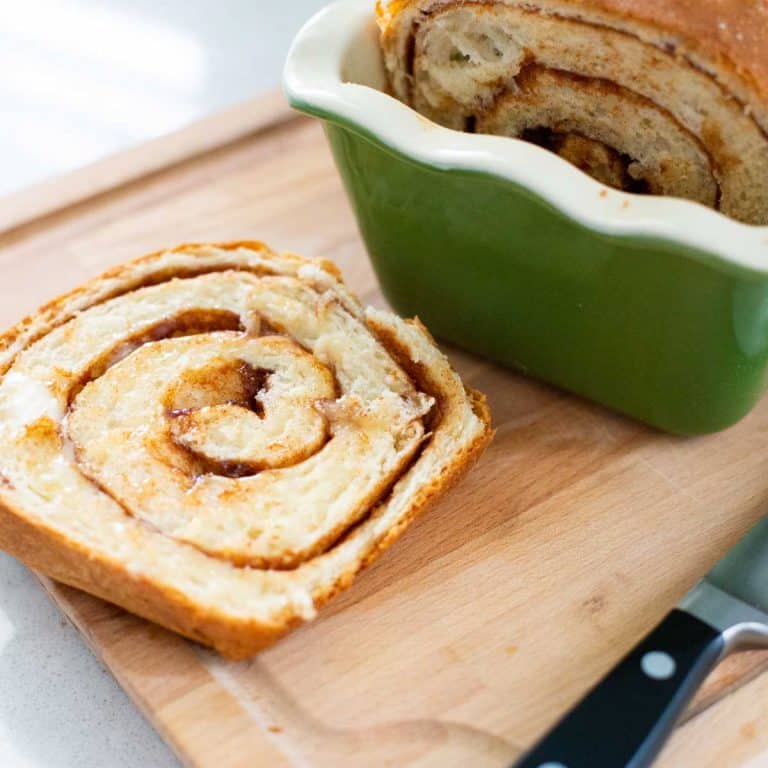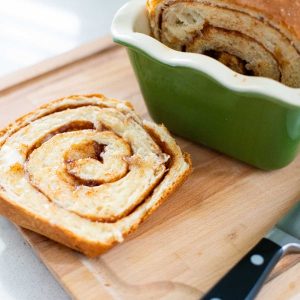 Cinnamon Swirl Bread
This delicious homemade cinnamon swirl bread can be easily cut into slices for toast but tastes just like a cinnamon bun with an amazing, rich cinnamon-packed filling.
Ingredients
3

cups

all-purpose flour

King Arthur brand is highly recommended

1 ¼

teaspoon

salt

2 ½

teaspoon

instant yeast

3

tablespoon

butter

softened

2

tablespoon

nonfat dry milk

3

tablespoon

sugar

1

cup

water

lukewarm temperature
For the cinnamon filling:
¾

cup

Baker's Cinnamon Filling Mix

3

tablespoon

water
Instructions
MAKE THE DOUGH IN YOUR MIXER:
Add all the ingredients for the bread dough (not the filling ingredients) to the bowl of an electric stand mixer fitted with the paddle attachment. Stir on medium speed to combine thoroughly, about 3 minutes.

Once the dough comes together, stop the mixer and swap the paddle attachment for the dough hook attachment. Knead the dough on medium speed until it is smooth and soft, about 5 - 7 minutes.
LET THE DOUGH RISE:
Form the dough into a ball and place it back in the bottom of the mixing bowl, cover with plastic wrap, and allow to rise for 1 ½ hours.
ASSEMBLE THE BREAD:
Grease an 8.5 x 4.5-inch bread pan with a bit of softened butter or baking spray.

Lightly flour your working surface and roll the dough into an 8 x 24-inch rectangle.

In a small bowl, combine the Baker's Cinnamon Filling Mix with the water. Stir together with a fork until smooth. Spread the filling over the surface of the dough rectangle, leaving a 1-inch border around the edge.

Roll the dough tightly, starting at the shorter edge of dough, to form a swirl log. Place it seam-side down inside your prepared baking pan.
LET THE BREAD RISE AGAIN:
Cover with plastic wrap and allow to rise for 2 hours or until it has risen barely 1-inch above the edge of the pan.
BAKE THE BREAD:
Preheat the oven to 350°F. Bake the bread for 40 - 45 minutes. Place a bit of aluminum foil over the top after the first 20 minutes to prevent it from over-browning.
Recipe Notes
Cinnamon Filling Mix Note:
1 package of King Arthur's Baker's Cinnamon Filling Mix is enough to make 5 loaves of this recipe. Once opened, it should be stored in a cool, dry place or frozen in an airtight container for longer freshness.
Save This Recipe to Your Recipe Box
Find this delicious recipe next time you visit by saving it to your very own recipe box on my site. All your favorites stored in one easy place!