Make a perfect Oreo cookie crust for a cream pie or torte in under 10 minutes. This easy recipe includes both a 9-inch pie crust and a 9x13-inch torte crust for all your no bake dessert needs.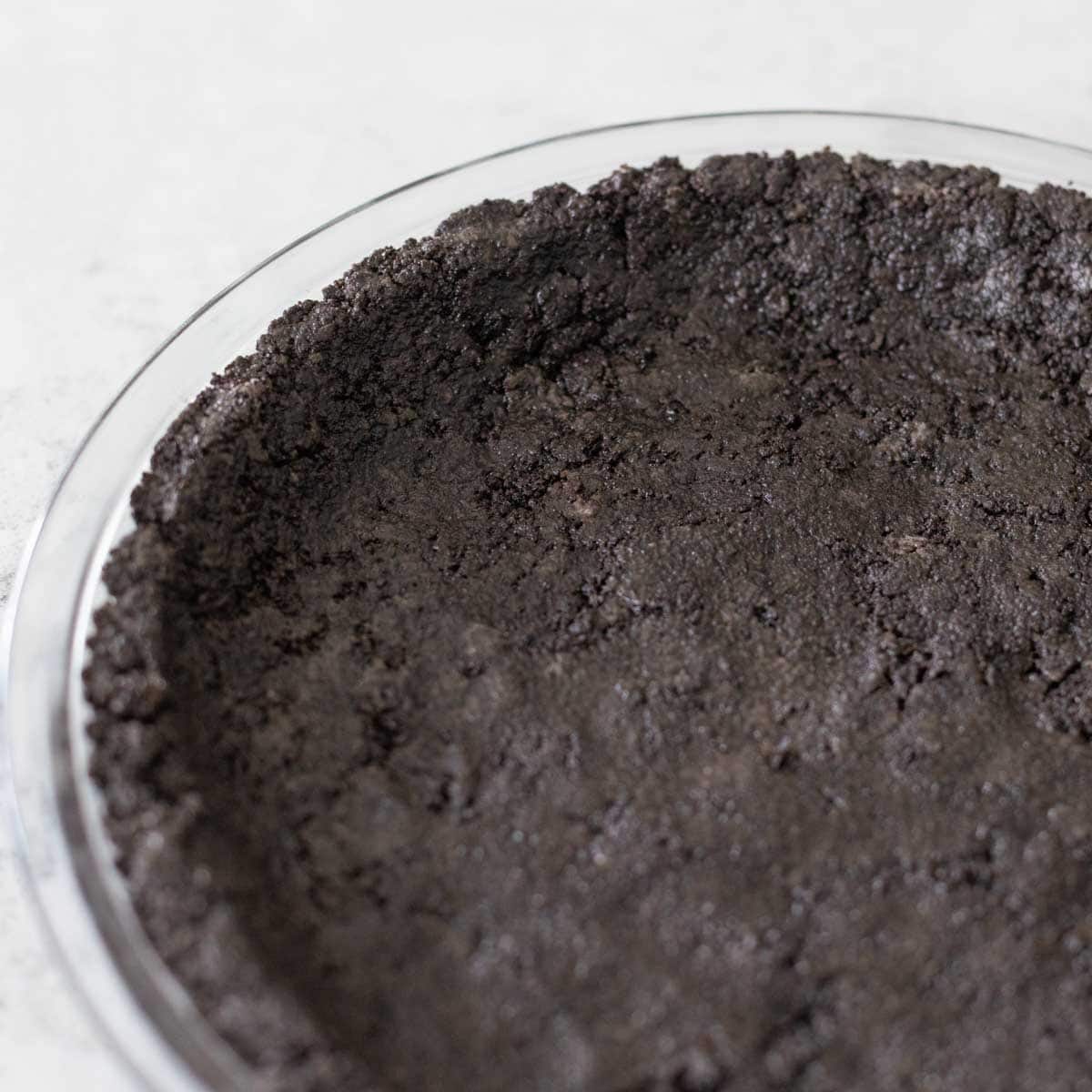 Nothing tastes as good as a homemade Oreo cookie crust for a cream pie or torte.
The prepared kind from the store tends to be a bit dry and thin, while a quick 10-minute Oreo pie crust at home has an awesome buttery flavor and thick crunchy texture.
This amazing cookie crust is the best base for easy homemade cream pies using your favorite flavor of pudding mixes or cream cheese torte fillings.
Jump to:
Why This is the Best Recipe
I love a good pie crust as much as the next baker but I think this is the best Oreo cookie crust recipe because:
Pie or Torte: Any dessert you want to make, you'll find the perfect Oreo cookie to butter ratio here.
Thick and Crunchy: This amazing pie crust will hold up and slice perfectly for any no bake dessert you want to make: Cream pies, ice cream tortes, cream cheese filled desserts, and more.
Make Ahead Friendly: You can make the pie crust in advance or even freeze it to save more time during the holiday rush.
Fun Variations: I used Double Stuff Oreos but you could use any flavor Oreo cookie you want to make this easy recipe. Be sure to see my notes below!
Ingredients
All you need to make this perfect Oreo cookie crust:
A Family-Sized Package of Oreo Cookies: Or any other similar sandwich cookie.
Butter
9-inch Oreo Cookie Crust (Round Pie)
If you're making a cream pie, you'll be using a normal pie plate.
For a typical 9-inch pie dish, you will use just 2 rows of the family-sized package of Oreo cookies.
This will be about 24 cookies in total.
9 x 13-inch Oreo Cookie Crust (Torte)
If you want to make an ice cream torte or cream cheese filled layer dessert, you'll be using a 9x13-inch cake pan or baking dish.
For a full 9x13-inch baking dish, you'll use the entire package of the family-sized container of Oreo cookies.
Prep the Oreos
First, you'll need to crush the Oreos by hand in a plastic baggie with a mallet or rolling pin.
However, I find it faster and easier to pulse them in my food processor. You could also use a blender.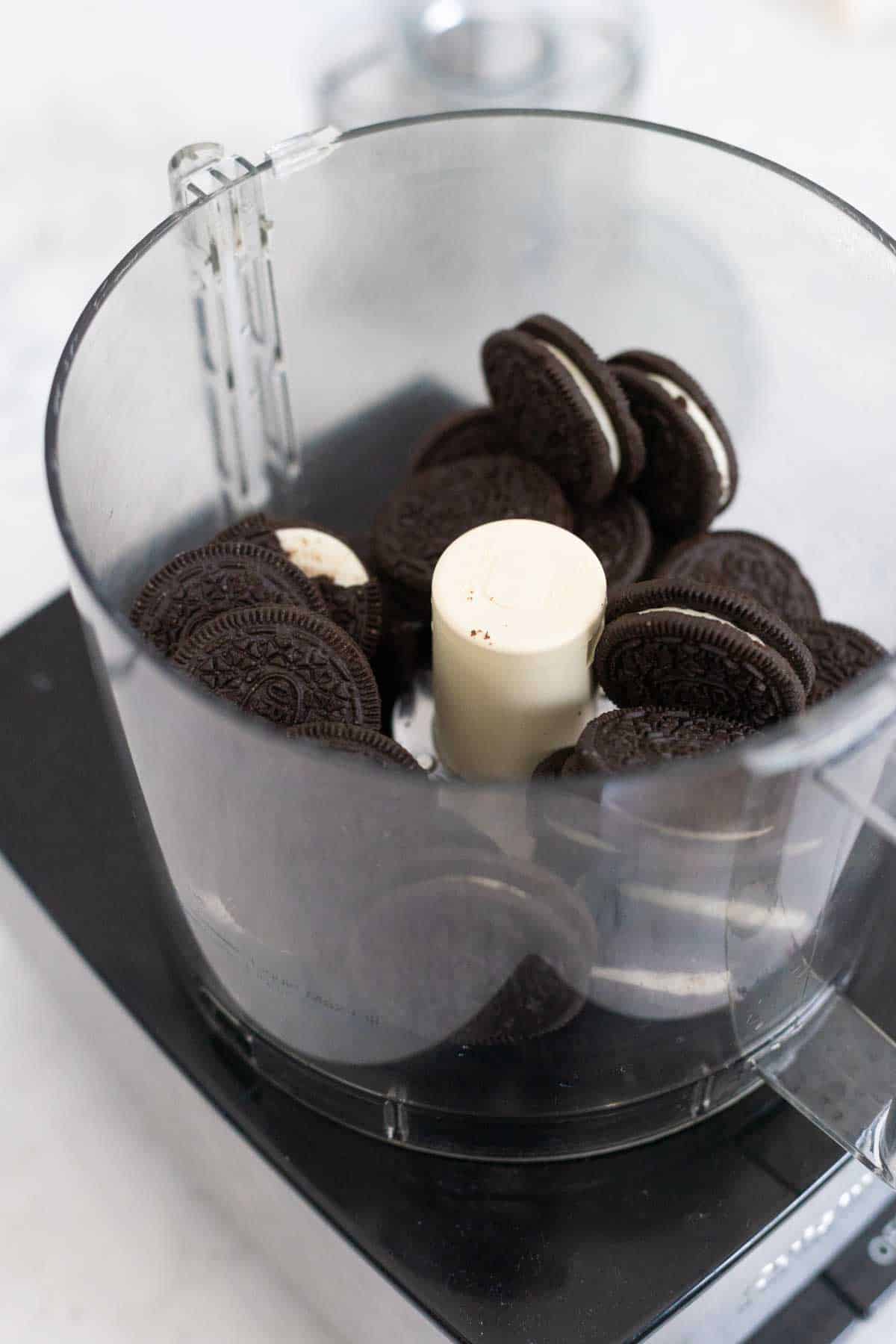 Once the cookies have been broken into a fine crumb, you may notice them sticking together just a little bit because of the cream filling.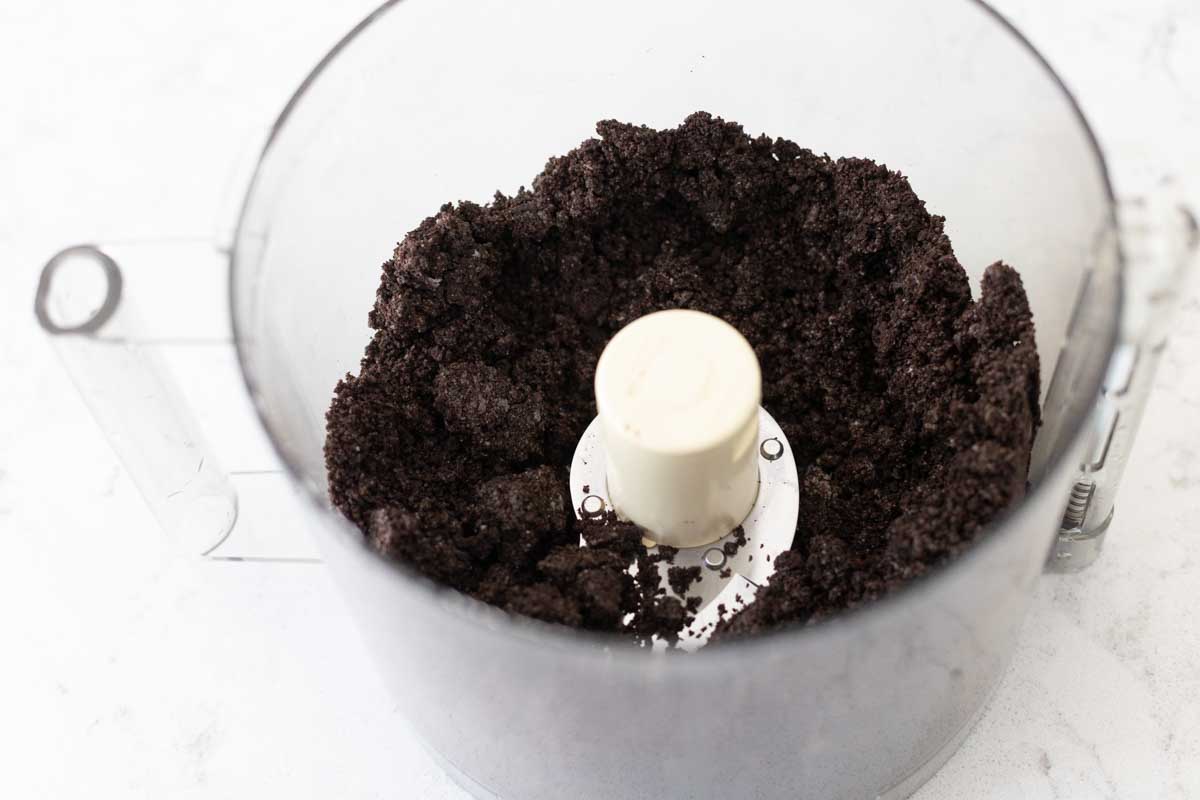 Pour the crushed cookies into a mixing bowl and add the melted butter.
Mix them together with a fork until all the cookie crumbs have been coated in the butter.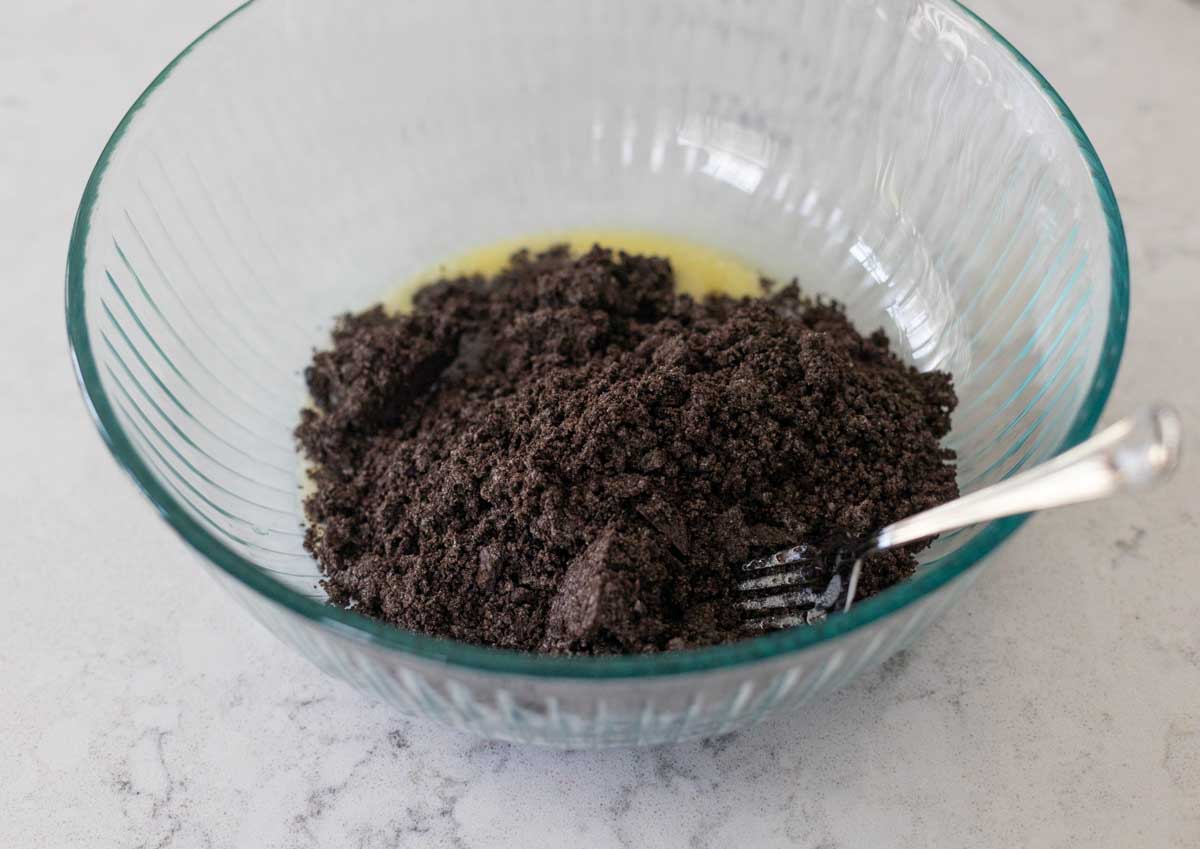 Pat the Crust
Pour the buttered cookies into the baking dish you are using.
Work from the center out to the edges to pat the crust into place.
I use a combination of the back of my measuring spoon and my fingers to work the cookie crumbs into place.
Use a gentle patting motion as you go so you don't break the crust.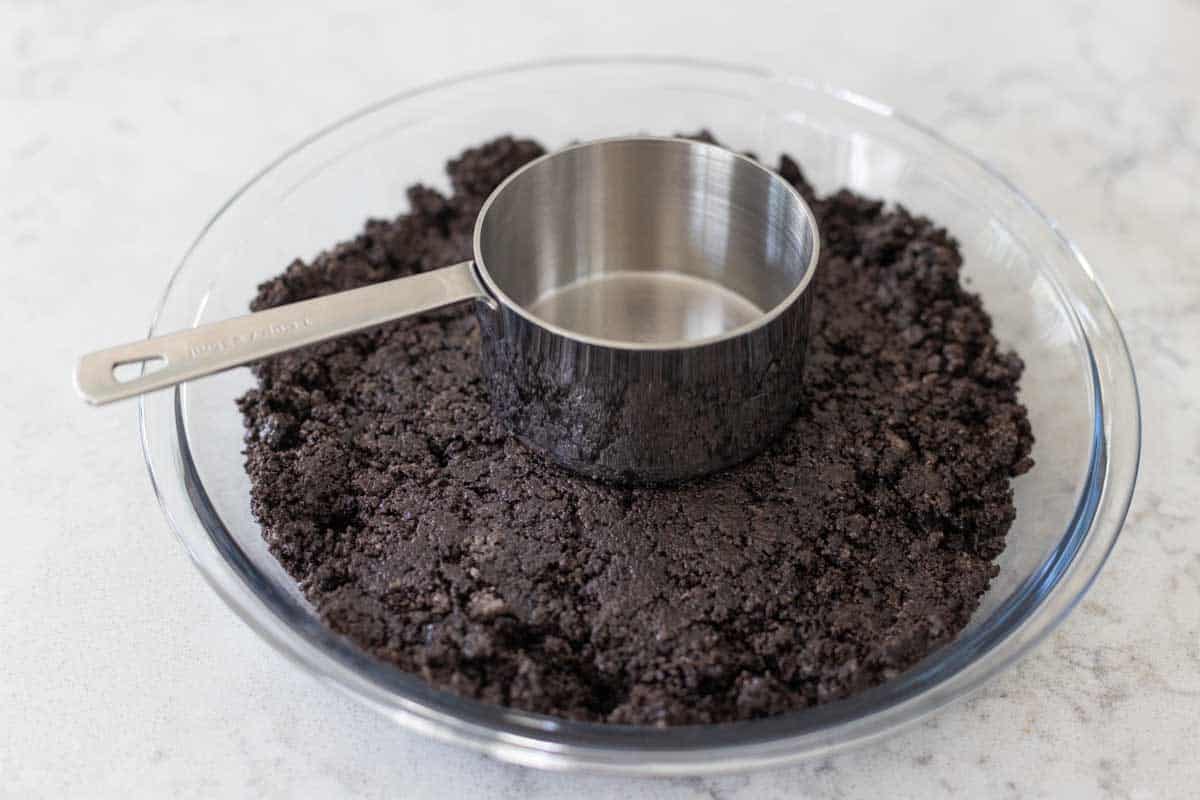 A 9x13-inch crust is a little easier because you just want one flat surface from edge to edge of the pan.
A 9-inch pie plate needs the edges to go up the sides of the baking dish.
Once the center has been patted into place, it is time to work on the sides. I definitely start to use my fingers to pat it into place.
Gently press the center of the crust to move the cookies up the edges of the pie plate.
Pat and turn the dish as you form the sides of the crust. You want them to be even in thickness and height all around the perimeter of the dish: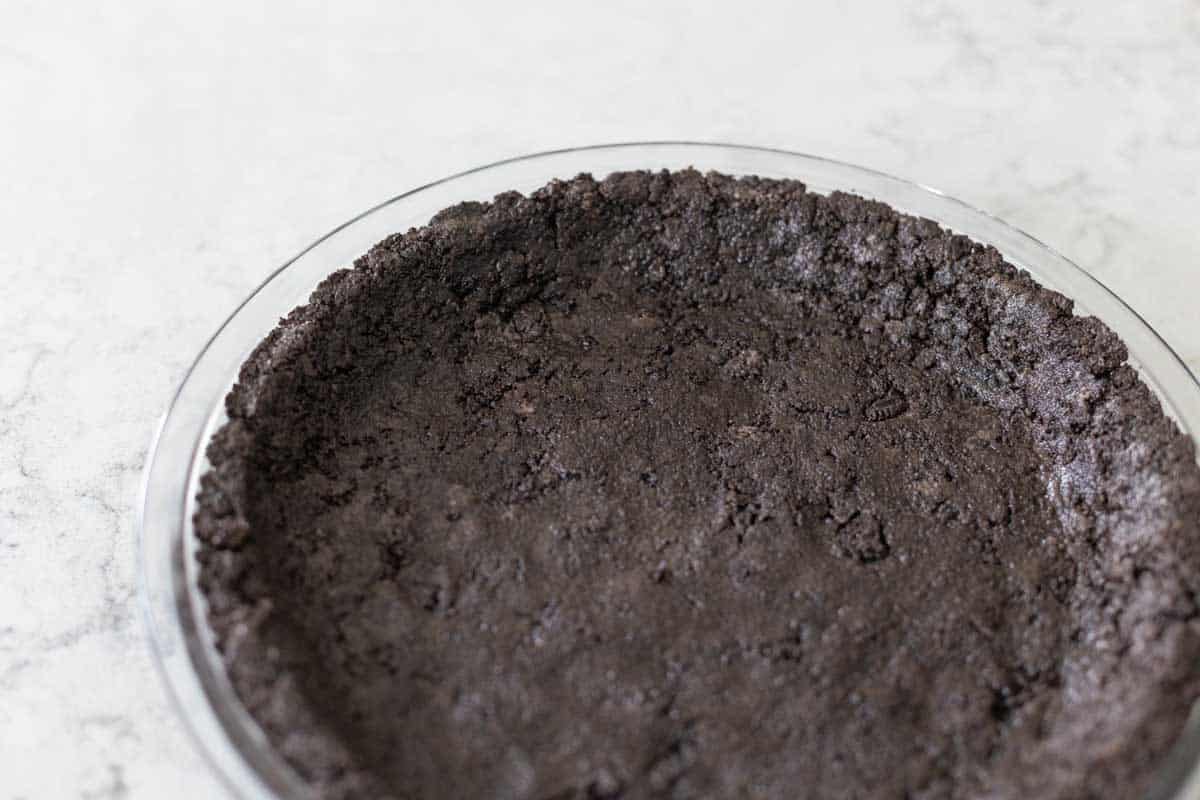 Chill the Crust
Once the cookie crust has been formed, place the dish in the fridge for 15 minutes before you attempt to fill it with your dessert filling.
Once your dessert is assembled, chill the entire thing for at least one hour before slicing so the crust has a chance to set and hold its shape when you slice it.
Variations
This classic Oreo Cookie Crust works for so many chocolate and cream desserts but there's lots of room to play around with the flavors:
Chocolate Hazelnut Oreo Cookie Crust: These Oreos have a Nutella-type flavored filling.
Toffee Crunch Oreo Cookie Crust: These Oreos have a buttery toffee flavored filling.
Mint Oreo Cookie Crust: These Oreos have a fun green mint flavored filling.
Birthday Cake Oreo Cookie Crust: These Oreos have a white confetti speckled birthday cake flavored filling.
Peanut Butter Oreo Cookie Crust: These Oreos have a light brown peanut butter flavored filling.
Lemon Oreo Cookie Crust: These Oreos have a light butter cookie color and a lemon flavored filling.
Vanilla Cookie Crust: Use another brand of vanilla sandwich cookies to make a vanilla cookie crust.
Make Ahead Tips
This easy recipe only takes 10 minutes to make but if you want to get the dirty dishes out of the way during the busy holiday season, you can make the pie crust in advance and just store it in the fridge up to 3 days.
You could also cover the crust in aluminum foil and freeze it for up to 3 months.
Serving Suggestions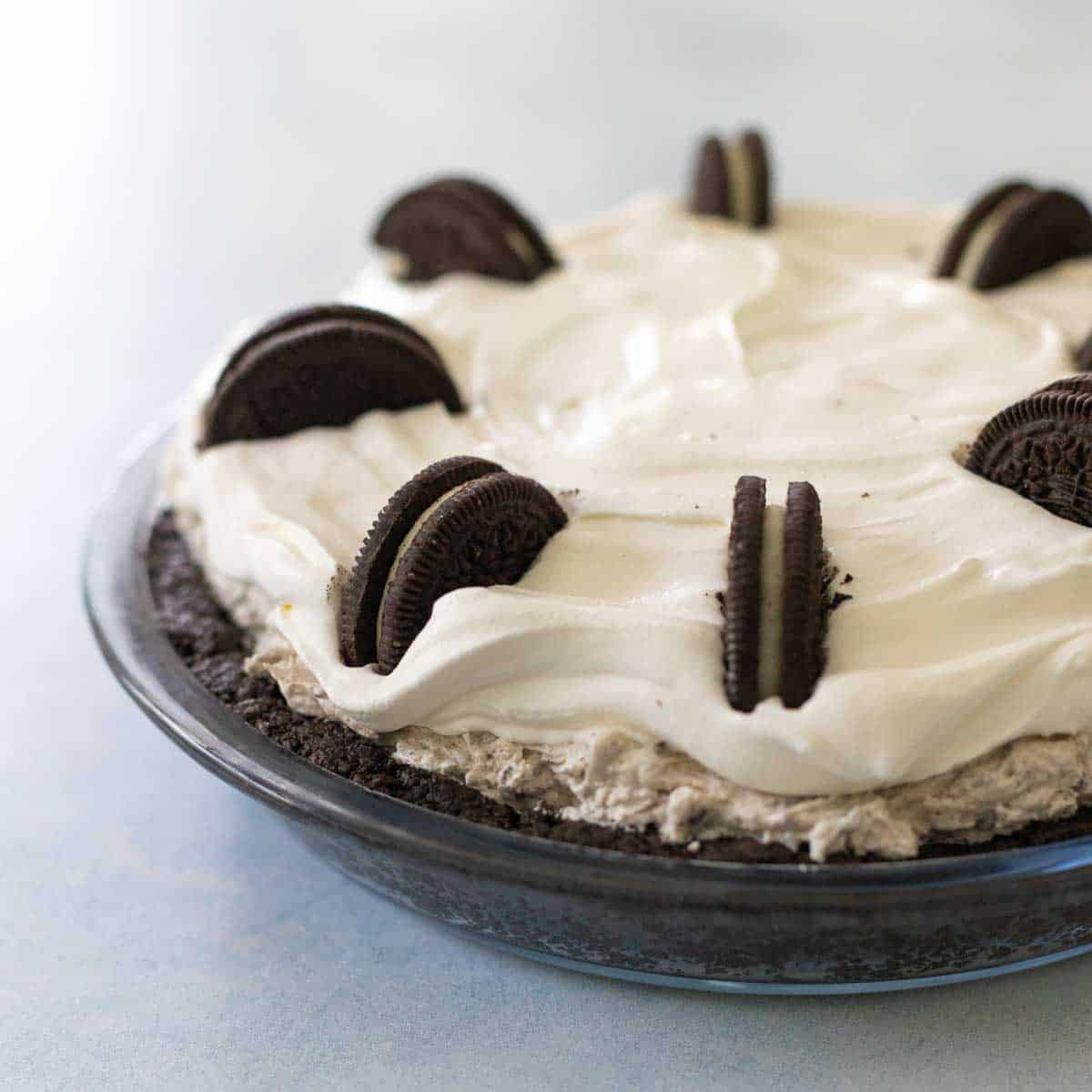 The most obvious choice for using an Oreo cookie crust is to make an Oreo cream pie!
This delicious layered dessert is one of my kids' all time favorites.
You could also use any pudding-based or cream cheese-based layered dessert recipe you love.
📖 Recipe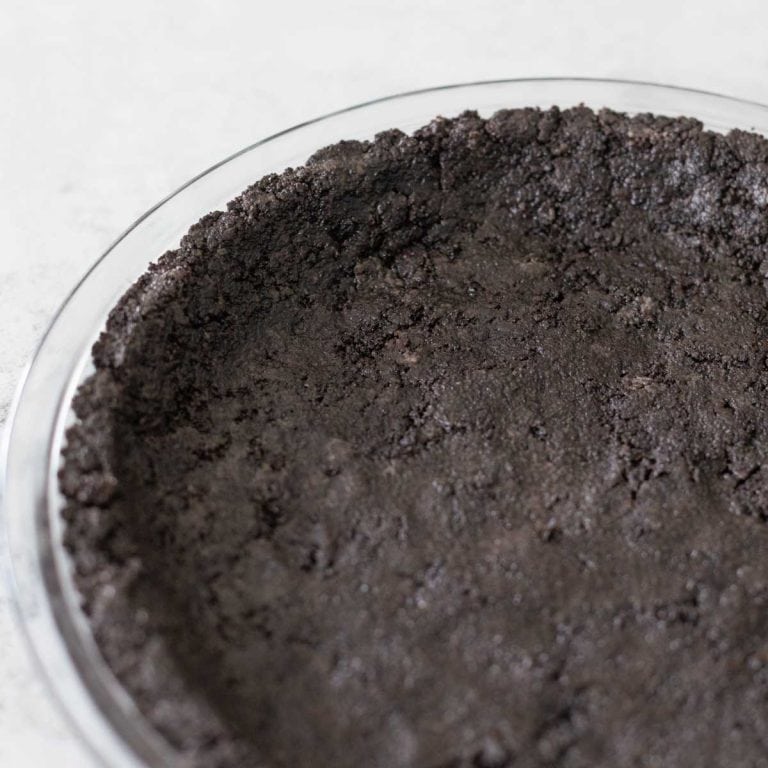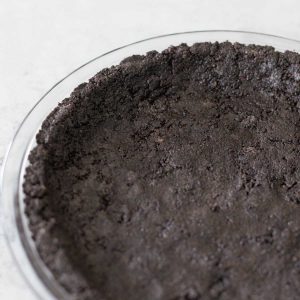 Oreo Cookie Crust
Make a perfect Oreo cookie crust in under 10 minutes for a no bake dessert with a delicious chocolate cookie crust. This recipe includes tips for both a 9-inch pie and a 9x13-inch torte. Fill the pie with your favorite cream filling or a simple chocolate pudding with whipped topping.
Ingredients
For a 9-inch Round Pie:
24

Oreo Cookies

double stuff or original, this is about 2 rows of the 19 oz family sized package

5

tablespoon

butter

melted
For a 9x13-inch Baking Dish:
1

(19 oz) package Oreo Cookies

double stuff or original

10

tablespoon

butter

melted
Instructions
Place all the Oreo cookies into the bowl of a food processor or blender. Pulse until the cookies have been broken up into fine crumbs. Alternatively, you could crush the cookies by hand by placing them in a ziptop baggie and breaking them up with a cooking mallet or rolling pin.

Transfer the cookie crumbs to a mixing bowl. Pour in the melted butter and mix together with the cookie crumbs with a fork or spatula.

Pour the buttered cookie crumbs into your baking dish of choice. Pat crust into place starting in the center and working your way out. It is helpful to use the bottom of a drinking glass or flat-bottomed measuring cup to make the crust smooth and even.

Chill the crust 15 minutes before adding pie filling and for 1 hour before slicing. The Oreo cookie crust can be made ahead up to 2 days in advance of filling, covered with aluminum foil, and stored in the fridge or frozen for 3 months.
Save This Recipe to Your Recipe Box
Find this delicious recipe next time you visit by saving it to your very own recipe box on my site. All your favorites stored in one easy place!