This adorable Baymax birthday cake is perfect for fans of Big Hero 6. A cookies and cream filling is nestled between two chocolate cake layers and topped with a simple white buttercream frosting.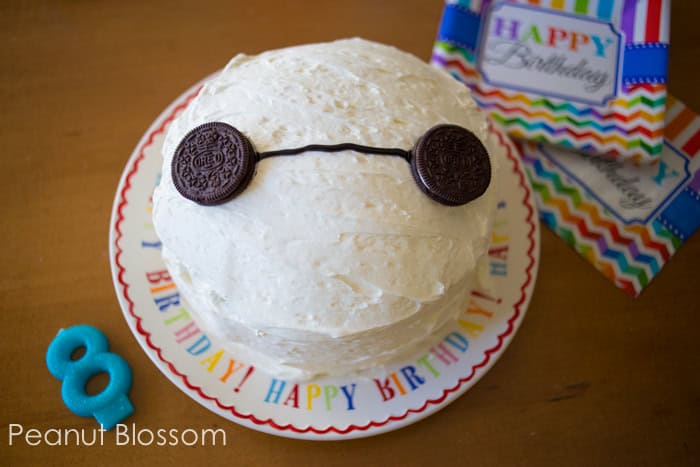 My Peanut turned 8 this weekend. I have a few birthday posts I'm excited to share with you but today I wanted to start with the centerpiece of the weekend -- her awesome Baymax cake!
This lady has loved Big Hero 6 ever since it hit the theaters, mommy is a big fan too.
For several months, she has told me she wanted a Big Hero 6 birthday but I knew I would likely not find any "official" themed party gear at the store just yet.
The one thing I knew I could pull off, was a Baymax cake. I don't do cake decorating, I usually print off themed character picks for sticks rather than use the frosting itself, but this was an idea I knew I could handle. 2 Oreos and a standard birthday cake and done!
It was almost too easy and felt a little like a shortcut, so we decided to play with the cake a little to see if we could make it extra special. Since we needed the Oreos for his eyes anyway, we decided to pull off a Cookies & Cream cake.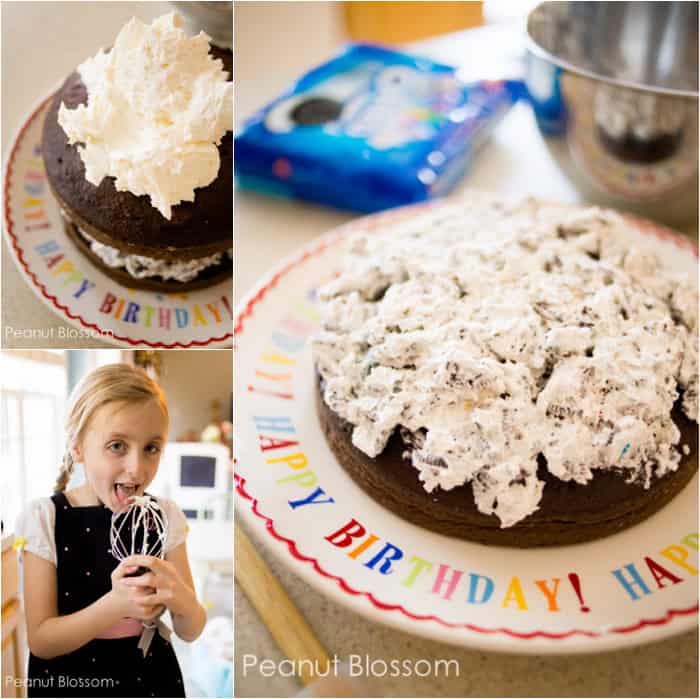 The Peanut helped me with this super easy cake and we just invented things as we went. She selected a package of Birthday Cake Oreos. I'm usually a fan of just the simple classic flavored ones, but it was her day so we went with it. I confess, these are actually super yummy.
We wanted the filling to be really chunky, not smooth, and retain the crunch of the cookies. We broke the cookies into quarters and put them in a mixing bowl and used a fork to poke at them to break them up a little bit further. If I had used my cooking mallet to crush them, we would have lost the crunch.
I made an extra big batch of frosting and then scooped about a cup and half of it into the cookie bowl--just enough to coat them and create a thick and lumpy filling. Next time, I'd probably make an even bigger batch of frosting so I could afford to mix in 2-3 cups for the filling instead. It could have used a little more "glue". Because it is so chunky, you can't just spread it with a knife or it will rip the cake below. I used my hands to just gently press it into place over the top of the bottom cake layer.
We sandwiched the cake in and the Peanut said it looked like a hamburger. Ha!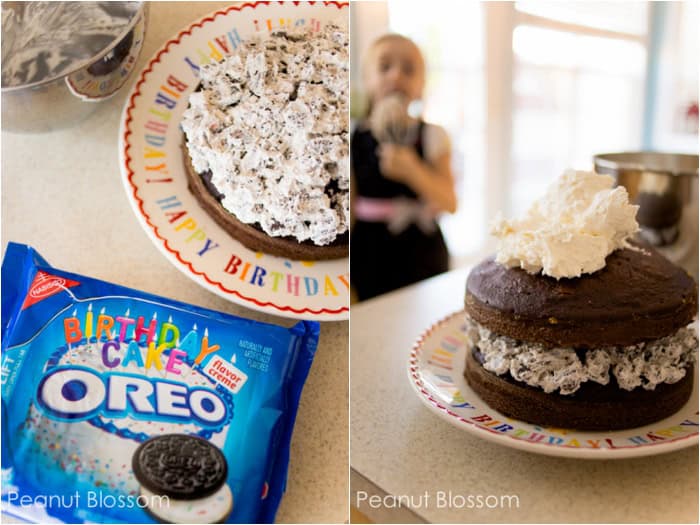 I used the remaining frosting to coat the cake and just simply smoothed it out with my spatula. 2 Oreos for his eyes and a simple line of black gel frosting (from a tube, or you could tint your own) to connect them.
My birthday girl was thrilled with how it all turned out!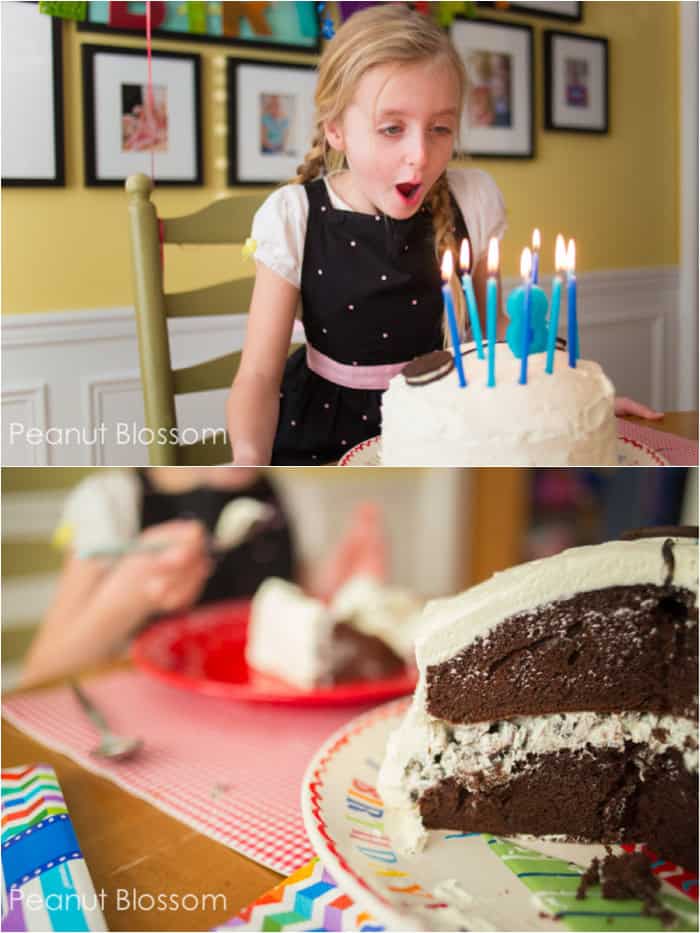 We served it up with some mint chip ice cream which was a perfect combo. She declared this the most delicious birthday cake ever! Score.
To make your own Big Her 6 birthday Baymax cake, all you need is:
1 chocolate cake mix, we used a store-bought box mix but you could use your favorite recipe
1 batch of vanilla buttercream frosting
1 package of Oreos
1 tube of black gel icing (or tint your own)