This adorable Baymax cake is perfect for fans of Big Hero 6. A cookies and cream filling is nestled between two chocolate cake layers and topped with a simple white buttercream frosting.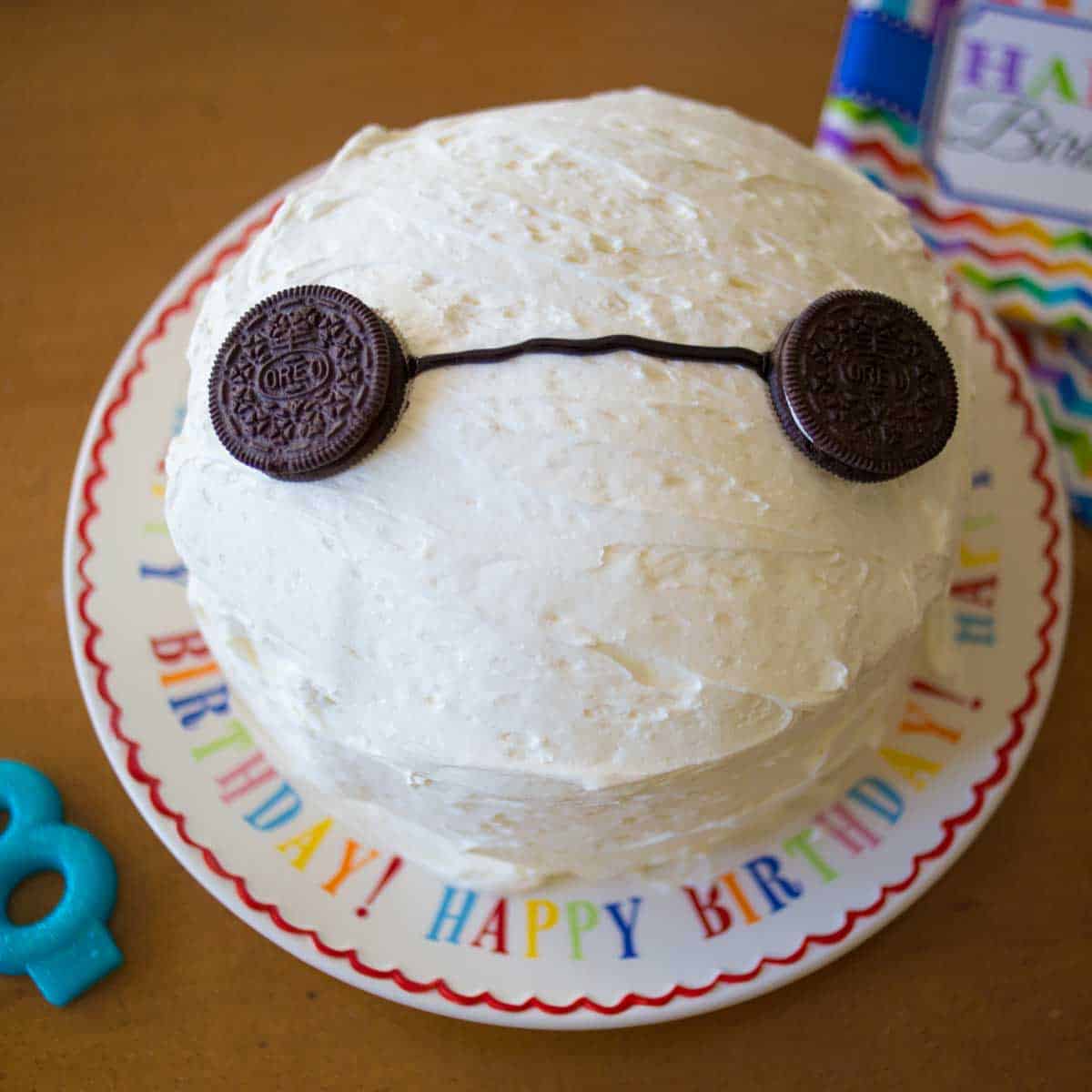 When my Peanut turned 8 we were right in the middle of the Big Hero 6 craze. I was thrilled when she requested we make a fun Baymax cake for her birthday party.
My lady loved Big Hero 6 as soon as it hit the theaters, this mommy was a big fan too. 
For several months, she told me she wanted a Big Hero 6 birthday but I knew I would likely not find any "official" themed party gear at the party supply store because the movie was still fresh and new.
All these years later, that's changed a lot and if you're looking for Baymax party supplies, check out my list at the bottom of the post!
However, the one thing I knew I could pull off at that time, was a Baymax cake.
I don't do fancy cake decorating, but I have made awesome homemade birthday cakes for my girls for over a decade.
This was an idea I knew I could handle and you can too. This adorable birthday cake is delicious and easy and is sure to make your Big Hero 6 fan thrilled for their special day.
Jump to:
Who is Baymax?
If you're not familiar with Baymax, he's the lovable fluffy robot from the Big Hero 6 movie and spin-off series on Disney+.
You can get a peek at him in action right here:
How to Draw Baymax & Hiro
While you're baking the birthday cake, why not let your kiddos learn how to draw Baymax and Hiro??
I thought this drawing tutorial was super cute: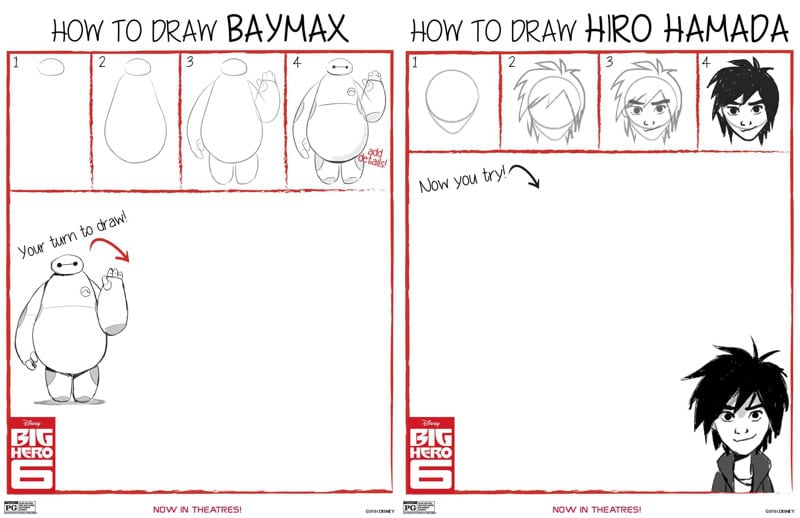 Ingredients for the Baymax Cake
To make this simple Baymax cake, you just need a few supplies:
Boxed Cake Mix: Yep. I 100% believe if you baked it, it's homemade. I often start my birthday cakes with my daughter's favorite cake flavor. For this Baymax cake, we used chocolate but there's no reason you couldn't choose a different flavor.
Buttercream Frosting: You'll need 1 batch of vanilla buttercream frosting, the recipe is in the card at the bottom. However, I won't tell if you just want to use 2 canisters of prepared white frosting, cream cheese or vanilla.
1 package of Oreos: The size doesn't matter. Double stuffed is ok. You mostly need the 2 cookies for the decoration and a couple handfuls more for the filling if you want to use it.
1 Tube of Black Gel Icing: The prepared gel isn't especially tasty, but the fine-point tube is really handy. Since so little of it is used for the decoration, I am fine with the shortcut tube. If you prefer homemade, you could just tint a little of the frosting black and pipe it yourself.
How to Make a Homemade Birthday Cake
Even when I bake a box mix cake, I use my best baking methods to get perfectly even layers.
2 round cake pans and a set of cake strips will help you make picture-perfect cake layers even with your box mix cakes. You can read about how to use cake strips for perfect layers here.
And as far as cake decorating skills go, if you're a beginner you're going to LOVE my cake decorating hacks here.
How to Make the Baymax Cake
The Peanut helped me with this super easy cake and we just invented things as we went.
She selected a package of Birthday Cake Oreos. I'm usually a fan of just the simple classic flavored ones, but it was her day so we went with it. I confess, these are actually super yummy.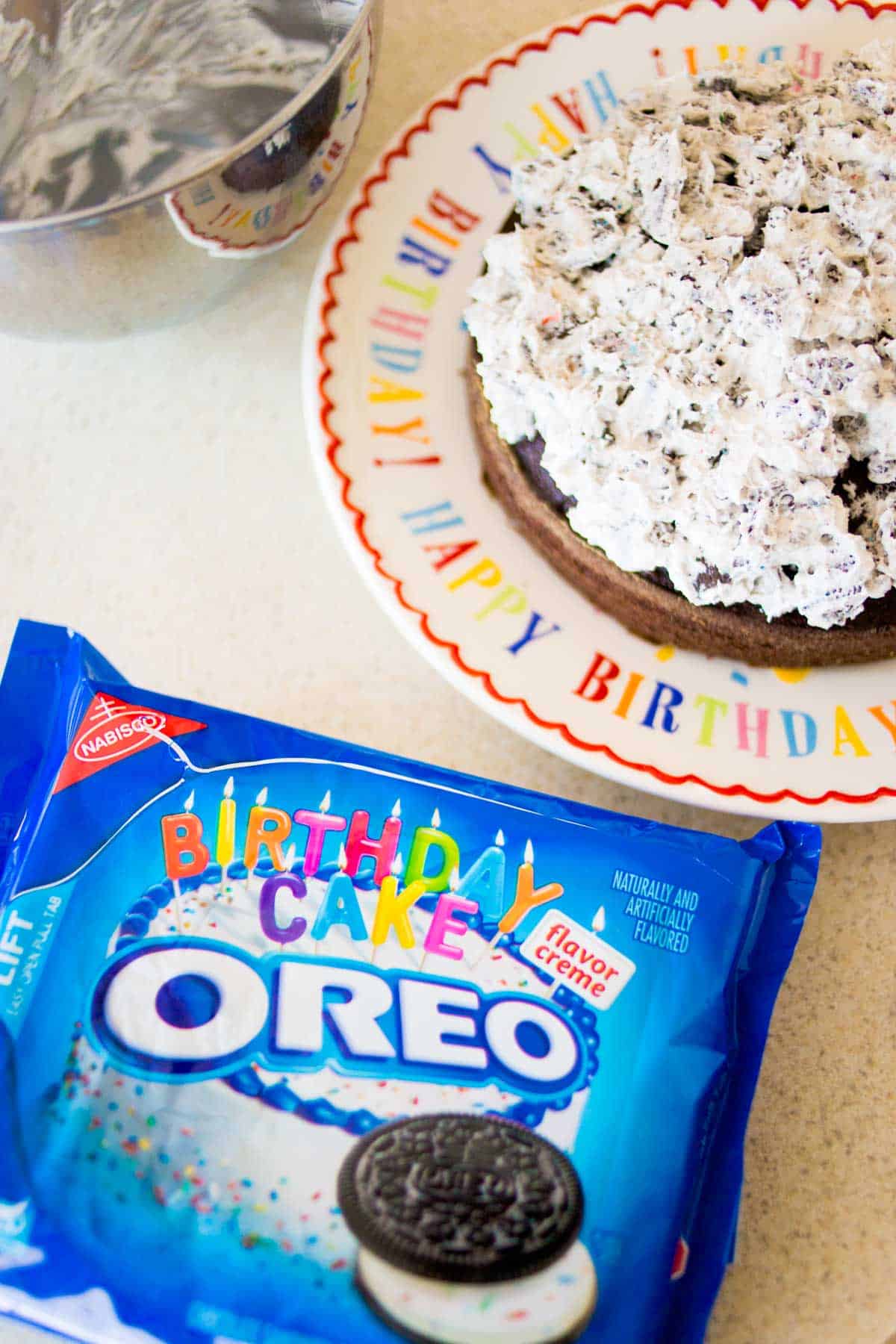 Bake the Cake & Cool
Prepare your cake mix according to the package directions for 2 round layers and let them cool completely before you try to frost the cake.
Make the Cookies & Cream Filling
We wanted the filling to be really chunky, not smooth, and retain the crunch of the cookies.
We broke the cookies into quarters and put them in a mixing bowl and used a fork to poke at them to break them up a little bit further. If I had used my cooking mallet to crush them, we would have lost the crunch.
I made an extra big batch of frosting and then scooped about a cup and half of it into the cookie bowl--just enough to coat them and create a thick and lumpy filling. 
Next time, I'd probably make an even bigger batch of frosting so I could afford to mix in 2-3 cups for the filling instead. It could have used a little more "glue".
Because it is so chunky, you can't just spread it with a knife or it will rip the cake below. I used my hands to just gently press it into place over the top of the bottom cake layer.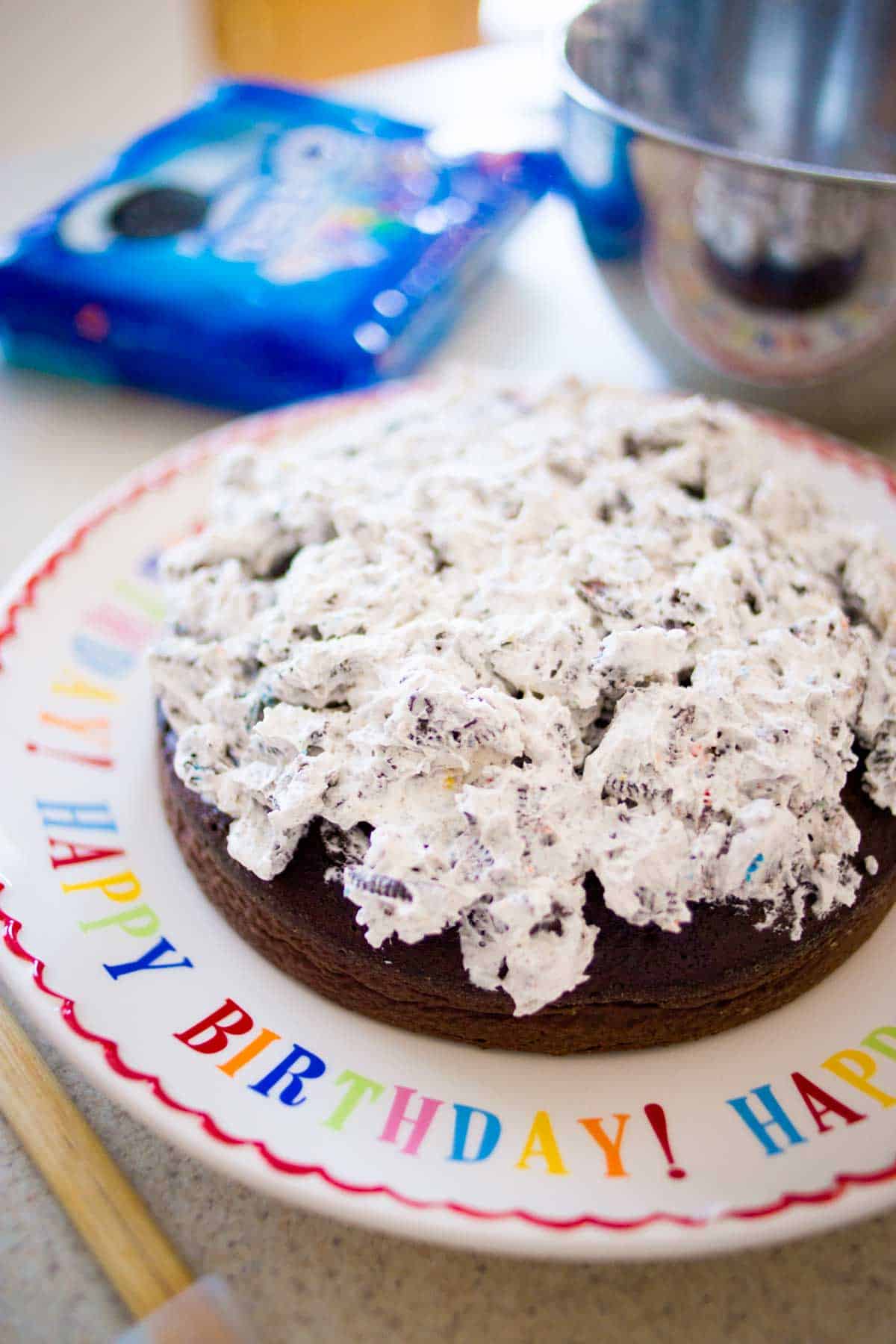 Assemble & Frost the Cake
When I first made this Baymax cake, I hadn't discovered how amazing using cake strips is for your layers.
When you see my cake from the side, you can see the domed tops my layers had.
But you know what? It still tasted amazing. Don't let perfection stop you from making a homemade cake.
This chunky cookies & cream cake filling helps to mask any imperfection in the cake layer!
Just top the second layer over the filling and then frost the cake with the remaining buttercream.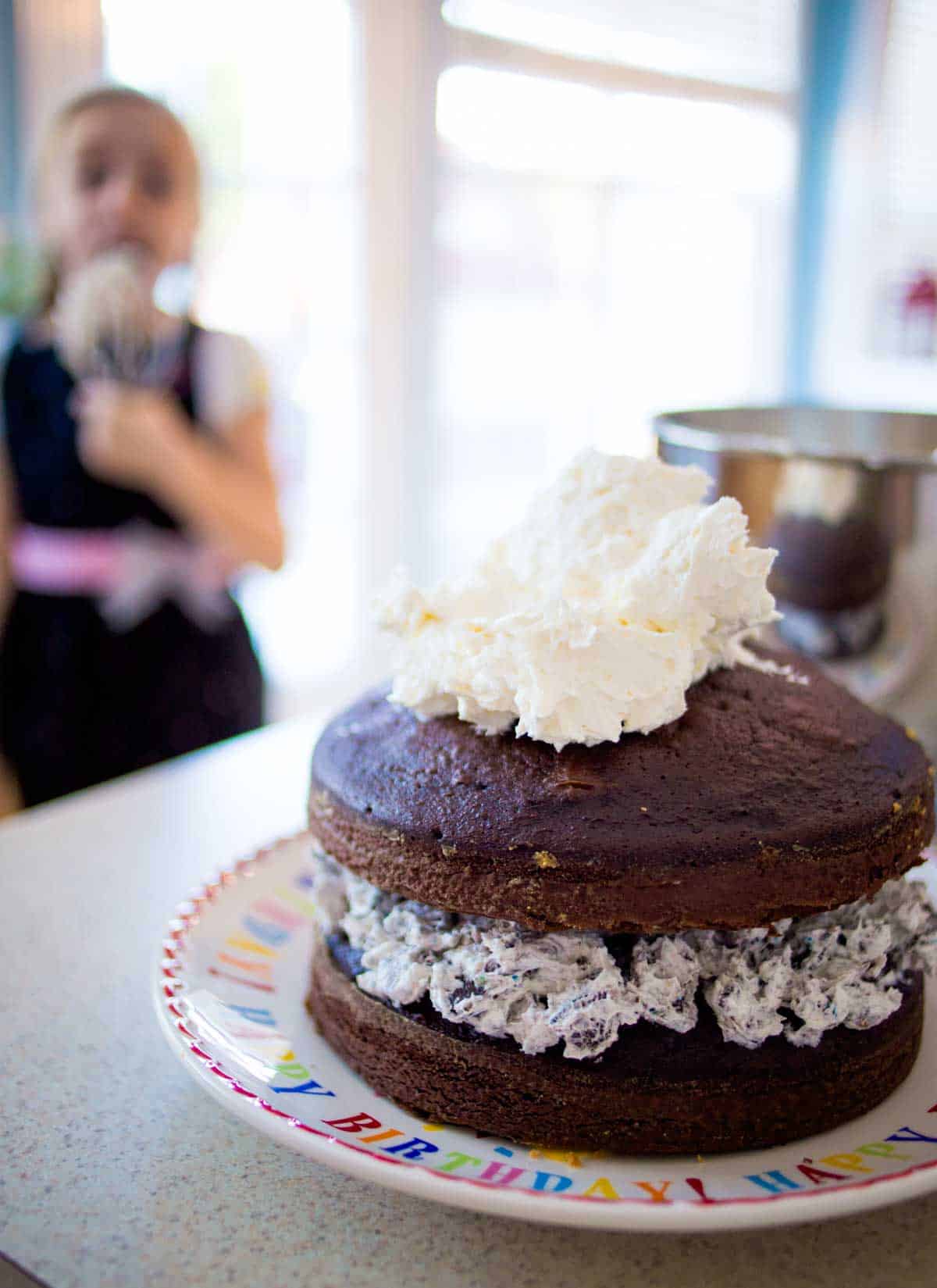 I used the remaining frosting to coat the cake and just simply smoothed it out with my spatula.
Two Oreos for his eyes and a simple line of black gel frosting to connect them.
My birthday girl was thrilled with how it all turned out!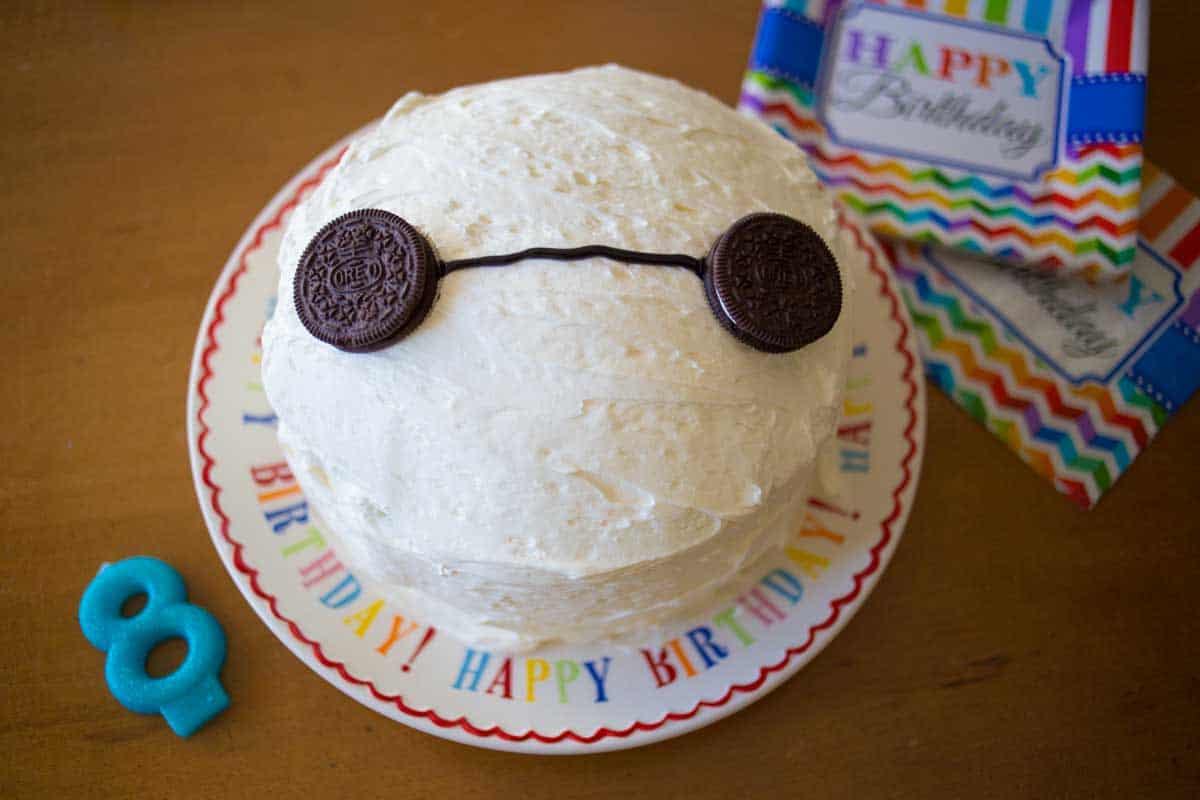 Serving Suggestions
We served up her birthday cake with some mint chip ice cream because it's her favorite ice cream flavor. Turns out they were a perfect combo!
She declared this the most delicious birthday cake ever! Score.
You could also use thick chocolate fudge or chocolate ice cream sauce for an extra boost of chocolate with your cake and ice cream.
Big Hero 6 Party Supplies
When I baked this Baymax cake, there were NO Big Hero 6 party supplies available anywhere. I had to dream this up on my own.
But today? Thankfully this a very popular Disney movie and now you can easily find all kinds of adorable goodies for making your birthday party special:
📖 Recipe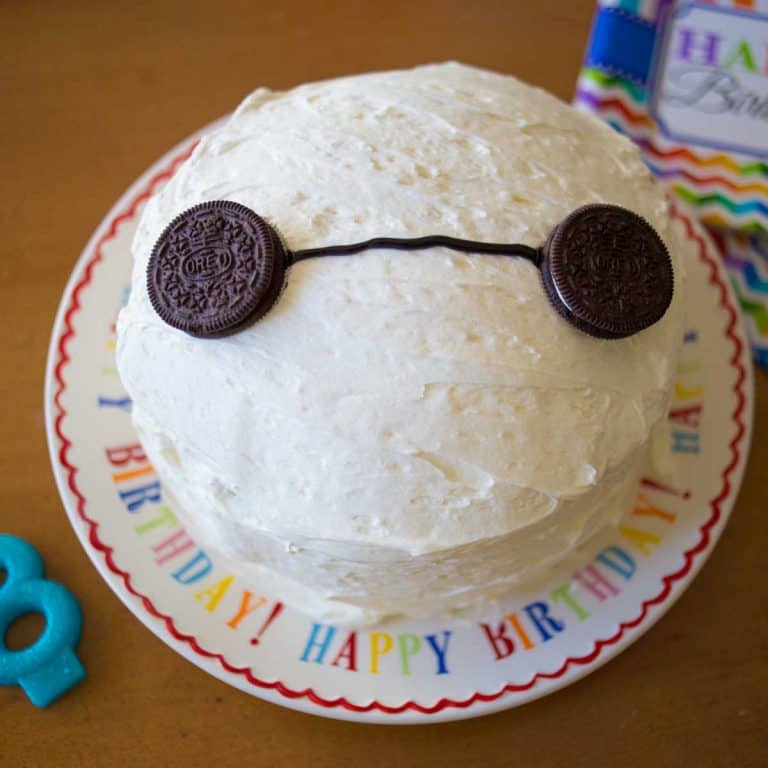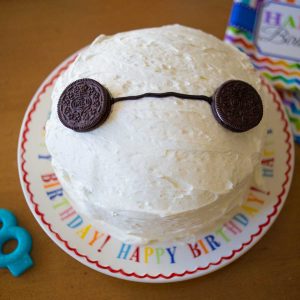 Baymax Cookies & Cream Cake
This simple Baymax birthday cake is perfect for fans of PIxar's Big Hero 6. Perfect for beginner bakers or busy parents making their first homemade birthday cake. This chocolate cake has a creamy cookies & cream filling.
Ingredients
For the Cake
1

chocolate cake box mix

baked according to directions on package
For the Frosting
1

lb

(4 sticks) butter

softened

4

cups

powdered sugar

Pinch

of salt

1 ½

tablespoon

vanilla extract
To Decorate the Cake
1

package Oreo cookies

Black gel icing
Instructions
Bake the box mix in 2 round cake pans as directed on the package. Cool completely.

In an electric mixer with the whisk attachment, beat the butter until smooth. Add the powdered sugar, 1 cup at a time, stirring to combine before adding the next cup. Add the pinch of salt and vanilla extract and whip for a few minutes until light and fluffy.

Set aside two Oreo cookies for Baymax's eyes. Break the rest of the cookies into quarters in a mixing bowl. Add a cup and a half of frosting and stir together with the cookies. This makes the filling keep the texture of the chunky cookies.

Spread the filling on one layer of the chocolate cake. Top with the second layer of cake.

Frost the outside of the cake with the remaining frosting.

Add the two reserved Oreos and connect them with a line of gel icing to create Baymax's face.
Save This Recipe to Your Recipe Box
Find this delicious recipe next time you visit by saving it to your very own recipe box on my site. All your favorites stored in one easy place!