Easy ways to decorate a cake for beginner bakers making their first homemade birthday cake. Create a treat your kids will love!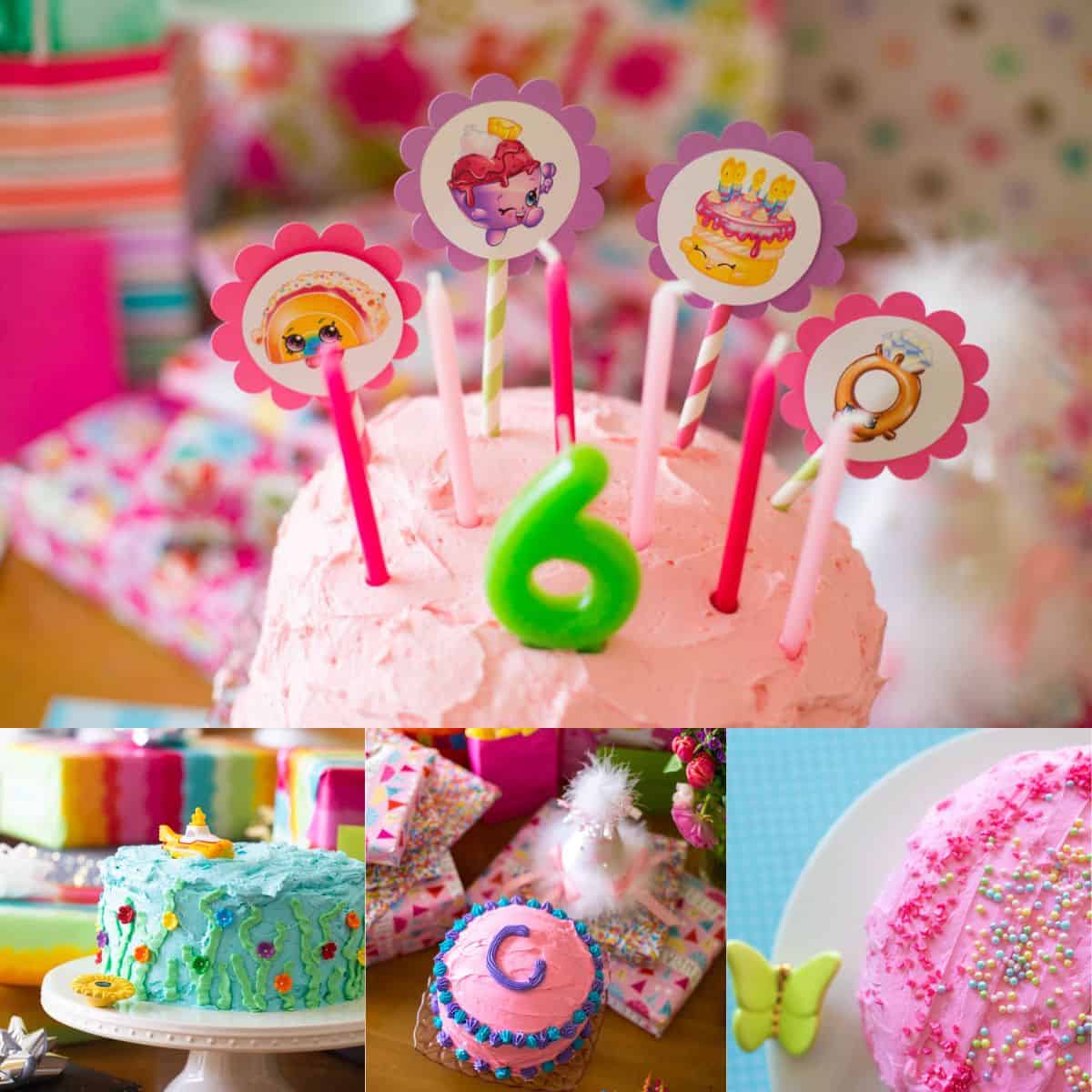 When I first started making homemade birthday cakes for my daughters, I was absolutely intimidated by all the picture-perfect professional birthday cakes on Pinterest.
I wanted our birthday cakes to be just as pretty but I had zero frosting skills!
Once I realized that my girls just wanted the cake to be decorated with their party theme in mind but were more interested in eating a homemade cake, the pressure was lifted.
While my birthday cakes may not win any awards, my girls have loved each and every last one of them.
They know that a mom that loves them SO MUCH took the time to make their cake and decorate it just the way they wanted for their special day.
This has been a priceless memory for our family and I hope these easy cake decorating tricks help inspire you to give it a try for your kids, too.
Jump to:
Incredibly Easy Ways to Decorate a Cake
You do not need any special fancy frosting skills to make a homemade birthday cake your children will love.
Make the cake just the way they want it with personalized touches that show them you care.
These easy decorating tricks are perfect for beginner bakers who are intimidated by fancy cakes.
1. Sprinkles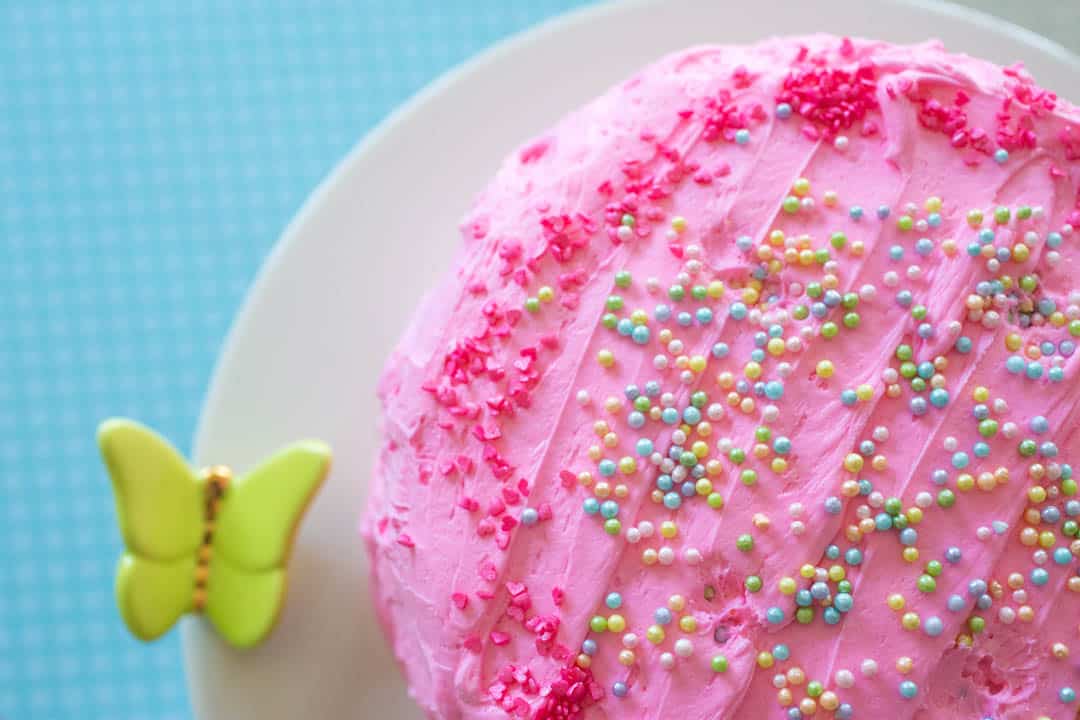 Is there anything more festive than sprinkles??
A classy simple frosted cake with just a touch of sprinkles practically screams birthday party!
You can buy sprinkles of all kinds at a local craft shop like Michael's or Target or stock up on a variety of sprinkles on Amazon.
2. Paper Cake Bunting
Spell out a sweet birthday message or just a name using my easy homemade cake bunting tutorial.
Apply the banner with long wooden skewers and ribbons to a simple frosted cake. This works great for a layer cake or even a sheet pan cake!
3. Printable Cake Toppers
You can find downloadable printables for cupcake toppers for pretty much any theme ever over on Etsy!
I just print the topper, stick them on popsicle sticks or stripey straws, and stick them right into the top of the cake.
Or you can thread them through some twine or curling ribbon to make a simple cake bunting like above.
I use this scalloped punch on colorful cardstock to make them extra pretty.
Not in the mood to DIY a paper cake topper?
Hunt for what you need on Etsy, it's where I ordered this gorgeous golden glitter Harry Potter cake topper!
4. Showstopper Birthday Candles
We are still laughing over the Peanut's hysterical flamingo birthday candles from her 10th birthday years ago!
Browse Amazon for party candles and you never know what you might find.
We tend to prefer tall skinny candles like these because they last the longest while we sing and take pictures.
5. Toys or Mini Figurines
When your kids are going through a phase of loving a favorite character that isn't widely popular enough to have its own design section at the party store, birthday cakes can be a bit tricky.
It was during those years where I started to pick up tiny figurines to pop right onto the cake top!
Tiny dinosaurs, LEGO mini figures, even Fisher Price Little People could all work on top of a cake.
If you're worried about the plastic touching the frosting, trim a tiny piece of parchment paper to tuck under the toy just to be safe.
6. Colorful Candies or Tubed Frosting
Finally, one of the easiest birthday cakes I ever decorated was by request of one of my kids.
All she wanted was the first letter of her first name on top of her cake.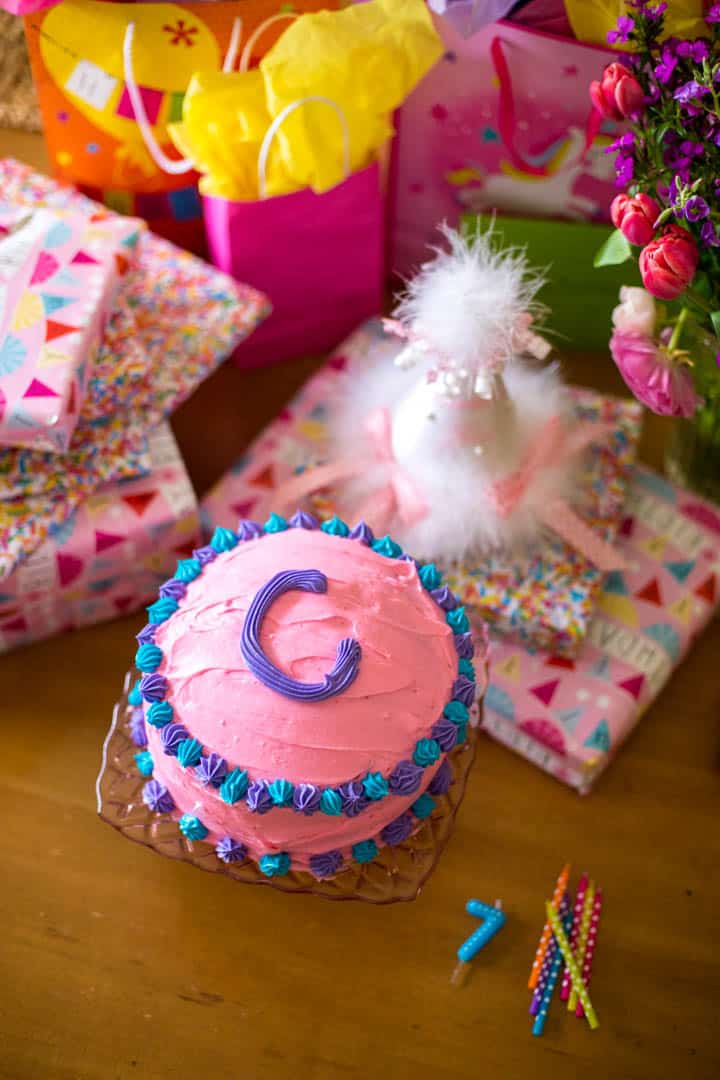 I used some buttercream frosting and just piped it right on top but to keep it even easier, use M&Ms or other sweet colorful candies to make a pattern, letter, or design on the cake.
More Birthday Cake Tips