This easy Harry Potter cake is perfect for beginner bakers. It will look amazing even if you don't know how to decorate with frosting. A delicious butterbeer cake topped with marshmallow frosting and sparkly golden snitches will delight everyone at your Harry Potter birthday.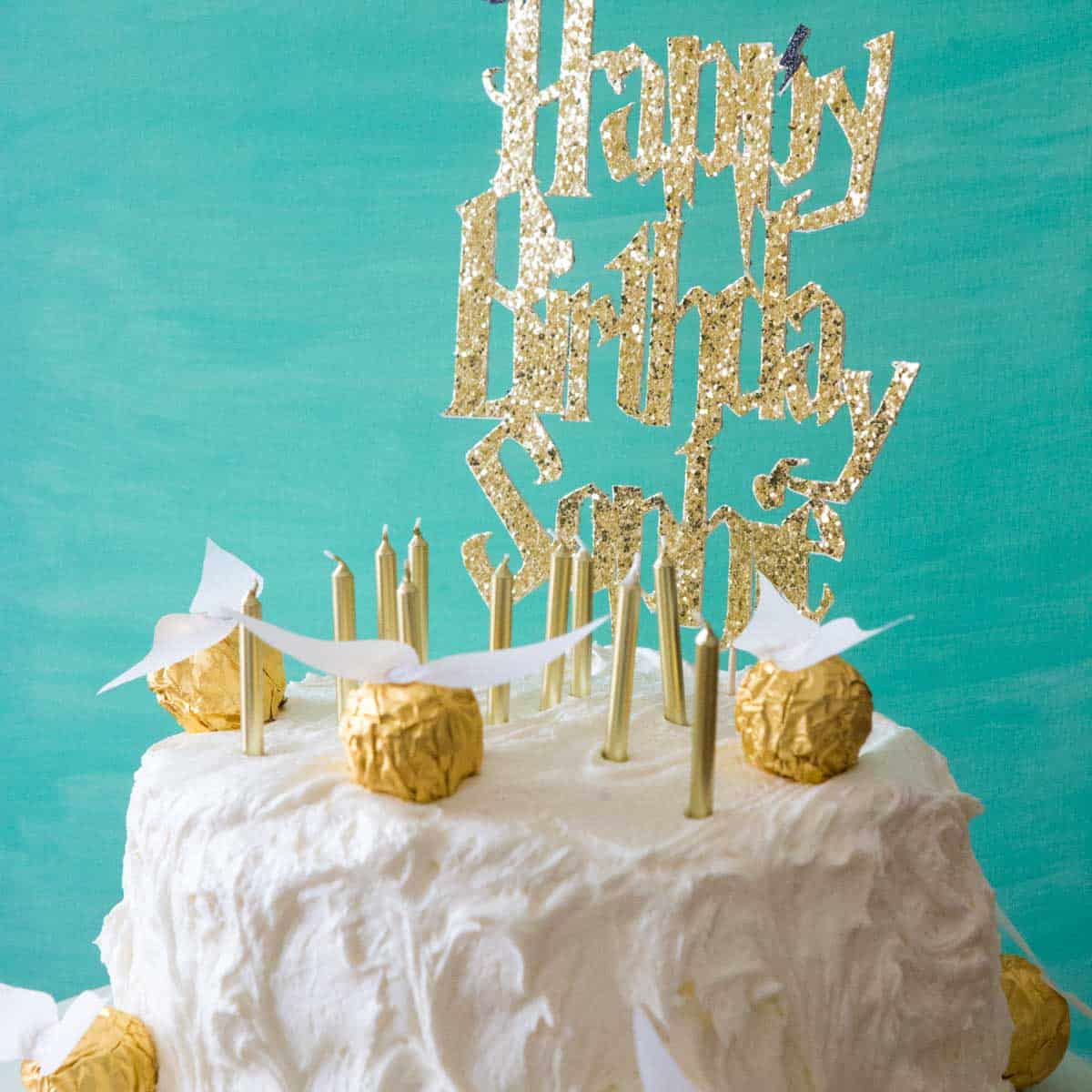 When the Peanut turned 11, our little wizard-in-training wanted nothing more than a Harry Potter-themed birthday party.
For all you non-magical Muggles, 11 is the same age Harry is at the start of the series. He finally receives his invitation to Hogwarts and the first book opens with a mysterious birthday celebration with Hagrid, a messenger who arrives with a sweet birthday cake for Harry.
If you haven't read the book yet, I highly recommend reading this illustrated Harry Potter with your kids ASAP!
When we first started chatting about her Harry Potter cake, all the Harry Potter cake decorations I found involved so much black frosting. Yuck!! We try to avoid dark colored cakes because I think that black food gel tends to leave an aftertaste. I prefer to use it as an accent rather than a heavy-handed all over frosting.
For our sweet springtime birthday girl, I love to make light and colorful birthday cakes. So I decided to do a Harry Potter-inspired birthday cake rather than a cake with Harry Potter himself on it.
I chose a Harry Potter butterbeer cake with marshmallow frosting and topped it with sparkly golden snitches flying all around.
We stuck with a whimsical gold and silver theme for all the decorations and it was simply magical.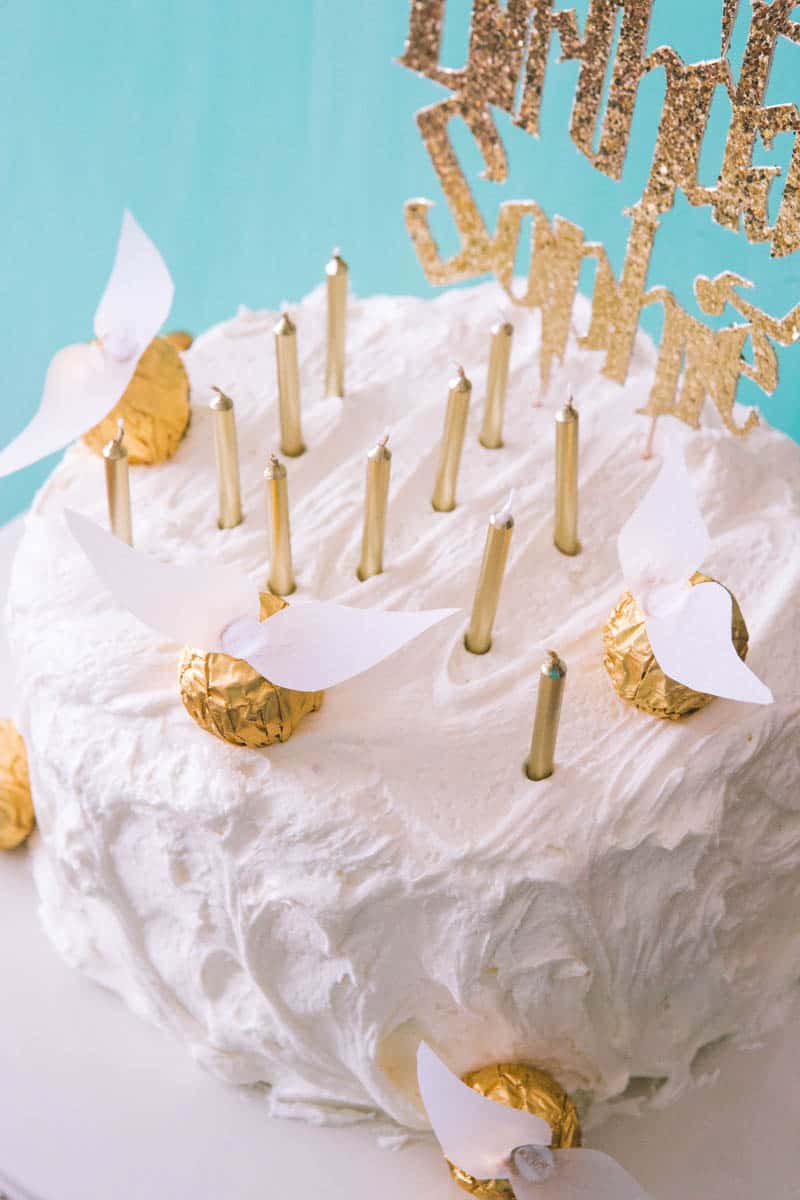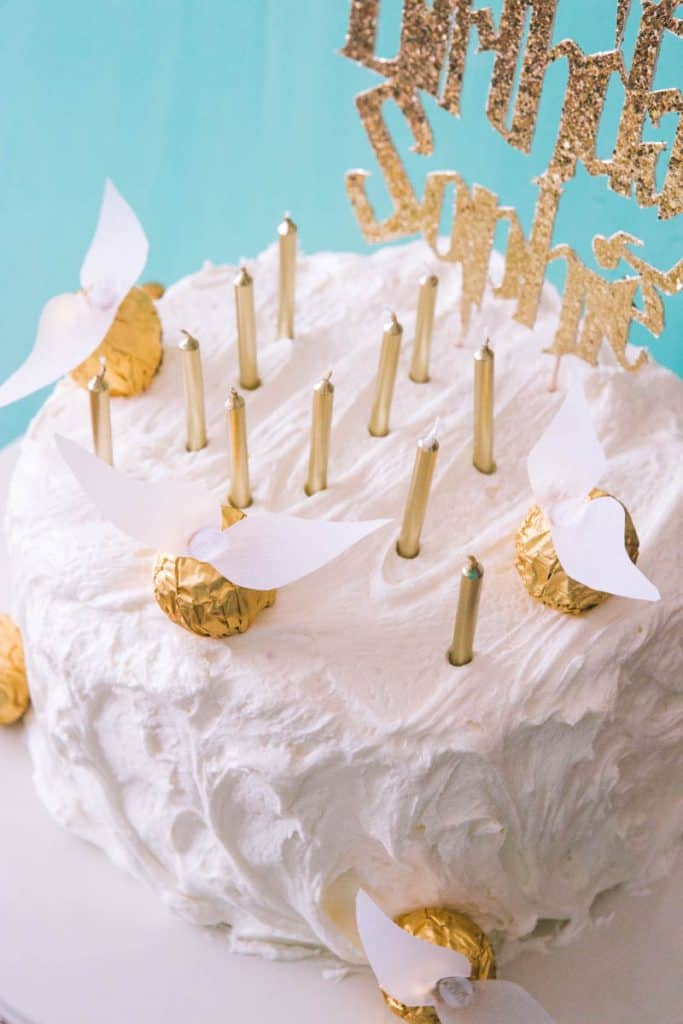 Easy Harry Potter Cake Decorations:
Even if you don't know how to pipe frosting, you can create a stunning Harry Potter birthday cake for your kids.
Stick to a simple color palette and mix and match a few key pieces for a beautiful cake.
Harry Potter cake topper: I found the stunning golden glitter "Happy Birthday" cake topper over on Etsy.
Golden birthday candles: I grabbed a simple pack of golden candles while out shopping. You can order a set of golden birthday cake candles here. I love the extra tall ones!
Sparkly Golden snitches: I handmade a few golden snitches in just a few minutes all by myself. I traced little wing shapes out of regular kitchen parchment paper and cut them out. I glued them to the top of my favorite gold-wrapped Ferrero Rocher hazelnut and chocolate candies. If you can find them locally, you can order Ferrero Rocher in various quantities right here. My kids LOVED enjoying eating the golden snitch candies as a special treat, too.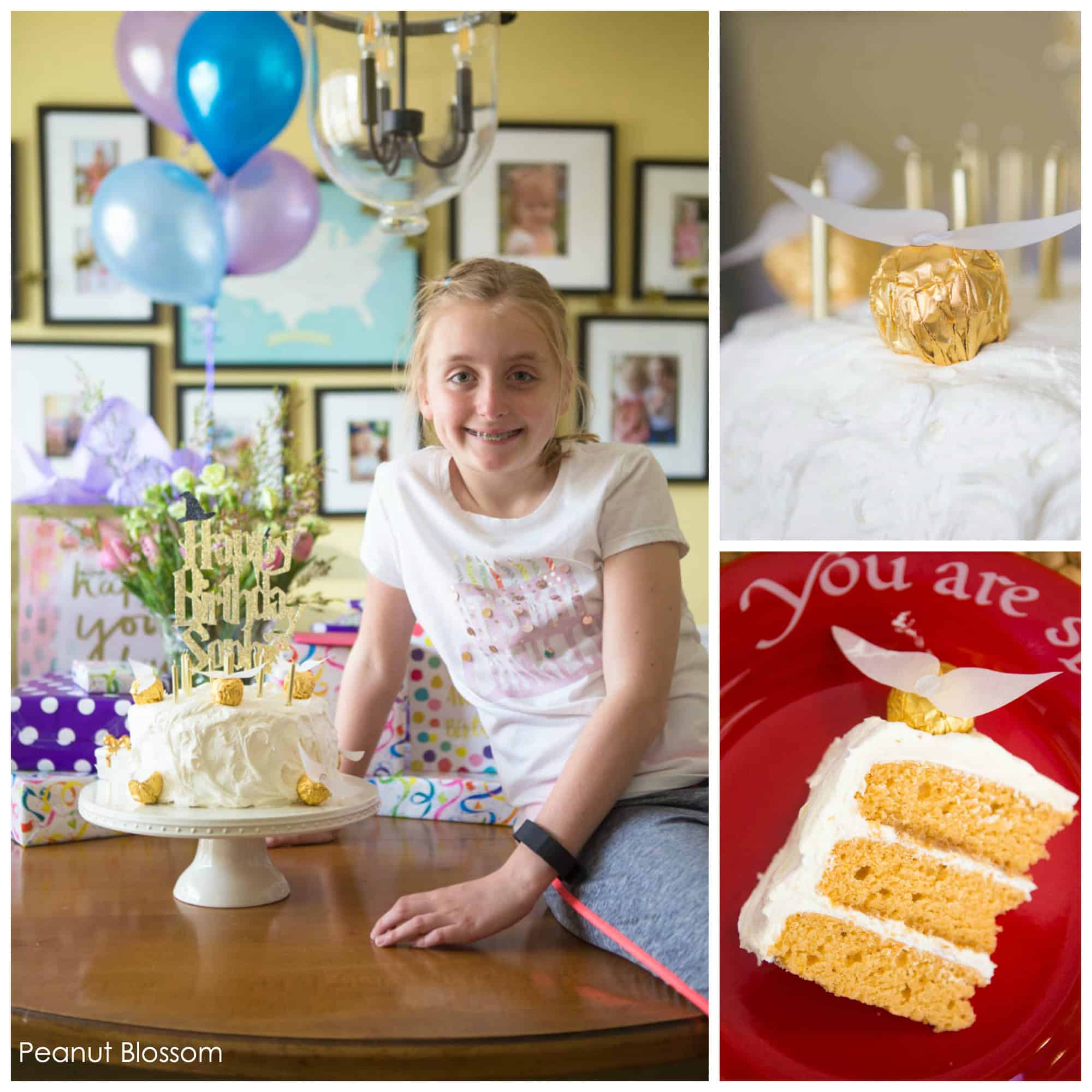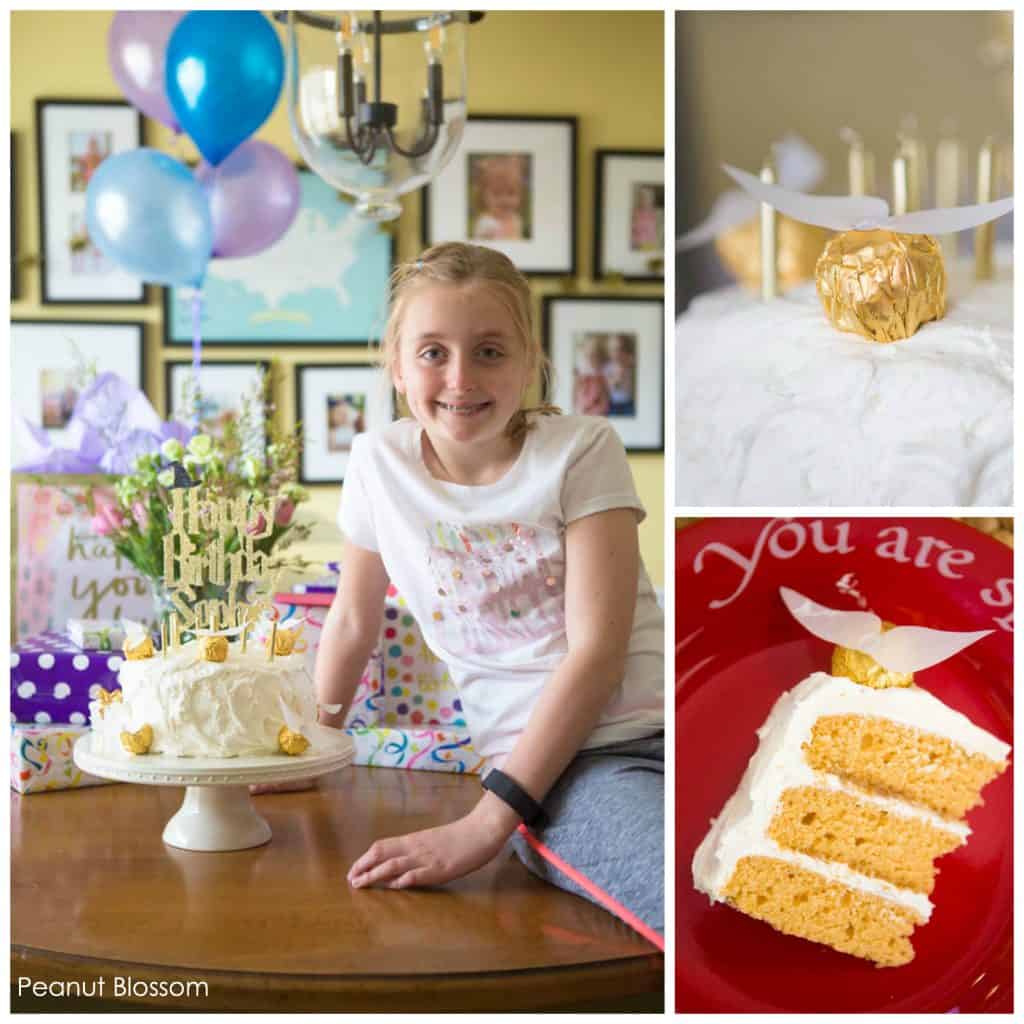 Butterbeer Harry Potter Cake
You might be wondering what butterbeer tastes like. I first tried butterbeer during our visit to Harry Potter at Universal a few years ago.
We tried both the hot and cold butterbeer options available in wintertime. I far preferred the hot butterbeer and think it tastes very similar to butterscotch mixed with marshmallow. You can try it at home with this delicious butterbeer recipe.
In other words? Butterbeer is the perfect birthday cake flavor.
I was so inspired by the butterbeer cake over on Liv for Cake but her method was a little too complicated for me.
I simplified it to make it easier for beginner bakers but kept all the amazing flavors. Our butterbeer cake has butterscotch flavored cake layers with a light and fluffy marshmallow frosting swirled with butterscotch sauce but will be much easier for you to decorate and serve.
The cake uses a few unique ingredients that shouldn't be hard to find at your local store, I'll call them out in the steps below so you're prepared!
Step 1: Bake the Cake Layers
The cake involves a bottle of cream soda and butterscotch pudding mix in the batter to give it that awesome butterbeer flavor. Bake the cakes and let them cool completely before you attempt to assemble the cake.
Step 2: Make the Marshmallow Frosting
The frosting involves a 14 oz container of marshmallow fluff.
If your vanilla happens to be very dark in color, you might want to find a bottle of clear vanilla extract to keep it that gorgeous bright white color.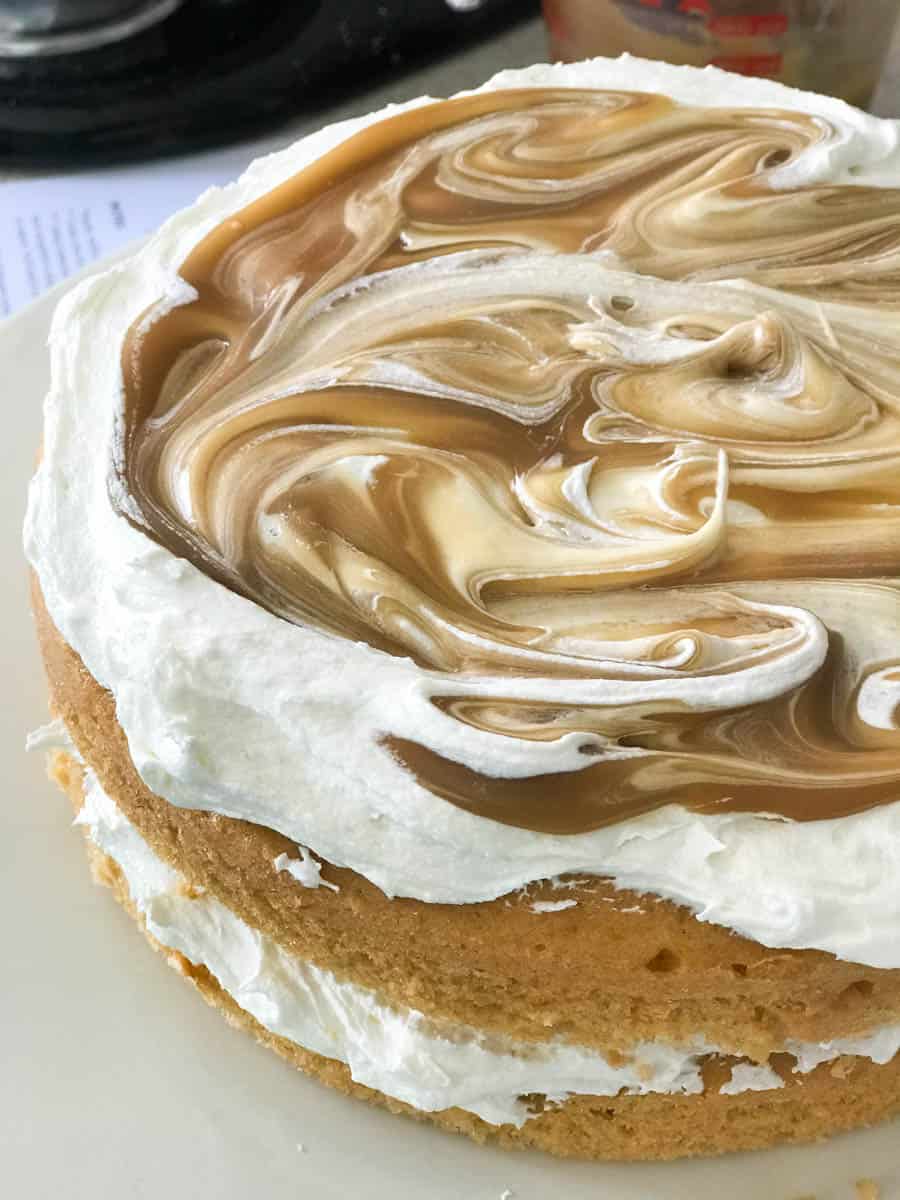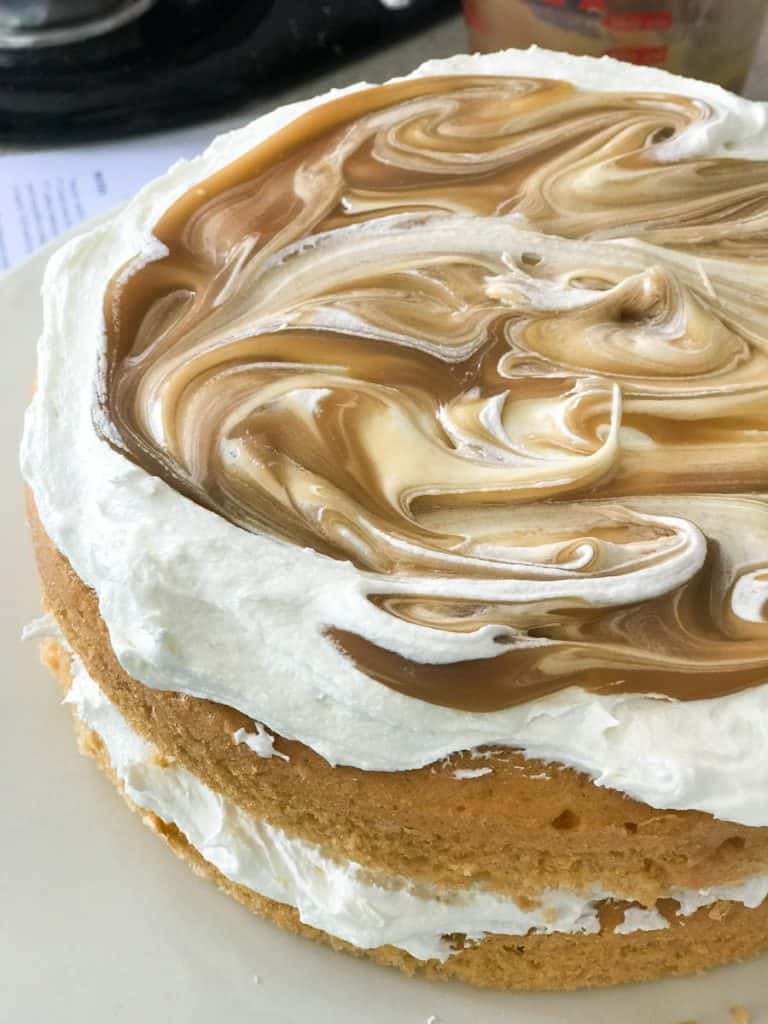 Step 3: Assemble the Cake
To boost the butterbeer flavor, the recipe calls for adding more butterscotch sauce to the cake layers during assembly.
If you try to put sauce in-between the layers, you will find that they tend to slip around and could potentially fall over when carrying the cake from kitchen to table. To avoid this problem, you'll need to add wooden dowels to the cake to stabilize it.
If that sounds too fancy and complicated, I would actually recommend skipping adding the butterscotch sauce to the cake itself.
Heat up the butterscotch sauce in your microwave for 10 - 15 seconds to make it drizzle a little smoother and serve it at the table in a tiny cream pitcher for pouring over the cake slices after serving.
This is an especially brilliant serving trick if you plan to serve a scoop of vanilla ice cream with the cake because you can drizzle the butterscotch over the ice cream as well.
Oddly enough, the butterscotch sauce ended up being the most difficult ingredient for me to find. I searched 7 different local stores in an attempt to find a jar of it in the ice cream toppings section. It turns out that butterscotch sauce is actually quite easy to make from scratch, I used this recipe here. But, if you prefer you can also order a jar of butterscotch sauce here.
Step 4: Decorate the Cake
The golden snitches can be placed on the cake immediately.
The foil wrappers keep them nice and fresh.
I placed the Happy Birthday sign just before serving so I had room in the fridge for the cake!
More Harry Potter Ideas
If you're excited to share Harry Potter with your kids, why not start your own family Harry Potter Fan Club??
📖 Recipe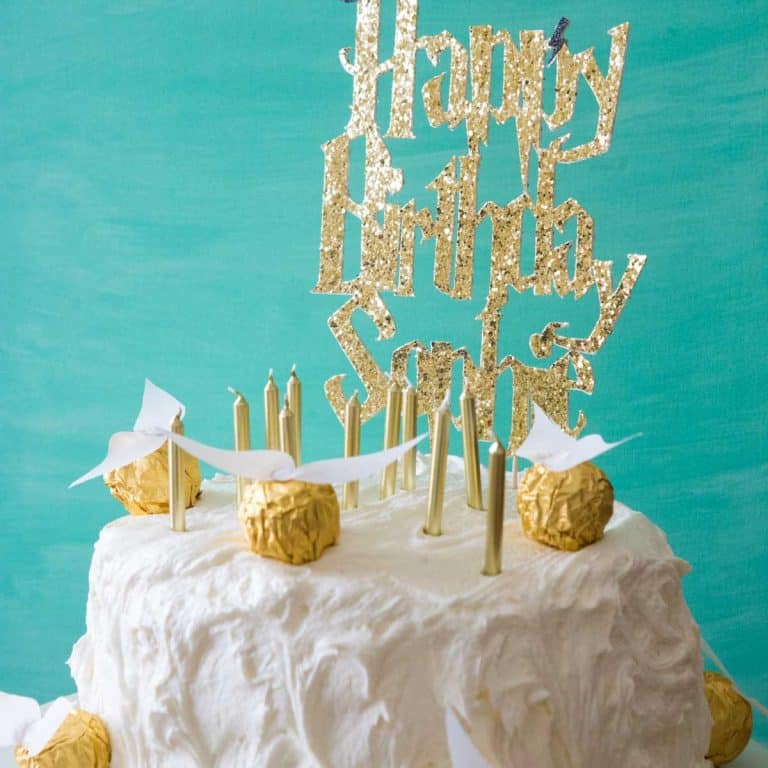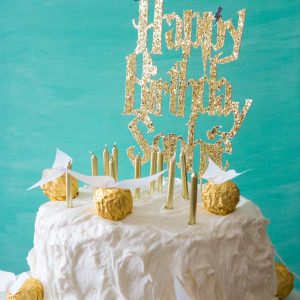 Harry Potter Butterbeer Cake with Marshmallow Frosting
This sweet and simple Harry Potter cake tastes just like a butterbeer with marshmallows. Your little wizard-in-training will swoon over this magical cake.
Ingredients
For the Cake:
2 ¼

cups

flour

2 ¼

teaspoon

baking powder

1

(3.5 oz) butterscotch instant pudding mix

½

teaspoon

salt

¾

cup

butter

softened

1

cup

granulated sugar

3

eggs

1 ¼

cups

cream soda

clear or brown -- it will affect the color of your cake

1

teaspoon

vanilla extract
For the marshmallow frosting:
1 ½

cups

butter

softened

4

cups

powdered sugar

1

(14 oz) canister of marshmallow fluff

1

teaspoon

vanilla extract

use clear vanilla if you want bright-white frosting
For serving:
butterscotch sauce

optional

ice cream

optional
Instructions
Preheat the oven to 350°F. Rub softened butter all around the inside of 3 8-inch cake pans. Line the bottoms of the pans with parchment paper and then dust them with flour. Set aside.

In a medium bowl, add the flour, baking powder, pudding mix, and salt. Whisk them together and set aside.

Add the butter and sugar to your mixing bowl and beat them together with an electric mixer until they are light and fluffy. Scrape the bowl.

Add one egg at a time and gently beat it with the mixer to incorporate before adding the next egg. Scrape the bowl and add the vanilla. Mix to combine.

Add half the flour mixture to the mixing bowl and stir to combine. Pour the cream soda in and stir to combine. Then add the remaining flour and stir to combine. Scrape the bowl and check for any dry pockets of flour.

Pour the cake batter evenly among the cake pans. Bake for 30 - 40 minutes or until a toothpick inserted in the center comes out clean. Allow the cakes to cool completely before frosting.
Assemble the frosting:
Add the butter to your mixing bowl. Beat it with an electric mixer until it is smooth and creamy. Scrape the bowl. Add the powdered sugar one cup at a time and beat it until completely combined before adding the next cup.

Beat the butter and sugar together for 3 minutes until light and fluffy. Add the marshmallow fluff and vanilla and continue to beat for an additional 2-3 minutes.
Assemble the cake:
Use the frosting to ice between the layers of the cake and all over the tops and sides of the finished cake. Chill until serving time.

Heat the butterscotch sauce in the microwave for 10 - 15 seconds or until it is loose and drizzly. Serve alongside the cake in a small cream pitcher for drizzling on top of each slice.
Save This Recipe to Your Recipe Box
Find this delicious recipe next time you visit by saving it to your very own recipe box on my site. All your favorites stored in one easy place!