Homemade birthday cakes are easier to bake than you think. Don't worry about it not looking like a professional bakery, your child will remember the cakes you made with love and have much fonder memories of their birthdays with these simple tricks.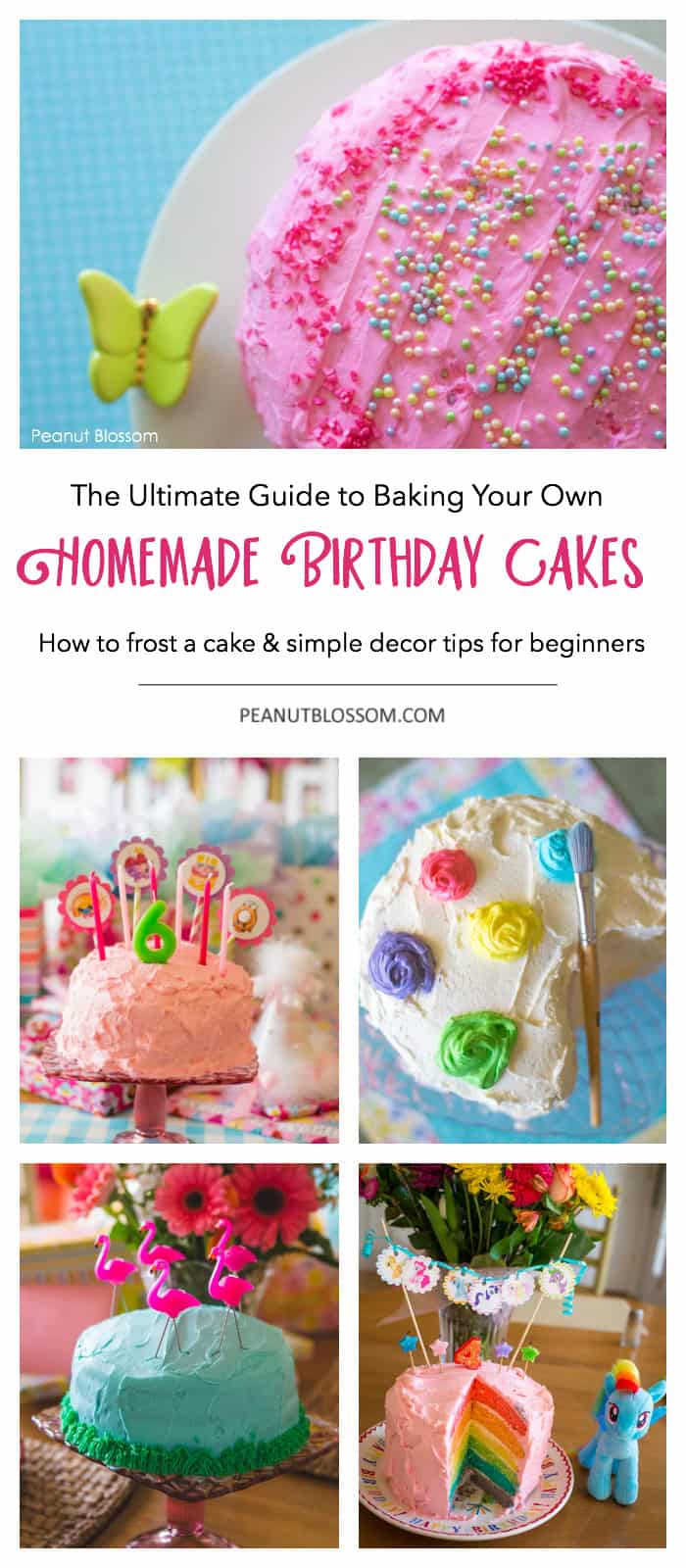 Birthdays are a pretty huge deal in our family. So big and important that I was too intimidated to bake a homemade birthday cake for the first several years of the Peanut's life. I thought that her special day required a gorgeous professionally decorated cake from the best local bakery I could find. I just assumed my lopsided homemade birthday cake concoctions would be an utter embarrassment in the millions of photos I knew I'd be taking of my precious baby.
When the Peanut turned 4 I saw my very first photo ever of a rainbow cake. Our local bakery didn't offer it as an option and I thought it looked so pretty I just had to try it on my own. It was a lightbulb moment for me. You could have a fun birthday cake where the decoration is the CAKE ITSELF, not the intricate frosting flowers and characters I had no interest in making. I went ahead and baked the heck out of that awesome rainbow birthday cake and it was one of my earliest most successful blog posts. (Check out my rainbow cake in the archives here!)
Since then, I've gone on to make almost all of the girls' birthday cakes here at home. I don't use marzipan or fondant. I hardly know how to use a frosting tip. But, I am really proud of the pretty cakes we've turned out together. I wanted to share with you my favorite cake baking tips and simple ideas for decorating a homemade birthday cake to encourage you to try this yourself, too! It has become one of our most beloved birthday traditions and the girls and I chat about it for weeks leading up to the big day.
Here's a peek at some of the cakes we've done for the Peanut: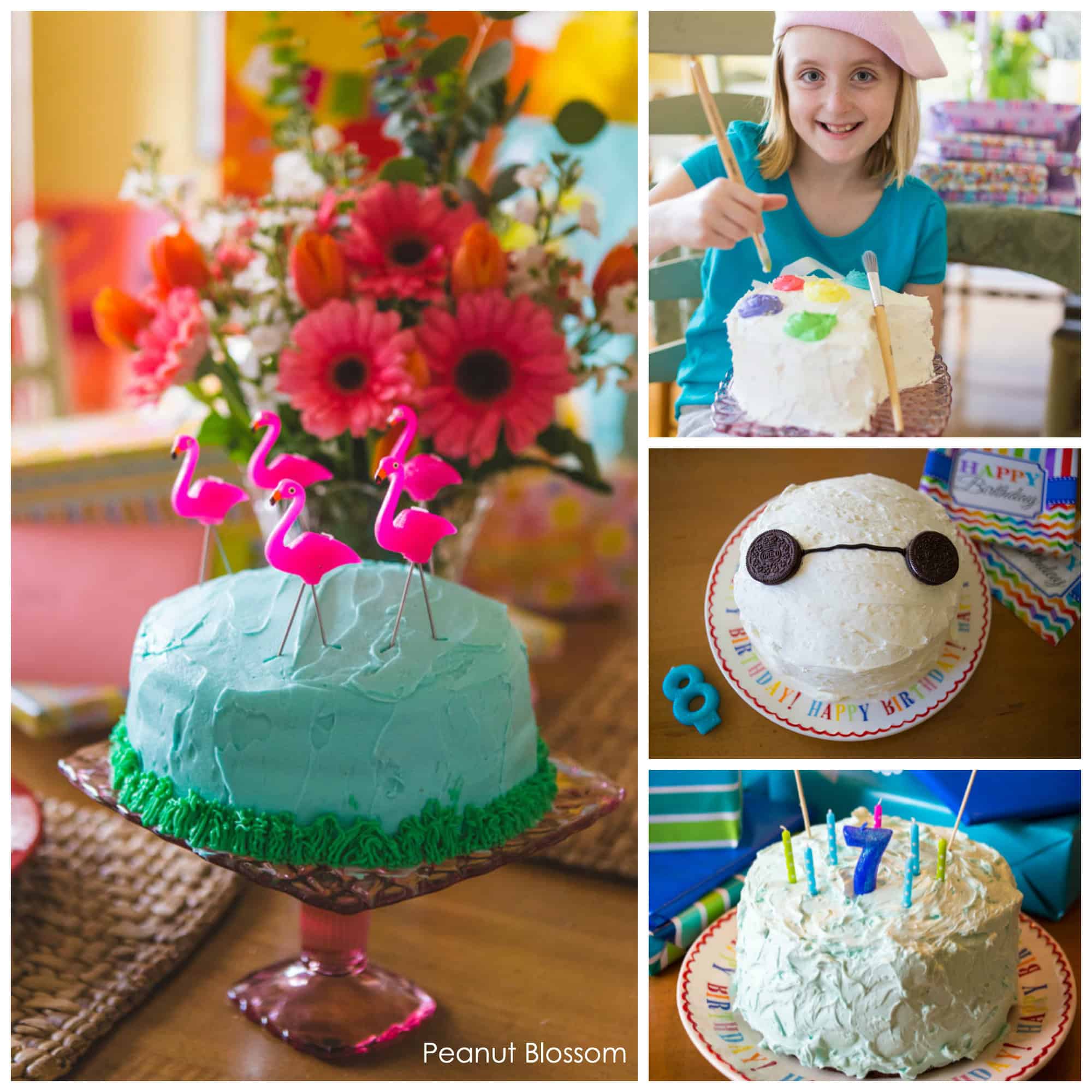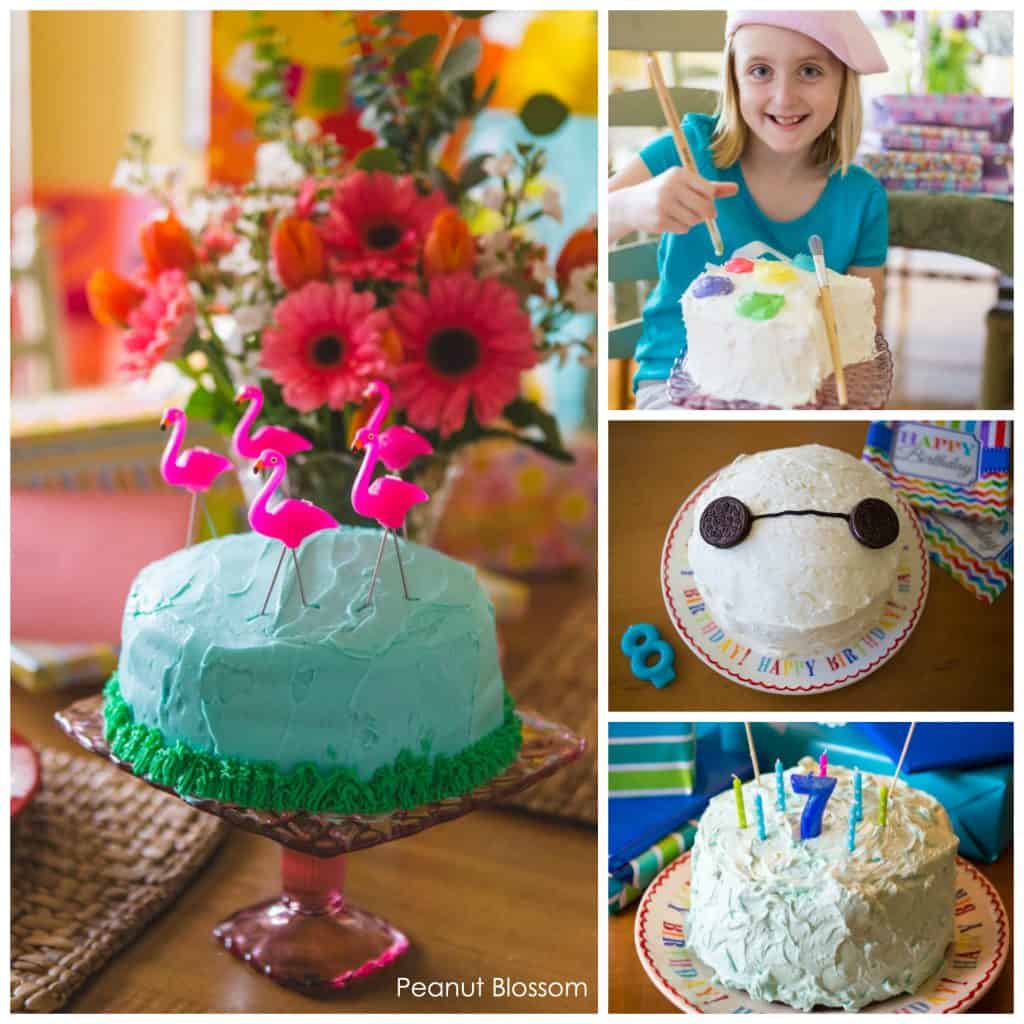 From tropical flamingos to Pixar's Baymax, my oldest has really given me some wild birthday cake assignments over the years. But she loves to bake right by my side as we figure them out together.
Little Pea pretty consistently gives me the girliest birthday cake themes ever (Hello, Shopkins, mermaids, and My Little Pony!) But she has also insisted on adding her own flair to the cakes a couple times too. This year she wanted just a simple initial on the cake and one year she just wanted to decorate it with a smiley face with M&Ms: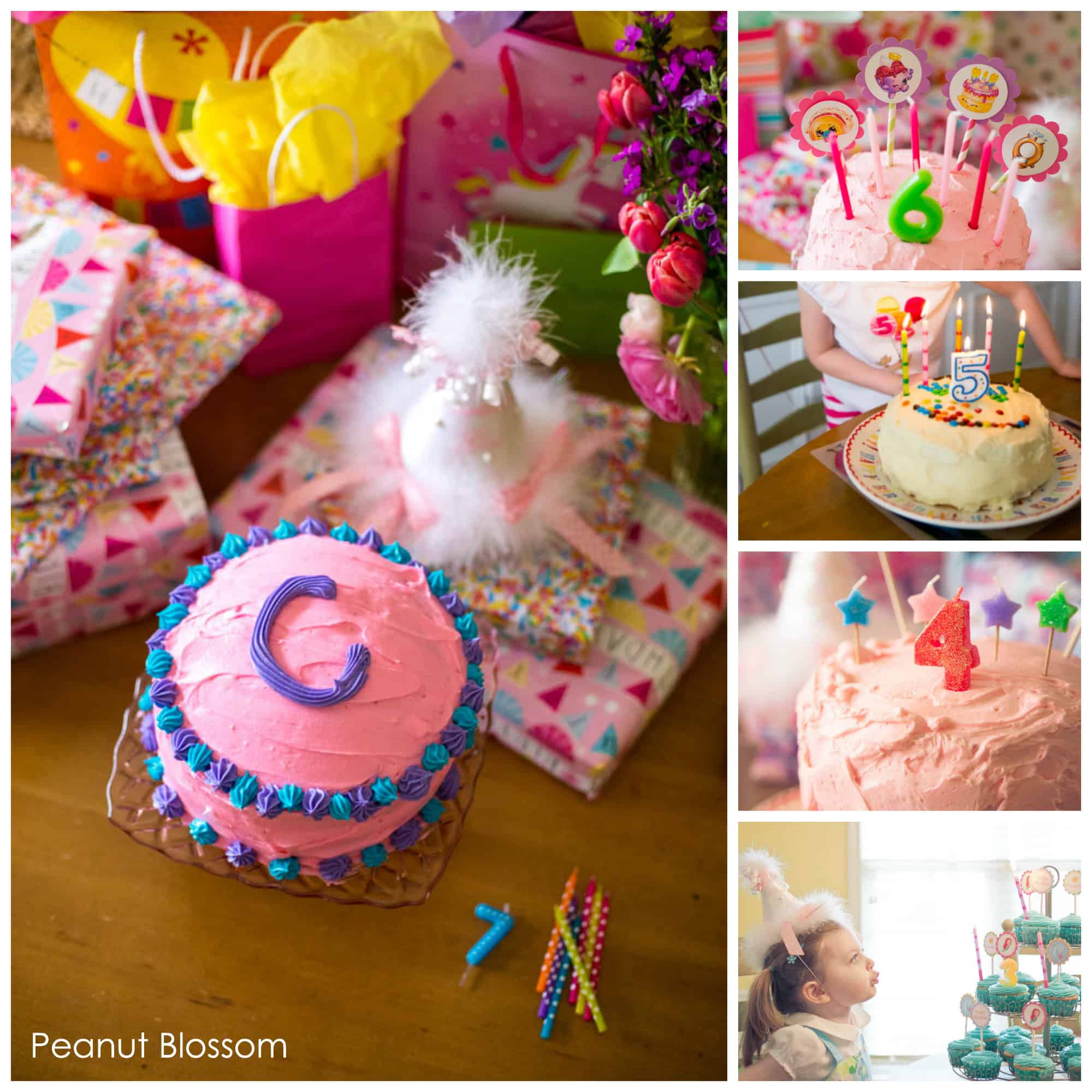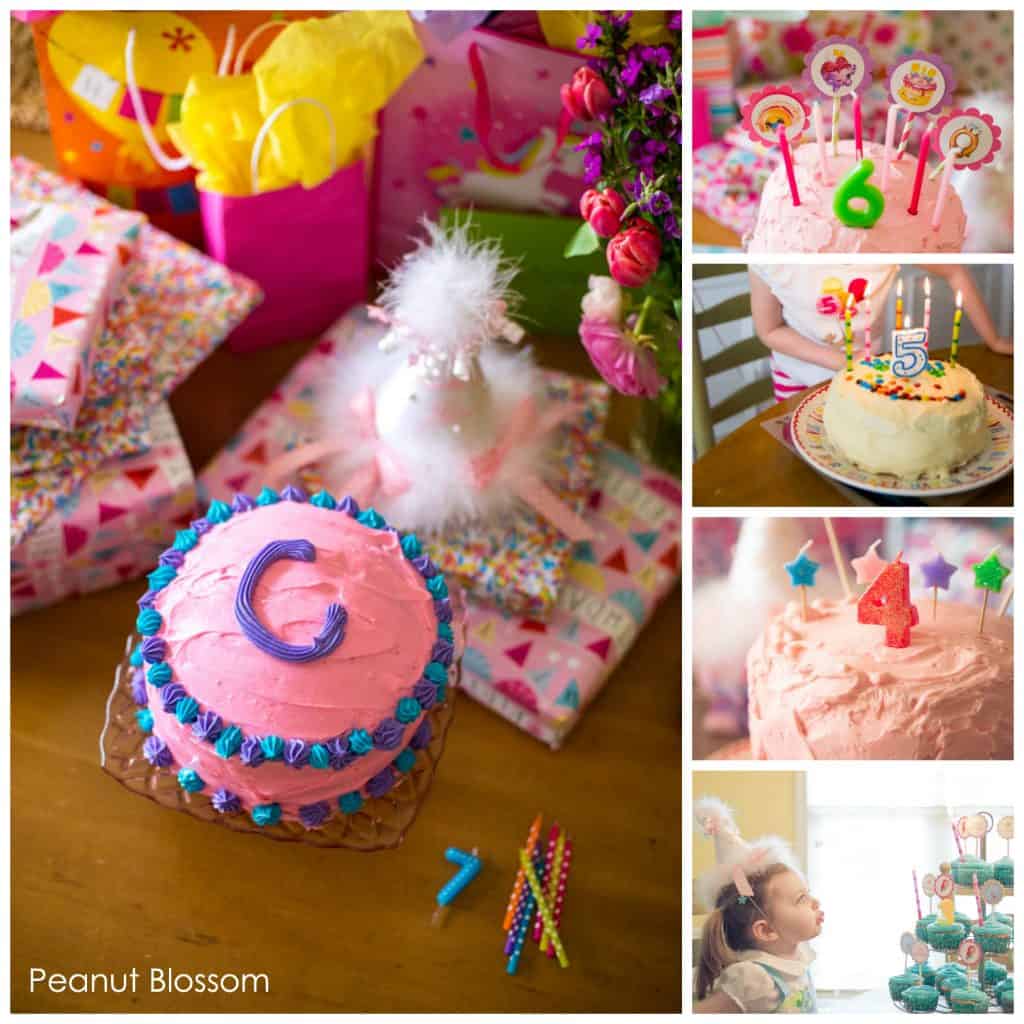 Every perfect birthday cake starts with baking the just-right cake. Here's my big secret: while homemade frosting makes all the difference, NO ONE will care if the cake itself is from a box mix! We simply pick out our favorite flavor of the moment from Betty Crocker and call it a day.
But even if you're using a box mix, there are a couple tricks I've learned over the years for how to make the perfect layer cake with even layers for frosting.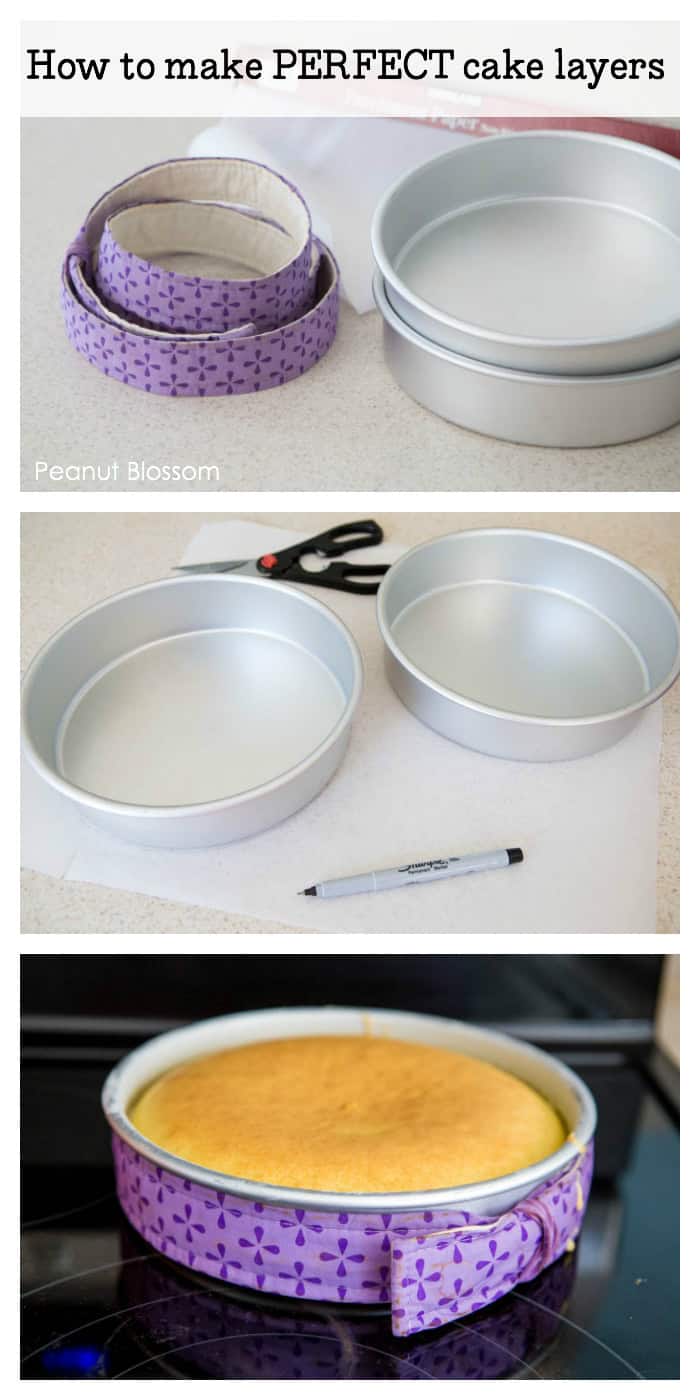 Supplies Needed to Bake Perfect Cake Layers:
2 8-inch flat walled cake pans: This pan by Wilton is my very favorite cake pan ever.
Parchment Paper: I've had this same giant roll forEVER and it is still going. Essential for getting your cake layers out of the pans.
Wilton Bake Even Cake Strips: After years of having rounded dome layers that are tricky to frost, I finally went hunting for a solution this spring. Using these purple strips makes perfect even cake layers every single time. I love, love, LOVE them and wish I had known about them years ago!!
How to prepare baking pans for birthday cake:
Step 1:
Trace your cake pans on the parchment paper using a pencil or pen. Cut out the circles of parchment paper and set aside.
Step 2:
Coat your entire cake pan in butter. I put a pat of room temperature butter in each pan and spread it all around the base and sides of the pan.
Step 3:
Place one parchment circle on the bottom of each buttered pan. Press and smooth it to remove any bubbles.
Step 4:
Put 1-2 tablespoons of all-purpose flour in the buttered pan and tap the pan until the flour coats the base and sides. Do this over the sink so you can tilt the pan as needed and keep the mess under control.
Step 5:
Hold the Wilton Bake Even Cake Strips under running water until they become saturated. Wring out the excess water so they are not dripping everywhere. Wrap one strip around each pan and thread the ends under the "buckle" to hold in place.
Step 6:
Assemble the cake box mix batter according to the instructions on the package. Pour equal amounts in between the two prepared baking pans. Smooth the batter and bake as instructed.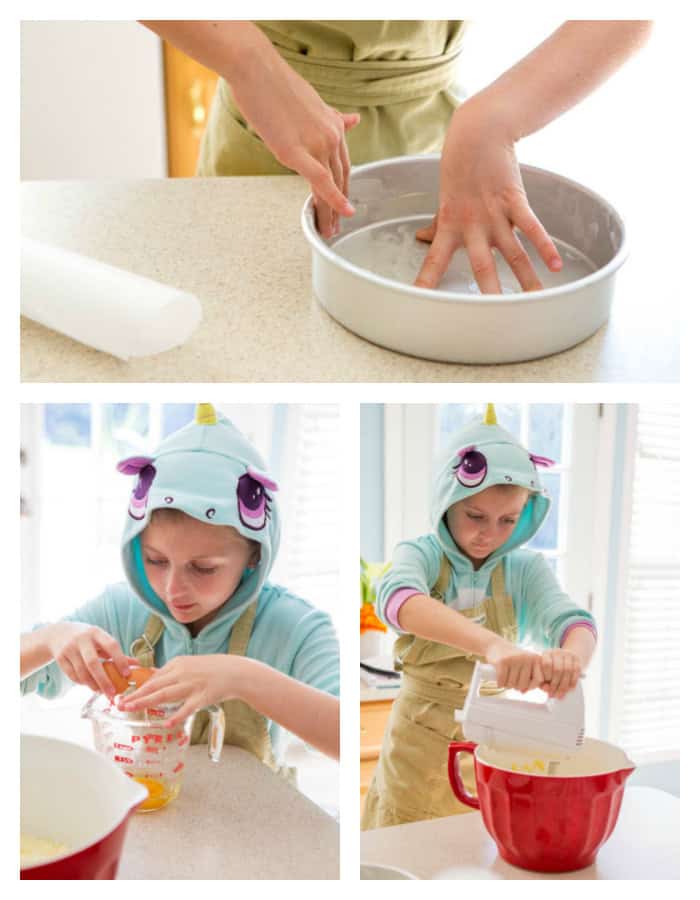 It may seem like several extra steps but if you follow them you are practically guaranteed to have the most perfect cake layers that will pop right out of your pans for frosting.
Let your kids get involved in baking the cake:
My girls love to do the following cake baking tasks:
"Butter shmooshing": Every cake has an Official Butter Shmoosher-er. Little Pea is the current expert. She loves to get her little hands into those pans to shmoosh the butter all around.
Egg Cracking: Just let them crack one egg at a time into a separate bowl to avoid getting an extra "crunchy" cake.
Measuring the oil and water: Learning to use the measuring cup and learning fractions is an added bonus!
Hand mixing the batter: After a simple safety chat about NEVER touching the beaters, my girls LOVE being able to be in charge of making the batter itself.
The Perfect frosting for a homemade birthday cake:
The part that seems to be the scariest for beginner bakers: frosting a homemade birthday cake. Let me tell you, starting with those perfectly even cake layers makes this job SO MUCH EASIER. Making homemade frosting is simple and satisfying. If you've got butter and powdered sugar, you're all set! Check out our favorite vanilla buttercream recipe used on the Baymax cake here.
Frosting the cake is a lot easier if you have plenty of frosting. My recipe is more than you will need to generously frost a 2-layer 8-inch birthday cake. I recommend making the whole recipe and not cutting it back because if things go haywire, you can cover up any mistakes with more frosting!
We plan out our cake theme and when it comes time to tinting the frosting certain colors, I swear by this box of gel paste colors. The colors are super vibrant and mix together really well. A little bit goes a long way and I rarely need to use more than 2-3 drops to get the color we need.
Before you start to frost the cake, be sure to put it directly on the platter you plan to serve it on. Moving it later won't be easy. Isn't the butterfly cake platter just adorable?? It's my new favorite Nora Fleming piece. You can read more about that awesome line of dishware here.
Want to see how I frost the cake? Check out this video.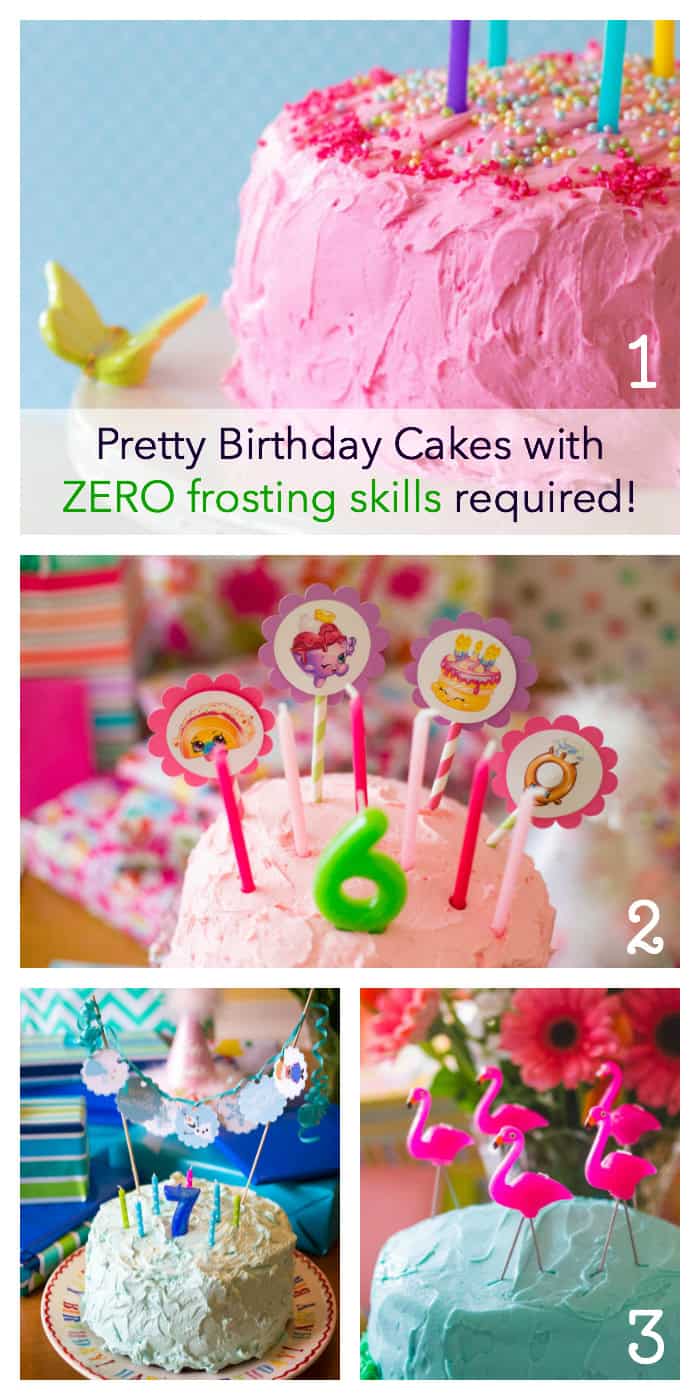 How to decorate a homemade birthday cake when you don't have any frosting skills:
This was the biggest scare factor for me when I made my first homemade birthday cake. I wanted something that was picture-perfect but had zero frosting skills! I've discovered a few workarounds:
Everything is better with sprinkles: Is there anything more festive than sprinkles?? A classy simple frosted cake with just a touch of sprinkles practically screams birthday party! We found some of our favorites at Michael's in all different colors and shapes.
Use paper print-outs to make cupcake toppers or banners: You can find downloadable printables for cupcake toppers for pretty much any theme ever over on Etsy. I just stick them on popsicle sticks or stripey straws and stick them right into the top of the cake. Or I'll thread them through some twine or curling ribbon to make a simple banner. I use this scalloped punch on colorful cardstock to make them extra pretty.
Find candles with personality: We are still laughing over the Peanut's hysterical flamingo birthday candles! Browse Amazon for party candles and you never know what you might find. We tend to prefer tall skinny candles like these because they last the longest while we sing and take pictures.