Blackberry freezer jam is the most delicious way to preserve fresh farmer's market blackberries. Don't ruin the flavor by cooking the delicate berries or spoil the jam by using unhealthy corn syrup. This no-cook blackberry jam recipe is the best-ever!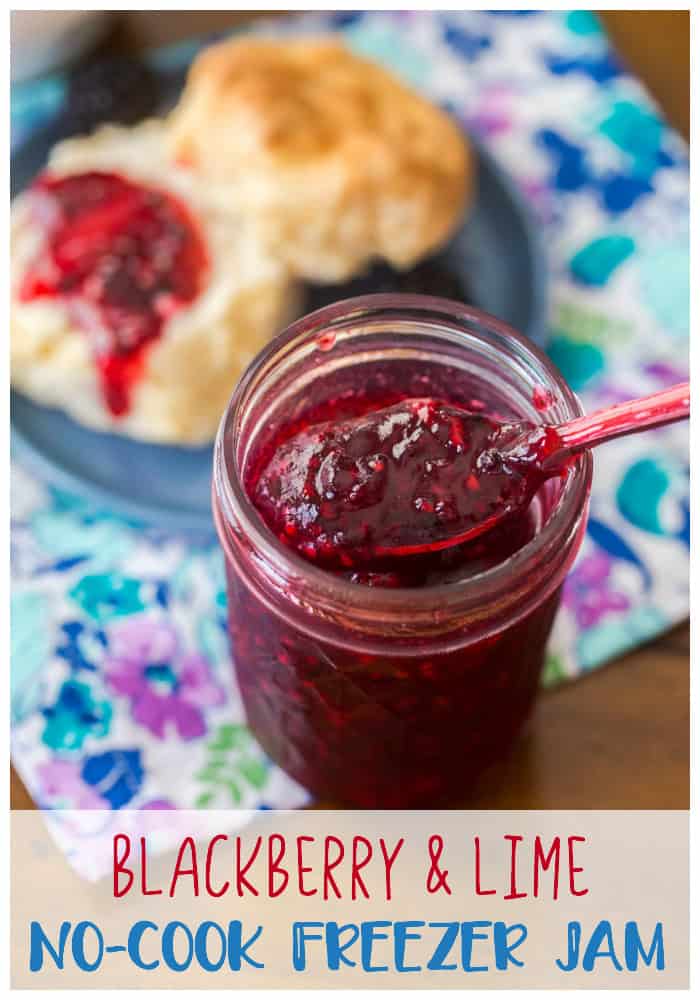 Making homemade jam has absolutely ruined my family for store-bought jellies forever. I've been making the same strawberry freezer jam since the Peanut was two years old. Every summer I try to make enough to stock our freezer so we can make it to strawberry season the following year.
This year, I got way too busy with the end of school and missed strawberry season by one week! I was devastated. While we were at the farmer's market hunting for strawberries, we noticed giant piles of the most beautiful blackberries I've ever seen in their place.
Knowing how flexible the freezer jam recipe is, I decided to mix things up a little this year and experiment with a brand new (to us) flavor.
I spent some time that afternoon testing out this easy blackberry freezer jam. Y'all. I think it might be the MOST DELICIOUS thing to come out of my kitchen. Ever.
If you've never made homemade jam before, don't be intimidated. Freezer jam is totally easy peasy. This blackberry freezer jam recipe requires NO COOKING. It also has a very short list of ingredients. We use only real sugar, not corn syrup here.
You can check out the recipe right here but don't miss my tips for making the best blackberry jam you've ever tasted!

How to make blackberry freezer jam that will blow your mind: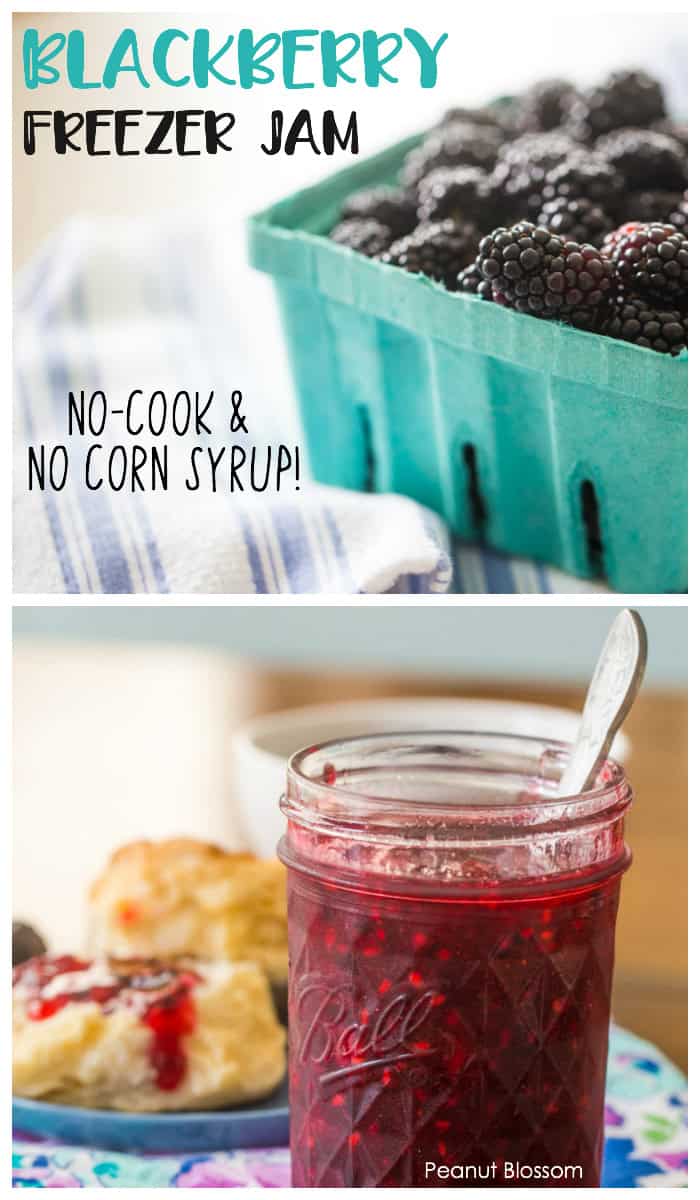 Start with a REAL no-cook blackberry jam recipe:
Since the blackberry jam is the first freezer jam flavor variation I ever tried, I went hunting for some other recipes to base mine off of. I immediately discovered several recipes that claim to be "no-cook" but actually involved heating the blackberries in a saucepan. I think what they meant was that the freezer jam avoids the traditional canning and preserving process of boiling the mason jars to seal them.
What they did was worse -- they cooked the nearly perfect fresh blackberries and lost some of that amazing fresh-fruit flavor that comes from a true no-cook jam recipe.
When you start with perfectly ripe blackberries, it takes no effort at all to crush them by hand with a potato masher in a large bowl. That is the only prep I did besides washing and draining the blackberries!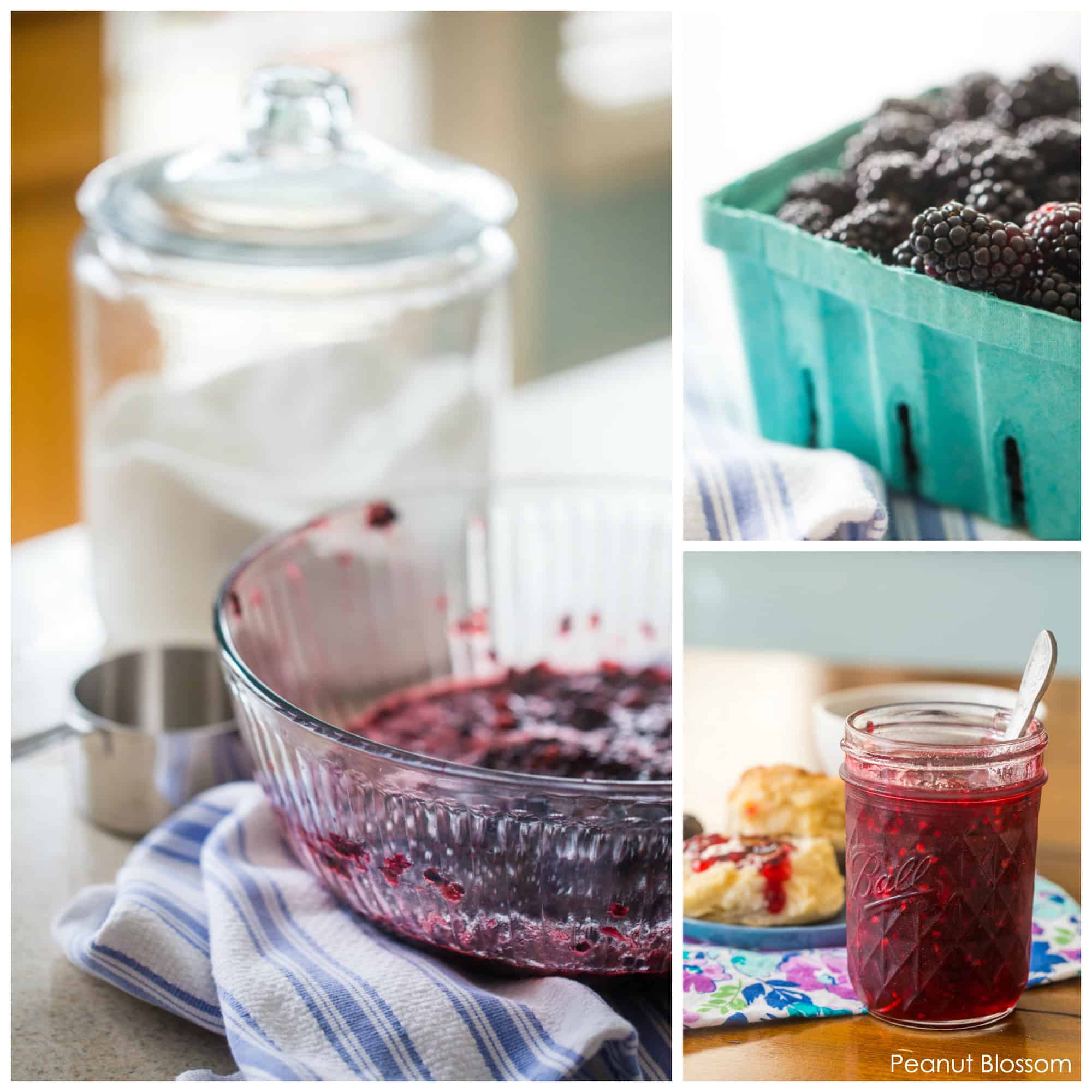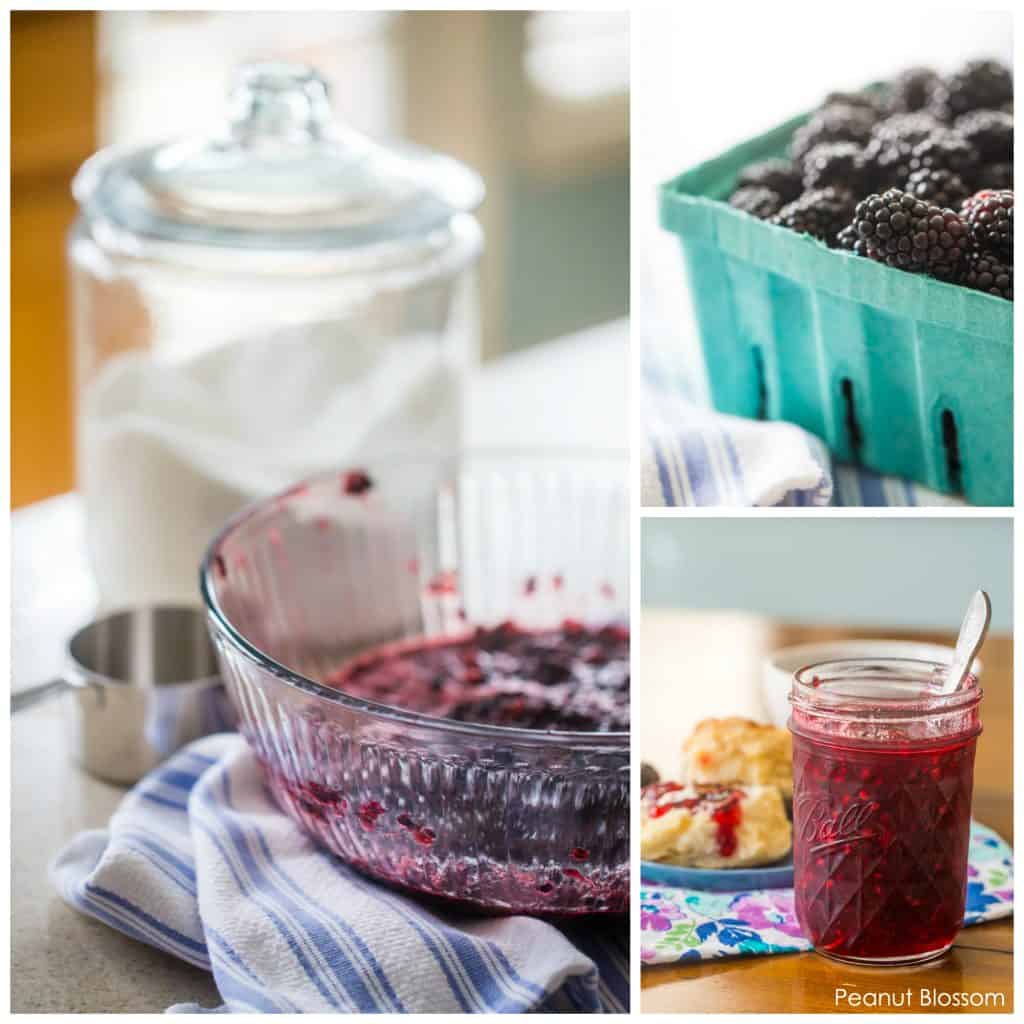 Choose a blackberry jam recipe with no corn syrup:
I'm not totally against corn syrup. I use it to make our beloved pecan pie every Thanksgiving. But, for some reason it just sounds gross to eat it straight-up in a jam recipe. Especially since our blackberry jam doesn't get cooked at any point in the process, it would be like eating raw corn syrup out of the container. Blech.
Our blackberry jam is made with just real sugar. It dissolves easily in the blackberry juices. You add the pectin to boiling water and then stir that into the berries. The little bit of heat from the boiled water finishes dissolving whatever sugar the blackberry juice doesn't.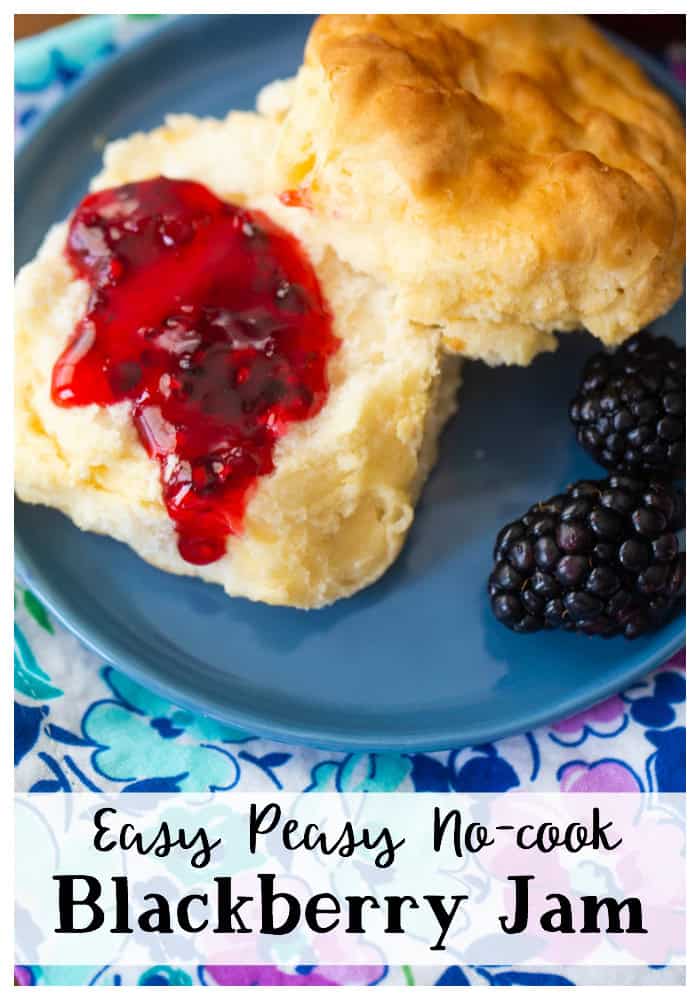 Choose a blackberry jam recipe that isn't too sweet:
If you've never made freezer jam from scratch before, you might feel a little shocked to see how much sugar goes into the recipe. Just remember a few things:
You're not going to eat more than a couple tablespoons at a time, at most.
It makes 8 1-cup servings, this is enough to last you almost an entire year if you eat one jar a month.
Blackberries are not the sweetest of berries. Their tart flavor is just perfect for jam and the sugar helps to make them a little more palatable in mass quanity.
That said, I always worry about our jam being too sweet. For the blackberry jam recipe, I decided to add just a touch of lime zest and juice to the mixture to help give it a little bit of zing. The blackberry jam doesn't taste lime-y at all, the lime zest gives it just that little something extra special.
Our very favorite blackberry freezer jam:
So what did my kids think of this blackberry jam recipe?
I was SO excited about this recipe. As soon as I finished making it, I slathered some jam on a piece of toast and cut it into bite-sized squares. I called the girls to the kitchen for a taste test.
While I thought this was the MOST delicious thing EVER, my kids had a very different opinion. They were practically weeping over the fact that it wasn't their beloved strawberry recipe. They were totally suspicious of the crushed lime on my counter. It completely tainted their opinion of it altogether.
My kids are crazy. Ignore them. Make this jam immediately.
Looking for more freezer jam recipes?
Don't miss our other favorite freezer jam flavors:
Coming Soon: Cherry freezer jam!