This easy peach scones recipe uses fresh peaches and cream to make light and flaky scones in less time than it takes your oven to preheat! Sweet white chocolate chips and sparkling sugar over the buttery crust make these a delicious breakfast treat.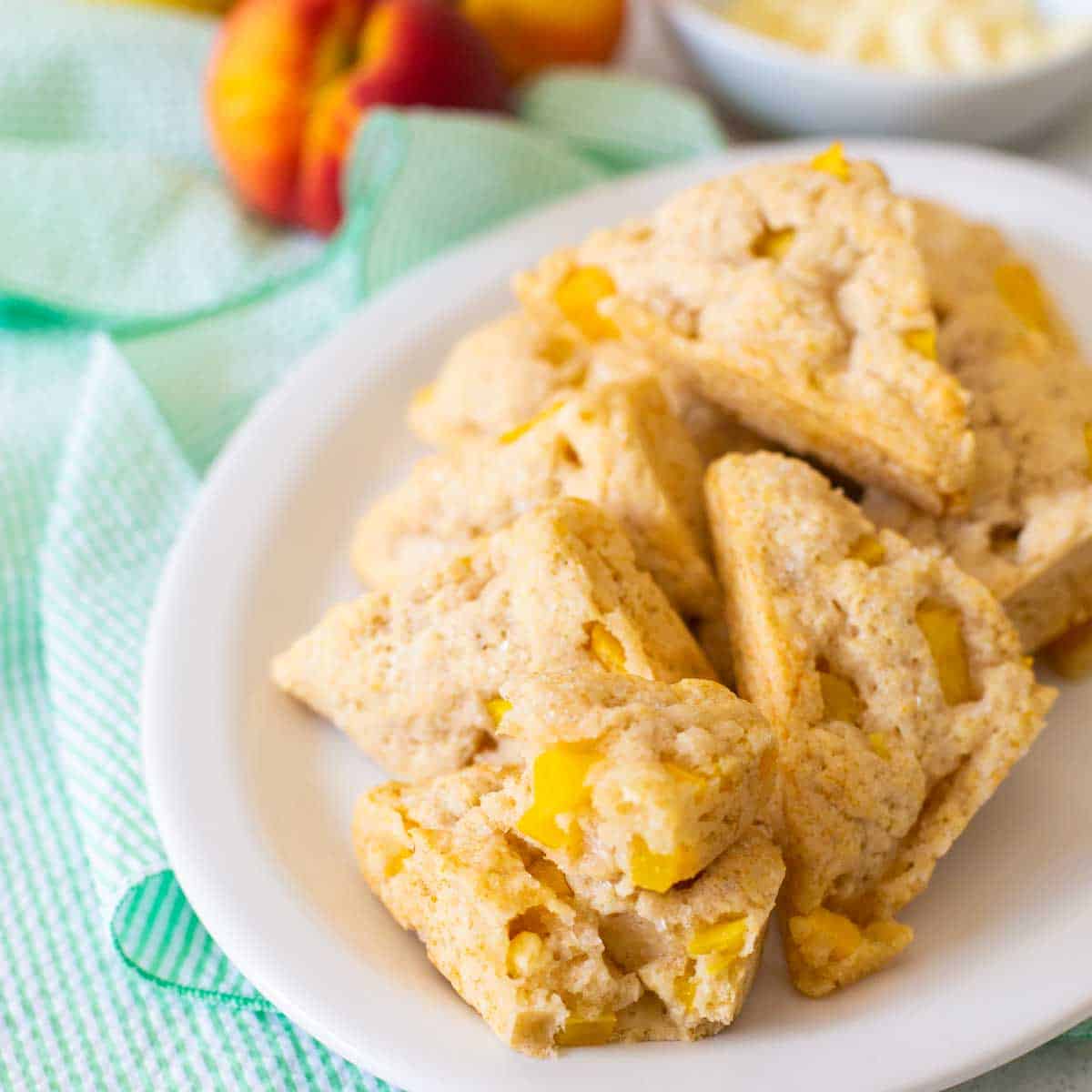 When fresh peaches are exploding all over our grocery store market stands, I'm on the lookout for all the ways I can add them to my favorite recipes.
I get super excited to bake up a batch of this easy peach scone recipe for a special breakfast treat every summer.
I've been making this recipe for my daughters since they were tiny. Don't miss the photo of them way at the bottom of the post if you're curious!
If you're looking for other fun fresh peach recipes, you won't want to miss my homemade peach bread or the easy peach freezer jam recipe here.
Jump to:
Why This is the Best Recipe
I just love this method for making fresh homemade scones because everything about it is just so easy!
Quick Prep: The pan will be ready to go into the oven by the time it has preheated, it is just that quick to make!
One Bowl: The entire scone dough recipe is mixed together in a single mixing bowl for easy clean up.
Quick Bake: The peach scones only take 15 minutes to bake, so much faster than lots of weekend baking recipes.
Light and Flaky: The texture of this scone recipe is absolutely amazing. The scone itself is the lightest and flakiest you've ever had and there's a delicious buttery crispy to the outside.
Not Too Sweet: A scone should be very buttery and pair well with your morning coffee. These have a hint of sweetness from the fresh peaches and smattering of white chocolate chips but are not overly sweet at all.
Ingredients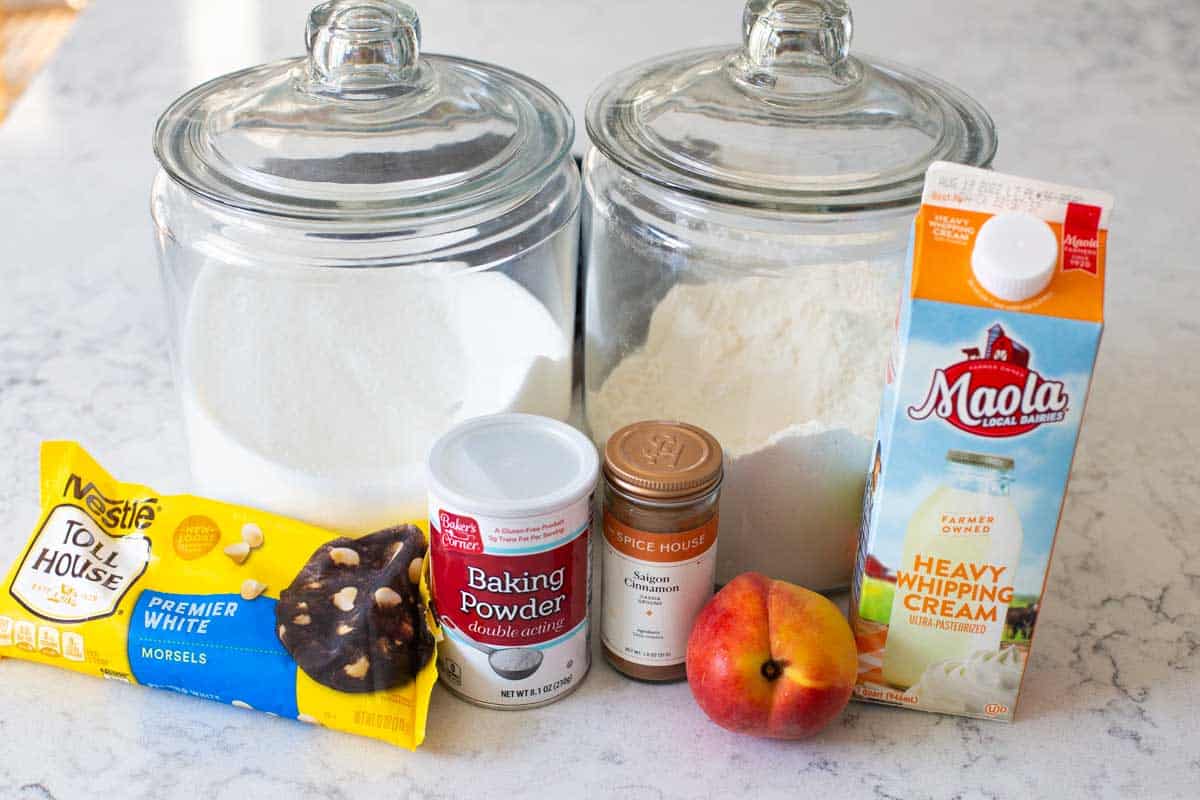 Another reason I love this peach scone recipe is the short and easy list of ingredients. All you need to make peaches and cream scones is:
Flour
Sugar
Heavy Cream
Baking Powder
Cinnamon
Fresh Peach
White Chocolate Chips (optional)
Substitute for Heavy Cream:
If you don't have heavy cream on hand, you could substitute milk.
Simply measure the same amount of cream as called for in the recipe minus 2 tablespoons and add 2 tablespoons of melted butter to the milk.
Gluten Free Scones:
While my scone recipe definitely has gluten, if you need an alternative you'll definitely want to check out this gluten free scones recipe.
Mix the Dry Ingredients
With such a short list of ingredients, there are a few crucial steps to take to ensure your dough is blended properly.
First, whisk together the dry ingredients.
Add the flour, sugar, baking powder, cinnamon, and salt to a bowl and whisk them.
Prep the Fresh Peach
You only need one fresh peach to make the peaches and cream scones.
To prep the peach, peel it with a regular kitchen peeler tool like you would an apple or potato.
Slice the peach away from the peach pit and then dice it into small pieces like this: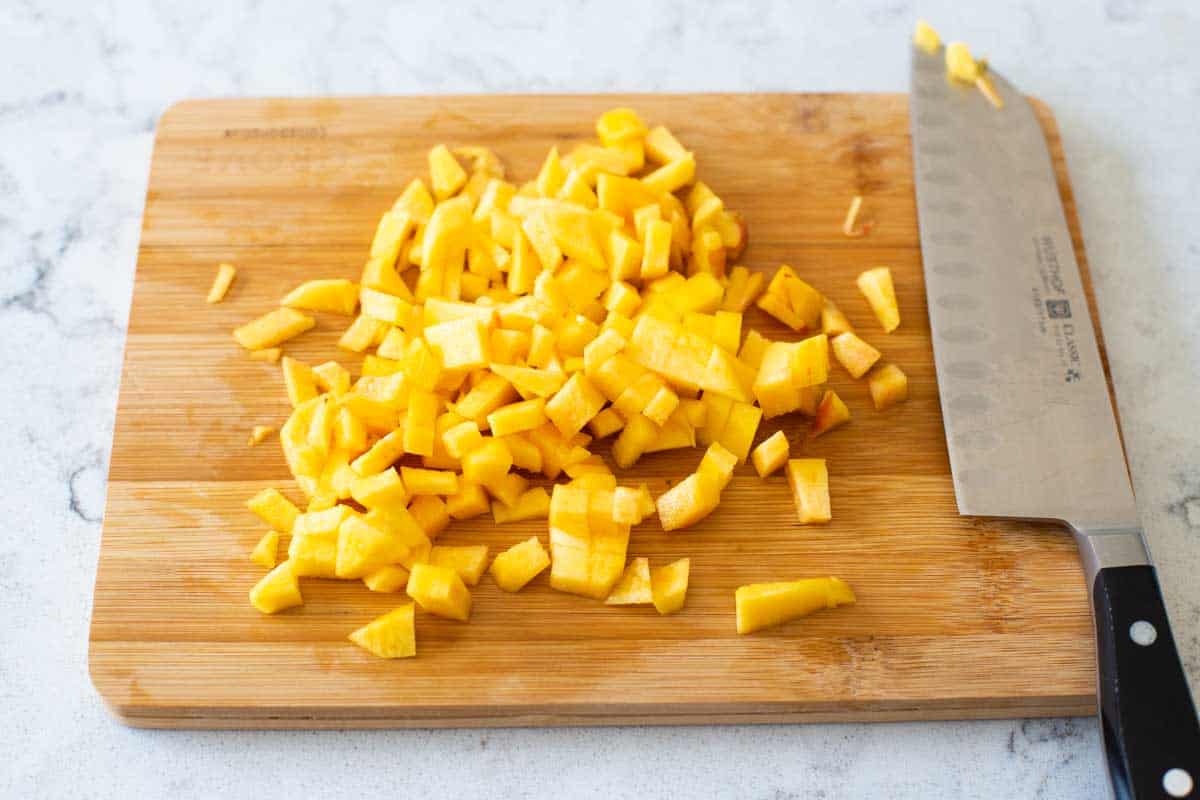 Assemble the Peach Scones
To make sure the peaches and white chocolate chips are evenly combined in the scones, add the fresh peaches and chocolate chips to the dry ingredients first.
Stir them in until all the fresh fruit is covered in dry flour.
Then pour in the heavy cream and stir it together with a spatula as best you can. The dough will become very thick.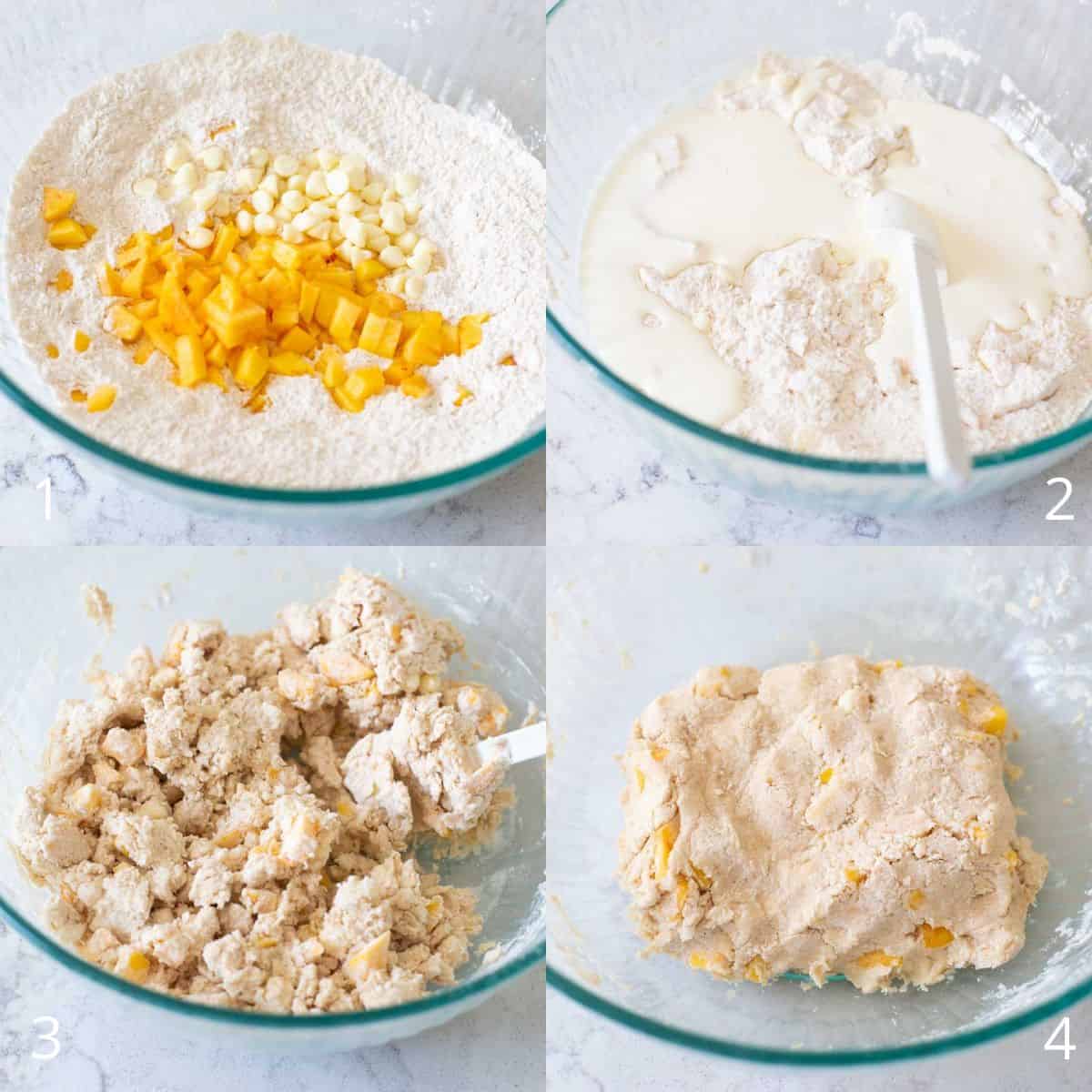 At some point, the spatula will be too difficult to use to stir. Use your clean hands to gently knead the dough until the dry flour has been incorporated.
Pat the dough into a rectangular shape for easy portioning into a baking pan.
For rough shaped, round scones you can simply drop portions of scone dough onto a baking sheet lined with parchment paper.
This method is excellent for baking with kids or if you don't want a single-purpose baking pan in your kitchen.
Fill the Scone Pan
For perfect triangular shaped scones, you'll need a scone pan.
To make even sized scones in the pan, I find it easiest to pat the scone dough into a rectangular shape first.
Divide the rectangle in half and then each half in half again to form four equal portions.
Place one quarter of dough on each quadrant of the pan.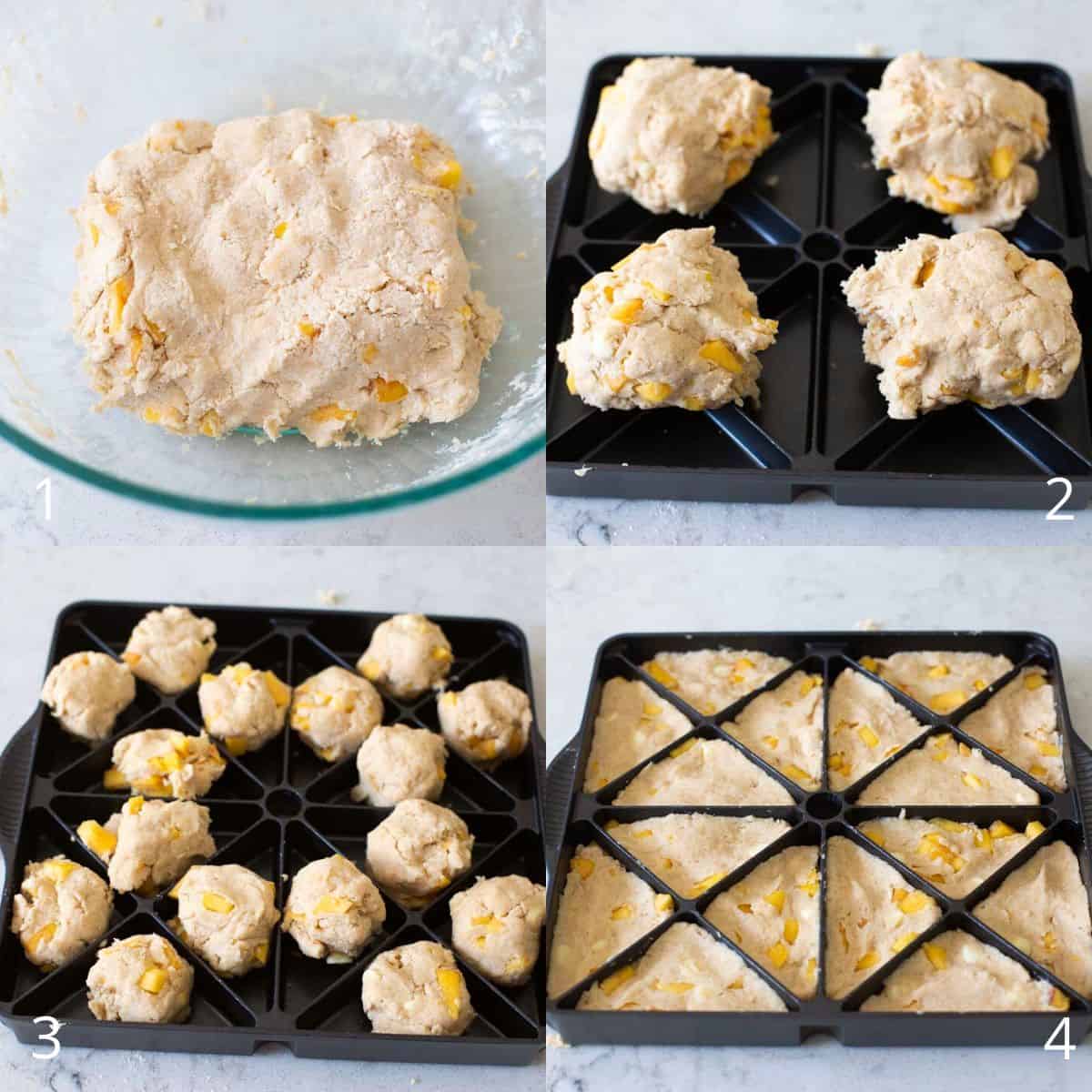 Working one quadrant at a time, divide the dough ball in half and then each half in half again to form four equal portions of dough.
Place one dough ball in each scone well in the scone pan.
Finally, press the scone dough into a flat even shape in each well.
Brush with Butter and Bake
To give the scones a crispy crust, brush the tops with a bit of melted butter.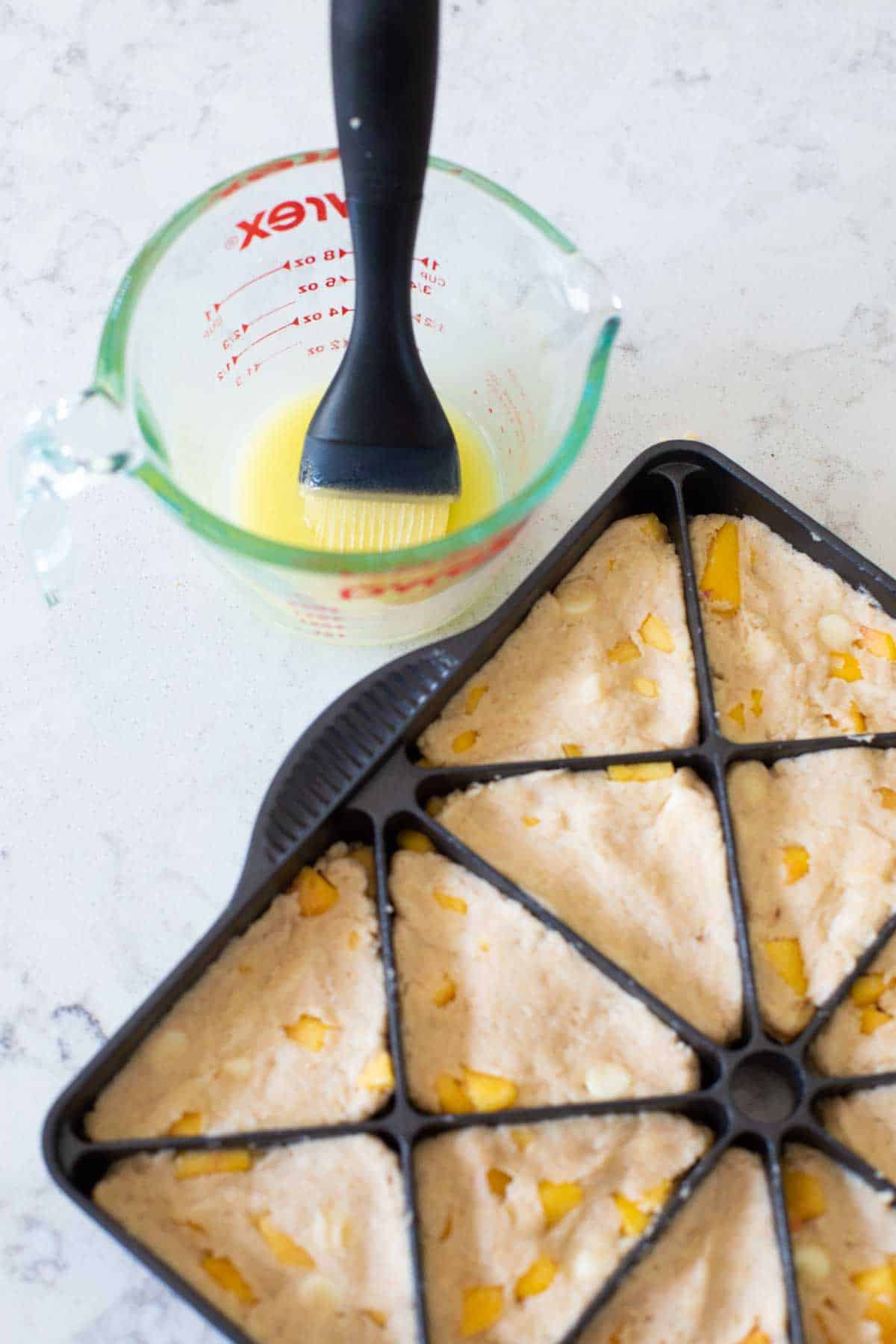 Sprinkle sugar over the top of each scone.
Bake the scones for 15 minutes at 375°F or until they have puffed up and are golden brown.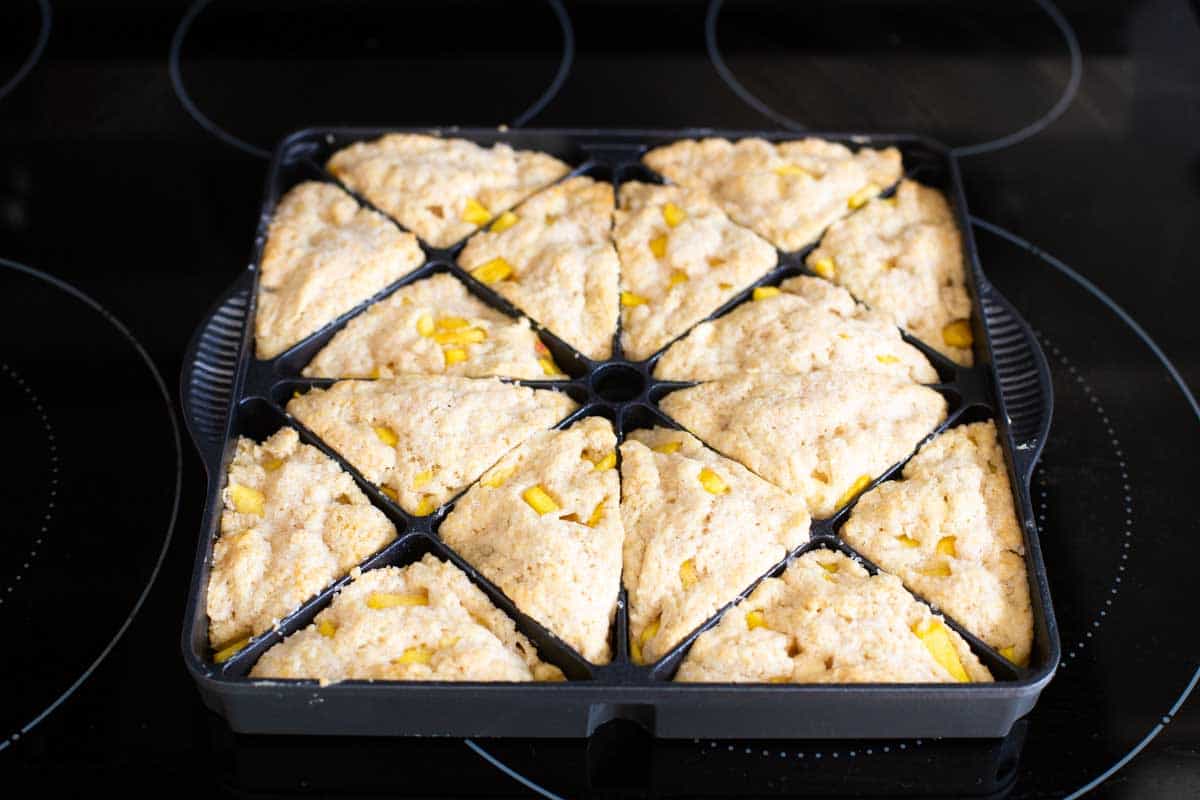 Let the scones rest for just 2 - 3 minutes and then turn them out of the pan onto a wire rack for cooling completely.
If you let the scones cool in the pan, you may struggle to get them out and the bottoms may steam and get soggy.
Serving Suggestions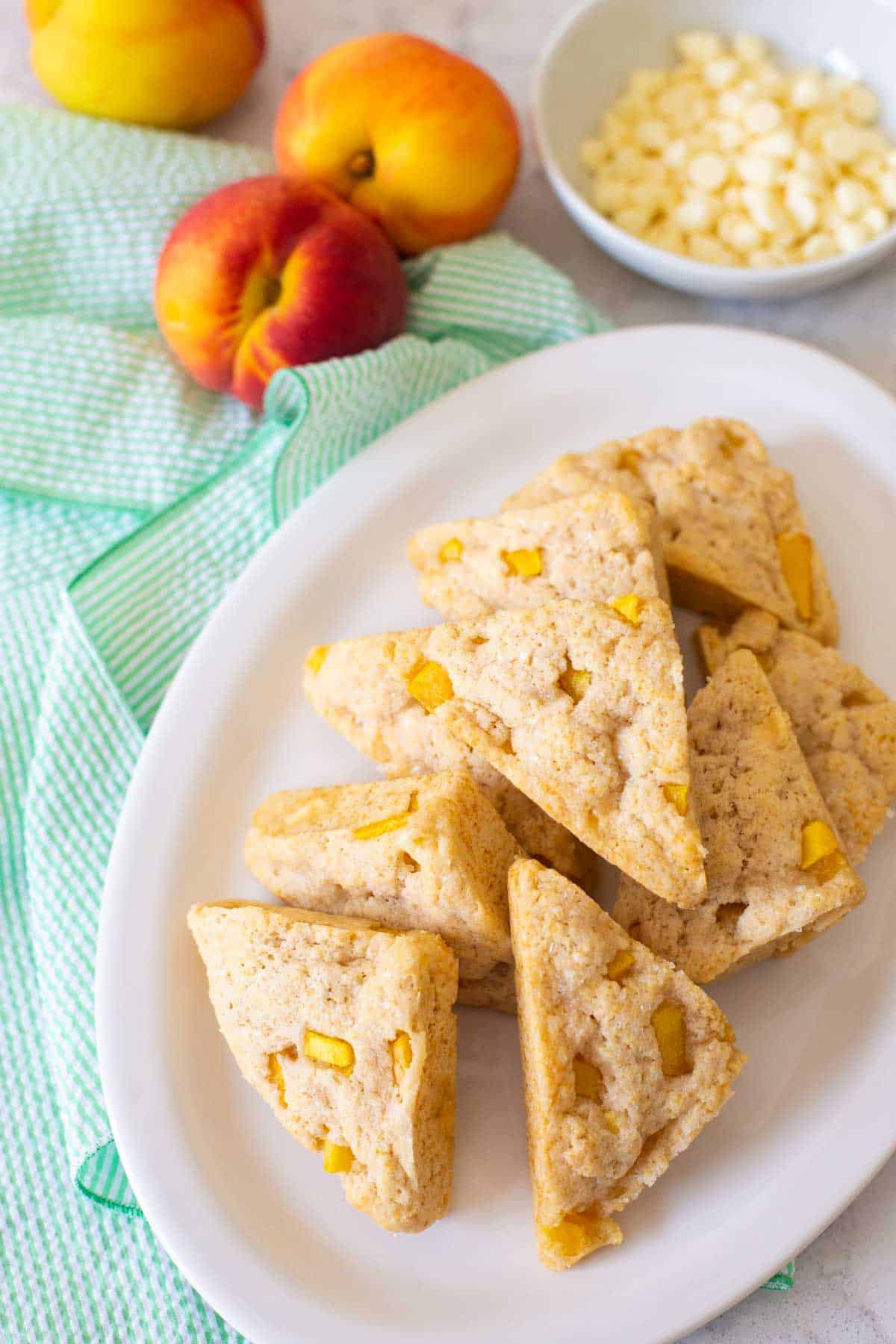 Serve the scones warm from the oven or at room temperature, but they are best the day they've been baked.
If you want to serve them the next day, the texture will be a little softer and less crispy but you could place them in a single layer on a baking sheet and warm them in the oven at 350°F for a few minutes to help restore some texture.
The scones are perfect as-is, but if you wanted you could also serve them with a little bowl of homemade jam. My easy blackberry freezer jam would be an amazing contrast but the strawberry jam or peach jam would be tasty, too.
Variations
This simple scone recipe is such a fun breakfast treat to make your own variations.
You could try:
Swap the white chocolate chips for chopped pecans or almonds
Add dried blueberries for blueberry-peach scones
Add chopped raspberries for raspberry peach scones
Our whole family just loves these easy blueberry scones, too.
📖 Recipe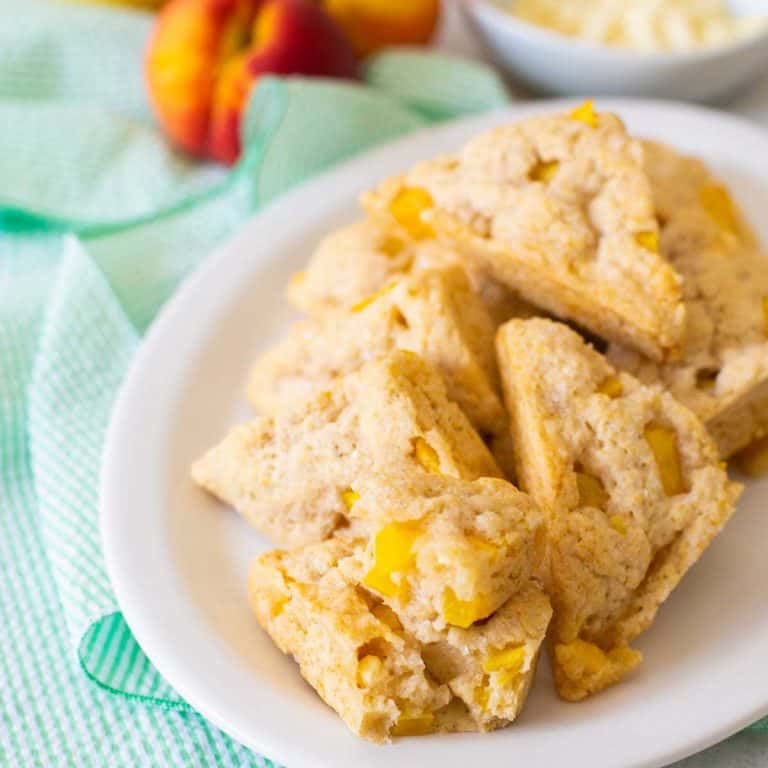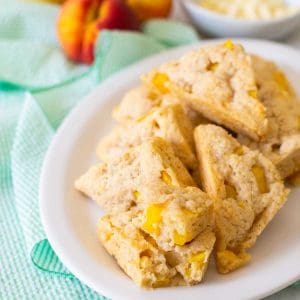 Peach Scones
These easy homemade scones feature diced fresh peaches and white chocolate chips for a sweet treat to add to your brunch menu.
Ingredients
1 ½

cup

plus 2 tablespoon all-purpose flour

¼

cup

sugar

2

teaspoons

baking powder

½

teaspoon

cinnamon

1

pinch

of salt

1

firm but ripe peach

peeled and diced into small pieces

¼

cup

white chocolate chips

1

cup

heavy cream

2

tablespoons

butter

melted

Additional sugar for sprinkling on top
Instructions
Preheat the oven to 375°F. Line a baking sheet with parchment paper or a silicone baking mat.

Combine the flour, sugar, baking powder, cinnamon, and salt in a medium bowl; stir to combine. Gently toss in the peaches to coat in flour, add the white chocolate chips and toss to coat. Add the heavy cream to the flour mixture, stirring just until a dough forms and the dry ingredients are incorporated.

Using a large spoon, gather rounds of dough onto the prepared baking sheet. You should get approximately 10 medium scones.

Brush the tops lightly with melted butter and sprinkle with additional sugar or cinnamon sugar blend. Bake 15-20 minutes, until lightly browned.
Save This Recipe to Your Recipe Box
Find this delicious recipe next time you visit by saving it to your very own recipe box on my site. All your favorites stored in one easy place!
A Personal Note
I've been baking this recipe for my family since my girls were itty bitties.
Even though I updated this recipe post to be more helpful for you, I couldn't resist keeping this original photo of my daughters enjoying my first-ever batch of peach scones during a summer vacation reading picnic.
We baked the scones, laid out a big quilt on the living room floor, piled up a big stack of library books, and enjoyed some reading time with our breakfast treat.