These super-easy blueberry scones are a perfect recipe for beginner bakers. Also featured in The Ultimate Kids' Cookbook, it is one of our reader's all-time favorite recipes.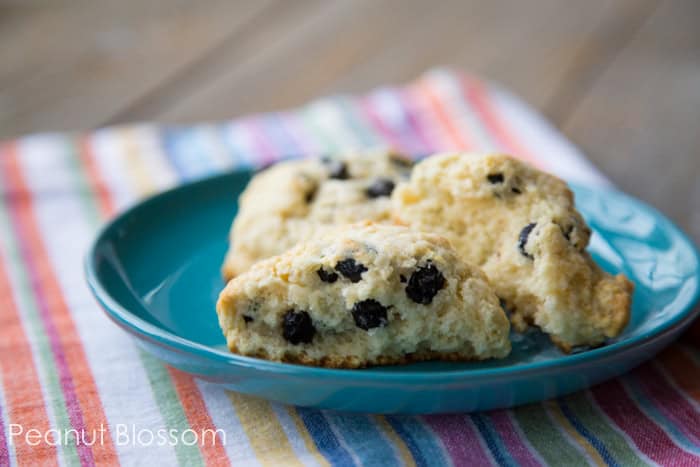 Every family has those small set of favorite recipes that get turned to again and again and again. For us, it is these amazing blueberry scones.
I've been making these blueberry scones since the dawn of this blog well over 10 years ago. As soon as my girls could help in the kitchen, it became one of their favorites to help make. It is the first recipe that the Peanut made entirely by herself with no assistance.
It is such a simple but delicious recipe, we just had to include it as one of the recipes in The Ultimate Kids' Cookbook. Readers have been sending me emails and private messages saying it is their kids' favorite recipe to make from the book. Don't have your copy yet? You can buy the book right here.
One of the main reasons we have loved this blueberry scones recipe for so many years is because all the ingredients can usually be found in my pantry ready to go. The kids will love it because the scones are so easy they can seriously be prepped and ready before your oven is preheated, which makes them bake up quickly for impatient, hungry kids!
They are the perfect side dish with some scrambled eggs and fruit for a weekend breakfast or a special treat "just because." We even use them as a homemade after school snack!
Using dried blueberries instead of fresh keeps the dough the right texture and they actually rehydrate during the cooking process. They'll be juicy and tender when you bite into a warm fresh scone. We buy the big bag at Costco and keep it on hand for scone emergencies!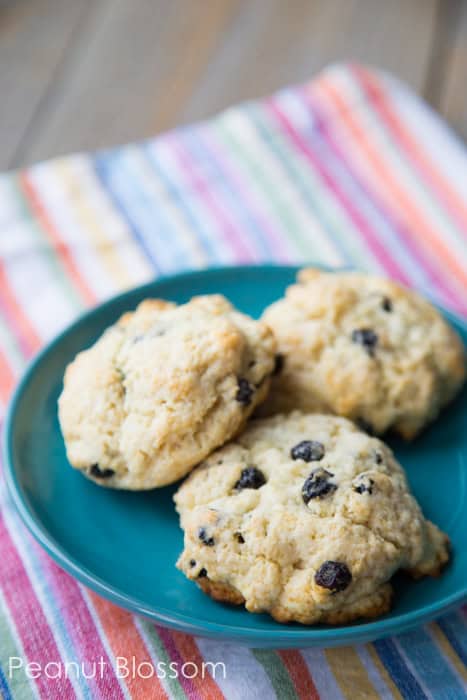 Super fast Blueberry Scones: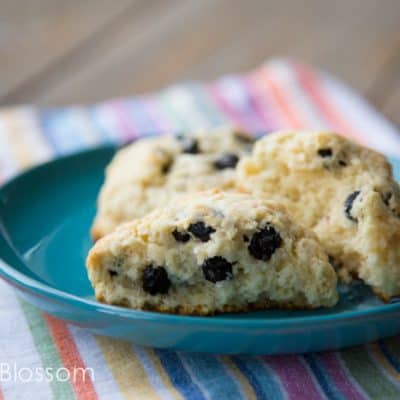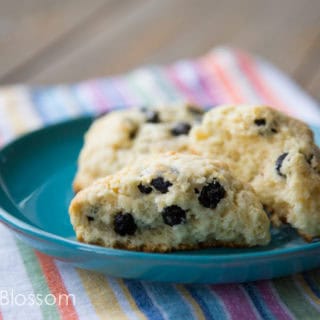 Super Fast Blueberry Scones
These super easy homemade blueberry scones are the perfect recipe for beginner bakers. Light and flaky, they are a perfect weekend brunch menu idea.
Ingredients
1½ cups plus 2 tbsp. all-purpose flour
¼ cup sugar
2 tsp. baking powder
Pinch of salt
1 cup dried blueberries (raisins or craisins would also be wonderful options)
1 cup heavy cream
2 tbsp. butter, melted
Additional sugar for sprinkling (optional)
Instructions
Preheat the oven to 375˚ F. Line a baking sheet with parchment paper or a silicone baking mat. Combine the flour, sugar, baking powder and salt in a medium bowl; stir to combine. Toss in the dried fruit and stir to blend. Add the heavy cream to the flour mixture, stirring just until a dough forms and the dry ingredients are incorporated.
Using a large spoon, drop rounds of dough onto the prepared baking sheet. Brush lightly with melted butter and sprinkle with additional sugar (if using). Bake 15-20 minutes, until lightly browned.
Looking for more easy breakfast recipes?
If you love cooking with your kids on the weekends, don't miss these family favorites: