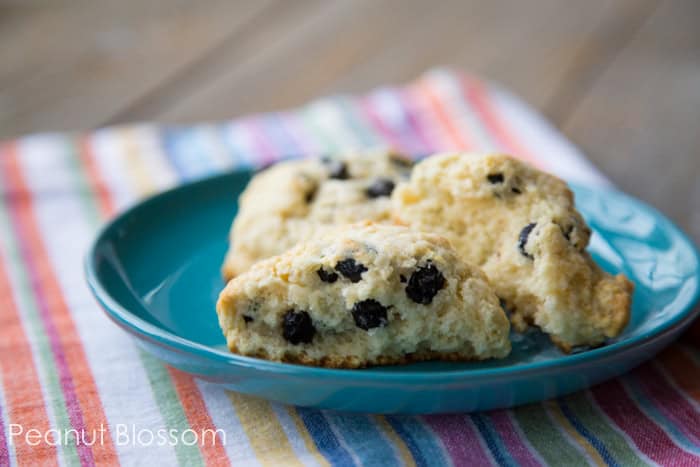 There is a recipe for blueberry scones buried deep in my archive. There was never a pretty picture for it because I shared it before I discovered my love for food photography.
A few weeks ago I realized how often we turn to this recipe so I finally decided to give it an update and shine the spotlight on it.
This recipe has been a family favorite for so many years because all the ingredients can usually be found in my pantry ready to go and the scones are so simple they can seriously be prepped and ready before your oven is preheated.
They are the perfect side dish with some scrambled eggs and fruit for a weekend breakfast or a special treat "just because." We even use them as a homemade after school snack!
Using dried blueberries instead of fresh keeps the dough the right texture and they actually rehydrate during the cooking process. They'll be juicy and tender when you bite into a warm fresh scone. We buy the big bag at Costco and keep it on hand for scone emergencies!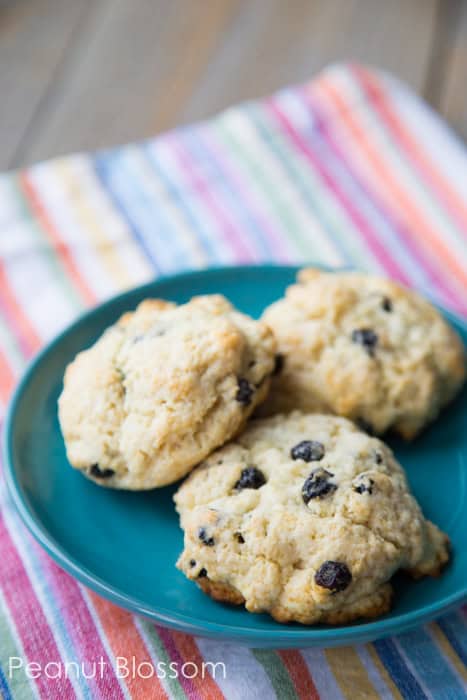 Super fast Blueberry Scones
adapted from Annie's Eats
Ingredients:
1½ cups plus 2 tbsp. all-purpose flour
¼ cup sugar
2 tsp. baking powder
Pinch of salt
1 cup dried blueberries (raisins or craisins would also be wonderful options)
1 cup heavy cream
2 tbsp. butter, melted
Additional sugar for sprinkling (optional)
Method:
Preheat the oven to 375˚ F.  Line a baking sheet with parchment paper or a silicone baking mat. Combine the flour, sugar, baking powder and salt in a medium bowl; stir to combine.  Toss in the dried fruit and stir to blend. Add the heavy cream to the flour mixture, stirring just until a dough forms and the dry ingredients are incorporated.
Using a large spoon, drop rounds of dough onto the prepared baking sheet.  Brush lightly with melted butter and sprinkle with additional sugar (if using).  Bake 15-20 minutes, until lightly browned.