These super easy blueberry scones are a perfect recipe for beginner bakers. The dough is light and flaky and the blueberries are bursting with flavor. The scones are ready in less than 10 minutes, often before your oven is even preheated!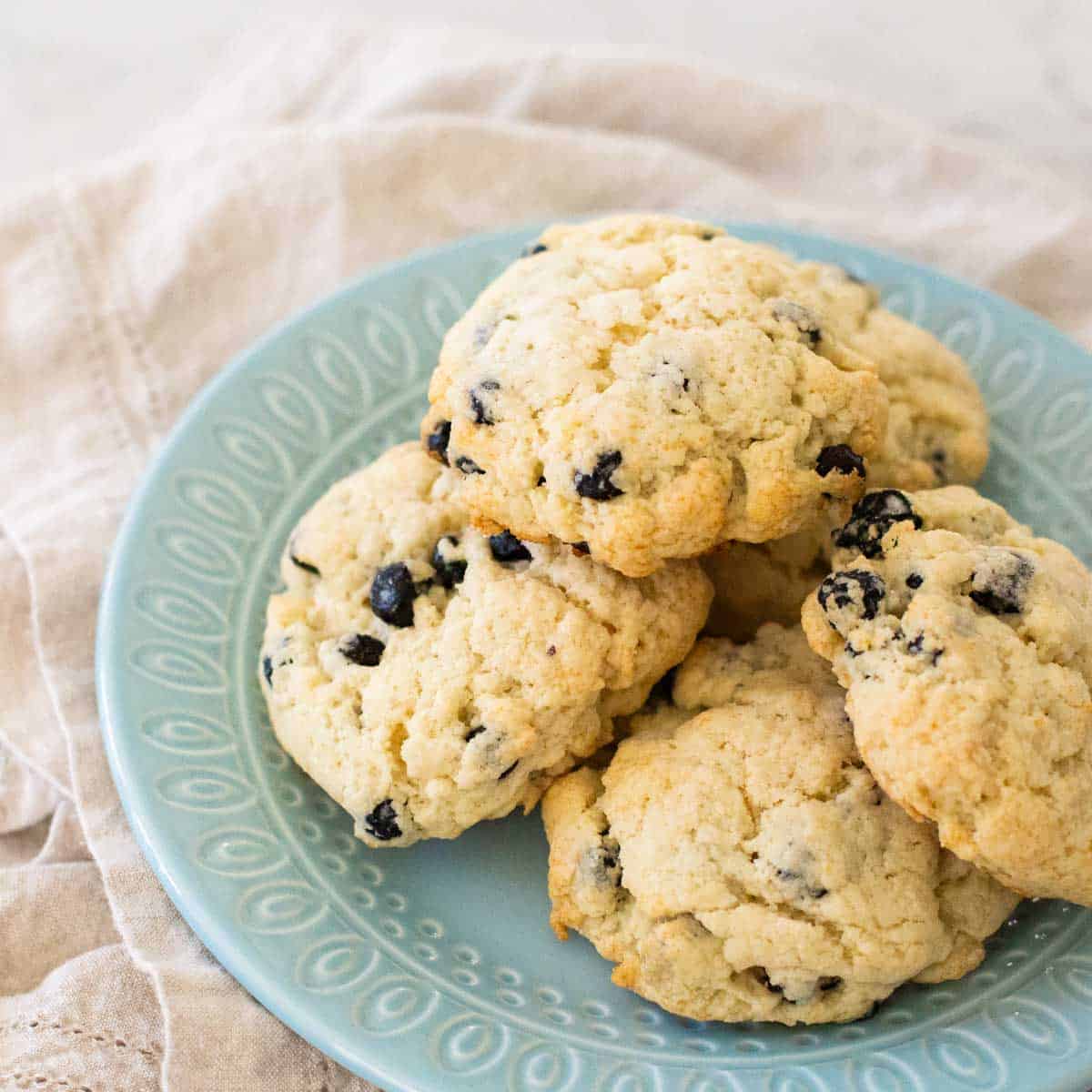 I've been making these blueberry scones since the dawn of this blog well, well over a decade.
As soon as my girls could help in the kitchen, it became one of their favorites to help bake. It is the first recipe that the Peanut made entirely by herself with no assistance.
One of the main reasons we have loved this blueberry scones recipe for so many years is because all the ingredients can usually be found in my pantry ready to go.
The kids love it because the scones are so easy they can seriously be prepped and ready before your oven is preheated, which makes them bake up quickly for impatient, hungry kids!
They are the perfect side dish with some scrambled eggs and fruit for a weekend breakfast or a special treat "just because."
We even use them as a homemade after school snack!

P.S. This is such a simple but delicious recipe, we just had to include a cherry almond variation in The Ultimate Kids' Cookbook. Readers have been sending me emails and private messages saying it is their kids' favorite recipe to make from the book.
Don't have your copy yet? You can buy the book right here.
Jump to:
Why This Is the Best Recipe
So many blueberry scone recipes are overly fussy and not practical for baking with kids.
This is the very best easy blueberry scone recipe because:
FAST: You can have the scones ready before the oven is even finished preheating.
EASY: Everything is mixed in one bowl in two steps.
LIGHT & FLAKY: My scones are so light and flaky, they crumble perfectly as you bite into them and are filled with a soft buttery flavor.
Ingredients
Keep this short list of items in your pantry and fridge and you're ready for warm, fresh baked scones at a moment's notice!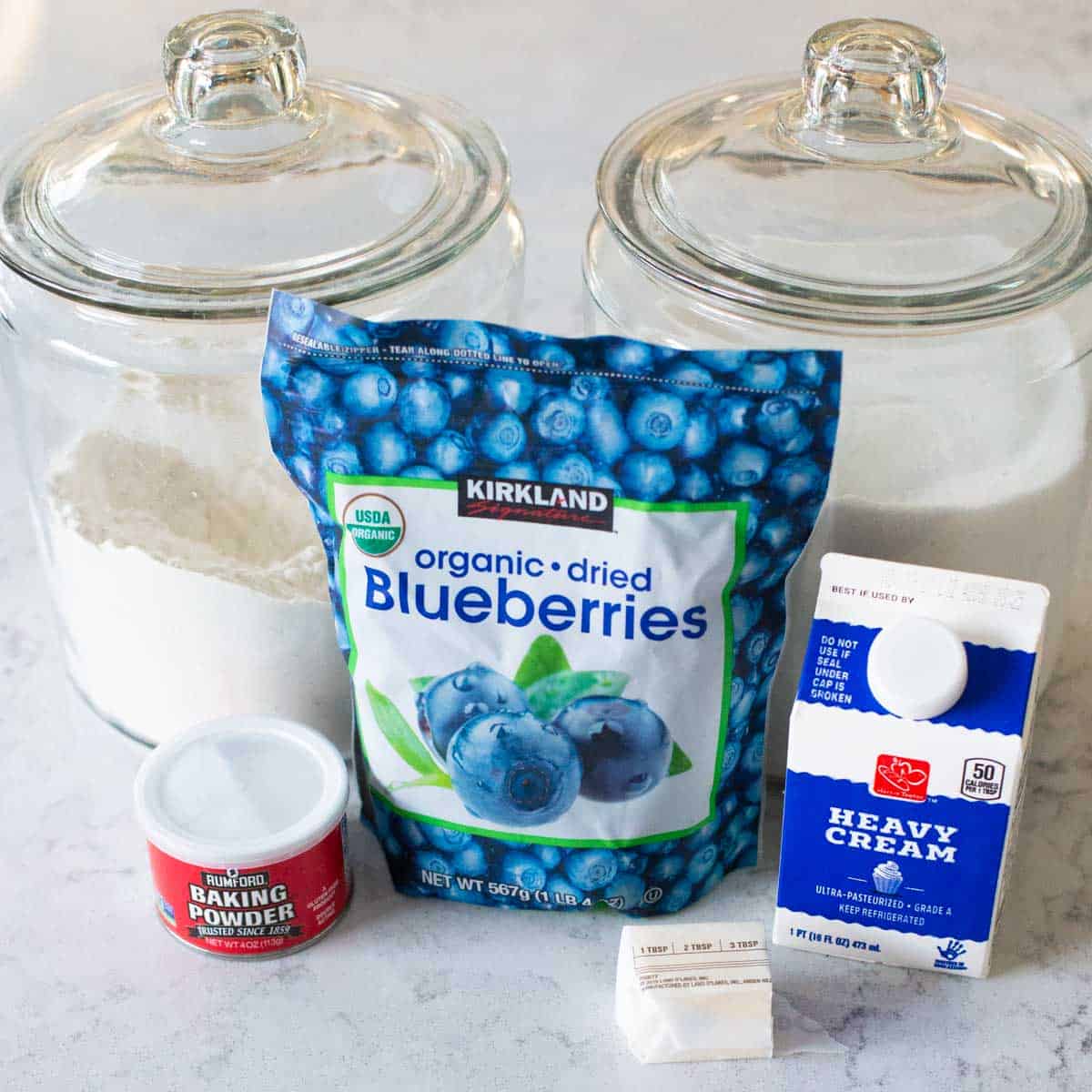 Dried Blueberries: I always buy the big budget-friendly bag of dried blueberries during my trip to Costco. Using dried blueberries instead of fresh keeps the dough the right texture and they actually rehydrate during the cooking process. They'll be juicy and tender when you bite into a warm fresh scone. Plus, they won't turn your scone dough purple.
Pantry Basics: Flour, Sugar, Baking Powder
From the Fridge: Heavy cream and butter
Be sure to read about emergency substitutions for heavy cream below.
How to Make the Scones
Preheat the oven to 350°F.
In one large mixing bowl, add all the dry ingredients: flour, sugar, baking powder, and the dried blueberries.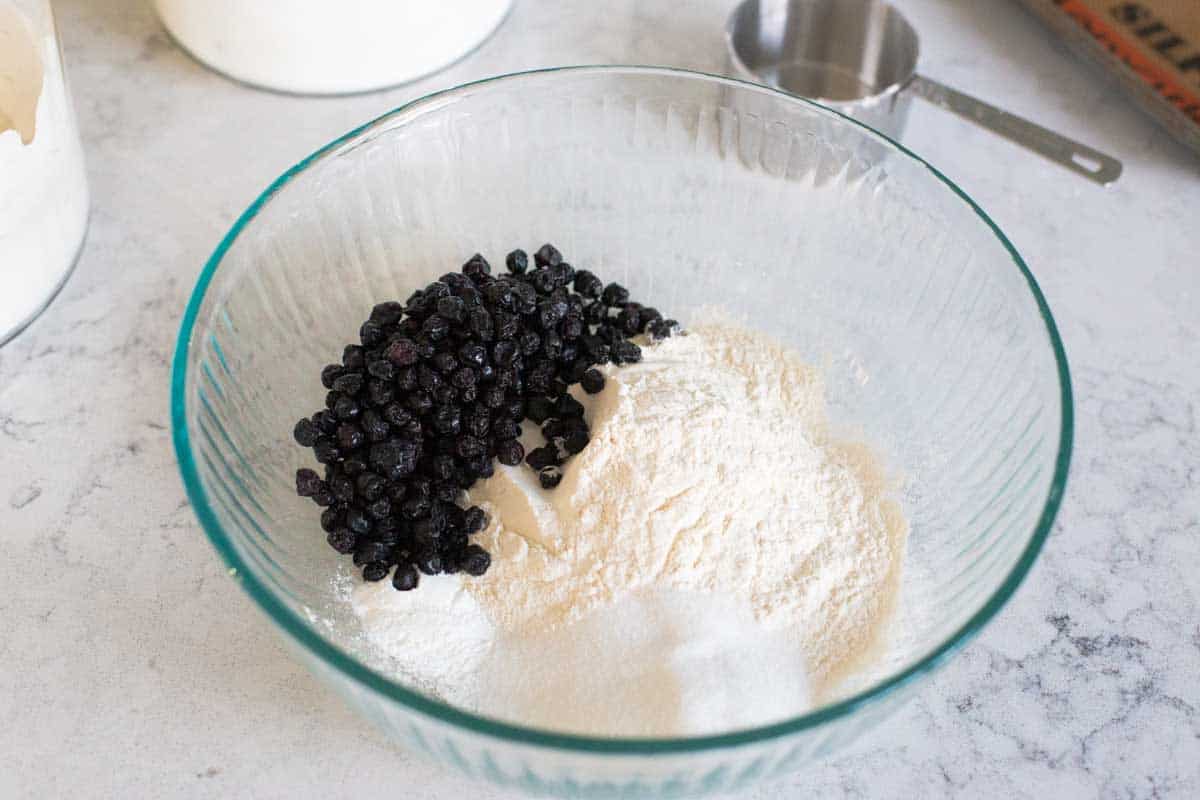 Mix them together with a spatula until the blueberries are evenly distributed.
TIP: Coating them in flour helps prevent them from sinking to the bottom of the scone later as it bakes.
Pour in the heavy cream over the dry ingredients and stir together until no dry pockets remain. You may find it easiest to do the final blending with your fingers.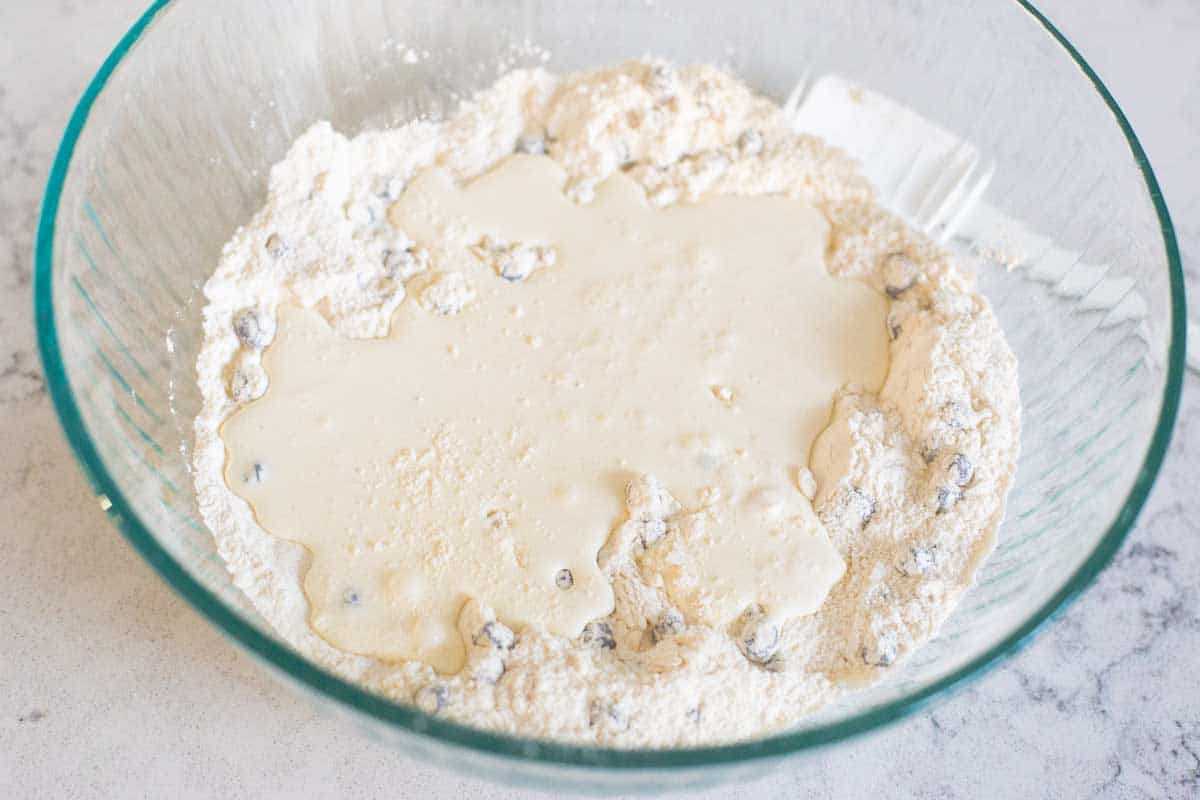 This scone dough will make 8 - 10 blueberry scones if you scoop the portions with a ¼ cup measuring cup.
I roughly scoop the scone portion with the cup, turn it out into my hands, and gently squeeze/press it into a round scone shape.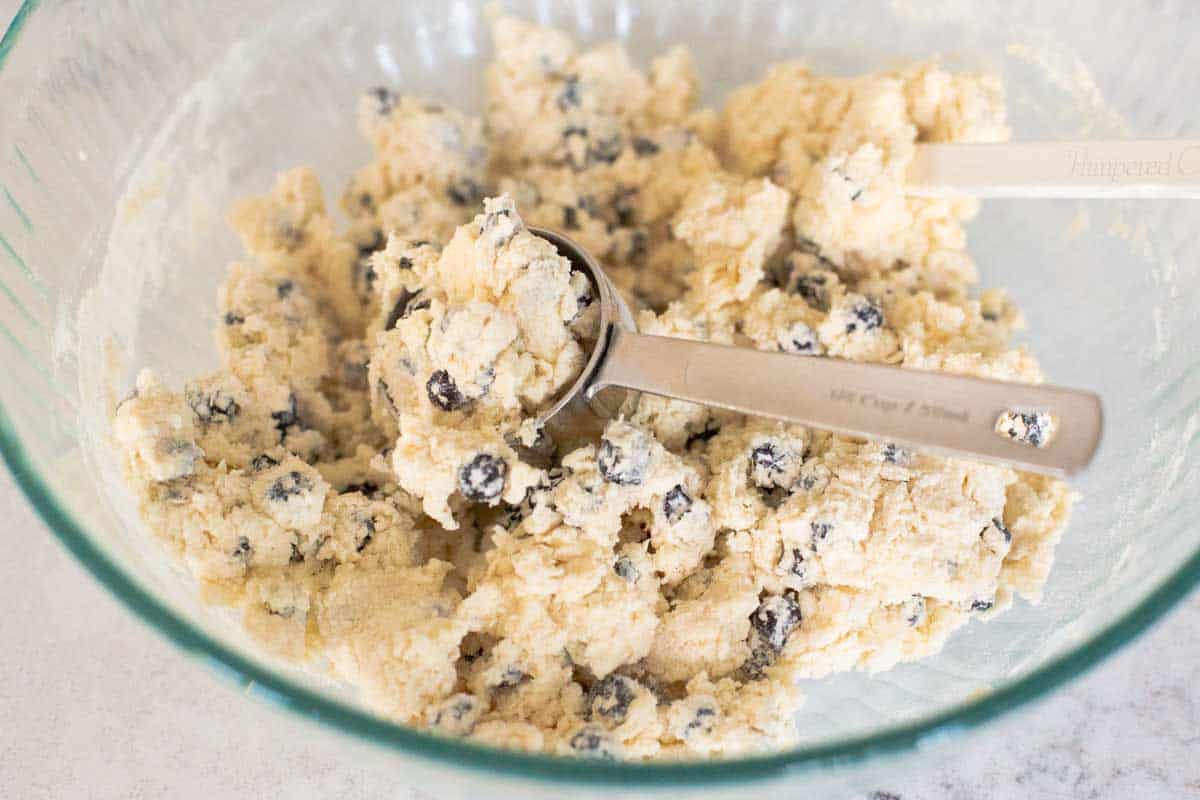 Don't over-handle the dough. It's ok to press and squeeze so the rough, slightly shaggy dough becomes a solid scone, but if you work it too much, the scones could get rough.
Lightly handle each portion and only pat it as much as is necessary to form their shapes to look like this: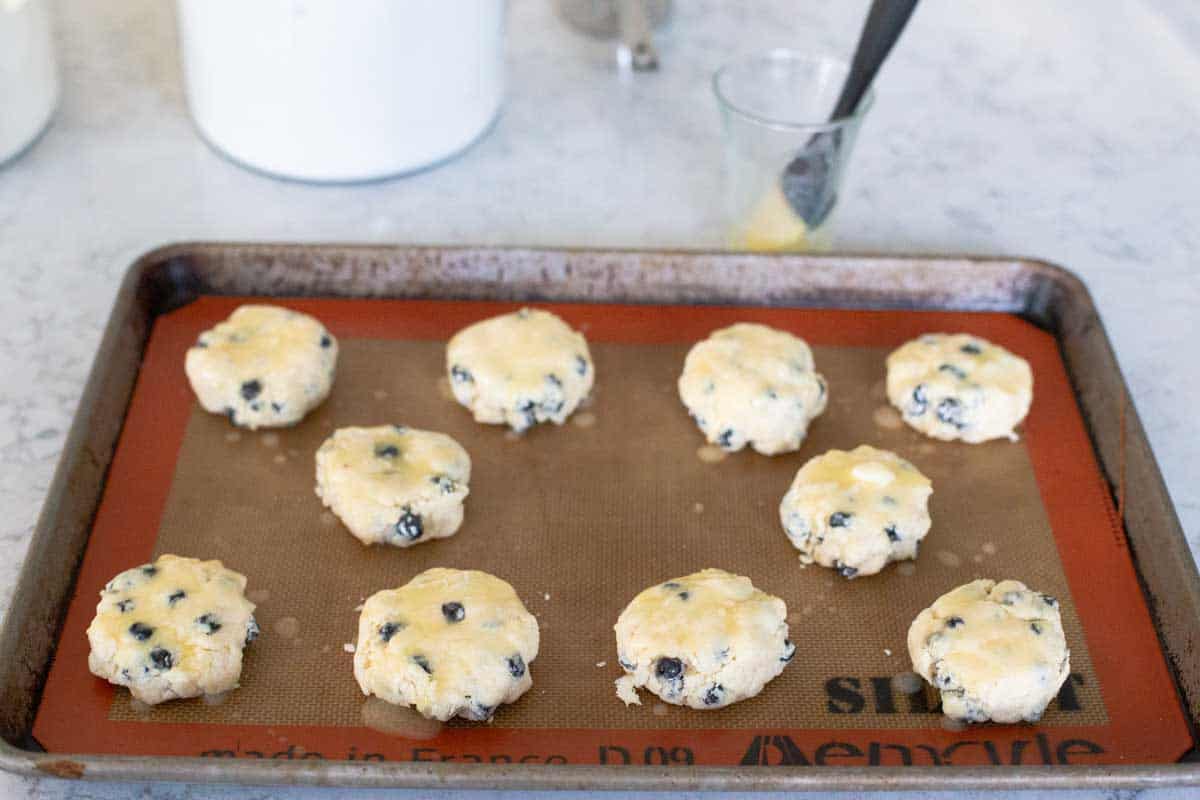 Brush melted butter over the top of each scone. Then sprinkle a dusting of sugar over the top.
This adds a lovely bit of sweetness to each scone and a tiny sparkle to the baked scone.
Bake the pan for 14 - 16 minutes or until the scones are slightly toasted looking. They won't get very dark.
See how the dried blueberries plump up in the oven?? YUM!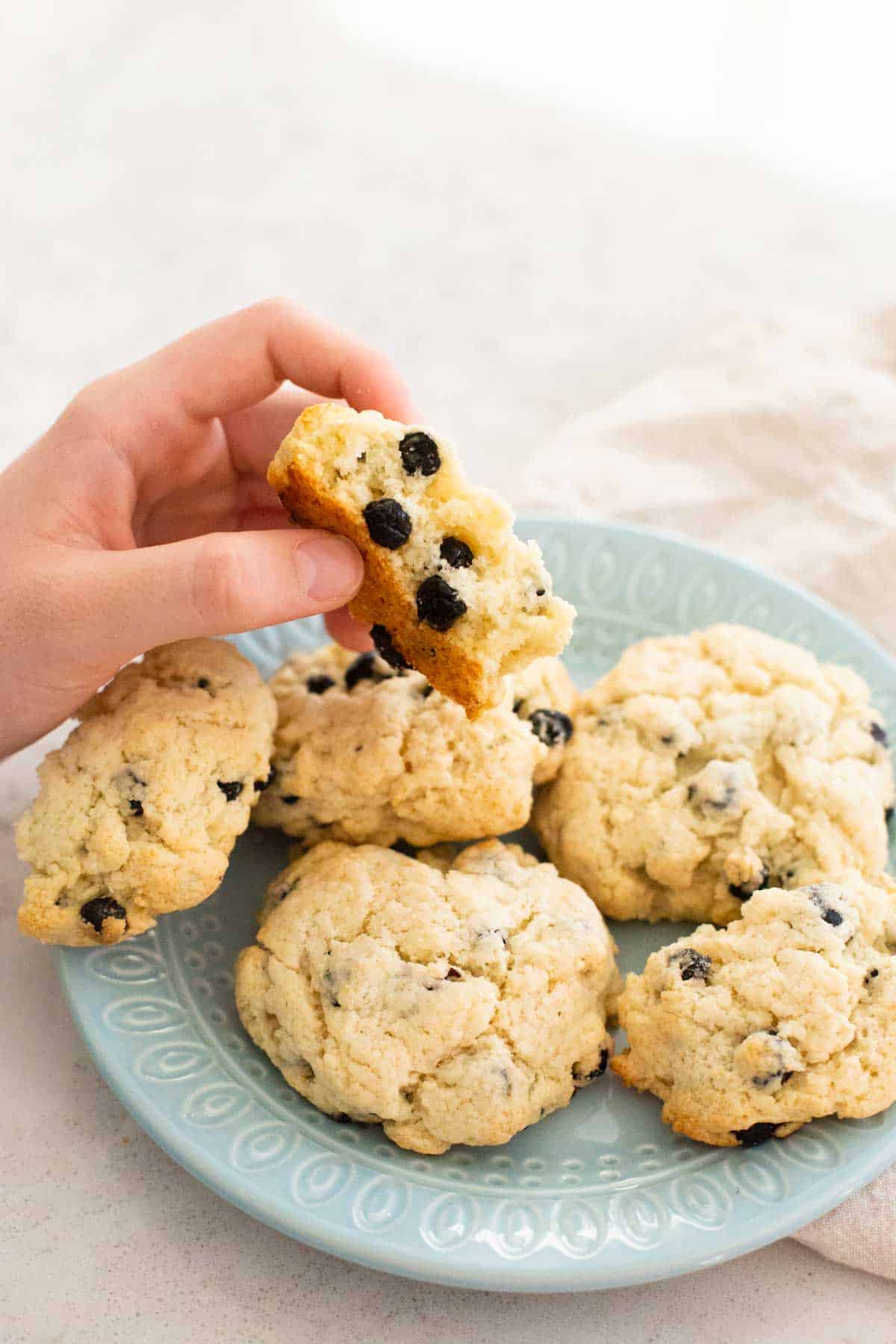 Easy Tips for Quick Baking
While other scone recipes call for the fussy step of shaving butter, this recipe is perfect for baking with kids because it mostly just requires a bit of stirring.
If you want to make this easy recipe go even faster, you could pre-measure single batches of the flour, sugar, baking powder, and dried blueberries and keep them stored in mason jars.
When it is time to bake, simply pour the mix into your bowl, add the cream, form and bake.
This would make an amazing gift idea for teachers or neighbors during the holidays, too!
Storage Tips
Homemade scones are always their best on the day they've been baked, especially fresh out of the oven while they're still warm.
You can store completely cooled blueberry scones in an airtight container for 3 - 4 days.
You may wish to reheat the scone in a toaster oven to help restore some of it's texture.
Baked scones can also be frozen for several months. Place thawed scones on a baking pan and heat them for 2 minutes before serving.
FAQ
Can I use milk instead of cream in scones?
The heavy cream is what gives these scones their buttery, rich flavor. If you don't have cream on hand, you can use a mixture of milk and melted butter in it's place. Simply measure 1 cup of milk, minus two tablespoons. Melt two tablespoons of butter and stir it into the milk. Then, prepare the scones as directed.
Can buttermilk be used instead of heavy cream?
If you enjoy a tangier taste to your homemade scones, you could consider replacing the heavy cream with buttermilk. Simply measure 1 cup of buttermilk, minus two tablespoons. Melt two tablespoons of butter and stir it into the buttermilk. Then, prepare the scones as directed.
Can you make scones and bake the next day?
Yes, you can form the homemade scones and prepare them on a baking tray for baking the next morning. This is especially useful for holidays like Christmas or Easter mornings. Assemble the scones and store in the fridge. Be sure to wrap the entire pan in plastic wrap so the scone dough doesn't dry out in the fridge overnight. Be sure to bake the scones within 24 hours.
Should you rest scones before baking?
We've never taken the time to let our scones rest before baking. Usually they are ready to go in the oven as soon as it is preheated.
More Easy Breakfast Treats
If you love cooking with your kids on the weekends, don't miss these family favorites:
If you've tried these blueberry scones or any other recipe on PeanutBlossom.com please don't forget to rate the recipe and let me know where you found it in the comments below. I love hearing from you!
FOLLOW along on Instagram @peanut.blossom as well as on Pinterest and Facebook.
📖 Recipe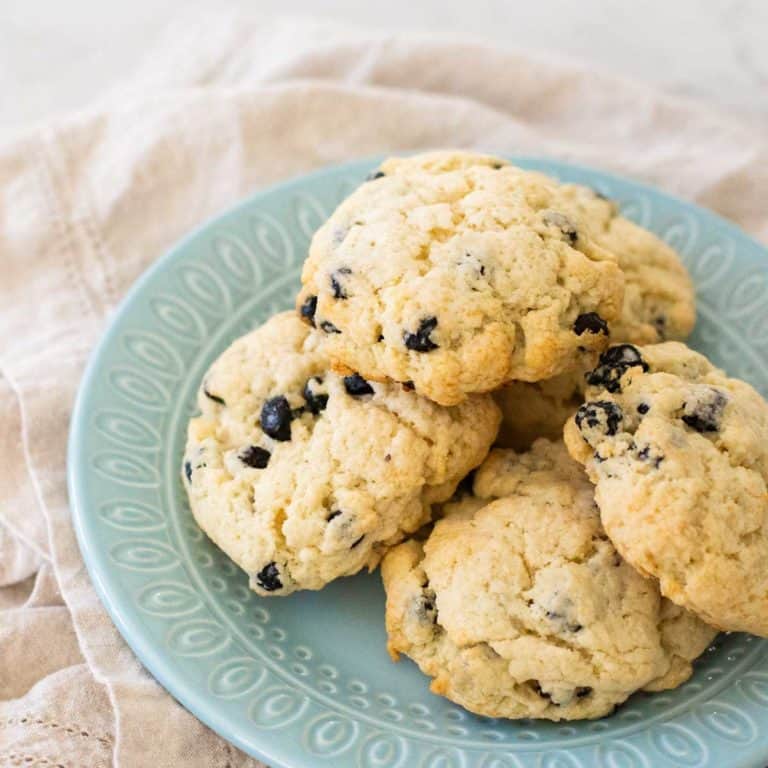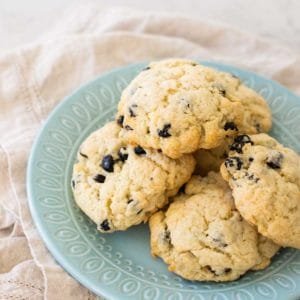 Super Fast Blueberry Scones
These super easy homemade blueberry scones are the perfect recipe for beginner bakers. Light and flaky, they are a perfect weekend brunch menu idea.
Ingredients
1½

cups

plus 2 tbsp. all-purpose flour

¼

cup

sugar

2

teaspoon

baking powder

Pinch

of salt

1

cup

dried blueberries

1

cup

heavy cream

2

tablespoon

butter

melted

Additional sugar for sprinkling

optional
Instructions
Preheat the oven to 375˚F.  Line a baking sheet with parchment paper or a silicone baking mat.

Combine the flour, sugar, baking powder and salt in a medium bowl; stir to combine.  

Toss in the dried fruit and stir to blend.

Add the heavy cream to the flour mixture, stirring just until a dough forms and the dry ingredients are incorporated.

Using a large spoon, drop rounds of dough onto the prepared baking sheet.  

Brush lightly with melted butter and sprinkle with additional sugar (if using).  

Bake 15-20 minutes, until lightly browned.
Save This Recipe to Your Recipe Box
Find this delicious recipe next time you visit by saving it to your very own recipe box on my site. All your favorites stored in one easy place!