Cherry freezer jam is the perfect beginner recipe for preserving fresh cherries this season. This easy recipe keeps in the freezer for 12 months and is the best topping for waffles, pancakes, biscuits, and toast.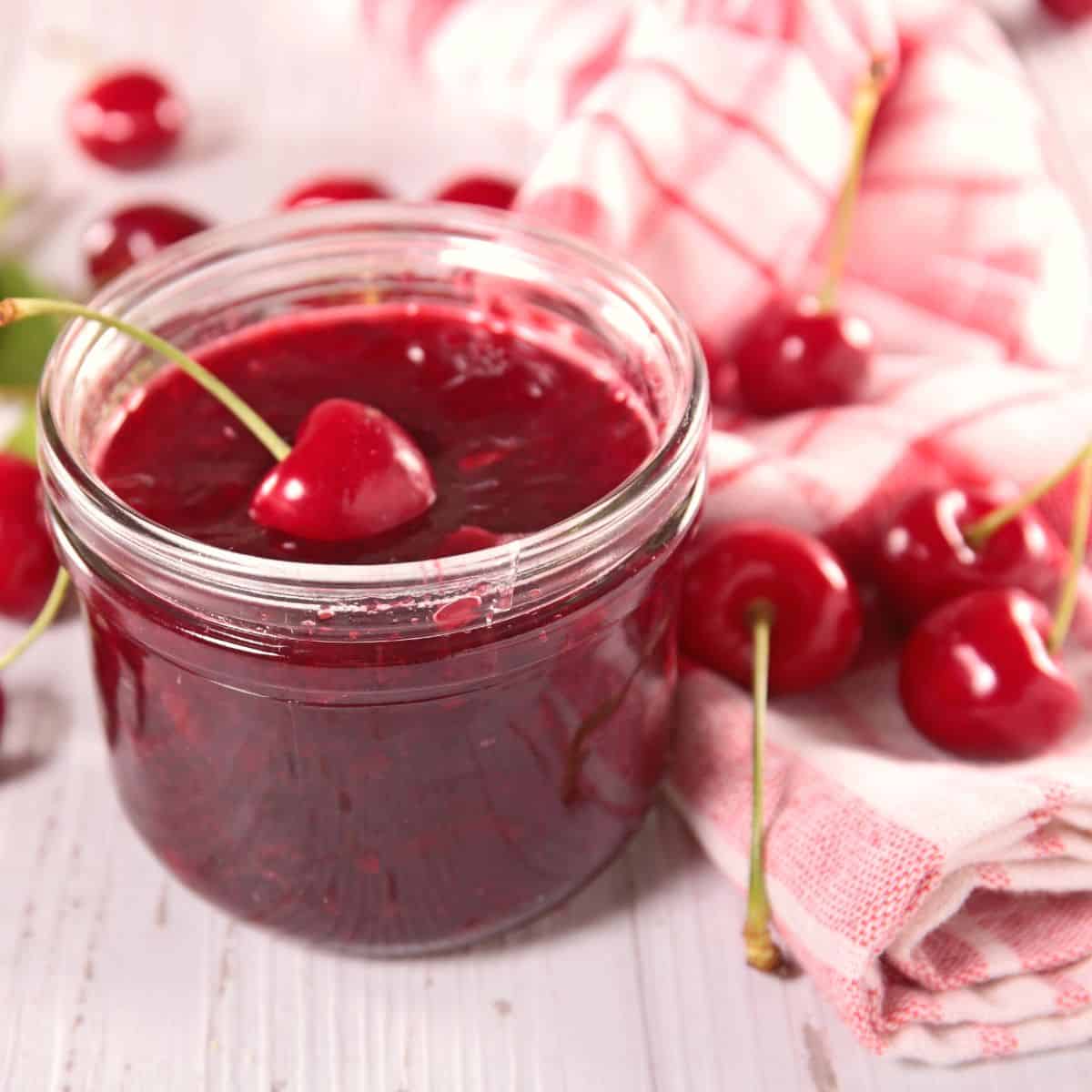 I'm a collector of fresh cherry recipes because I'm always looking for new ways to use the giant 20-pound box of fresh cherries from my husband's uncle every summer!
This easy cherry freezer jam combines the flavors of my favorite cherry crisp recipe and the simplicity of my strawberry freezer jam into a delicious topping for toast or pancakes all year long.
Even if you've never made homemade jam before, you will love how easy it is to make freezer jam.
The best part is you don't need to worry about sterilizing mason jars, you can use whatever freezer-safe container you have handy!
Jump to:
Why This is the Best Recipe
This is the best cherry jam recipe because:
Freezer Jam is Best: You don't need to worry about sterilizing jars or cooking the fruit to a certain temperature. If you can measure and stir, you'll be able to make this recipe!
Roasted Cherries are Extra Delicious: This freezer jam recipe does include one additional step compared to my other recipes, we roast the cherries in sugar before making them into jam. It takes just 25 minutes in the oven and is very easy but deepens the cherry flavor and improves the texture of the jam.
A Touch of Almond: A little bit of almond extract makes this jam taste just like cherry pie to me. If you have a nut allergy, this is an optional ingredient that can be left out or substituted.
Ingredients
The most important ingredients for this cherry jam is to start with fresh cherries: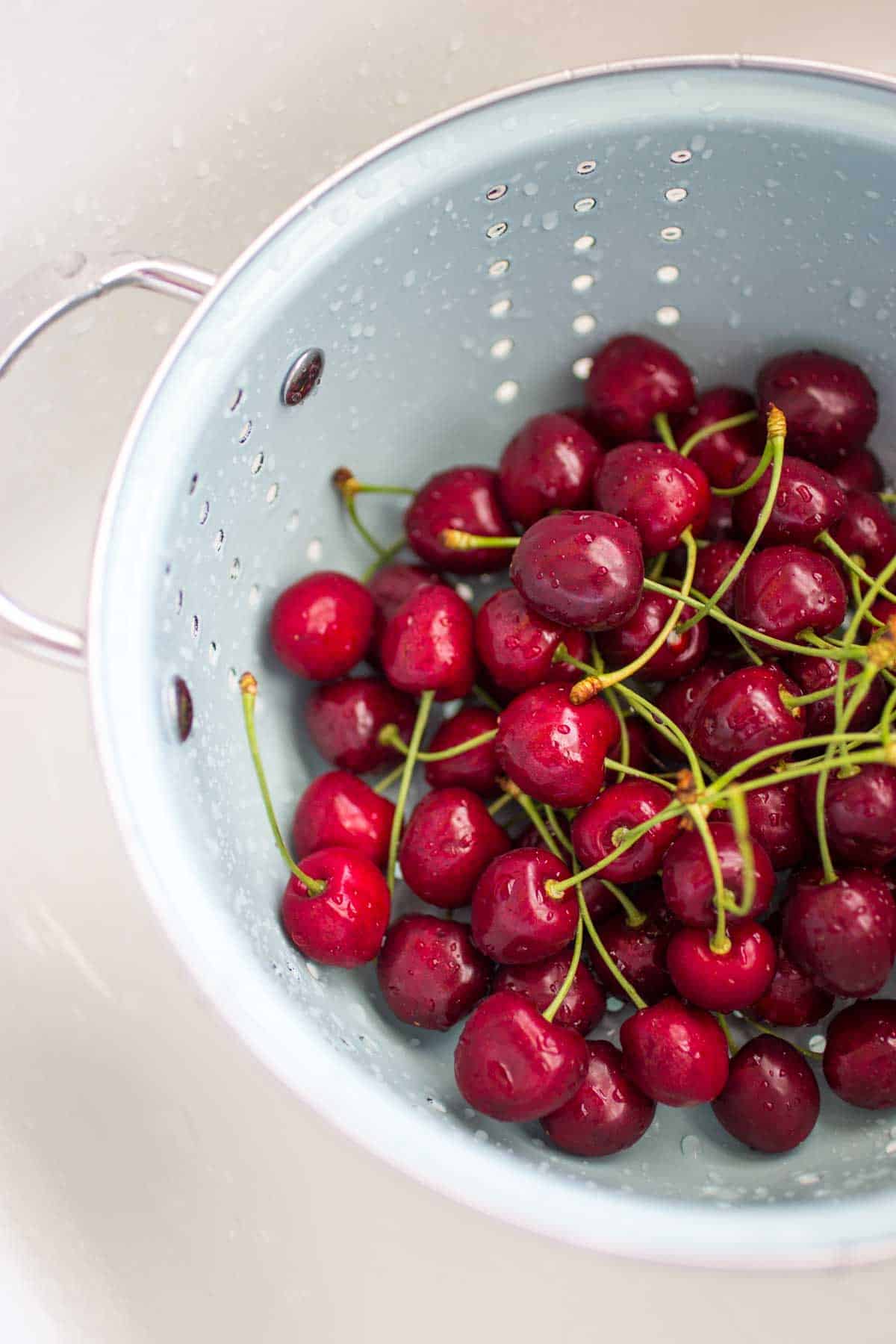 Beyond that, the list of ingredients is really very simple:
Sugar
Lemon
Sure Jell Original Pectin
Almond Extract (optional)
Substitutions & Variations
If you have a nut allergy and don't want to include the almond extract, you could substitute vanilla extract or simply leave it out.
You could substitute a lime for the lemon if you want to try a cherry limeade inspired freezer jam.
You could sprinkle in 1 teaspoon cinnamon along with a pinch of nutmeg, ginger, allspice, or cloves for a fall-spice inspired jam.
Add 1 teaspoon or so of basil, thyme, or mint if you plan to use the jam for savory appetizers with a spread of goat cheese like my strawberry bruschetta or peach salsa crostini.
Best Pectin for Freezer Jam
To make homemade freezer jam, I strongly recommend buying a box of SureJell Original Pectin.
The pectin is also sold in canisters, but I have found that the pre-measured boxes of pectin work far better than when I try to measure it myself.
I always buy the kind that comes in the yellow box, it is not listed specifically as "freezer jam pectin."
I have tested the pectin that is sold for lower-sugar recipes and I'm not generally a fan for how well they set. We prefer the classic version of the recipe with the full sugar amount.
Roast the Cherries
The first step to making the cherry freezer jam is to roast the cherries.
This step takes just 1 minute to prep and 25 minutes to bake.
It is worth your time and effort because it deepens the cherry flavor and helps soften the berries which definitely improves the texture of the final cherry jam.
Simply preheat the oven to 400°F. Toss the cherries with sugar and bake for 25 minutes.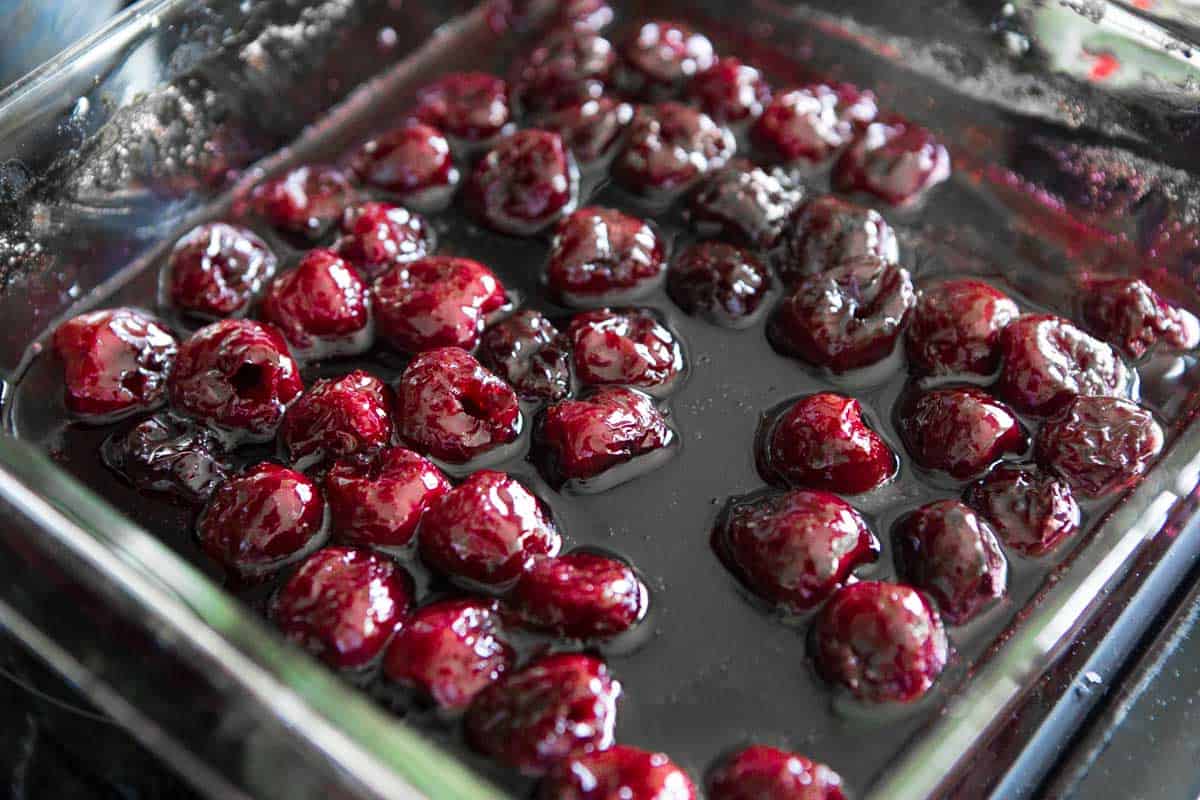 Prep the Freezer Jam
Once the roasted cherries have cooled, scrape them into a mixing bowl.
Add additional sugar, the fresh lemon juice and almond extract to the bowl and stir them together.
Combine the SureJell pectin with water in a sauce pan and bring it to a boil. Cook for just 1 minute and add the mixture to the cherries.
Stir for 3 minutes and transfer to freezer-safe containers for storage. (See notes below).
Let the covered containers of cherry jam sit on the counter for 24 hours before placing in your freezer.
Storage Tips
I prefer to use freshly cleaned 1-cup mason jars with screwtop lids for my freezer jam storage.
Before I even begin my recipe, I wash and dry the jars and line them up on the counter so they are ready for filling with the prepared jam.
Always leave extra space at the top of the jar for the jam to expand as it freezes. If you fill them completely, the glass will break in the freezer.
The jam keeps well for 12 months.
Simply keep the current cherry jam you're using in the fridge so it comes to a spreadable temperature. It will keep in the fridge for up to 3 weeks.
Serving Suggestions
I use cherry freezer jam as a delicious topping for homemade buttermilk waffles.
It is also delicious served with a slice of toasted almond poppy seed bread or this easy challah recipe.
You could also make a batch of this easy crostini recipe. Spread each toast with softened goat cheese and top with a dollop of cherry freezer jam and a little fresh basil for a deliciously easy appetizer.
More Freezer Jam Recipes
Once you've made this easy cherry freezer jam, you're going to be so excited to try your hand at other delicious freezer jam recipes.
Don't miss my favorite no cook blackberry freezer jam, the classic strawberry freezer jam, or my summertime favorite peach vanilla bean jam.
📖 Recipe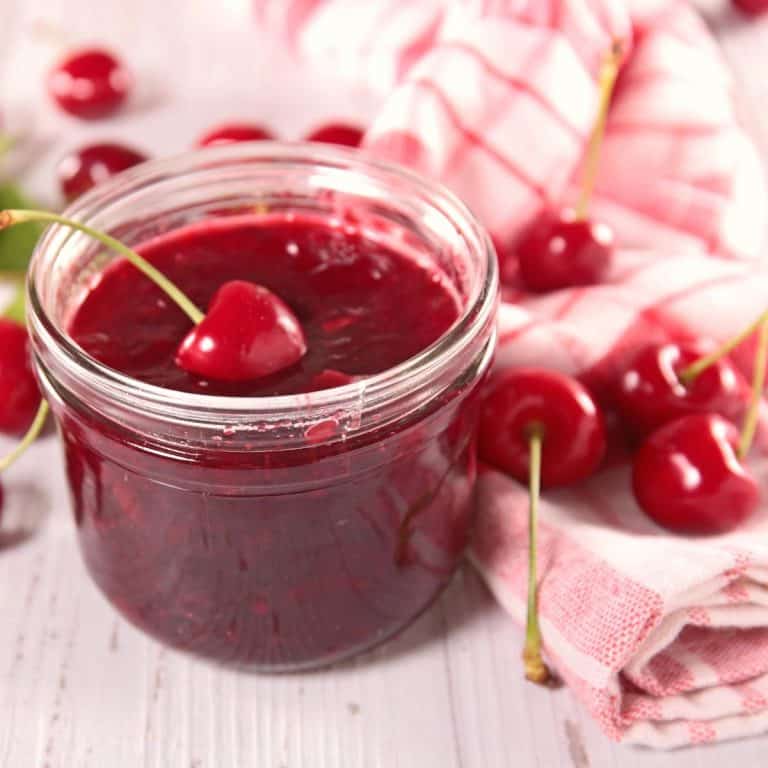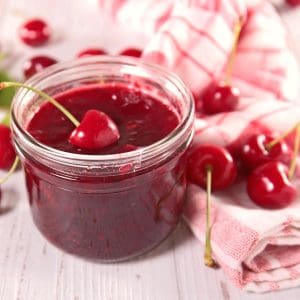 Cherry Freezer Jam
Easy roasted cherries develop an even sweeter taste and are made into a delicious cherry freezer jam in just minutes. A dash of almond extract makes this cherry jam taste even better than pie filling!
Ingredients
To Prep the Cherries:
5 - 6

cups

fresh cherries

washed and pits removed

1 ⅓

cup

sugar
To Make the Jam:
2 ⅓

cups

sugar

Juice of ½ lemon

¼

teaspoon

almond extract

1

(1.75 oz) box Sure Jell Original Premium Fruit Pectin

¾

cup

water
Instructions
Preheat the oven to 400°F. Toss the cherries in sugar in an 8x8 baking dish. Bake for 25 minutes, stirring half way through. Mash the cherries into a chunky sauce and let cool.

Scrape the cherry sauce into a large mixing bowl and add the remaining sugar, lemon juice, and almond extract to the roasted cherries. Stir everything together and let sit for 10 minutes.

Add the packet of SureJell and water to a small sauce pan and stir them together. Bring the mixture to a boil and cook for 1 minute. Immediately pour the mixture into the prepared cherries and stir for 3 minutes.

Immediately transfer the cherry jam to the prepared storage containers. Let them sit on the counter for 24 hours before freezing.
Recipe Notes
Variations:
We love how the almond extract is reminiscent of our favorite cherry crisp recipe but you can easily leave it out or substitute it with an equal amount of vanilla extract.
You could also substitute lime juice for the lemon for a cherry limeade inspired freezer jam.
Save This Recipe to Your Recipe Box
Find this delicious recipe next time you visit by saving it to your very own recipe box on my site. All your favorites stored in one easy place!