This easy summer appetizer is perfect for strawberry season! Fresh strawberries and basil top a homemade crostini spread with tangy goat cheese.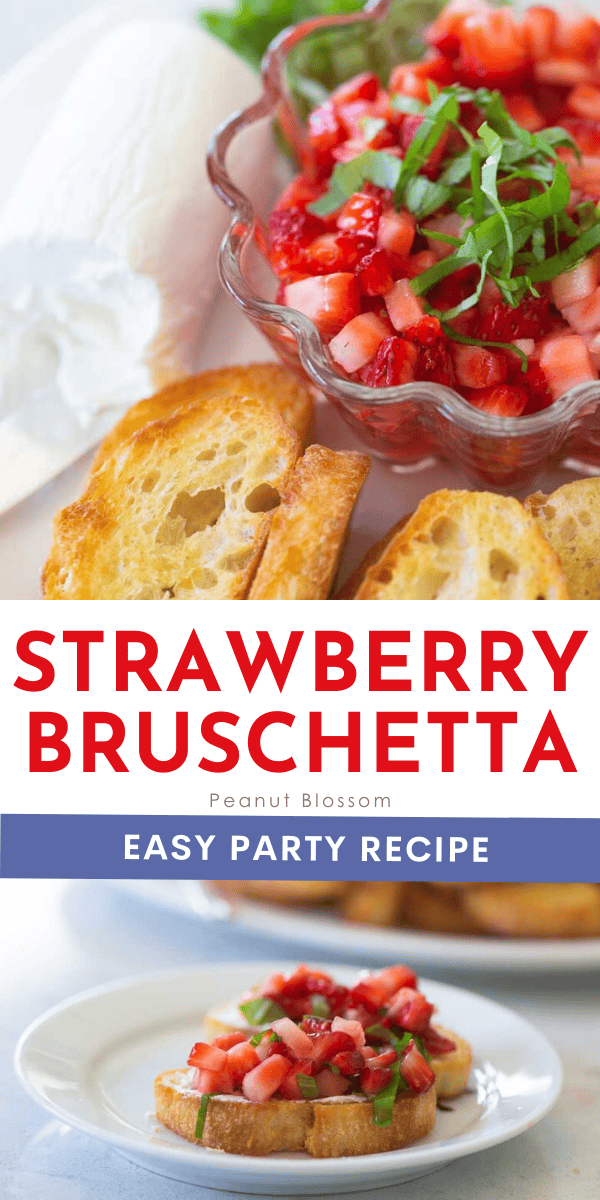 Once strawberries are in season, I'm just eager to use them for anything and everything. They are by far our family's favorite fruit.
Years ago, I stumbled across a recipe for fresh strawberry basil bruschetta that stopped me in my tracks. I'm a huge fan of the original tomato variety of bruschetta and I wasn't sure what to think of a sweet strawberry topped crostini instead.
We gambled with it and I made a batch. My husband and I ended up enjoying it for a light but totally satisfying dinner. It appears at our table at least once a year!
If you're hosting a summer party or a simple evening of cocktails with friends, this appetizer takes just minutes to whip together and serve.
Or if you're looking for something different, it would make a fun lunch to serve this summer, too!

How to make easy strawberry bruschetta: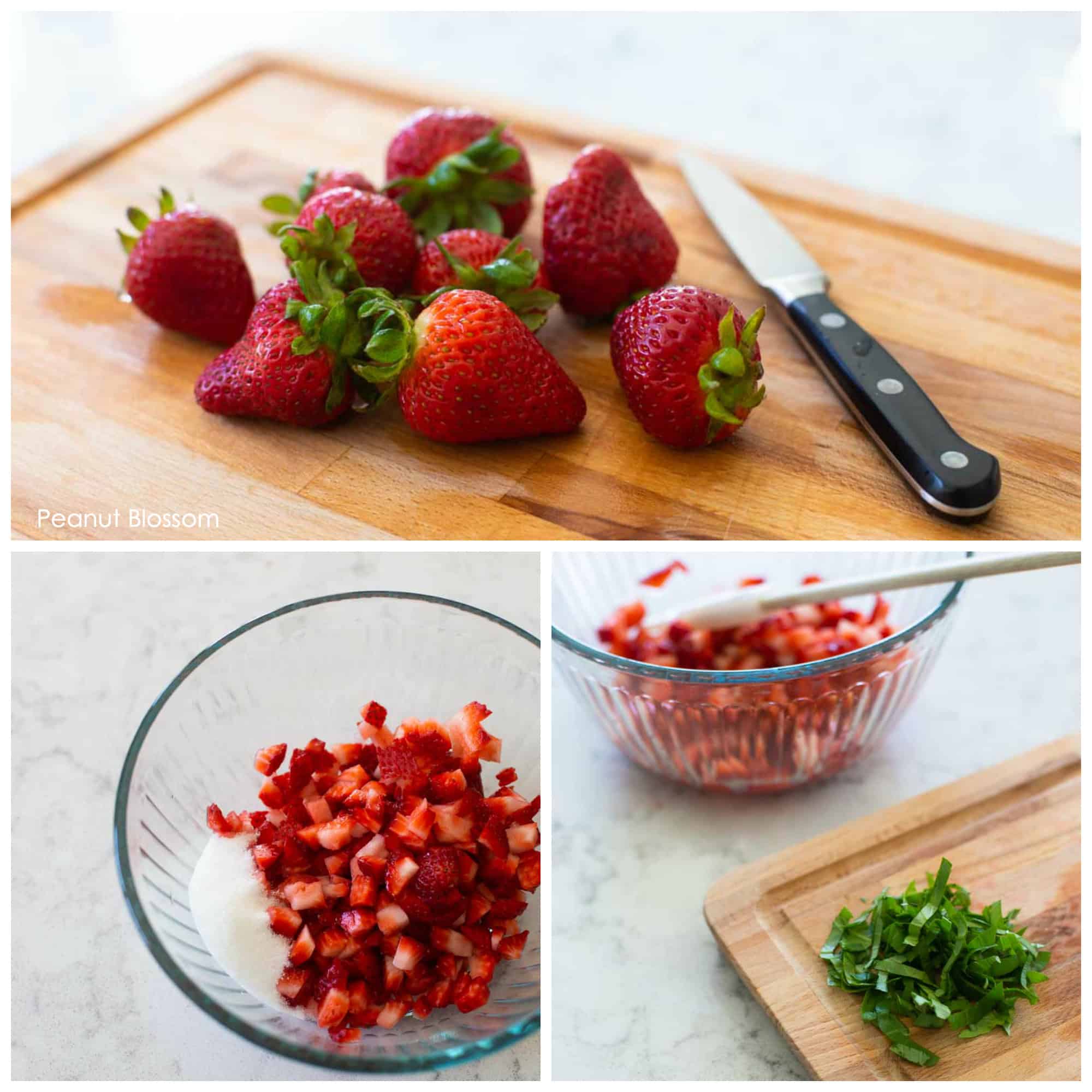 This recipe is so crazy easy, even kids could make this for a simple party snack!
The biggest trick is to cut the fresh strawberries small enough. Use a paring knife and trim the leafy top off.
Then, slowly slice the berry and cut it into tiny minced pieces. Add them to a bowl as you go.
Toss the strawberries with 1 tablespoon of sugar and let them macerate--a fancy word for "let the juices start to flow."
Chop up several leaves of fresh basil. You can stir it into the berry mixture or sprinkle it on top for garnish. I personally prefer it stirred in.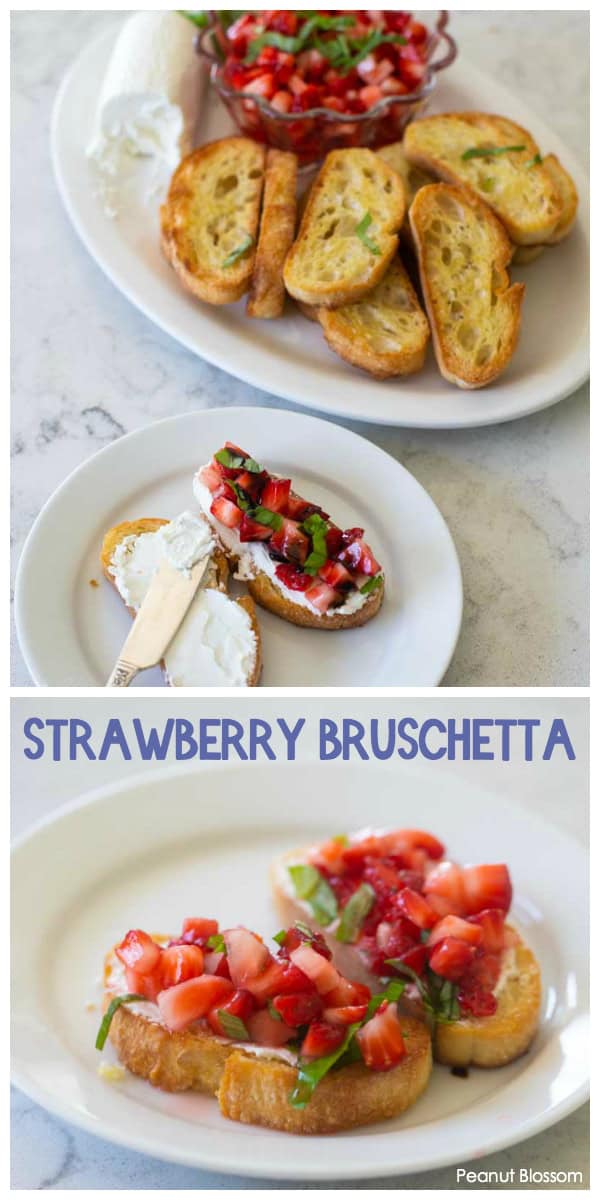 To serve the strawberry bruschetta, you will need:
4 oz of goat cheese at room temperature
A batch of homemade crostini (or store bought crostini, but homemade only adds about 10 minutes and is SO worth it!)
A bottle of balsamic vinegar OR a bottle of Trader Joe's balsamic Glaze which is far thicker and easier to drizzle
You spread a layer of goat cheese on the crostini, top with a spoonful or two of the strawberries, and then drizzle the balsamic or Glaze over the top.
Easy peasy! And, it makes for a fun interactive appetizer that your guests can top however they choose.
The creamy, tangy goat cheese topped with the sweet strawberries and that acidic balsamic vinegar is one of my very favorite flavor pairings.