Easy strawberry bruschetta is an delicious summer appetizer perfect for strawberry season! Fresh strawberries and basil top a homemade crostini spread with tangy goat cheese.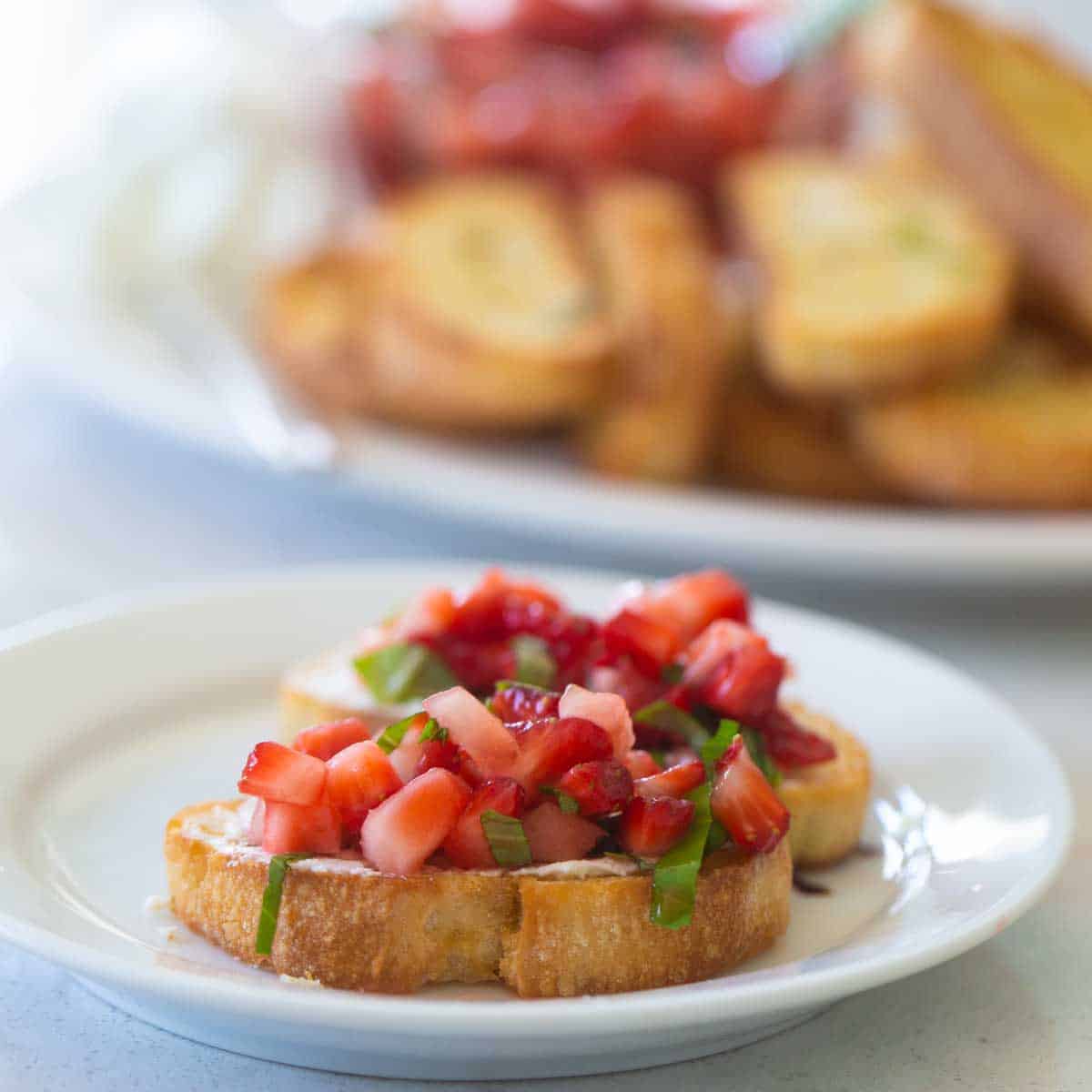 Once strawberries are in season, I'm just eager to use them for anything and everything. They are by far our family's favorite fruit and I collect fresh strawberry recipes like they're going out of style.
Years ago, I stumbled across a recipe for fresh strawberry basil bruschetta that stopped me in my tracks. I'm a huge fan of classic tomato bruschetta and I wasn't sure what to think of a sweet strawberry topped crostini instead.
We gambled with it and I made a batch. My husband and I ended up enjoying it for a light but totally satisfying dinner. It appears at our table at least once a year!
If you're hosting a summer party or a simple evening of cocktails with friends, this appetizer takes just minutes to whip together and serve.
Or if you're looking for something different, it would make a fun lunch to serve this summer, too!
Jump to:
Why This is the Best Recipe
In the summer, easy appetizers are great to have ready for backyard entertaining but I also love to make them a light dinner when it's too hot to cook.
I think this is the best strawberry bruschetta recipe because:
Quick and Easy: This no cook recipe takes just minutes to prep, especially if you use store bought crostini breads.
Fresh and Sweet: This is one of my all-time favorite fresh strawberry recipes for summer. It is perfect for when the berries are in season.
Unique and Delicious: Pairing strawberry and basil on a savory bread might seem unusual to you but one taste and there will be no going back!
Ingredients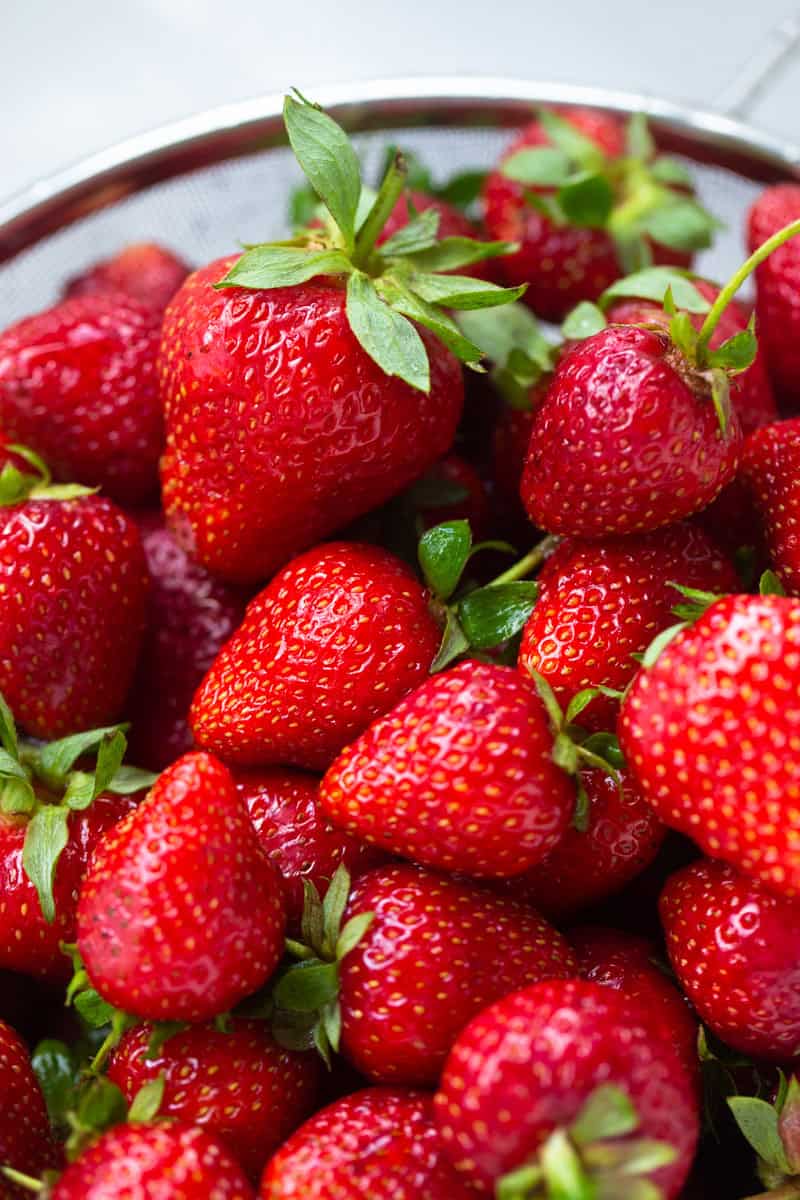 I love how this uses fresh, in-season strawberries at their peak! But if you can find some pretty red berries at the grocery, you can make it any time of year.
All you need to assemble this easy appetizer is:
Fresh strawberries: Pick the reddest, ripest ones you can find.
Sugar: Just a touch, don't worry it's not too sweet. The sugar just helps the berries release their juices.
Fresh basil: This recipe requires fresh basil, dried basil won't give the same flavor. In a pinch, you could substitute fresh thyme.
Goat cheese: The tangy flavor and smooth, spreadable consistency is perfect for this recipe. You could substitute crumbled feta if you can't find goat cheese.
Crostini: I love to make homemade crostini but you could buy prepared toasts from the store, too.
Balsamic vinegar: I also love the thicker balsamic glaze from Trader Joe's.
Prep the Strawberries and Basil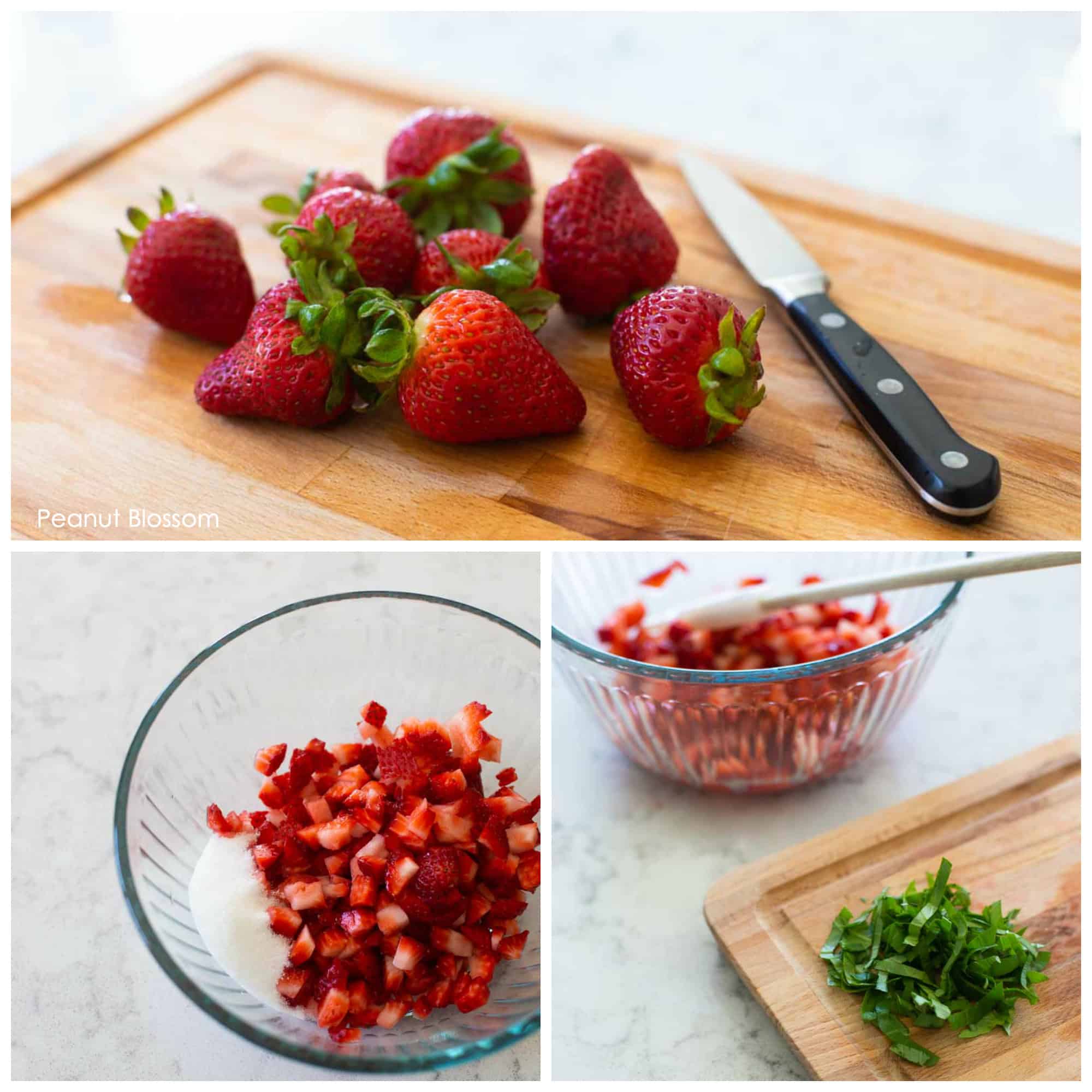 This recipe is so crazy easy, even kids could make this for a simple party snack!
The biggest trick is to cut the fresh strawberries small enough. Use a paring knife and trim the leafy top off.
Then, slowly slice the berry and cut it into tiny minced pieces. Add them to a bowl as you go.
Toss the strawberries with 1 tablespoon of sugar and let them macerate--a fancy word for "let the juices start to flow."
Chop up several leaves of fresh basil. You can stir it into the berry mixture or sprinkle it on top for garnish. I personally prefer it stirred in.
How to Serve the Bruschetta
When you're ready to serve the appetizer, you'll want to set out the bowl of prepared strawberries next to a platter with these items:
4 oz of goat cheese at room temperature
A batch of homemade crostini (or store bought crostini, but homemade only adds about 10 minutes and is SO worth it!)
A bottle of balsamic vinegar OR a bottle of Trader Joe's balsamic Glaze which is far thicker and easier to drizzle
You spread a layer of goat cheese on the crostini, top with a spoonful or two of the strawberries, and then drizzle the balsamic or Glaze over the top.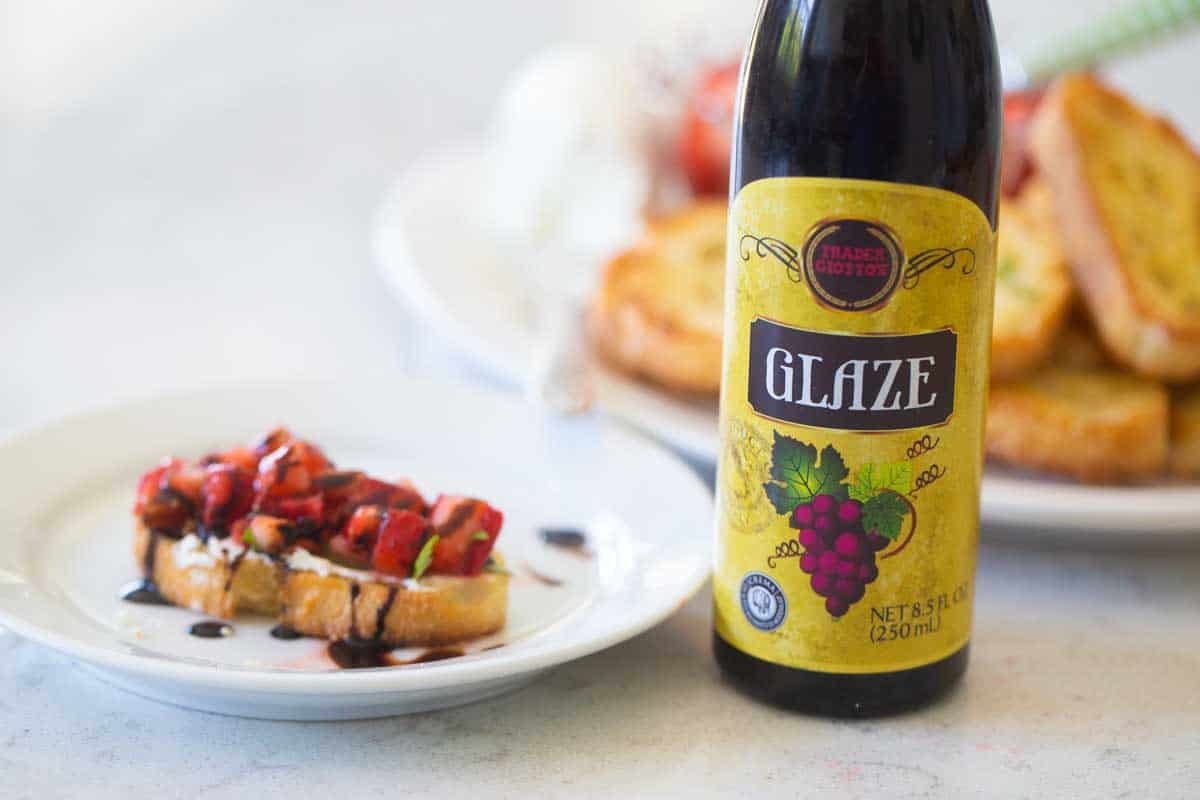 Easy peasy! And, it makes for a fun interactive appetizer that your guests can top however they choose.
The creamy, tangy goat cheese topped with the sweet strawberries and that acidic balsamic vinegar is one of my very favorite flavor pairings.
Make Ahead Tips
You can prepare the homemade crostini up to 24 hours ahead of time and just store in an airtight container.
You can prepare the strawberry mixture a couple hours in advance (no more than 6 hours) and just store it chilled in the fridge until you are ready to serve.
The goat cheese is best at room temperature, you can set it out 20 minutes before serving to thaw.
More Crostini Appetizers
If you love this strawberry bruschetta recipe, you will also love these other delicious toppings for crostini:
More Easy Appetizers
Looking for more light and festive apetizers? For warmer weather, these are some of my favorite party snacks to serve:
📖 Recipe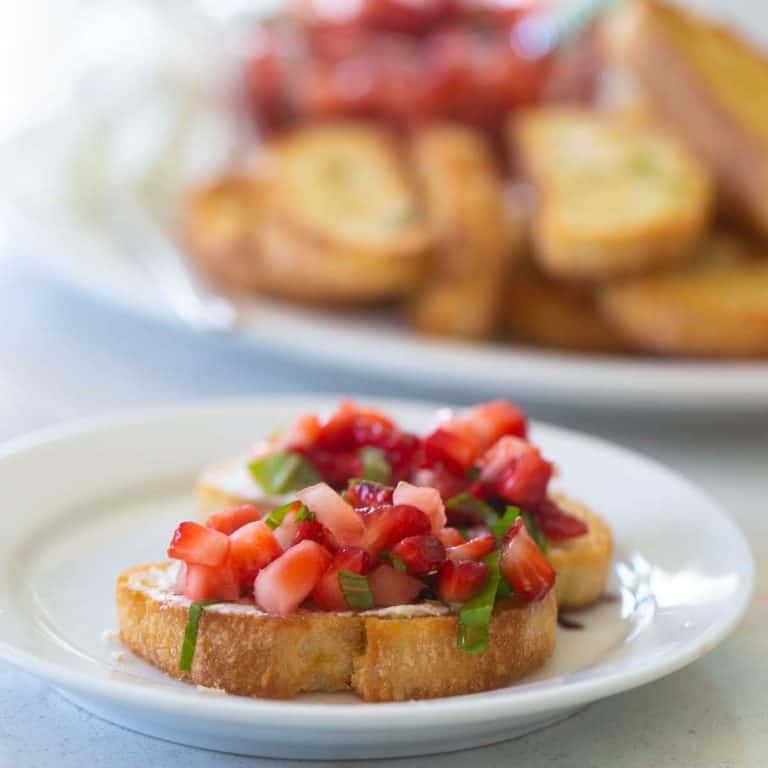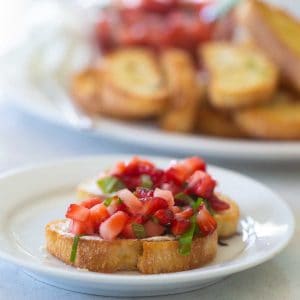 Strawberry Bruschetta
This easy party appetizer recipe is perfect for strawberry season. You can have an elegant apptizer in just minutes!
Ingredients
1

cup

minced fresh strawberries

1

tablespoon

sugar

¼

cup

minced fresh basil

1

batch of homemade crostini

4

oz

goat cheese

Drizzle of balsamic vinegar OR Trader Joe's Balsamic Glaze
Instructions
Cut the fresh strawberries into teeny tiny pieces and add them to a small bowl. Add the sugar and toss to coat. Let them sit for 5 minutes for the juices to begin to run.

Chop the fresh basil and add it to the berries. You can stir it in or serve as a garnish on top.

Put the berries into a pretty bowl for serving. Add the goat cheese and crostini. Set the bottle of balsamic or glaze on the side.

Guests can spread the goat cheese onto a toast and top with the berry mixture. Drizzle the balsamic over the top just before eating.
Save This Recipe to Your Recipe Box
Find this delicious recipe next time you visit by saving it to your very own recipe box on my site. All your favorites stored in one easy place!