This spicy cream cheese pinwheel recipe will put a pop in your patriotic party! Perfect for Memorial Day, the 4th of July, or any fun American-themed potluck party this summer. Spicy cream cheese filling loaded with fresh veggies in a flavorful wrap, these will fly off the buffet table for sure.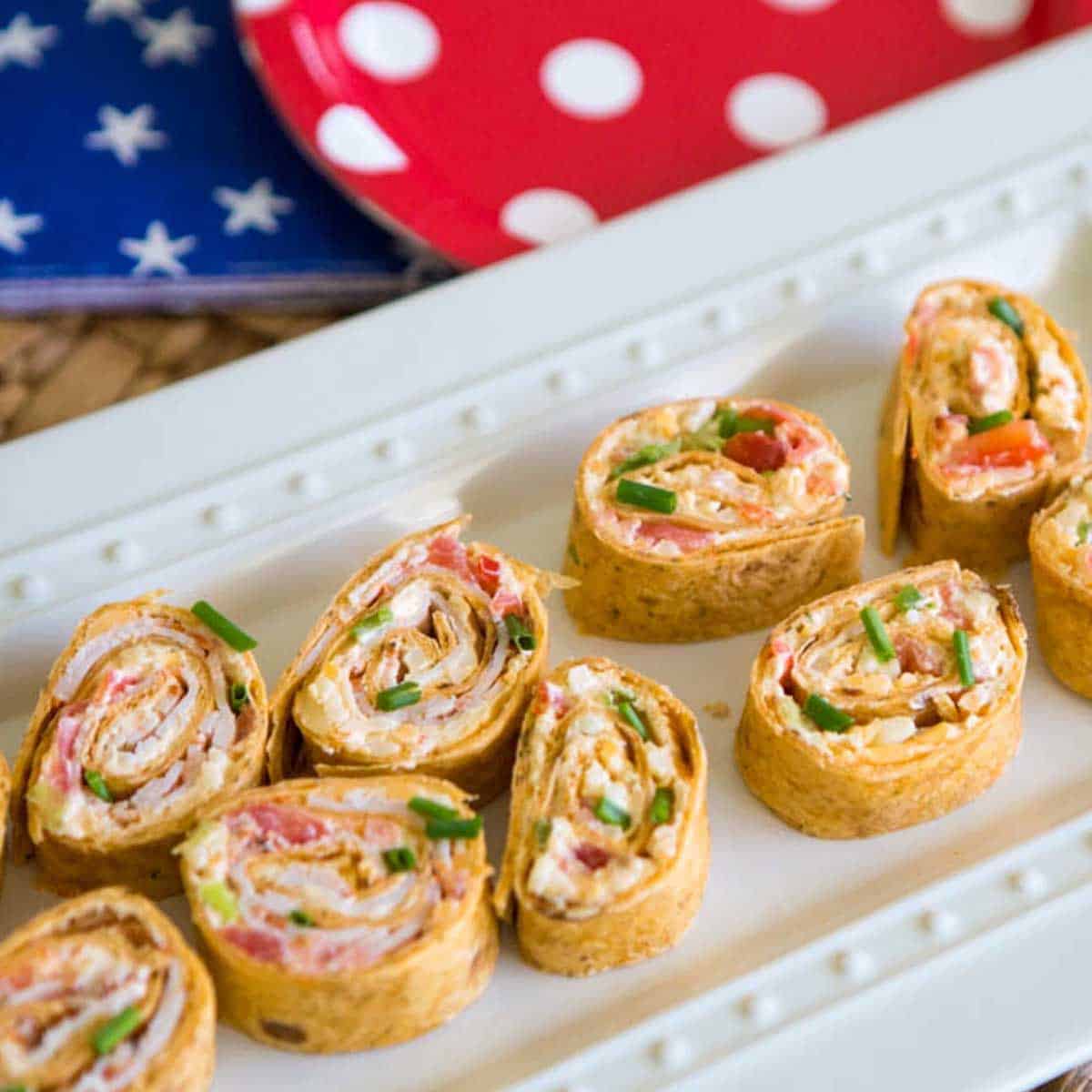 How are you celebrating the 4th of July this year? We're heading to the beach for a little family reunion of sorts and I can't wait.
We'll likely be grabbing our burgers from a beach side shack, but you can never have too many snacks and treats to keep around the beach house for people to get their nibble on.
This year I needed a festive recipe that is perfectly portable. I decided to make this spicy Firecracker cream cheese pinwheel recipe because I can make them before we go, wrap them up in plastic wrap, stick them in the cooler, and just cut and serve once we get to the beach house.
They make a perfect food to pack for a picnic or bring to a potluck party. For all the fun events happening this summer, I'm sure you'll find a great reason to make them soon!
Jump to:
Why This is the Best Recipe
Gosh, do I love little bite sized appetizers for a party. But I think this is the best cream cheese pinwheels recipe because:
Spicy & Creamy: I love that blend of hot spicy flavors with a cool creamy cream cheese filling.
Chewy & Crispy: You get an awesome texture from the tortilla wrap with crispy veggies in the mix.
Easy Make Ahead Recipe: Prep ahead for your party the day before with my easy tips.
Easy to Serve: Just slice them up and place on a pretty platter. You're ready to go.
Travel Friendly: You can take these pinwheels to a potluck because they travel so well.
Ingredients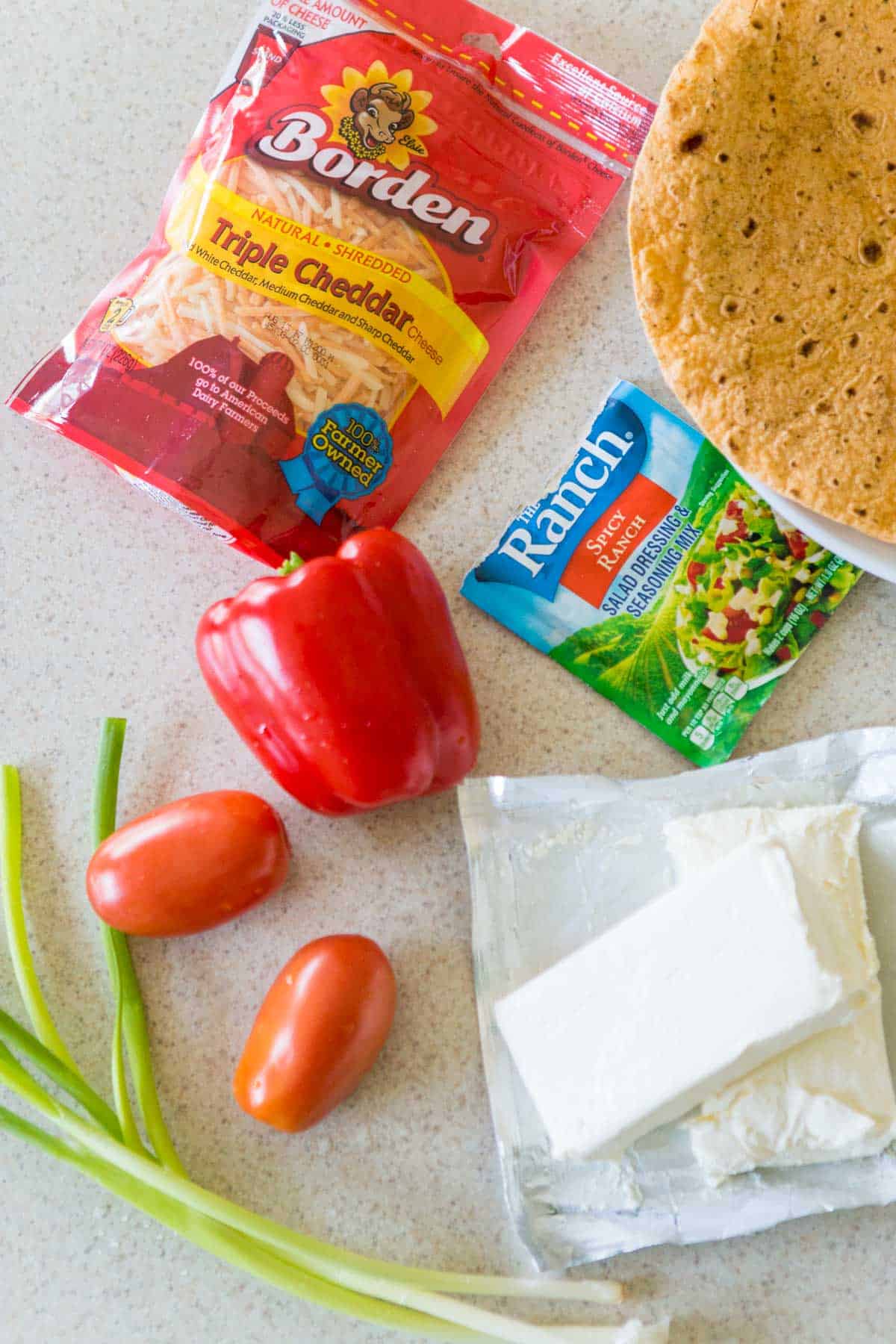 This easy party appetizer only takes a few fresh ingredients to make:
Tortilla Wraps: I used a tomato basil flavored wrap for extra flavor but if you can't find them, plain tortillas work great, too.
Cream Cheese
Spicy Ranch Seasoning
Shredded Cheddar
Red Bell Pepper
Plum Tomatoes
Green Onions
Sliced Turkey Deli Meat: To make this extra-spicy, you could use a buffalo turkey or chicken or any spicy meat you love from the deli department.
Make the Spicy Cream Cheese Filling
First, let the cream cheese sit on the counter to soften for 30 minutes - 1 hour.
Add the cream cheese to a mixing bowl, sprinkle the spicy ranch seasoning over the top, and beat it all together with a hand mixer.
Assemble the Spicy Cream Cheese Pinwheels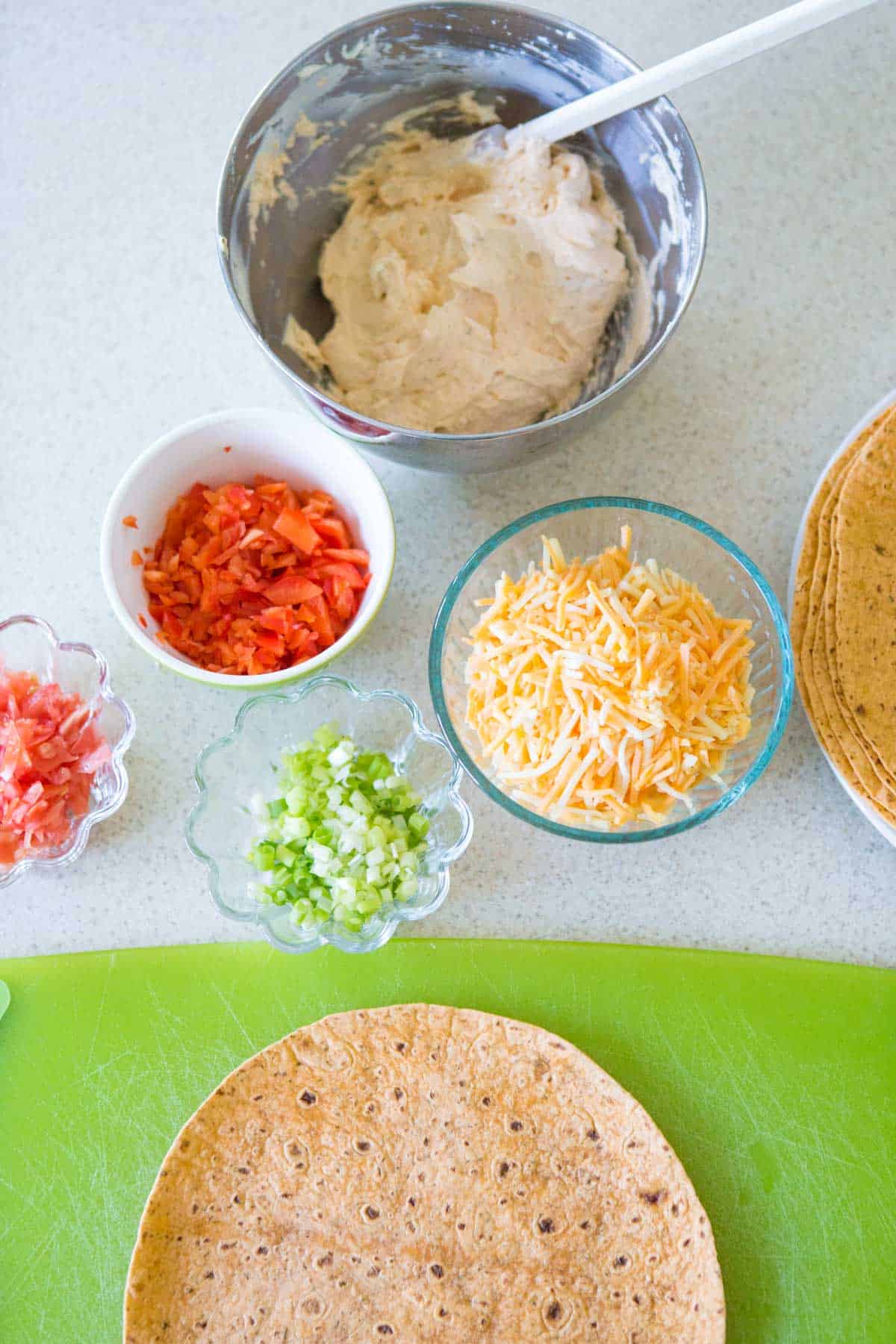 Working in batches to assemble the wraps, start by laying out one tortilla wrap on your work surface.
Spread a generous layer of the cream cheese filling over the entire surface. This will help the pinwheel to stick together.
Top with shredded cheddar cheese.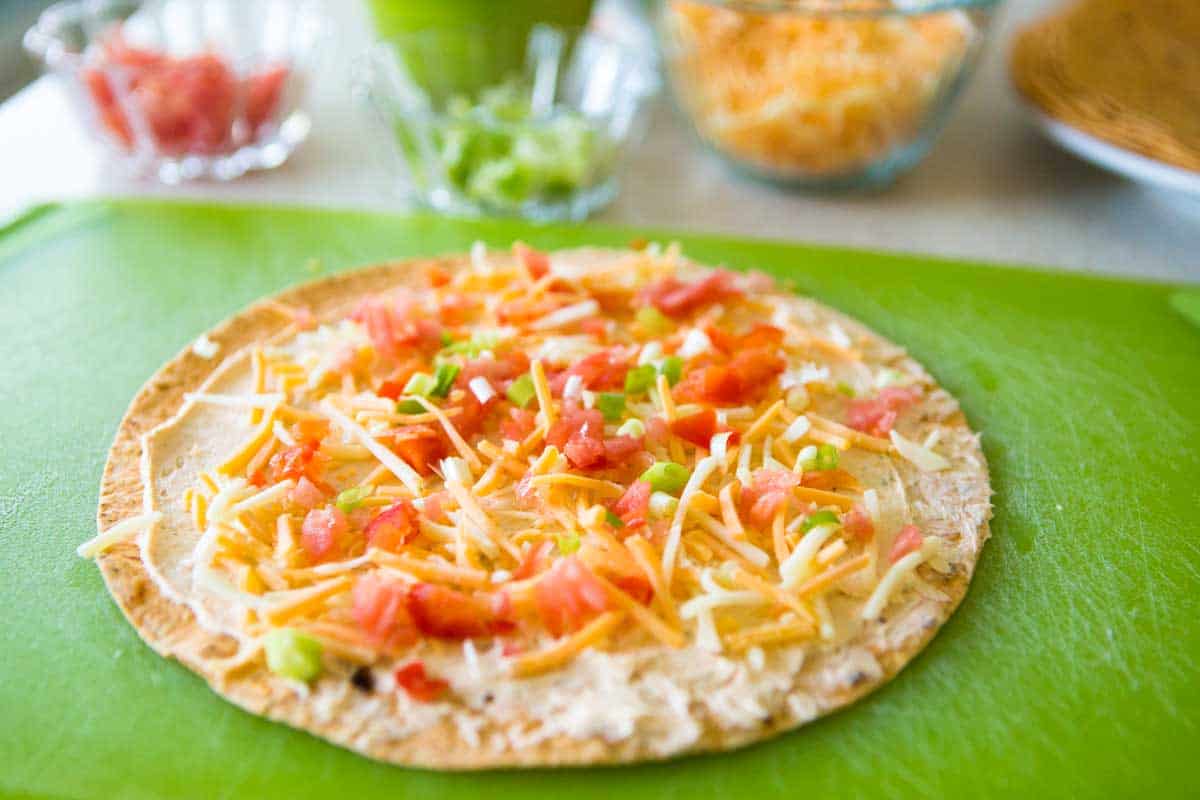 Sprinkle the chopped red pepper, diced tomatoes, and chopped green onions over the top.
Lay 2 - 3 slices of turkey meat over the top and gently press down to smooth out any air pockets that the ingredients may have formed.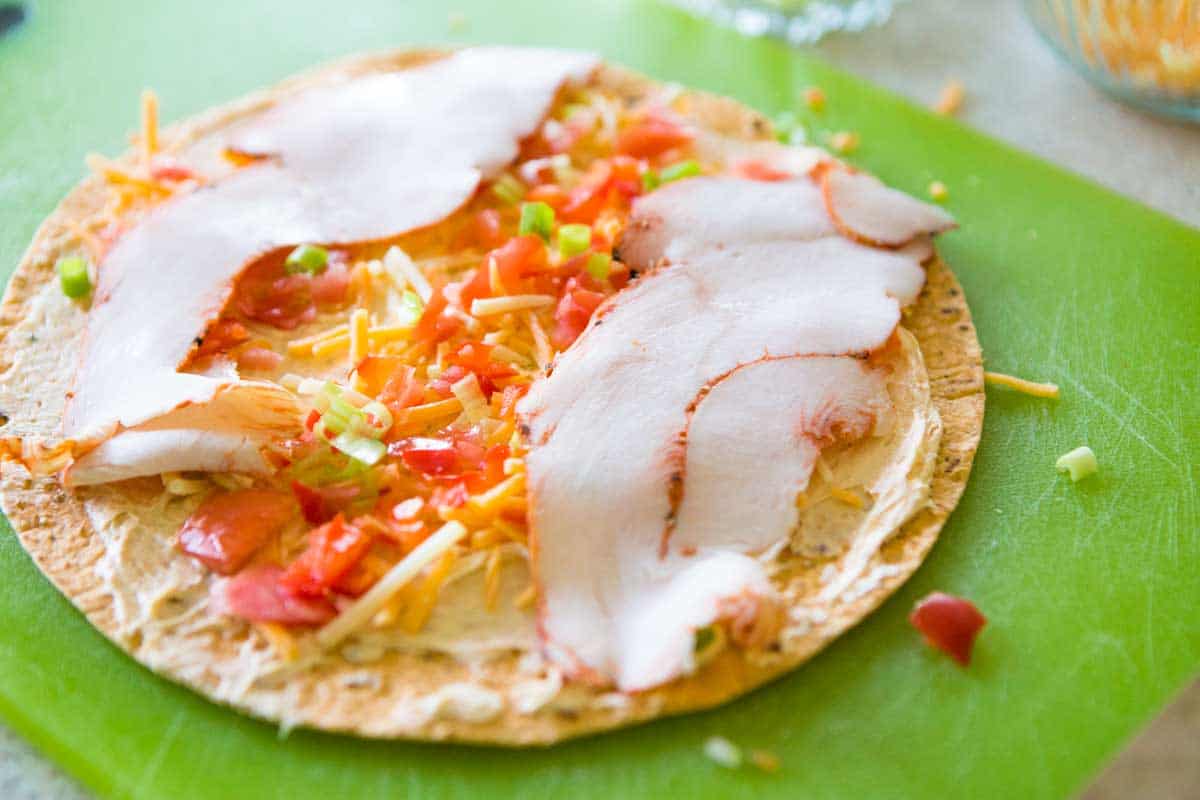 Tightly roll the wrap into a log and place it on a cookie sheet.
Repeat with the remaining 5 wraps.
Chill the cream cheese pinwheels in the fridge for at least 30 minutes before serving.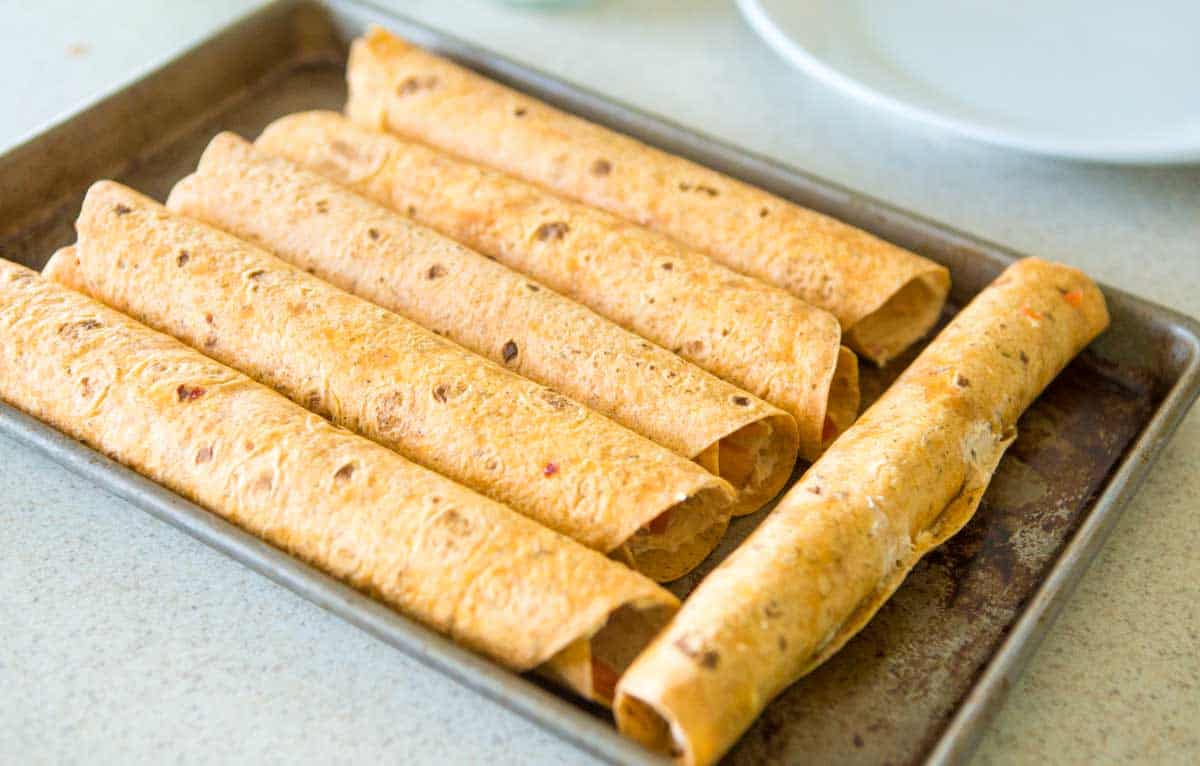 Make Ahead Tips
To make the pinwheels the day before, assemble them as directed but then be sure to cover them tightly in plastic wrap before storing in the fridge.
This helps them retain their soft, pliable texture of the tortilla and ensures your filling won't dry out.
Do not try to freeze the pinwheels, the veggies will make everything soggy as they thaw in the fridge.
Variations
We love this recipe as is, but there are some easy ways to play with fun variations:
Not So Spicy Cream Cheese Pinwheels: Use regular ranch seasoning and a honey roasted turkey.
Vegetarian Cream Cheese Pinwheels: Skip the turkey altogether. You might want to add some more veggies to the mix.
Low Carb Cream Cheese Pinwheels: Use your favorite low-carb sandwich wrap in place of the regular tortillas.
Serving Suggestions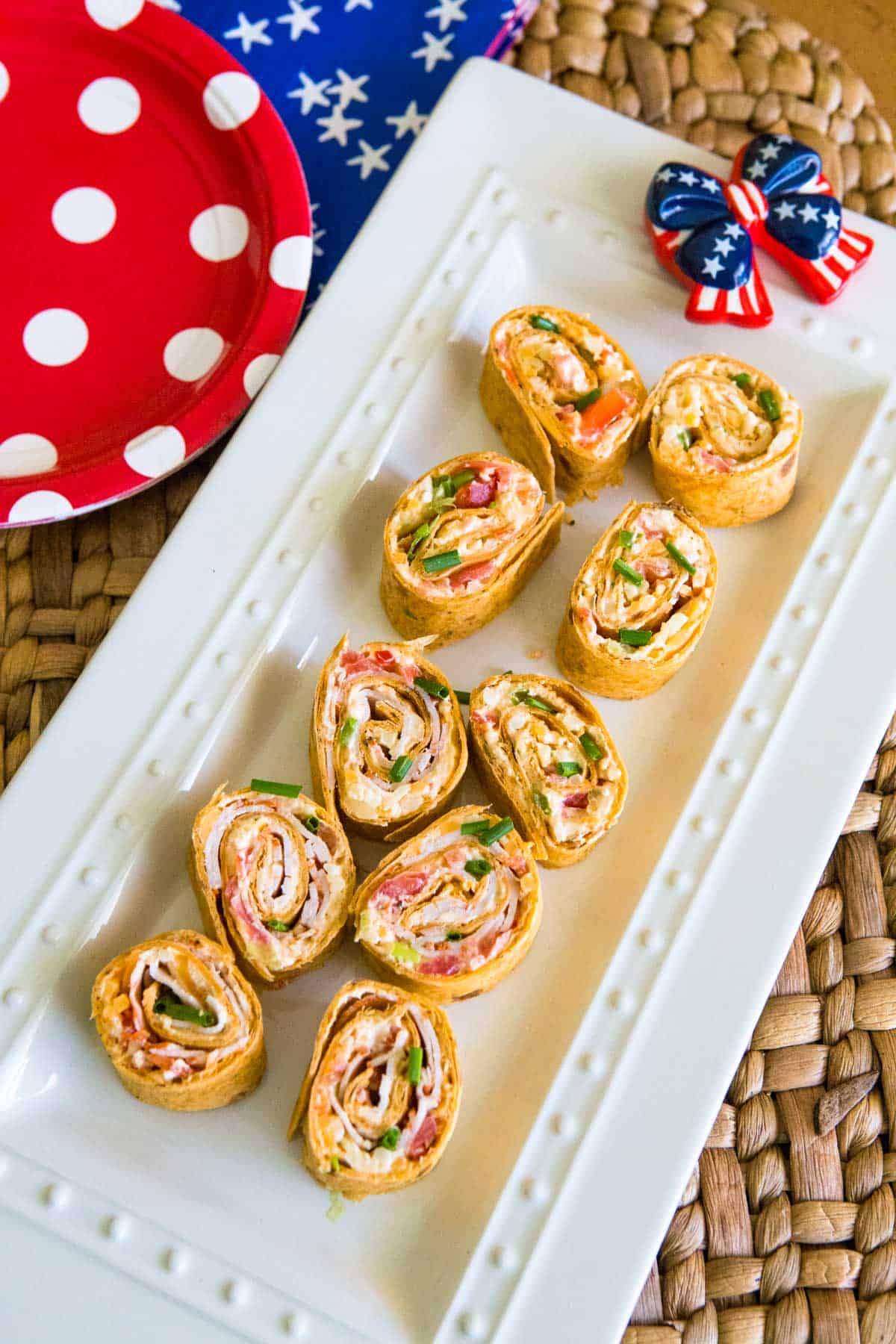 Once the rolls have a chance to set, carefully slice each log into 1-inch pieces and display them on a festive platter.
When my daughter tested one, she said:
"MOM! These are amazing! They taste like fajitas. You need to make them again."
It always makes me laugh when she's begging me to make something again before we've even finished the first batch. Fajitas are one of her very favorite foods, so I take that as a compliment of the highest level!
More Party Food Recipes
Looking for more fun red, white, and blue recipes for your next party? Here are a few of my favorites:
📖 Recipe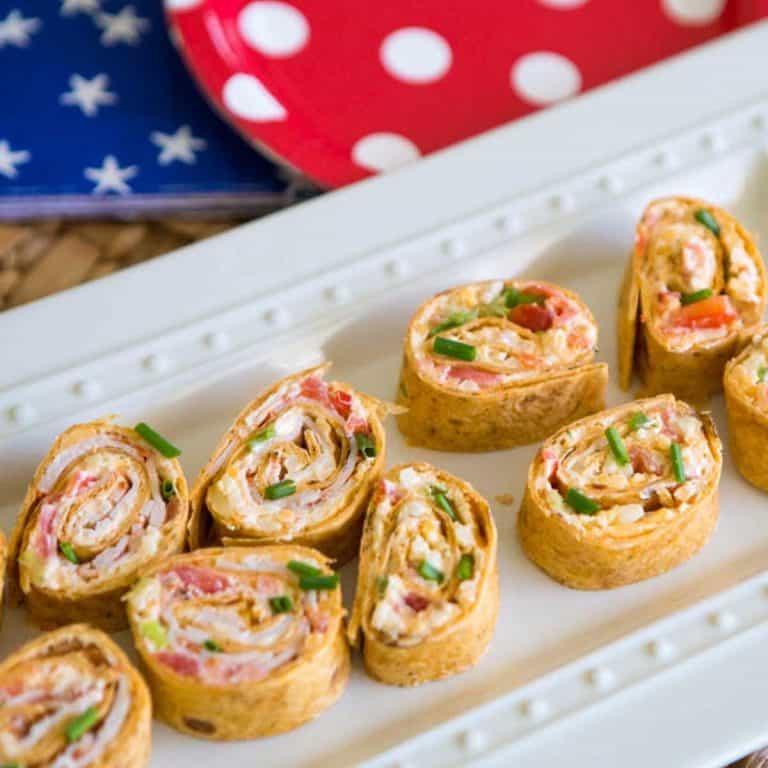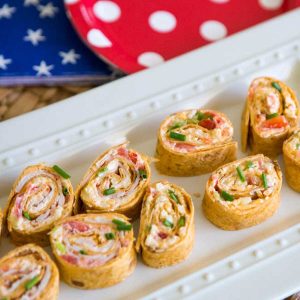 Firecracker Cream Cheese Pinwheels
This easy appetizer is the perfect spicy make-ahead dish for potluck parties. Fresh veggies mixed with cream cheese are rolled up into flavored tortillas and served in bite-sized portions.
Ingredients
1

6-count package of tomato basil flavored wraps

or medium sized flour tortillas

2

(8 oz) bricks of cream cheese

softened

1

(1 oz) packet of spicy ranch seasoning

1

(8 oz) package of shredded cheddar cheese

1

red bell pepper

chopped

2

plum tomatoes

seeds removed and then chopped

2-3

green onions

chopped

½

lb

sliced turkey deli meat

we used a peppered variety for more kick
Instructions
In a medium-sized bowl, beat the softened cream cheese with the ranch seasoning mix until evenly combined.

On each wrap, spread an even layer of cream cheese mixture over the whole surface. Top with ⅓ cup of shredded cheddar cheese.

Sprinkle the chopped bell pepper, diced tomatoes, and chopped green onions over the top.

Lay 2-3 slices of turkey over the top and gently press down to remove the air pockets between all the veggies and shredded cheese.

Tightly roll the wrap into a log and place it on a cookie sheet. Repeat for the remaining 5 wraps.

Chill in the fridge for 30 minutes. Or, wrap in plastic wrap to store in the fridge overnight.

To serve: Slice each log into 1-inch pieces and place them on a platter.
Recipe Notes
Spicy Ranch Seasoning Substitute:
If you can't find the spicy ranch seasoning packet at your grocery store, you may substitute this combination of spices instead:
2 tablespoon dried parsley
2 teaspoon dill
1 teaspoon dried garlic
1 teaspoon dried onion
1 teaspoon pepper
1 teaspoon salt
1 teaspoon basil
2 teaspoon dried buttermilk
½ teaspoon cayenne
Save This Recipe to Your Recipe Box
Find this delicious recipe next time you visit by saving it to your very own recipe box on my site. All your favorites stored in one easy place!