Easy beef crostini with horseradish cream and tomatoes is the perfect appetizer recipe for quick assembly before your party. Prep the elements in advance for a fast snack to serve your guests with a cocktail or glass of chilled wine.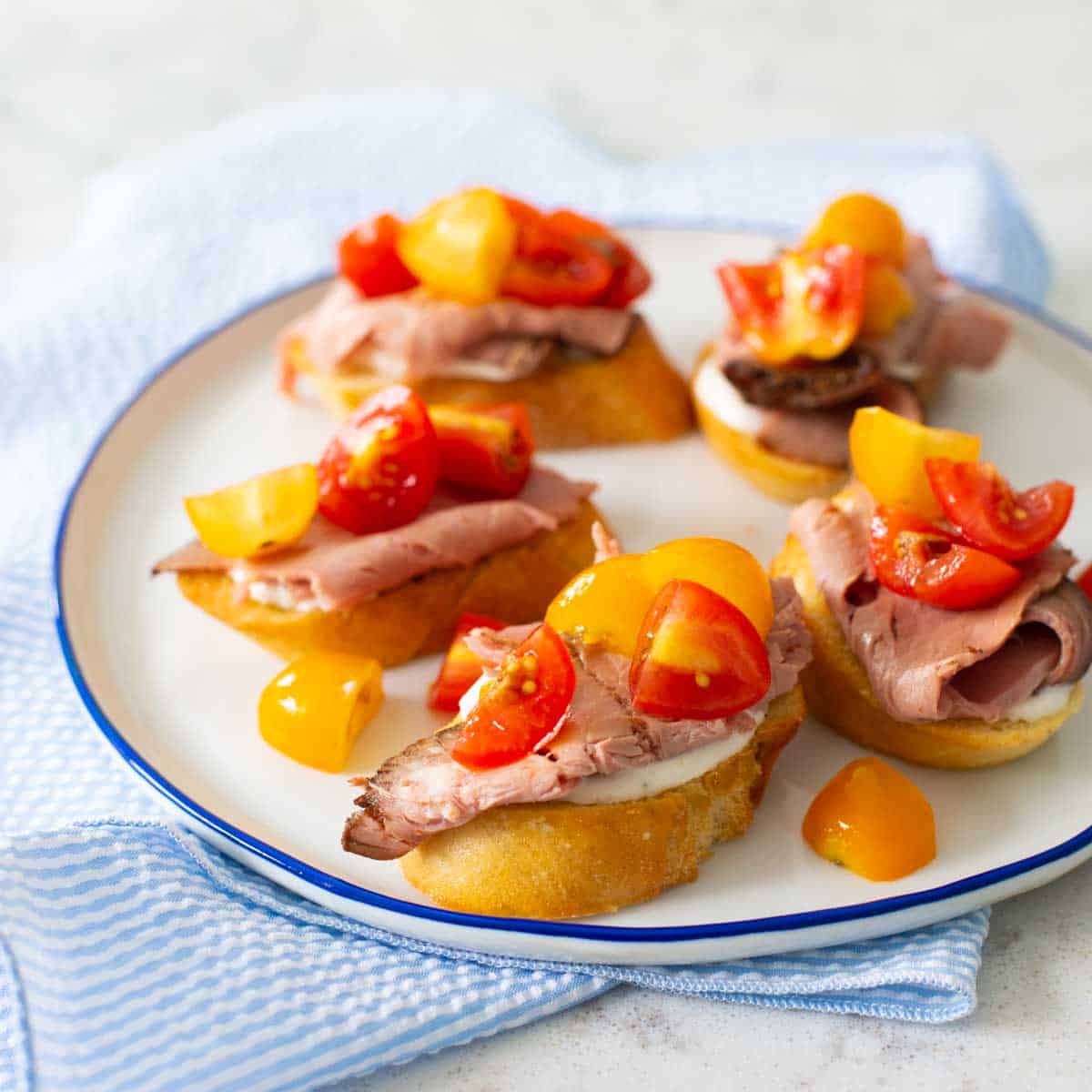 Easy appetizers can be shockingly elegant. When the sum is greater than the parts, your friends will be thrilled with your delicious offerings.
These super easy beef crostini with horseradish cream take just minutes to prep in advance.
You can serve them assembled as quick bites for your party or you can place the elements as a snack board on a charcuterie tray.
Start with a crispy, chewy homemade crostini made from a simple grocery store baguette or you could even buy the pre-baked crostini in the bakery section at your market. You can learn how to make crostini here.
Top it with savory roast beef, juicy fresh tomatoes, and a slather of the easiest horseradish cream sauce ever.
Don't miss the delicious and easy variations for fun twists on this idea, too!
Jump to:
Why This is the Best Recipe
I think crostini appetizers are always a hit at a gathering because the crispy texture of the bread pairs so well with a variety of toppings.
I think this is the best roast beef crostini recipe because:
Perfect Crostini: Learn how to bake homemade crostini from a bakery baguette in just minutes. The texture is absolutely perfect.
Quick and Easy: Once your baguette is turned into toasts, just make the super easy horseradish sauce. The rest of the dish is just assembly!
Easy to Tweak: Once you serve this appetizer to your friends, they can build their own crostini bites and decide whether or not they want the sauce, the roast beef, the tomatoes, or all the above!
Ingredients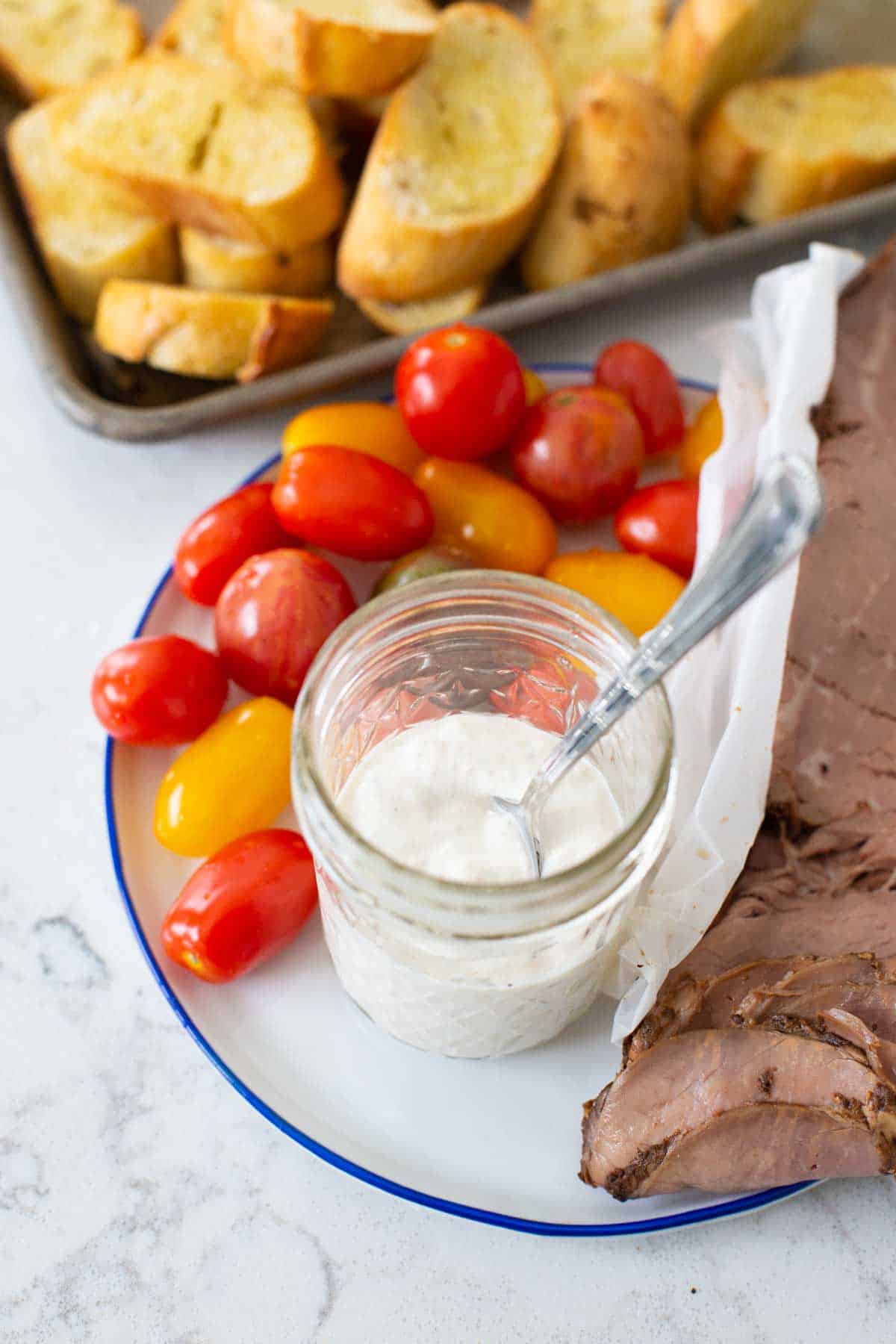 This is such an easy and simple recipe, you want to be sure that the ingredients you use are the best quality you can find.
Crostini: Making homemade crostini will take you 10 minutes total. This can be done the morning of the party. All you need is a baguette and some olive oil. In a pinch, you can buy pre-baked crostini toasts in the bakery section of the grocery store.
Horseradish Sauce: This homemade sour cream horseradish sauce takes less than a minute to stir together. It is fresh tasting and has the perfect consistency. In a pinch, you could buy prepared horseradish sauce from the grocery store.
Deli Roast Beef: Get fresh sliced roast beef from the deli department, not the tubs of roast beef by the lunch meat in the refrigerated section. The flavor and texture will be so much better.
Fresh Tomatoes: I used sweet cherry tomatoes from our farmer's market in shades of yellow and red, but you could use any fresh tomato you love. For even more flavor, you could use my easy marinated tomatoes recipe, too!
Assemble the Crostini
Spread the crostini out in an assembly line.
Use a knife or spoon to spread a dollop of horseradish sauce evenly over the toast.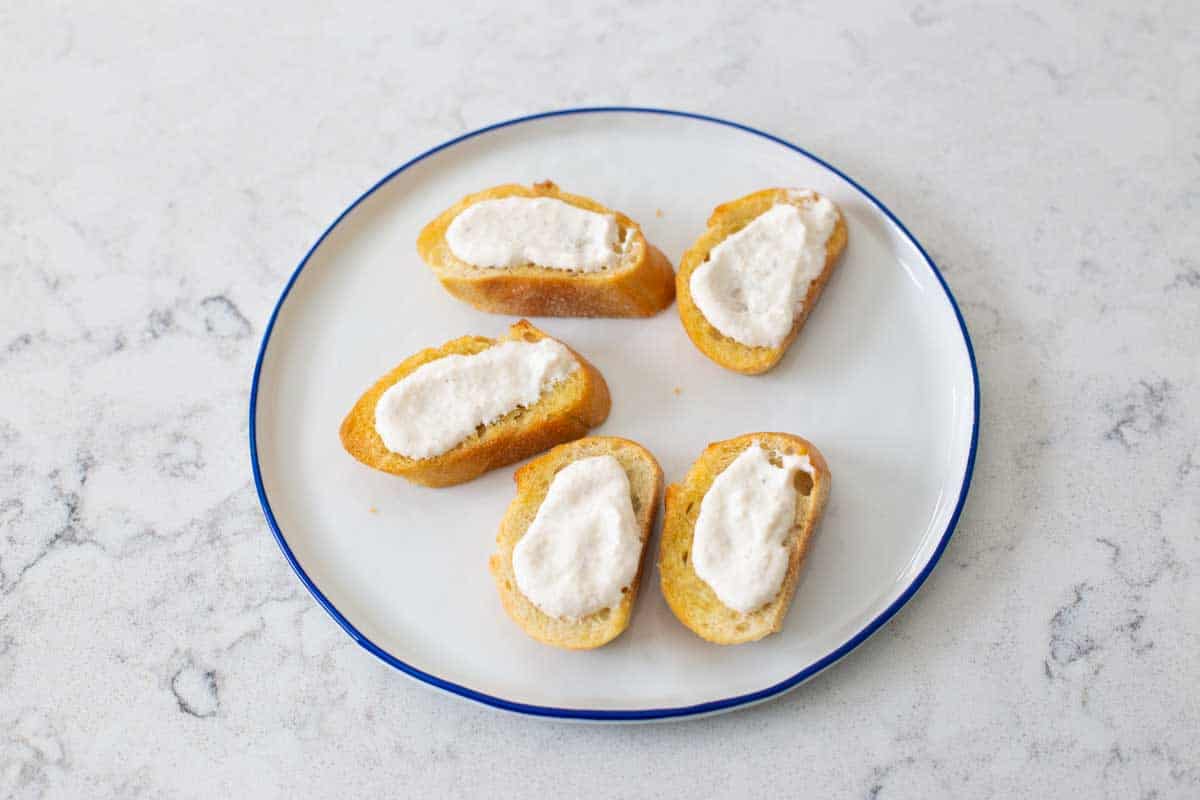 Layer a slice of roast beef over the toast.
Depending on the size of your crostini, you may want to trim the roast beef slices in half or in quarters so there isn't an overwhelming amount of beef on each piece.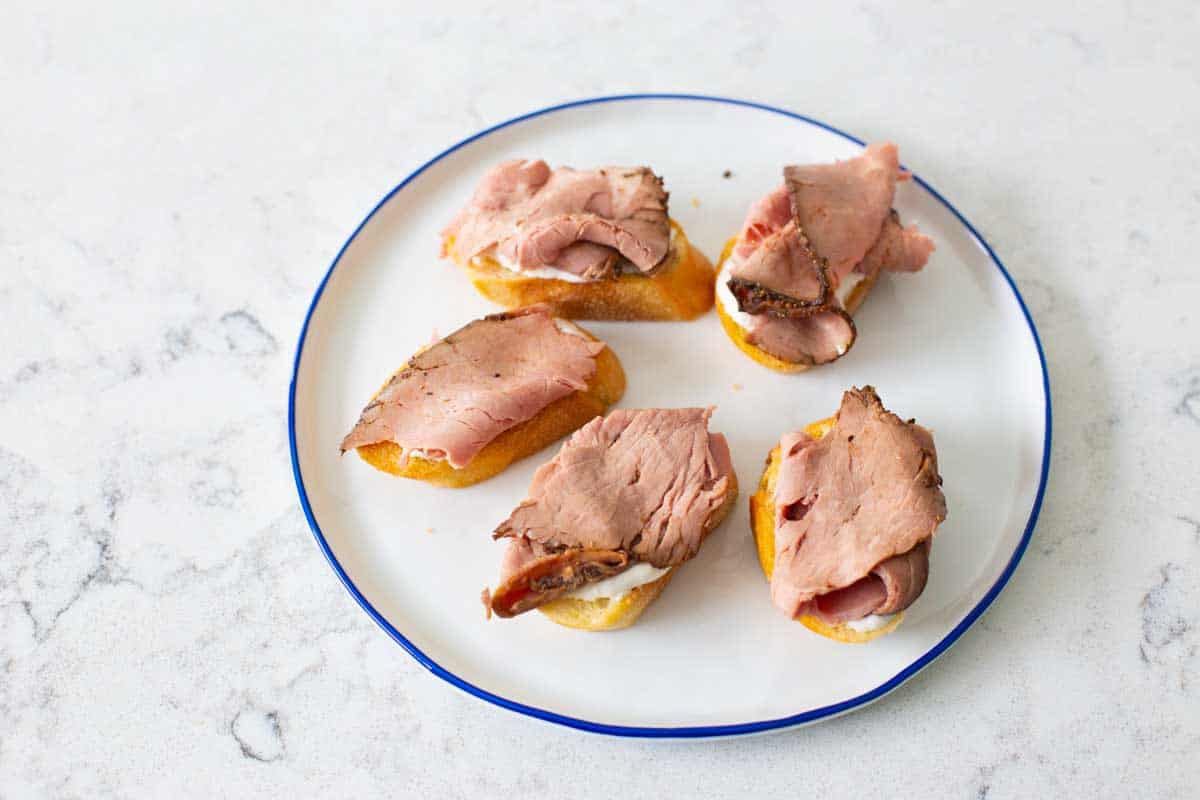 Chop the fresh tomatoes into large chunks and sprinkle them over each crostini.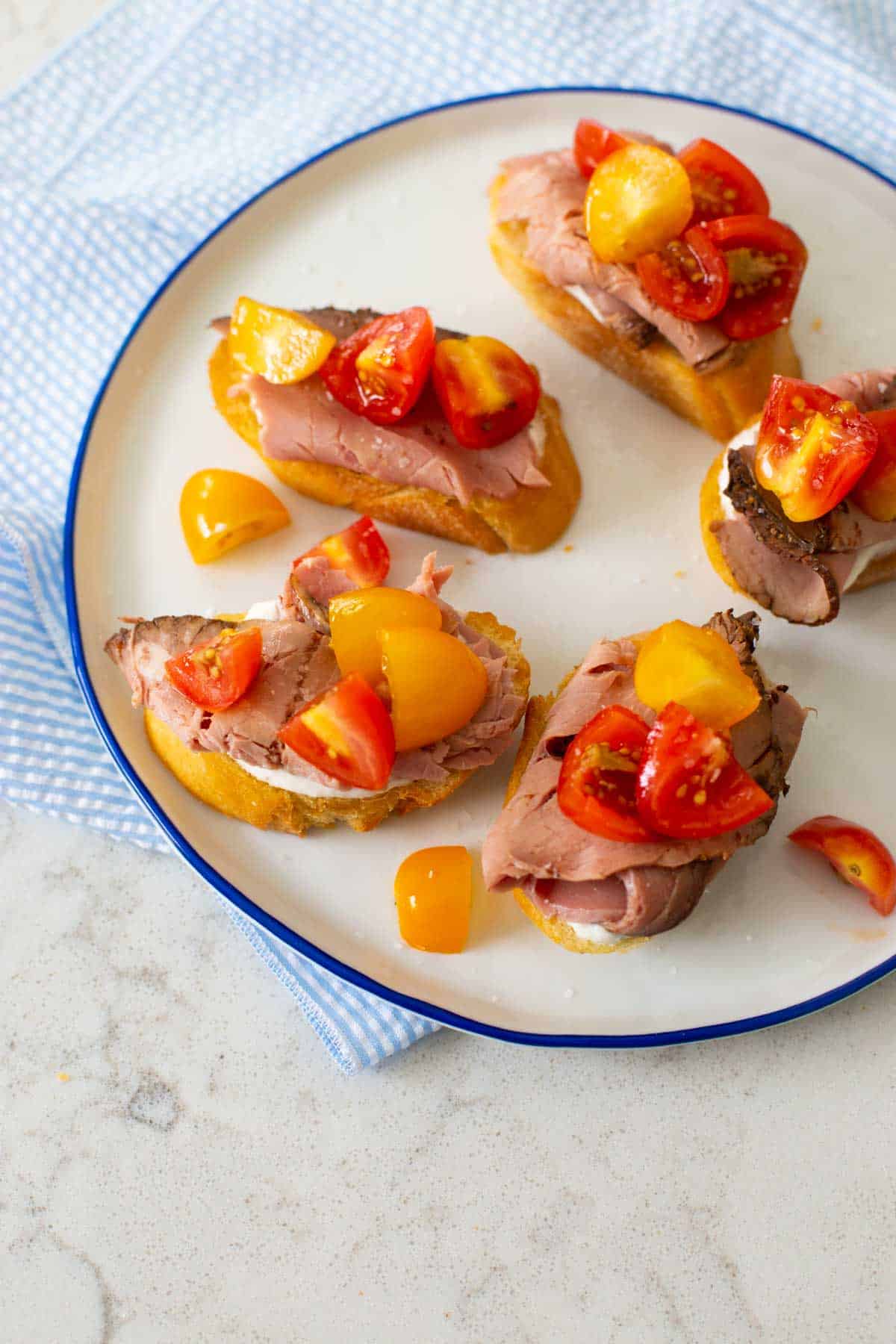 Make Ahead Tips
If you want to make this ahead of time, I recommend prepping all the elements in advance but storing everything separately until just before serving.
The horseradish sauce, beef, and tomatoes will soften the crostini if they sit too long and it will lose that signature crispy crunch.
You can do these things up to 24 hours in advance:
mix the horseradish sauce and keep it covered in the fridge
bake the crostini and keep them in an airtight container
chop the tomatoes and keep them covered in a dish in the fridge
Then simply assemble and serve.
Variations
If you prefer, you could serve the crostini, roast beef, horseradish sauce, and tomatoes separately on a charcuterie snack board and let your guests assemble their quick bites themselves.
You could also add:
Arugula: If you want some greens, peppery arugula would pair perfectly with all these ingredients.
Basil: Sprinkle fresh basil over the top.
Balsamic Glaze: Skip the horseradish sauce and lay out a bottle of balsamic glaze instead.
For a little extra "something" fresh cracked peppercorns over the top would also be very delicious.
More Easy Crostini Appetizers
Once you've baked homemade crostini, it is so easy to prepare a few other crostini toppings to set out for your party alongside the roast beef crostini.
You could make a batch of Italian bruschetta al pomodoro, the classic tomato appetizer.
I also love peach blueberry salsa, my favorite strawberry bruschetta, or you could set out a platter of caprese salad and let guests add it to a plain crostini.
📖 Recipe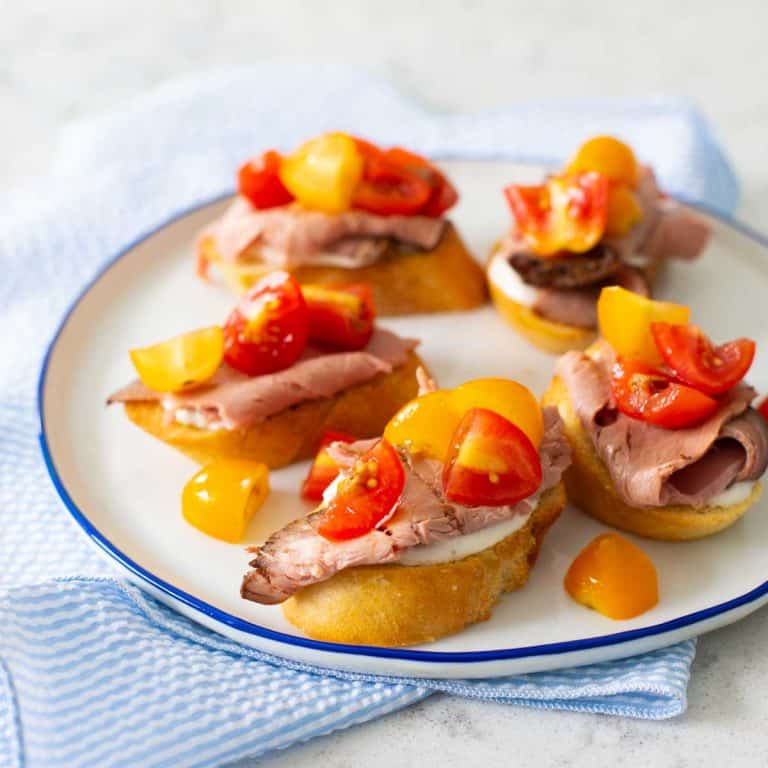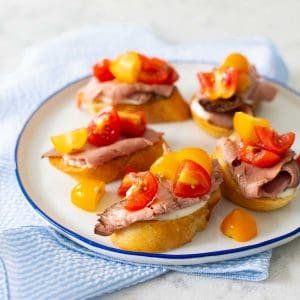 Roast Beef Crostini
Easy beef crostini with horseradish cream is the perfect prep ahead appetizer for the holiday. Serve as an assembled small bite or as part of a snack board or charcuterie.
Ingredients
20

crostini

homemade from 1 baguette or store bought

1

cup

horseradish sauce

1

pound

deli sliced roast beef

1

pint

fresh cherry tomatoes
Instructions
Prepare a batch of homemade crostini from a baguette or gather store bought crostini.

Spread 1 tablespoon horseradish sauce on each crostini toast.

Trim the roast beef slices in halves or quarters (depending on the size of your crostini) and layer a portion on each crostini.

Chop the cherry tomatoes and sprinkle them over the top.

Serve immediately.
Save This Recipe to Your Recipe Box
Find this delicious recipe next time you visit by saving it to your very own recipe box on my site. All your favorites stored in one easy place!