Italian bruschetta al pomodoro is the classic Italian appetizer you love from that fancy Italian restaurant. You can make this easy recipe right at home with fresh tomatoes and basil and a batch of crispy toasted crostini bread.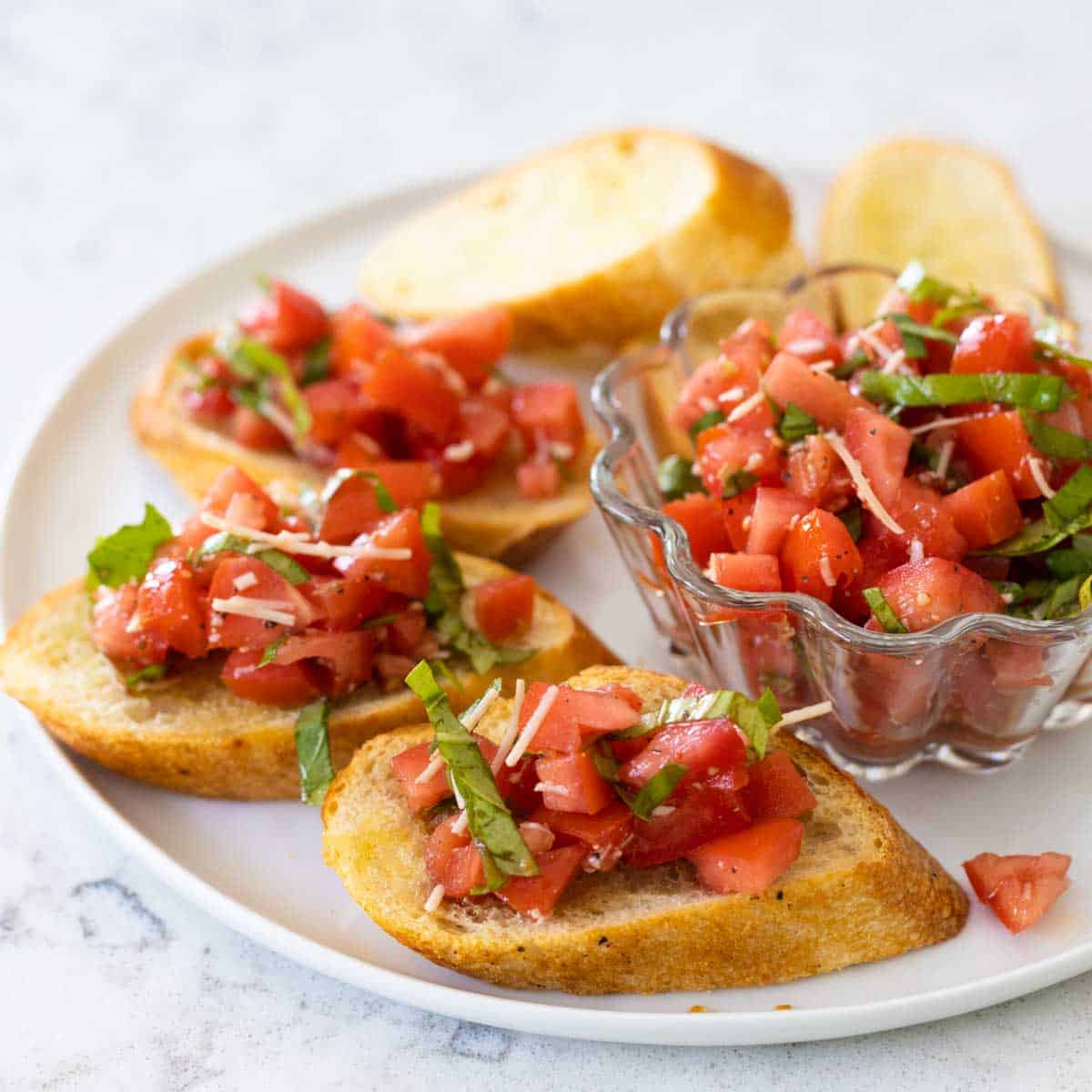 The Italians are absolutely brilliant at creating delicious recipes using the most basic of ingredients.
They focus on fresh produce that is in season and add just the right accents to truly highlight the flavor.
Italian bruschetta al pomodoro is the fancy name for tomato bruschetta, an item you've likely seen on restaurant menus.
Such a simple recipe is made or broken depending on the quality of the ingredients.
When fresh tomatoes are in season and your fresh basil is exploding in your patio herb garden, it is time to combine them with a 10-minute batch of homemade crostini for the most delicious snack you've ever had.
Jump to:
Why This is the Best Recipe
I love easy appetizers that you can stir together in a few minutes, especially when you can just spoon them over homemade crostini.
I think this is the best Italian bruschetta al pomodoro recipe because:
Simple Ingredients: Fresh tomatoes, basil, and not much more is all it takes for a fresh tasting nibble.
Restaurant Style: This appetizer is just like the one we love at our local Italian restaurant.
Quick and Easy: Chopping the tomatoes is the hardest part! You can have this ready to go in under 10 minutes.
Ingredients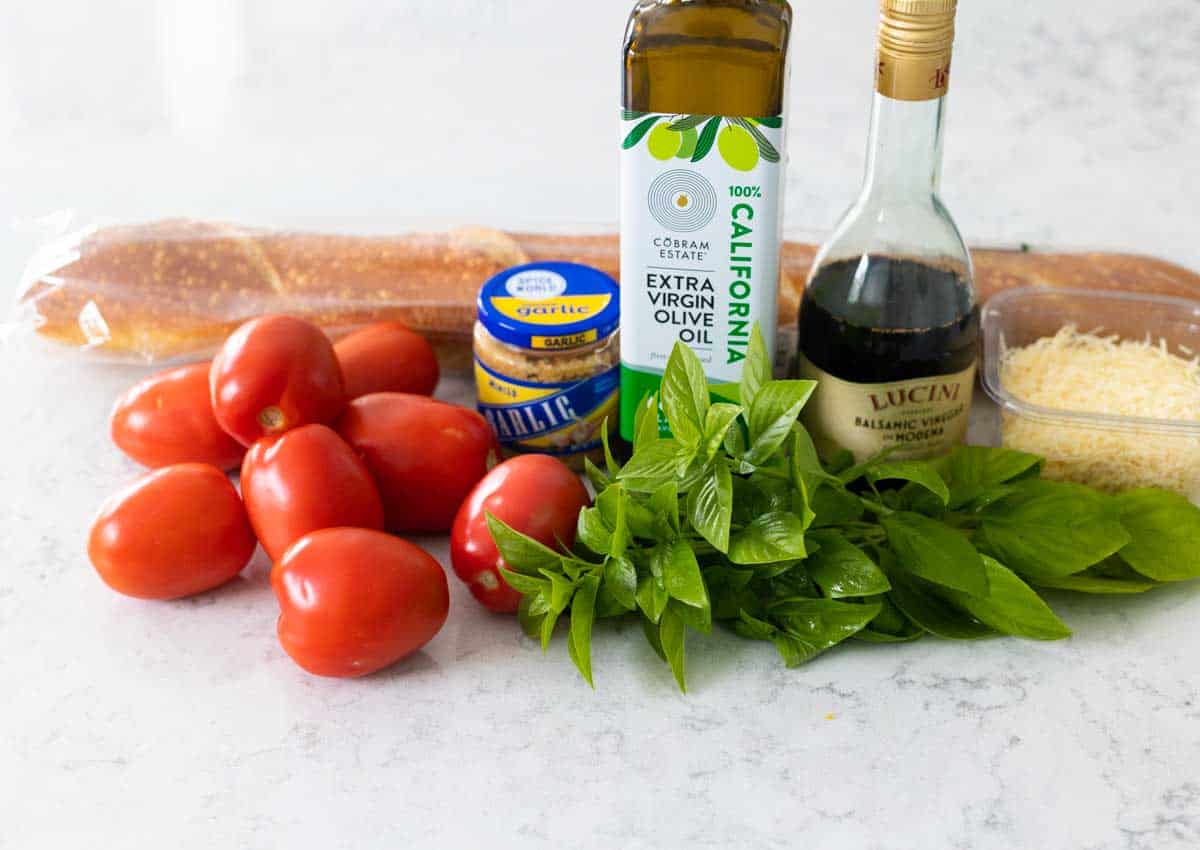 To make Italian bruschetta from scratch, all you need is:
Fresh Roma Tomatoes: These are the easiest to work with and have such a nice flavor, but you could use whatever fresh tomatoes you want.
Fresh Basil: This is pretty crucial. Dried basil will not taste the same.
Olive Oil
Minced Garlic
Grated Parmesan: It is best to use a block of parmesan and hand grate it yourself. Our specialty cheese department at the grocery store sells freshly grated parmesan in tubs.
Balsamic Vinegar
Salt & Pepper
Best Bread for Bruschetta
There are many ways to use the tomato bruschetta but the most common is to serve it on top of toasted bread, also known as crostini.
I think the best bread for bruschetta is a fresh bakery baguette that has been sliced, brushed with olive oil, and toasted in the oven.
My homemade crostini recipe takes just 10 minutes and gives the perfect crispy-chewy texture to the bruschetta toasts.
Best Tomatoes for Bruschetta
The most important part of the Italian bruschetta is the fresh tomatoes. You cannot used canned tomatoes for this recipe, they must be fresh.
I think roma tomatoes are the best choice because their small size makes them easy to seed and dice but the flesh of the tomato is filled with flavor.
If you have access to heirloom tomatoes while they are in season, these would make a colorful variation on bruschetta.
Truthfully, any fresh tomato you love will work but some tomatoes have more juicy seeds than others. You may have to work carefully to remove them so your bruschetta mix isn't too watery.
Bake the Crostini
If you are preparing the appetizer in advance for your party, you can bake the crostini and let them cool.
If you're hosting and want to serve the bruschetta on warm toasts, you'll want to do this step just before serving.
Preheat the oven to 400°F. Slice the baguette into ½-inch thick slices and brush them with olive oil.
Bake them for 5 minutes one one side, flip them over, and bake for 5 more minutes on the other side.
True Italians will then take a freshly peeled garlic clove and rub it on the warm toasts. This gives it a garlic flavor without being too powerful.
For full step-by-step instructions and a printable recipe card, you can see my homemade crostini recipe here:
Prepare the Pomodoro Tomato Topping
The first step to preparing the pomodoro tomato topping is to dice the fresh tomatoes.
My roma tomatoes did not have a lot of juicy seed filling so I diced them up as they were.
If your tomatoes are much more juicy, you can run your fingers along the pockets of seeds and remove the juices a bit before dicing. This helps ensure your bruschetta isn't too watery.
Then just add the fresh basil, parmesan, minced garlic, olive oil, balsamic vinegar, and salt and pepper to a mixing bowl.
Gently toss the ingredients together until well combined.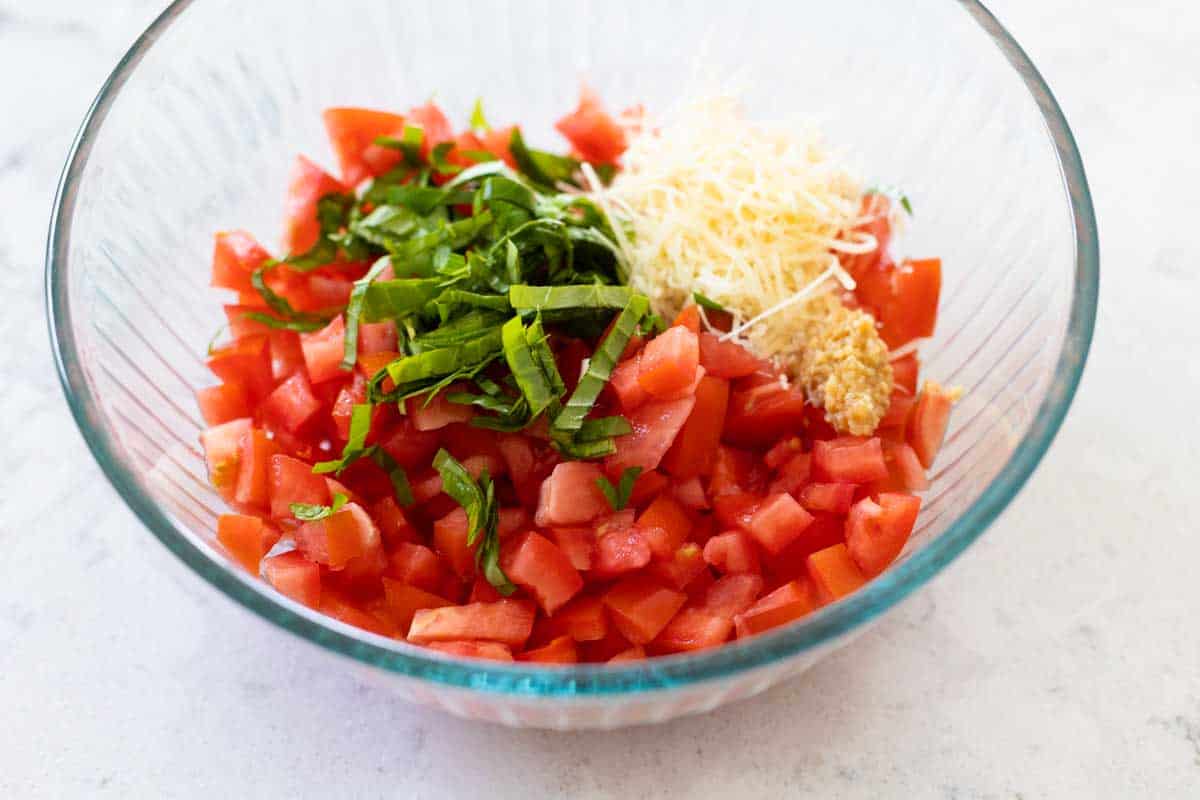 Make Ahead Tips
The crostini and the tomato topping can both be made in advance.
Store the toasts in an airtight container at room temperature. You can warm them up in the oven before serving if you desire.
The tomato bruschetta topping can covered in plastic wrap and stored in the fridge but it will taste best at room temperature. Be sure to let it warm up on the counter before serving.
Serving Suggestions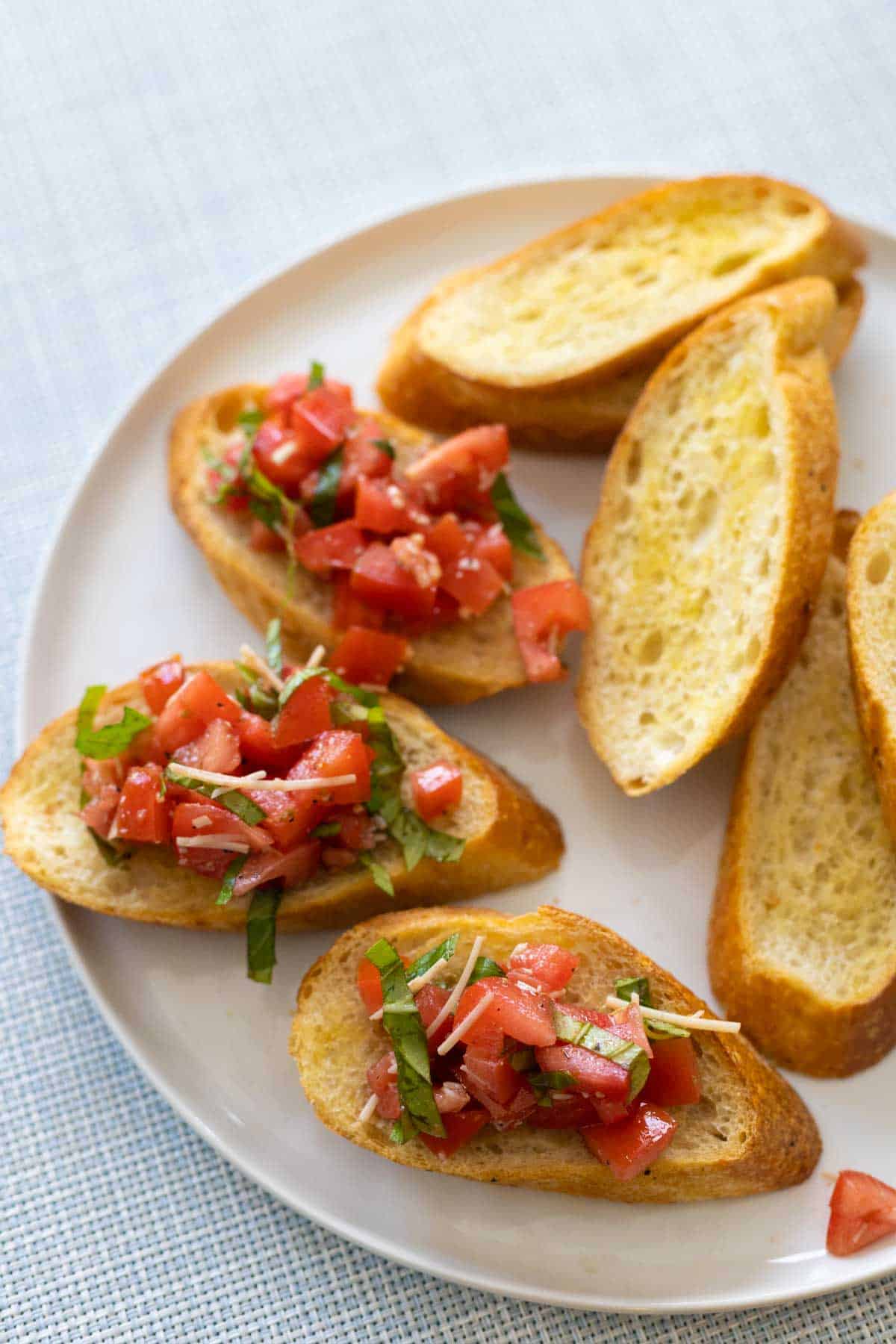 There are two easy ways to serve Italian bruschetta al pomodoro:
Build Your Own: Serve the tomato topping in a pretty bowl with a spoon alongside a platter of the crostini. Let your guests top their own. This is perfect for a casual cocktail party.
Already Assembled: Pull a warm batch of crostini from the oven and top with the tomato, serve immediately. This is how fine restaurants often do it and it is amazing. The warm bread soaks up the juices from the tomato even better.
Variations
A classic tomato basil bruschetta is my favorite Italian appetizer, however this recipe can easily be tweaked for some delicious variations:
Burrata Bruschetta: Serve the bruschetta with fresh burrata cheese and let your friends spread some on their crostini along with the tomatoes.
Goat Cheese Bruschetta: Bring a log of goat cheese to room temperature so it is spreadable, it makes an amazing crostini spread. You could also make ricotta bruschetta the same way.
Prosciutto Bruschetta: Salty prosciutto, an extremely thinly sliced Italian ham, pairs wonderfully with tomato. You can eat it on the side or pile a slice on top of the crostini.
Strawberry Bruschetta: Skip the tomatoes and make my easy strawberry bruschetta with fresh basil, this is one of my all-time favorite recipes.
Peach Bruschetta: My peach and blueberry salsa bites make a perfect topping for homemade crostini.
How to Use Leftover Bruschetta Topping
If you make the batch of bruschetta topping and have some of the tomato mixture leftover after your party, there are lots of ways you can use it up for a delicious dinner.
Bruschetta Pizza: My 5-minute bruschetta pizza recipe is the best way to use leftover topping. My daughter and I loved it.
Bruschetta Chicken Pasta: Season chicken breasts with Italian herb seasoning and follow my baked chicken breast recipe. Slice up the cooked chicken and use it to top my fresh tomato pasta toss but substitute the bruschetta topping for the cherry tomatoes.
Salmon Bruschetta: Prepare my oven baked salmon recipe and spoon the bruschetta over the top.
Shrimp Bruschetta: Make a batch of frozen shrimp in the air fryer and serve the bruschetta in a bowl on the side or toss them all together with pasta or rice.
More Easy Appetizers
If you love Italian and Mediterranean-inspired appetizers like I do, you won't want to miss these delicious recipes that are perfect with summery ingredients:
📖 Recipe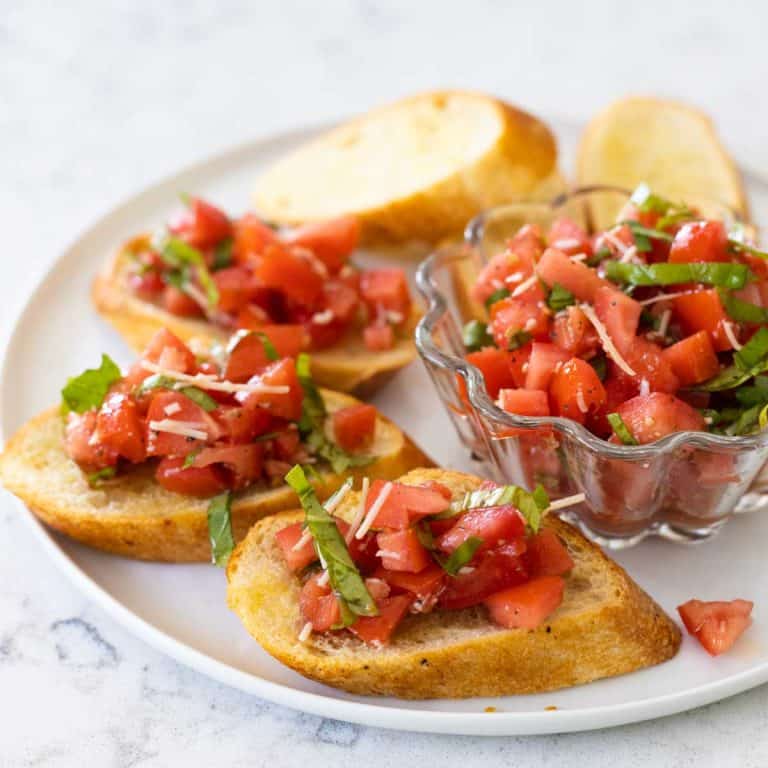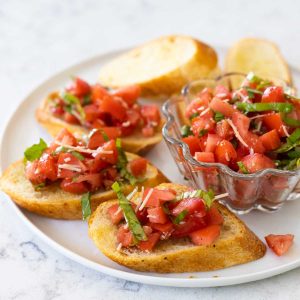 Bruschetta al Pomodoro
The classic Italian recipe, bruschetta al pomodoro, includes a toasted crostini topped with an easy tomato, basil, garlic topping. Drizzled with balsamic vinegar and a sprinkle of parmesan cheese, this is a delicious appetizer to serve when tomatoes are at their peak.
Ingredients
1

fresh baguette

French bread or sourdough

¼

cup

olive oil

divided

4

roma tomatoes

diced

1

teaspoon

minced garlic

¼

cup

fresh basil

2

tablespoon

fresh grated parmesan

*see notes

1

tablespoon

balsamic vinegar

Salt and Pepper to taste
Instructions
Prepare the Crostini
Preheat the oven to 400°F. Slice the fresh bread into ½-inch thick slices on an angle.

Brush both sides of each piece of bread with 2 tablespoons of olive oil and line them up on a single layer on a large baking sheet.

Bake for 5 minutes and then turn the bread pieces over. Bake for 5 minutes on the other side.
Prepare the Bruschetta al Pomodoro Topping
Add the diced tomatoes and the garlic to a mixing bowl.

Stack the basil leaves up in a neat pile and then roll them up to form a log. Slice them thinly. Add the basil chiffonade to the bowl.

Add the parmesan cheese, remaining olive oil, balsamic vinegar, and salt and pepper to the bowl and gently toss together.
Serving Suggestions
You can serve the bruschetta tomato topping in a serving bowl with the crostini toasts on a platter beside it and let guests top their own toasts. You could also line the toasts up on the platter and spoon the tomato topping on it before serving.
Save This Recipe to Your Recipe Box
Find this delicious recipe next time you visit by saving it to your very own recipe box on my site. All your favorites stored in one easy place!