Pesto chicken sliders are a quick and easy party food you can make ahead and freeze for the holiday season. Double the batch and send them with the kids for a fun school lunch!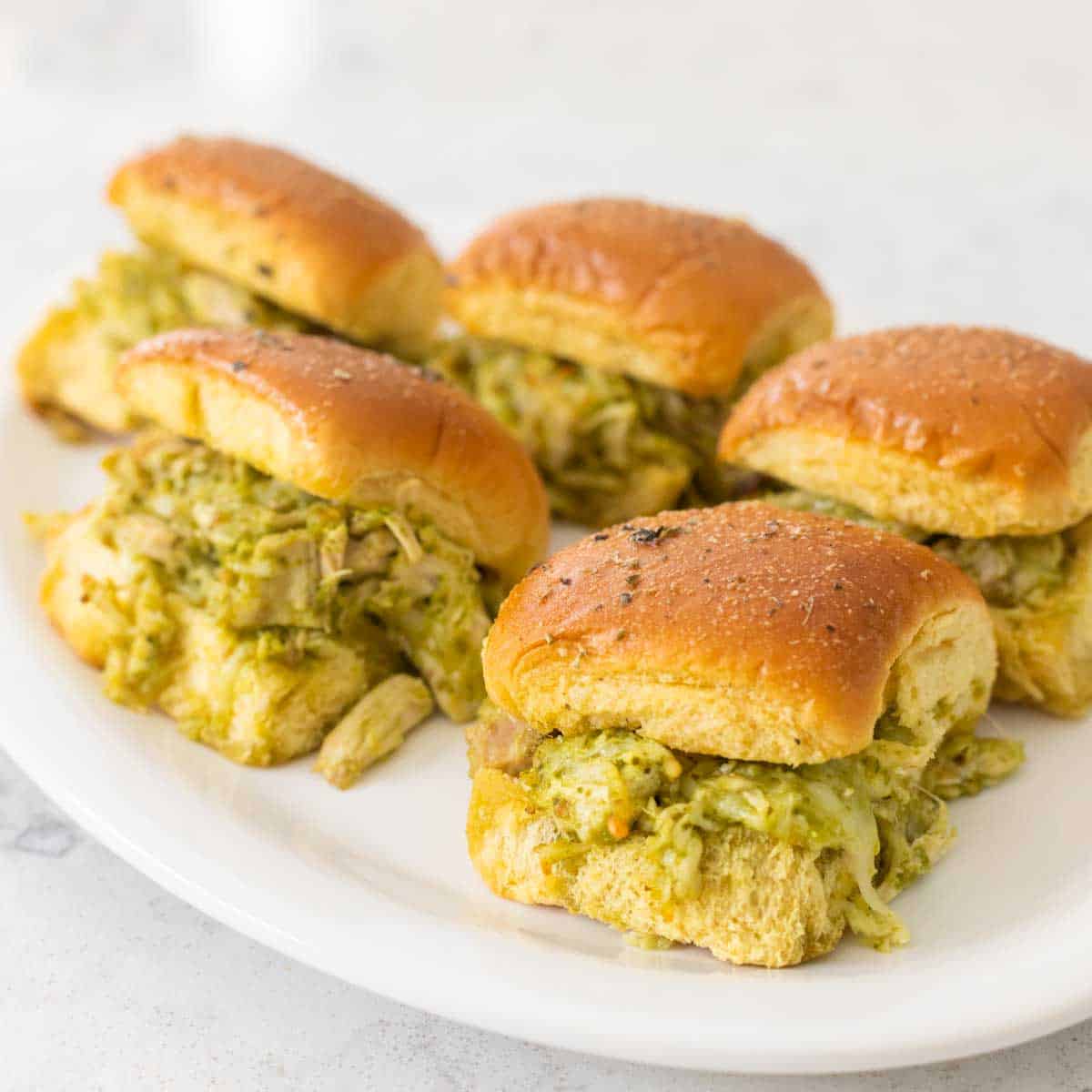 There's just something so fun about bite-sized party sandwiches like these easy pesto chicken sliders.
When I set out a serving platter filled with oven baked sliders, they always seem to disappear in a flash.
With school starting up next week, I've been brainstorming ideas for unique lunch box recipes to send with my kids.
While these pesto chicken sliders are at their very best served hot out of the oven, I'm pretty sure my kids will eagerly gobble them up out of their lunch boxes this year!
Jump to:
Why This is the Best Recipe
My family absolutely loves little party sandwiches but I think this is the best pesto chicken slider recipe because:
Lazy Girl Assembly: There are so few steps to making these sliders, I can whip them together in a pinch. Slice, Stuff, Bake.
Ooey Gooey Texture: When you mix the shredded cheese into the chicken mixture, it binds the whole sandwich together better and makes for a deliciously cheesy bite.
Crispy Buttery Tops: We like our sliders crispy on top and gooey in the center but it doesn't take quite as much butter as some recipes might suggest.
Prepared Pesto: I always have a big jar of the Kirkland basil pesto in my fridge, it is one of my favorite Costco products. This is a fantastic way to use it up.
Ingredients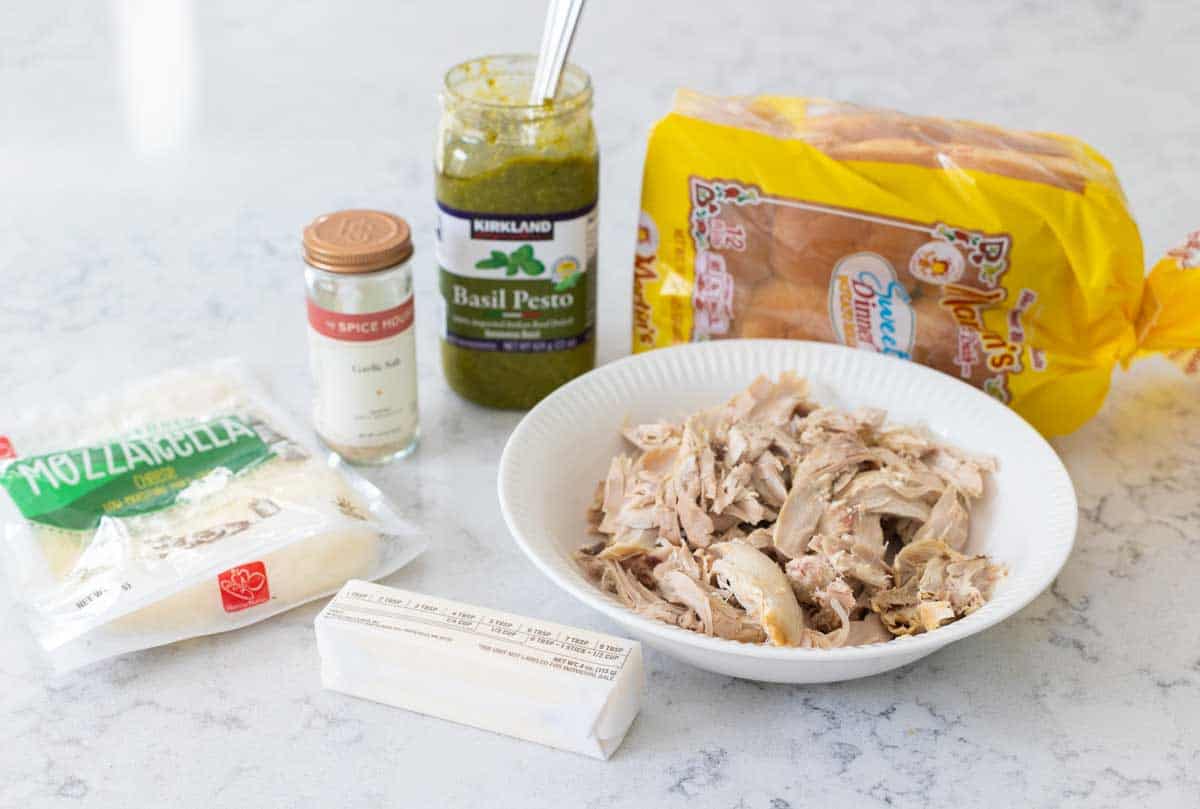 These easy pesto chicken sliders only require 7 ingredients:
Shredded Chicken: I've always loved shredding a rotisserie chicken for a quick way to get cooked meat for a recipe but now our grocery store is actually selling the pulled meat all by itself! Talk about a handy shortcut.
Slider Buns: You could use sweet Hawaiian dinner rolls or regular butter flavored slider buns if you prefer. Any small dinner roll would work great, but slider buns are especially soft in texture.
Basil Pesto: You could make it homemade, but a good prepared brand is such a time saver.
Shredded Mozzarella: You could substitute an Italian cheese blend or a pizza blend if you prefer.
Butter
Garlic Salt
Dried Italian Herb Blend: If you don't have this, you could just sprinkle in dried parsley, dried basil, or even a bit of dried oregano
Prep the Chicken Filling
Place the shredded chicken in a large mixing bowl.
If the meat hasn't been shredded, I suggest cutting it into rough chunks instead of pulling it into shreds. I think the chunks have a better texture in the final slider.
Add the prepared pesto and the shredded cheese.
Gently stir it all together. Don't over stir the chicken or it will break apart too much. You want nice bites of chunky chicken in that final slider.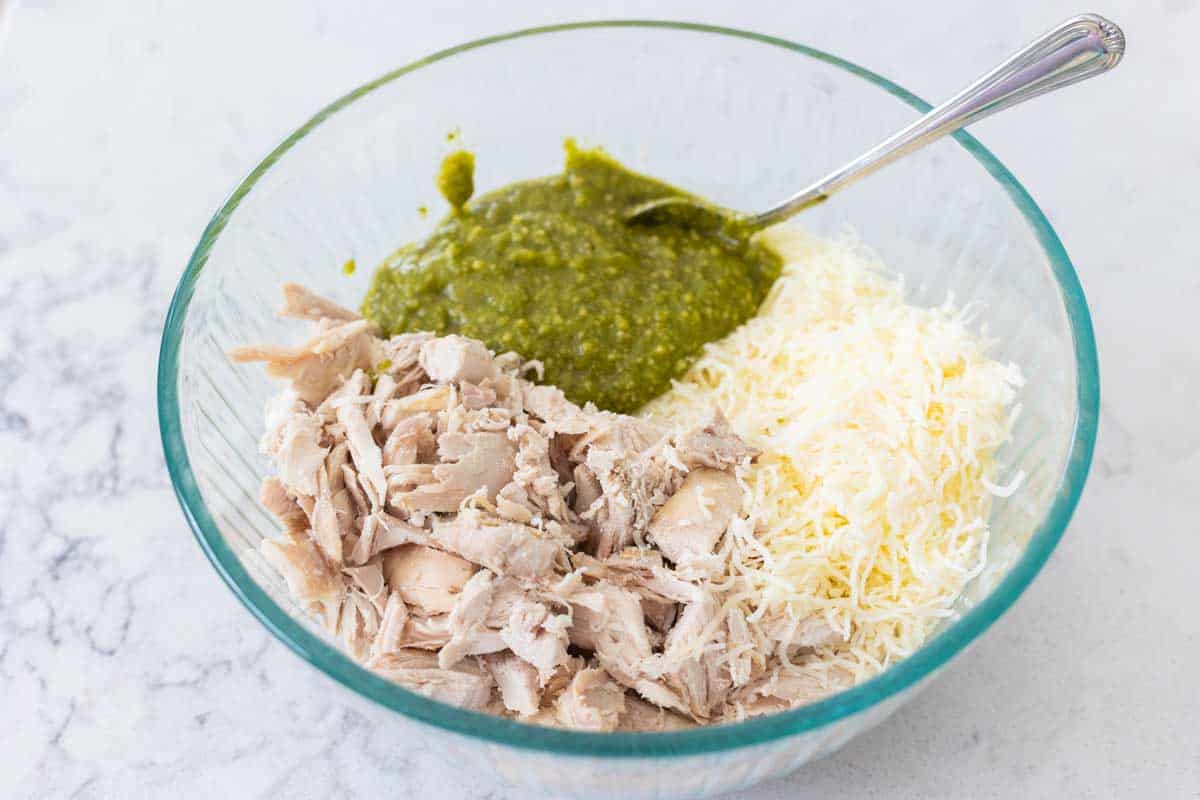 Assemble the Sliders
Some recipes have you attempting to slice an entire pan of slider rolls in half all at one time.
That just sounds like a disaster waiting to happen to me.
My lazy girl short cut is to simply slice each slider bun open like a hamburger bun and line them up on the baking pan.
Fill each bun with a generous spoonful of the prepared pesto chicken filling.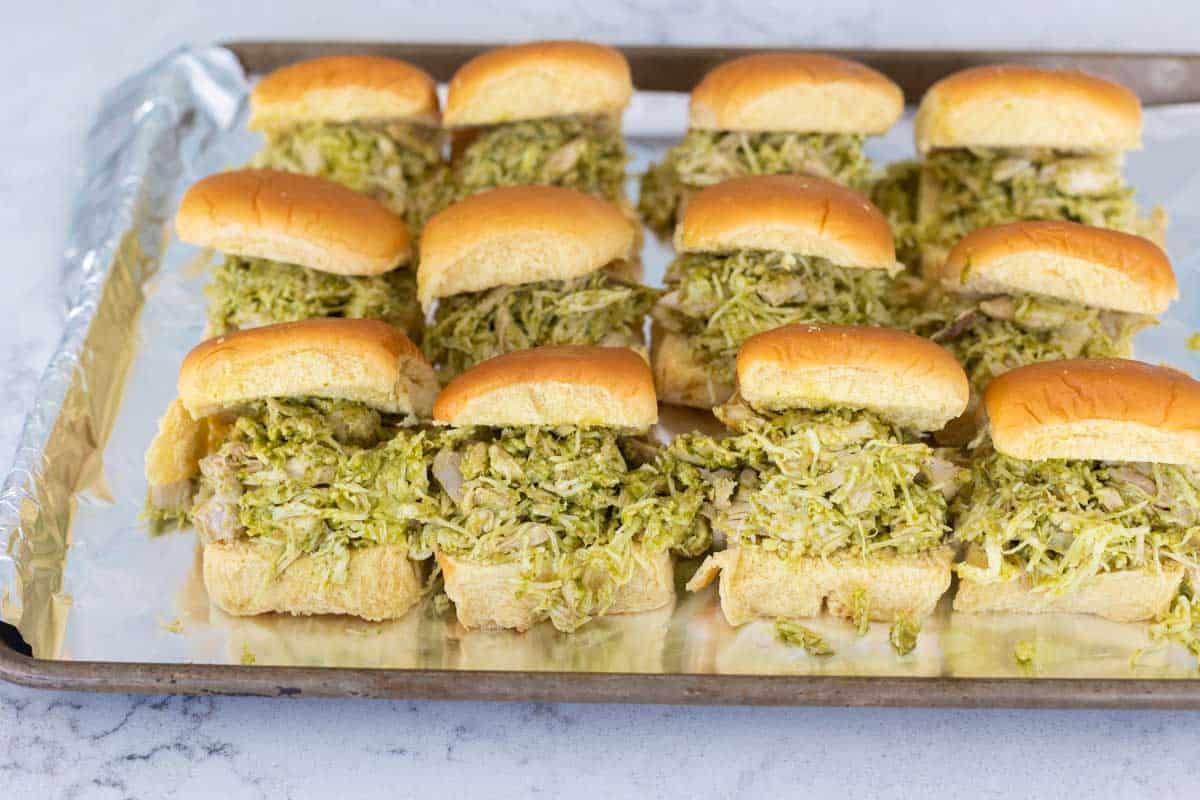 Brush with Seasoned Butter
To give the sliders a perfectly buttery golden brown top, you'll brush melted butter over the top of the tray of assembled sandwiches.
I like to use this as one last chance to give the recipe a boost of flavor.
Stir in garlic salt and Italian herb blend to the melted butter. You could also consider a sprinkle of crushed red pepper flakes for a little kick.
Brush the butter over the tops of the sliders, it is ok if it runs down the sides and into the filling. Everything will taste just that much better.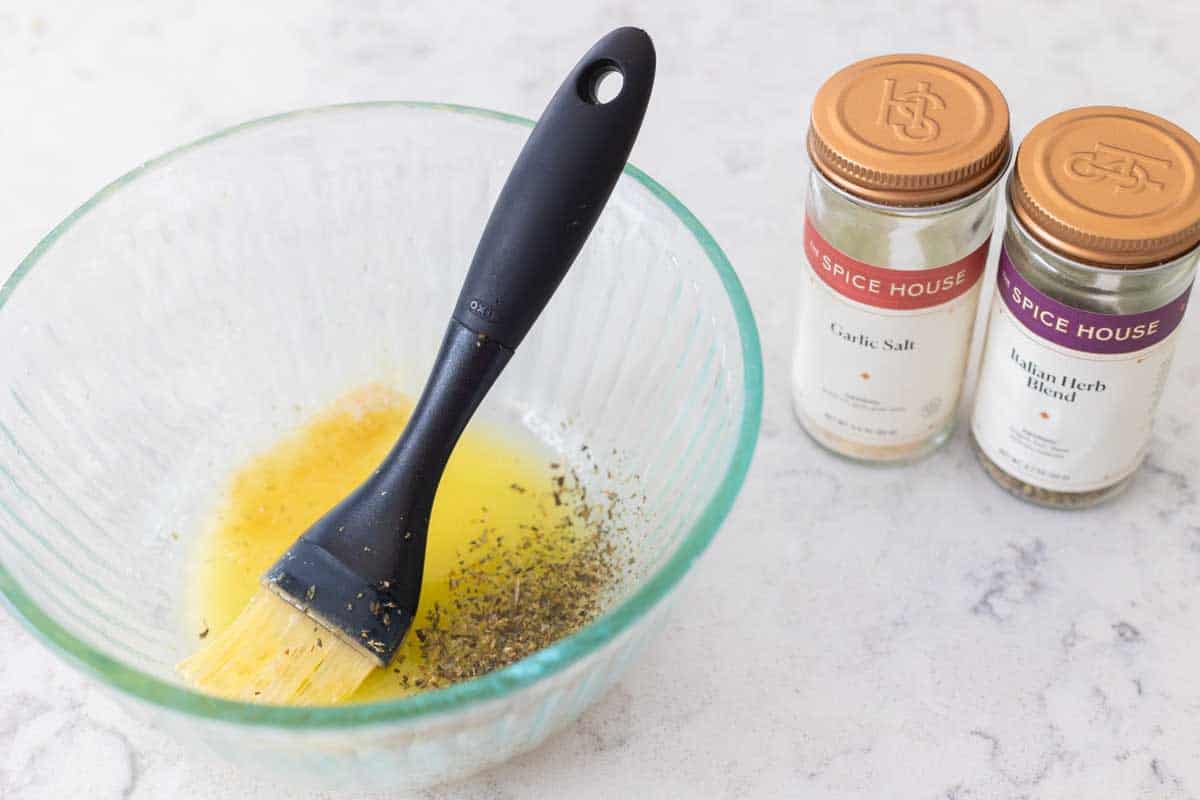 Baking Instructions
Preheat the oven to 375°F.
Bake the pesto chicken sliders for 12 minutes or until the tops are golden brown and the cheese in the filling has melted.
If your filling is especially thick and needs more time, loosely cover the sliders with aluminum foil so the tops don't burn.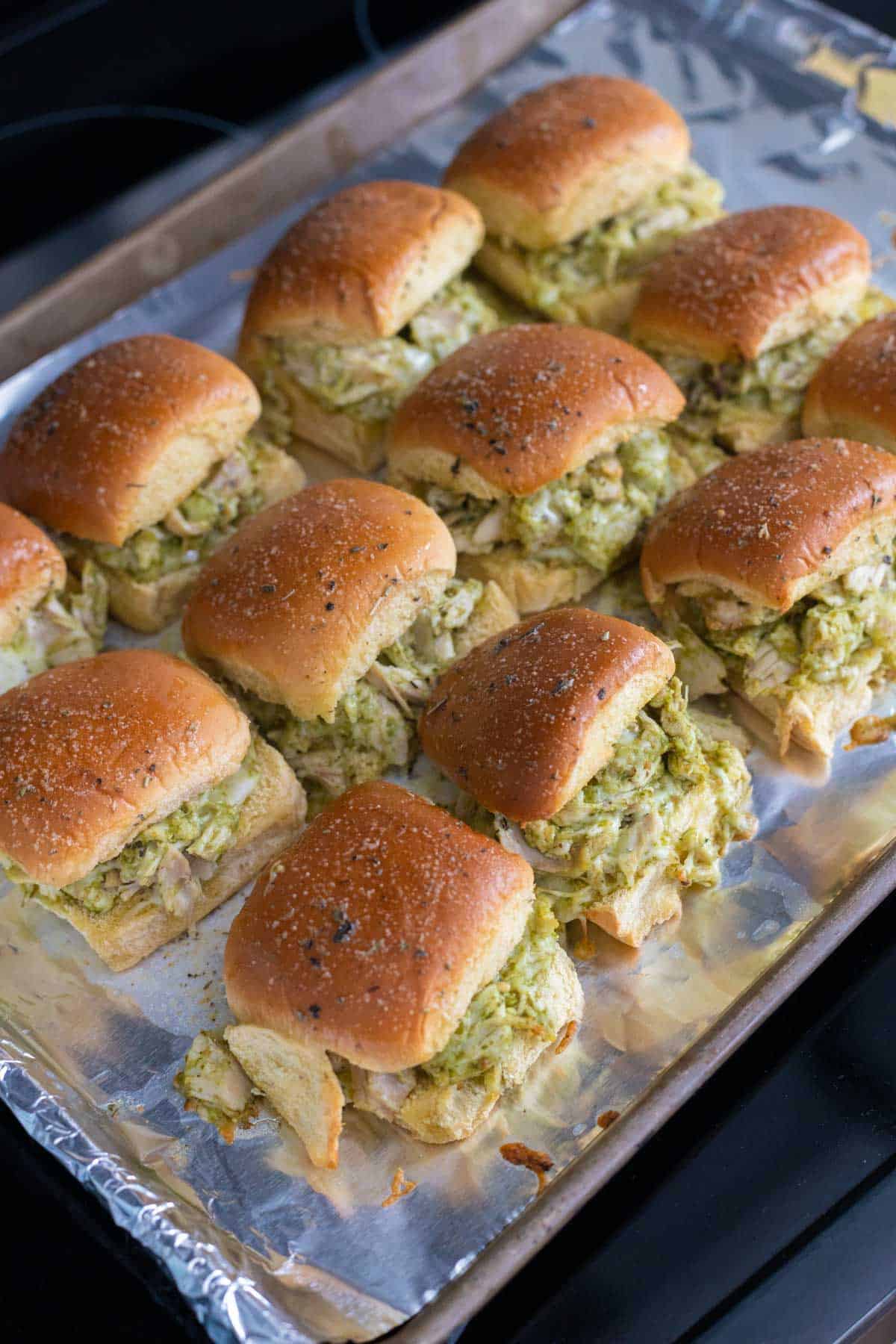 Make Ahead Tips
The Day Before
You can prep these pesto chicken sliders ahead of time for a party and store them tightly covered in plastic wrap in the fridge for up to 24 hours.
Then just bake as directed and serve.
Freezing Instructions
If you want to prep them farther in advance for the holiday season, you can assemble the sliders as directed up to 3 months in advance and wrap them tightly in tin foil.
Let the frozen sliders thaw in the fridge overnight and then bake as directed.
Variations
This slider recipe is delicious just as is, but there are a couple of easy variations you could make:
Spicy Pesto Chicken Sliders: Add crushed red pepper flakes or a dash of hot sauce to the chicken filling
Pesto Turkey Sliders: The pesto and mozzarella cheese would also taste delicious with leftover turkey breast. You could shred my slowcooker boneless turkey breast recipe if you wanted to make something without chicken but there's always the leftover Thanksgiving herb butter turkey, too!
Full-Sized Chicken Pesto Sandwich: You can make a dinner-sized version of this recipe by using my creamy chicken pesto sandwich recipe here.
Serving Suggestions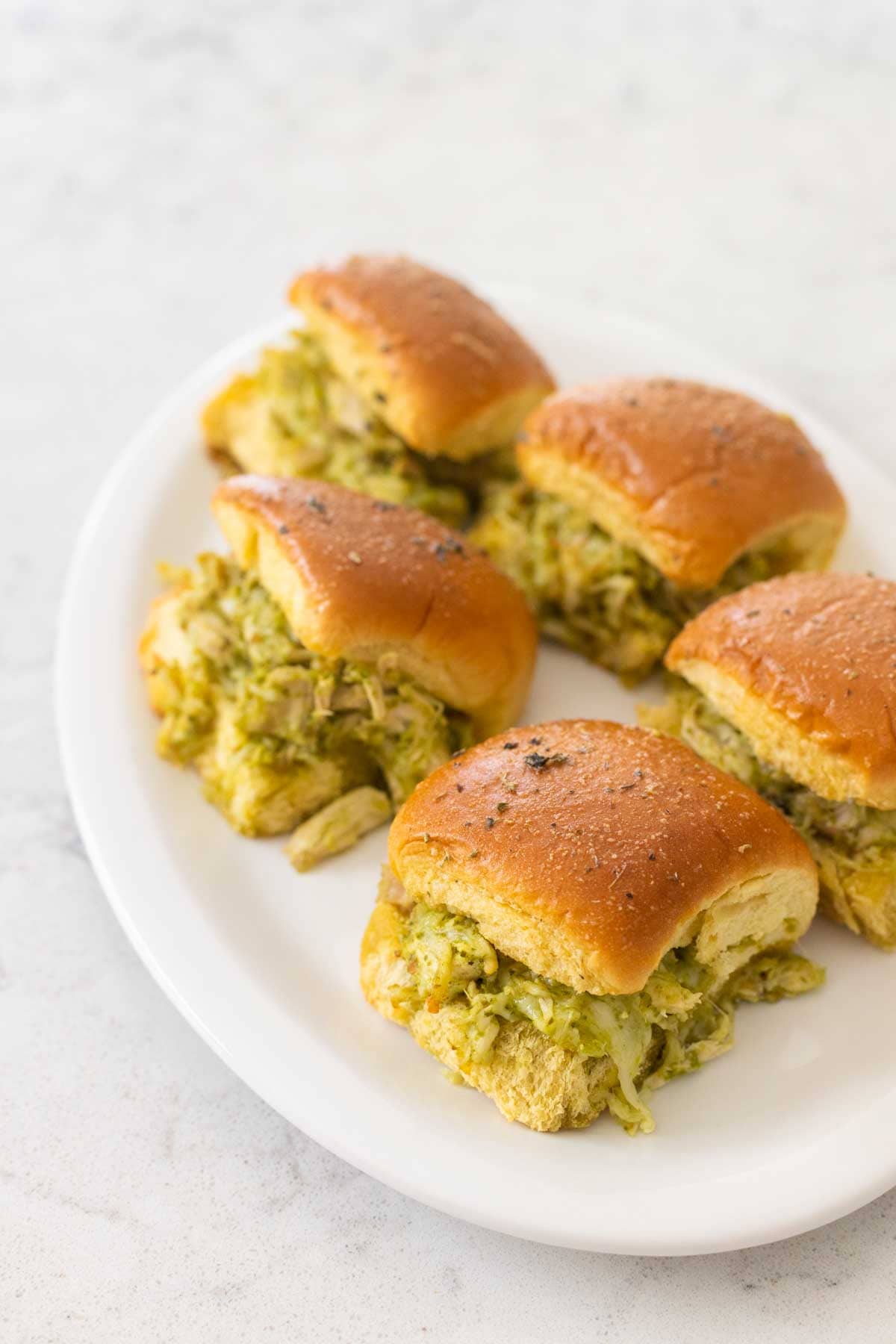 I actually served these pesto chicken sliders as a fun family lunch one weekend and they were a huge hit. Pair them with a bowl of soup or a fresh salad for a heartier meal.
You could serve them for a football party, bite-sized party sandwich for a college graduation, or even as a fun holiday appetizer.
I plan to double up on the recipe to use as a fun alternative to regular sandwiches in my kids' school lunches this year. The sliders are much better hot out of the oven, but my kids will gladly eat them from their lunch box!
More Slider Recipes
These easy pesto chicken sliders are just one of the fun ways to use shredded chicken to make party sandwiches. Don't miss my BBQ chicken sliders recipe, too.
More Pesto Recipes
Prepared pesto is one of our favorite things to buy during our Costco trips. Once you have a jar in the fridge, there are several easy dinners you could make:
📖 Recipe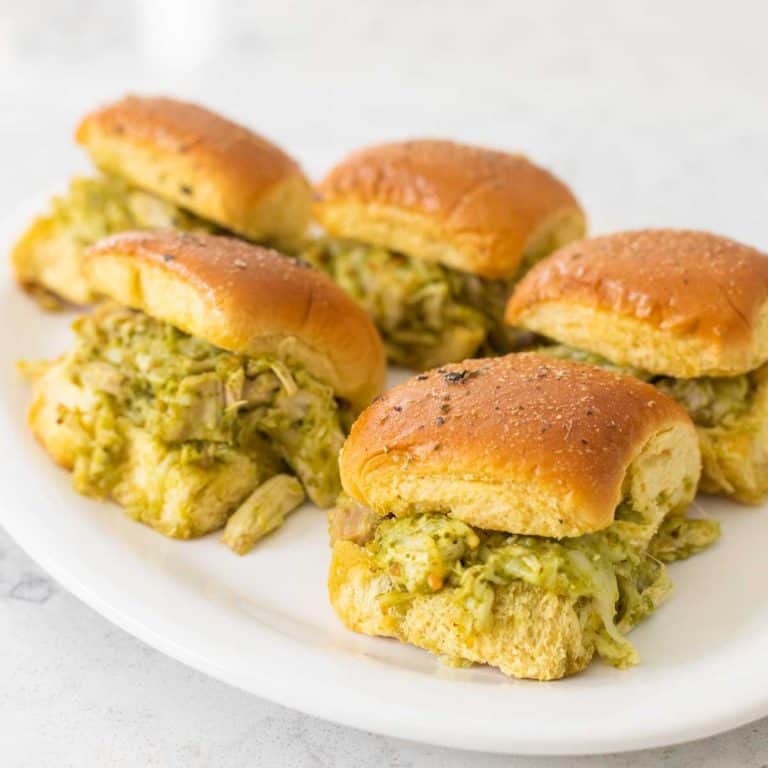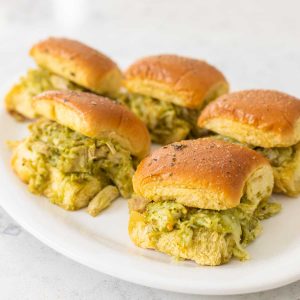 Pesto Chicken Sliders
Easy pesto chicken sliders get a golden brown top when baked in the oven and are such an easy make ahead party food. You may want to double the recipe because leftovers make a fun lunch surprise for the kids to take to school.
Ingredients
1

(12-count) package of slider rolls

Hawaiian rolls or butter rolls

3

cups

shredded chicken

from Rotisserie chicken or leftovers

⅔

cup

prepared basil pesto

store bought or homemade

1

cup

shredded mozzarella cheese

4

tablespoon

butter

melted

½

teaspoon

garlic salt

1

teaspoon

dried Italian herb blend
Instructions
Preheat the oven to 375°F. Set out a large baking sheet and line it with aluminum foil.

In a large mixing bowl, stir together the shredded chicken, pesto, and shredded mozzarella. Stir gently so the chicken doesn't break apart too much, it is a tender meat.

Slice the slider buns in half like a hamburger bun and line them up on the baking sheet. Fill each bun with a spoonful of the pesto chicken filling.

In a small mixing bowl, stir together the melted butter, garlic salt, and dried Italian herb blend. Use a pastry brush to brush the butter over the tops of all the sliders.

Bake the sliders for 12 minutes or until the cheese has melted and the tops are golden brown. If the chicken filling needs more time to warm through, loosely cover the sliders with a bit of aluminum foil to prevent them from browning too much.
Recipe Notes
Easy Variations:
These cheesy pesto chicken sliders are absolutely delicious as is, but you could also consider adding:
a thin slice of roma tomato on top of the chicken filling
a sprinkle of crushed red pepper flakes or a dash of hot sauce to the chicken filling for a spicy pesto chicken
Save This Recipe to Your Recipe Box
Find this delicious recipe next time you visit by saving it to your very own recipe box on my site. All your favorites stored in one easy place!