This easy chicken pesto sandwich can be toasted under the broiler or made in your Air Fryer for a quick dinner on a busy weeknight. Shredded rotisserie chicken is tossed in a creamy pesto aioli sauce and served with melted cheese and fresh tomatoes.
I love serving hot sandwiches for a quick and easy weeknight dinner because they are so fast to prepare!
These creamy chicken pesto sandwiches can be made in just 15 minutes, even faster if your chicken is already shredded and ready to go.
They are toasted just like my popular easy crab melts but then assembled into a delicious sandwich. You could always serve them open face if you prefer.
Serve with fresh fruit or raw veggies and dip. I included some salty chips and it was a huge hit with my family on a busy night.
Jump to:
Why This is the Best Recipe
I think rotisserie chickens are a weeknight dinner super power. This is the best chicken pesto sandwich recipe because:
Just 6 Ingredients: Grab a few easy shortcuts from the store and you're ready to go!
Just 10 Minutes: You can have these sandwiches prepped and ready so fast.
Deliciously Creamy: The pesto aioli sauce is so easy to prepare and filled with flavor.
Toasted Golden Brown: The crispy buns and browned chicken topping are filled with just the right amount of crunch.
Prep-Ahead Friendly: Need to make this easy dinner even faster?? You can prep the filling in advance and just cook the sandwiches at dinner time.
Ingredients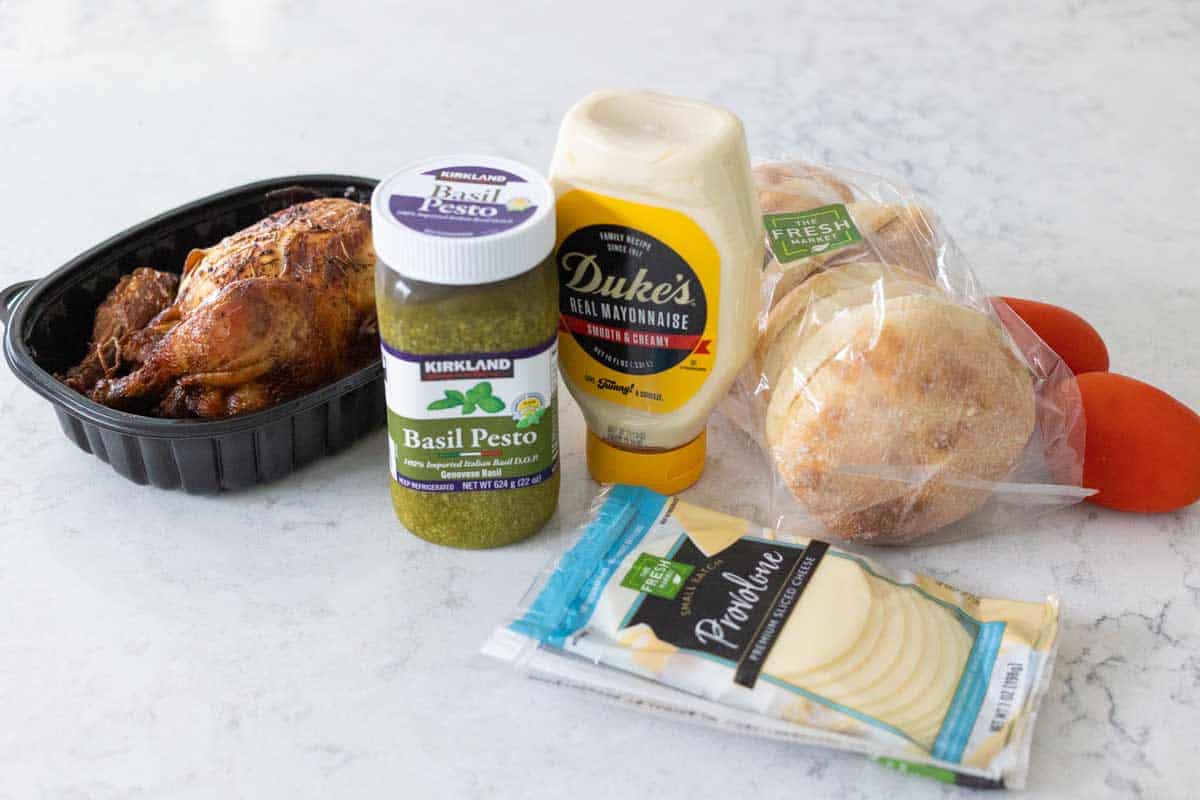 This super easy weeknight dinner needs just six ingredients:
Rotisserie Chicken: Or any leftover cooked chicken you want to use. Maybe you have leftover baked chicken breasts, you could just chop those up.
Prepared Basil Pesto: I always buy the jar of pesto from Costco, but any pesto you love works great.
Mayonnaise: You could use classic mayo, mayo made with olive oil, or even Miracle Whip.
Sandwich Buns or Bread: I used ciabatta buns from the grocery store's bakery department to keep it easy, but take a peek at some of the bread options below.
Sliced Cheese: I prefer provolone but sliced mozzarella would work, too.
Fresh Tomatoes: Roma tomatoes or an heirloom tomato or even a big red beefsteak tomato.
The Best Sandwich Bread
As much as I loved the bakery buns I used for this recipe, they can be tricky to cook evenly under the broiler because the top half is rounded and rests higher and closer to the broiler element than the bottom half of the bun.
This means that one side cooks more quickly than the other.
If you are cooking your sandwiches in an Air Fryer, this is less of an issue.
However, if you're using the oven broiler and are considered about the two halves being even, you may want to build this sandwich on a slice of sandwich bread instead of an uneven bun.
These three bread recipes would make absolutely amazing chicken pesto sandwiches because they have the perfect flavor and texture:
Make the Pesto Chicken Filling
First, remove the meat from the rotisserie chicken and cut it into small chunks like this: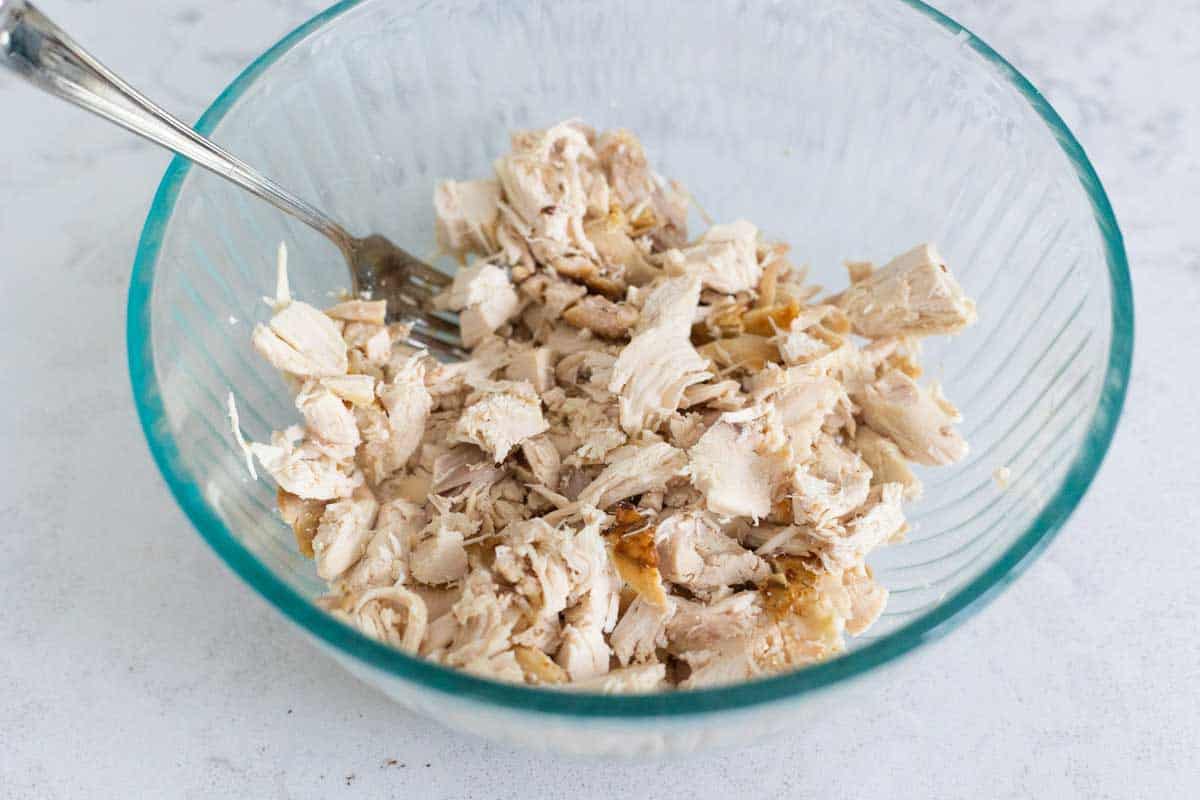 In a separate bowl, combine the mayo and pesto to create the creamy pesto aioli sauce.
NOTE: If you are using mayo and not Miracle Whip, you may want to add a squeeze of lemon juice or white wine vinegar to the sauce. This little bit of acid will help improve the flavor of the entire sandwich.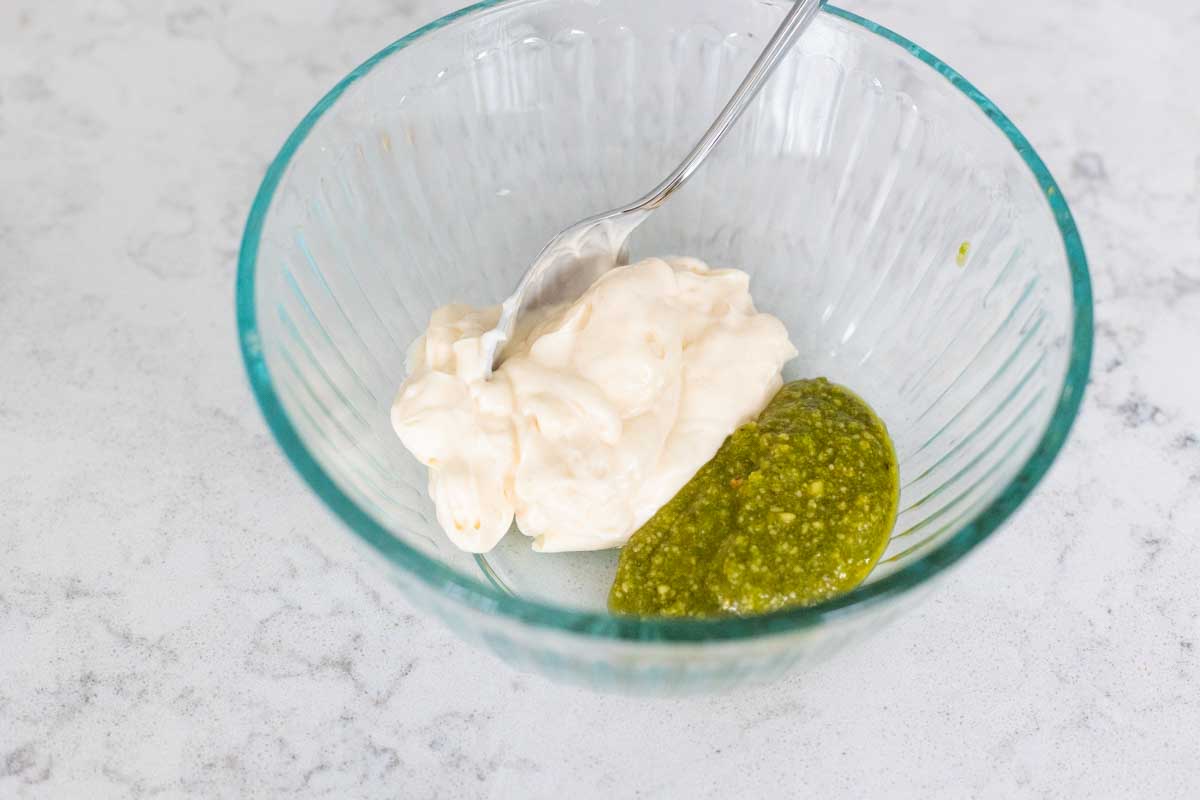 Pour the pesto sauce over the chicken and gently toss to combine.
NOTE: You mix the pesto sauce separately because diced chicken meat is very delicate. If you stir it too hard, it will fall apart and the texture of your sandwich will be too mushy.
As you coat the chicken in the sauce, use a gentle hand to help prevent breaking apart the meat too much.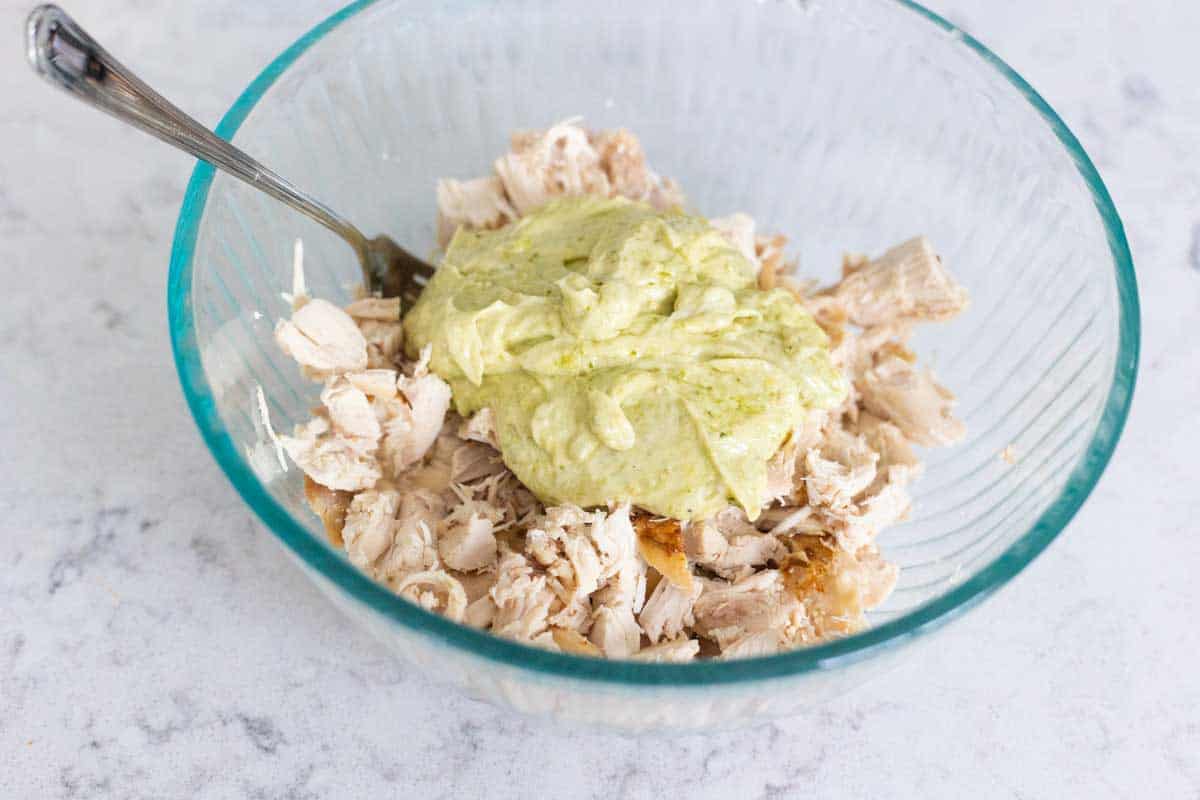 Broil the Sandwiches in the Oven
To cook the sandwiches in the oven, preheat your oven broiler with the top rack 6 inches away from the heating element.
On a broiler-proof baking pan, split the sandwich buns and place them cut-side-up.
Top one half with an even layer of the chicken pesto mixture. Top the other half with 1 - 2 slices of cheese like this: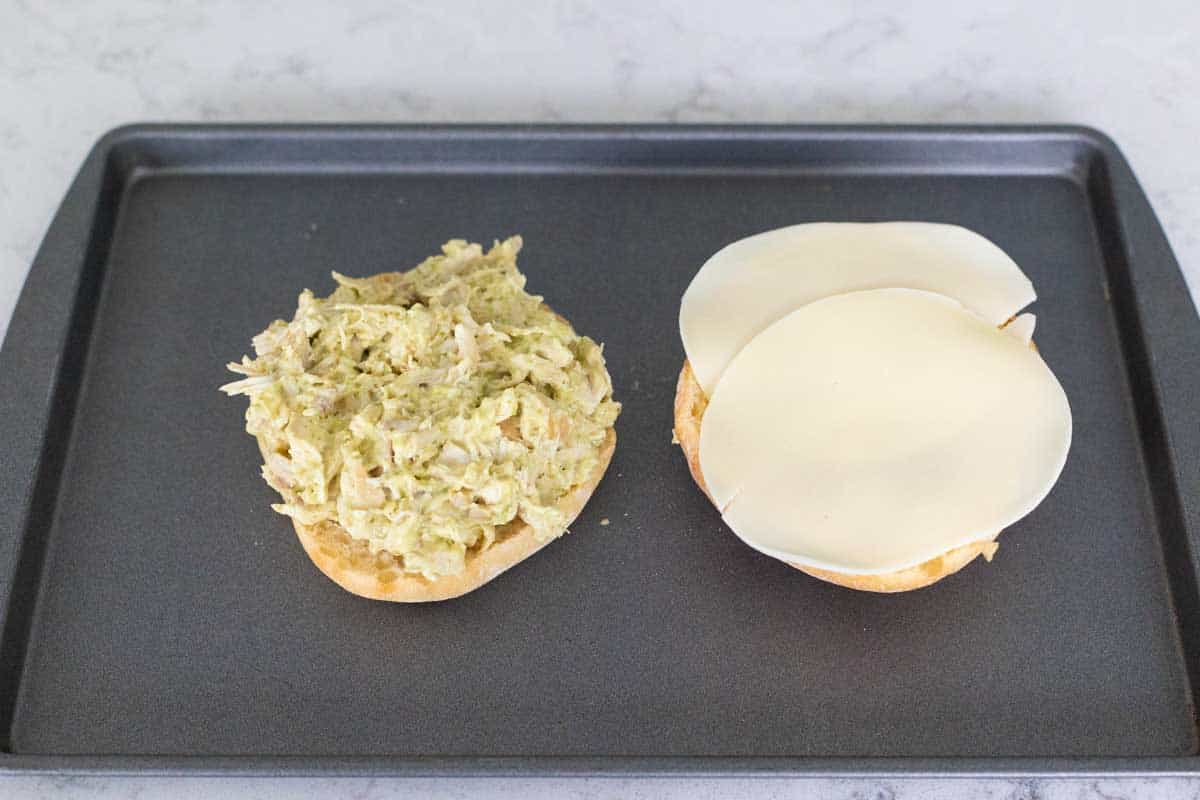 Place the chicken sandwich under the broiler for 3 - 4 minutes or until the cheese has melted and the pesto chicken is bubbling hot and slightly golden brown on the top like this: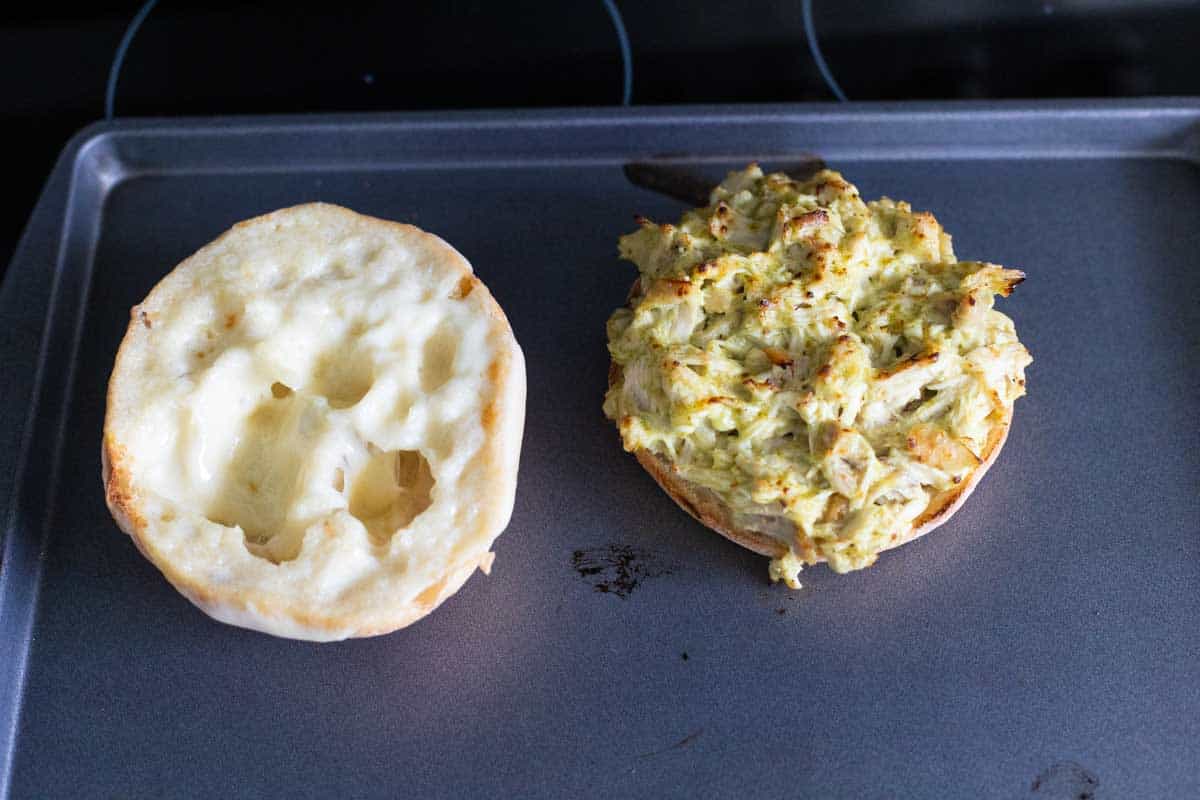 TOP TIP: When using the oven broiler, please note that food can burn VERY QUICKLY.
Do NOT leave your sandwich unattended. Keep a close eye on it so you can pull the food from under the broiler before it is overdone.
This can happen in a blink of an eye.
Air Fryer Pesto Chicken
If you want to cook your chicken pesto sandwich in the air fryer, it is very easy to do.
Preheat the air fryer to 350°F.
Place the chicken pesto mixture on one half of the sandwich bun and the melted cheese on the other half.
Place the sandwich halves filling-side-up in the air fryer and bake until the cheese has melted and the chicken pesto is bubbling hot.
Make Ahead Tips
This is an excellent make ahead meal for your family!
You can prepare the chicken pesto sandwich filling and store it in an airtight container in the fridge for up to 4 days.
Then just top your bread and toast it in the oven or air fryer just before serving.
Serving Suggestions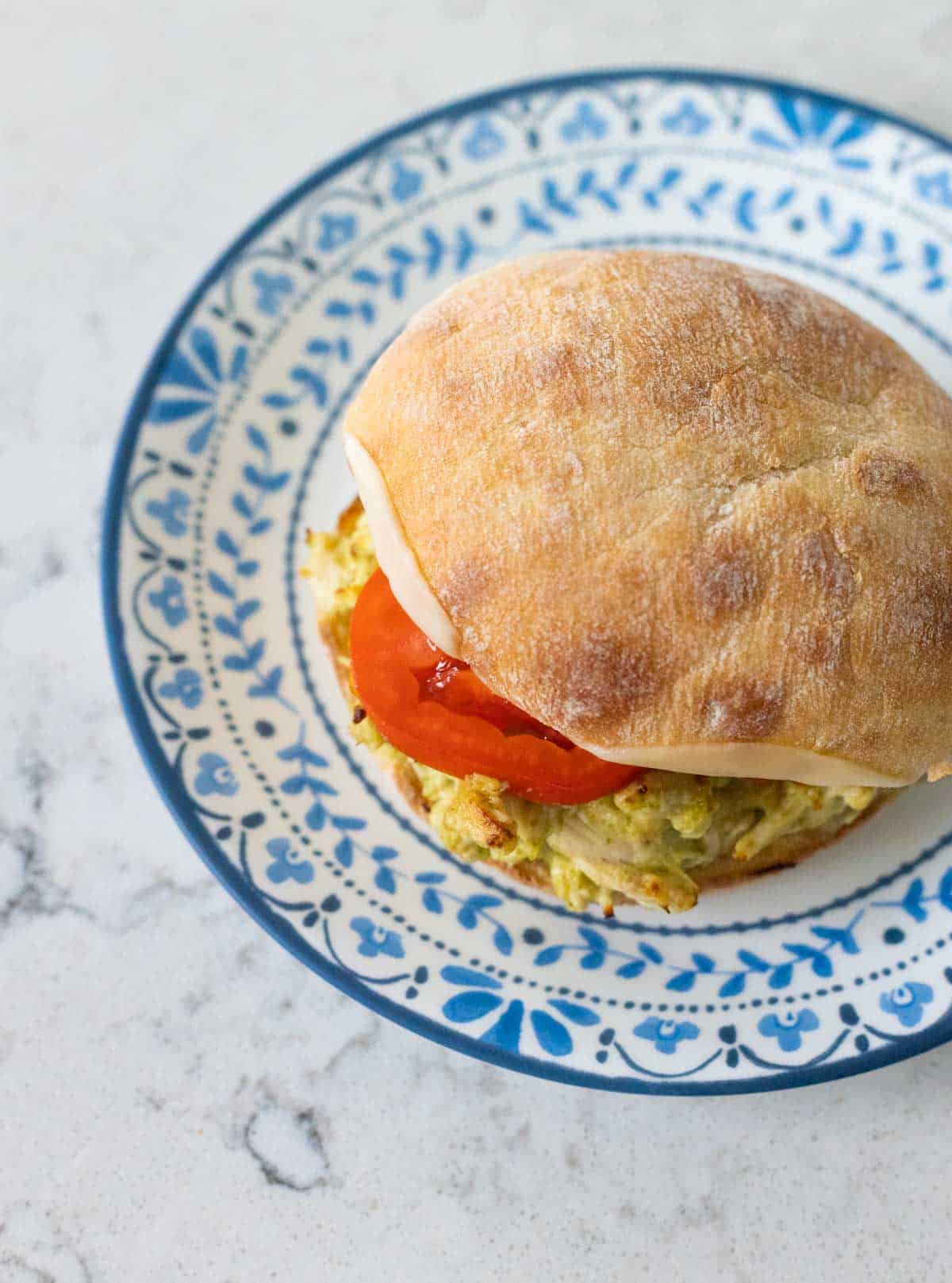 To assemble the final sandwich, slice a fresh tomato and lay slices over the chicken side of the sandwich.
Top with the melted cheese side of the bun, cut in half and enjoy!
You could serve this with a few salty chips, a fresh fruit salad, raw veggies and dip, or any other simple side dish you prefer.
Pesto Chicken Appetizer Variation
This creamy chicken pesto sandwich filling would make an absolutely amazing appetizer, too.
Take a pan of toasted crostini and spread 2 tablespoons or so of the chicken pesto filling over each one.
Broil them in the oven for 3 - 5 minutes or until bubbly hot and top with slices of fresh tomato and a sprinkle of fresh basil.
A drizzle of balsamic glaze over the top would also be extremely delicious.
You could also make the chicken pesto crostini and just serve it alongside a platter of caprese salad. This would offer guests the option for a gluten free appetizer alongside a crispy bread based one.
Alternatively, you could make a less creamy variation with my pesto chicken sliders. They have more cheese and no mayo:
Pesto Chicken Sliders
Easy pesto chicken sliders get a golden brown top when baked in the oven and are such an easy make ahead party food. You may want to double the recipe because leftovers make a fun lunch surprise for the kids to take to school.
GET THE RECIPE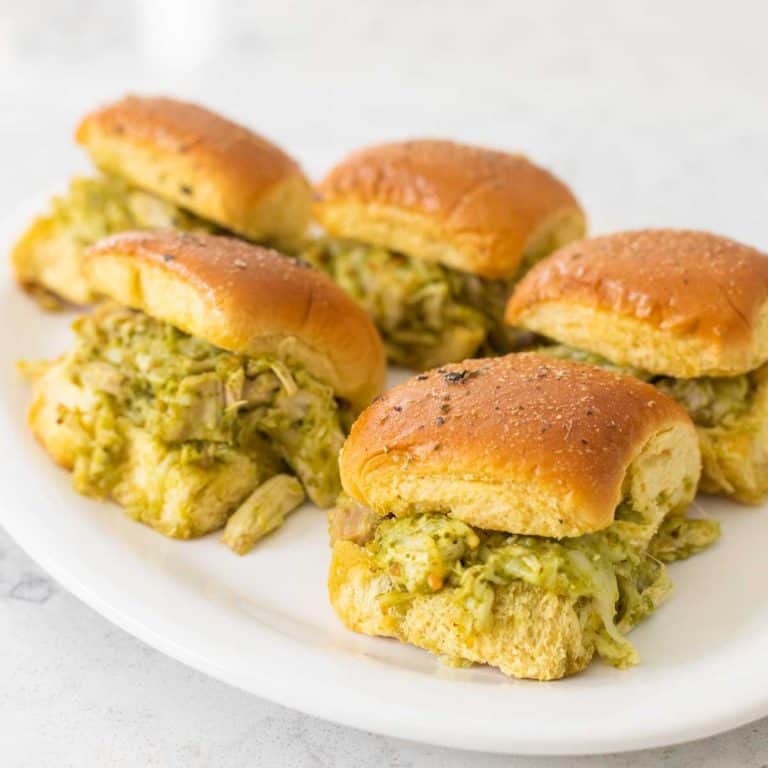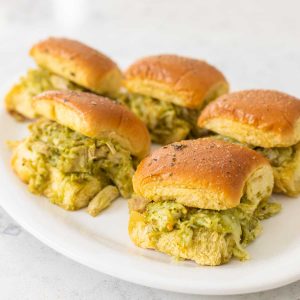 More Pesto Recipes
I always buy the big jar of prepared pesto during our visits to Costco. There are so many ways you can use that delicious sauce.
Turn it into my easy 3-ingredient cheese tortelloni dinner or creamy pesto chicken casserole.
Use pesto sauce instead of alfredo sauce as the base of my chicken spinach alfredo pizza and make it a pesto pizza instead.
Or, make my homemade alfredo sauce and stir in 2 heaping tablespoons of pesto and now you have a creamy pesto sauce for your favorite pasta!
📖 Recipe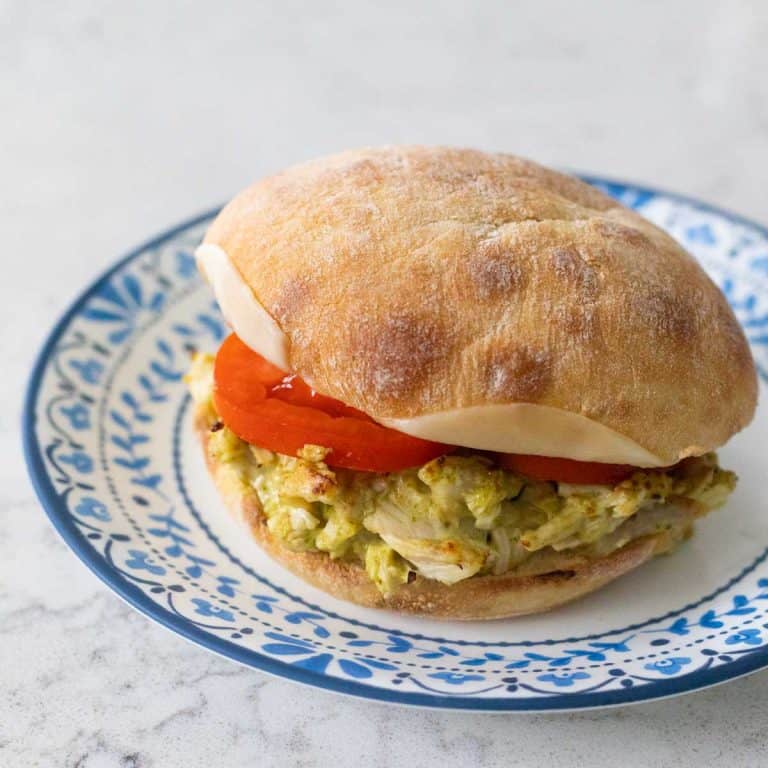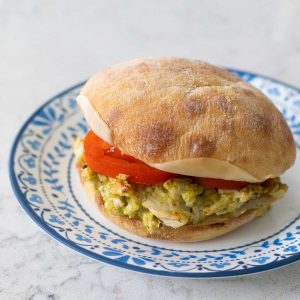 Creamy Chicken Pesto Sandwiches
Tender chicken is tossed in a creamy pesto sauce and toasted in the oven or air fryer with melted cheese on crispy bread. Serve with slices of fresh tomato for a flavorful dinner you can make in just minutes!
Ingredients
For the Chicken Filling
1

rotisserie chicken

shredded, about 4 cups meat

½

cup

mayonnaise with olive oil

3

tablespoon

prepared pesto

Squeeze of lemon juice or 1 teaspoon white wine vinegar

optional, can omit if using Miracle Whip
For the Sandwiches
4

ciabatta rolls

split, or favorite sandwich bread

4

slices

provolone or mozzarella cheese

2

roma tomatoes

sliced thin
Instructions
Prepare the Chicken Filling
Add the shredded chicken to a mixing bowl.

In a small mixing bowl, add the mayo, pesto, and lemon juice if using. Whisk them together. Sprinkle with a pinch of salt and pepper. Stir to combine.

Scrape the pesto mixture over the chicken and gently toss to combine. Don't stir too hard or the chicken will break apart.
Broil the Sandwiches in the Oven
Preheat the broiler with the oven wrack 6 inches from the top of the oven.

Split the ciabatta rolls and place them open face, cut side up, on a large broiler-safe baking pan.

Scoop ¼ of the chicken mixture onto the bottom half of each of the four buns. Place 1 - 2 slices of cheese on the top half of each bun.

Broil the sandwiches for 3 - 5 minutes or until the chicken is warmed through and the cheese slices are bubbling.
Bake the Sandwiches in the Air Fryer
If you prefer to use your air fryer, simply preheat it to 350°F.

Scoop ¼ of the chicken mixture onto the bottom half of each of the four buns. Place 1 - 2 slices of cheese on the top half of each bun.

Bake the sandwiches in a single layer in the air fryer for 3 - 5 minutes. You may need to work in batches.
Assemble and Serve
Place the tomato slices on top of the chicken and then top with the top half of the bun and serve immediately.
Save This Recipe to Your Recipe Box
Find this delicious recipe next time you visit by saving it to your very own recipe box on my site. All your favorites stored in one easy place!