Garlic parmesan sourdough bread baked right in your bread machine is the perfect first sourdough recipe to try with a new bread maker. Foolproof with the added help from a little yeast to ensure a perfect rise.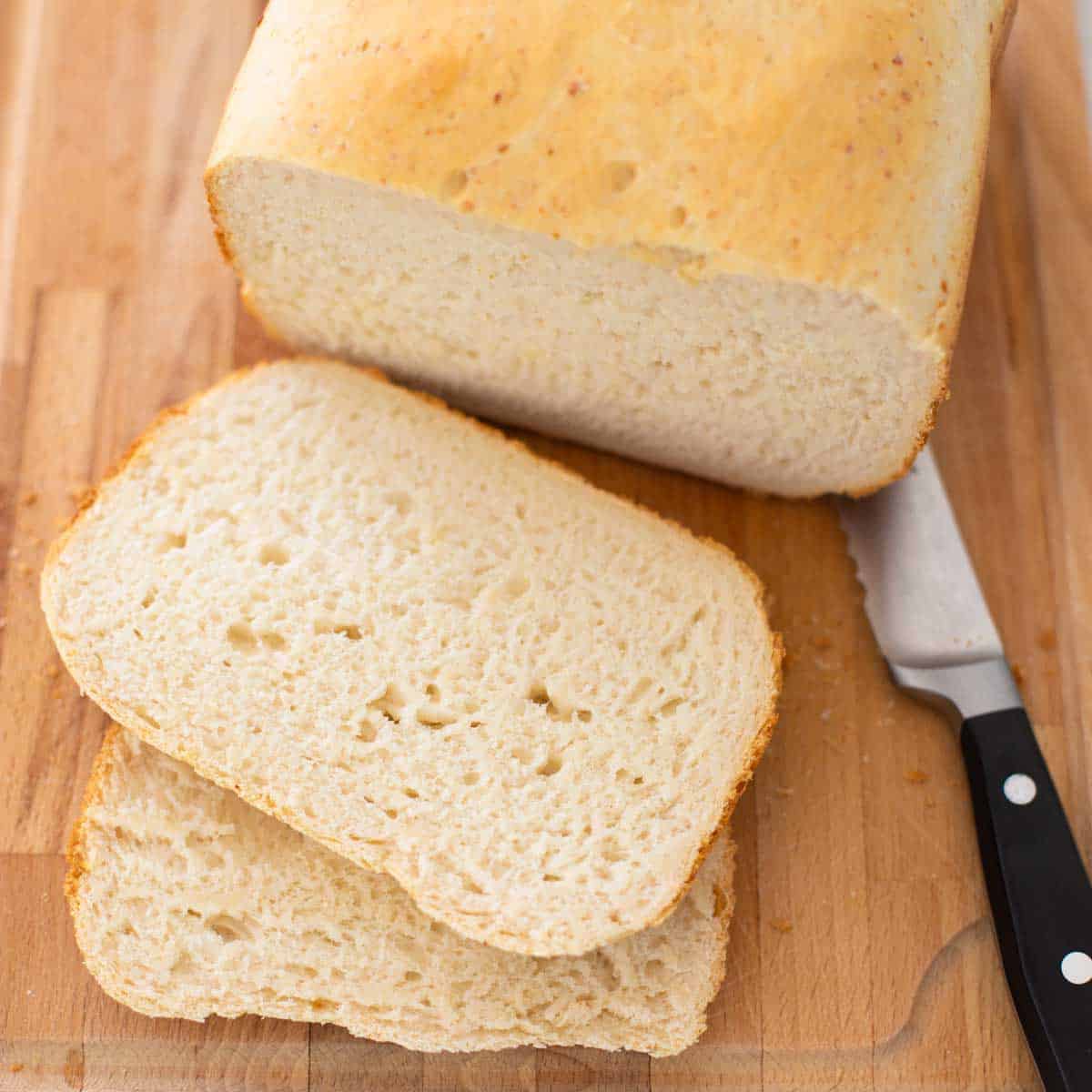 One of the best things about baking homemade bread with a bread machine is that you can easily make foolproof bread recipes that would be a lot more complicated when baked in your oven.
Sourdough is definitely one of those things. Baking homemade sourdough bread in your oven requires you have a just-right active sourdough starter that is bubbly enough to rise your bread.
Baking homemade sourdough in a bread machine is so much easier because I use just a touch of additional yeast to ensure the perfect rise but the sourdough starter brings all that amazing sourdough flavor to the bread.
Our favorite classic sourdough loaf recipe and a delicious fluffy sourdough dinner rolls recipe are both in The Ultimate Bread Machine Cookbook. They are staples in our family dinner routine.
But this fantastic garlic parmesan sourdough is a fun twist on the classic loaf recipe and pairs perfectly with an Italian dinner you've got planned. We love it with dinners featuring tomato-based sauces and soups.
If you're new to baking sourdough in a bread machine, this is a great place to start!
Jump to:
Why This is the Best Recipe
I love each and every one of these delicious bread machine recipes but I think this is the best garlic parmesan sourdough recipe because:
Easy Sourdough for Beginners: If you've never baked with sourdough before, this is a perfect place to start.
Perfect Rise: Traditional sourdough can be tricky, but this recipe uses the power of the bread maker to get a perfect rise every time.
Savory Flavor: Spaghetti night, here we come! This is a great addition to any Italian dinner you've got planned.
Ingredients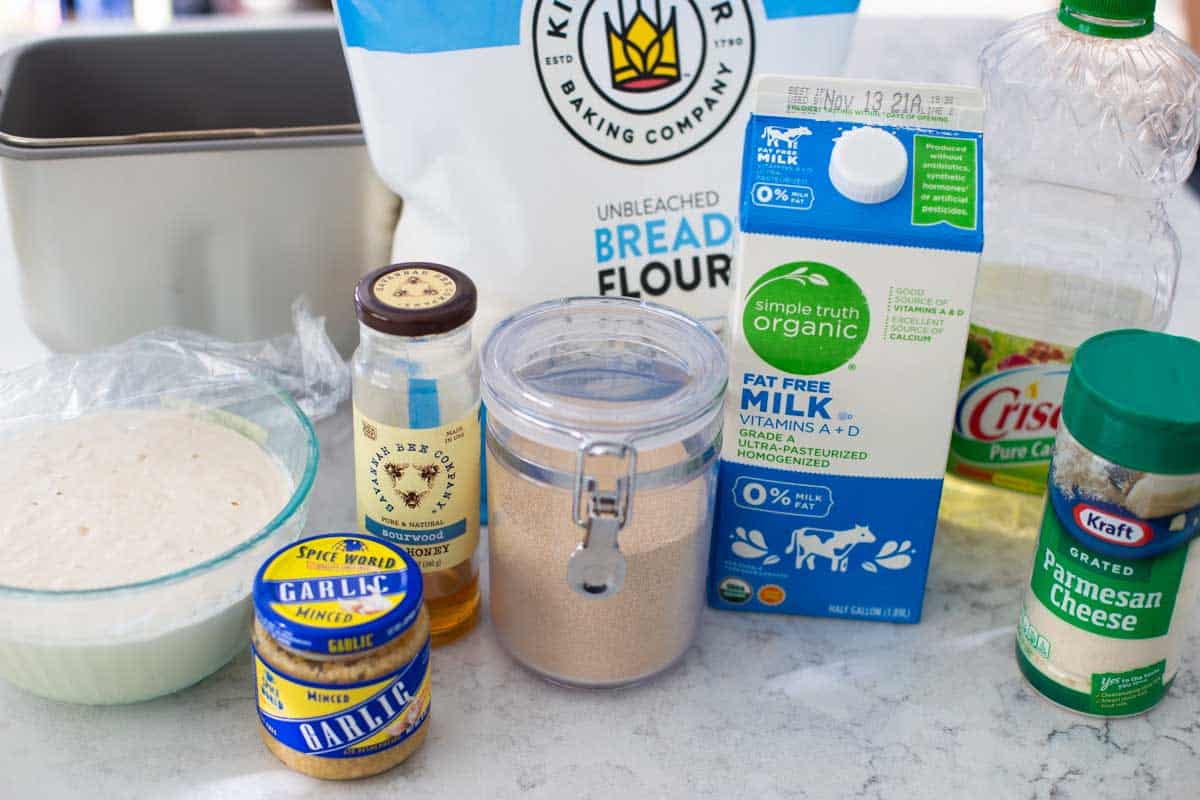 Once you try baking sourdough bread in your bread machine, you'll be amazed at just how easy it is. You need just a simple list of ingredients to get started:
Sourdough starter: You can use the discard after a sourdough feeding or you can use part of your active starter. In any case, you don't need to worry about just how active the starter is because this is used more as a flavoring for the bread. We'll be relying on the help from some yeast to ensure a perfect rise.
Milk: I always use 2% for bread making.
Canola oil
Honey
Bread flour
Grated parmesan
Minced garlic
Salt
Active dry yeast: You can also use "bread machine yeast" but it doesn't have to be specifically labelled as such.
Add the Wet Ingredients First
Be sure to follow the instructions with your particular bread machine, but almost all of them call for adding the wet ingredients to the bread pan first.
Add the sourdough starter, milk, canola oil, and honey to the bread pan fitted with the paddle attachment.
Sourdough starter can be hard to measure because of its thick texture. You will probably find it easiest to weigh it with a food scale.
Put your bread pan on the scale and hit the "Tare" button. This will set the scale to 0g and you can weigh the starter directly in the pan.
Add the Dry Ingredients
Once the wet ingredients are in the pan, add the dry ingredients right on top.
Add the bread flour, parmesan, garlic, and salt to the pan.
Use a spoon to dig a small well in the top-center of the flour and place the yeast there.
Program the Bread Maker
Place the bread pan in the bread machine and use the Basic/White program for a 1.5-pound loaf.
The cycle will take approximately 3 - 3.5 hours depending on your machine.
Storage Tips
Store your sourdough loaf in a plastic bag at room temperature for 2 - 3 days. We also enjoy a countertop bread box for storage.
You can freeze the completely cooled bread for up to 6 months. Simply defrost with the bag open to allow air circulation so there's no condensation that could dampen the bread loaf.
📖 Recipe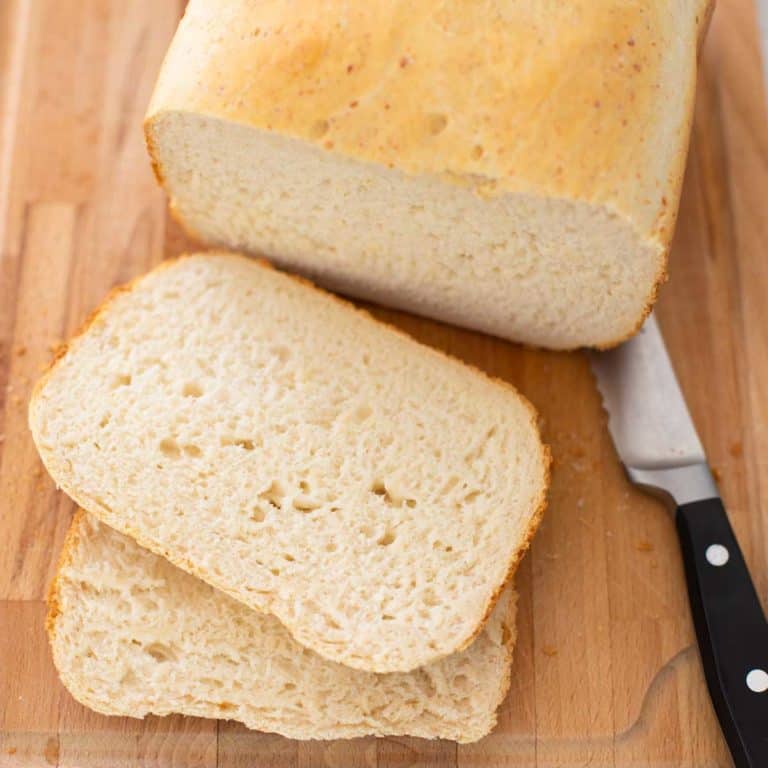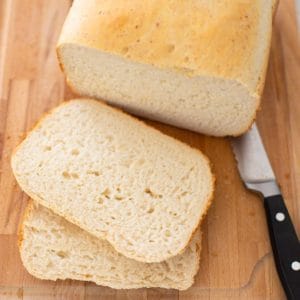 Garlic Parmesan Sourdough
This savory sourdough bread recipe is made right in a bread machine. All the sourdough taste with none of the worry about rising! The garlic parmesan flavor pairs perfectly with any zesty tomato-based dinner.
Ingredients
For a 1.5 pound Loaf
1 ¼

cups

(250g) sourdough starter

½

cup

milk

1

tablespoon

canola oil

1

tablespoon

honey

3

cups

(411g) bread flour

½

cup

grated parmesan cheese

2

teaspoons

minced garlic

¾

teaspoon

salt

1

teaspoon

active dry yeast
Instructions
Add the ingredients to your bread machine's baking pan in the order listed from sourdough starter to yeast.

Choose the Basic or White program setting based on your machine's options. Select the coordinating setting for your loaf size on your machine and press "Start."

When the loaf is done, remove it from the bread pan and transfer it to a wire rack to cool for at least 30 minutes before slicing.
Save This Recipe to Your Recipe Box
Find this delicious recipe next time you visit by saving it to your very own recipe box on my site. All your favorites stored in one easy place!