Rich and creamy tomato bisque soup is a surprisingly easy canned tomatoes soup recipe. Filled with flavor from sauteed carrots, onions, and celery and a sprinkle of dried basil, this elegant soup could be served as an appetizer for a holiday dinner but is just at home on the table for a busy weeknight dinner.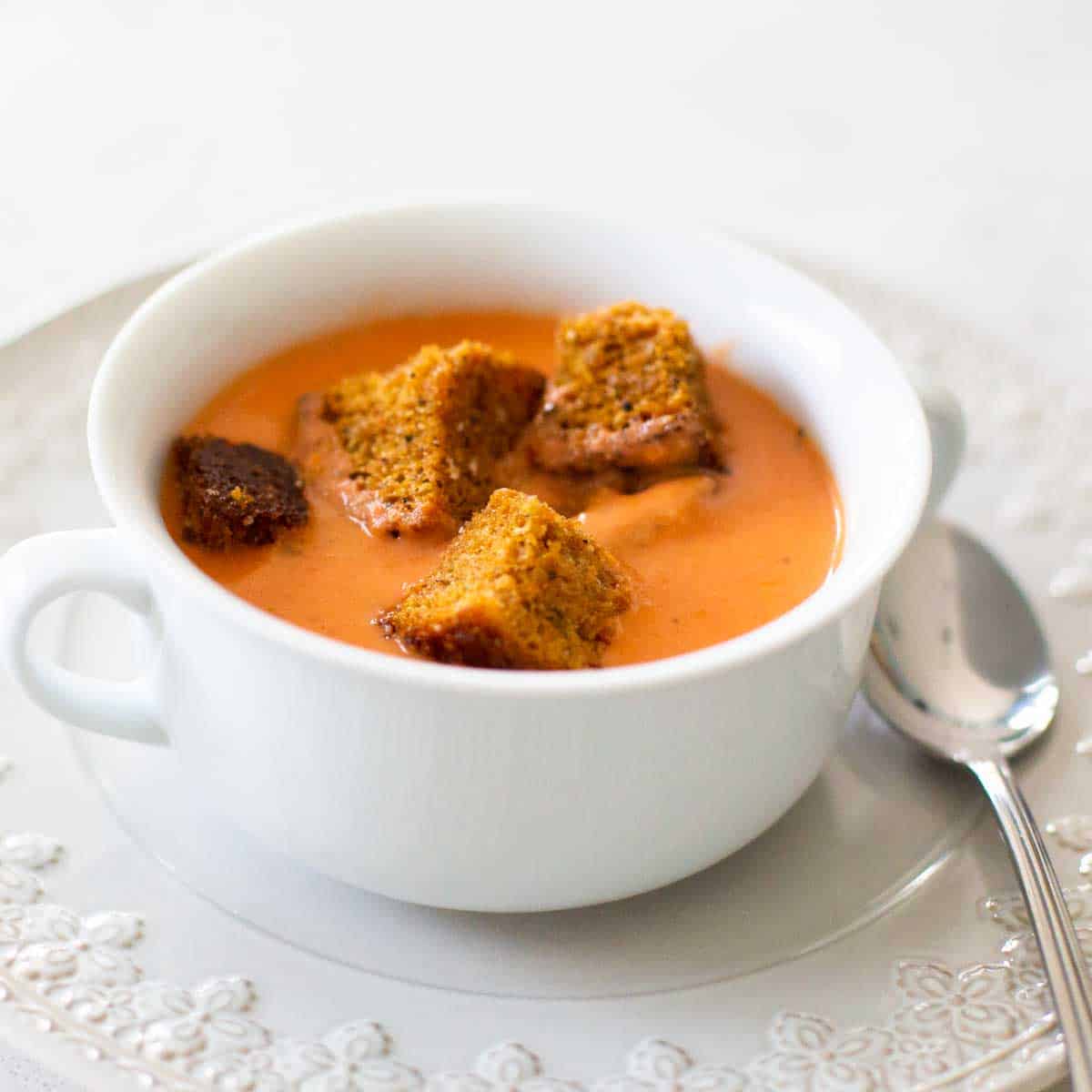 Have you ever been inspired to cook something just to make your kids giggle??
This tomato bisque soup made it's way to our family dinner table all because of a sketch comedy show my kids think is absolutely hysterical.
I believe family dinner should be fun, this was my playful way to show my kids I'm paying attention to them.
The tomato soup is so easy to cook. To keep the entire meal simple, I served it with wedges of our favorite bread machine focaccia recipe. I topped some of the leftovers the next day with a few leftover homemade brown bread croutons and that was equally delicious.
But, if you want to read more about our silly background story, you can jump to the "Something Funny About Bisque" section at the bottom.
Jump to:
Ingredients
The ingredients for the soup are so easy: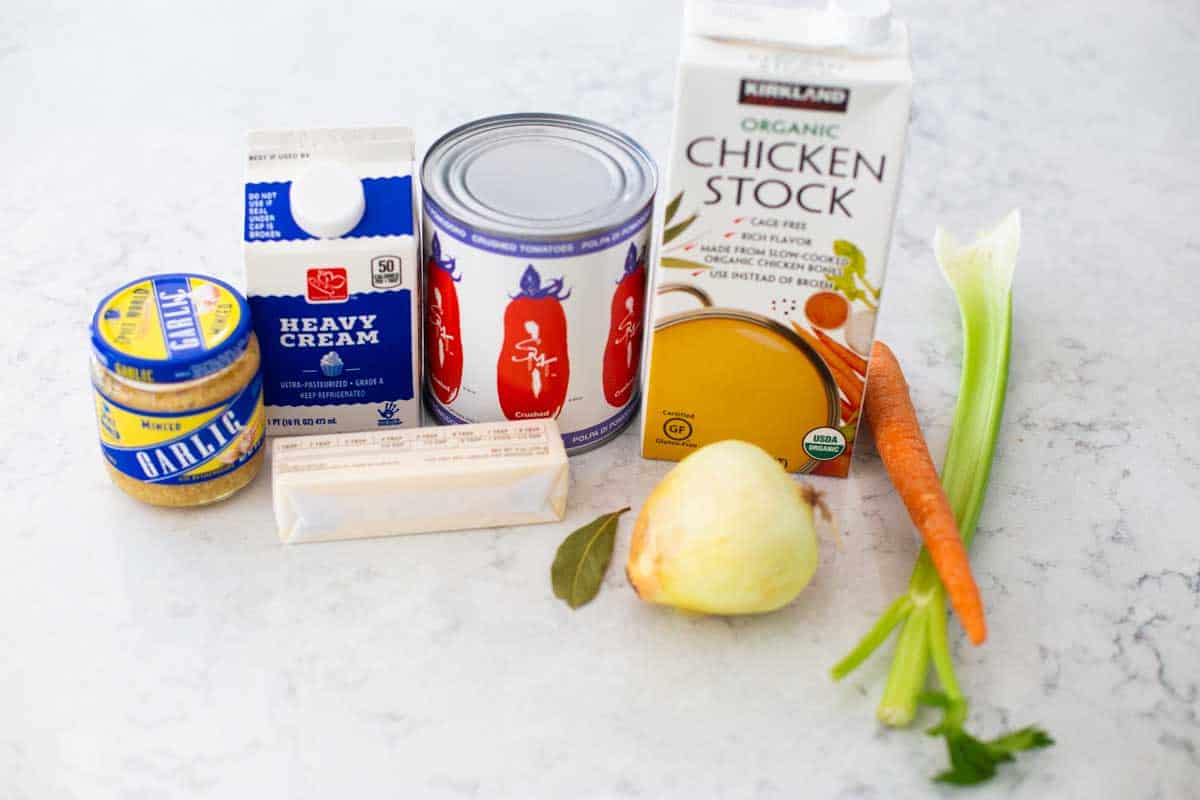 Canned tomatoes: I prefer to use crushed so that the entire soup is easier to blend.
Chicken stock
Butter
Carrot
Celery
Onion
Garlic
Dried basil and Bay leaf
Heavy cream
See recipe card for quantities.
Instructions
Melt the butter in a large soup pot over medium-high heat.
Add the chopped carrots, celery, and onion and stir to coat in the butter.
Saute until the vegetables are very tender, about 10 - 15 minutes. Don't rush this step, soft veggies will be easier to blend smoothly.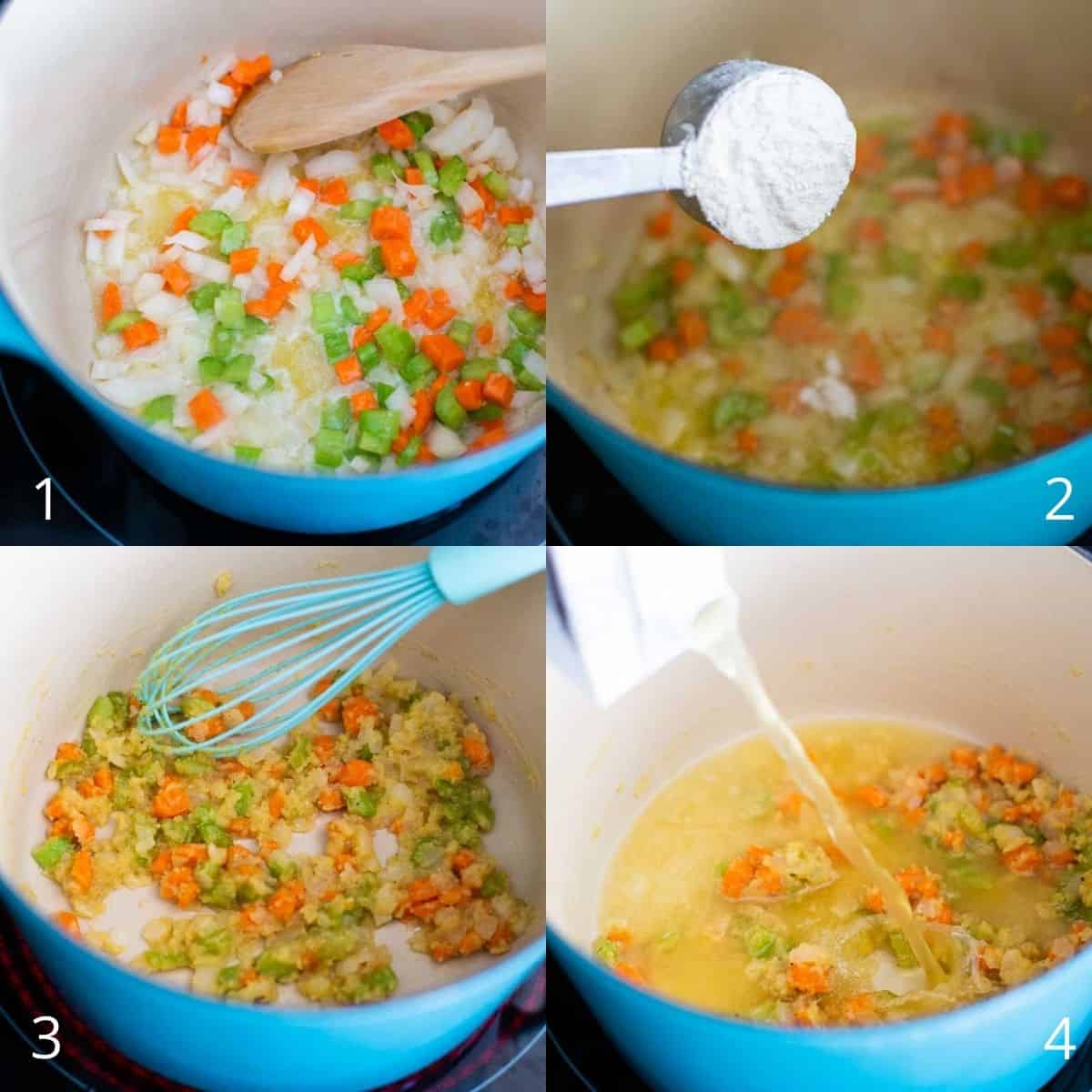 Add the flour to the veggies and stir to combine. Continue to stir and cook for 3 minutes or until the flour is golden brown.
Drizzle in the chicken stock and whisk until the flour dissolves into the broth.
Once the broth is smooth, add the dried herbs and bay leaf.
Stir them in and add the entire can of crushed tomatoes.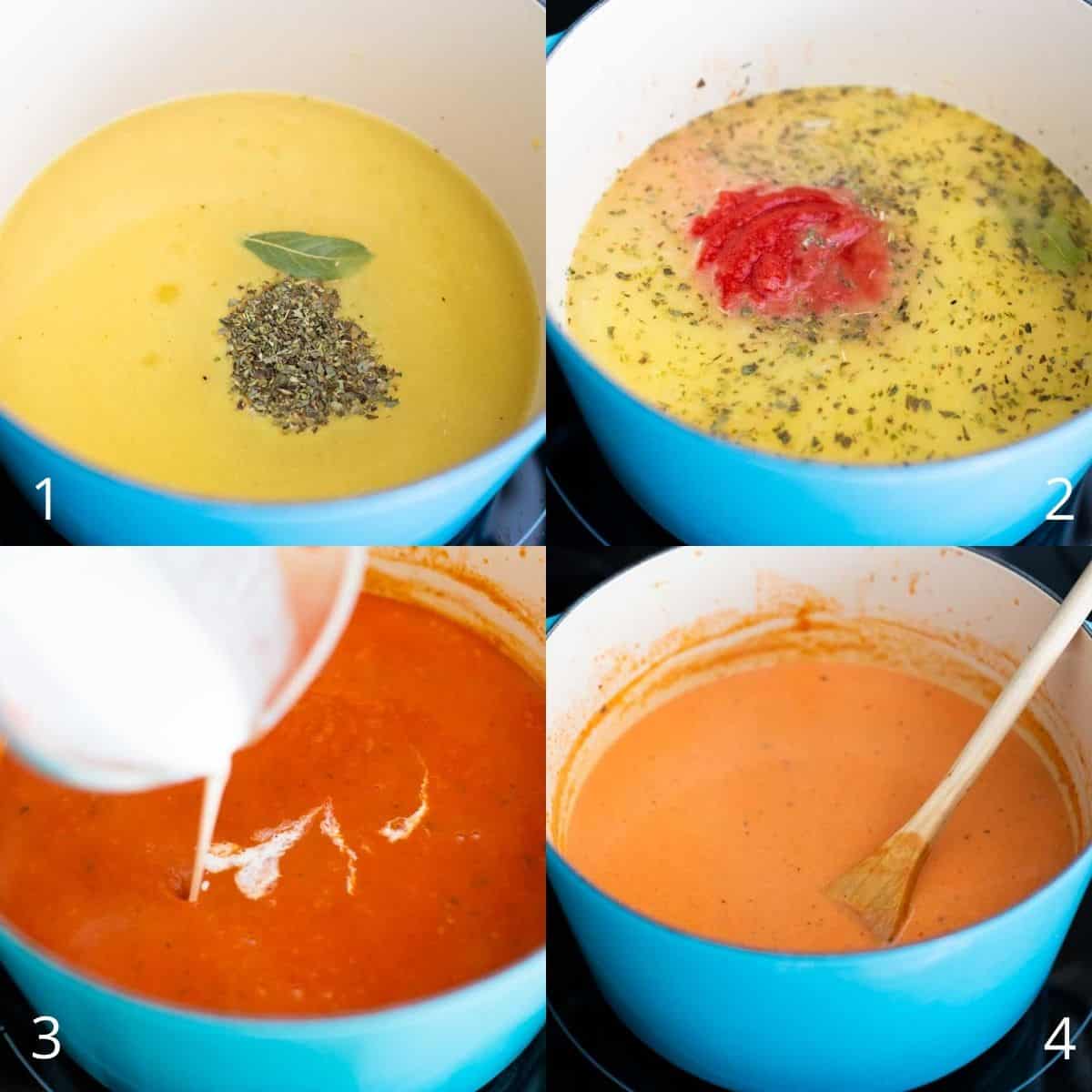 Let the soup simmer for 25 - 30 minutes.
Remove the bay leaf and puree the soup using either an immersion blender or by transferring the soup in batches to your stand blender to process.
Once the soup is pureed, return it to the burner over medium-low heat. Pour in the heavy cream and stir to combine.
Serve immediately.
Equipment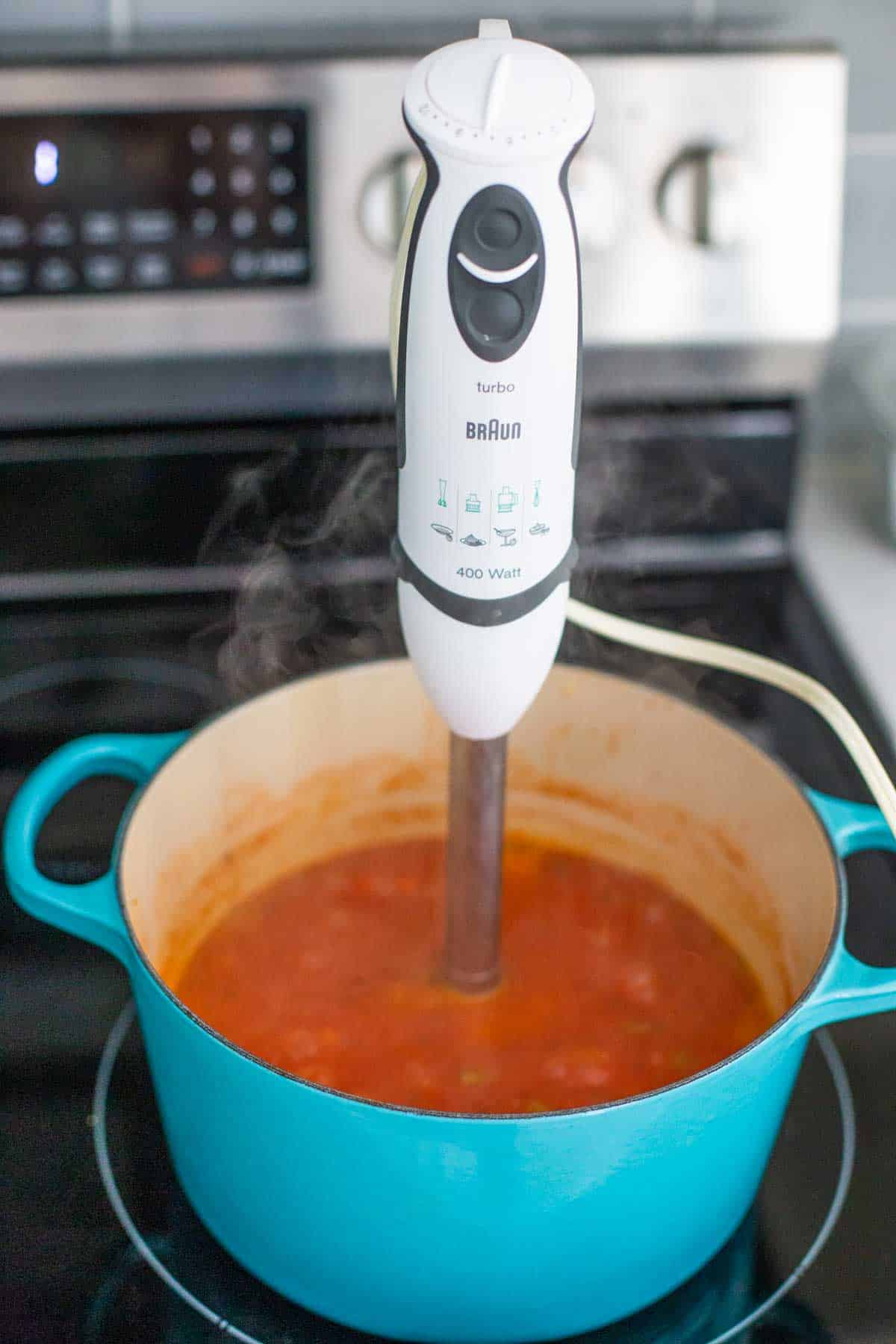 A frequent question I get about my immersion blender is: "Can I use my immersion blender in a Le Crueset pot?"
The answer is yes, as long as you are careful. My soup pot is enameled cast-iron and I don't want to scratch the coating.
To prevent that, I hold the blender head in the center of the pot about 1 inch from the bottom. I circle the blender in the pan, avoiding the walls and bottom at all times.
My immersion blender is one of my handiest kitchen tools. If you don't have one, I highly recommend adding it to your wish list. This is a current model of my immersion blender.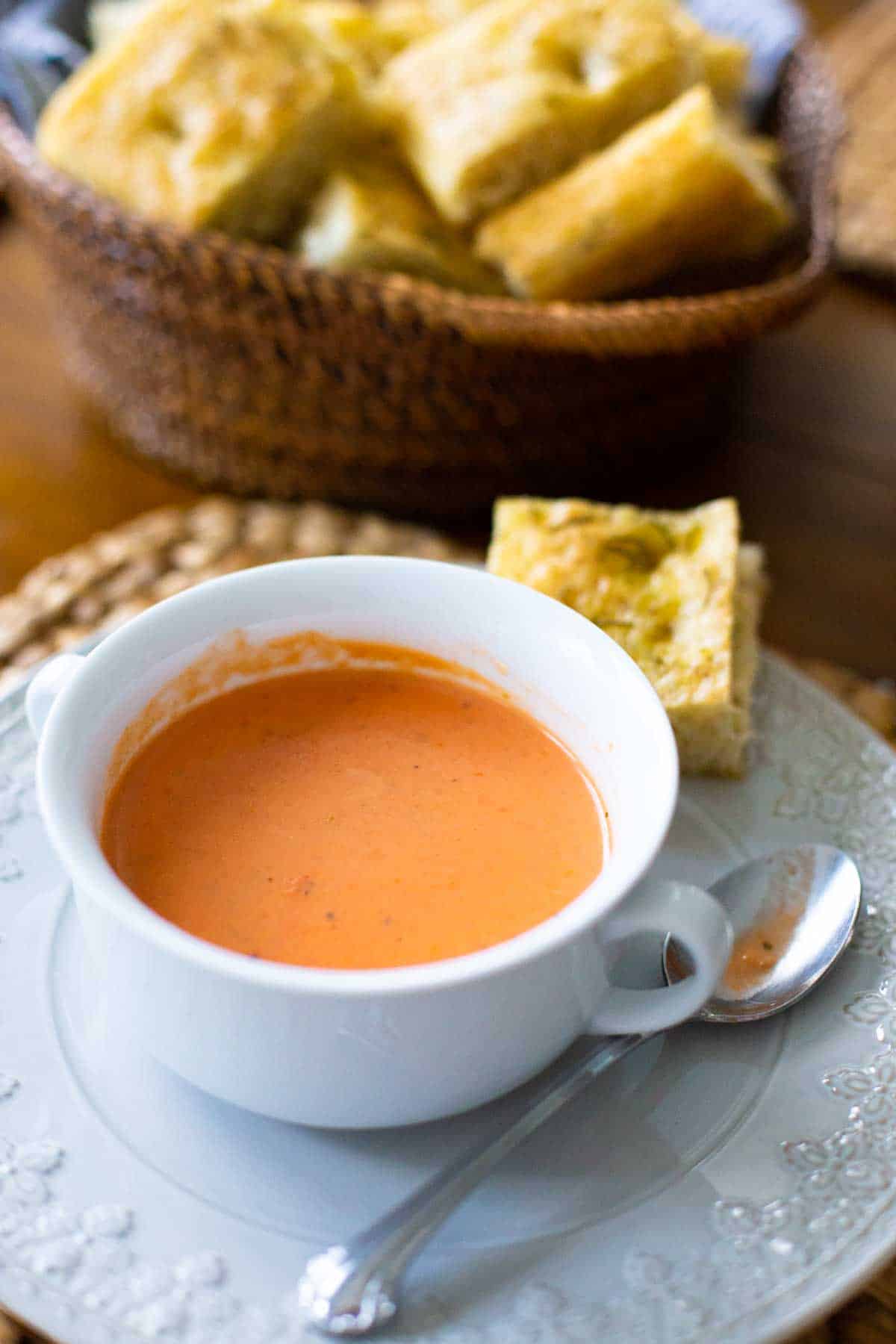 Variations
This tomato bisque would be easy to add a few variations:
Vegetarian - simply swap the chicken stock for your favorite vegetable stock
Chicken Tomato Basil Soup - add some cooked chicken, a rotisserie chicken or diced chicken tenderloins
Spicy Tomato Bisque - add a teaspoon of cayenne pepper to the broth for a kicked-up tomato soup
Grilled Cheese Tomato Soup - make a grilled cheese sandwich and cut it into croutons for a fun kid-friendly serving idea
Storage
Leftover soup will keep in an airtight container in the fridge for 3 - 5 days.
To reheat the soup, simply microwave it or put it in a soup pot to reheat over medium-low heat.
Because of the cream, this soup would not freeze well.
Serving Suggestions
Homemade tomato bisque goes perfectly with homemade bread for dunking. Here. are some of our favorite breads to serve with the soup.
If you've tried this tomato bisque soup or any other recipe on PeanutBlossom.com please don't forget to rate the recipe and let me know where you found it in the comments below. I love hearing from you!
FOLLOW along on Instagram @peanut.blossom as well as on Pinterest and Facebook.
A Little Something Funny About Bisque
We've been watching Studio C's sketch comedy show on BYU Tv together as a family for the last several months. Their Lobster Bisque sketch puts us all in stitches.
The entire time I cooked and served this tomato bisque soup for my family, the girls were mimicking the famous bisque lover from Studio C:
Now, I dare you to be able to say the name "tomato bisque" without that funny accent . . .