A turkey brie sandwich with fresh apples, peppery arugula, and melted brie is a great way to use leftover turkey after a holiday but works just as well with fresh turkey deli meat. Make the sandwiches ahead and wrap them in foil for a picnic or potluck.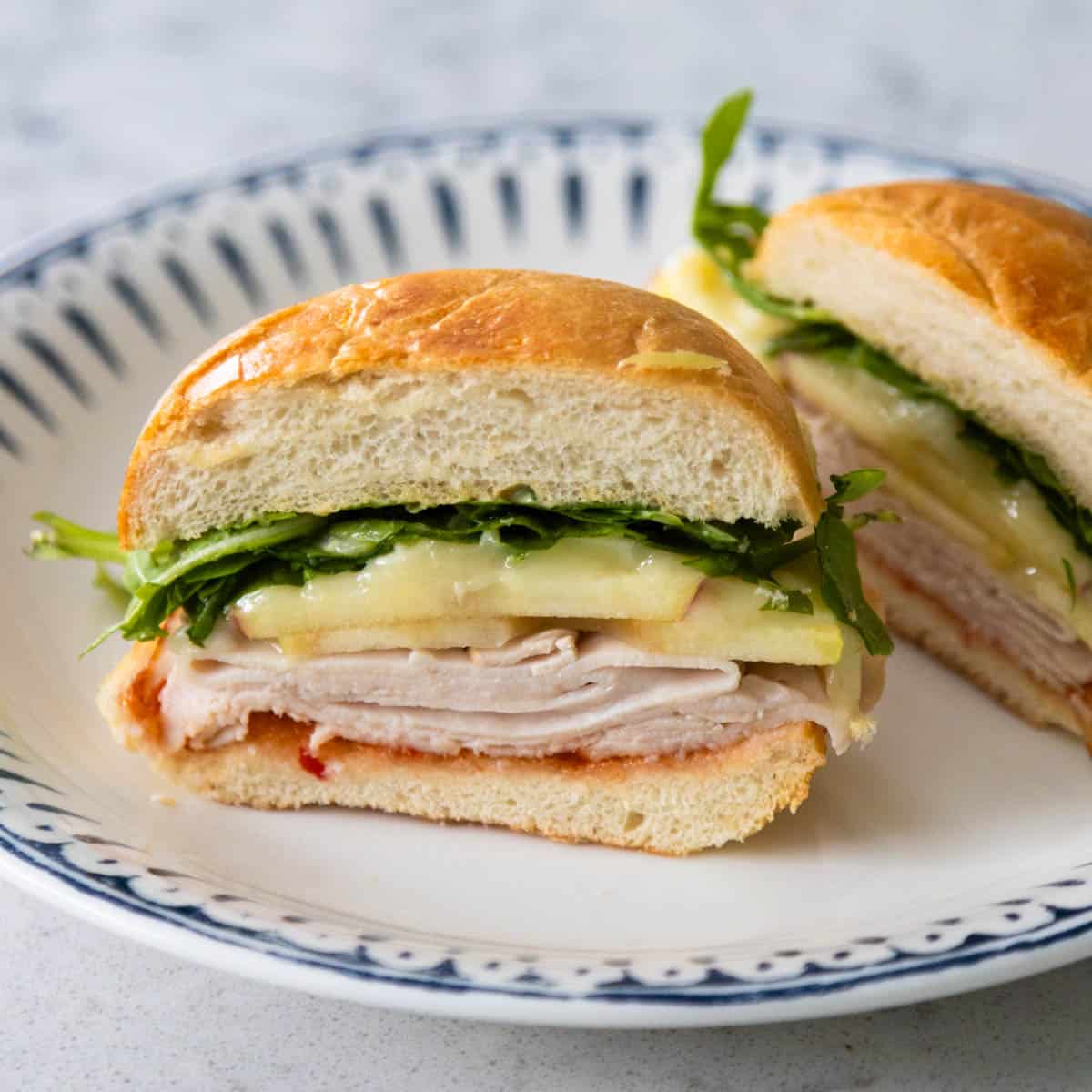 As soon as fall arrives, I'm ready to up my sandwich game with the fresh crispy apples available at the store.
This delicious turkey brie sandwich has all my favorite fall flavors on a fresh Kaiser roll: tender turkey, juicy apples, peppery arugula, creamy melted brie, tangy Dijon mustard AND my very favorite spicy pepper jam.
I know that sounds like a lot going on in just one sandwich, but all the flavors work so well together and it is sure to get you out of your sandwich rut in a hurry.
Jump to:
Why This is the Best Recipe
When soup season arrives, I find myself starting to collect special sandwich recipes to pair with them for easy dinners.
I think this is the best turkey brie sandwich recipe because:
Easy Ingredients: There are some fancy additions to this sandwich but every one of them can be found easily at my regular grocery store.
Small Scale Recipe: You can easily make just one or two sandwiches at a time and nothing will go to waste.
Easy to Adjust: This is a pretty grown up sandwich recipe that my kids would probably fuss over. But it is so easy to just adjust the fillings for their sandwiches will still spoiling myself with something utterly delicious.
Make Ahead Friendly: I put the tiny bit of effort to make the sandwich to good use and made two even though it was just for me. I ate one for lunch and saved one for the next day!
Portable and Hearty: This would be such a fancy sandwich to make in a bigger batch to bring to a potluck or party or even pack for a picnic. The crusty rolls can handle travel and still hold up well.
Ingredients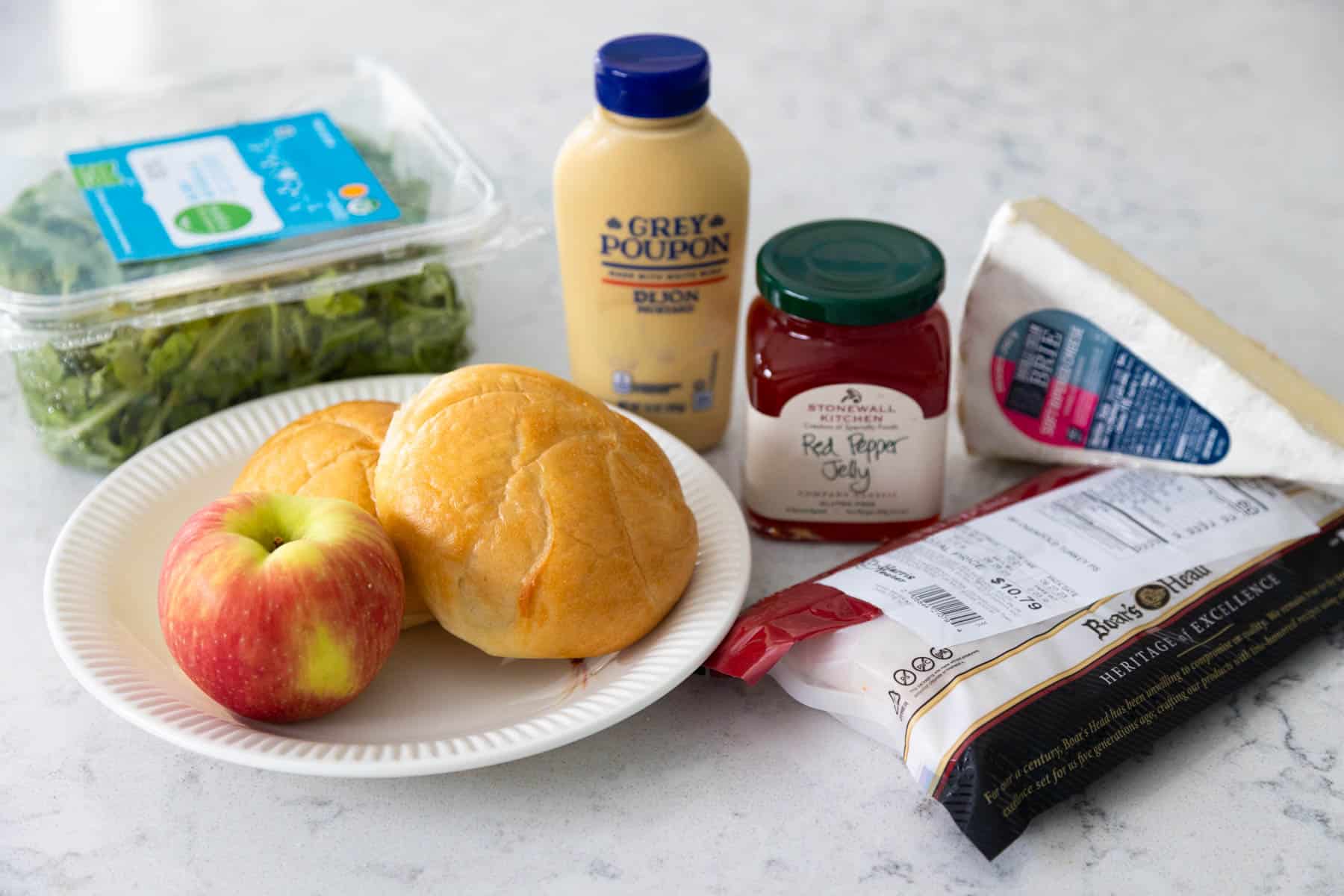 This easy sandwich recipe requires a few specific ingredients, but they work so well together:
Turkey Meat: This is a great recipe to use with leftover turkey after a holiday but I made it with deli meat and it worked great, too.
Fresh Kaiser Rolls: Pick up some fresh buns from the bakery department at your grocery store, they have a much better texture than the packaged bread in the bread aisle. You could also use fresh ciabatta rolls, a crusty sub roll, or even a croissant.
Honeycrisp Apple: I love how sweet and crispy these apples are. A Granny Smith or Pink Lady would be my other choices.
Brie Cheese: I bought a wedge of brie at Trader Joe's. Be sure to read my notes on how to slice it below.
Fresh Arugula: The peppery flavor of the arugula just really works well here but if you can't find it, the closest sub would be baby spinach.
Red Pepper Jelly: This is one of my very favorite condiments. If you can't find it or just really don't want to use it, you could substitute Mike's Hot Honey instead.
Dijon Mustard
Best Turkey for Sandwiches
I wanted to make this sandwich as a special lunch earlier in the fall season so I just headed over to the deli department to get thick slices of seasoned turkey breast.
A maple coated turkey would also be delicious.
However, I can't wait until we have some leftover turkey after Thanksgiving so I can make this again with thick slices of our favorite boneless turkey breast or the roasted herb turkey.
How to Slice the Brie
A triangular wedge of brie can be a little tricky to slice properly for a sandwich.
The good news is that it is going to be tucked inside and melted, so you don't need pretty slices.
Some people are confused on whether or not you eat the rind on the brie wedge.
The answer is: Yes, you can eat the rind on the brie BUT you don't have to.
Personally, I prefer to neatly slice the rind off the brie before slicing it into chunks for the sandwich. I feel it has a better texture without the rind but apparently that makes me a monster.
Layer the Sandwich Fillings
To assemble the turkey brie sandwiches, start by slicing the sandwich rolls in half.
Lay them cut side up on a baking sheet.
Spread the red pepper jelly on the bottom half of the sandwiches. Top with the turkey meat.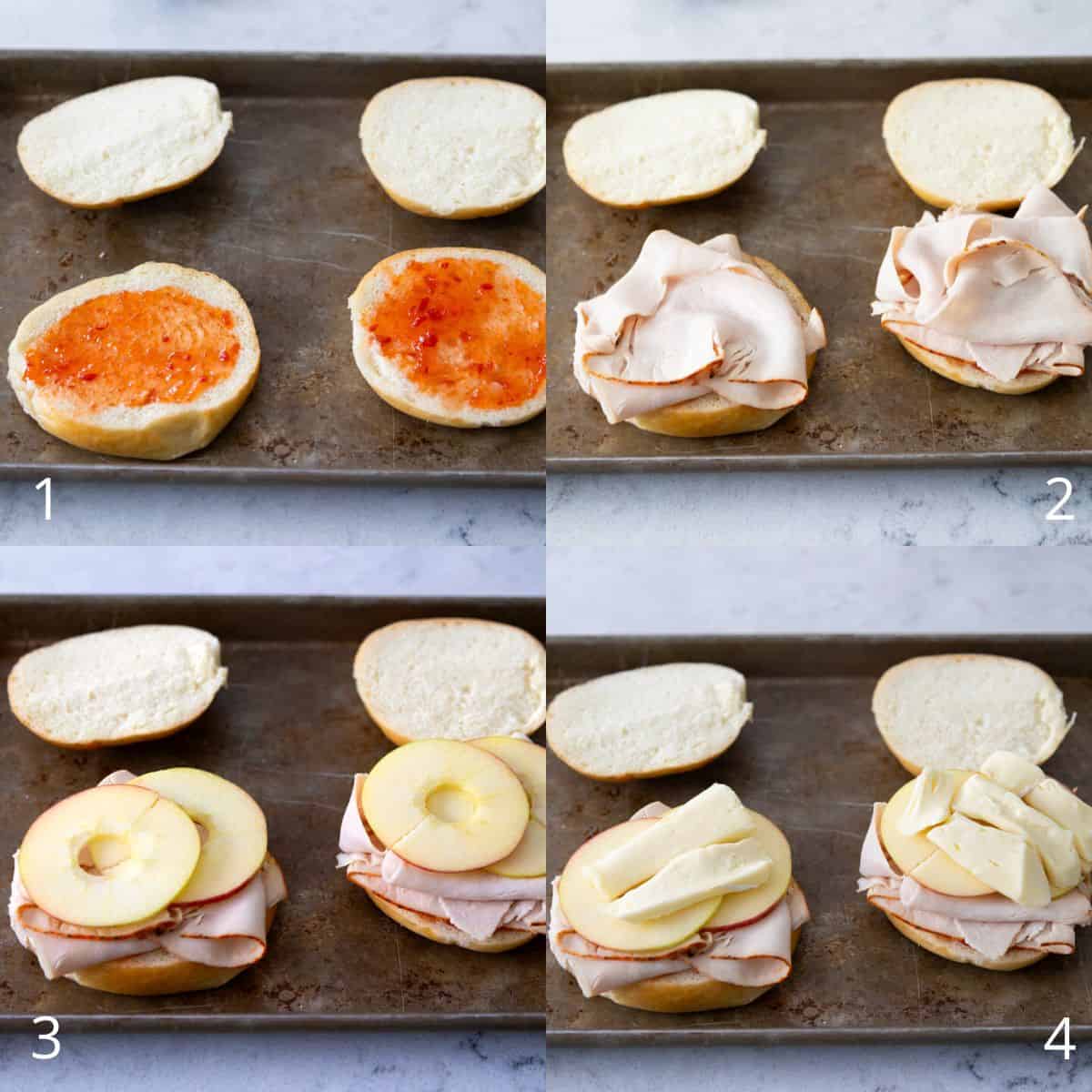 Core the apple and slice it thinly. Add 2 - 3 slices per sandwich.
Top the apple with the sliced pieces of brie as best you can.
Baking Instructions
Preheat the oven to 400°F.
Bake the turkey and brie sandwiches for 5 - 8 minutes or until the brie has melted and the top half of the bun has toasted.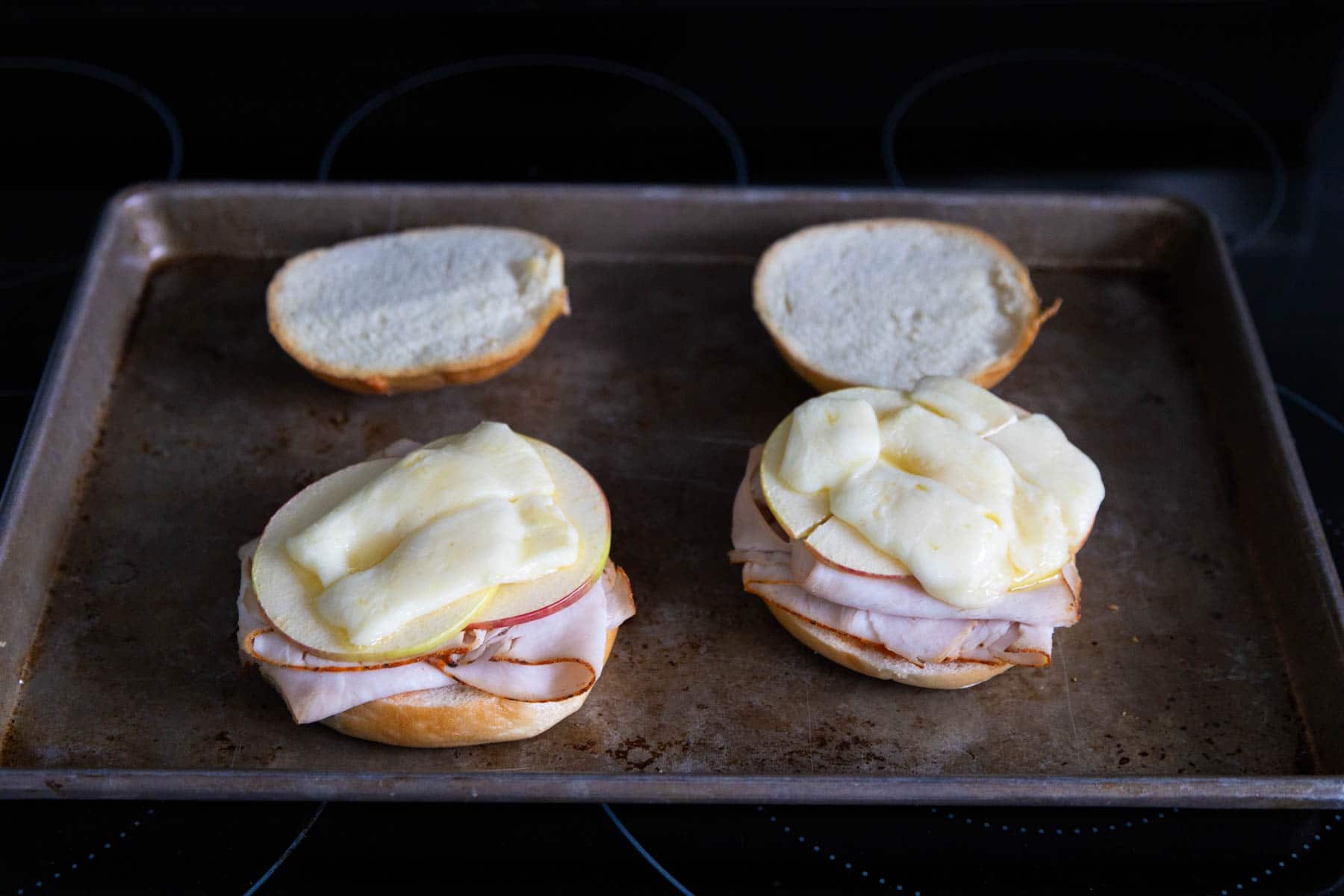 Spread the Dijon mustard over the top half of the bun and pile up the fresh arugula over the melted brie.
Then just close and assemble the sandwich.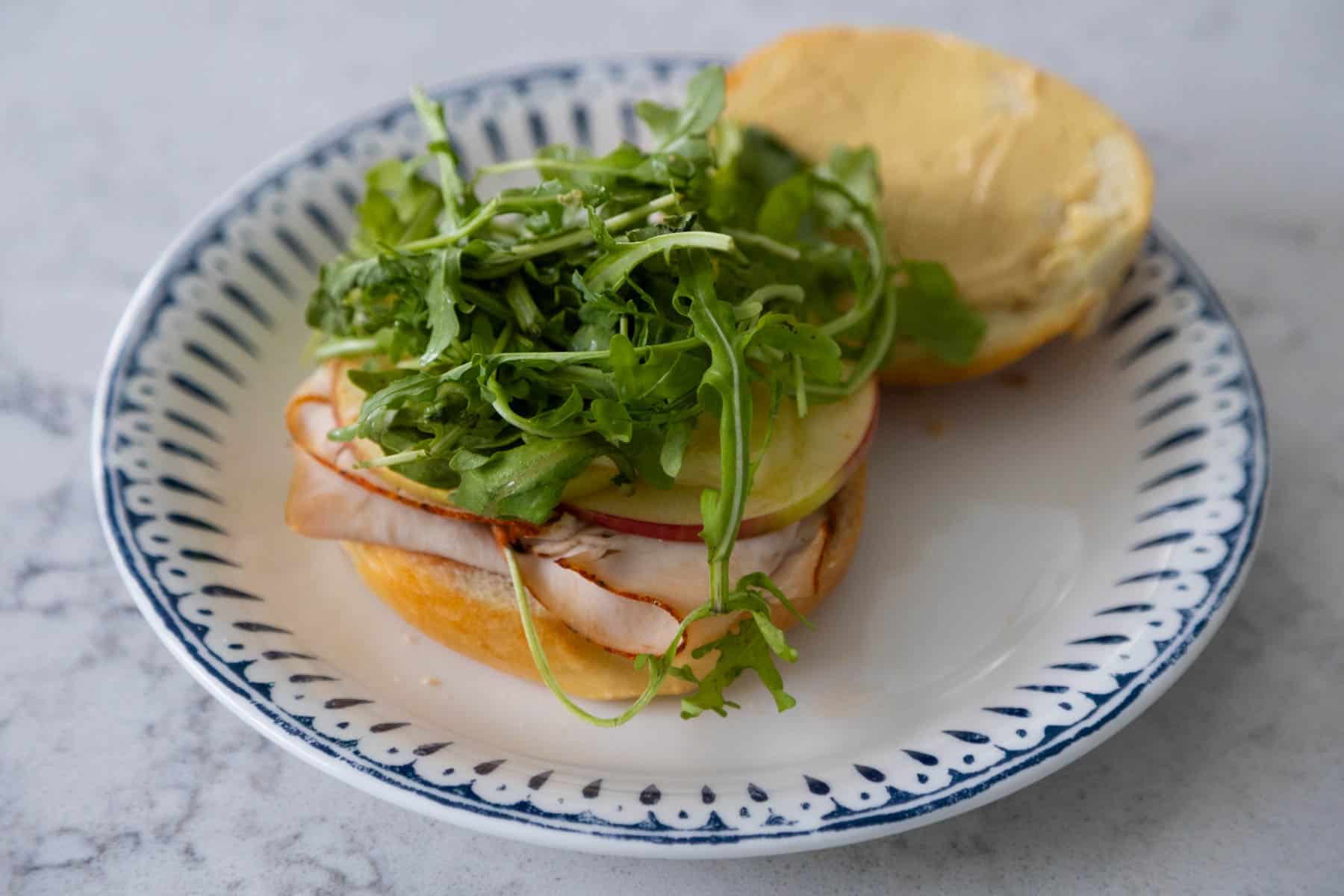 Make Ahead and Storage Tips
The wonderful thing about making a turkey brie sandwich is that you can serve them warm and fresh or you can serve them cold.
This makes them a perfect make ahead party sandwich for a picnic or a special event if you want to scale the recipe for a larger crowd.
Wrap the sandwiches individually in parchment paper or aluminum foil and store them in the fridge for up to 24 hours.
NOTE: Do NOT try to reheat the sandwiches once you've added the fresh arugula.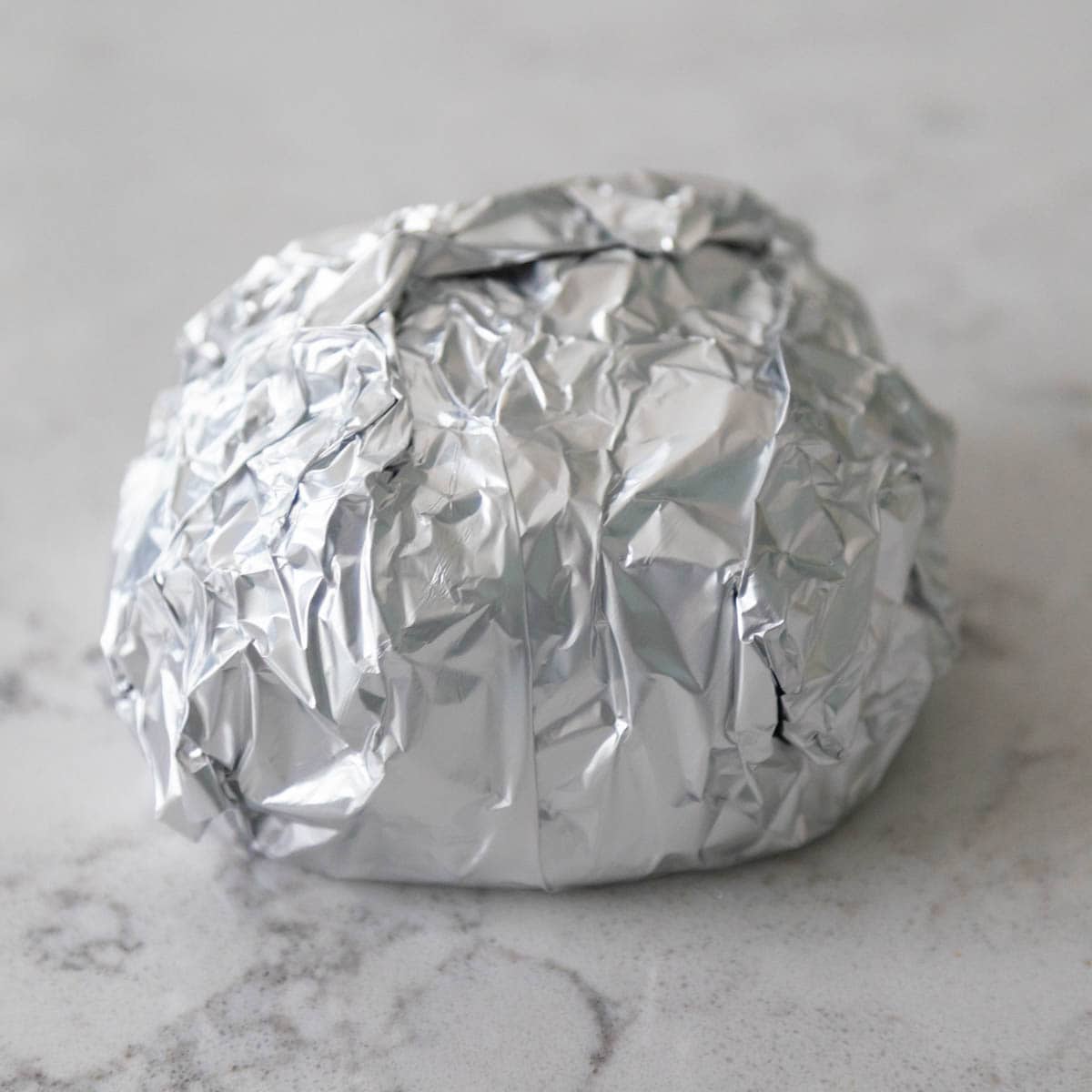 Variations
I absolutely loved this sandwich recipe as is, but I already know that when I make it for my family I'll be making some adjustments for my husband and kids.
Here are some easy variations you could make:
Turkey Apple Cheddar Sandwiches: Skip the brie and use slices of sharp cheddar instead.
Honey Glazed Turkey Sandwiches: Skip the red pepper jelly and drizzle a little honey over the brie after you've baked it.
And for picky eaters, you could always make a sandwich special without the one or two ingredients they are fussing over.
My kids will definitely ask me to skip the apples on the sandwich and I'll just serve them sliced into wedges on the side instead.
Sometimes they ask me to skip the arugula on top, too. In that case I just serve it like a salad on the plate next to the sandwich and they eat it separately.
Serving Suggestions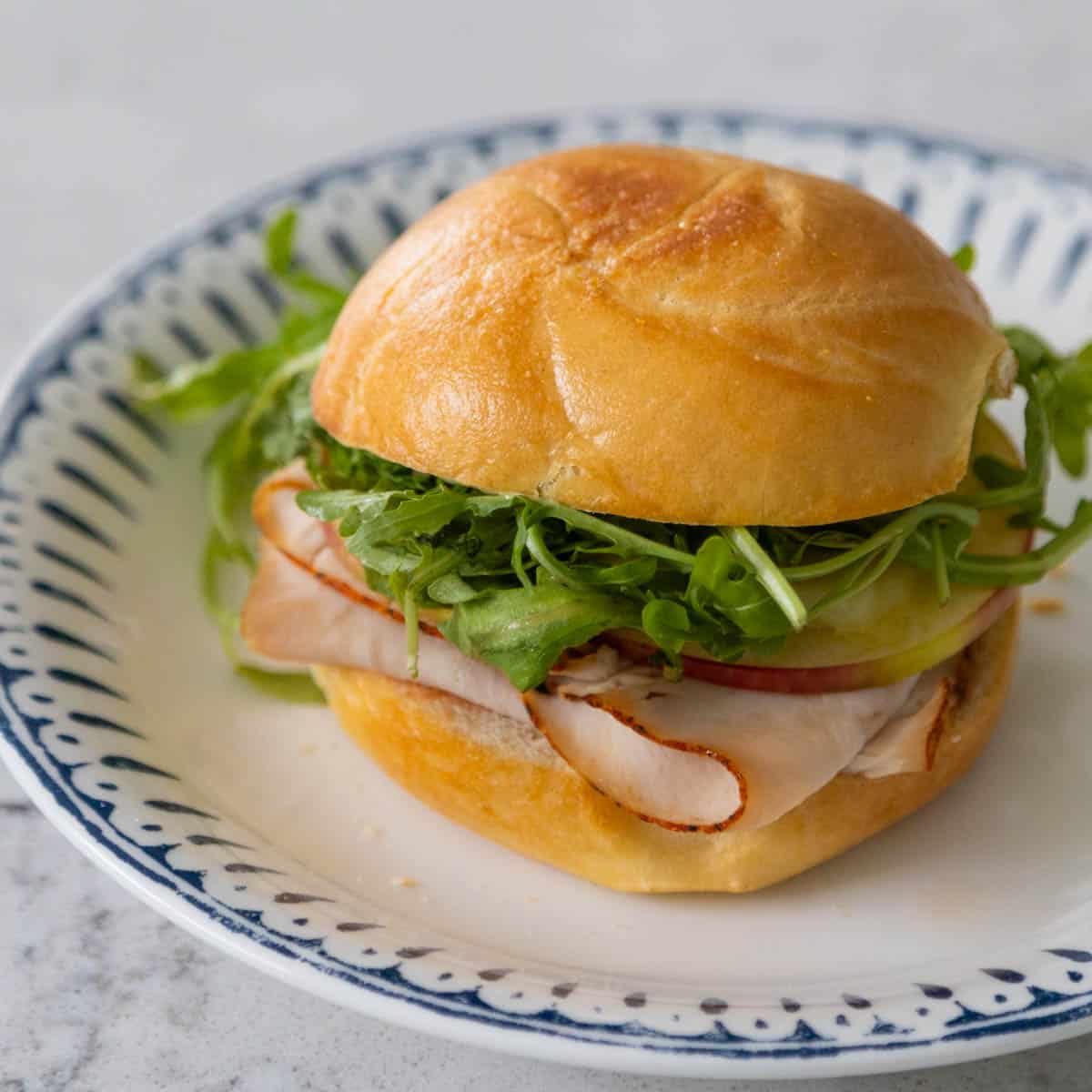 I wrote the recipe to make just two sandwiches at one time. I enjoyed one as my lunch and then saved one for lunch the next day.
It felt like such a special treat to have a fancy sandwich on a random work day and it only took me 10 minutes total to prep and bake it.
This would make a really fun and special sandwich to make ahead and pack for a picnic with some salty chips on the side.
You could also prepare it on smaller dinner roll sized buns and serve it as a part of a party finger sandwich platter.
And if you plan to host friends for a casual book club dinner or even an elegant fall open house, you could scale the recipe and prep large batches of sandwiches all at once for an easy sandwich tray.
More Sandwich Recipes
Sandwiches for dinner do not have to be boring, they are such a fun and easy way to use up some tasty ingredients in the fridge!
If you love this turkey brie sandwich recipe, you won't want to miss:
📖 Recipe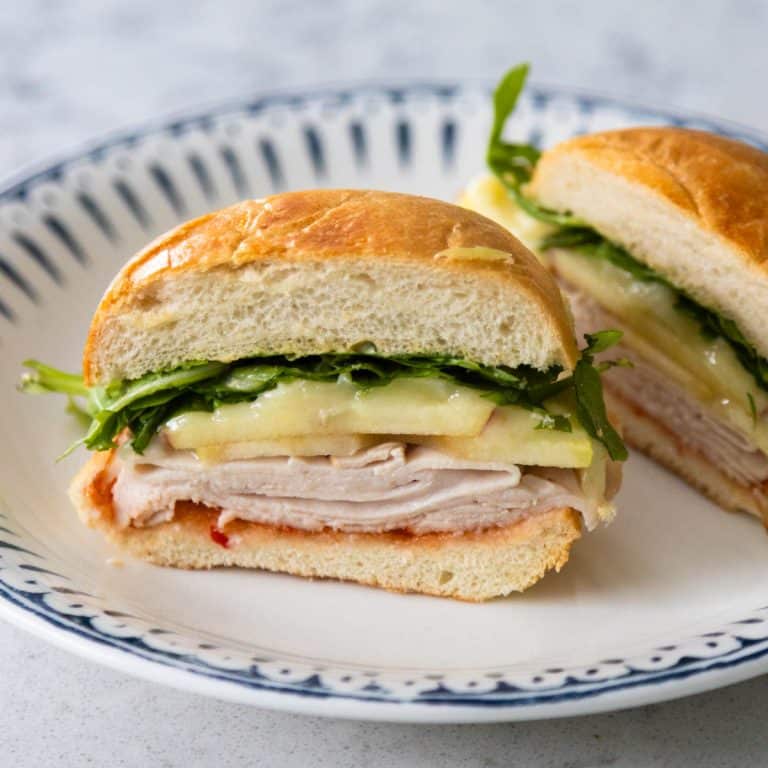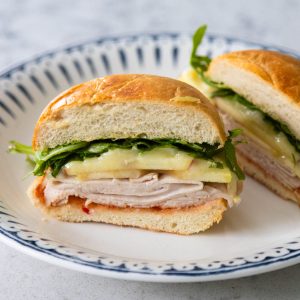 Turkey Brie Sandwich
A turkey brie sandwich with fresh apples, peppery arugula, and melted brie is a great leftover turkey recipe after a holiday but works great with turkey deli meat, too. Make ahead and wrap in foil for a picnic or potluck.
Ingredients
2

fresh Kaiser rolls

2

teaspoon

red pepper jelly

4

slices

turkey deli meat

or leftover roast turkey

1

honeycrisp apple

cored and sliced thinly

2

oz

brie cheese

sliced ¼-inch thick

½

cup

fresh arugula

2

teaspoon

Dijon mustard
Instructions
Preheat the oven to 400°F and set out a baking sheet.

Slice the Kaiser rolls in half and place them cut side up on the baking sheet.

Spread half the red pepper jelly on each of the two bottom pieces.

Place 2 slices of turkey on each bottom piece. Then top each turkey with 2 apple slices. Layer the brie equally over the sandwiches.

Bake the turkey sandwiches for 5 - 8 minutes or until the brie has melted and the top (empty) bun has toasted.

Spread the Dijon mustard on the top bun. Pile ¼ cup of arugula on top of the melted brie and close the sandwich.

Sandwiches can be served warm immediately or you can let them cool and wrap them in parchment paper or aluminum foil and store them in the fridge.

Make Ahead Tips: The turkey brie sandwiches can be made up to 24 hours in advance but then should be served cold. Don't reheat the sandwich with the fresh arugula tucked inside.
Save This Recipe to Your Recipe Box
Find this delicious recipe next time you visit by saving it to your very own recipe box on my site. All your favorites stored in one easy place!