Grilled turkey reuben sandwiches are the perfect easy lunch idea for St. Patrick's Day or any day all year long. Perfect for those who don't enjoy corned beef but still want to enjoy a grilled sandwich on caraway rye bread.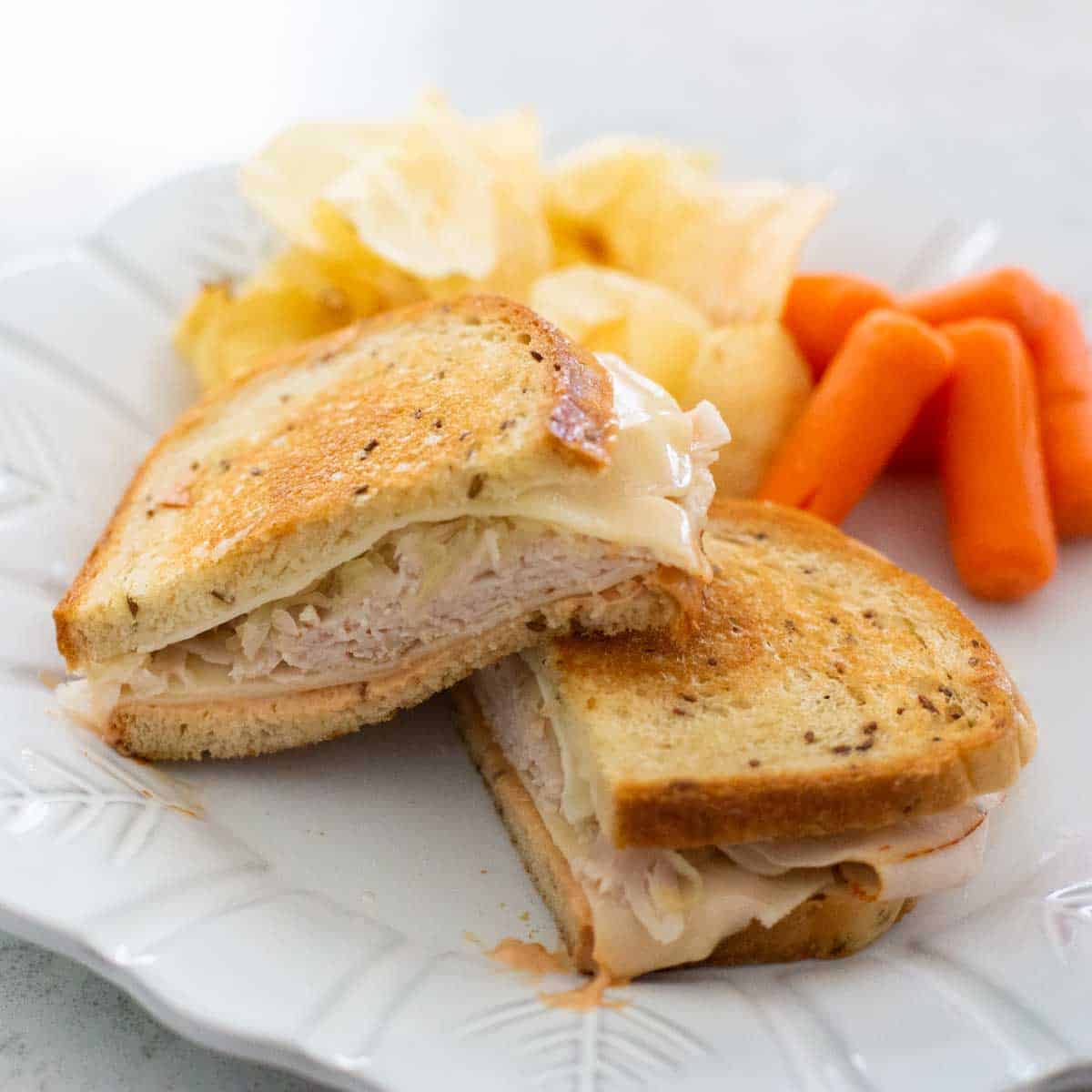 I've been making homemade turkey reubens for my St. Patrick's Day lunch for as long as I can remember. This easy recipe is one I look forward to every spring.
My mom was the one to first suggest the idea to me when I complained about not liking corned beef for the holiday. She recommended replacing it with deli turkey and this fix lets me enjoy all the other traditional reuben flavors I love!
It's a great St. Patrick's Day dinner idea if you're cooking for kids because you can let them build their perfect reuben with just the ingredients they love.
I highly recommend taking the extra step to make the homemade spicy sauce to go with it, you only need a couple minutes and likely have everything in the fridge already.
Jump to:
Ingredients
If you've ever eaten a reuben sandwich, you'll recognize most of these classic ingredients: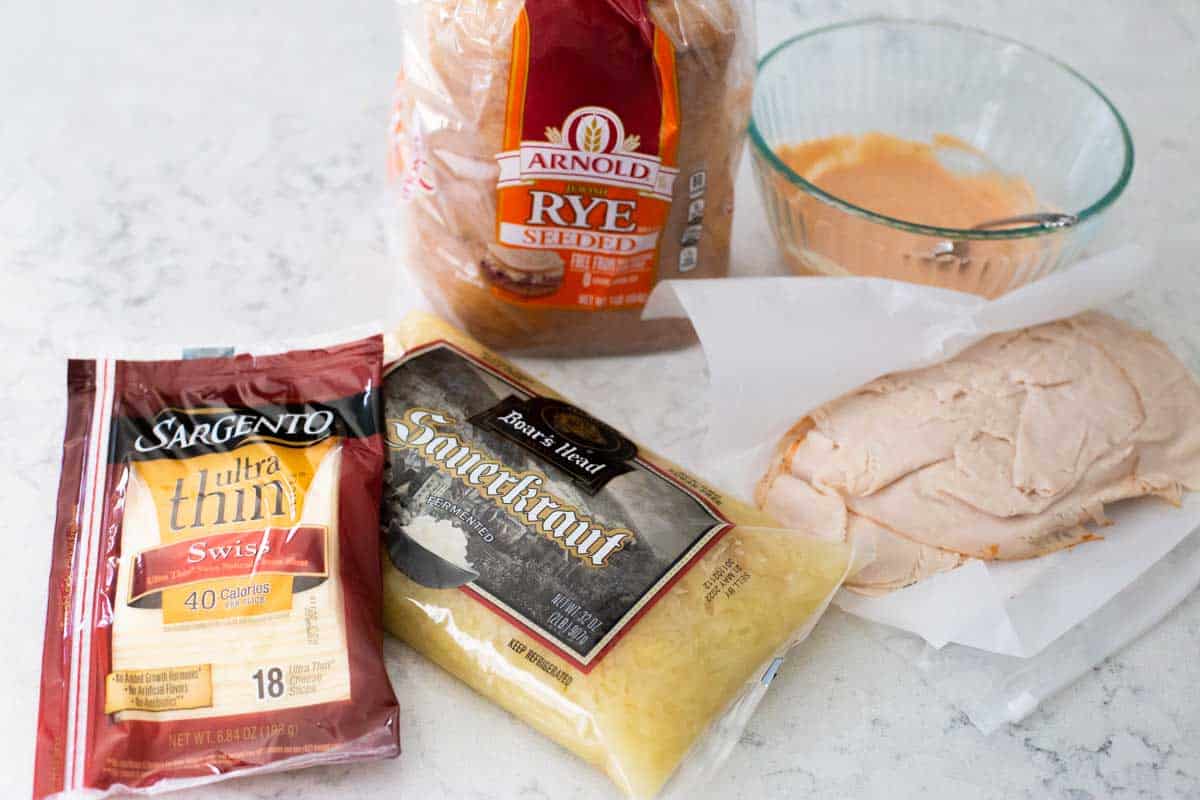 Rye Bread: I prefer mine with caraway seeds but you can choose whichever rye bread you love most.
Swiss Cheese: I love to use the ultra thin slices of cheese because I can spread them around on the sandwich to help glue everything together more easily. I also find the thin slices melt better than thick ones do.
Prepared Sauerkraut: This adds the perfect zippy tang to every bite.
Sliced Turkey Deli Meat: I always ask for mine sliced thinly for layering.
Spicy Sauce: I used to always use a prepared Thousand Island dressing, but this year I discovered the perfect homemade recipe to use instead.
How to Assemble the Perfect Reuben
The difference between an amazing sandwich and one that is only so-so is all in the layering of the ingredients.
First, lay out your two pieces of bread. Spread one side with the sandwich spread of your choice.
Then, layer your cheese slices on alternative ends of each side of bread. This helps everything melt and stick together properly once griddled.
Optional: You could also take a third slice of cheese, cut it in half, and put one half on the open ends of each slice so both bread pieces are completely covered in cheese.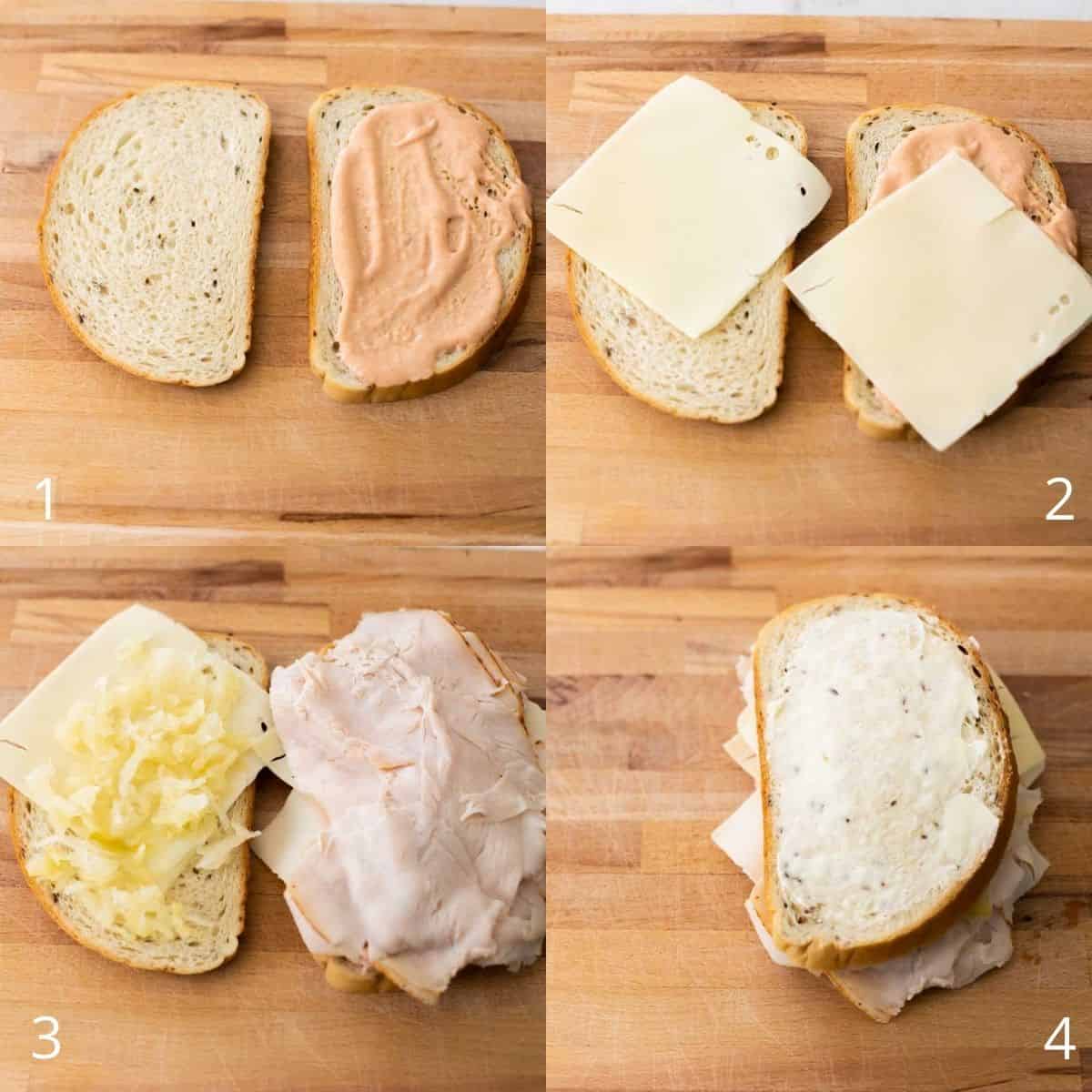 Drain the sauerkraut for your sandwich on a piece of paper towel and then spread it evenly over one side of the sandwich.
Layer the turkey on the opposite side and then flip it over to form the reuben.
Spread softened butter on the top of the sandwich. The bottom side will get buttered in the skillet.
Griddle the Sandwich
Heat a non-stick skillet over medium-high heat. Add butter to the center of the pan.
Once the butter has melted, place the non-buttered side of the reuben sandwich down into the pan and use a spatula to help you wiggle it all around in the butter.
Let the sandwich sit for 2 - 3 minutes and then flip it over with the spatula to brown the other side.
You can press the sandwich with the spatula to help the melting cheese "glue" all the ingredients together.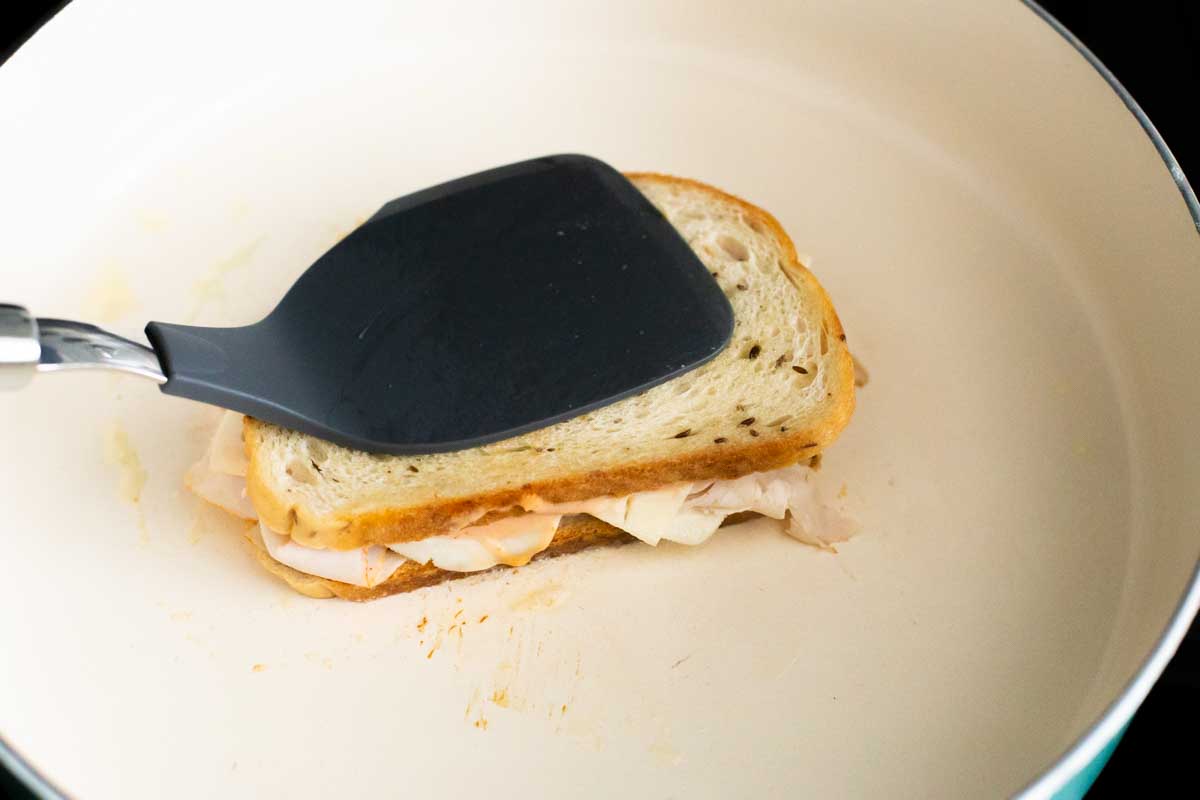 Cook until both sides are golden brown and the cheese has melted. Serve immediately.
Serving Tips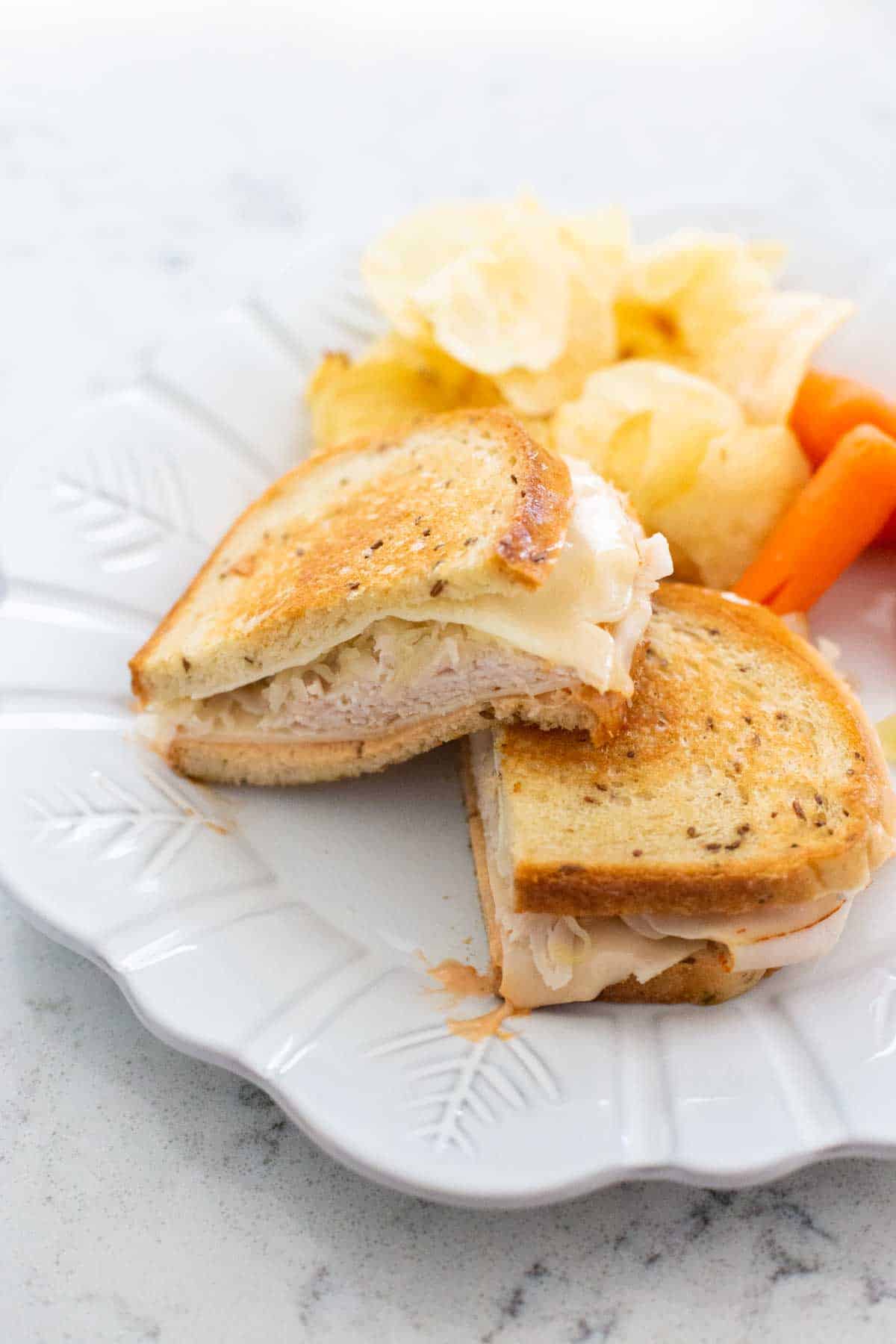 Grilled reubens taste great with potato chips and baby carrots for a simple meal.
You could also serve them alongside a bowl of potato soup for a heartier meal.
More Easy Sandwich Recipes
If you've tried this turkey reuben sandwich or any other recipe on PeanutBlossom.com please don't forget to rate the recipe and let me know where you found it in the comments below. I love hearing from you!
FOLLOW along on Instagram @peanut.blossom as well as on Pinterest and Facebook.