This split pea and carrot soup recipe is the perfect way to use up a leftover ham bone or ham hock from your holiday feast. Dice up the leftover ham slices from the roast to add a little more bulk to this comforting vegetable soup.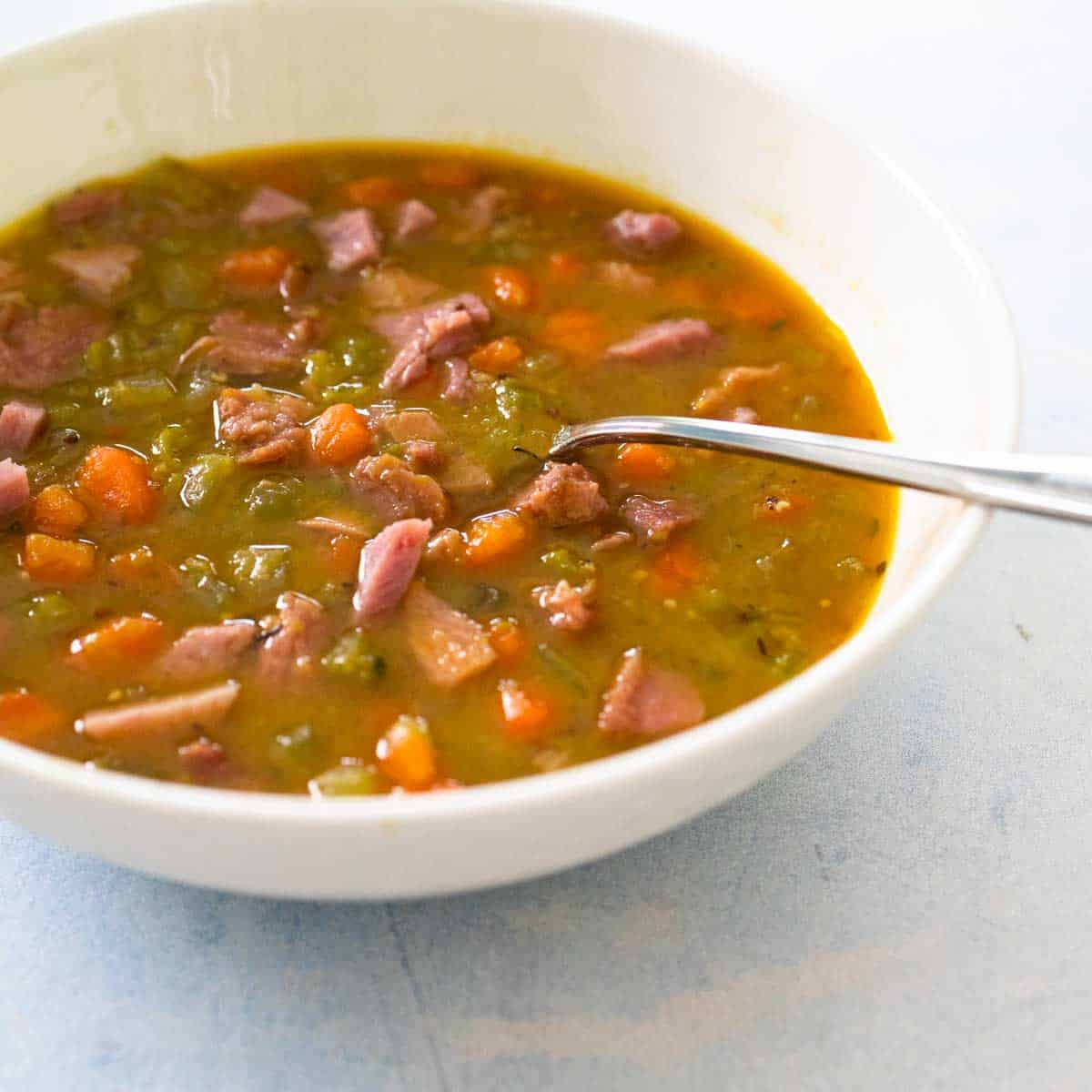 Split pea soup was one of my husband's very favorite soups when we first met but I had only ever been introduced to the canned variety.
After all these years, I finally decided to give making homemade split pea soup a chance when I had a leftover ham bone from our Crockpot spiral ham.
Did you know that split pea soup actually has TONS of fresh carrots, celery, and onions in the mix?? I would have never guessed when looking at the canned soup!
Add savory bits of diced ham to the broth and it turns out that this pea and carrot soup is absolute comfort food!
Jump to:
Why This is the Best Recipe
If you're interested in making a homemade split pea and carrots soup yourself, you might get overwhelmed by the countless versions available.
I think this split pea soup is the best recipe because:
Whole, Real Ingredients: The grocery list is short, easy, and very healthy!
Budget-Friendly: No expensive ingredients are required AND you're making do with leftover ham and a ham bone that might otherwise go to waste.
Very Flavorful: When you start with a glazed ham that is brimming with flavor and then add my suggested spices to the vegetables, your homemade split pea soup is going to be the best-tasting one you've ever tried.
Freezer-Friendly: You could absolutely freeze portions of the soup for easy lunches later.
Cozy, Comfort Food: Filled with real carrots and real celery and onions and big chunks of savory ham, I finally understood why my husband loves this soup so much.
Ingredients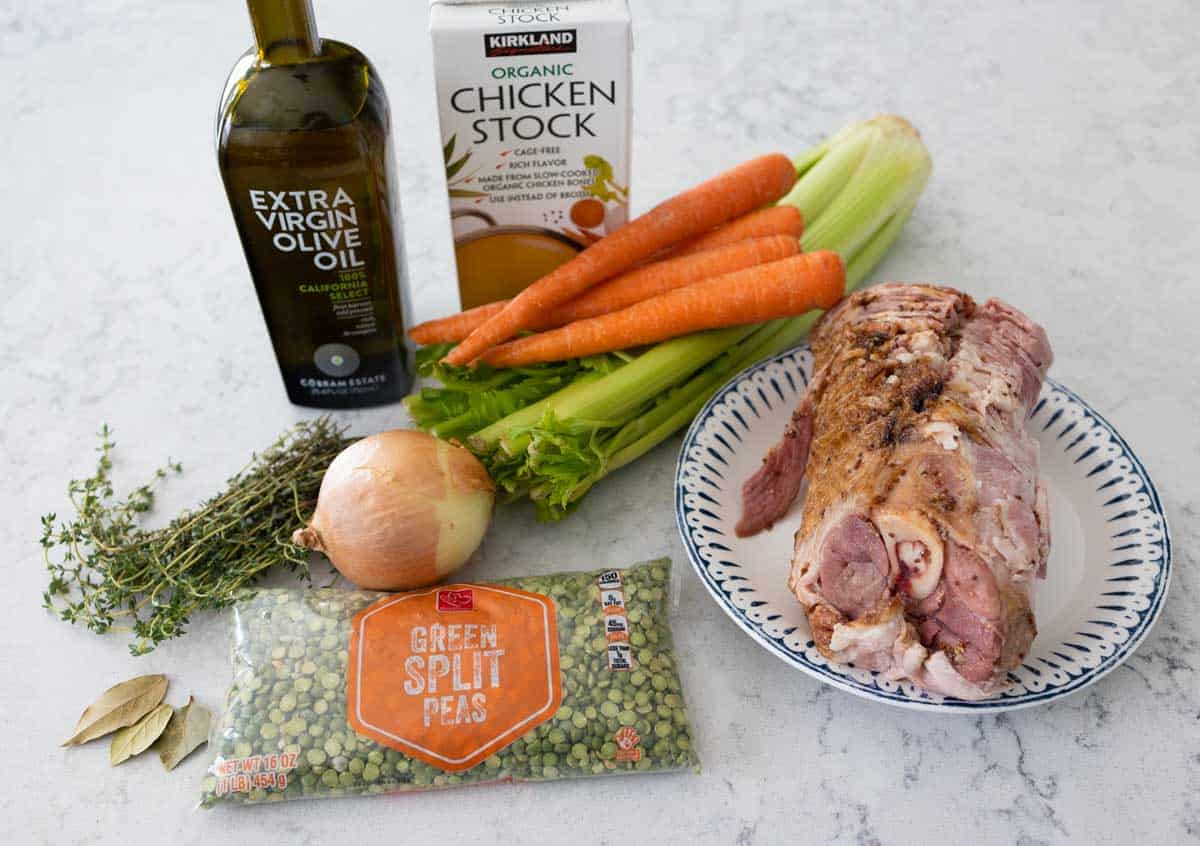 When you're ready to make this soup, you only need a few ingredients from the fridge and pantry:
Leftover Ham & Ham Bone: This is a great recipe to make after Easter or Christmas if you've got a spiral ham you made for the holiday. I used a bone-in ham to make my Crockpot spiral ham recipe and saved the bone plus a generous bit of meat surrounding it for this soup. Even if you make my mustard glazed ham with pineapple recipe, the sweet brown sugar glaze will only add more flavor to the pea soup!
Dried Split Peas: This is such a budget-friendly ingredient, you'll find them by the dried lentils and dried beans in the grocery store.
Carrots
Celery
Onion
Chicken Stock
Creole Seasoning Blend & Cayenne Pepper: *See my notes below
Fresh Thyme: You could use dried thyme if you prefer, but fresh tastes amazing.
Dried Bay Leaves
NOTE: The ham bone isn't "required" for this recipe, you could skip it and just add diced ham to the finished soup if your roast ham doesn't have a bone in it. Just know that if you do have a bone, it will add more flavor to the broth.
The Best Seasonings for Split Pea Soup
Traditional split pea soup recipes can be very bland in flavor, but they don't have to be!
All the fresh vegetables go a long way in adding flavor, but I like to give them a little bit of help with some strategic spices added to the mix: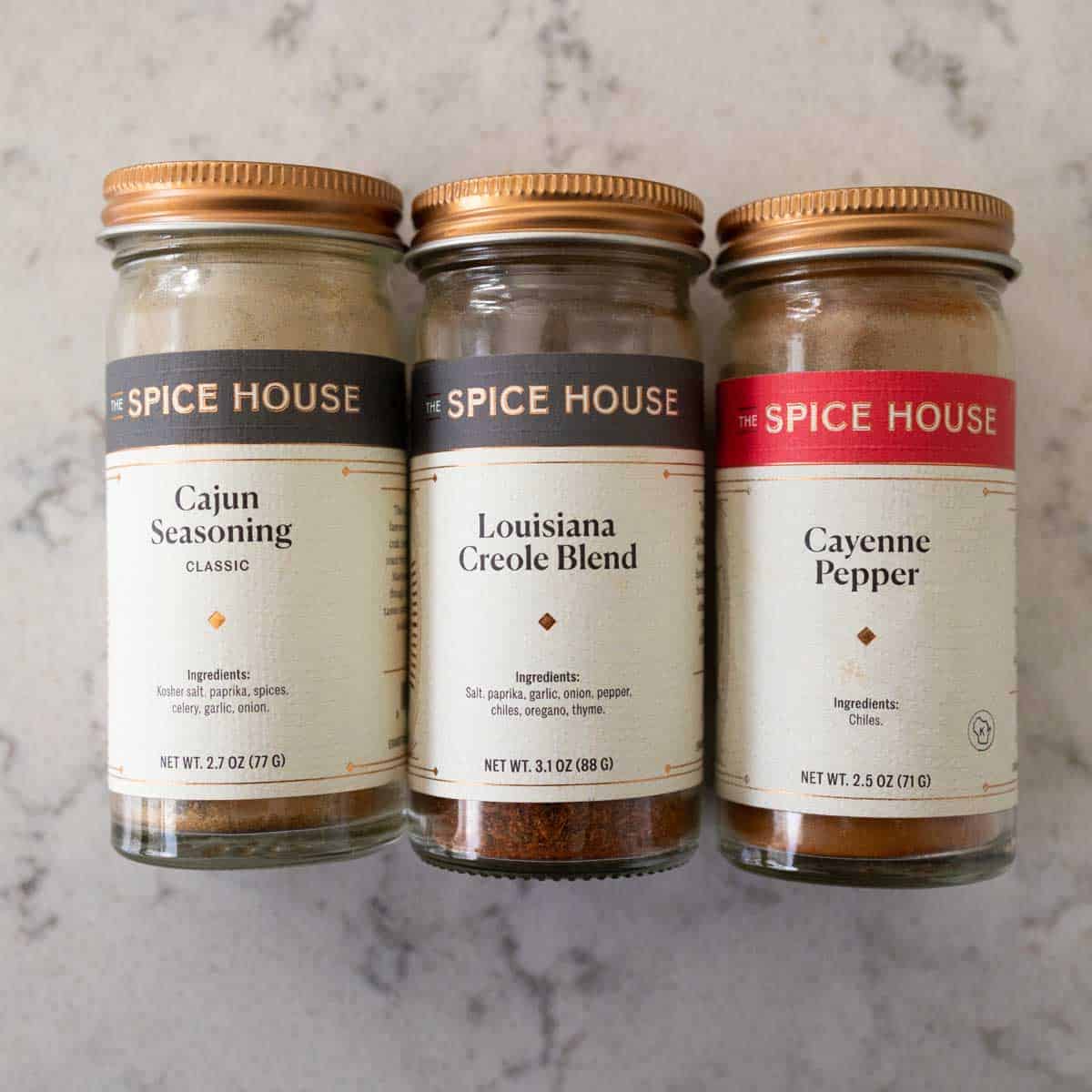 Creole seasoning isn't "spicy," it is just a blend of herbs and spices often mixed from paprika, garlic, onion, pepper, chiles, oregano, and thyme.
This is one of my favorite spice blends because it pairs perfectly with seafood, ham, and chicken.
Cayenne accents all the flavors in the soup but when used lightly doesn't make it "spicy" either.
If you like things with a bit of heat, you can definitely increase the cayenne. I doubled what is called for in the recipe card when I made it for my family.
Cajun seasoning is a good alternative if you don't have Creole seasoning in your pantry. It uses more pepper and less of the herbs in the mix but will still give your soup plenty of flavor.
You can get FREE SHIPPING on my favorite spices if you buy them in flatpacks instead of jars. If you want to sample these seasonings, you can find them right here.
Season and Saute the Carrots
First, dice the onion, celery, and carrots. These will form the very base of the soup: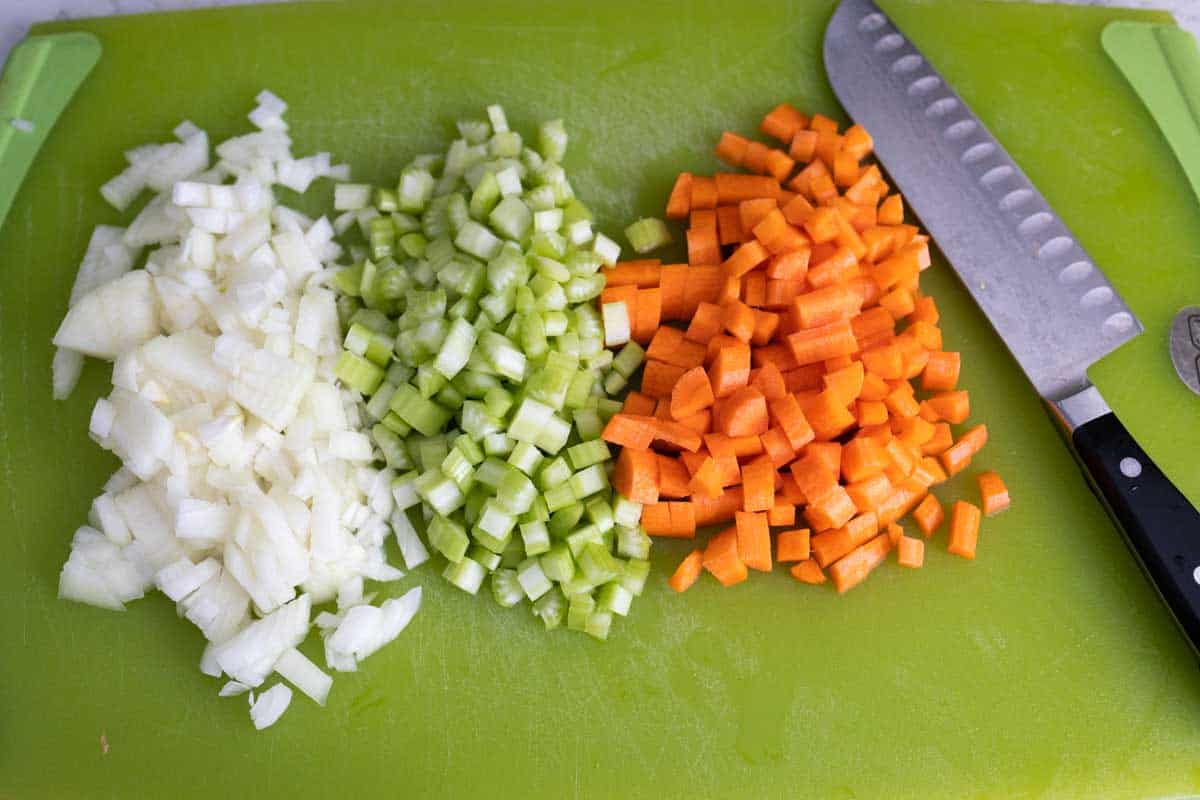 Heat the olive oil in a large soup pot over medium-high heat.
Add the chopped veggies and stir. Cook for about 5 minutes or until the onions have softened and become translucent.
Then, sprinkle the dried seasoning blends over the veggies and stir. Cook them another 30 seconds - 1 minute or until fragrant. This is called toasting the spices.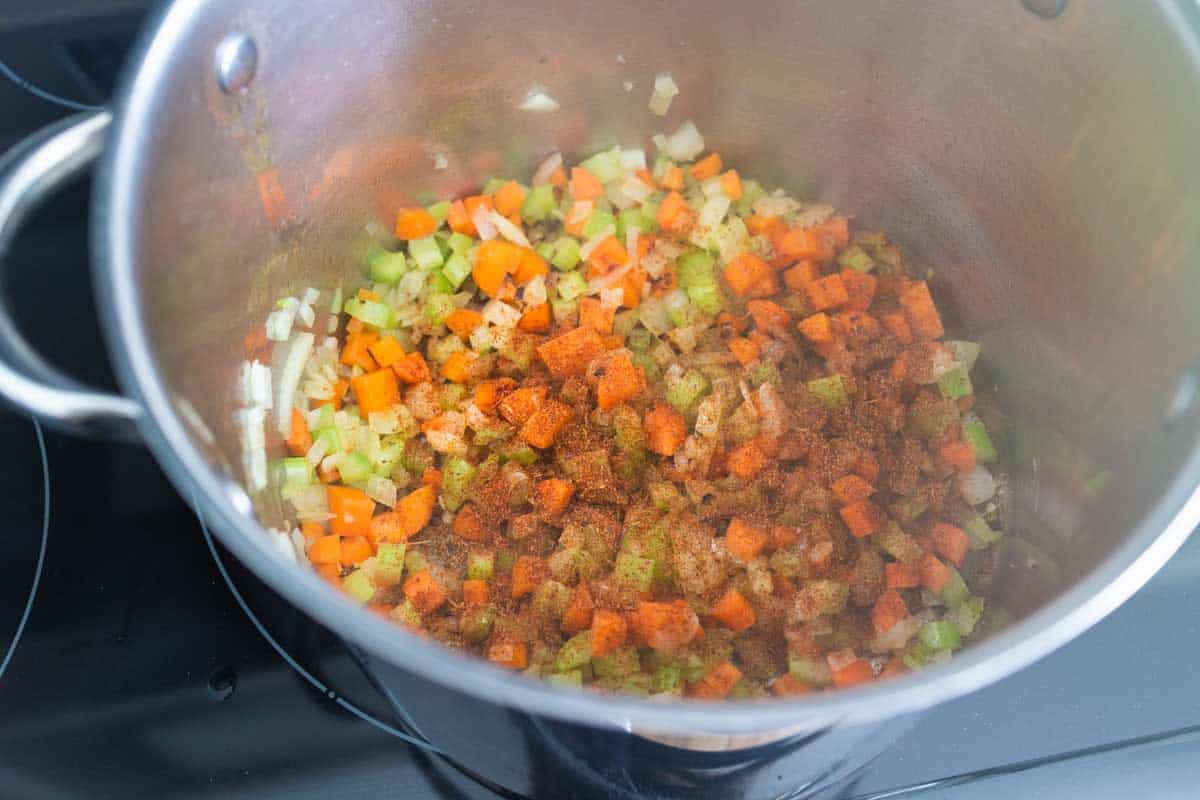 Rinse the Peas
While the veggies are cooking in the pot, rinse your dried split peas in cold water and drain them.
This helps remove the excess starch covering the outside of the peas.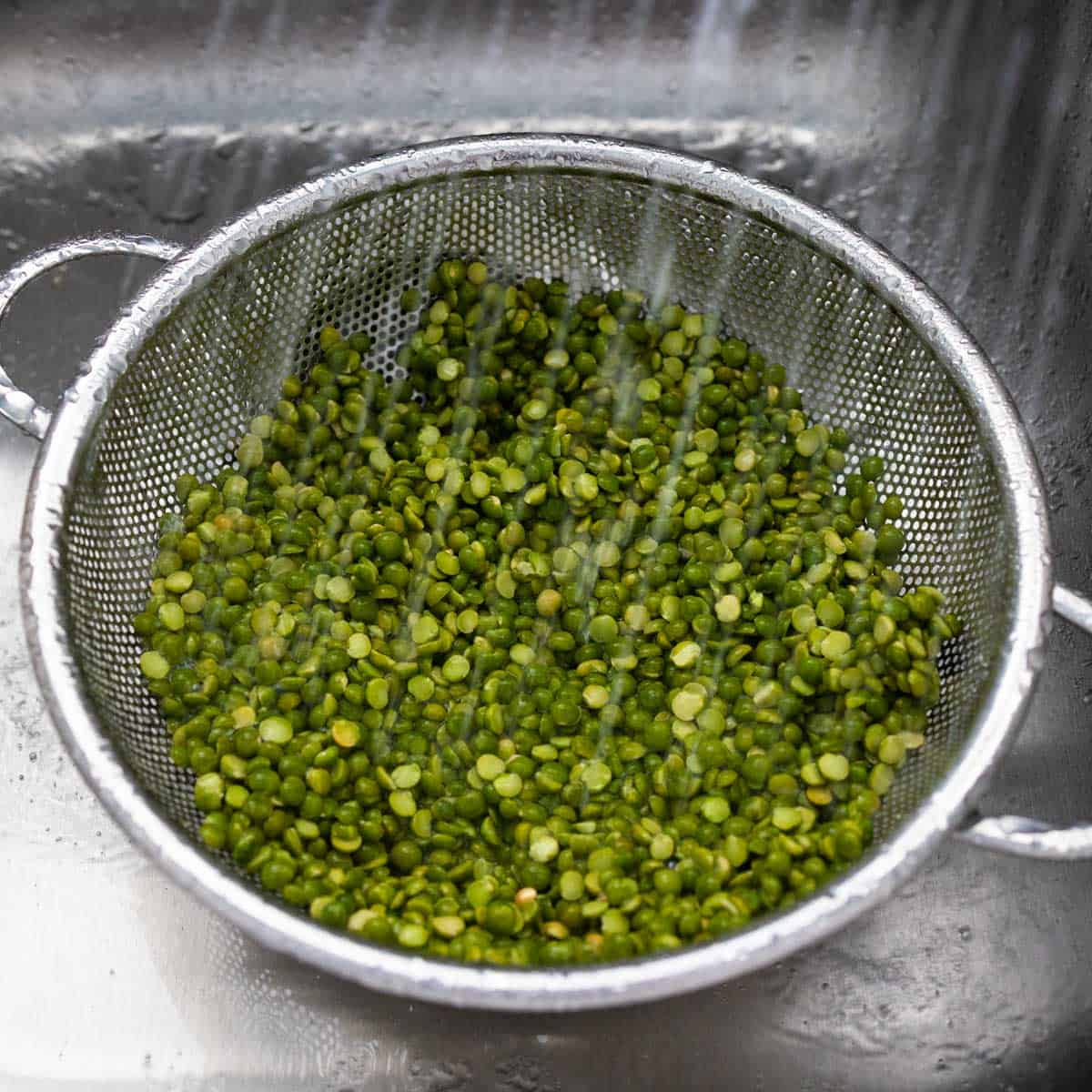 Build the Soup
Add the chicken stock and water, the leftover ham bone if you're using one, the fresh thyme, and the dried bay leaves to the pot and stir it all together with the vegetables.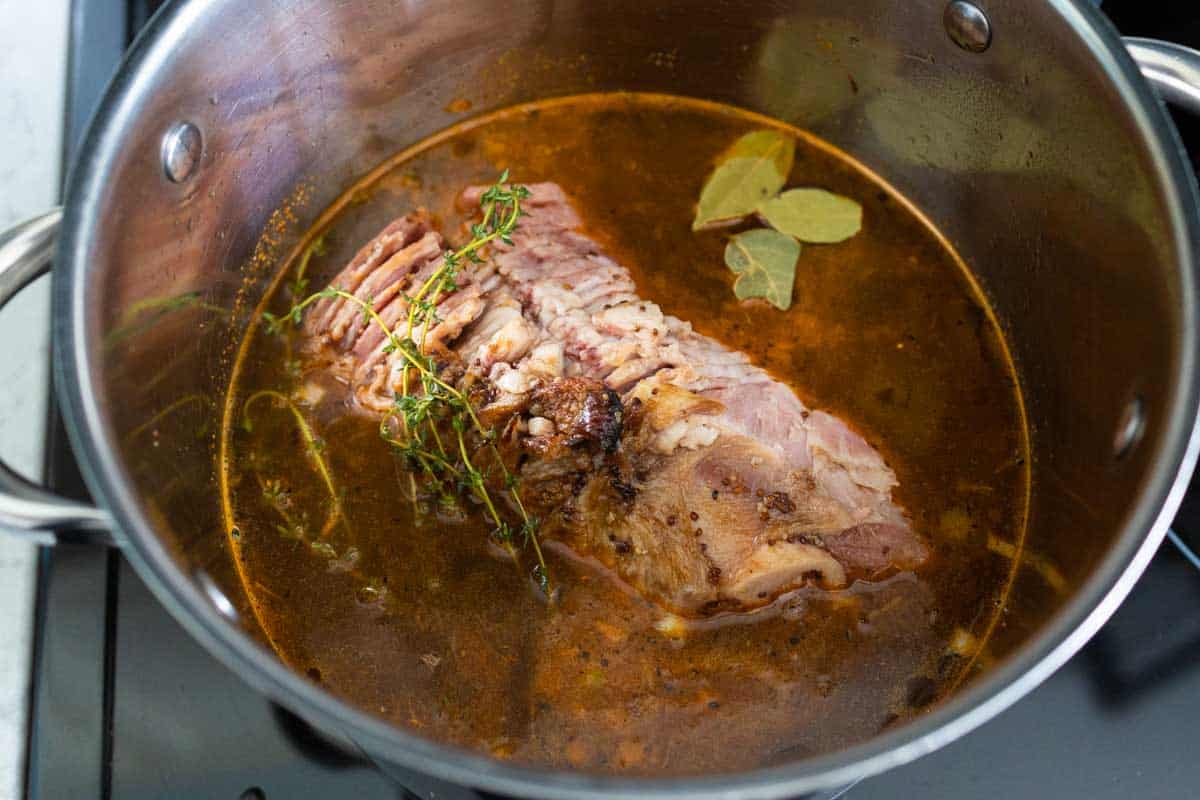 Add the drained split peas to the broth and stir. At this point, make sure that the liquid is covering your ham bone so that it is mostly submerged in the broth.
If it is not, add another cup or so of water, just be aware you may need to season your soup a little more at the end.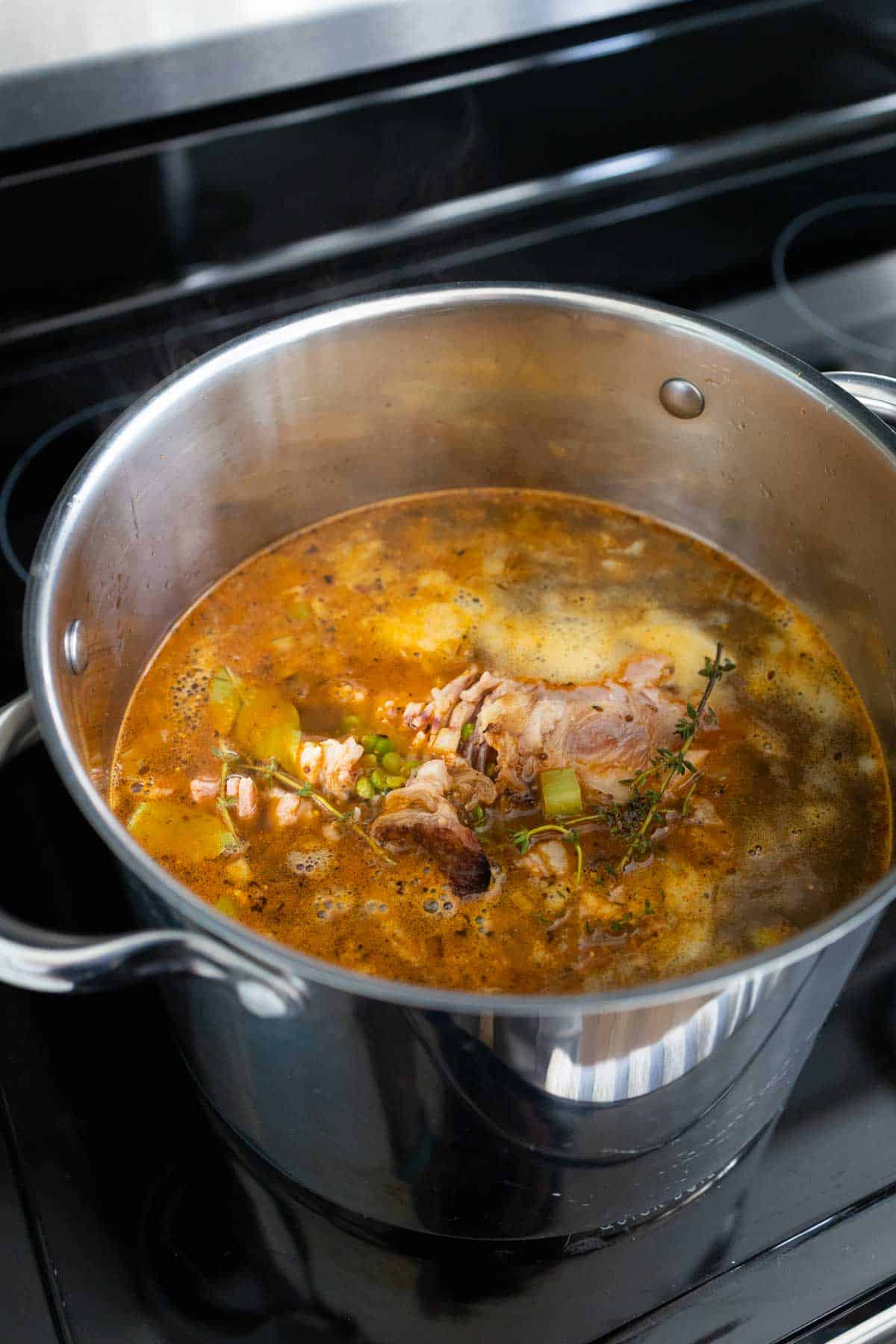 Bring the broth to a boil over high heat and then reduce the heat to medium-low to keep it at a simmer.
Cook for 45 minutes.
Dice the Ham
Once the soup has cooked, transfer the ham bone to a cutting board and use a fork to remove as much of the meat clinging to the bone as you can.
Dice it, removing any large pieces of gristle or fat as you go. You'll add this diced ham back into the soup.
If there's not enough meat clinging to the ham bone, you could chop up any leftover ham you have left from your holiday dinner.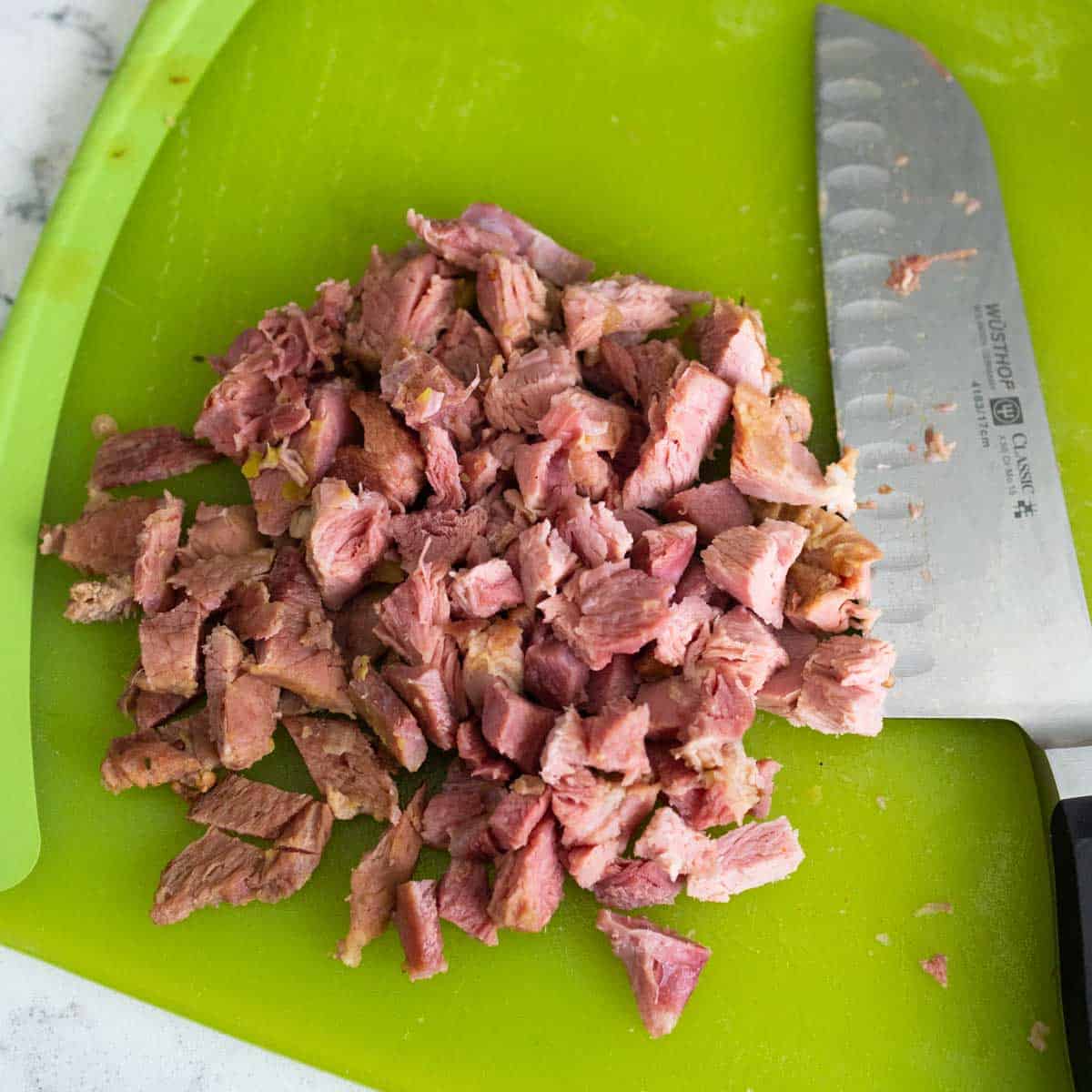 Thicken the Broth
Add the ham back to the soup pot. Use your spoon to find the dried bay leaves and sprigs of thyme and remove them.
Continue to cook the pea and carrot soup for another 15 minutes or until the peas have mostly dissolved into the broth and thickened the soup.
Taste the soup and add a sprinkle of kosher salt, fresh ground pepper, and any additional Creole or cayenne seasonings as you prefer.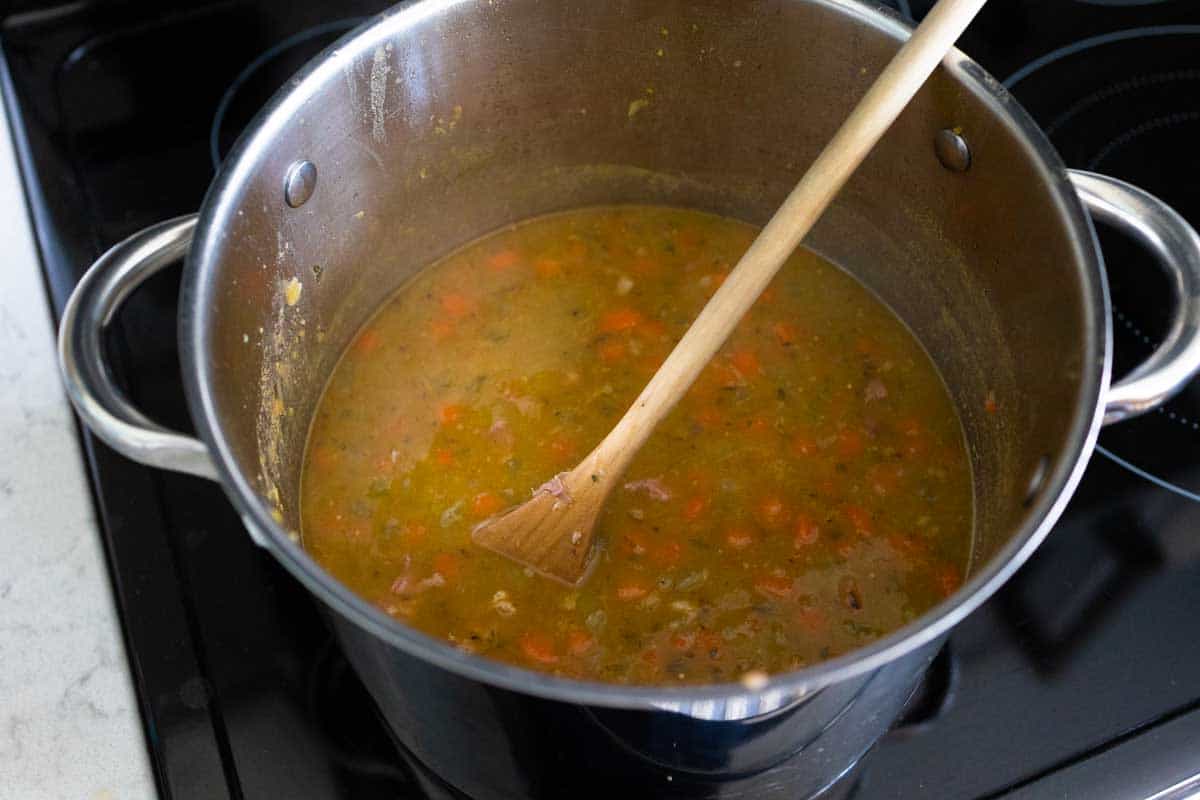 Make Ahead Storage Tips
This kind of hearty vegetable soup always tastes better after the flavors have had a chance to really mingle.
You can make it up to 3 days in advance and keep it in an airtight container in the fridge. Just reheat it gently on the stovetop, adding a bit of chicken stock or water if it has thickened too much in storage.
You can also freeze leftover pea soup for several months, it will keep quite well.
Variations
This comforting and cozy soup can actually be tweaked in several ways to be even more delicious for your family:
Split Pea Soup with Bacon: Skip the ham bone and diced ham and saute chopped strips of bacon in the pan. Remove the crispy bacon bits and cook the chopped veggies in the bacon fat. Add the crispy bacon as a garnish on top.
Split Pea Soup with Garden Veggies: You could really boost the veggie content and add diced zucchini to the mix at the start and a bag of frozen corn at the end.
Spicy Split Pea Soup: Double or triple the amount of cayenne the recipe calls for to make a split pea soup with plenty of heat.
Louisiana Style Cajun Split Pea Soup: Instead of a regular ham bone, use a cajun-style tasso ham.
If you're looking to use beef instead, you might also enjoy this peas and carrots stew.
Serving Suggestions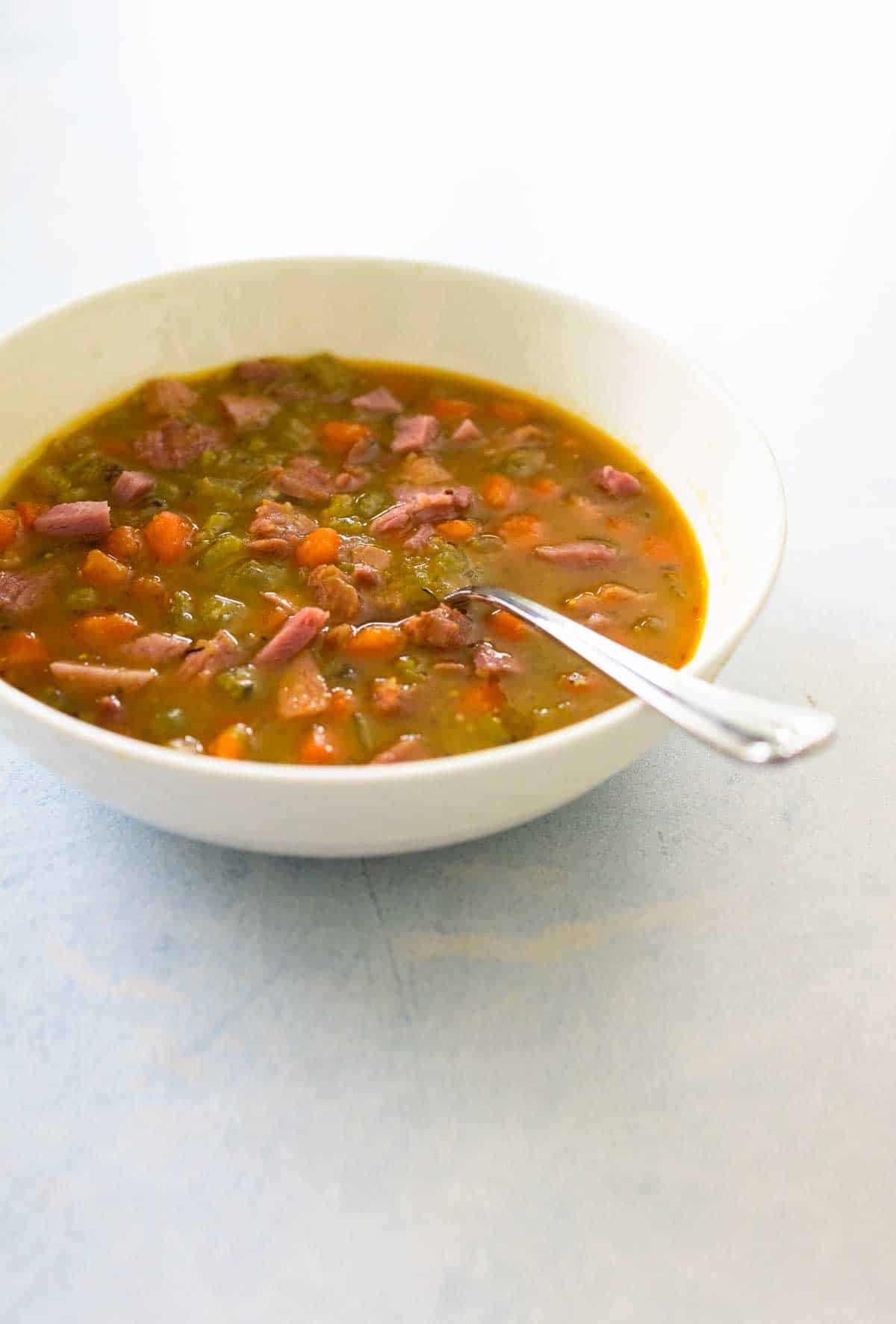 When I have a big pot of split pea and carrot soup on my stovetop, I absolutely want warm, fresh bread to go with it!
If you have a baguette around, you could make fresh homemade crostini to use as dippers for the soup.
More Leftover Ham Recipes
If you still have even more leftover ham after making this soup, you can use it up in some of my favorite ham recipes:
📖 Recipe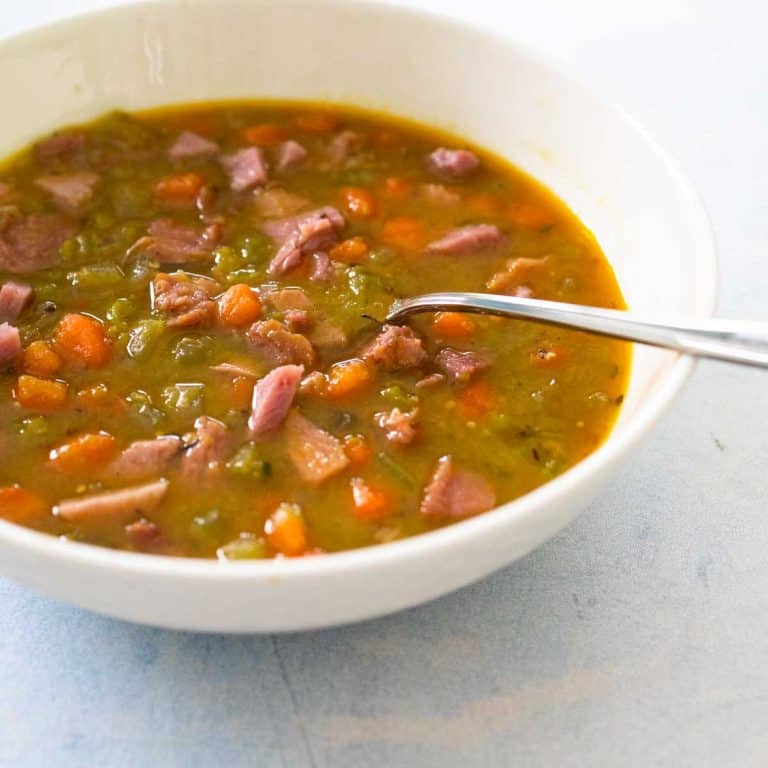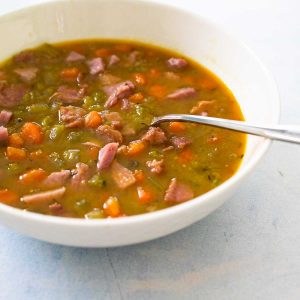 Split Pea and Carrot Soup with Leftover Ham
Hearty split pea and carrot soup is filled with fresh vegetables and savory ham from a leftover ham bone after a holiday feast. Seasoned with a bit of Creole seasoning and cayenne for a pinch of heat, this cozy soup is perfect for making ahead for the freezer.
Ingredients
2

tablespoons

olive oil

1

onion

chopped

3

stalks

celery

chopped

3

carrots

chopped

1

teaspoon

creole seasoning blend

*see notes

¼

teaspoon

cayenne

*see notes

4

cups

chicken stock

4 - 6

cups

water

, enough to cover your ham bone

1

leftover ham bone from a spiral ham

1

pound

dried green split peas

rinsed in cold water and drained

3

sprigs

fresh thyme

or 1 teaspoon dried thyme

2

dried bay leaves

Salt & Pepper to taste
Instructions
Add the olive oil to a large soup pot and heat it over medium-high heat. Add the chopped onions, celery and carrots and stir. Cook the vegetables for 5 minutes or until the onions have softened and become translucent.

Add the creole seasoning and cayenne pepper to the vegetables and stir. Toast the spices for 30 seconds or until fragrant.

Add the chicken stock and water to the pot. Scrape the bottom of the pot to make sure all the seasonings are incorporated into the broth.

Carefully lower the ham bone into the broth. If it is not completely submerged, add another cup or so of water and stir.

Rinse the split peas in cold water in a strainer. Drain them and scrape them into the broth and stir. Add the fresh thyme and bay leaves to the pot.

Bring the entire mixture up to a boil over high heat. Lower the temp to medium-low and keep it simmering for 45 minutes.

Use a slotted spoon and/or tongs to remove the ham from the pot and place it on a cutting board. Shred the meat from the bone and return the meat to the pot. Discard the bone.

Continue to simmer the soup until the peas have completely softened and thickened the broth, about 10 - 15 minutes. If the soup is too thick, add additional water ¼ cup at a time until proper consistency has been reached.

Taste and add salt and pepper as desired.
Recipe Notes
A Note on Seasonings
If you are cooking the soup with a leftover ham bone from a spiral ham after a holiday meal, you will want to add some seasonings to give the soup depth.
Creole blends have a variety of seasonings including paprika, garlic, onion, chiles, oregano, and thyme but are not very spicy. The cayenne adds the heat and can be used to add more or less spice to the broth.
If you are able to buy a tasso ham locally, you can substitute that for the ham bone and omit the spices.
Save This Recipe to Your Recipe Box
Find this delicious recipe next time you visit by saving it to your very own recipe box on my site. All your favorites stored in one easy place!