This easy ham and peas pasta alfredo recipe is the perfect way to use ham leftovers for a quick and delicious weeknight dinner.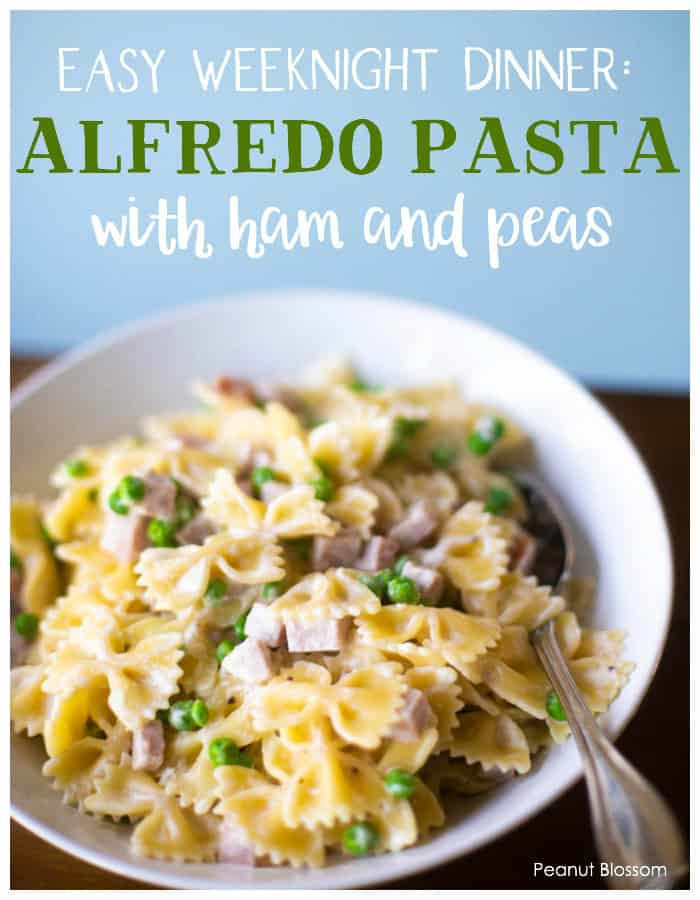 Every Easter after I've made our very favorite pineapple mustard glazed ham for the feast we end up having tons and tons of ham leftovers.
Tim will make ham sandwiches for a few days, but I prefer my ham leftovers to be diced up and mixed in with something else. Last year, I turned them into a biscuit-topped ham pot pie that was totally delicious.
Even though the pot pie is easy, this week was especially crazy. Our kitchen is all ripped up while Handyman Tim paints my cabinets. I needed a super fast, super easy dinner so I could keep out of his way.
And if I'm being totally honest here, I needed some comfort food. I've been a big stress ball for a few months and the next 3 weeks are going to be a little crazy. I took a peek in our pantry and saw that box of farfalle pasta and immediately knew I'd be making the kids' favorite homemade Alfredo sauce to go with the leftover ham.
This leftover ham dinner is SO easy, all you need is:
1 lb box of pasta
Leftover ham, diced
A bag of frozen peas
Alfredo sauce: either homemade or store-bought. The homemade recipe I use is so easy, it is done before the pasta has finished boiling. You probably have everything you need already on hand!
The kids went crazy for it. We had enough leftover that Tim and the Peanut both took some for lunch the next day.
The whole dinner took me 20 minutes to prepare, and that counts waiting for the water to boil for the pasta!
If your family doesn't like peas, you could easily substitute frozen broccoli or asparagus here. Both would be totally delicious.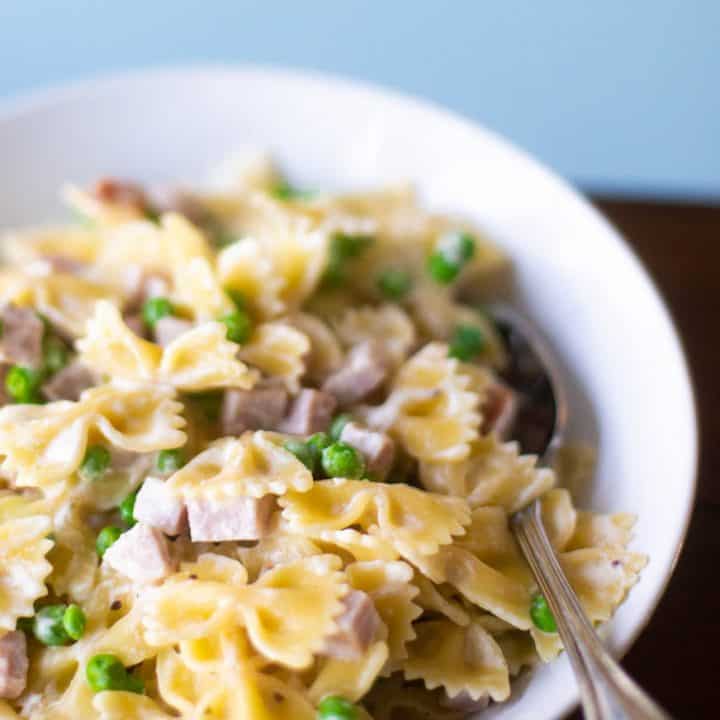 Ham and Peas Pasta Alfredo
This easy weeknight dinner comes together in a pinch. It's a great way to use up leftover ham from a holiday meal. Just add a bag of frozen peas and a quick-and-easy homemade alfredo sauce you can make in minutes.
Ingredients
1 pound short pasta (farfalle, penne, etc.)
1 bag of frozen peas
2 cups diced cooked ham
1 batch of homemade Alfredo sauce (or a jar of prepared sauce from the store)
Parmesan cheese for garnish
Instructions
Place a large pot of water on the stovetop to boil. Add a hefty pinch of salt. Boil the pasta according to the directions on the package.
Open the bag of frozen peas and place them in the bottom of a mesh strainer. Drain the pasta over the peas. The heat from the water and pasta will thaw them perfectly.
Meanwhile, dice the cooked ham. Prepare the homemade Alfredo sauce if using. You can get our favorite Alfredo recipe here.
Once the sauce is ready, stir in the cooked ham and let it warm through for 1 - 2 minutes. Toss the sauce with the pasta and peas.
Serve with parmesan cheese as desired.