This easy alfredo with ham and peas is the perfect way to use leftover ham for a quick and delicious weeknight pasta dinner. The whole meal is finished in 20 minutes or less -- including the time it takes for the water to boil!
Every Easter I make our very favorite mustard glazed ham with pineapples for the feast and we always end up having tons and tons of leftover ham.
I do this on purpose since the ham freezes so well and is the perfect easy ingredient for some of our favorite recipes to make for busy nights.
Diced ham is the perfect protein for tossing into pasta and casseroles.
When paired with our favorite easy homemade alfredo sauce and a bag of frozen peas, you have a restaurant quality dinner made in under 20 minutes at home.
Jump to:
Ingredients
This is a perfect pantry dinner if you have just a few key things ready on hand:
1 lb box of pasta: We love farfalle (bowties) but you could use penne or fettuccini or any shape you love.
Leftover ham, diced: If you don't have ham leftovers, simply buy some deli ham that has been thickly sliced or a ham steak.
A bag of frozen peas
Alfredo sauce: either homemade or a jar of store-bought. The homemade recipe I use is so easy, it is done before the pasta has finished boiling. You probably have everything you need already on hand! You can get the alfredo sauce recipe here.
How to Cook in 20 Minutes
Time your assembly right and you can get this whole dish done in under 20 minutes.
First, put a large pot of water on to boil.
While the water heats up, prepare the homemade alfredo sauce if using. It will be done by the time the pasta is ready to go into the pot.
Cook the pasta for the shortest amount of time listed on the packaging for a firm noodle with bite (al dente).
Pour the frozen peas into the colander you plan to use to drain the pasta. The heat from the boiling water will thaw them perfectly.
Drain the pasta over the peas.
If using a jar of prepared alfredo sauce, warm it in the now-empty pasta pot over medium heat.
Toss the pasta and peas in the sauce, add the diced ham and cook just long enough to heat through. Serve immediately.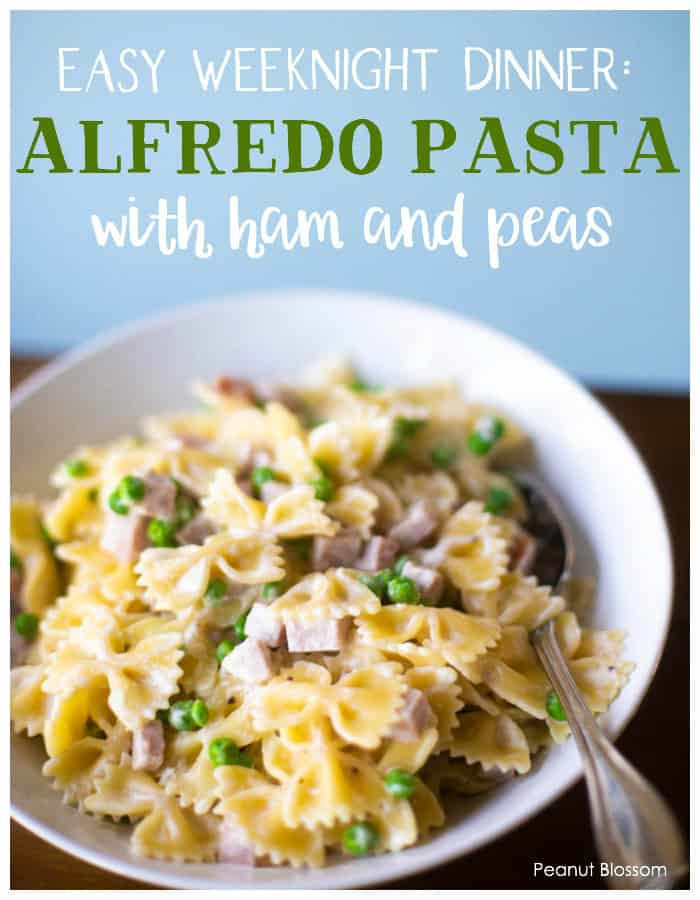 Variations
If your family doesn't like peas, you could easily substitute frozen broccoli or asparagus here. The green vegetable gives the perfect burst of flavor with the creamy alfredo sauce.
Make-Ahead Tips
The alfredo sauce can be made up to 2 or 3 days ahead of time and stored separately from the ham in the fridge but should not be frozen.
The final dish tastes best when prepared and served fresh.
Serving Suggestions
This is a perfect one pot meal for a quick dinner but if you wanted to add a few side dishes, I recommend a light salad and maybe some homemade garlic bread.