Ham pot pie with biscuit topping is the perfect way to use up ham leftovers from your holiday dinner. Tender vegetables in a savory sauce with diced ham is topped with either a homemade biscuit crust or your favorite refrigerator biscuits.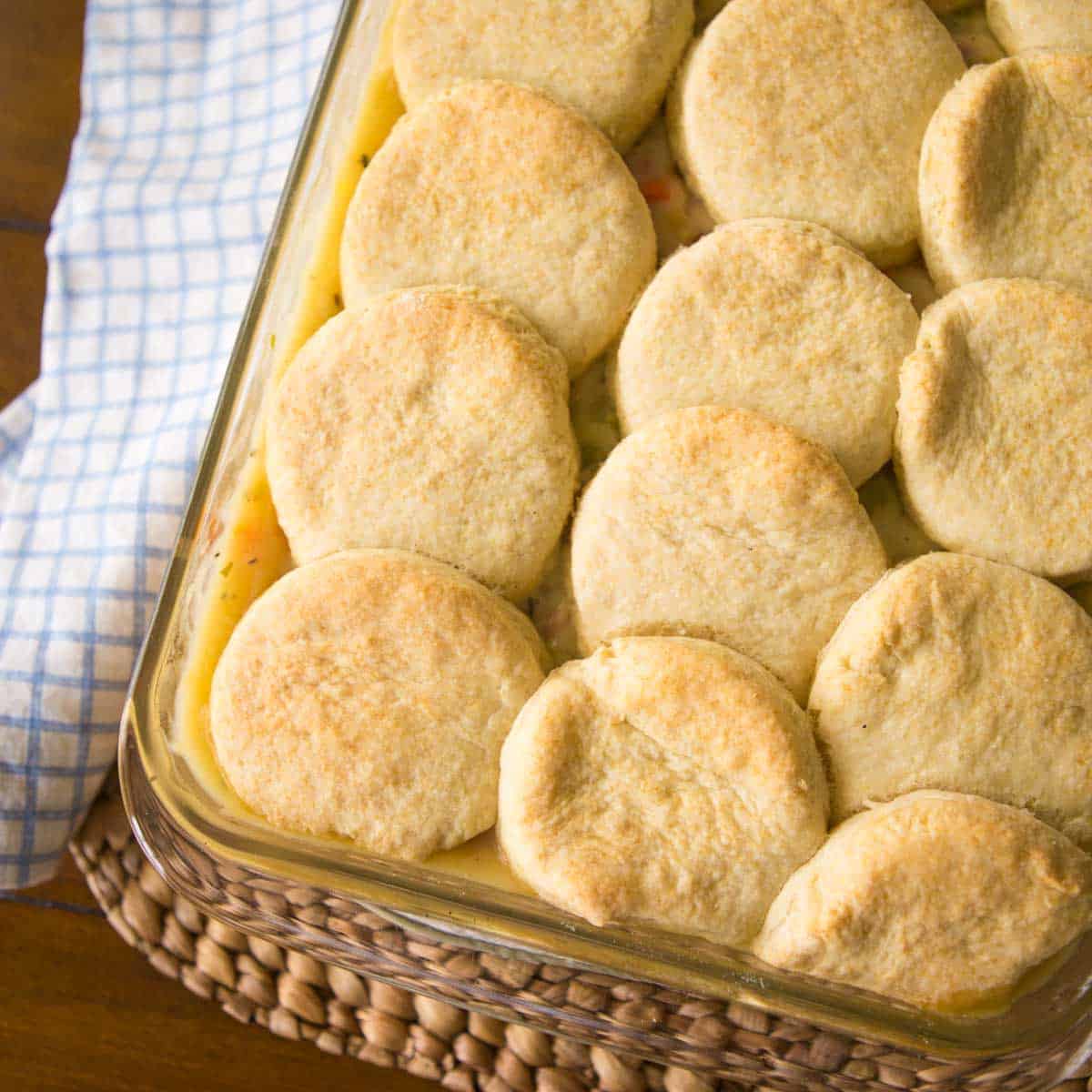 Every Easter we make a giant spiral-cut glazed ham for our holiday dinner even though we only have 4 - 5 people at the holiday table. We love to have lots of ham leftovers to use in other recipes for a couple days.
My mom and husband both love to make hot ham sandwiches with the leftover ham the next day. After a lunch or two, we usually still have a giant pile of ham slices that need to be used up!
Last year I decided to chop up all the leftover ham from Easter and use it up in this delicious biscuit-topped ham pot pie.
We are big pot pie fans here but I usually make pot pie with pie crust or sometimes phyllo dough. I loved the idea of using biscuits for the top crust instead since ham and biscuits are such a popular combination for breakfast.
This recipe calls for making the biscuits for the topping from scratch, but you could really easily substitute a can or two of your favorite refrigerator biscuits to keep it extra easy.
I've included both directions on how to bake the pot pie with either homemade or pre-made biscuits, however you prefer.
Jump to:
Ingredients
This homemade pot pie recipe is perfect because you likely already have leftover ham and just need to add the vegetables and biscuits.
Your shopping list is pretty easy:
Ham: You can use leftover ham or buy thick-cut ham at the deli counter. You could also use a ham steak.
Celery
Carrots
Fennel: This vegetable gives a unique flavor to the dish and I highly recommend trying it. In a pinch, you could skip it if you can't find it.
Onions
Chicken broth
Fresh tarragon: This fresh herb also has a unique flavor I love in the dish. You could substitute dried tarragon, but for this particular herb fresh is better.
Dried thyme
Olive oil and butter
Flour
If you plan to make homemade biscuits you'll also need:
Flour
Baking powder
Baking soda
Butter
Buttermilk
Or you can substitute 2 canisters of prepared biscuits (like Pillsbury.)
Prepare the Pot Pie Filling
First, prepare the vegetables for the easy filling.
To enhance the flavor of the finished pot pie, the chopped fresh veggies are roasted before adding them to the filling.
If you really don't want to roast the vegetables, you could sauté them on the stove top until they are softened and the onions are translucent.
However, I really do recommend roasting the vegetables because it makes them extra sweet and tender, especially the fennel. They can be cooking in the oven while you prepare the broth so it really doesn't add that much time to your work.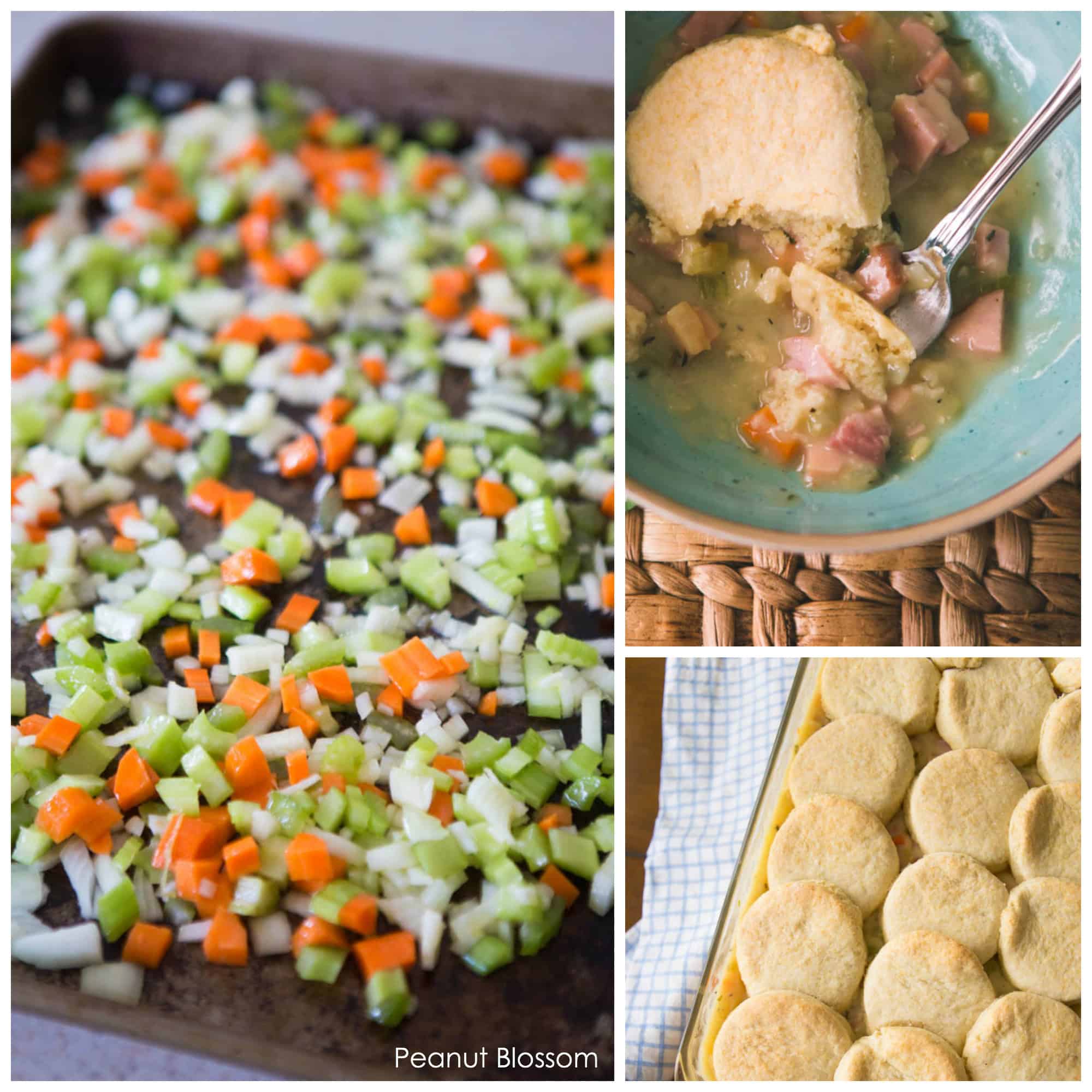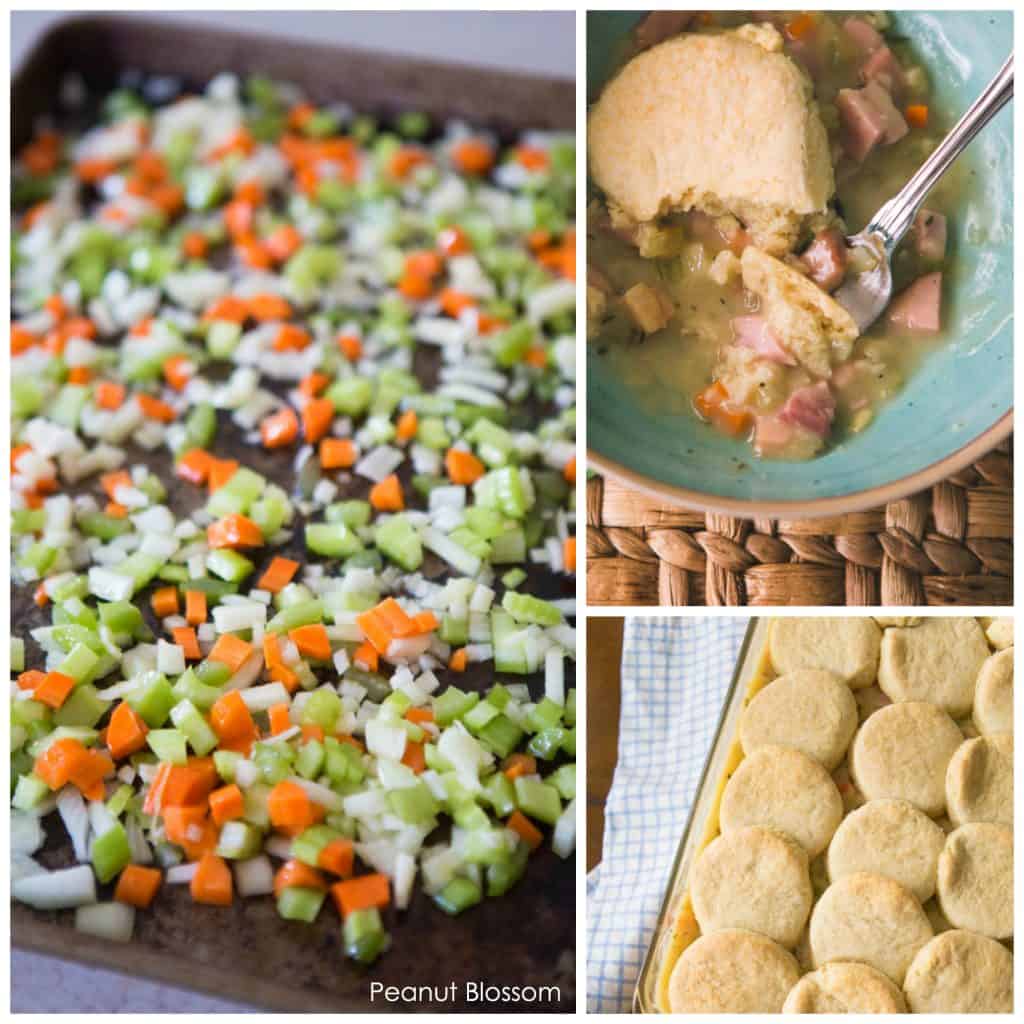 Roast the chopped veggies on a large baking sheet at 425°F for 20 minutes.
Meanwhile, melt the butter in a large skillet over medium-high heat.
Whisk the flour into the butter to form a roux. Let the butter and flour cook together for 2 - 3 minutes and then drizzle in the chicken stock.
Add the thyme, salt, and pepper and reduce the heat to low. Let the mixture bubble for 10 minutes.
Add the roasted veggies, chopped tarragon, and diced ham to the sauce. Stir to combine and then transfer to a 9 x 13-inch baking dish.
Choose Your Biscuit Topping
You have three choices for the biscuit topping:
Homemade Biscuits Baked on Top
Prepared Biscuits Bake on Top
Prepared Biscuits Baked on a Baking Pan and Served on the Side
If you're serving kids, option #3 might be your best bet. It's how we love to serve our favorite "crustless chicken pot pie."
Make Homemade Biscuits
Add the flour, baking powder, salt, and baking soda to the bowl of a food processor and pulse them together until blended.
Add the butter and continue to pulse until the butter becomes the size of peas.
Pour the dough into a large bowl and add the buttermilk. Stir until there is no more flour visible.
Flour a cutting board and turn the dough out onto the flour. Gently knead the dough 8 - 10 times and then roll it into a 9 x 13-in rectangle.
You can cut the biscuits into round or square shapes, whichever you prefer.
Place the shaped biscuits over the pot pie filling, making sure to slightly overlap the edges of each biscuit to form the crust.
Use Prepared Biscuits
You can skip making the homemade biscuit dough and simply layer refrigerator biscuits over the top.
You'll want to be sure your pot pie filling is hot because you won't bake the final casserole as long as if you would if you used homemade biscuits. Bake the dish for the time listed on the biscuit container.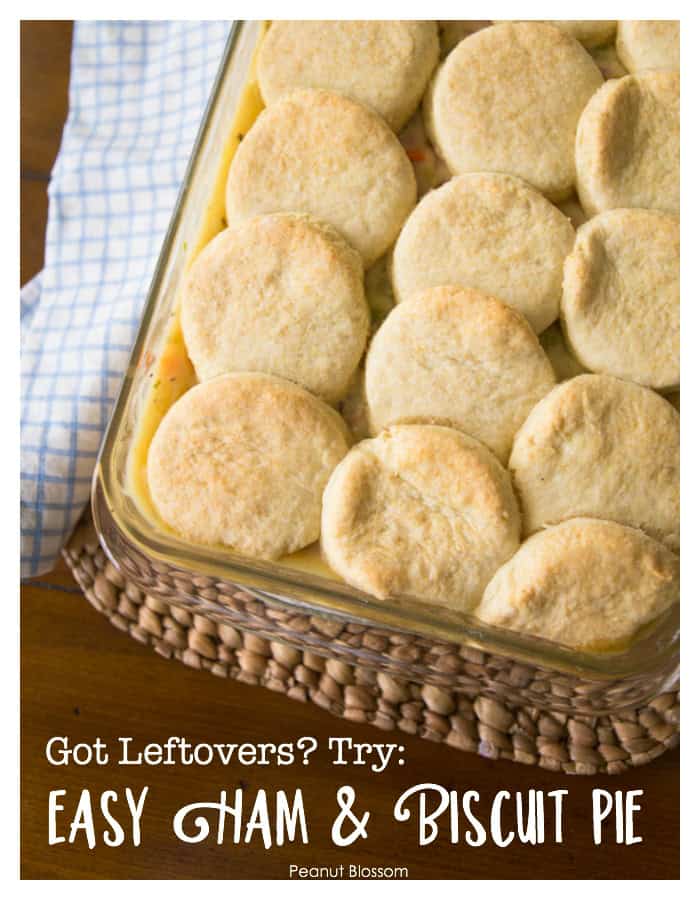 Baking Instructions
Lower the oven temperature to 350°F (or the temperature listed on your biscuit container if using prepared biscuits.)
Bake for 25 - 30 minutes for homemade biscuits or for the length of time listed on the prepared biscuit container.
Make Ahead and Freezer Tips
If you want to use up the leftover ham from Easter before it spoils but are super sick of eating ham right now, you could prepare the filling for the ham pot pie and then just freeze it without the biscuits.
Plan to defrost and thoroughly heat the ham filling before you bake it with the biscuit topping when you want to serve it for dinner.
This makes an easy grab-and-go dinner idea for a busy night, especially if you use prepared biscuits.
Serving Suggestions
This savory ham pot pie with biscuit topping is a rich and comforting all-in-one dinner. If you want to add additional side dishes to it, I recommend a lighter salad or fresh fruit.
You could simply set out a big bowl of fresh pineapple or strawberries to pass.
More Ham Recipes for Leftovers
Looking for more tasty ways to use up your leftover ham from the holiday? These are some of our favorite things to make in the days after Easter and Christmas: