Make ahead ham pot pie with a flaky, buttery pie crust works best if you assemble the filling in advance and let it cool down before adding it to the pie crust. You can assemble the pie early and just bake before serving.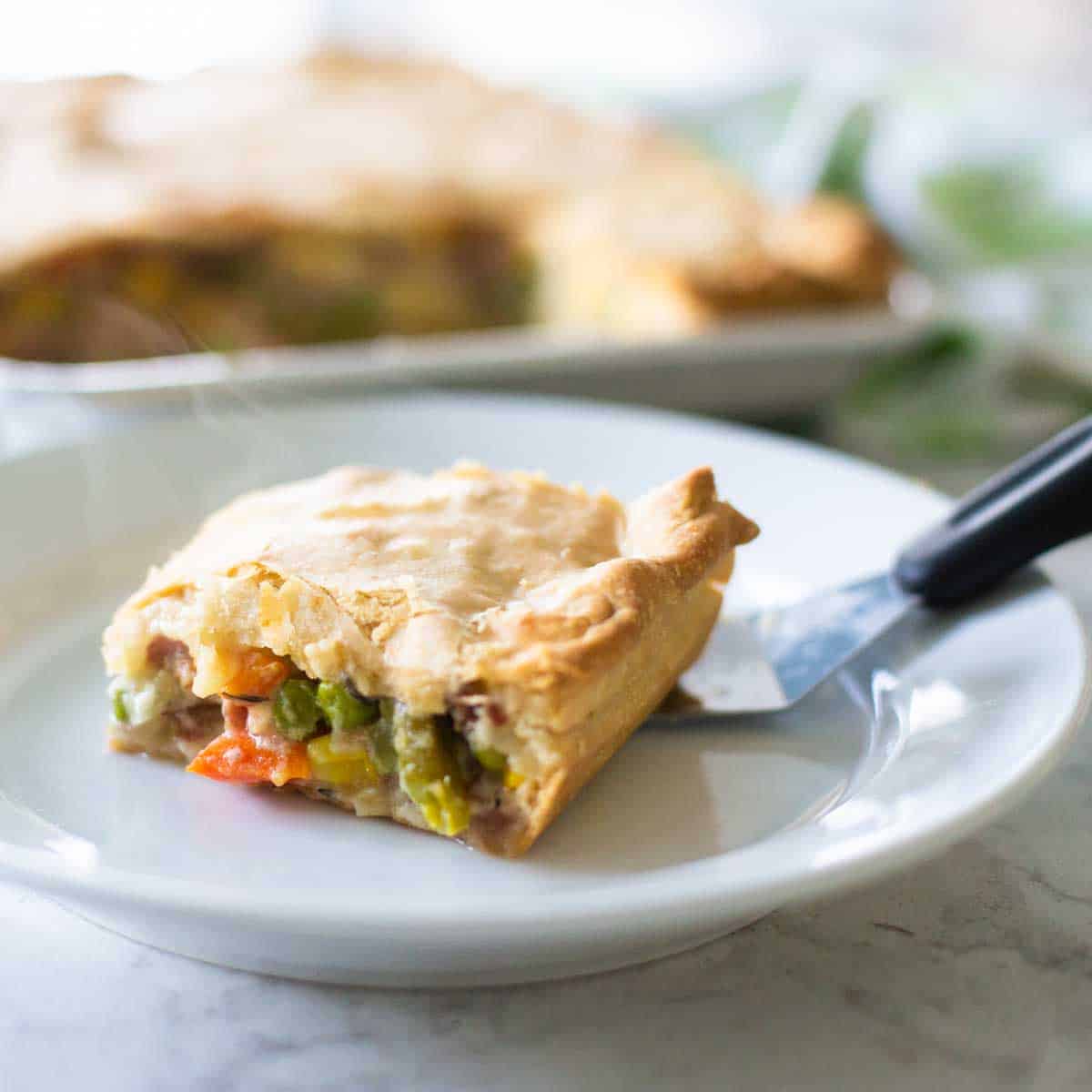 When we made our favorite pineapple mustard glazed spiral ham for Easter we were left with an enormous container of leftovers after the holiday was over.
I refused to let a single bite of that delicious ham go to waste. Since I had just recently perfected my pie crust making skills, I thought it would be fun to experiment with making a ham pot pie for dinner.
The problem in using my very favorite pot pie filling recipe is that it starts out hot but for this pie crust, you need the filling to be COLD, COLD, COLD.
That's when I realized, this makes one of the most perfect make-ahead recipes. In fact, it really works best if you prep it in advance of baking so that the filling has a chance to cool down.
Jump to:
Ingredients
This is such a classic pot pie recipe, it only requires a few very simple ingredients that you likely already have on hand:
Leftover cooked ham: I love to use leftovers from my mustard glazed spiral ham recipe but you could also buy thick-cut deli meat or a ham steak.
Flour
Milk
Onion
Dried Thyme
Bag of frozen mixed veggies (carrots, peas, corn, green beans, etc.)
Pie crust of choice, see notes below
The Perfect Pie Crust
You could use any pie crust recipe you prefer, but for the flakiest, most delicious pie crust you've ever had, we highly recommend using this all-butter pie crust recipe.
Tools You'll Need
This pie crust recipe and the filling quantities were designed to fit perfectly in this quarter sheet baking pan. 
You'll find that all the slab pies on this entire web site use that exact pan size. It makes the perfect flaky crust but if you really don't want another pan in your kitchen, a 9 x 13 dish would be the closest substitute.
How to Prep Ahead
I prefer to prep the crust and filling ahead of time and store them as a meal bundle in my fridge. It makes for easy assembly and baking when I'm ready.
Here's how I love to do it:
Step 1: Make the Pie Crust Dough
If you're making my homemade pie crust, you'll want to reference the full instructions for the pie crust to get all my tips and tricks.
Get the dough prepared and stick it in the fridge to chill.
Total time: 5 minutes or less.
Step 2: Prepare the Ham Filling
The most complicated step will be chopping the ham. Seriously, this recipe is just that easy.
Prepare the creamy ham filling. Then, pour the filling into a casserole dish for you to store in the fridge. It needs to cool down and get COLD.
Total time: 10 minutes, unless you're a slow ham chopper. Then maybe 15.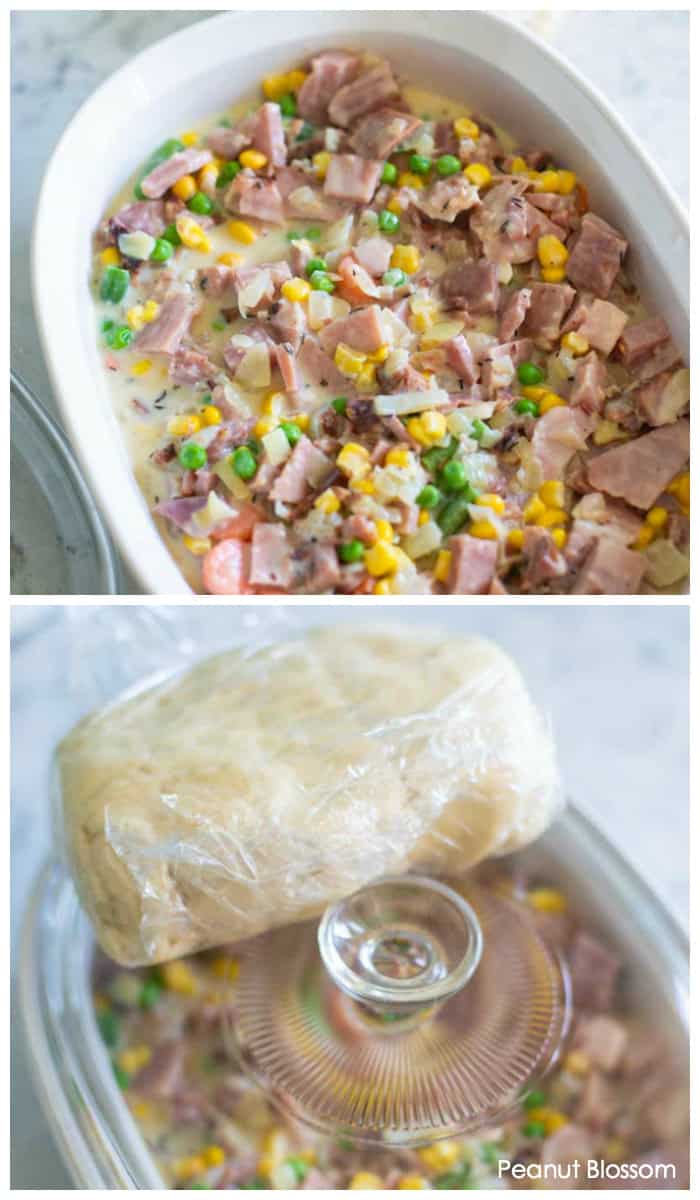 Step 3: Assemble the Pot Pie
Divide the pie dough into two halves, one slightly larger than the other. The larger chunk will be the bottom crust.
Roll out the dough and place it into the pie pan. Smooth it into the corners and up the sides. Let the edges hang over the pan.
Roll out the second half to form the top crust.
Pour the COLD ham filling into the bottom pie crust. Top it with the second pie crust. Crimp the edges together and use a sharp paring knife to cut slits into the top for venting.
Return the pie to the fridge to chill until baking.
Total time: 10 minutes
Step 4: Bake the Ham Pot Pie
Now your pie is assembled and ready to bake! When dinner time comes, all you'll have to do is pop it in the oven.
I broke the early steps down into small breaks in my day. By dinner time, all the prep dishes had been washed and put away and we had the most amazing dinner ready to go.
You could even prep the pie dough the day before if you wanted to make it even easier.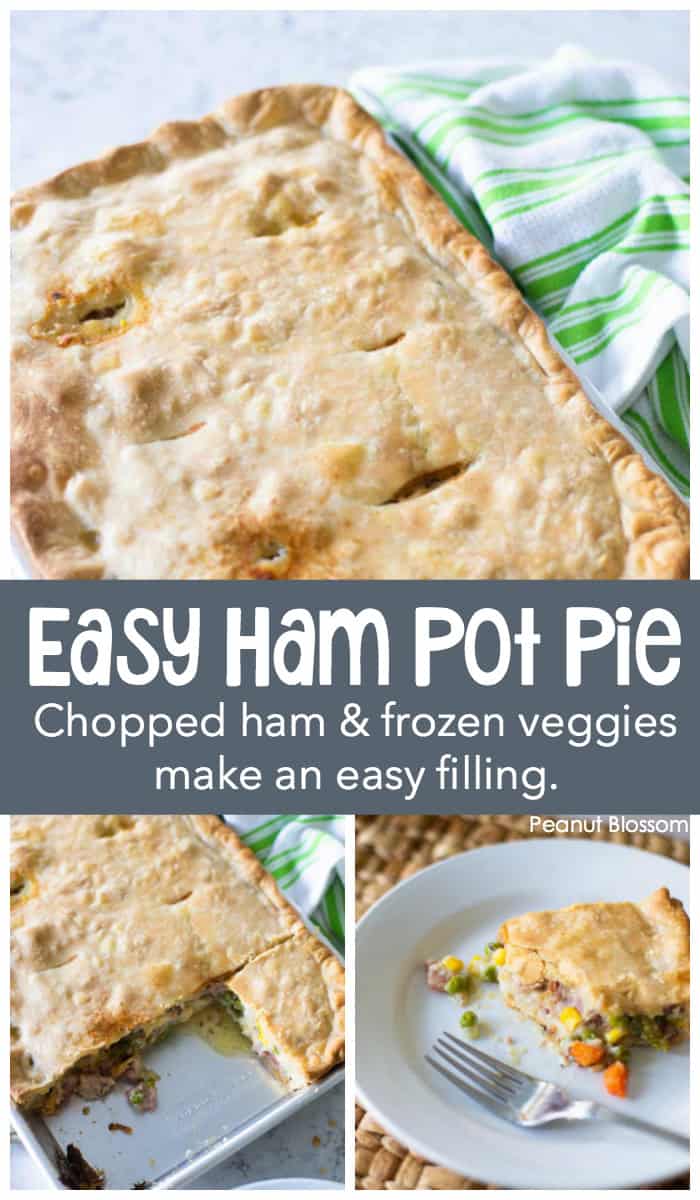 Pot Pie Crust Variations
I love using flaky pie crust for pot pie, but it isn't the only option you have for this ham pot pie filling. You could also bake it with the biscuits from this ham pot pie with biscuits recipe or use phyllo dough like this lighter chicken pot pie recipe.
More Ham Recipes
Need more ideas for using up your leftover ham? My family loves these easy ham recipes: