Ina Garten's chicken pot pie soup recipe is absolutely delicious but very expensive to make. This budget-friendly version has real family short cuts and easy ingredient swaps to fit your grocery budget while keeping the same great flavor.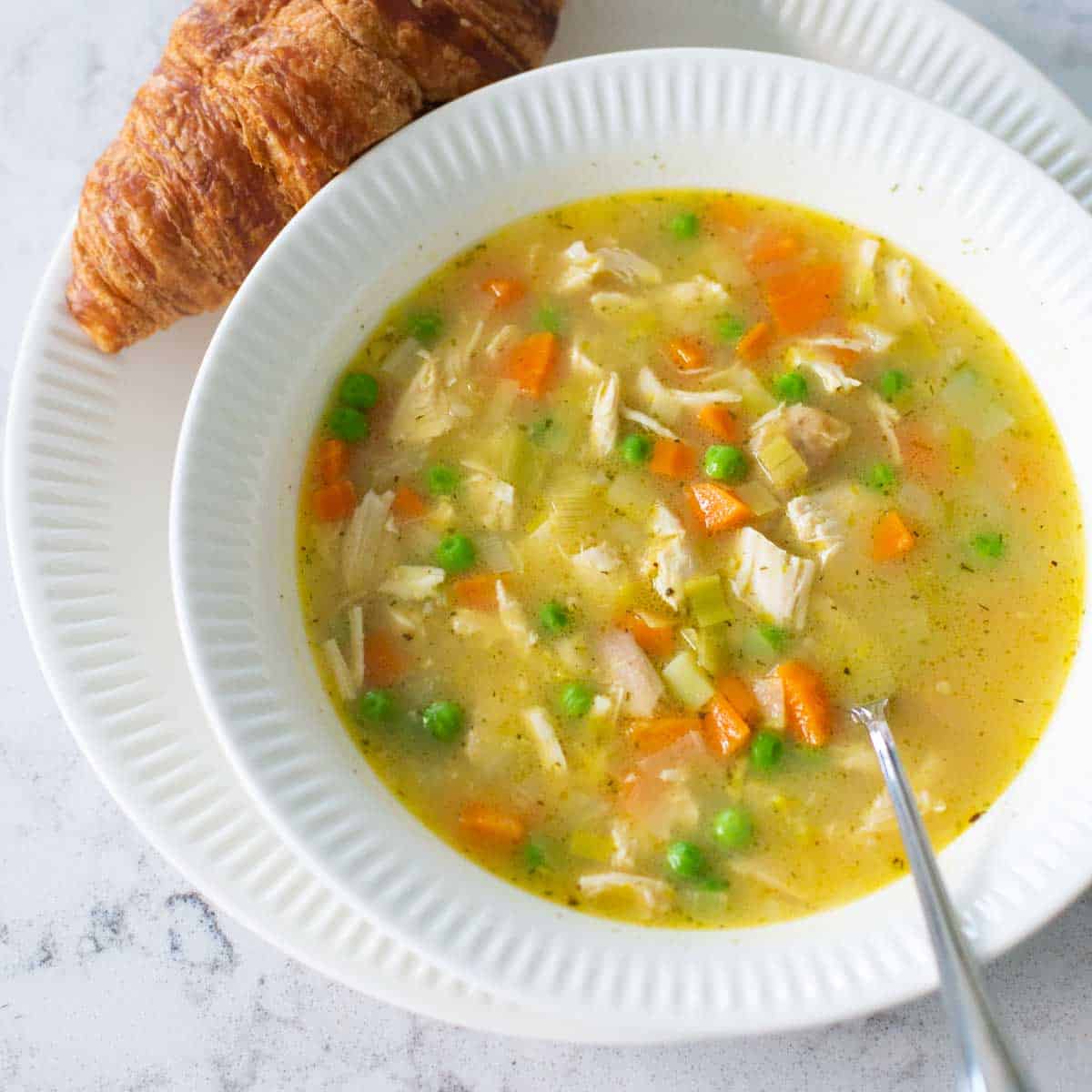 Who doesn't absolutely love Ina Garten?? She is basically a national treasure. Known for her amazing and delicious food and her cheerful screen personality, her cookbooks sell like crazy.
When I talk to friends who don't cook very often, there's definitely a sense that they feel Ina's recipes are intimidating.
I think the key is knowing how to read one of her recipes and make it more practical for your own family.
I fell in love with her chicken pot pie soup recipe, but one look at the ingredient list and I knew it was way too expensive for our family budget.
A few simple swaps later? It is one of my very favorite weeknight soups to make and a huge hit with my family.
Jump to:
Why This is the Best Recipe
Ina Garten, a.k.a. The Barefoot Contessa, is known for her utterly delicious recipes. Her chicken pot pie soup recipe from Modern Comfort Food is the inspiration for this simplified recipe.
My version of her chicken pot pie soup is the best because:
Easy to Find Ingredients: I made some simple swaps for ingredients that can be more easily found at average grocery stores.
Budget-Friendly: I cut down on the priciest ingredients but kept the flavor.
Easy to Make: I shortened some of the steps to make this a more reasonable meal for a busy night.
Loads of Flavor: In the end, I think this is just as tasty as the original but more practical for real world families.
Ingredients
I've always appreciated Ina Garten's recipes because they call for such wholesome ingredients.
This soup has several basic ingredients you are likely very familiar with but does have a few unique things that I still feel are essential for the particular pot pie flavor to the chicken soup.
The basic ingredients you probably already have on hand:
Flour
Butter
Chicken Stock
Minced Garlic
Carrots
Frozen Peas
Budget-Friendly Ingredient Swaps
When I looked at the cost of several ingredients in the original recipe, they just were not feasible for a dinner for our family budget.
I made these substitutions which were much more in line with my grocery allowance.
1. Rotisserie Chicken:
Ina calls for roasted chicken breasts, but to keep things quick and easy, I swapped a shredded rotisserie chicken.
2. White Wine:
Ina calls for cream sherry which is expensive and difficult to find. If you happen to have it, you could use it but I always have white wine on hand.
3. Onion:
Ina calls for leeks, which I love but are extremely expensive. At the time I'm writing this, a single leek is about $4 at the grocery store and the recipe needed 2. I swapped a simple yellow onion. If leeks go on sale or you can't resist them, learn how to cut leeks and wash them properly.
4. Dried Herb Blend:
Ina calls for several fresh herbs which I agree are always amazing when you cook. However, fresh herbs are not usually in my weeknight dinner budget unless it is summertime and my herb garden is in full swing.
I used my favorite Parisian Shallot Herb Blend because it features the tarragon from the original recipe. The other herbs in the mix pair beautifully with this chicken soup.
If you don't have a similar spice blend, try using dried dill, dried oregano, dried basil, or a tiny sprinkle of each.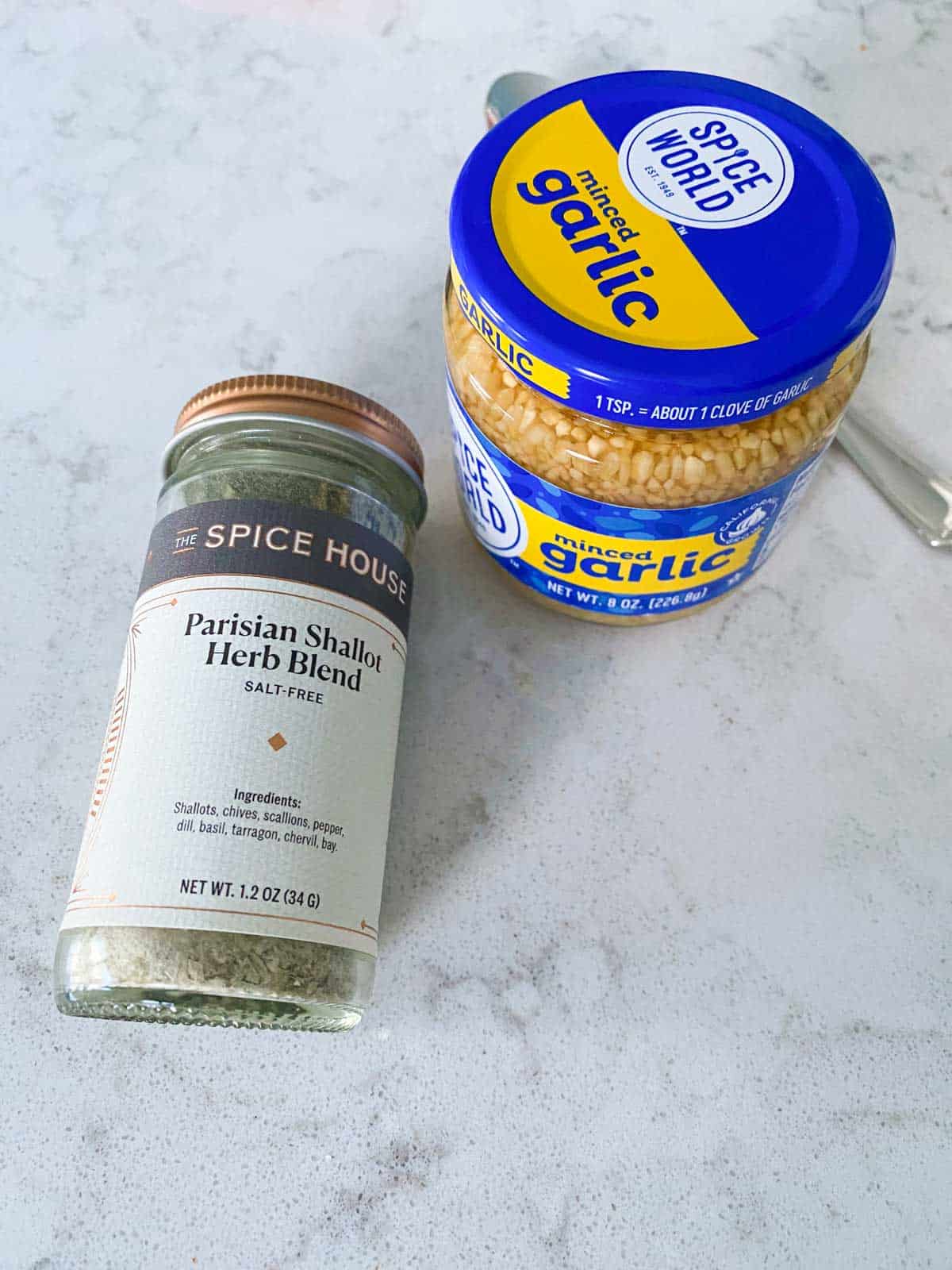 Worth the Splurge
There are 2 ingredients to finish the list that are a little bit on the pricey side but add so much value to the soup that they are worth it.
If they are still too pricey for your budget, I've also listed potential substitutions.
1. Fresh Fennel:
If you've never cooked with fresh fennel before, it has a really unique flavor that I believe is essential to the soup.
When you cut into the fennel bulb, it has the aroma of black licorice. However when you saute it in this recipe, it becomes very sweet.
The recipe just uses the white bulb part of the fennel, but you can save the tops for another use.
If you don't want to buy fennel or can't find it at your store, I'd recommend using fresh celery and a sprinkle of dried caraway seeds.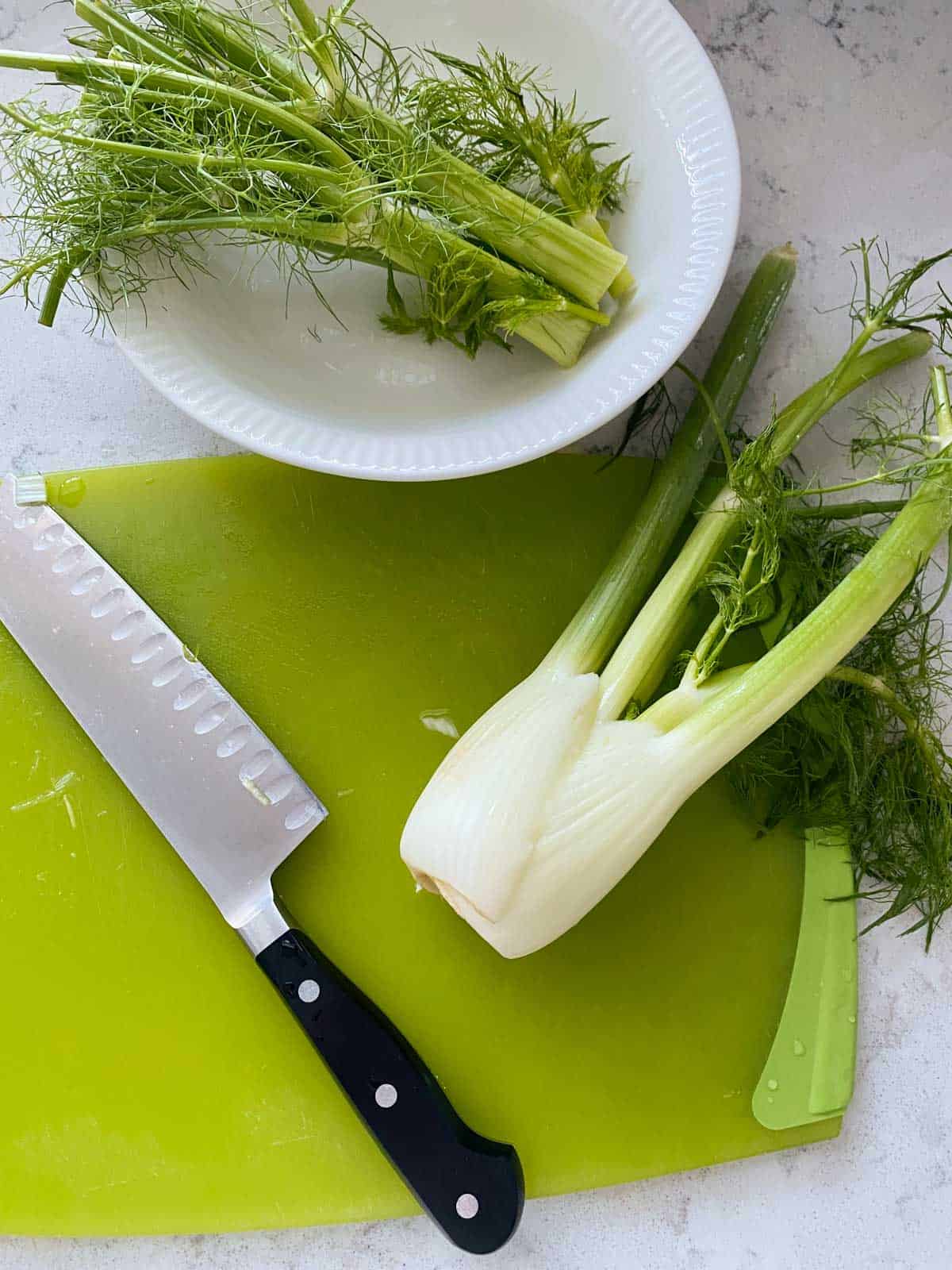 2. Frozen Puff Pastry:
To give the soup a true chicken pot pie flavor, the baked puff pastry croutons floating on top are absolutely amazing!
Trader Joe's has a fantastic and affordable frozen puff pastry that comes with two rolls inside the package. You could use just one and save the other for another time.
If you don't want to use puff pastry, I'd recommend splurging on really delicious fresh baked biscuits or a bakery croissant to serve with the soup.
How to Make the Soup
I know that was a lot of info on the ingredients, but they will all help the chicken pot pie soup be easier to make.
First, you start by sautéing the carrots, onion, and fennel (or celery) in melted butter until softened.
Add the minced garlic and seasonings along with a pinch of salt and pepper.
Add the flour and whisk it into the buttery vegetables and cook for 2 minutes.
Pour in the white wine, whisk it, and let it bubble until it reduces in volume by half.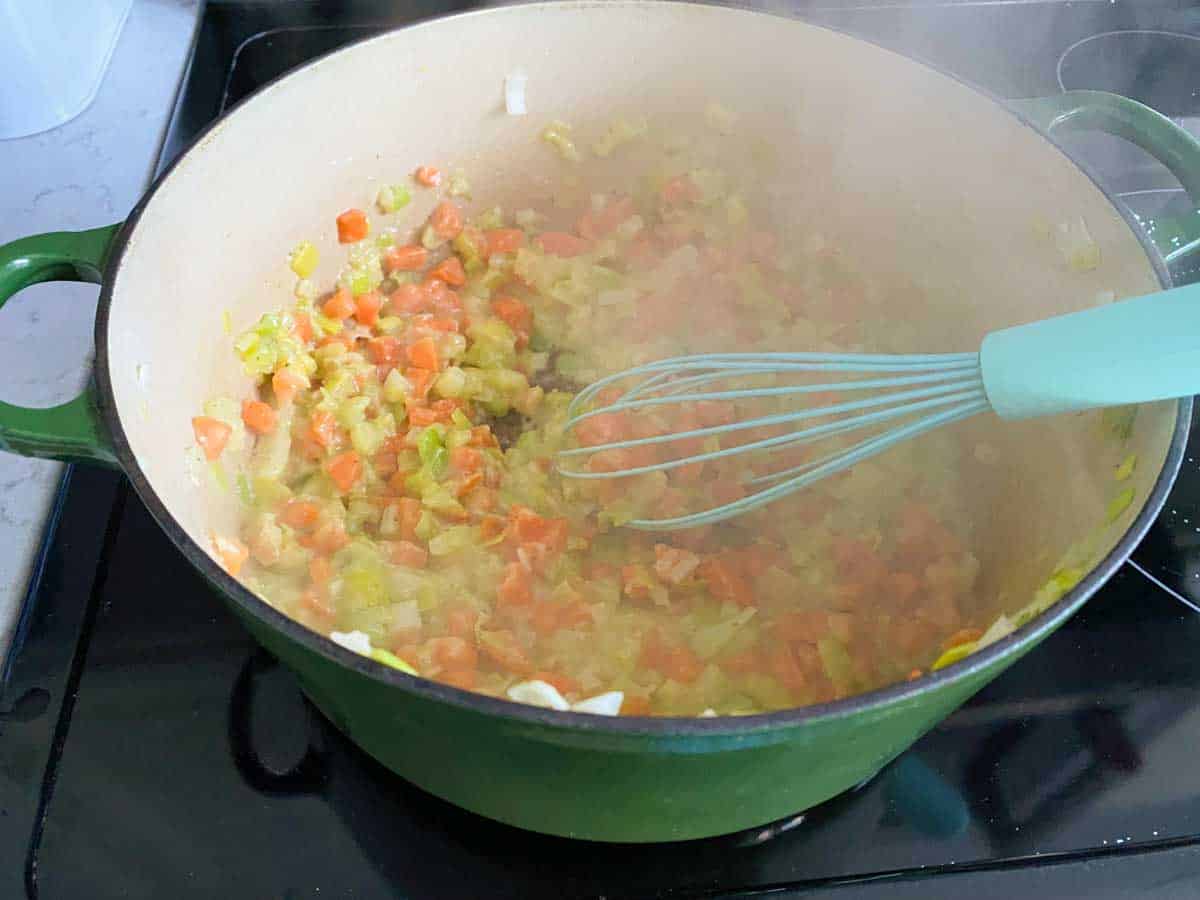 The shredded chicken and frozen peas can be prepped and waiting near the stove.
Add the chicken stock to the pot and bring it to a simmer. Cover the pot and let it cook for 20 minutes.
Add the shredded chicken and peas just 5 minutes before you're ready to serve the soup. You don't want them to cook too long or the peas will become mushy and the chicken will become tough.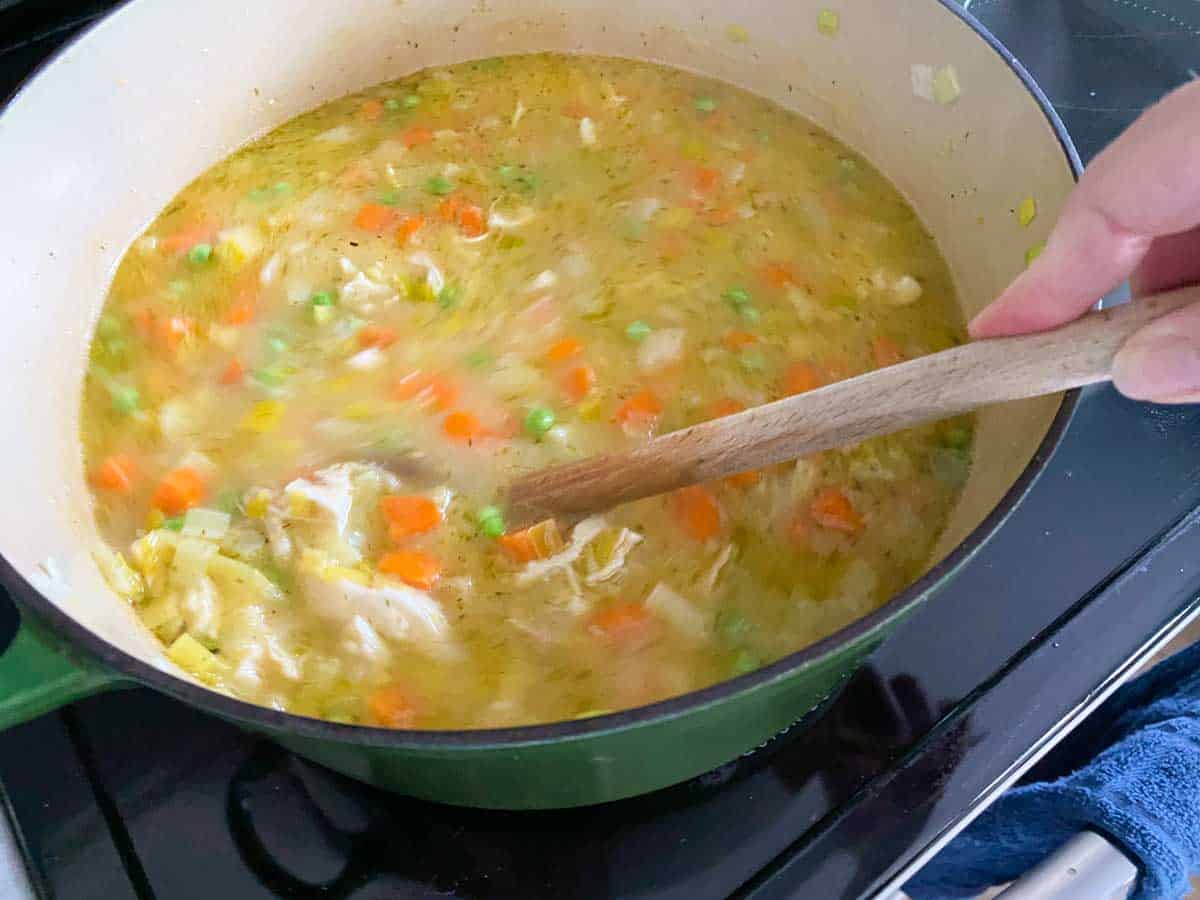 You'll know the soup is done when the broth is slightly thickened and the vegetables are nice and tender.
Serve warm with a delicious buttery dinner roll or the puff pastry croutons floating on top.
Serving Suggestions
What makes this chicken pot pie soup so special is the flaky puff pastry croutons floating on top.
They only take a few minutes to make (see the notes in the recipe card.)
Ina cut them with small cookie cutter shapes, but I chose to make large rectangular puffs to float right on top so it felt more pie-like.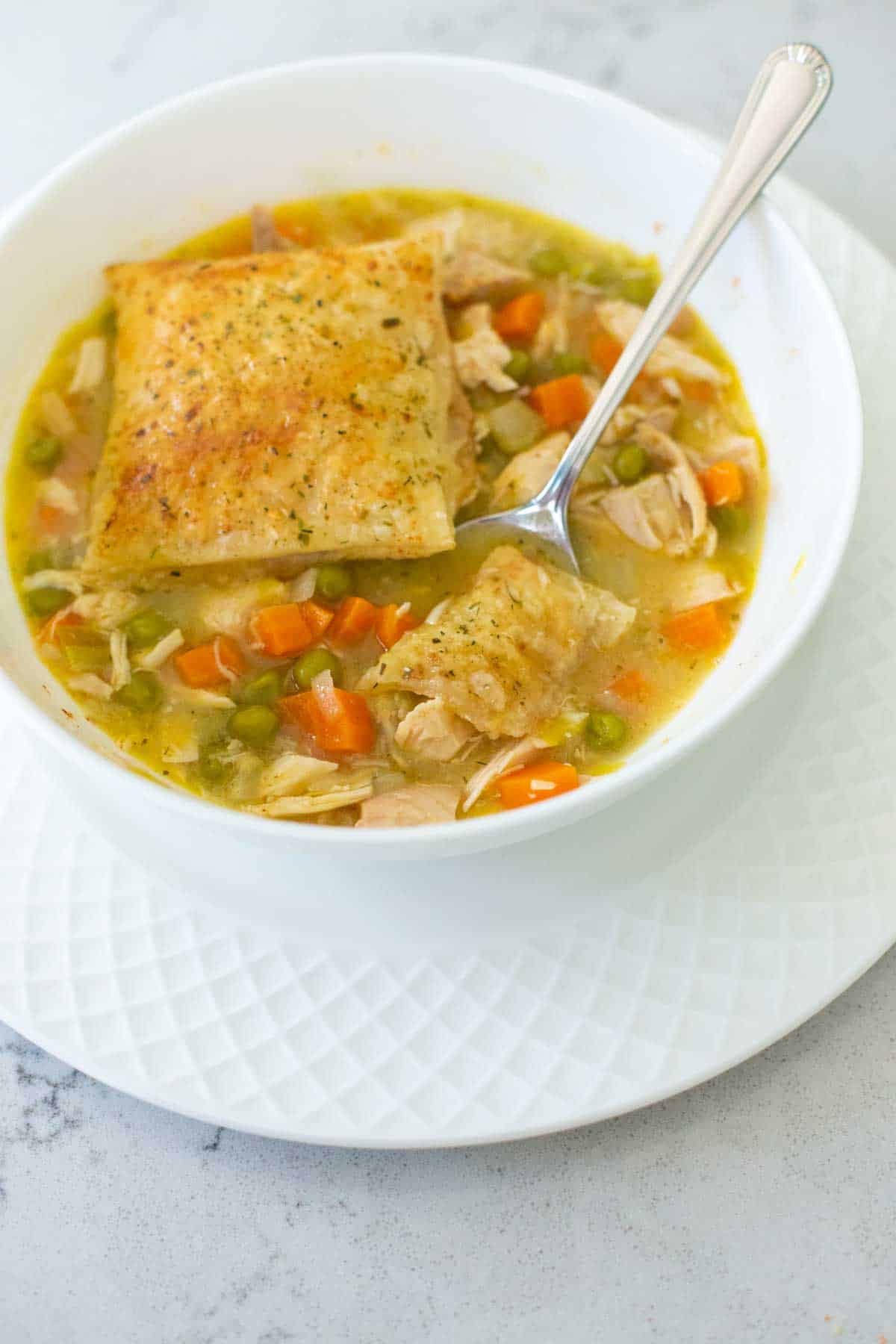 Make Ahead and Freezer Instructions
This soup will last in the fridge for several days and reheats beautifully on the stovetop or in the microwave.
You could also freeze it for another time and it will defrost and reheat perfectly.
However, be sure to store any puff pastry croutons or bread separate from the soup during storage or they will become mushy.
More Soup Recipes
Our family LOVES soup season and we're always trying new recipes. If you love this soup, you'll also love:
📖 Recipe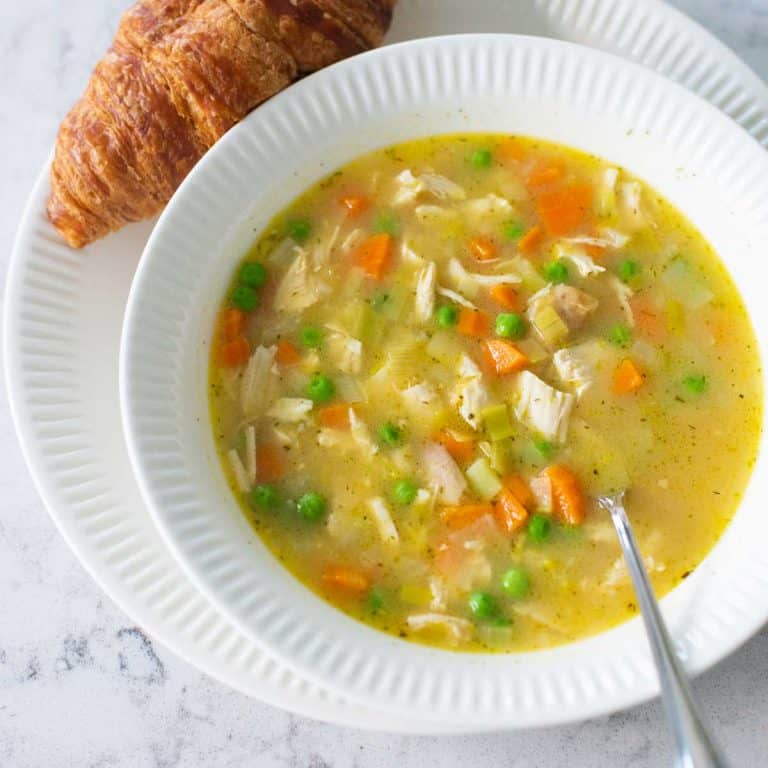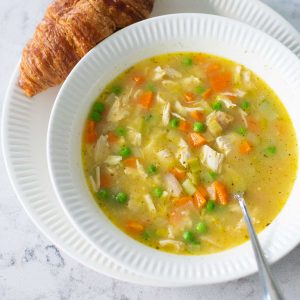 Ina's Chicken Pot Pie Soup for the Real World
This budget-friendly version of Ina Garten's chicken pot pie soup recipe is easier to make and more affordable for real world families but still has all the amazing homemade flavor from the original.
Ingredients
1

rotisserie chicken

skinned and shredded

6

tablespoons

butter

1

large onion

chopped

2

bulbs fennel

tops removed OR 3 stalks celery, chopped

5

medium carrots

chopped

1

tablespoon

minced garlic

2

teaspoon

dried herb blend

See Notes

¼

cup

flour

1

cup

white wine

8

cups

chicken stock

10

oz

frozen peas

Optional: Puff pastry croutons

See Notes or biscuits or croissants for serving
Instructions
Shred the rotisserie chicken meat and set it aside.

In a large soup pot, melt the butter over medium-high heat. Add the chopped onion, fennel or celery, and carrots to the pot and stir. Cook for 10 minutes or until the vegetables have begun to soften.

Add the minced garlic and dried herbs and stir. Cook for 1 minute or until fragrant.

Add the flour to the pot and whisk it into the vegetables. Cook for 2 minutes or until the flour smells nutty.

Add the white wine and whisk it into the vegetables. Simmer for 5 minutes or until the wine has reduced by half.

Add the chicken stock and stir. Bring the soup to a boil and then reduce the heat to medium-low. Cover and cook for 20 minutes or until the vegetables are very tender.

5 minutes before the soup is finished, add the prepared chicken meat and the frozen peas. Stir and cover to heat them through.

Serve with puff pastry croutons floating on top or with a dinner roll or biscuit on the side.
Recipe Notes
Dried Herbs to Use
I love this Parisian Shallot Herb Blend for this soup because it has tarragon, basil, and dill right in the mix. If you don't have a blend that is similar, add a combination of any of these you have on hand: dried basil, dried tarragon, dried oregano or dried dill.
You might also consider adding a sprinkle of dried caraway seeds or dried fennel seeds if you decide to substitute the fresh fennel for celery.
Herbed Puff Pastry Croutons
Preheat the oven to 400°F. Unfold the puff pastry and gently roll it out. Use a pizza cutter to cut it into large 3 x 4-inch rectangles. Place them on a baking sheet lined with parchment paper.
Whisk together 1 egg and 1 tablespoon water to make an egg wash. Brush it over the puff pastry squares and sprinkle with additional dried herbs you use for the soup and a pinch of salt and pepper.
Bake for 8 - 10 minutes or until puffed and golden brown.
Save This Recipe to Your Recipe Box
Find this delicious recipe next time you visit by saving it to your very own recipe box on my site. All your favorites stored in one easy place!