French Onion Soup with a golden brown toasted slice of baguette and melted cheese on top is a classic comfort food you can keep ready to go in your freezer for an easy version of this recipe that works on a busy weeknight.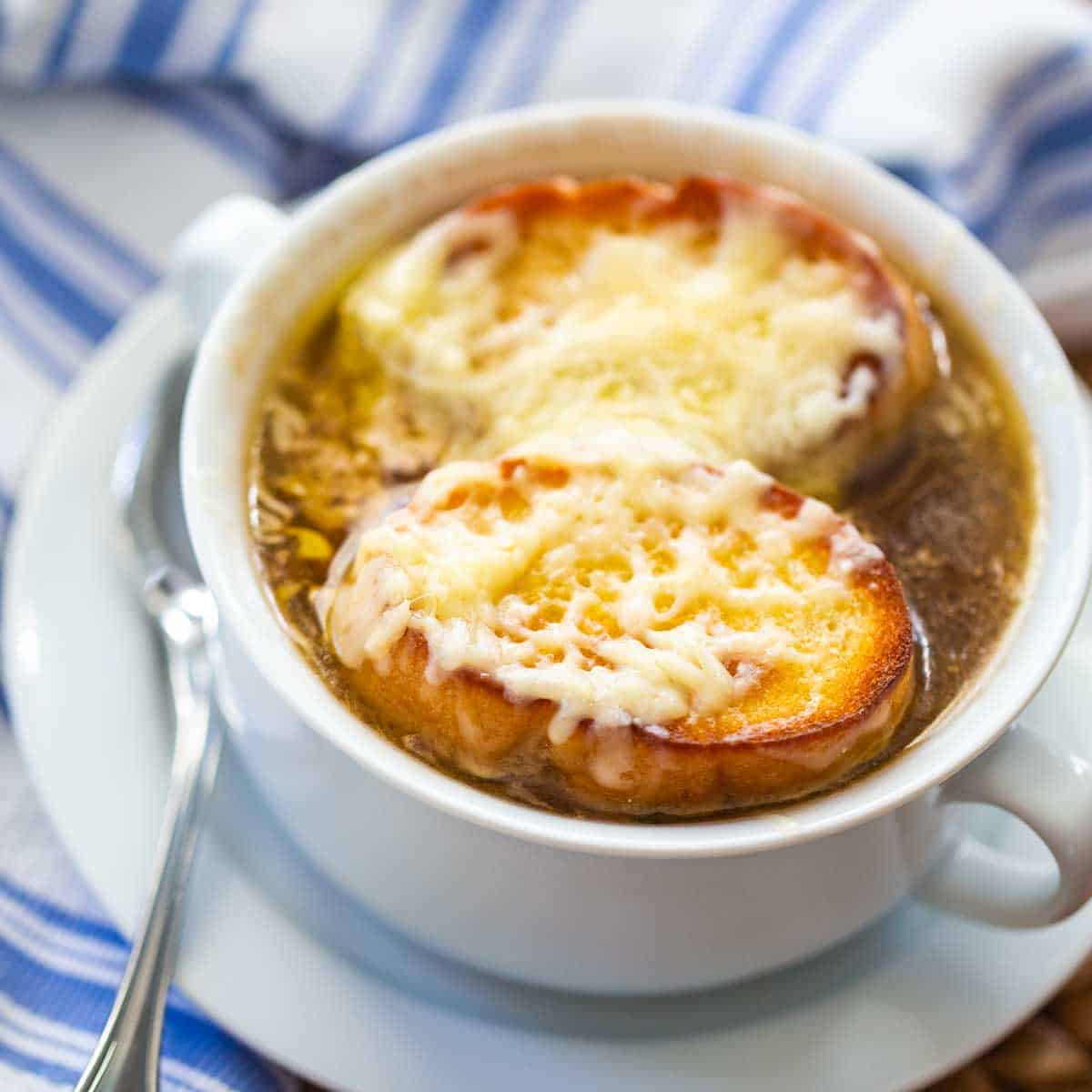 When I think about my favorite comfort food dishes, a rich and beefy French Onion Soup with a crispy baguette and melted cheese would be right at the top of that list!
The only problem is that an elegant soup like this takes a few extra steps between fridge and table than a regular easy soup recipe might.
The good news is, I have lots of quick and easy short cuts that will help you keep this delicious French onion soup ready to go at a moment's notice for a busy weeknight or a last-minute dinner party with friends.
And don't miss the excellent step by step tips for how to caramelize onions. You might just find other ways to use them once you see how easy they are to make!
Jump to:
❤️Why This is the Best Recipe
My recipe for French Onion Soup is the very best recipe because:
Easy for Home Cooks: Yes, even beginners will be able to make this fancy dancy soup for family and friends.
Freezer Friendly: You can prep the soup when you have time and with my make ahead tips have it ready to go for later in the week or months in advance for a special event.
Rich in Flavor: Yes, there are short cuts but we don't skip all the important parts that give this classic recipe all the deep flavor it is known for.
Crispy Baguettes and Ooey-Gooey Cheese: I mean, isn't that the best part of this recipe?? The texture of my method is absolutely perfect.
🥄Ingredients
An amazing recipe like this, you might think there are a lot of ingredients involved but truly your shopping list is going to be so easy!
All you need to make it is:
Onions: Lots of them. I used yellow onions but white onions or even vidalia would work, too.
Butter: The secret to amazing caramelized onions.
Beef Stock: Beef broth will work, too but I love the richness of stock.
Red Wine: Use something you'd drink from a glass, the flavor will be even more concentrated in the final dish. However, don't worry about feeding this to kids--all the alcohol will cook off in the soup.
Crispy Baguette
Gruyere Cheese: This is my favorite cheese for French Onion Soup but be sure to see my notes on cheese below.
Items you probably already have in your pantry:
Flour
Bay Leaves
Salt & Pepper
Minced Garlic
Sugar
Thyme: Fresh or dried
🧅How to Caramelize Onions
Caramelized onions are the base of all French Onion Soup recipes.
This step takes a little bit of time, about 25 minutes, but is surprisingly easy.
First, melt the butter over medium-high heat.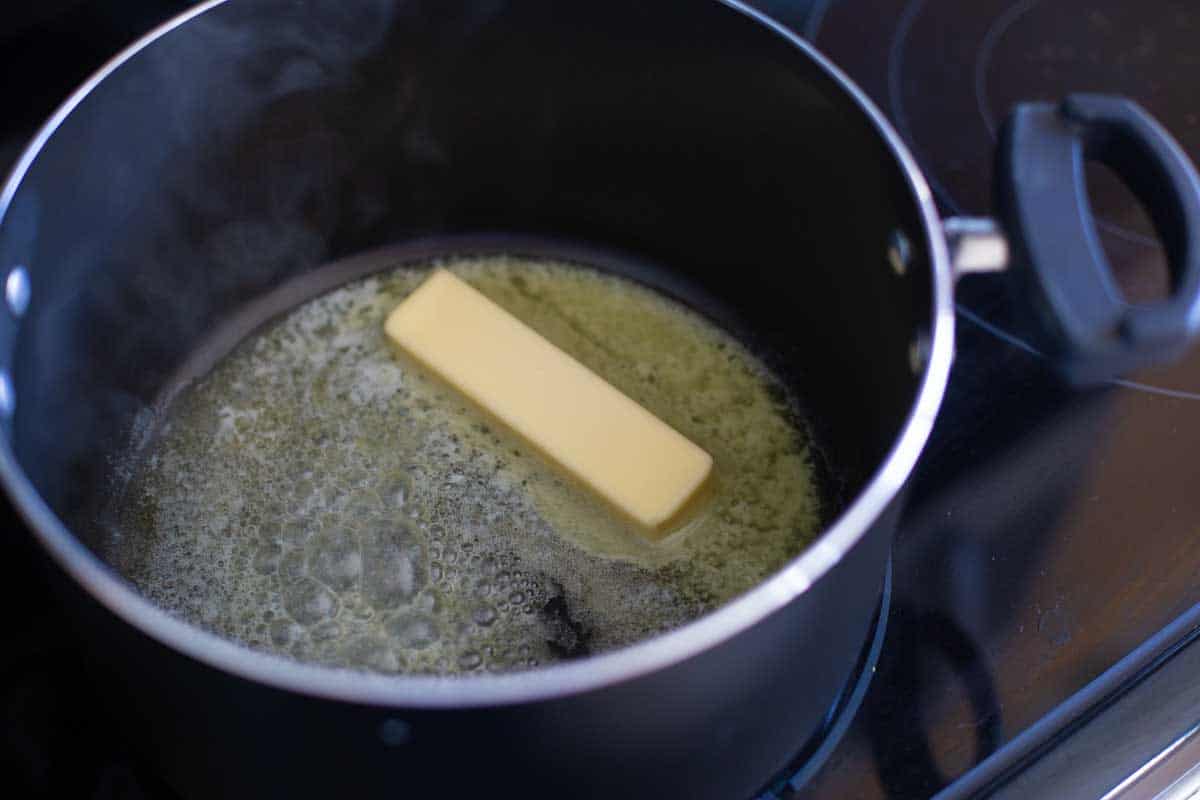 When you prep your onions for this step, you'll want to cut them very thinly.
I cut them in half, peel them, and then slice them very thinly in half-moon shapes like this: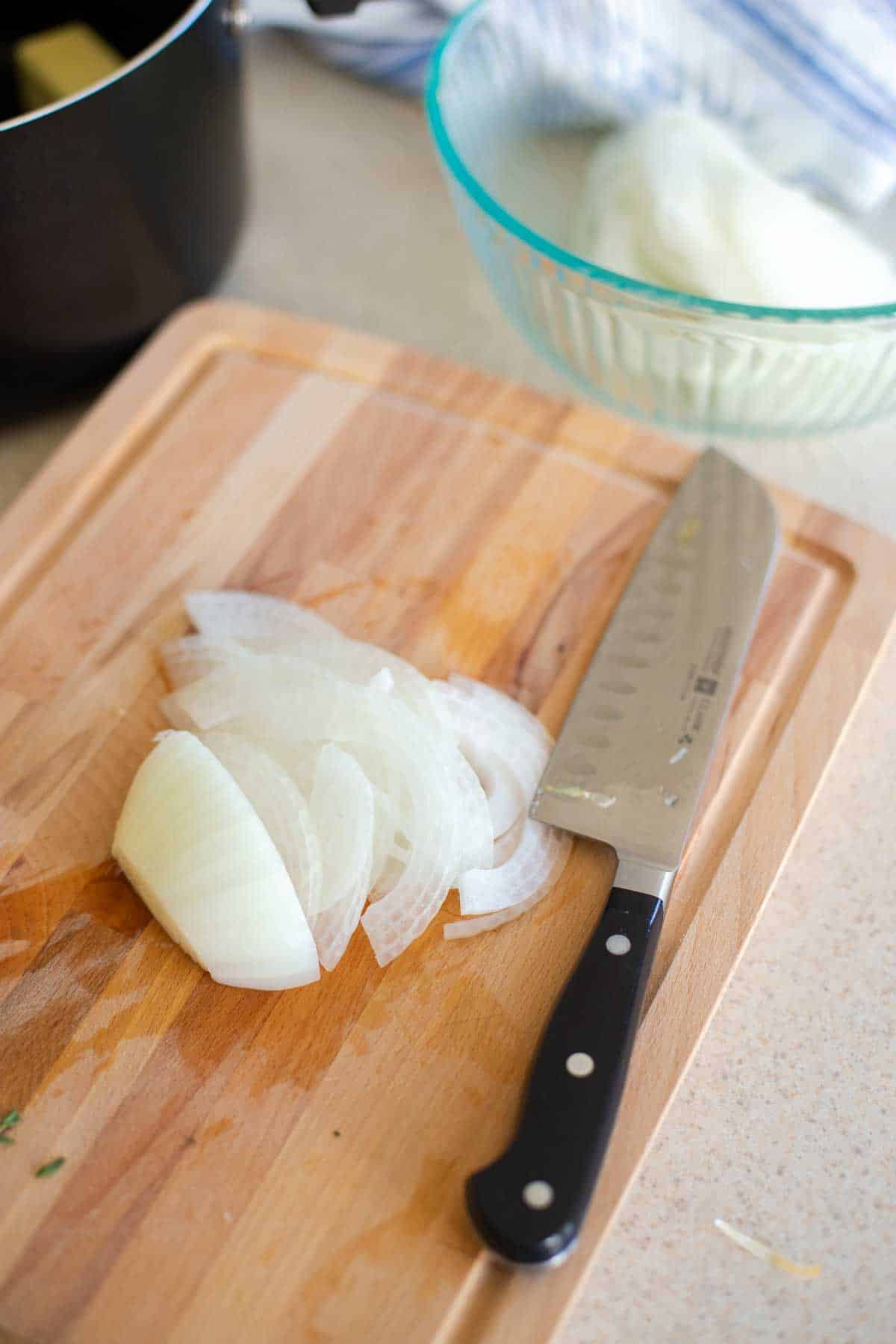 Add the sliced onions to the melted butter. It will look like a crazy amount of onions but they will cook way down.
Add the salt and pepper and sugar to the onions. This will help them to caramelize.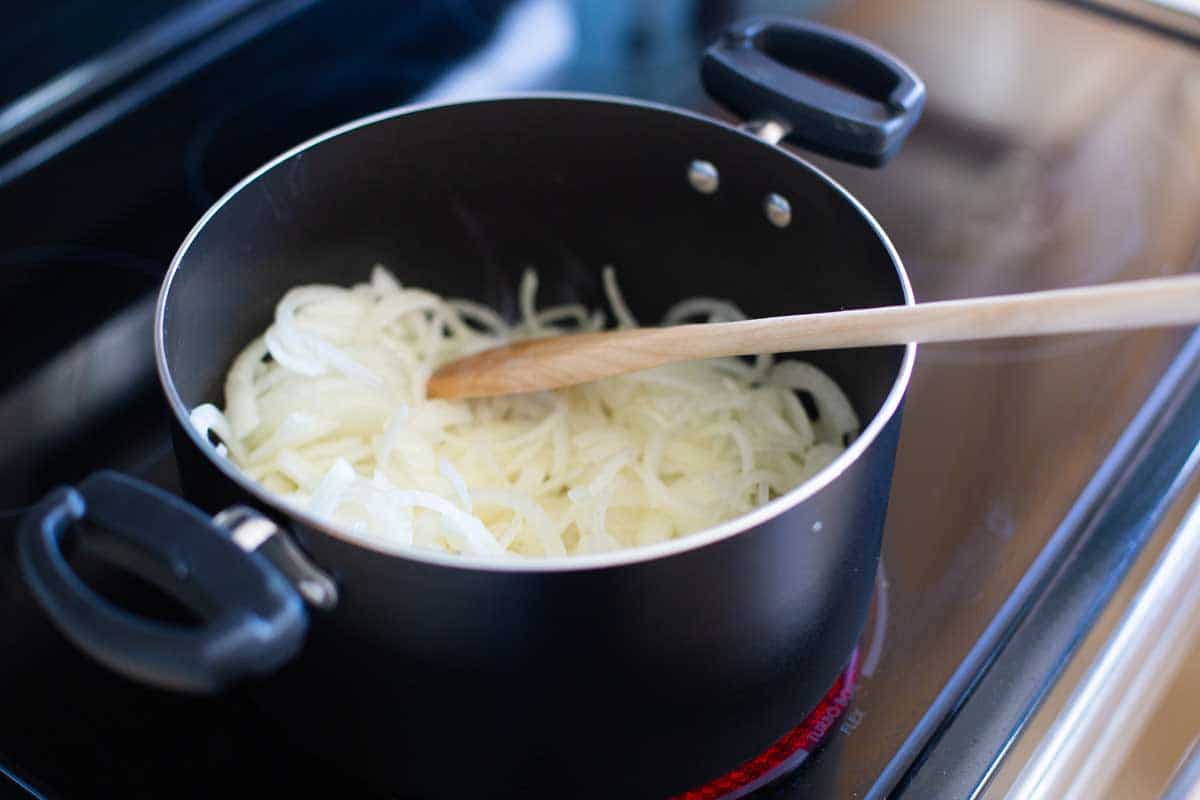 Stir the onions as they cook. They will soften, thicken, and start to turn this gorgeous golden brown color: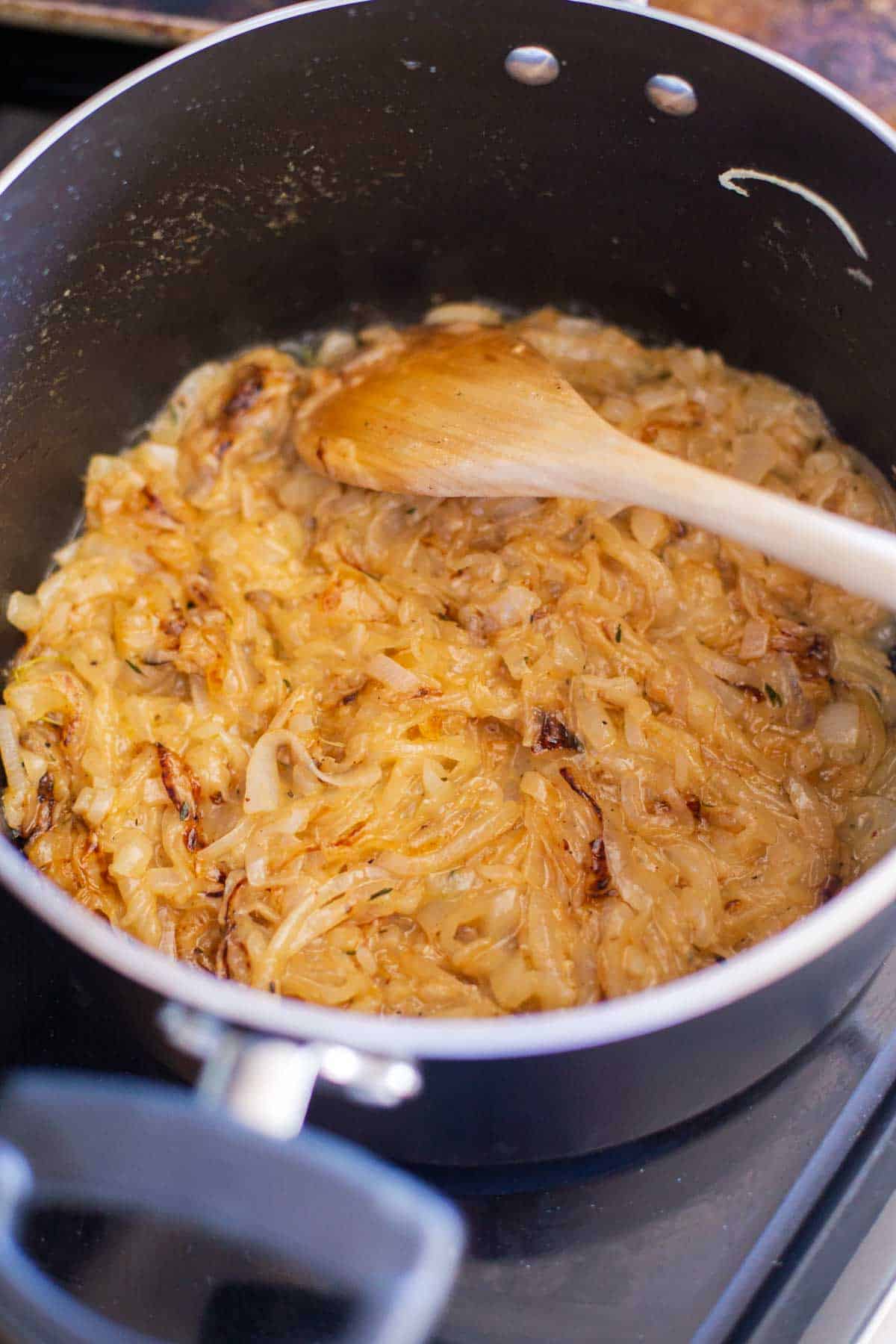 🍲How to Make French Onion Soup
Once your onions are ready to go, it's time to build the soup.
First, add the garlic and thyme to the pot and stir. Cook for 30 seconds or until you can smell the garlic. (No more than 1 minute.)
Then pour in 1 cup of red wine.
Always cook with wine you'd drink by the glass, the flavor gets so much stronger in the soup.
A Note on Kids: Since we boil the soup and it simmers for so long, I don't hesitate to serve this to my children.
Cook the wine in the onion soup until most of the liquid has evaporated and the onions look saucy.
Sprinkle flour over the soup and stir it in. Simmer for 3 - 5 minutes to cook the flour.
Pour in the beef stock or broth and add the bay leaves and stir. The flour will help to thicken the broth as it cooks. Simmer for at least 10 minutes.
🥖How to Toast the Baguette
While the soup is simmering, prepare the baguette toppers.
Slice the crusty baguette into 1-inch thick pieces.
In a skillet, melt butter over medium-high heat. Add a single layer of baguette slices and griddle them until golden brown.
Flip them over and griddle the other sides. Transfer to a plate while you finish any remaining slices.
🧀The Best Cheese for French Onion Soup
The final ingredient to the French Onion Soup is the melted cheese on top.
I love to use shredded Gruyere cheese, a type of Swiss cheese that melts really well.
Unfortunately, I can't always find it at my grocery store. If you need a substitute, I've found that shredded Swiss cheese tastes great but just doesn't melt quite as smoothly.
If you're not worried about being authentic, our family LOVES using provolone for melted cheese situations like this. You could use a slice of provolone, a bit of shredded mozzarella, or even shredded parmesan cheese.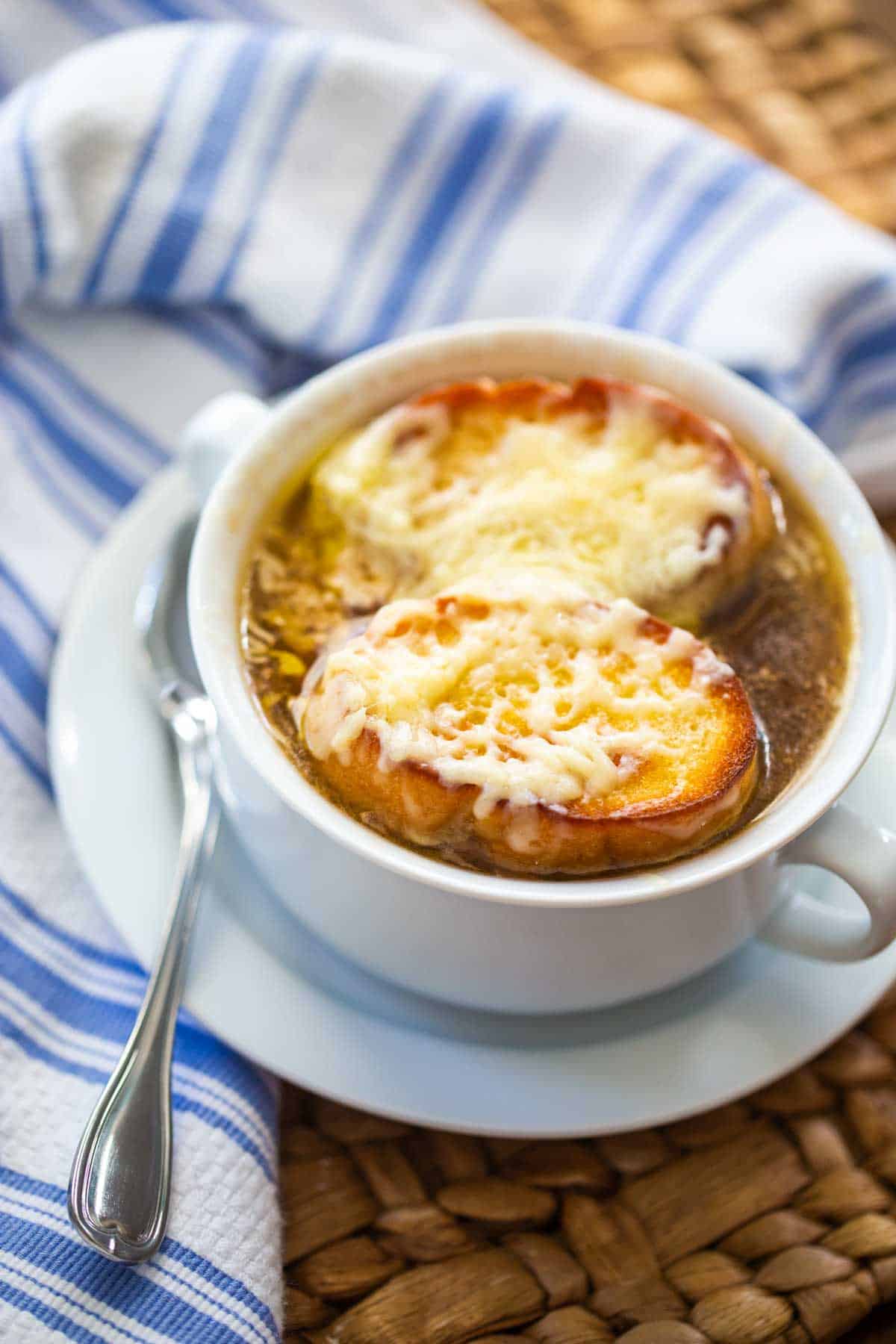 🍽️How to Assemble French Onion Soup Bowls
For that amazing presentation, I always serve my French Onion Soup in broiler-safe soup bowls.
Line up the soup bowls on a broiler safe baking pan and preheat the broiler.
Ladle the onion soup into the bowls.
Place 1 or 2 baguette slices on the top of each bowl.
Sprinkle the shredded cheese or cheese slices over the top of the bread.
Place the pan of soup bowls under the broiler for 30 seconds to 1 minute. Keep a close watch so the cheese doesn't burn.
Serve immediately.
⏰Make Ahead Tips
You could make the onion soup up to 5 days in advance of when you want to serve it and store it in a container in the fridge.
Buy the baguette no more than 24 hours before you want to serve the soup.
Simply reheat the onion soup, toast the baguette, and serve.
If you want to toast the baguette in advance, keep them stored in an airtight container at room temperature. However, they do lose some of the crispy crunch when stored overnight.
🥘Slowcooker Variation
You could assemble the onion soup the day before and then simply keep it warm in a slowcooker for serving.
Let your friends and family build individual bowls of soup and let the heat of the soup warm the cheese on top.
You could also offer a cooking torch (like you'd use for creme brulee) for melting the cheese but make sure your soup bowls can stand the heat.
❄️Freezer Tips
You can make the onion soup ahead of time and freeze it for later.
If you freeze it in smaller portions, you could reheat just enough for a bowl or two to serve with crusty bread or the official toasted baguettes.
The soup will freeze well for up to 12 months. Simply thaw in the fridge overnight and reheat in a pot on the stove or in a slowcooker.
📖 Recipe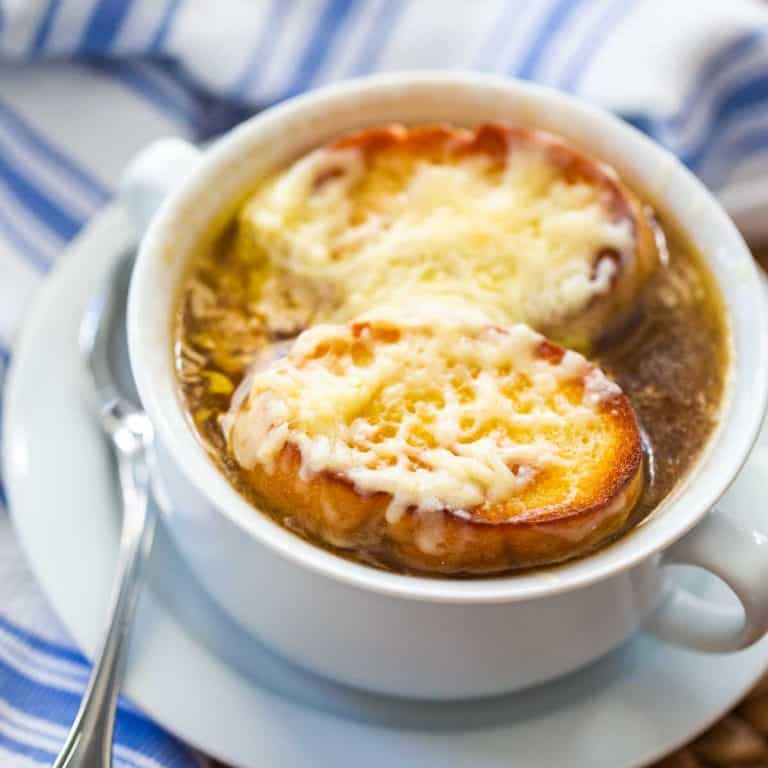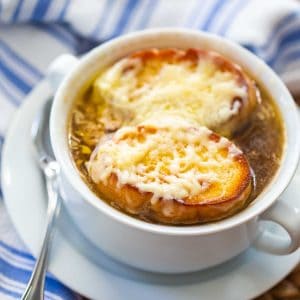 French Onion Soup
This rich beefy French Onion Soup is a delicious cozy comfort dish for a family meal. Elegant enough to serve to company, too! Topped with a crispy baguette and ooey-gooey melted cheese.
Ingredients
½

cup

(1 stick) butter

4

large onions

cut in half and then sliced very thinly

Sprinkle of kosher salt and pepper

1

teaspoon

sugar

2

teaspoons

minced garlic

2

teaspoons

dried thyme

1

cup

red wine

3

tablespoons

flour

8

cups

beef stock

2

bay leaves

1

crusty baguette

3 - 4

tablespoons

butter

8

ounces

shredded Gruyere cheese
Instructions
Caramelize the Onions:
In a large heavy bottomed pot, melt the butter over medium heat. Add the onions, salt and pepper, and sugar to the pot and stir everything together.

Cook the onions, stirring occasionally, for about 25 minutes or until they soften and turn a deep golden color. As they cook down, you'll need to stir them more frequently so they don't stick to the pot and burn.

Add the garlic and thyme and stir. Cook for another minute.
Build the Soup:
Add the wine to the pot and stir it into the onions. Bring it to a boil and simmer for 5 - 8 minutes or until the liquid has mostly evaporated.

Sprinkle the flour over the onions and stir to combine. Cook for 3 - 5 minutes. Pour in the beef stock and scrape the bottom of the pan to catch all the browned bits.

Add the bay leaves and simmer the soup for 10 minutes or until the broth has slightly thickened.
Make the Crostini Topping:
Slice the baguette into 1-inch thick slices on an angle.

Add the butter to a small skillet and melt it over medium-high heat. Add a single layer of bread slices to the skillet and griddle them until golden brown. Flip them over and toast the other side. Work in batches as needed to toast the baguette.
Serve the Soup:
Ladle a serving of the French Onion soup into a soup bowl. Top it with a slice of toasted baguette and then top with a sprinkle of cheese.

OPTIONAL: You could serve the soup in broiler-safe soup bowls so you could melt the cheese under the broiler for 30 seconds - 1 minute. Simply line up the bowls on a broiler-safe baking pan, fill them with soup, top with a baguette and cheese, and broil until bubbly and golden brown.
Recipe Notes
Make-Ahead Freezer Tips
You could make the onion soup up 3 - 5 days ahead of time and simply reheat in a pot on the stove or in a slowcooker.
Toast the baguettes up to 24 hours ahead and store them separately in an airtight container at room temperature.
You could freeze the soup for up to 12 months. You can freeze a whole baguette, thaw it overnight in the fridge, and toast it fresh before serving the soup.
Do not try to freeze portions of soup with the baguette and cheese already in place, the bread will go very soggy as it thaws.
Save This Recipe to Your Recipe Box
Find this delicious recipe next time you visit by saving it to your very own recipe box on my site. All your favorites stored in one easy place!