Make caramelized onions for burgers and sandwiches in under 20 minutes, up to 5 days in advance. This easy recipe adds so much flavor to your dinner and only require two easy ingredients.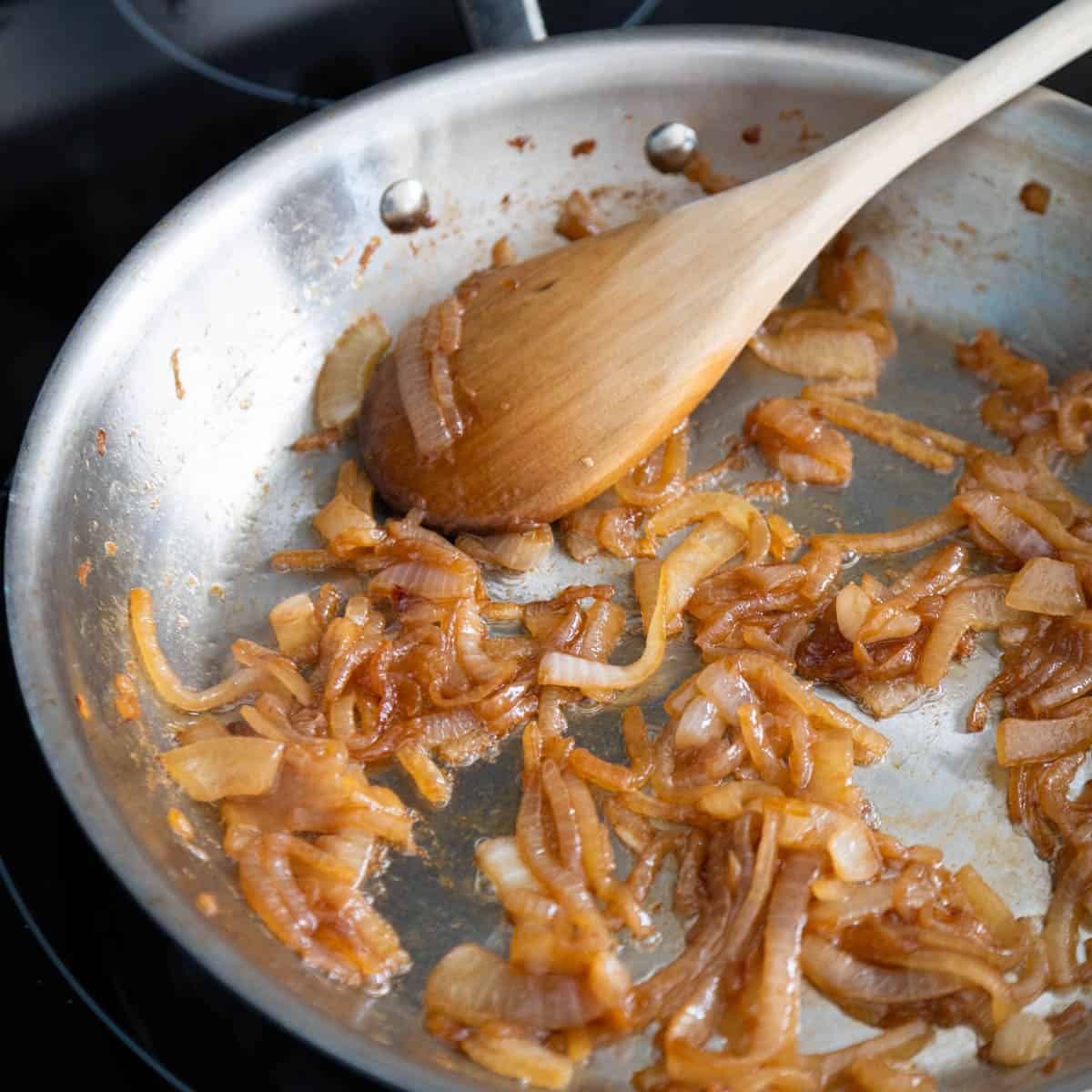 Any time I see a menu with caramelized onions for burgers I know exactly what I'm going to order.
I love the way the sweet, buttery onions taste alongside a savory hamburger or turkey burger.
As we head into soup and sandwich season, I'm looking for new ways to make our dinner sandwiches taste even better. This is the perfect easy burger topping to make in just 20 minutes!
Jump to:
Why This is the Best Recipe
I used to think that caramelized onions were something I could only enjoy when dining out at a restaurant but once I learned how easy they are to make at home, I'm finding all kinds of ways to use them!
I think this is the best caramelized onions recipe because:
Perfect Burger or Sandwich Topping: This recipe makes just enough to generously top 4 burgers or sandwiches.
Just 20 Minutes: The whole recipe is finished in 20 minutes or less. The first 10 minutes require very little hands on attention.
Sweet and Golden Brown: The final cooked onions are a stunningly beautiful deep golden brown color with a perfectly tender texture.
Make Ahead Friendly: You can brown up the onions up to 5 days in advance which will help save even more time.
Ingredients
The beautiful thing about making homemade caramelized onions is that you need just two ingredients:
Onions: Regular yellow onions or white onions work best.
Butter: I use salted.
This recipe makes just enough caramelized onions for four burgers or sandwiches. If you really love how this recipe tastes, you won't want to miss my French Onion Soup recipe. It calls for a lot more onions.
Slice the Onions
Peel the onions and cut them in half.
Then slice them into thin half-moon strips like this: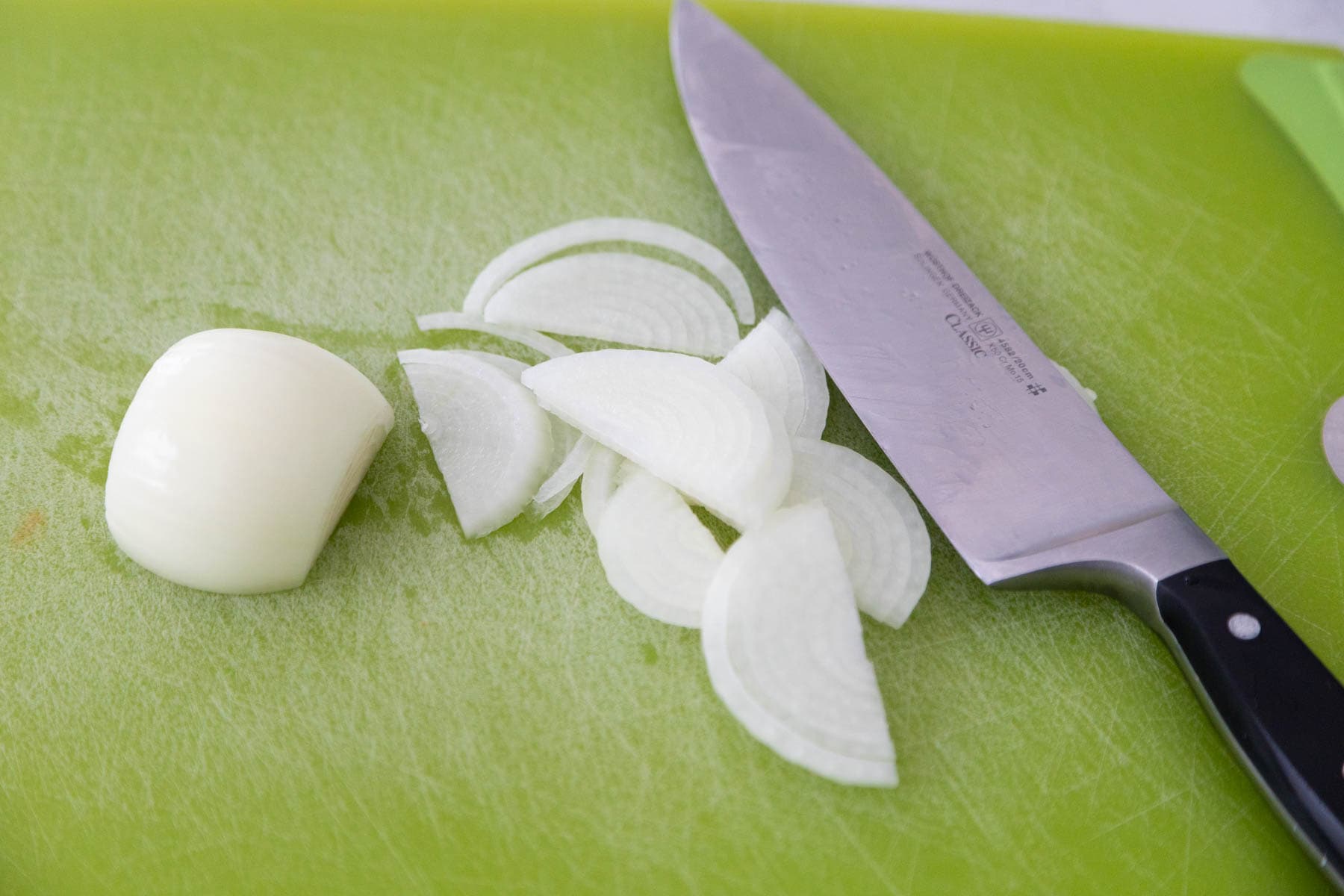 How to Caramelize Onions
Choose a heavy bottomed skillet with plenty of room for your onions.
Place it over medium heat and add the butter. Let the butter melt and warm through until it begins to bubble and foam.
Add the onions and give them a toss in the melted butter. Then let them sit for a minute and stir again.
Continue to stir and toss the onions every minute or so for the first 10 minutes.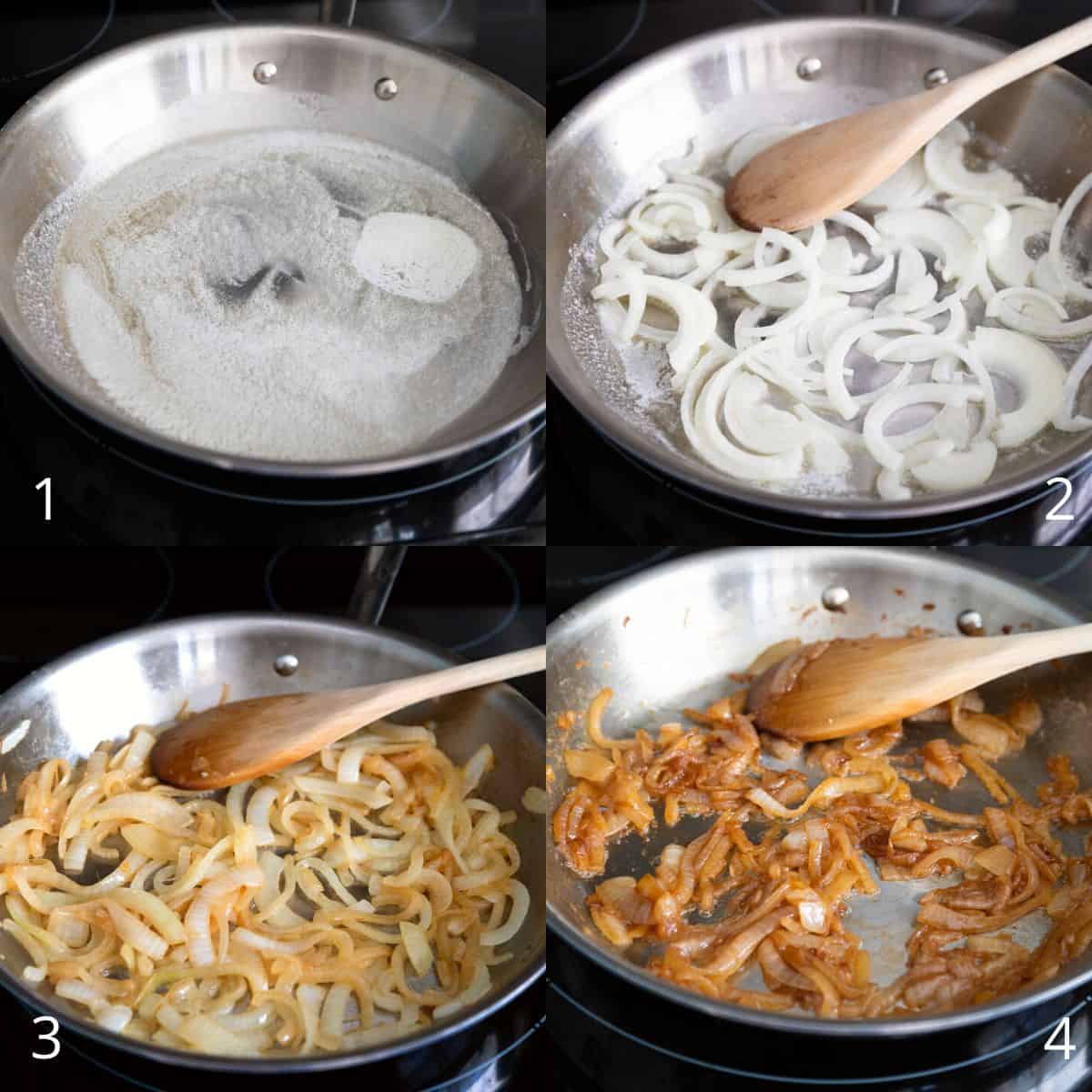 The second 10 minutes the onions will require much more of your hands-on attention as they begin to caramelize.
Continue to stir and cook the onions until they are a deep golden brown color and very soft.
How to Manage the Browned Butter
As the onions cook and the liquid from the butter and onions evaporates, you will start to get deep golden brown bits clinging to the bottom of the pan.
When this happens, push the onions off to the side and add just a tablespoon or two of water to the pan directly on the browned bit.
Quickly scrape with your woooden spoon to lift the browned bits from the skillet and then stir the remaining liquid into the onions.
They will reabsorb any liquid that is left and collect the delicious flavor from that browned butter.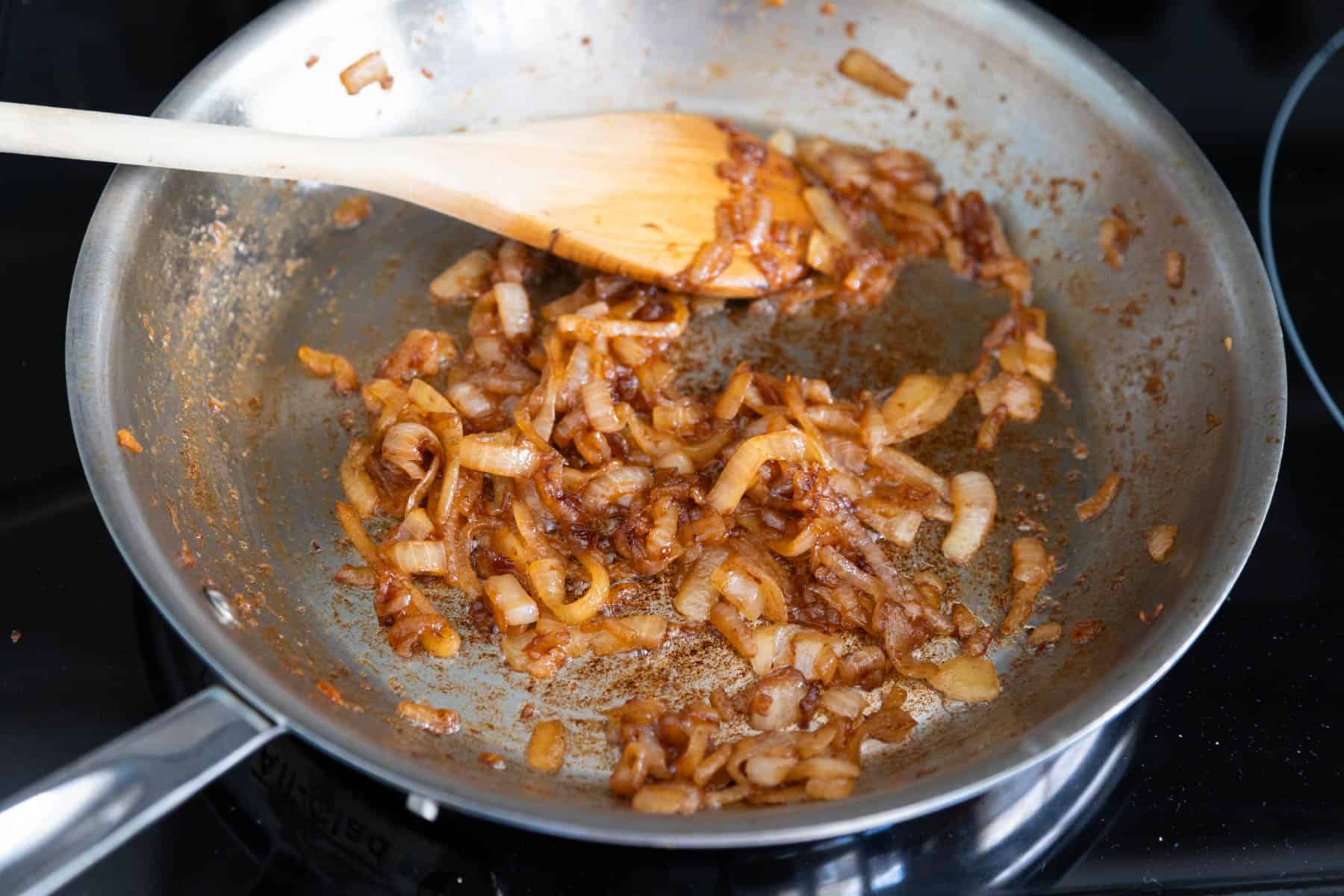 Make Ahead & Storage Tips
Caramelized onions will keep in an airtight container in the fridge for up to 5 days which makes them a great make ahead recipe for burgers.
Do not try to freeze the cooked onions, the thawing process will cause them to become mushy.
Serving Suggestions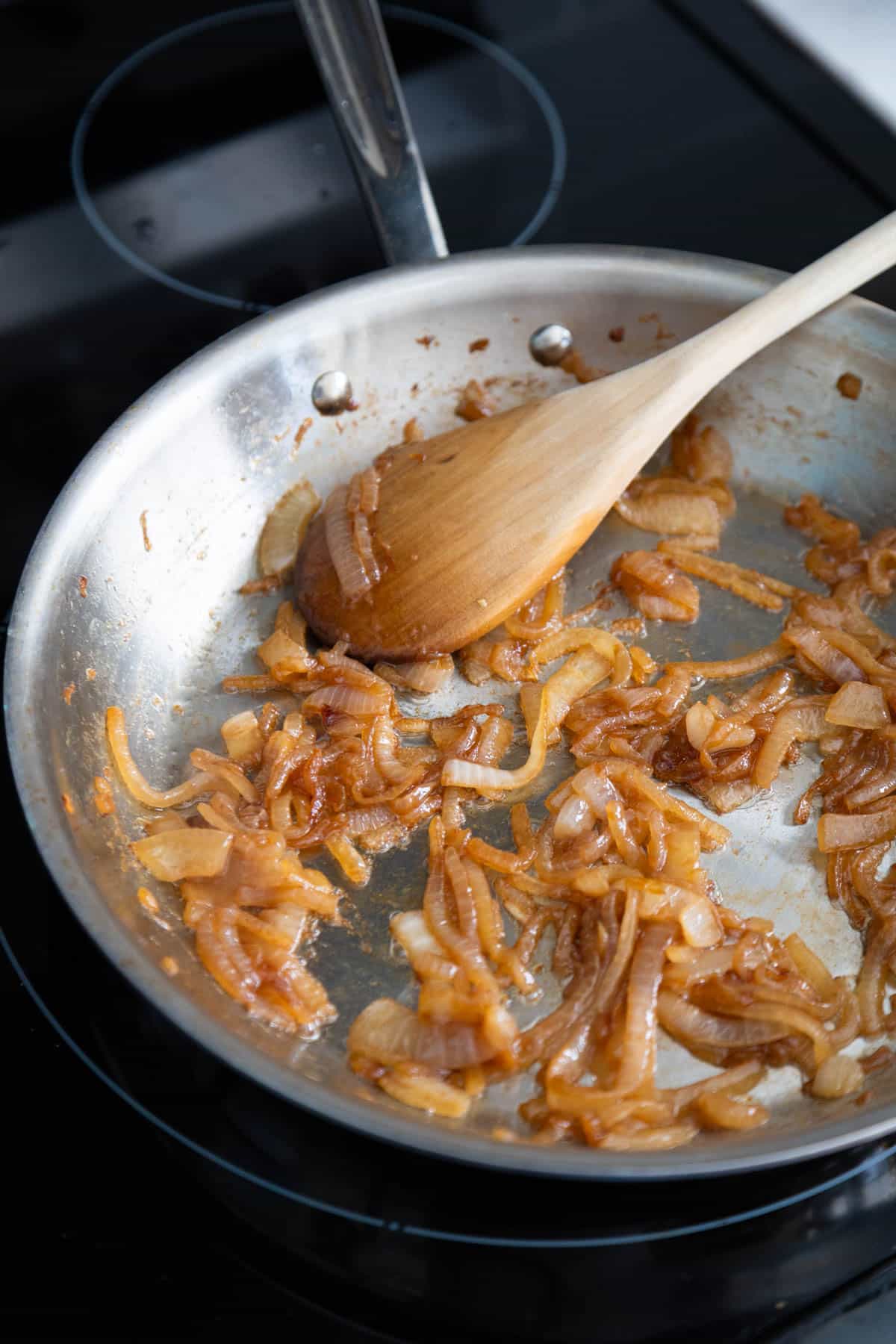 You can use the finished caramelized onions to make any burger or sandwich taste absolutely amazing.
I especially love them on a roasted pork sandwich or on a baked turkey burger for a little bit of sweetness.
Mix and match your favorite sandwiches on my homemade whole wheat hamburger buns, the nutty flavor of the bun would pair perfectly with the sweet caramelized onions.
More Sandwich Toppings and Sauces
You can easily elevate a simple sandwich for dinner by adding an easy homemade relish or sandwich sauce.
Here are a few of my favorite recipes:
📖 Recipe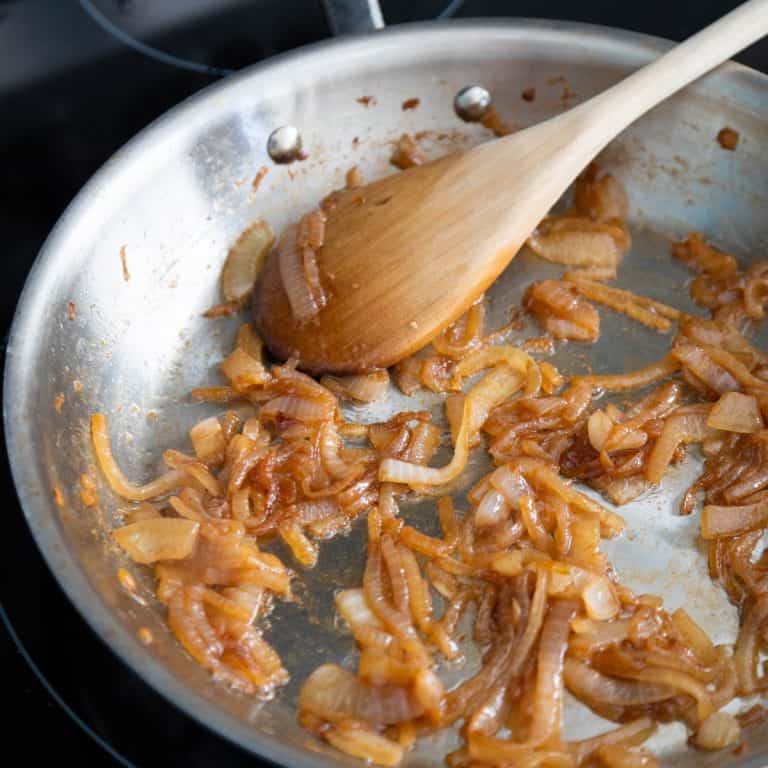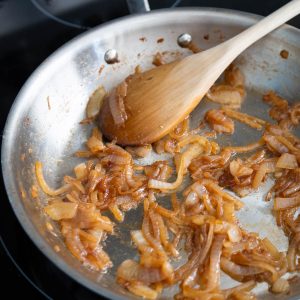 Caramelized Onions for Burgers and Sandwiches
Sweet golden brown caramelized onions make any burger or sandwich taste better. This easy recipe takes just 20 minutes and can be made ahead and stored in the fridge for dinner time.
Ingredients
2

onions

2

tablespoon

butter
Instructions
Peel and cut the onions in half. Slice them thinly into half moon strips.

Melt the butter in a heavy bottomed skillet over medium heat. Once the butter is foaming, add the onions and stir.

Continue to slowly cook and stir the onions for about 20 minutes.

As the liquid evaporates from the pan you will start to get browned spots on the bottom of the skillet, as this happens add just a tablespoon or two of water and scrape the bottom of the pan. The onions will absorb the liquid as they continue to cook. You may need to do this 3 - 4 times over the course of the cooking time.

The sugars from the onions can cause them to burn quickly. While you don't need to stir them continuously at the beginning, you will need to keep a close watch for the last 5 minutes and keep them moving so the softened, caramelized onions don't stick to the pan.

Remove the caramelized onions from the heat and use immediately or store in an airtight container in the fridge for up to 5 days.
Save This Recipe to Your Recipe Box
Find this delicious recipe next time you visit by saving it to your very own recipe box on my site. All your favorites stored in one easy place!