This easy chicken matzo ball soup recipe uses several shortcuts to get on the dinner table faster. It is perfect for a busy night when you need a comforting chicken soup for dinner.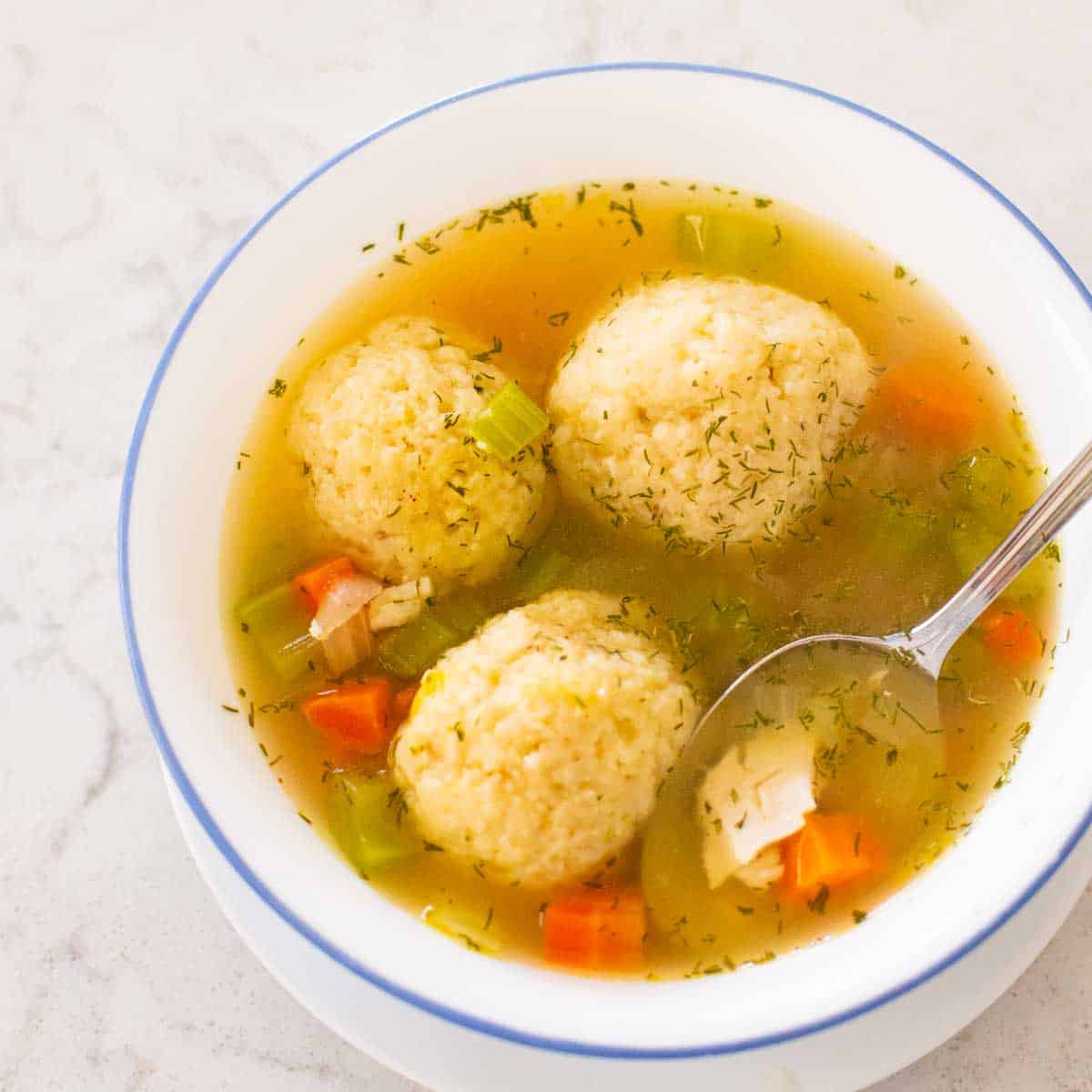 On a list of classic comfort food recipes, traditional chicken matzo ball soup would likely be right at the top.
This delicious chicken soup with tender carrots and celery has savory homemade matzo balls floating in the broth. Seasoned lightly with a pinch of dill, it is sure to soothe you from head to toe.
If you're new to making chicken soup from scratch, have no fear! This recipe uses plenty of shortcuts for beginner cooks to make it quickly and easily even on a busy night.
Leftovers heat up wonderfully so you can make a big pot of matzo ball soup on the weekend and enjoy it for lunches or dinner during the week.
Jump to:
Why This Recipe is the Best
My family is downright obsessed with homemade chicken soup. We have several variations we enjoy every winter but love to try new recipes, too.
Though we are a Catholic family, our church hosts a Passover dinner for teens to learn more about Jewish traditions as part of our Confirmation process.
Matzo balls, or matzah balls, are a traditional Ashkenazi Jewish soup dumpling made from matzo meal, eggs, water, and oil or chicken fat. Matzo ball soup is often served for Passover.
My version of this classic Jewish recipe is perfect for families because:
Easy to Make: Even if you've never made homemade chicken soup, this recipe will be easy to do.
Cooks Quickly: By using several shortcuts, including a shredded rotisserie chicken, this recipe is fast to make.
Kid-Friendly: The ingredients list is short and simple and the final soup is very kid-friendly with a delicious, savory chicken flavor.
Fun to Eat: The light matzo balls float in the chicken broth and are so fun to eat!
Ingredients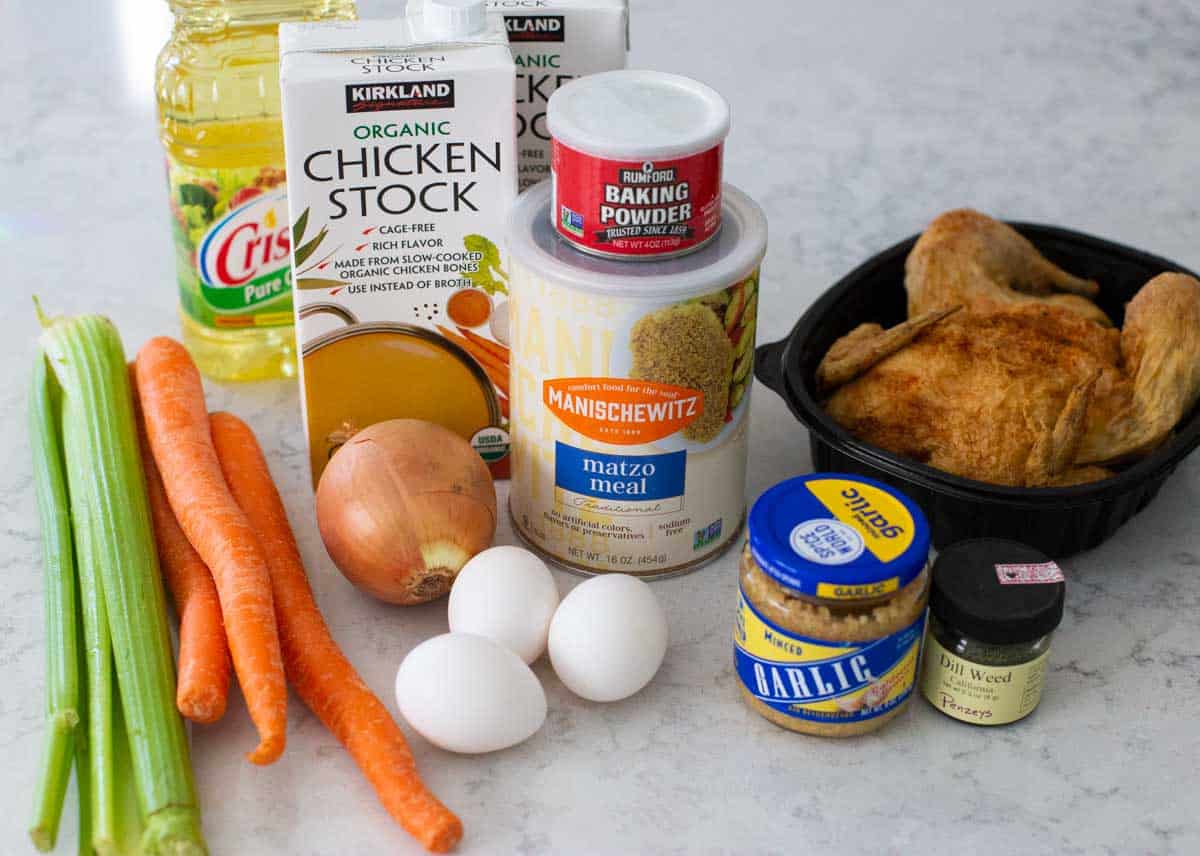 The grocery list for this recipe is short and simple:
Rotisserie Chicken: The best shortcut ever. You can substitute any leftover roasted chicken you may have in the fridge.
Matzo Meal: You can buy a canister of matzo meal in the Jewish Foods aisle of the grocery store. If you can't find the meal, you can crush matzo crackers by hand in a food processor or in a plastic baggie with a rolling pin.
Fresh Carrots: I strongly prefer whole carrots that have been peeled and chopped but in a pinch you could chop some baby carrots.
Fresh Celery
Onion
Minced Garlic: I love how easy the jarred garlic is but you could always upgrade to a fresh garlic clove minced by hand.
Chicken Stock: Another great shortcut, boxed chicken stock helps the soup finish faster than cooking a raw chicken from scratch.
Dried Dill: Easier to keep on hand than fresh, but you could always pick up fresh dill if you prefer.
Eggs
Canola Oil: Traditionally matzo balls require chicken fat but for busy families, canola oil is the perfect substitute.
Baking Powder
Prepare the Matzo Ball Dough
The matzo ball dough needs to chill for 30 minutes before rolling the balls so the first handy shortcut is to prepare the dough before you start anything else for the recipe.
In a medium sized mixing bowl, whisk together the eggs and canola oil.
Add the matzo meal, salt, baking powder, and a pinch of fresh cracked pepper and stir until well combined.
Add 3 tablespoons of water and stir until smooth. Chill for 30 minutes.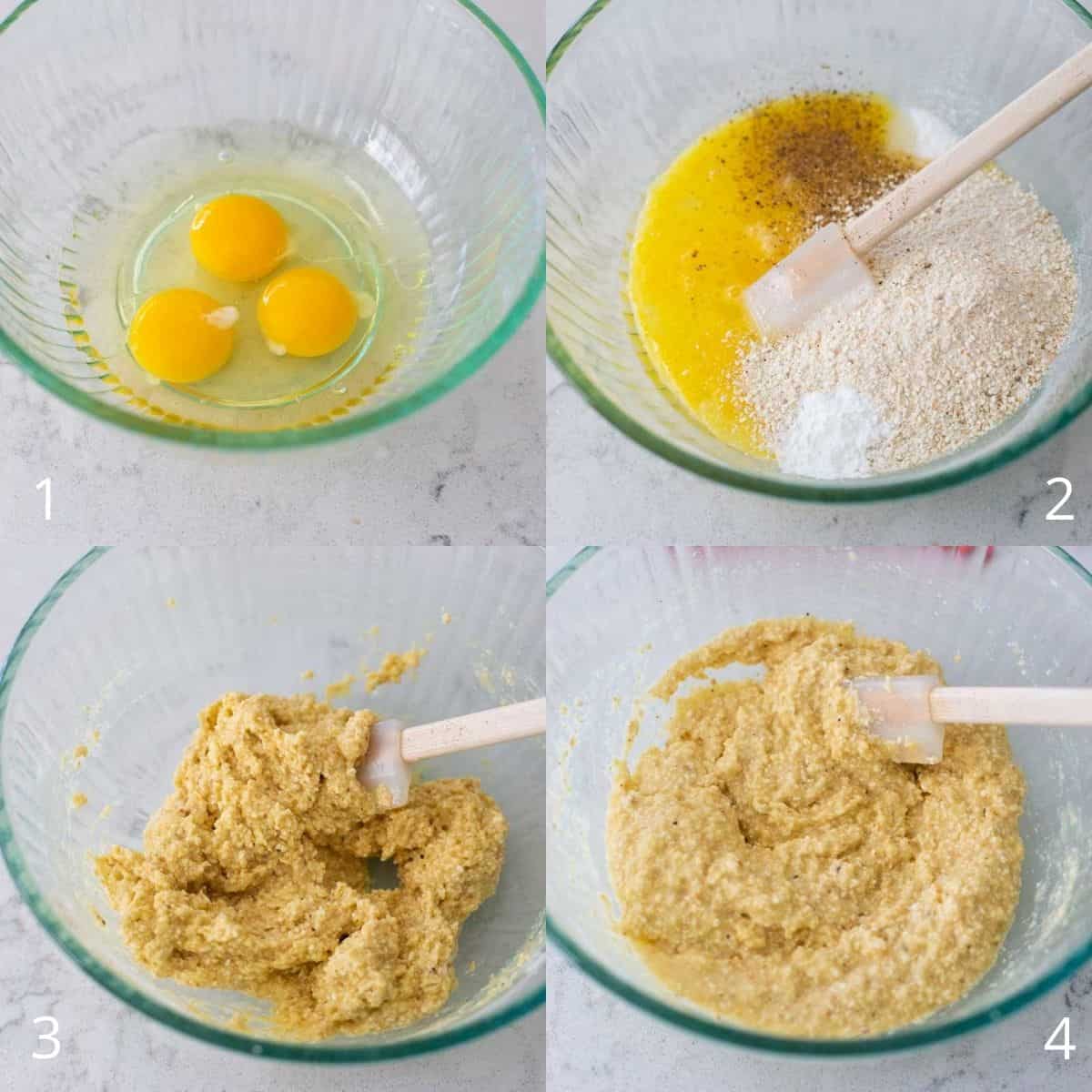 Cook the Vegetables and Broth
While the matzo ball dough is chilling in the fridge, you can start the rest of the soup in your soup pot.
Add canola oil to a large soup pot that has a lid and set it over medium-high heat.
Chop the carrots, celery, and onion and add them to the oil as you finish chopping each one.
Stir and sprinkle the veggies with a pinch of salt and more fresh pepper.
Add the minced garlic and stir for 30 seconds or until fragrant.
Add the chicken stock and bring the broth to a boil.
Reduce the heat to medium-low and add the dill.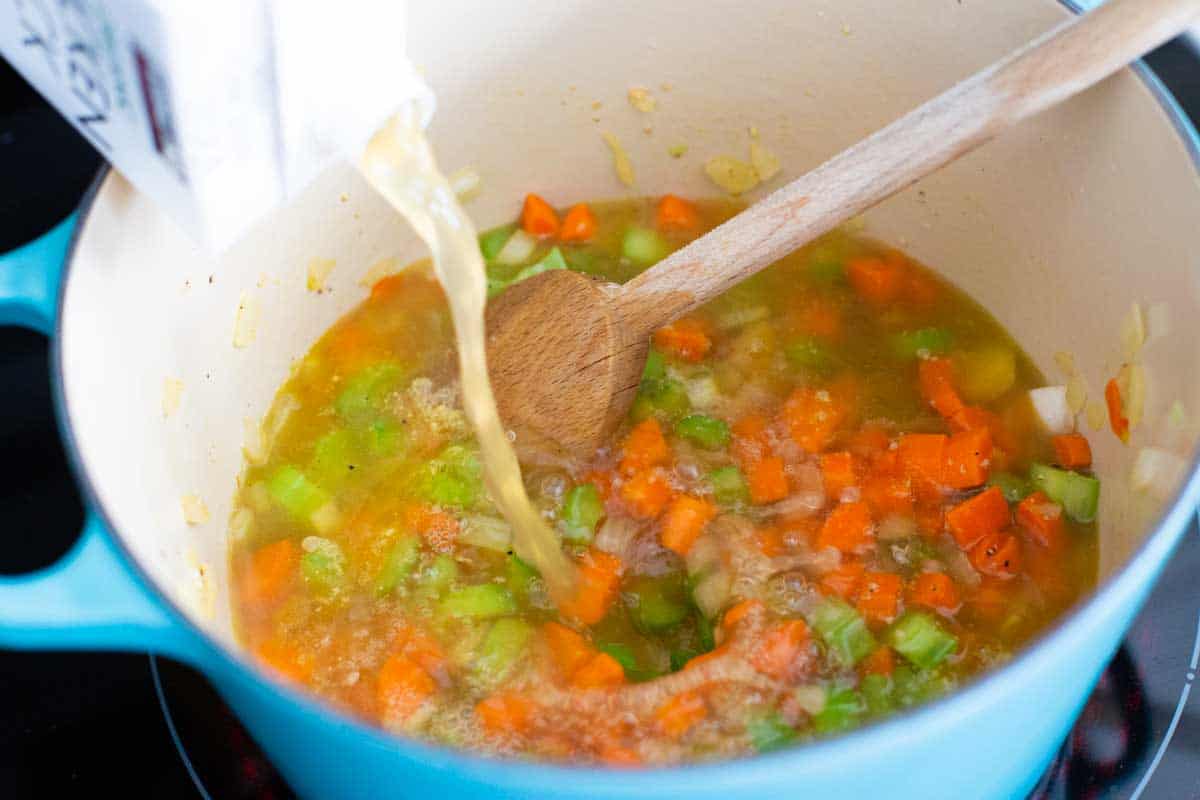 By now your matzo dough is probably ready for cooking.
Roll and Simmer the Matzo Balls
Set the bowl of matzo ball dough next to the soup pot.
Use a soup spoon to scoop ping pong sized portions of dough and roll the matzo ball in your hands until smooth and round.
Drop the ball into the bubbling soup and immediately put the lid of the pot back on.
Repeat with the remaining dough until all the matzo balls have been formed and are added to the soup, about 18 balls.
Simmer for 20 minutes without removing the lid.
Add the Chicken
Meanwhile, shred the rotisserie chicken meat.
The chicken meat gets added at just the very end of the cooking time because pre-cooked chicken is very delicate. If you left it to boil in the soup with the veggies, it would disintegrate in the broth.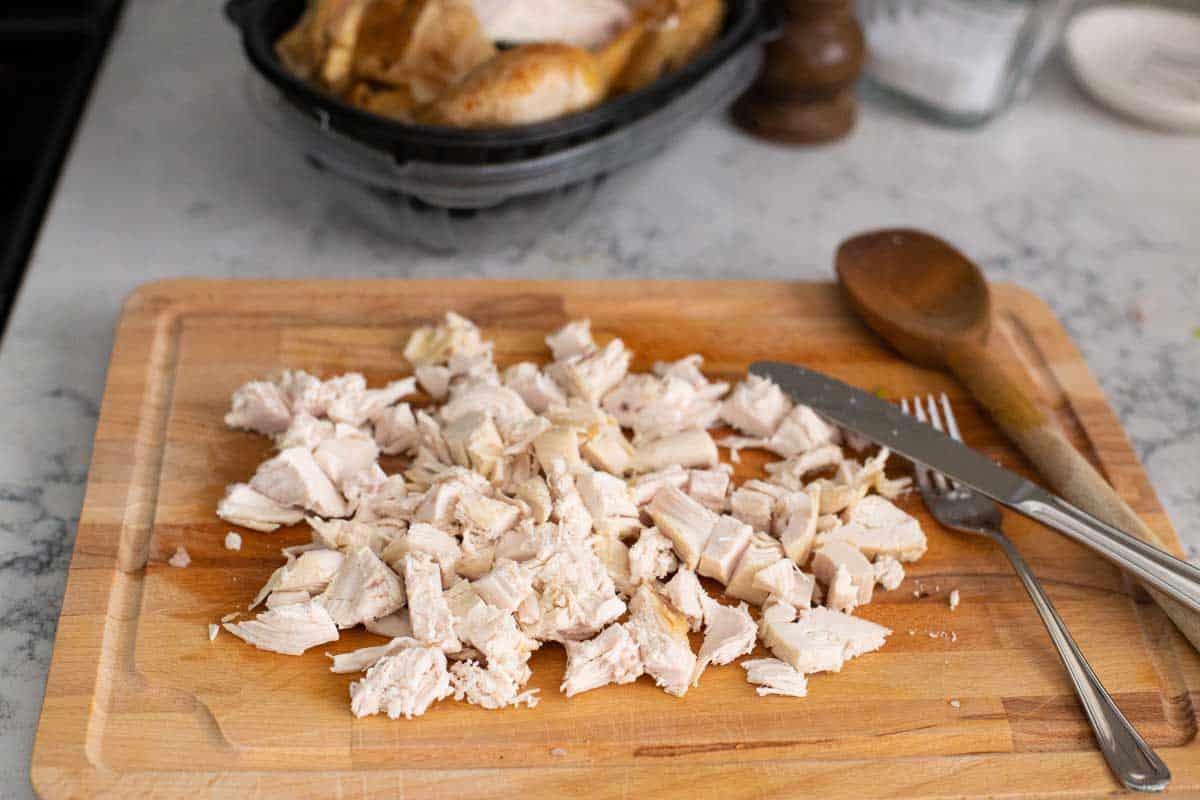 When the 20 minutes are up, add the chicken to the pot and stir gently.
Let the soup simmer for 1 - 2 minutes or until the chicken has been warmed through.
The matzo balls should be floating in the broth among the tender carrots and chicken.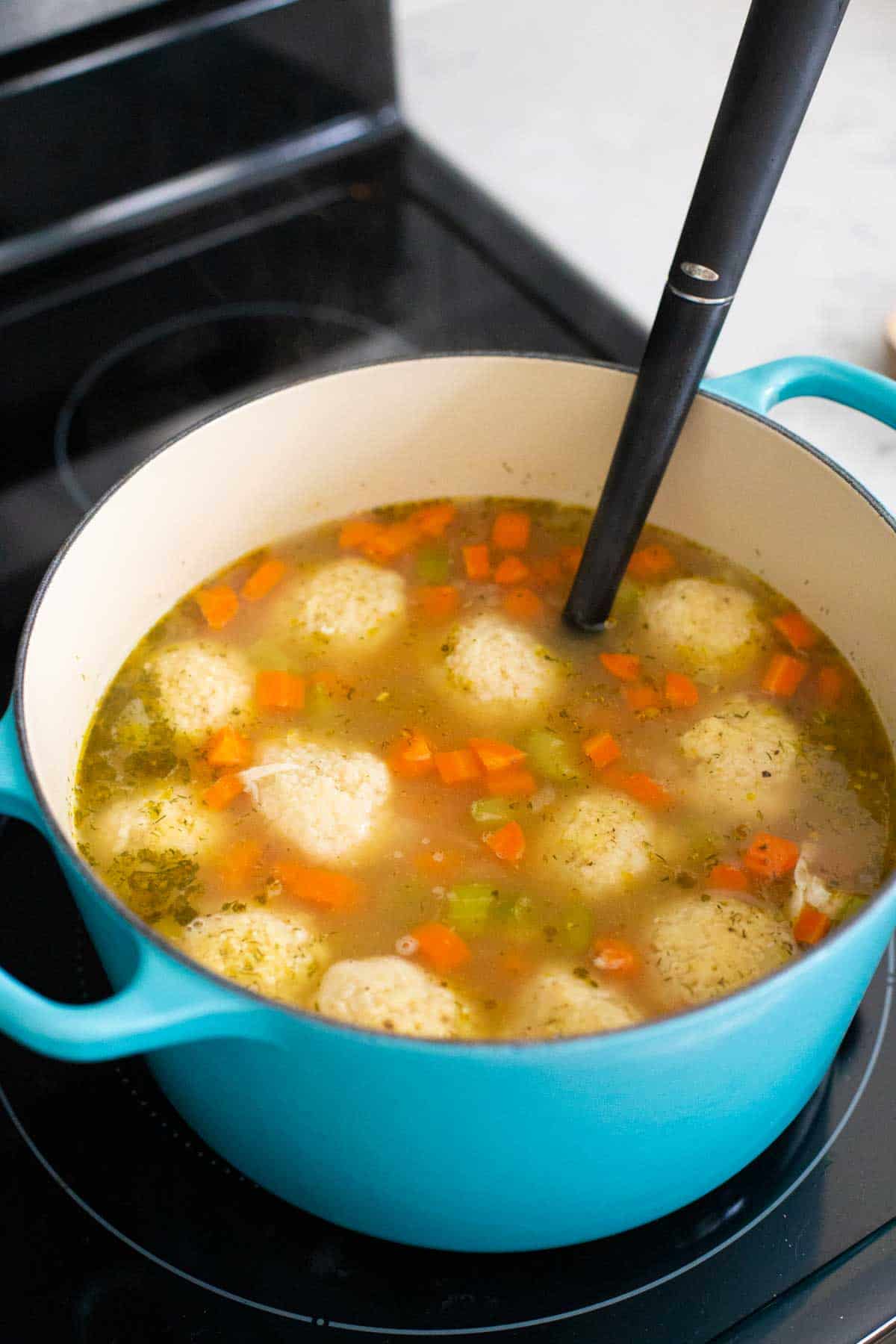 Serving Suggestions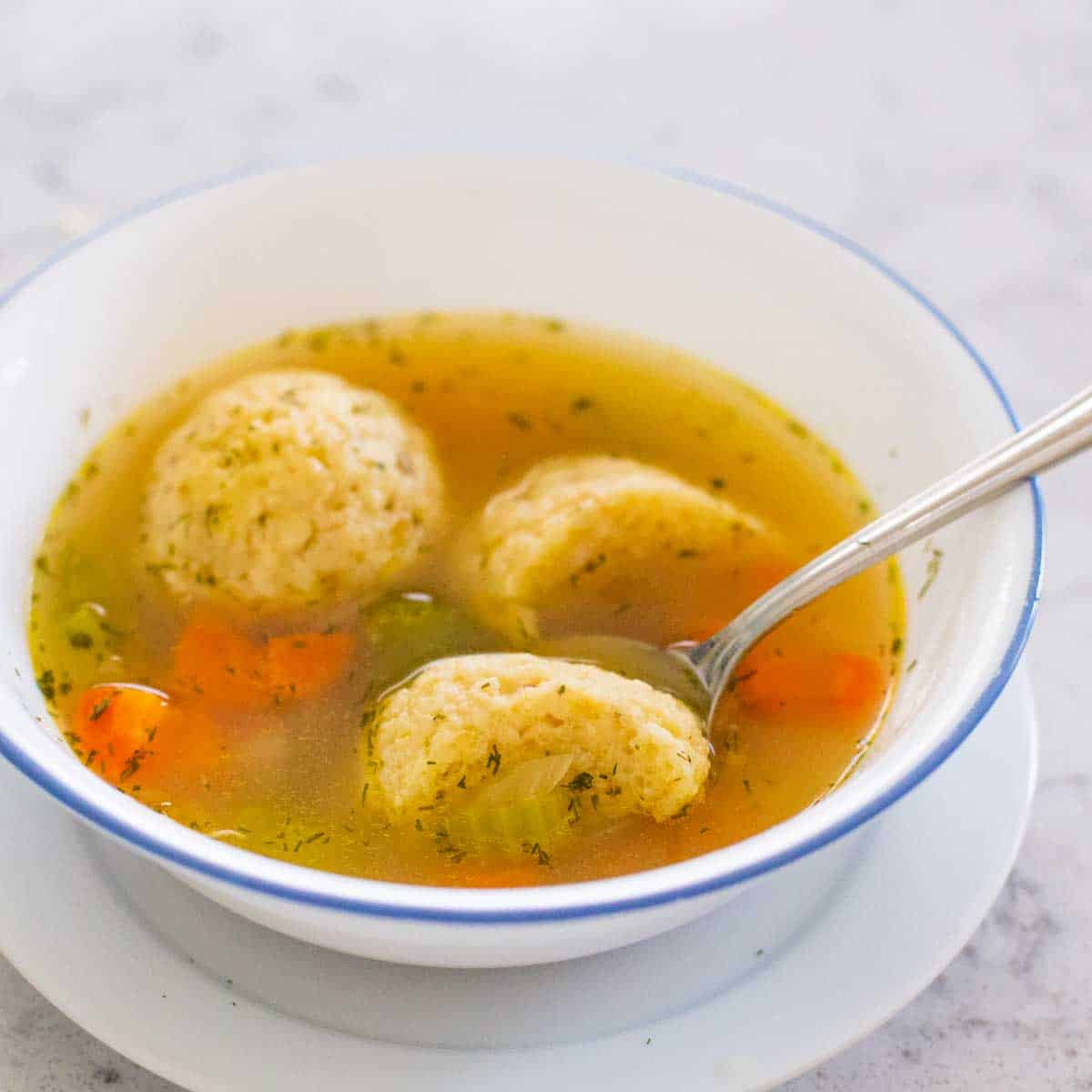 Ladle the soup into serving bowls adding 2 - 3 matzo balls per serving.
I love the flavor of dill but my kids prefer just a hint. I usually place the jar of dill on the table for sprinkling a little more on my own serving.
The soup is comforting and delicious all on it's own but would be fantastic with a slice of homemade challah bread and perhaps a simple homemade applesauce for a fruity side dish.
Make Ahead and Freezer Tips
Leftover matzo ball soup can be frozen and reheats wonderfully in the microwave or on the stovetop in a sauce pan. The texture of the rolled matzo balls remains light and tasty.
If you'd like to make this soup ahead of time and freeze it, you have two options:
Freeze the Whole Soup: Transfer the entire recipe into a freezer container and freeze as is. Let thaw in the fridge overnight and reheat gently on the stovetop so the matzo balls stay intact.
Freeze the Matzo Balls Separately: You could also form the matzo balls and freeze them separately and simply drop them into a fresh batch of soup for steaming later. This helps ensure they don't get mushy in the thawing and reheating process.
More Jewish Recipes
Looking for more delicious classic Jewish recipes for your family to try? The bread machine makes our favorite challah bread recipe super easy.
Make ahead potato latkes (or potato pancakes) taste great with my easy homemade applesauce.
And this easy roasted chicken is perfect for enjoying as-is or for making your own cooked chicken for the matzo ball soup.