Learn how to harvest herbs from a container herb garden. Easy tips for harvesting basil, rosemary, chives, dill, mint, thyme, and more.
Fresh herbs are the first thing I plant in my vegetable container garden each spring.
Many herbs love the slightly cooler weather and thrive through spring and early summer.
Though fresh herbs are so easy for even beginner gardeners to grow, knowing how to harvest the herbs for using in a recipe was the thing I found to be most confusing when I first got started.
Each herb plant has a slightly different way you should harvest the herbs, so here is a guide to help you know just when and how to cut the herbs for your kitchen!
Jump to:
Harvesting Basil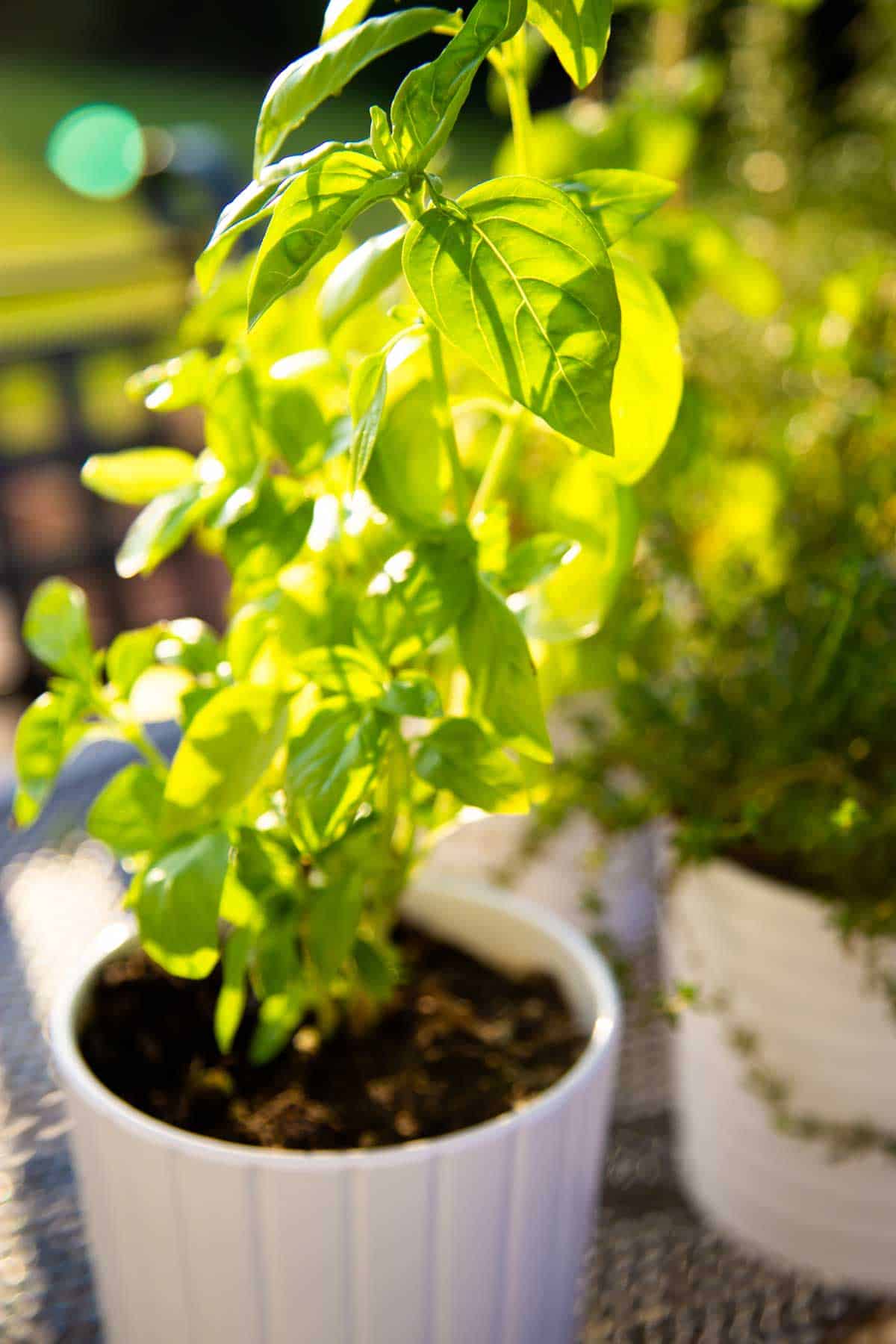 The most important thing to remember about harvesting basil is don't let the basil plant get too tall or flower.
Once the basil plant grows the tiny white flowers at the end of each stalk, the basil leaves will become tough and turn bitter.
Instead, harvest your basil plant frequently by pinching off the largest leaves with your fingers or trimming the stems back with a scissors.
In the early days I pinch; as it grows taller, I cut.
The plant will continue to sprout fresh leaves and provide basil for several weeks.
Harvesting Chives
Chives are one of my favorite herbs to grow in my container garden. I find millions of ways to use them.
Harvesting chives is as easy as "cutting its hair."
Gather a handful of the green stalks with one hand and use a scissors to trim them towards the base of the plant. Leave a couple of inches for the plant to regrow like you would if you were cutting your grass.
Chive Blossoms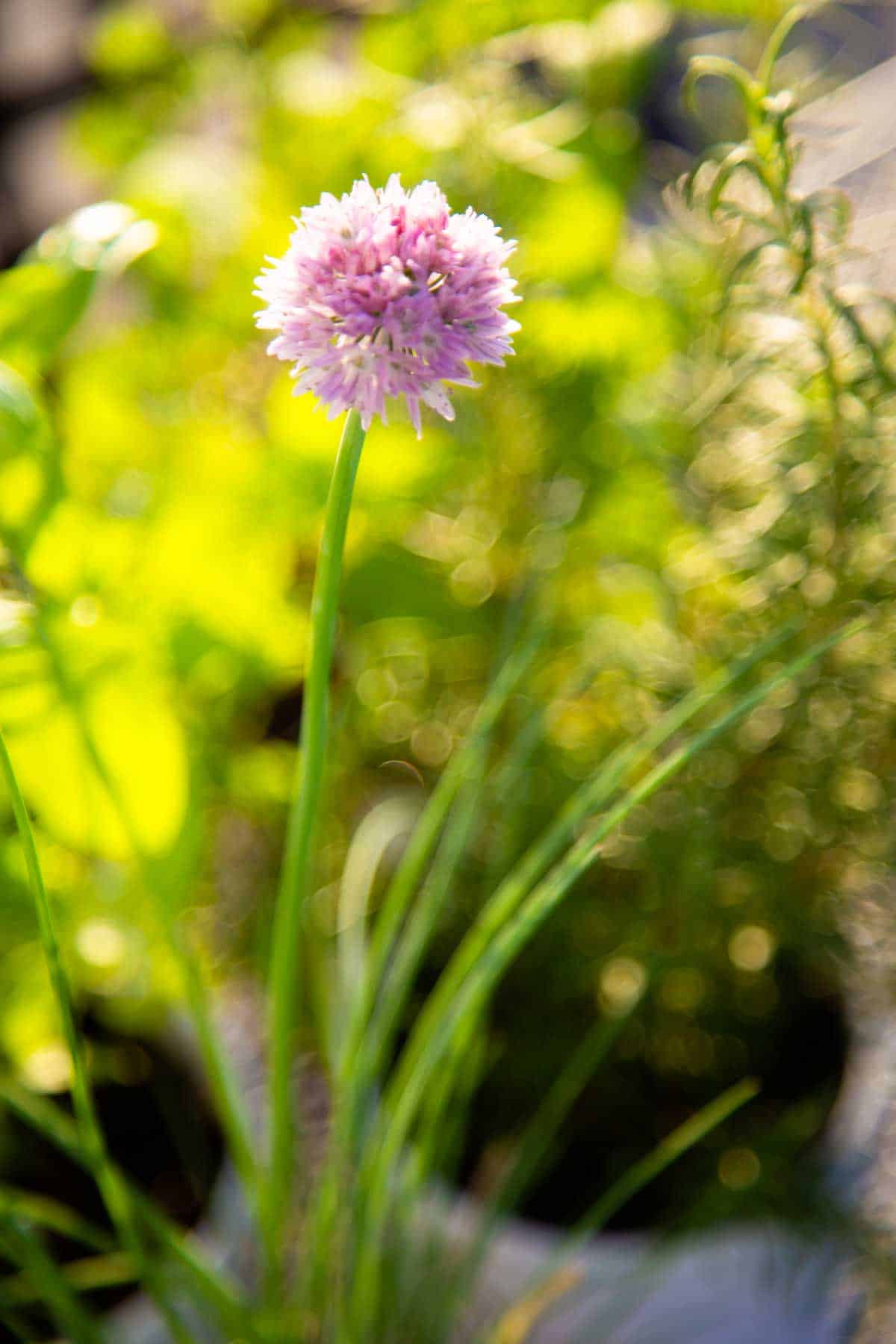 If you're wondering if chive blossoms are edible, the good news is they absolutely are!
If your chives plant sprouts purple flowers, you can simply cut them off and discard or you can use these onion-flavored blossoms as a way to decorate a salad or other savory dish.
Harvesting Cilantro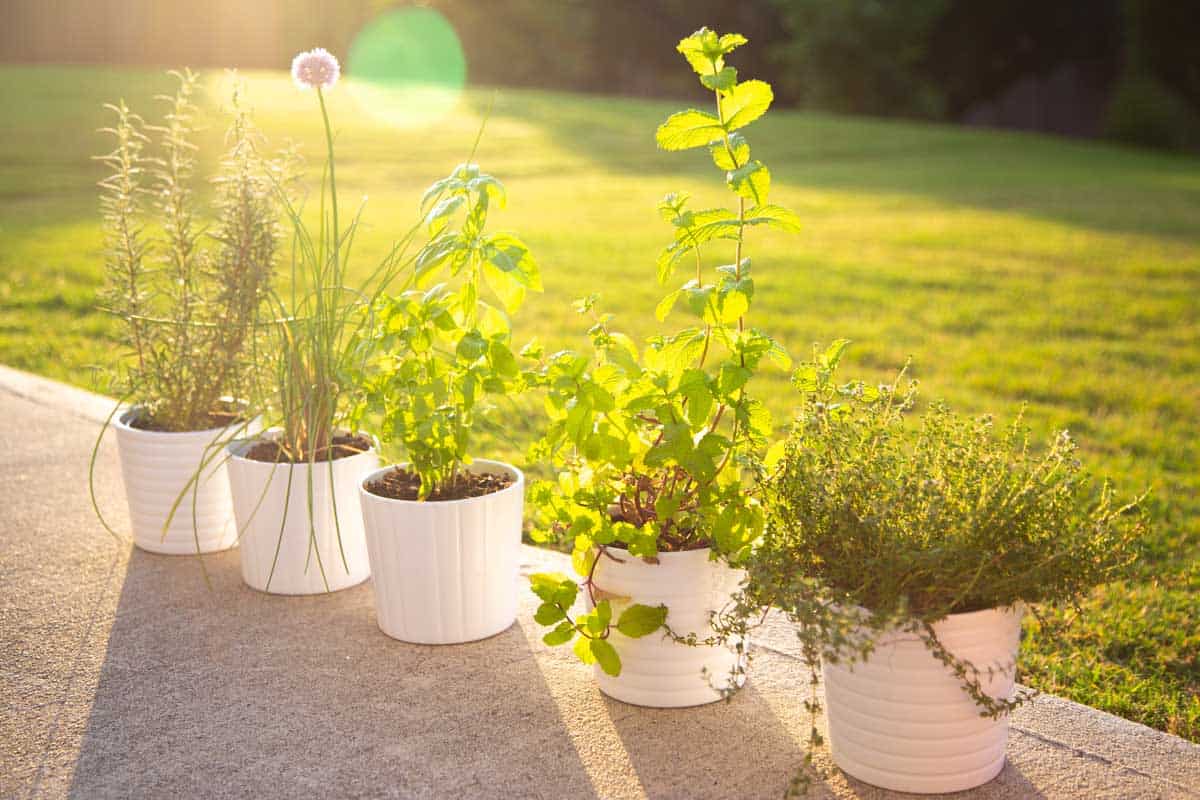 Cilantro loves heat and sunshine and once you start to grow it, the plant will explode with growth every few days. This is great news if you enjoy making fresh homemade salsa!
When harvesting cilantro, it is important to remember to keep up with the trimming or the plant will get too big and the leaves will turn bitter.
Trim the entire plant down to about ⅔ of the original height leaving some leaves at the bottom for your cilantro plant to use to grow again.
Harvesting Dill
Much like fresh cilantro, a fresh dill plant really takes off once it starts to grow.
Harvesting dill is so satisfying and easy. Simply use a scissors to trim the stalks towards the base of the plant.
I prefer to cut the older branches first, letting the newer ones grow before harvest. This helps prevent the tender dill from becoming tough by growing on the plant too long.
The dill plant will continue to grow fresh sprouts off the base as long as you harvest the older branches allowing more sunshine to land on the newer sprouts.
Harvesting Thyme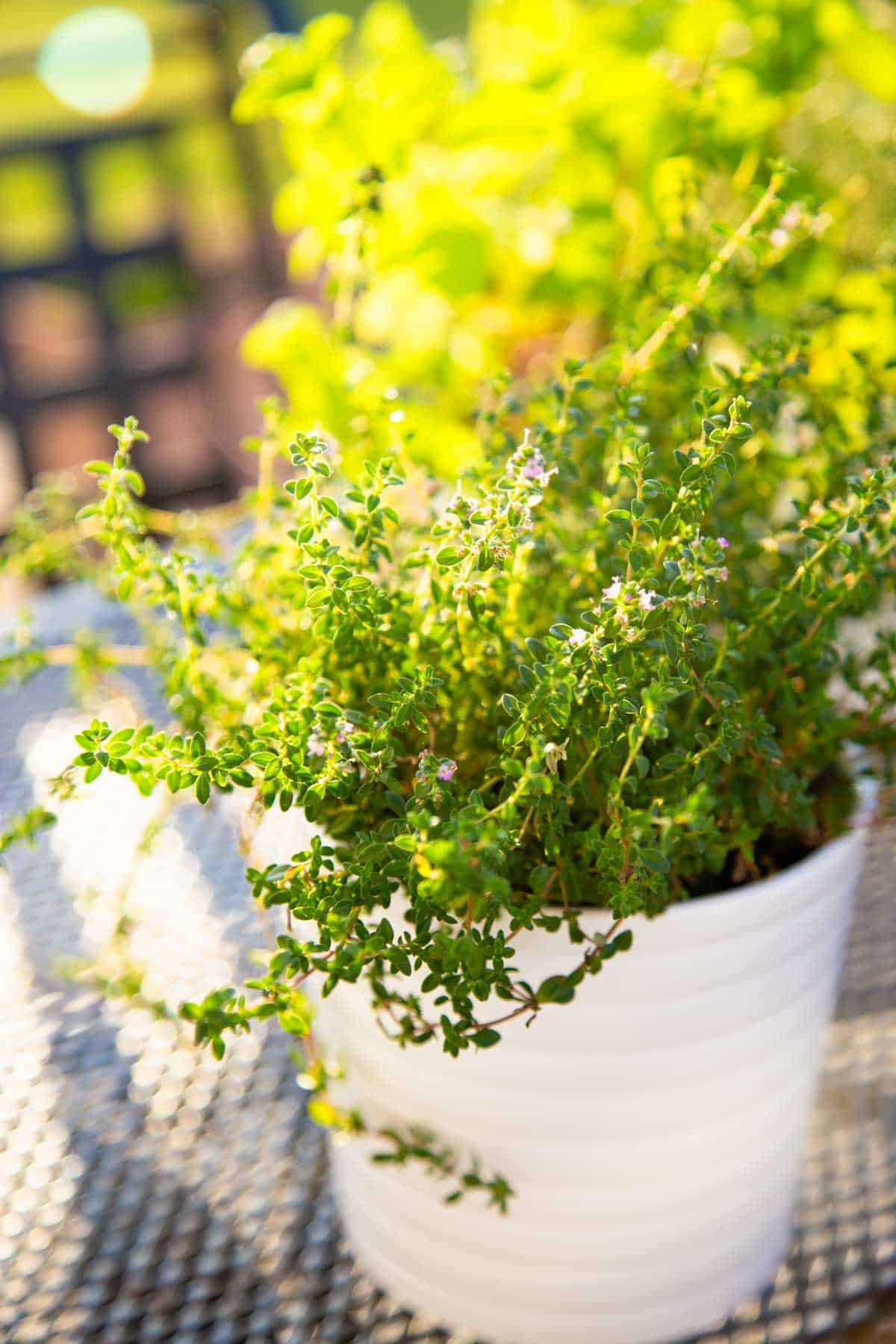 There are several varieties of fresh thyme that grow really well in a container herb garden.
Some grow upright and bushy, other varieties prefer to spread like ground cover.
Harvesting thyme is easy with either variety of plant. Simply use a scissors to trim away the outer branches of the plant.
Leave enough greens on the plant so it can use the energy to replace the stalks you've trimmed away.
Harvesting Rosemary
This is the slowest growing of the fresh herbs in my garden.
Rosemary isn't something I use a lot of but I enjoy it as we get closer to fall and I start doing roasts again. I just let it grow and do it's thing.
Rosemary plants don't spread like other herbs, they grow more like little trees.
As the branches get taller, the age doesn't affect the flavor. However, the taller the rosemary gets, the more wood-like the stems become.
If you plan to use rosemary branches as grilling kabobs, this is a great incentive for having patience and not harvesting the rosemary too soon.
Harvesting Mint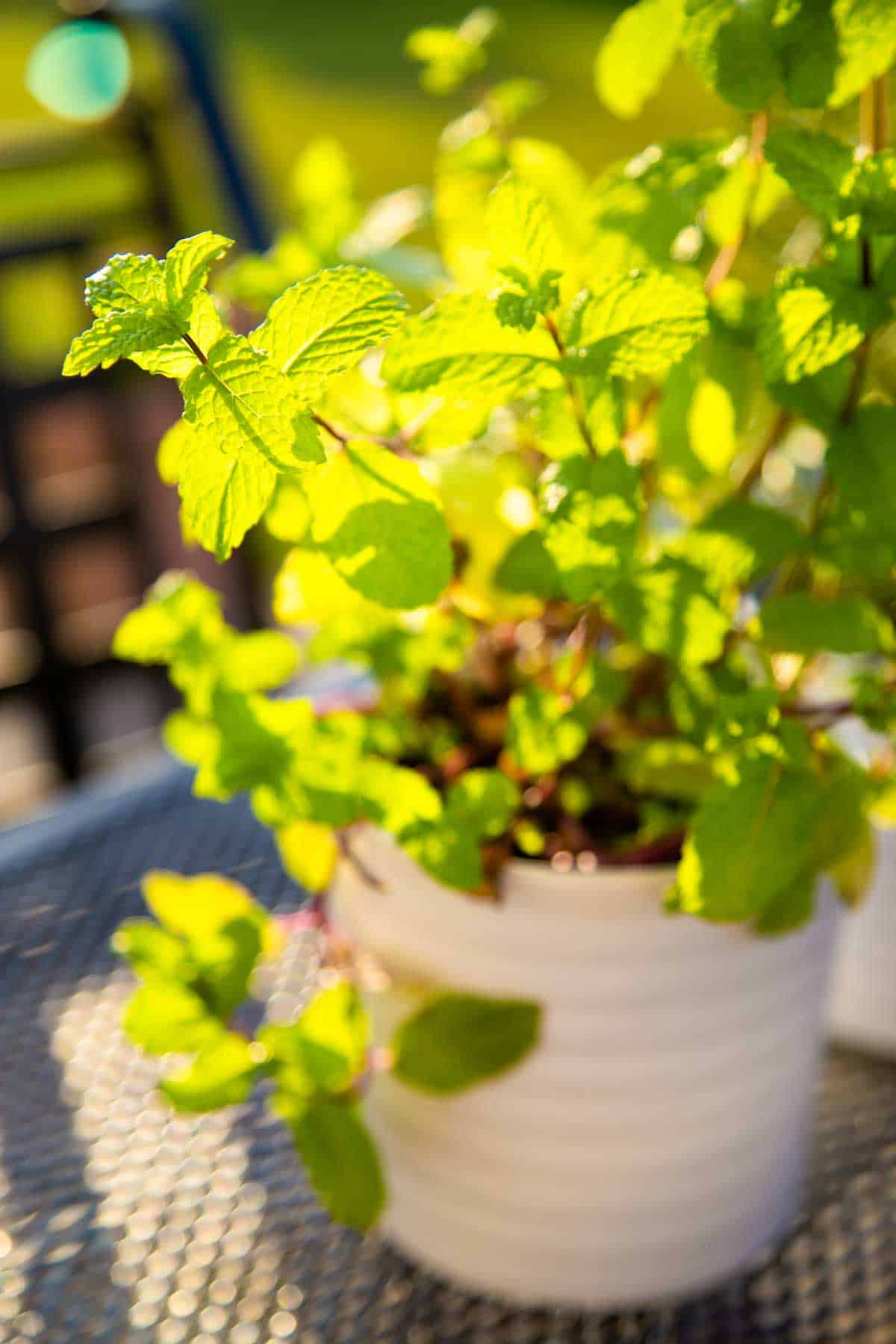 Be careful if you plan to grow fresh mint, this herb plant tends to spread and take over gardens quickly!
We grew one plant of it several years ago and still find baby sprouts in my herb garden containers every spring.
Fresh mint makes a delicious garnish for desserts and is essential for mojitos, so harvesting the mint has excellent results!
To harvest the fresh mint, simply use a scissors to trim back the branches. The plant will quickly regrow more stalks for you to use soon.
To use the mint, you want to pluck the leaves from the stalk, the actual branch isn't quite edible.
How to Store Fresh Herbs After Harvesting
Harvest fresh herbs frequently to keep your container garden plants healthy.
If you aren't able to use them in a recipe right away, you can store the herb trimmings wrapped in slightly dampened paper towel inside a plastic bag in the fridge for a couple days.
Frequent harvesting allows your plants to continually produce tender fresh herbs for you to use in a variety of recipes!