This quick-fix gnocchi soup with lemon and dill is made with all pantry ingredients you can keep on hand for a fast dinner any night. Serve with warm bread and butter for a springtime feast.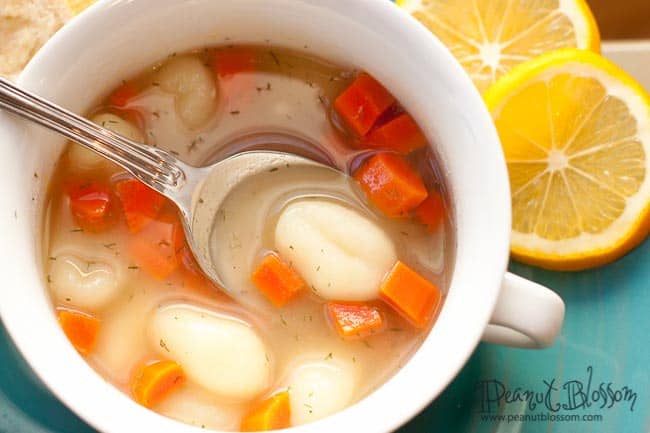 Our kitchen is running on fumes today. I am due a very large and very extensive trip to the grocery store but I am still in the middle of making the list. Lunchtime waits for no one and I had to come up with something out of what felt like nothing. How I love my pantry stash! Out of a few random ingredients, I was able to make homemade soup and fresh bread from the oven for a quick and relatively healthy (albeit starchy) lunch for the girls and myself.
Want to know the best part? All the ingredients came from Costco! You could honestly stock up on all these ingredients in bulk and have a great little emergency meal on hand at all times. I've had this trio of gnocchi from Costco sitting in my cupboard for months but haven't been sure what to do with them. They made an amazing soup filler: light, fluffy, and very satisfying in place of noodles or rice.
And a side note, if you haven't already tried the French bread loaves from the freezer section at Costco, I HIGHLY recommend them. $10 for 10 loaves. They are flash-frozen in France and shipped here. You just thaw for 10 minutes on the counter and bake them for 10 minutes in your oven. I am a total bread snob and they have my absolute seal of approval.
Gnocchi soup with lemon and dill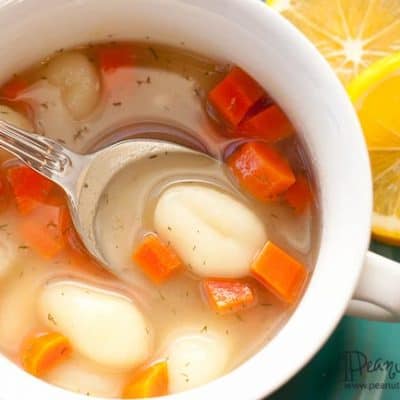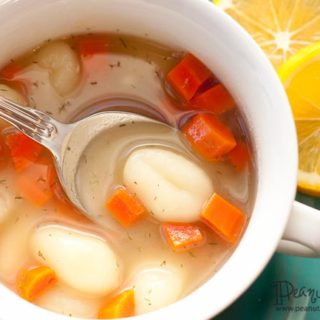 Gnocchi Soup with Lemon and Dill
This light and healthy springtime soup is the perfect quick dinner or light lunch. Serve with warm baguettes and butter.
Ingredients
8 cups low-sodium chicken broth 
1 16 oz package of dried gnocchi
5 carrots, peeled and diced
1 tsp minced garlic
½ lemon juiced
½ tsp dried dill
salt and pepper to taste
Instructions
Combine the chicken broth, diced carrots, and the garlic in a large saucepot and bring the mix to a boil. Gently simmer for 10-15 min until the carrots are tender.
Add the potato gnocchi to the saucepot and simmer until the gnocchi float to the top, just 3-4 minutes. Squeeze half a lemon into the pot, add the dill, salt, and pepper, and stir.