30-minute chicken taco soup is cooked right on the stove top and is filled with delicious peppers, tomatoes, corn, and onions but NO beans. Stir in shredded chicken for an easy weeknight dinner in a pinch.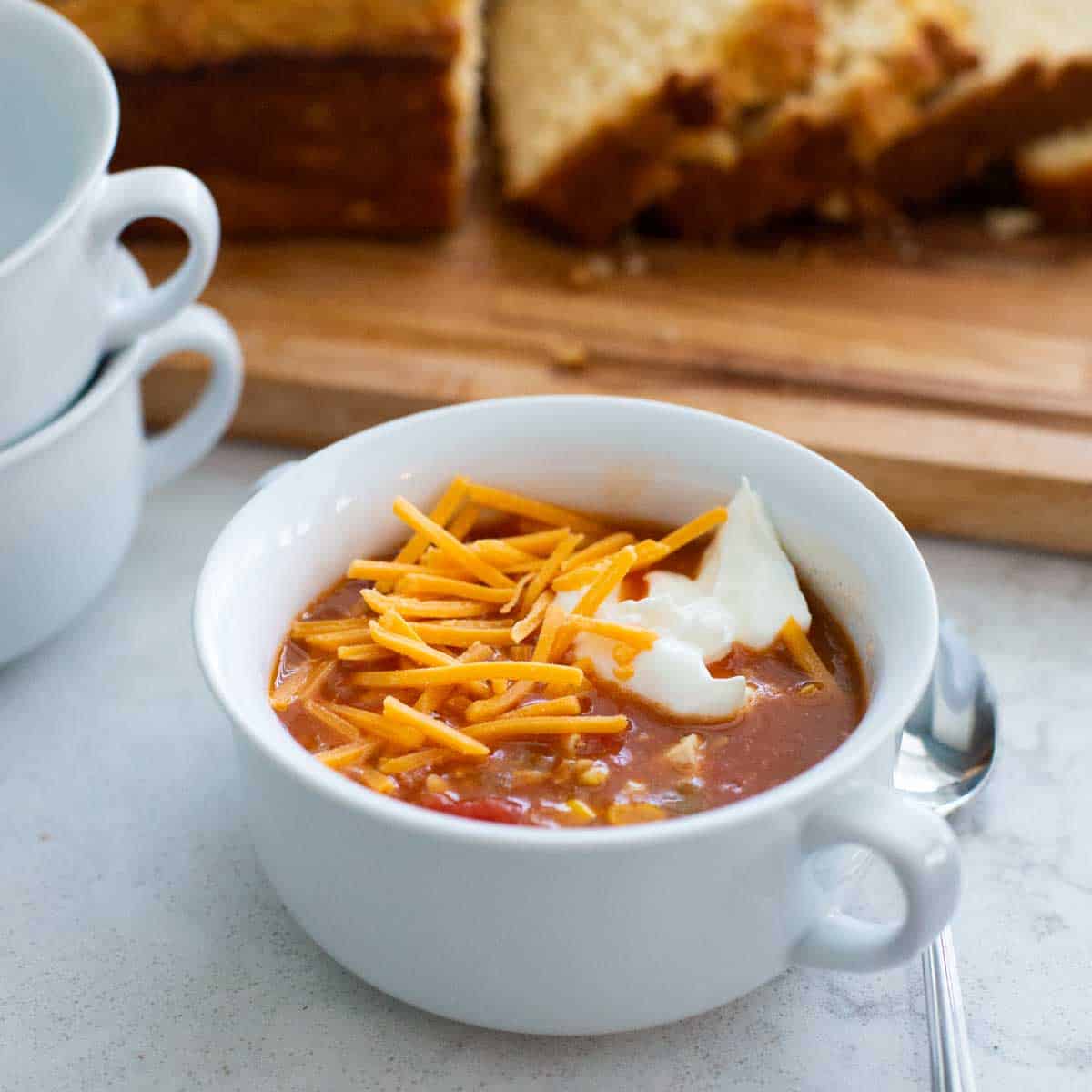 If you've got leftover chicken to use up or you want to save time with a shredded rotisserie chicken, this easy taco soup recipe is the perfect weeknight dinner fix.
My kids will eat just about anything that has "taco" in the name. Never mind that this soup is loaded with veggies and is a low-carb version of their favorite dinner, they eagerly dug in when I served it.
You don't need a lot of cooked chicken for the soup, you could easily use leftovers from our favorite roasted chicken recipe.
Serve this with a big bowl of tortilla chips for dunking or a fresh loaf of bread. I made homemade beer bread from The Ultimate Bread Machine Cookbook on the night I served it.
Jump to:
How Do You Thicken Taco Soup Without Beans?
If you're wondering why this recipe doesn't have any beans, to be honest: I'm not a fan.
Beans add a certain texture that I don't prefer but I know that they are very useful when it comes to thickening soups and stews.
To thicken the taco soup without beans, I used canned red enchilada sauce. It is a smooth, almost creamy tomato sauce that adds a lovely flavor to the tomato broth.
If you enjoy recipes without beans, you'll probably love my favorite chicken chili without beans, too!
Ingredients
Most ingredients are pantry-stable and can be grabbed in a pinch: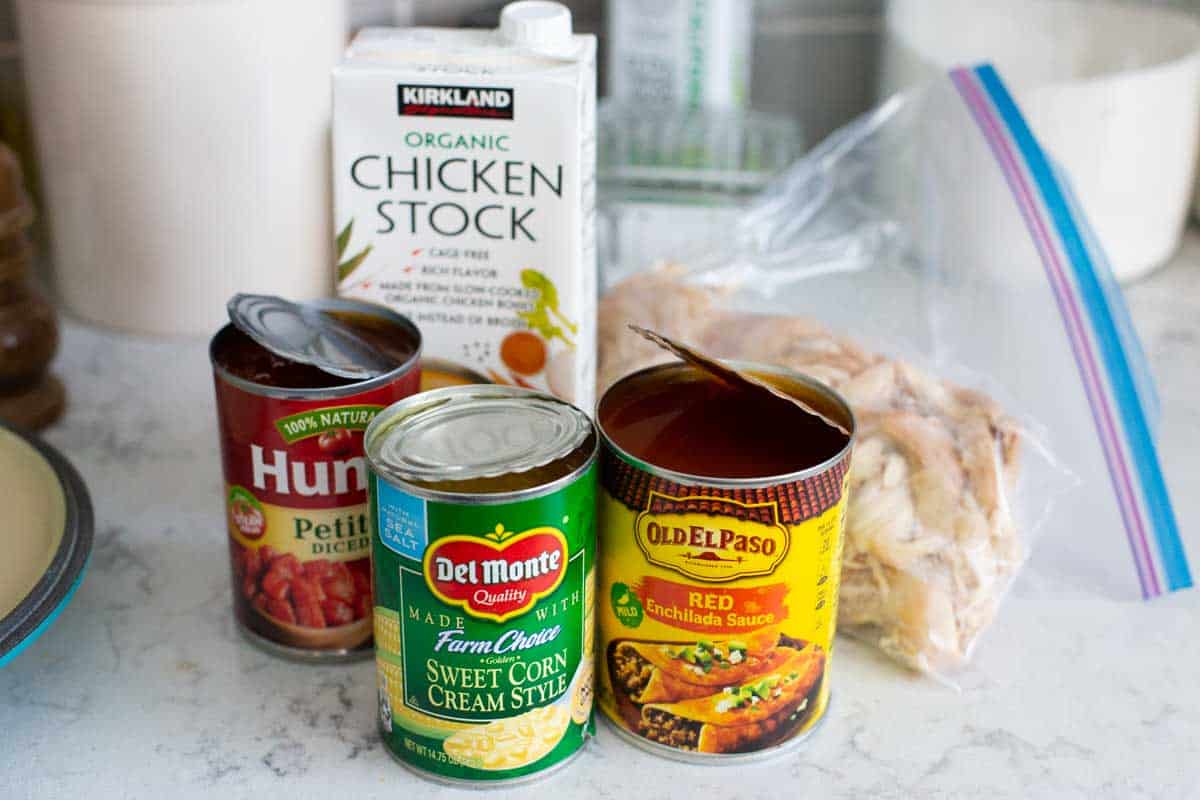 Canned Diced Tomatoes: Feel free to use Rotel with chilis if you like extra heat or fire-roasted tomatoes. I just had plain diced tomatoes on hand.
Canned Cream Corn: You could use regular canned corn but the cream style corn helps to thicken the broth as well.
Canned Red Enchilada Sauce: You only need 8 oz can but our store only carried a larger size. You can freeze leftovers for another use if this happens to you.
Taco Seasoning: I always buy it in bulk so I can use just a few tablespoons at a time. You could use the entire taco seasoning packet if that's what you have.
Cooked Chicken: Leftovers or rotisserie chicken is perfect.
Chicken Broth
Green Pepper
Onion
See recipe card for quantities.
This flexible soup recipe is actually quite perfect for using up leftovers from your fridge. Be sure to check out the Variations section below for more ideas.
Stove Top Directions
Put your soup pot over a burner set to medium-high heat and add the olive oil.
Saute the peppers and onions until the onions are softened and translucent.
Add the taco seasoning and stir to combine. Cook for 30 seconds.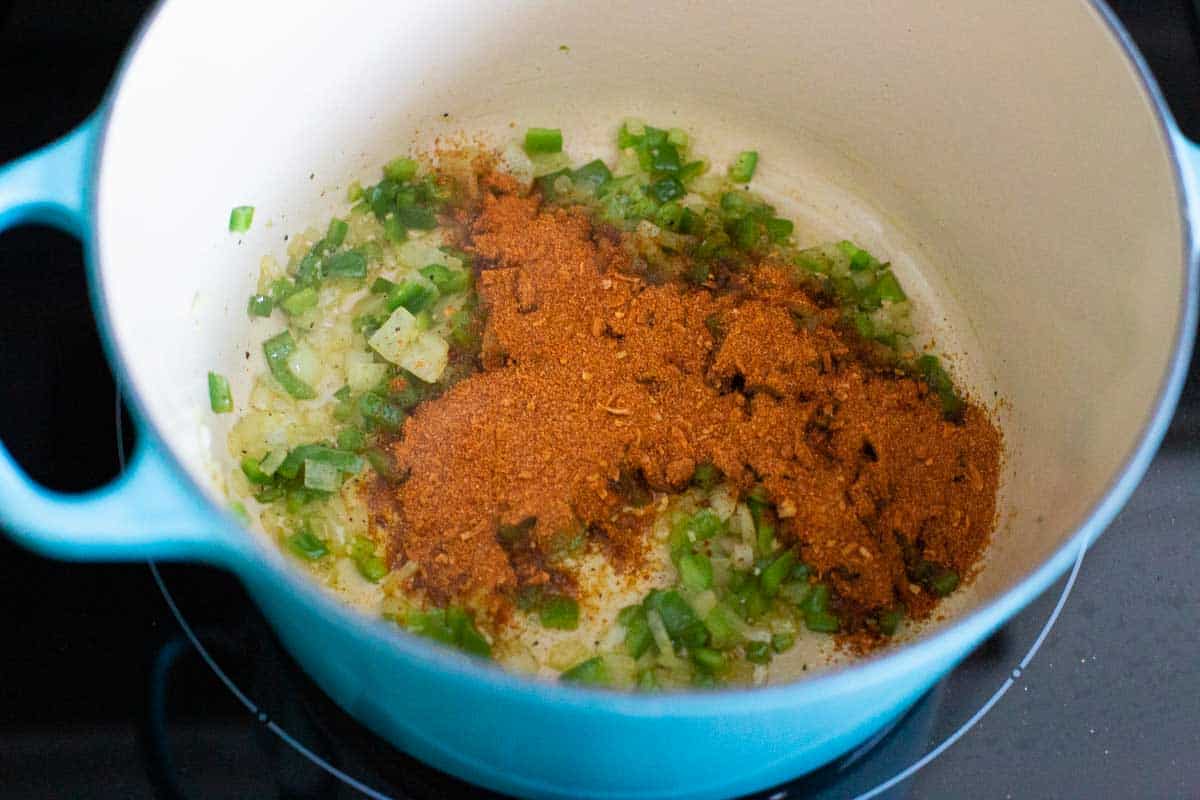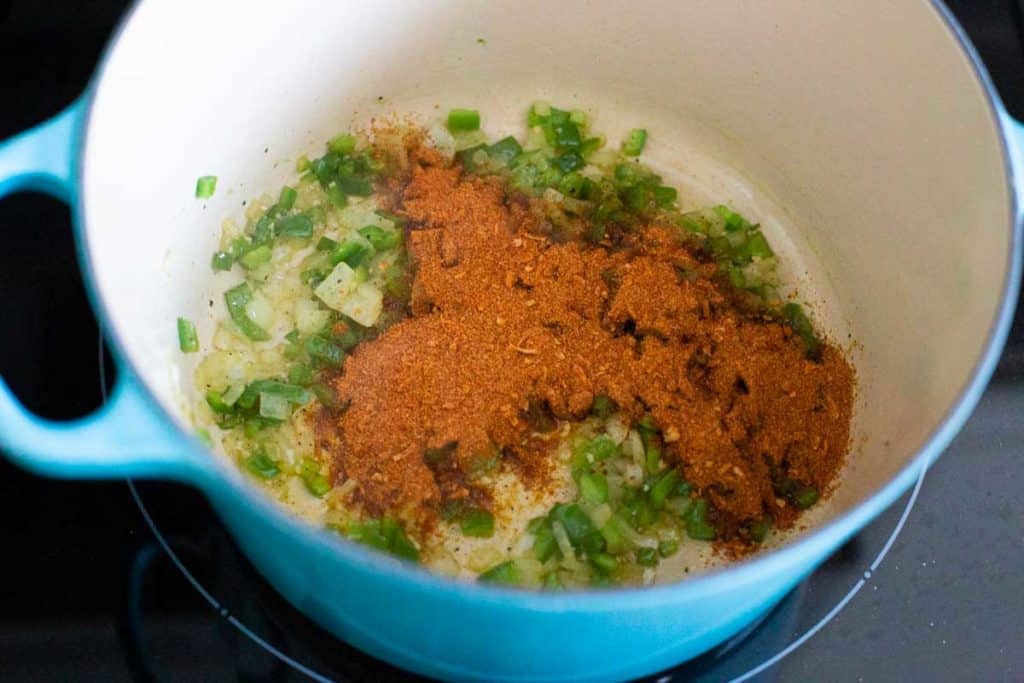 Add the diced tomatoes and corn with all their juices and stir.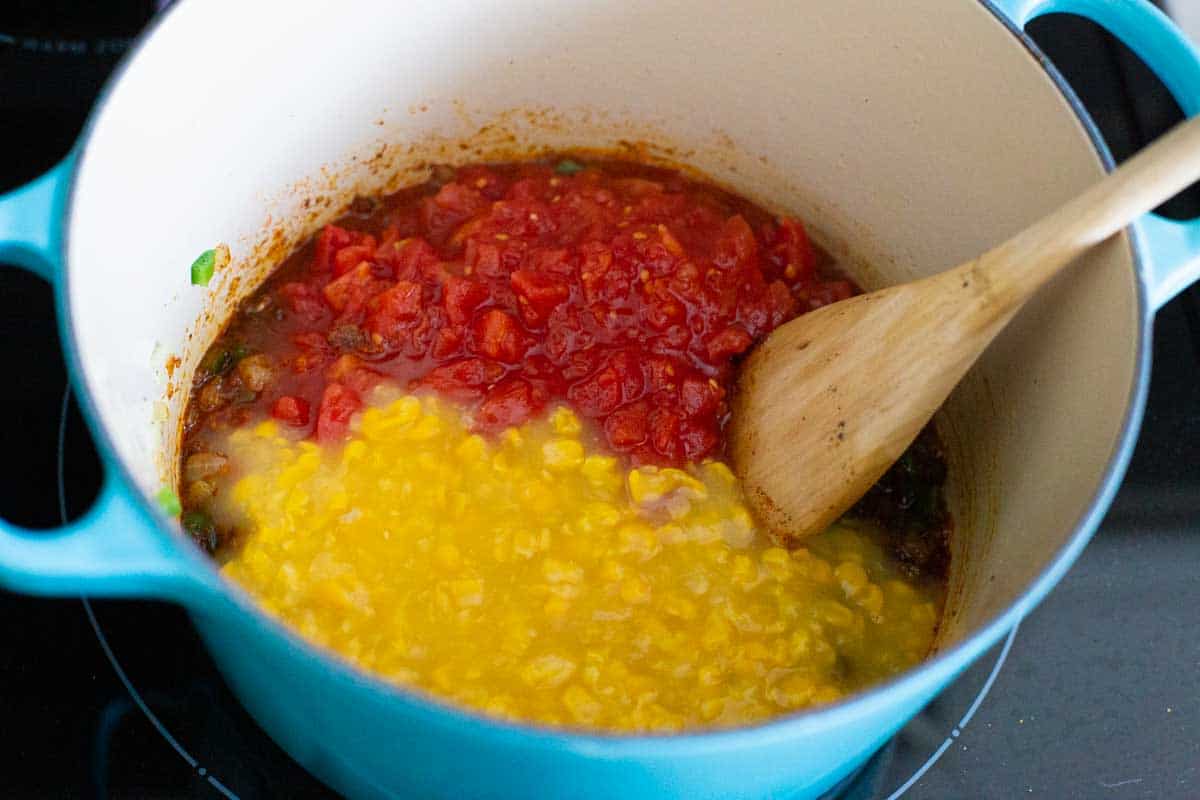 Then add the enchilada sauce and chicken broth and bring the soup to a simmer.
Reduce the heat to medium-low and cook for 20 minutes.
Hint: Cooked chicken is actually quite delicate. If you put it in while the soup simmers, it will fall apart and be stringy in your soup.
While the soup is simmering, chop the chicken into small cubes.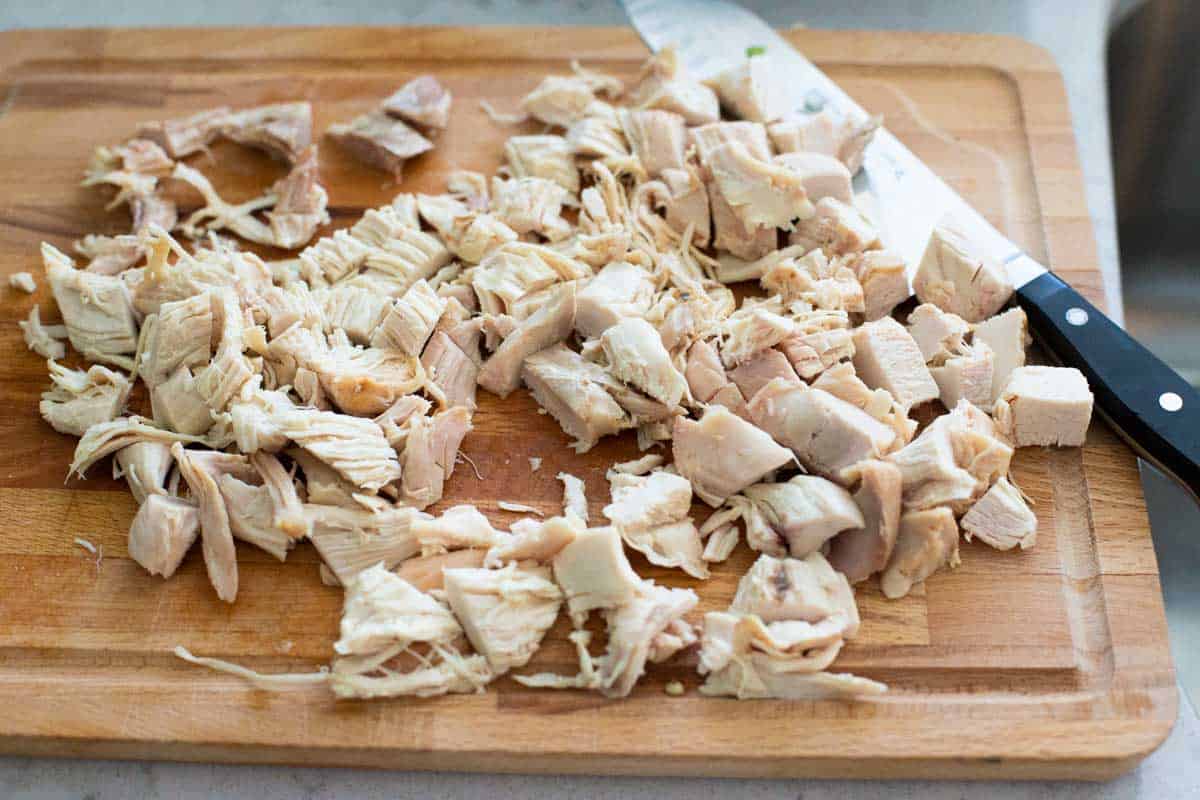 Add the chicken to the taco soup and stir. Let it heat through for 5 minutes before serving.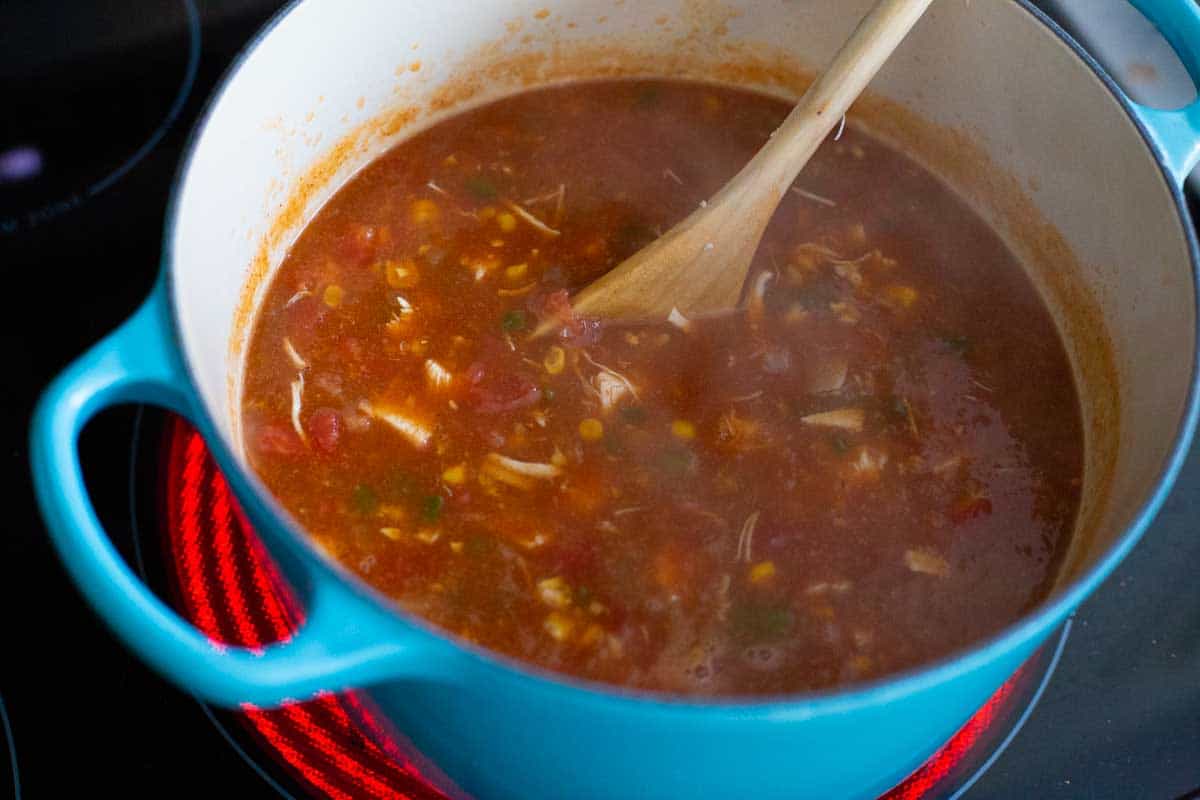 Serving Suggestions
Serve the hot soup with any or all of the following delicious toppings:
Sour cream
Shredded cheddar cheese
Chopped green onions
Tortilla strips
Tortilla chips for dunking
Cornbread or another warm fresh bread you love
Variations
I used the fresh bell pepper and onion because that's what I had in my fridge that day. They tasted great with the tomatoes and corn.
Here are more ideas for using leftovers:
Spicy Taco Soup - Roasted bell peppers or leftover jalapeno would be a perfect way to add more heat. Be sure to mince the jalapeno and add it with the onions to cook before simmering the broth.
Chunky Salsa Taco Soup - If you've got a jar of salsa you're looking to use up, you could absolutely use that instead of (or in addition to) the canned tomatoes.
Beef Taco Soup - If you prefer beef tacos, you could brown up some ground beef in the soup pot first and then add the onions and peppers to cook.
Turkey Taco Soup - You could use leftover Thanksgiving turkey cut into cubes or brown up ground turkey for an easy turkey taco soup.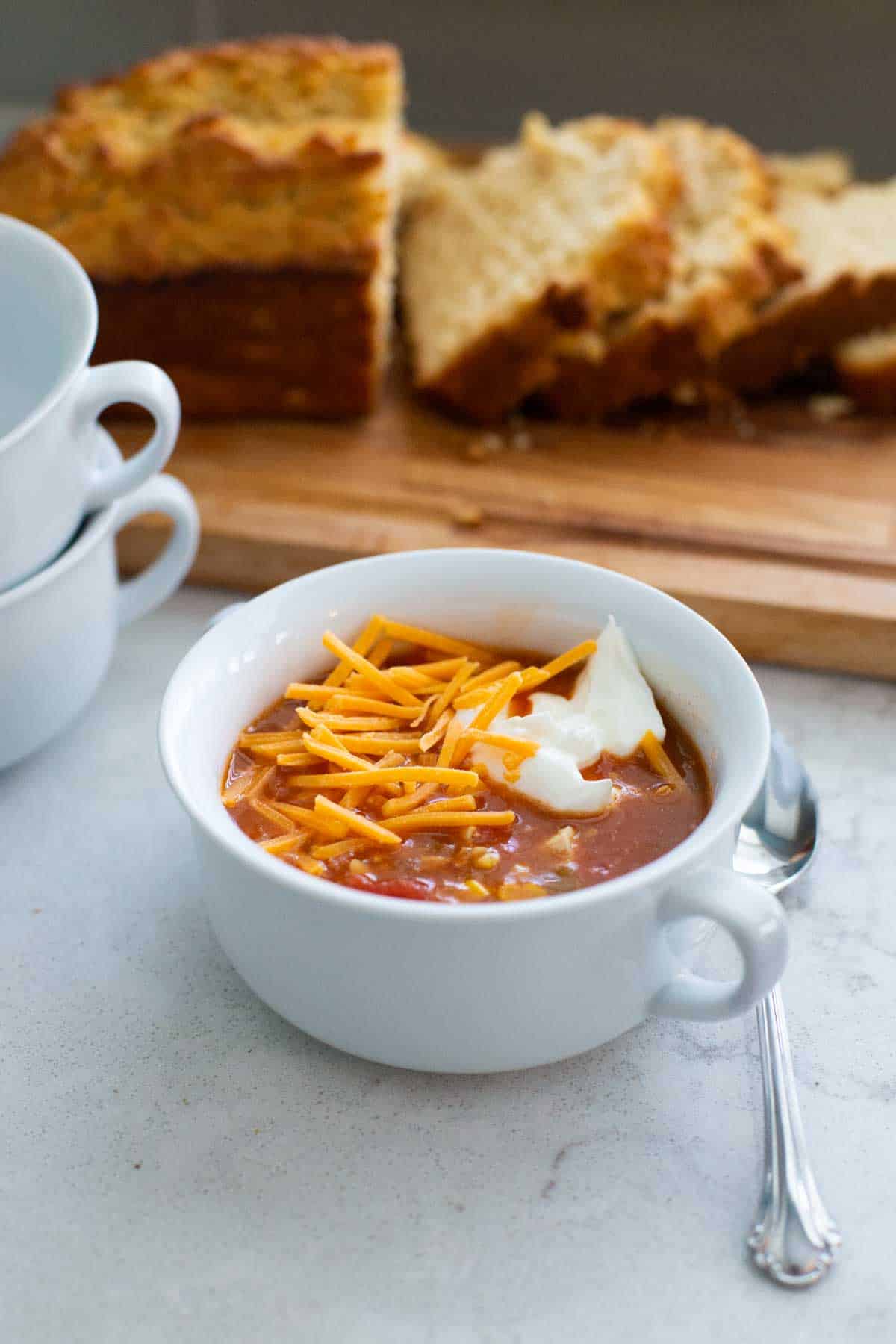 Storage
This chicken taco soup would freeze really well. However, if you plan to serve it with sour cream and shredded cheese, don't stir those into the full soup pot. The dairy would separate if the soup is frozen.
Instant Pot Instructions
Want to make this dinner cook even faster? You can make an easy Instant Pot taco soup by following these simple instruction tweaks:
Use the Saute setting to cook the peppers and onions.
Add the tomatoes, corn, enchilada sauce, and broth to the pot.
Seal and cook on HIGH pressure for 5 minutes.
Quick release and stir in the chicken. Let heat through for 2 minutes and serve.
More Taco Tuesday Recipes:
If you've tried this easy chicken taco soup or any other recipe on PeanutBlossom.com please don't forget to rate the recipe and let me know where you found it in the comments below. I love hearing from you!
FOLLOW along on Instagram @peanut.blossom as well as on Pinterest and Facebook.