Irish potato soup inspired by our trip to Dublin, Ireland. This authentic Irish recipe has been tweaked for American home cooks to use ingredients currently available here in the States.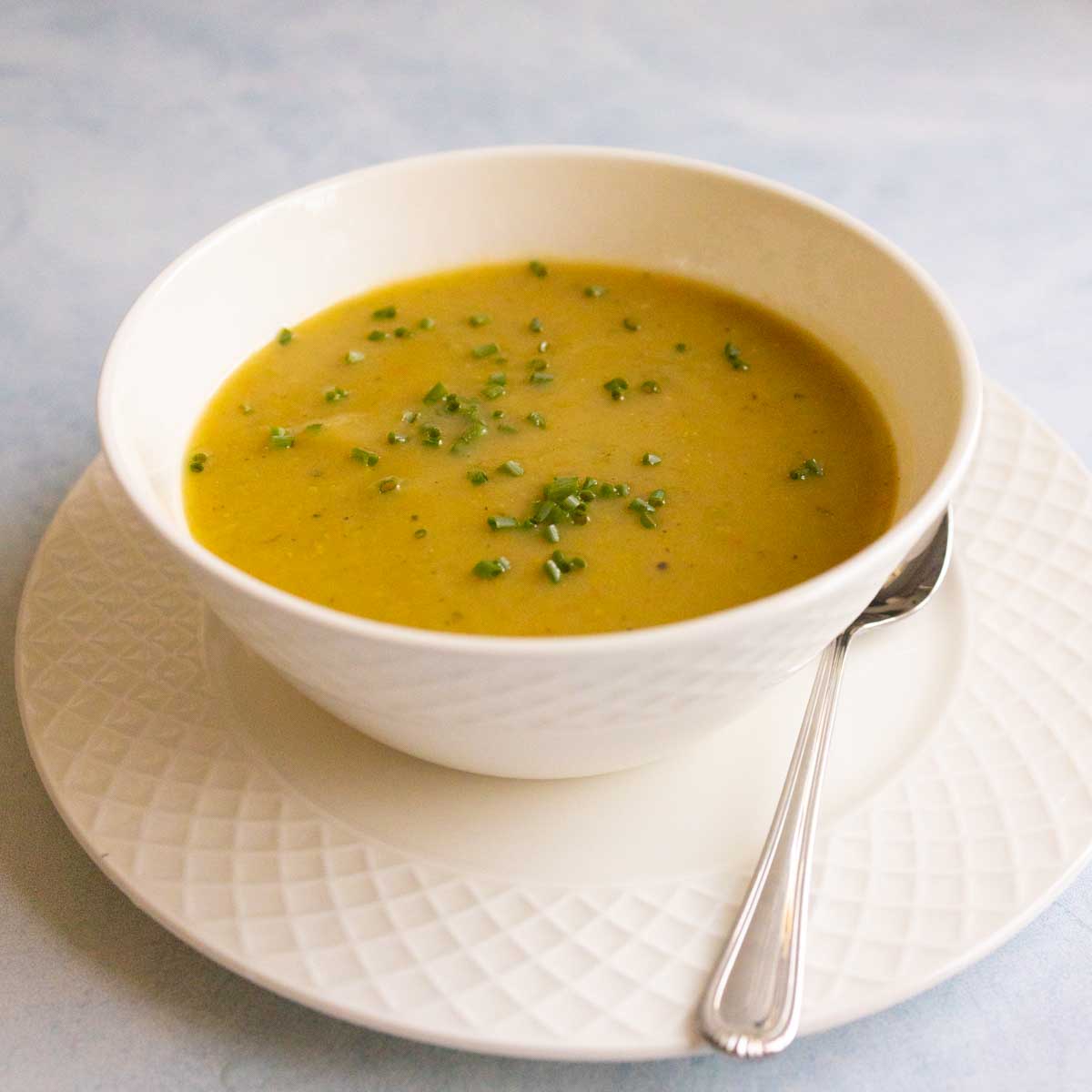 Before my daughter and I travelled to Dublin, we were both very curious about what to eat in Ireland.
We were warned by the school trip organizers that Irish food is cozy and homey and would involve a lot of meat and potatoes type dishes.
What I didn't expect was for my daughter to fall in love with a simple Irish potato soup that was a part of our nightly dinner during a stay in Limerick.
Each night, the hotel would tweak the vegetables that were in the potato soup. Sometimes we tasted peas and carrots, sometimes a little broccoli or cauliflower.
Every version of it was just as delicious as the last. When we got home, she begged me to figure out how to make this simple soup recipe so she could enjoy her favorite Irish meal here at home.
I'm pretty sure this is as close as I could possibly come when limited to the ingredients we can buy here in the States. If you can get your hands on some true Irish cream and authentic Irish potatoes, you'll be in even better shape.
Jump to:
Why This is the Best Recipe
My oldest daughter and I spent a week in Ireland with her school marching band. This soup is inspired by the first course we enjoyed for several nights in a row at one of our favorite restaurants.
She and I agree this is the best Irish potato soup recipe because:
Just Like Ireland!: I chatted with the server at the restaurant to get an idea of what might be in the soup. I took those notes and then did some research in authentic Irish cookbooks. Based on what I knew and what we have available to buy here in the states, I created this soup to be as close to that real Irish soup as possible. We think we nailed it!
Cozy and Comforting: If you need comfort food, this is it. The pureed soup is so easy to eat and goes down smooth and cozy when you're feeling under the weather on a chilly day.
Easy to Tweak: The restaurant served this soup every night so they could use up whatever leftover vegetables they had from the night before. Sometimes we tasted broccoli, sometimes more carrots. You could add a wide variety of veggies to this and it would still taste great.
Ingredients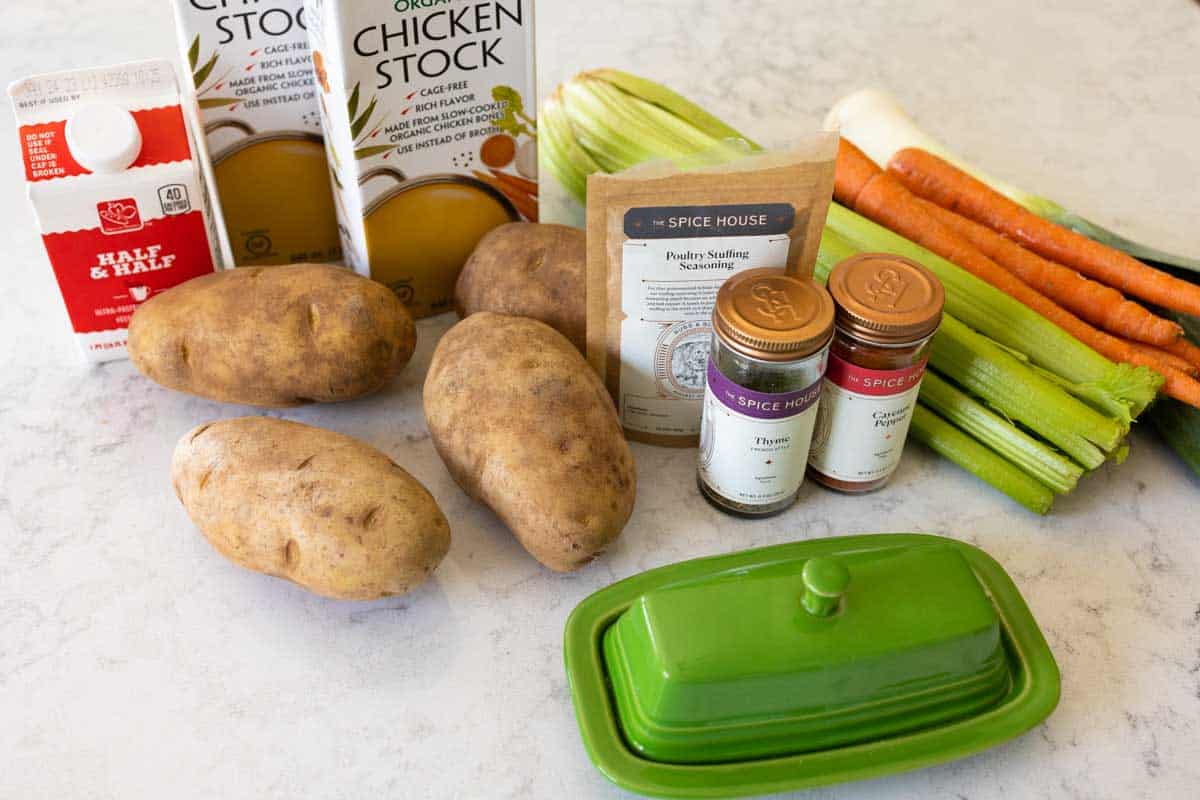 Irish food is so wholesome and real. To make this farmhouse style soup, all you need is:
Potatoes: I used russet potatoes because they seem to be the closest thing we have in the United States to the kind of potatoes they use most frequently in Ireland.
Carrots: The whole carrot has a better flavor than baby carrots, but either would work.
Celery
Leek: I love the taste of a fresh leek but if you can't find them, you could use a regular onion or a Vidalia sweet onion.
Frozen Peas: Regular frozen peas is the classic ingredients but honestly a bag of frozen mixed vegetables would work, great too!
Chicken Stock
Heavy Cream or Half and Half: I'm fairly certain that Irish restaurant used heavy cream, but I lightened our dinner up with half and half instead.
Butter: Kerrygold Irish butter would be the absolute perfect choice here but use what you have.
Dried Thyme & Sage: Fresh herbs would be even better if you have them. I don't have these individual spices in my pantry so I substituted a bit of poultry seasoning that features both of them instead.
Cayenne Pepper: This is absolutely NOT a spicy soup. A tiny pinch of cayenne enhances the overall flavor of the soup without the need for too much salt. This is the one ingredient that is not truly authentic, but it definitely helps improve the soup.
Salt & Pepper
Prep the Vegetables
It is really easy to prep the simple vegetables for this Irish potato soup.
The only exception is the fresh leek. If you've never cooked with fresh leeks before, you need to know that it is very important to cut the leeks and thoroughly wash them to remove the sand and grit that collects among all the layers.
I shared very detailed instructions for how to cut leeks and wash them here:
Once the leeks are prepped, you'll need to:
peel and chop the potatoes
peel and chop the carrots
chop the celery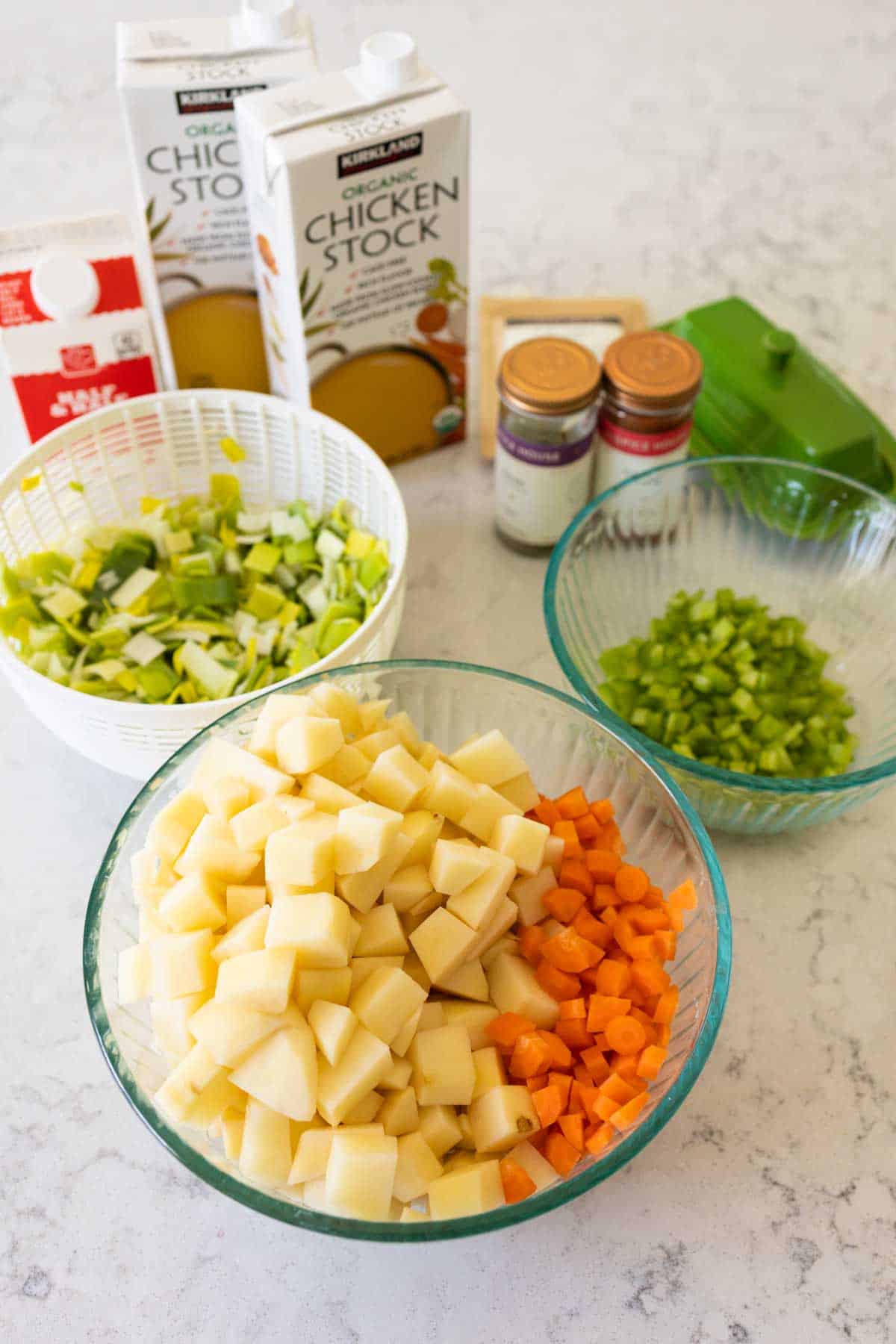 Saute the Vegetables
In a large soup pot, melt the butter over medium-high heat.
Add the leek and celery and cook for 5 - 7 minutes or until they've softened.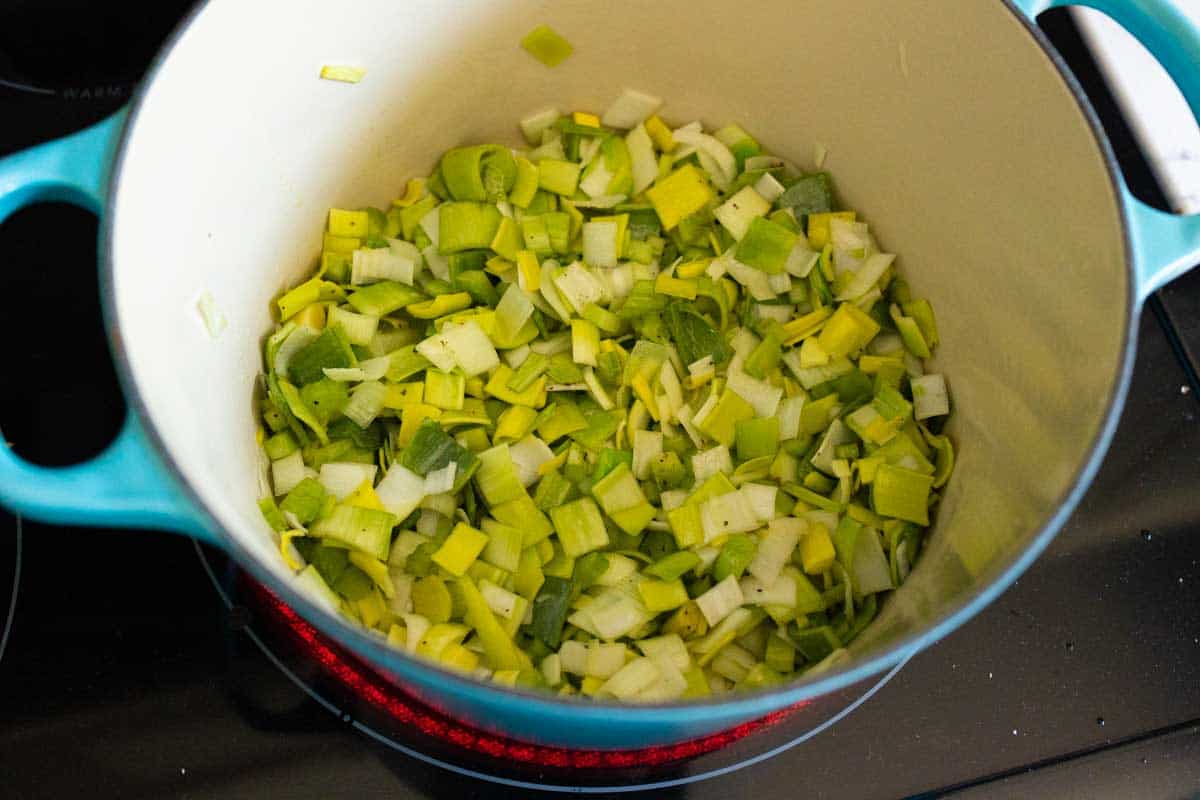 Add the diced potatoes and carrots and stir everything together.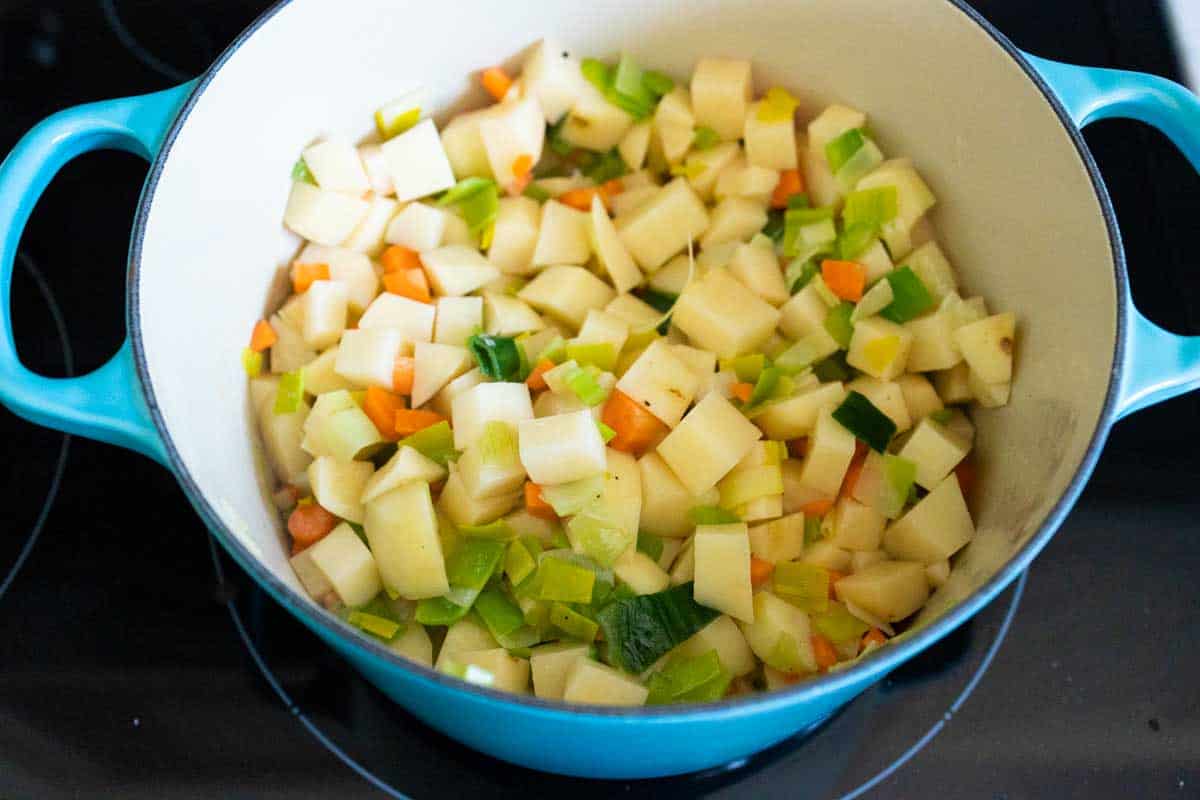 Add the chicken stock, thyme, sage, and cayenne and stir.
Bring the mixture to a boil and cook for 25 minutes or until the potatoes are tender.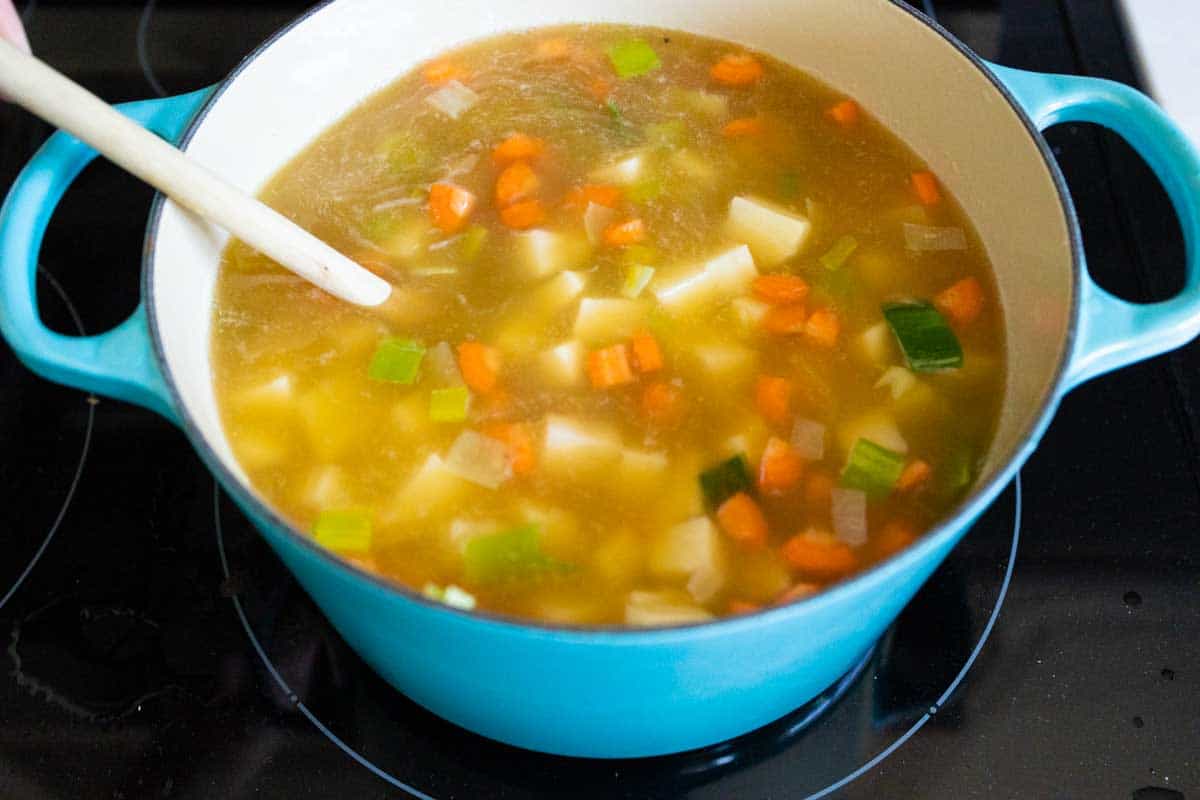 Add the frozen peas and let them warm in the soup for 1 minute.
Use an immersion blender to puree the soup until everything is quite smooth.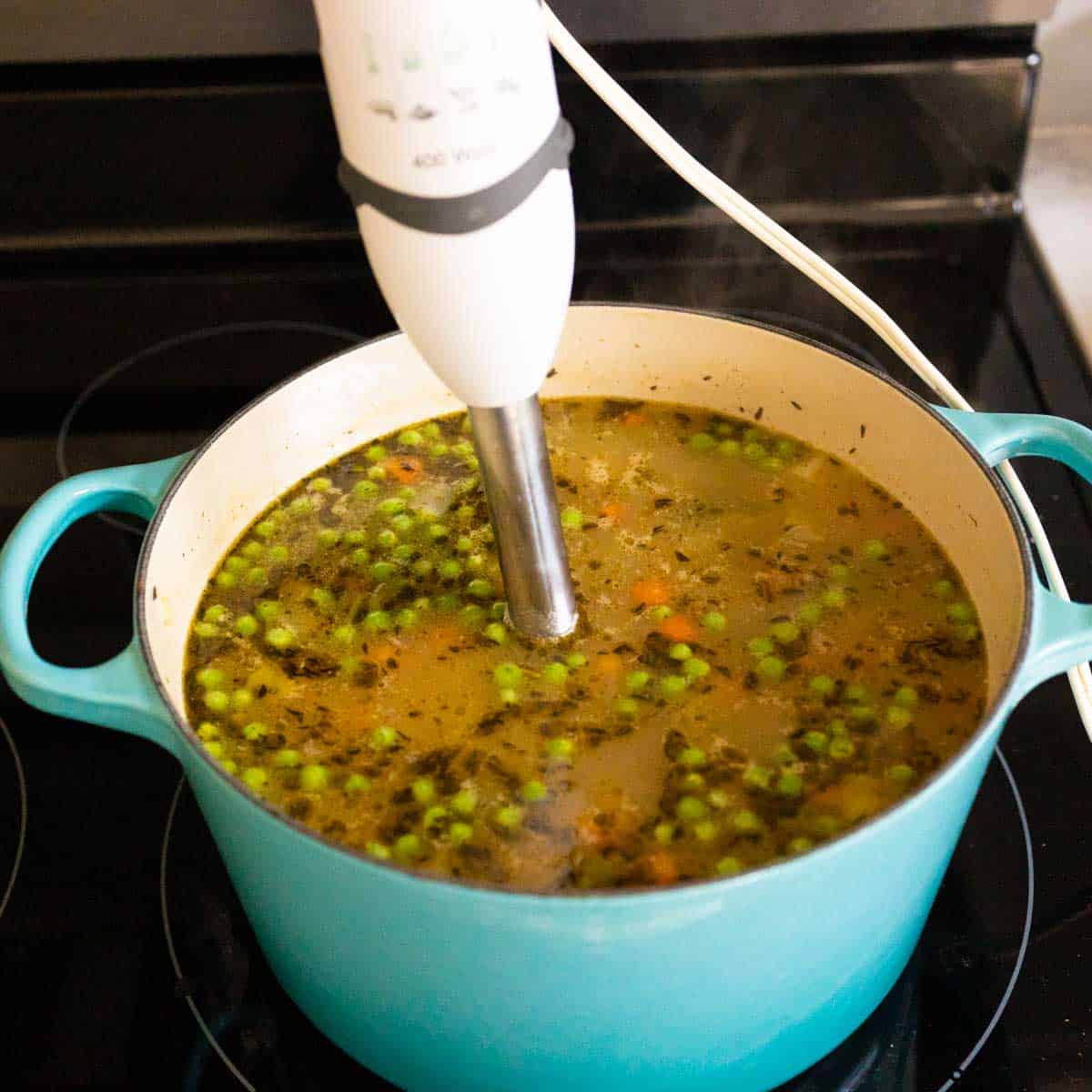 Add the cream and a pinch of salt and pepper.
Stir the soup and taste and adjust the seasonings as needed.
I love that you can still see tiny flecks of orange carrot swimming in that green soup, it showcases the mix of veggies hiding inside: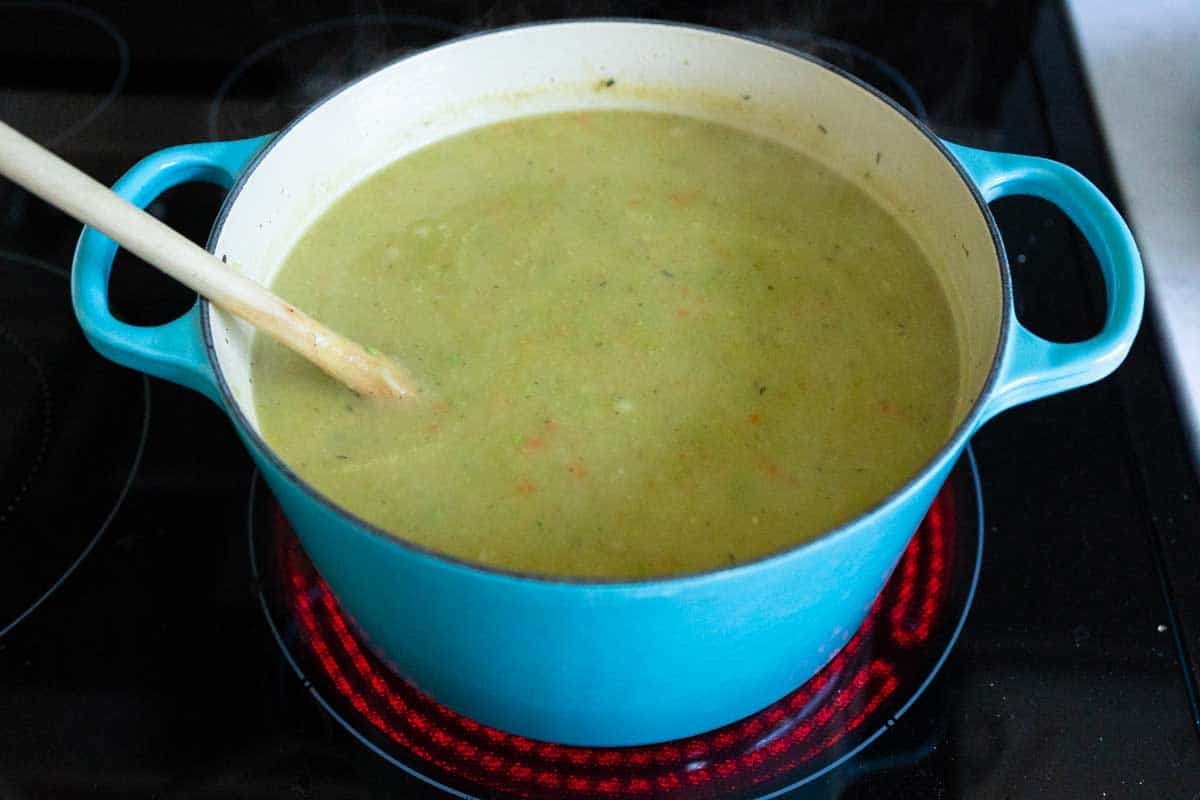 Variations
As I mentioned, this simple Irish potato soup was meant to be a homestyle vegetable soup that incorporates whatever the cook might have to use up in the fridge.
It is so delicious no matter what veggies you decide to puree inside.
You could add fresh or frozen:
Broccoli
Cauliflower
Green Beans
Parsnips
Green Cabbage
Zucchini
Sweet Corn
Spinach
Make Ahead Tips
With the use of heavy cream, this Irish potato soup is not freezer friendly. The cream will separate when the soup thaws.
However, the soup does reheat quite well the next day.
You can make this soup in advance up to 3 days from serving.
Store it in the fridge in a covered container and simply reheat it on the stove top.
You may need to thin the soup out a little with a splash of chicken stock if it thickens too much in the fridge.
Serving Suggestions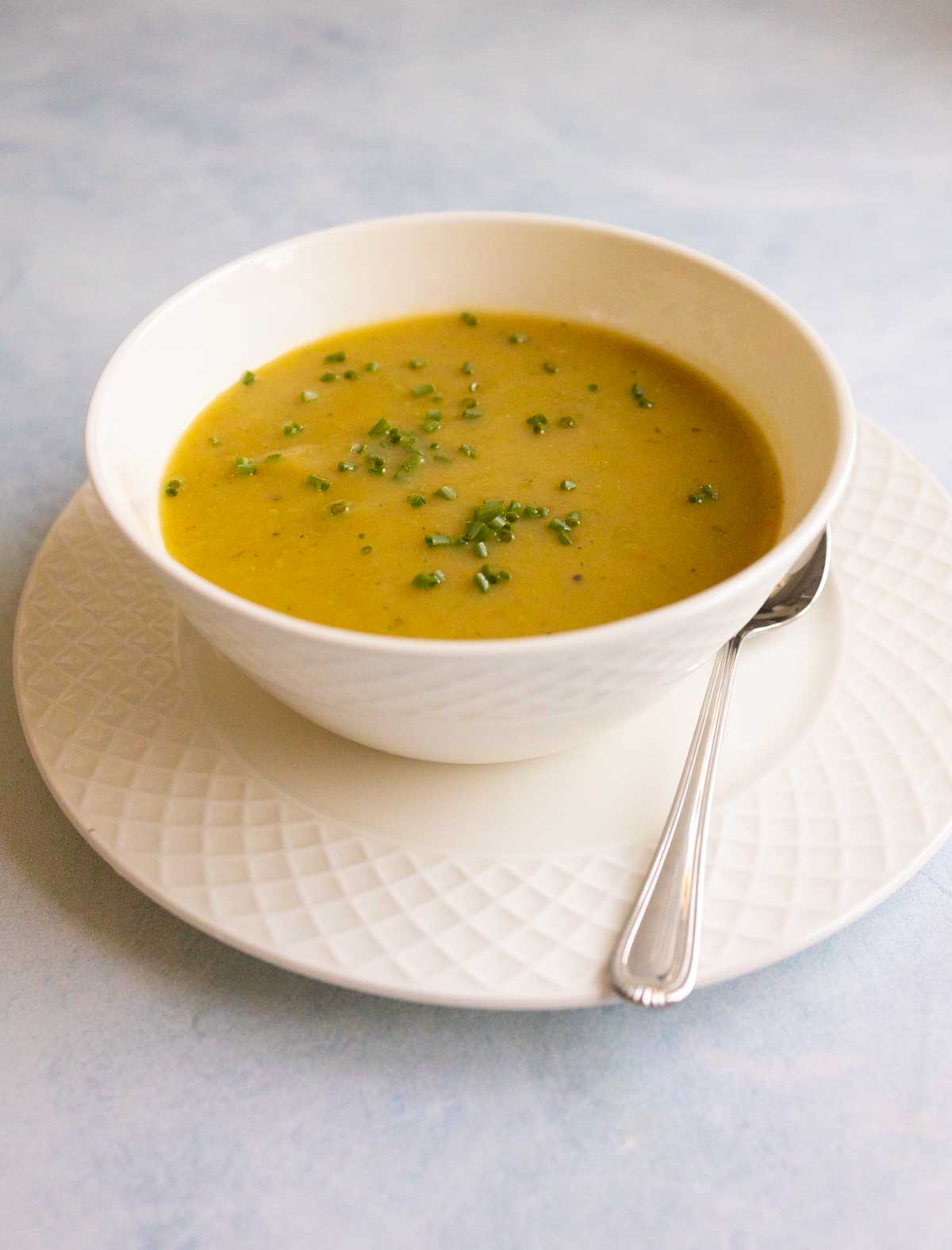 More Irish Recipes
Traditional Irish food is filled with cozy dishes everyone will love.
Whether you're cooking a St. Patrick's Day dinner or just feel like a little taste of the Emerald Isle, you can't go wrong with these tasty recipes:
More Soup Recipes
Soup Season is a year-round thing in our household. If you love veggie-filled soups for your family, don't mis out on some of our favorite recipes:
📖 Recipe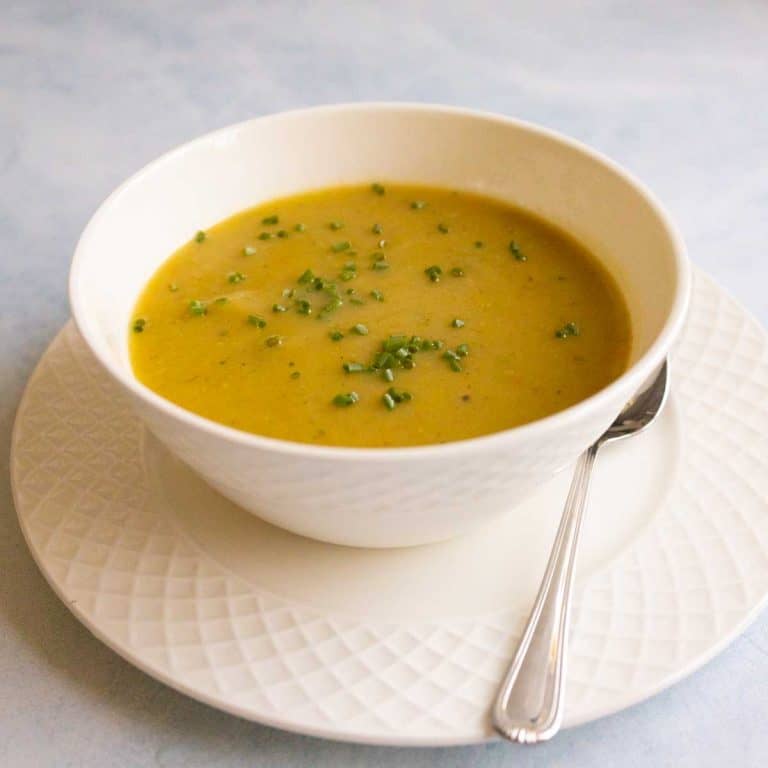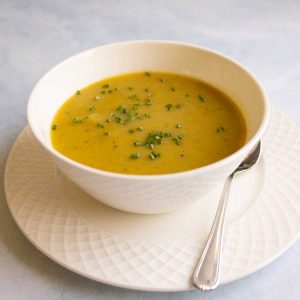 Irish Potato Soup
Creamy Irish potato soup is loaded with farmhouse style vegetables and has all the classic flavors of a traditional Irish soup. Serve it as an elegant first course or cozy dinner with a sandwich.
Ingredients
2

tablespoons

butter

1

leek

chopped

3

celery stalks

sliced

4

large russet potatoes

peeled and diced

2

large carrots

diced

8

cups

chicken stock

1

teaspoon

dried thyme

½

teaspoon

dried sage

1

dash

cayenne

optional

1

cup

frozen peas

¼

cup

heavy cream

or half and half

Salt and Pepper
Instructions
In a large soup pot, melt the butter over medium-high heat. Cook the leek and celery for 5 - 7 minutes or until softened.

Add the diced potatoes and carrots and stir. Pour in the chicken stock and add the dried thyme, sage, and cayenne. Bring the mixture to a boil and cook for 25 minutes or until the potatoes are quite tender and can easily be pricked with a fork.

Add the frozen peas and stir. Let them warm through for 1 minute.

Use an immersion blender to puree the soup in the pot. The vegetables should be quite blended but leave a few small chunks for adding a bit of texture if desired.

Add the cream and a pinch of salt and pepper. Stir and taste, adjust seasonings as needed.
Save This Recipe to Your Recipe Box
Find this delicious recipe next time you visit by saving it to your very own recipe box on my site. All your favorites stored in one easy place!