Traditional Irish soda bread makes an amazing treat for St. Patrick's Day, Easter, or Christmas. This delicious classic recipe is slightly sweet with a burst of fresh orange zest. Serve the loaf warm with Irish butter or slice and serve as toast.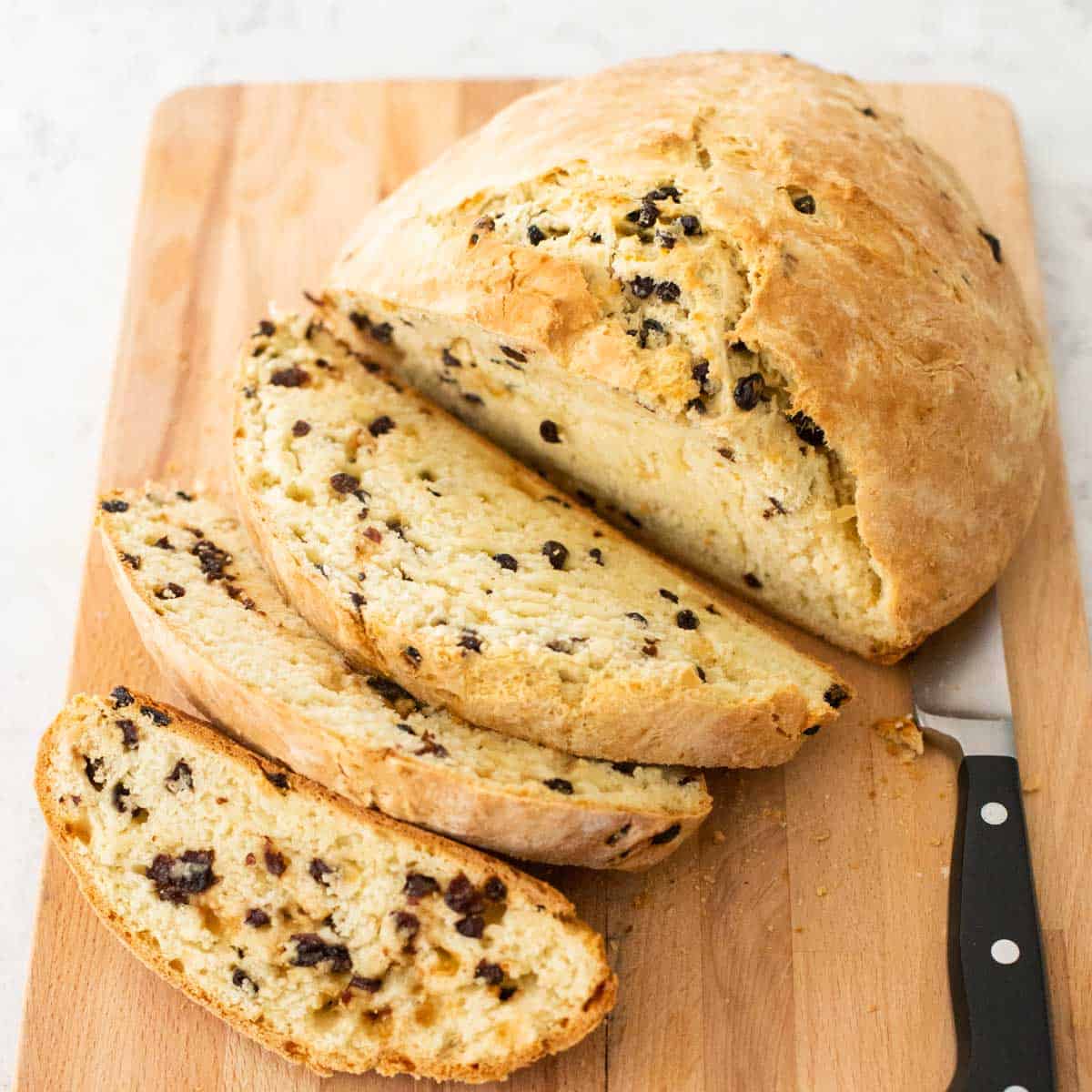 My favorite boss was a wonderful Irish woman who surprised our team with a homemade Irish soda bread for St. Patrick's Day.
20-something me had never heard of it before and all these years later I still remember what a delicious treat that was during the work day.
Most traditional St. Patrick's Day foods can be tricky for picky eaters to enjoy. So when I wanted to celebrate the holiday with my young kids, I learned how to bake a traditional Irish soda bread in my oven.
The slightly sweet dough has small currants and a bit of fresh orange zest for additional flavor.
Sliced and served warm with a little butter, my kids couldn't resist!
Jump to:
Why This Recipe Is the Best
Irish soda bread is so easy for beginner bakers. There is no yeast in this soda bread recipe so you don't need to wait for it to rise or worry about using the right yeast.
The only tool you need is a stand mixer to help make the dough. Everything else is done by hand and baked on a simple baking sheet in the oven.
If you want an even easier way to make this homemade bread, check out my bread machine variation note at the bottom of the post.
Ingredients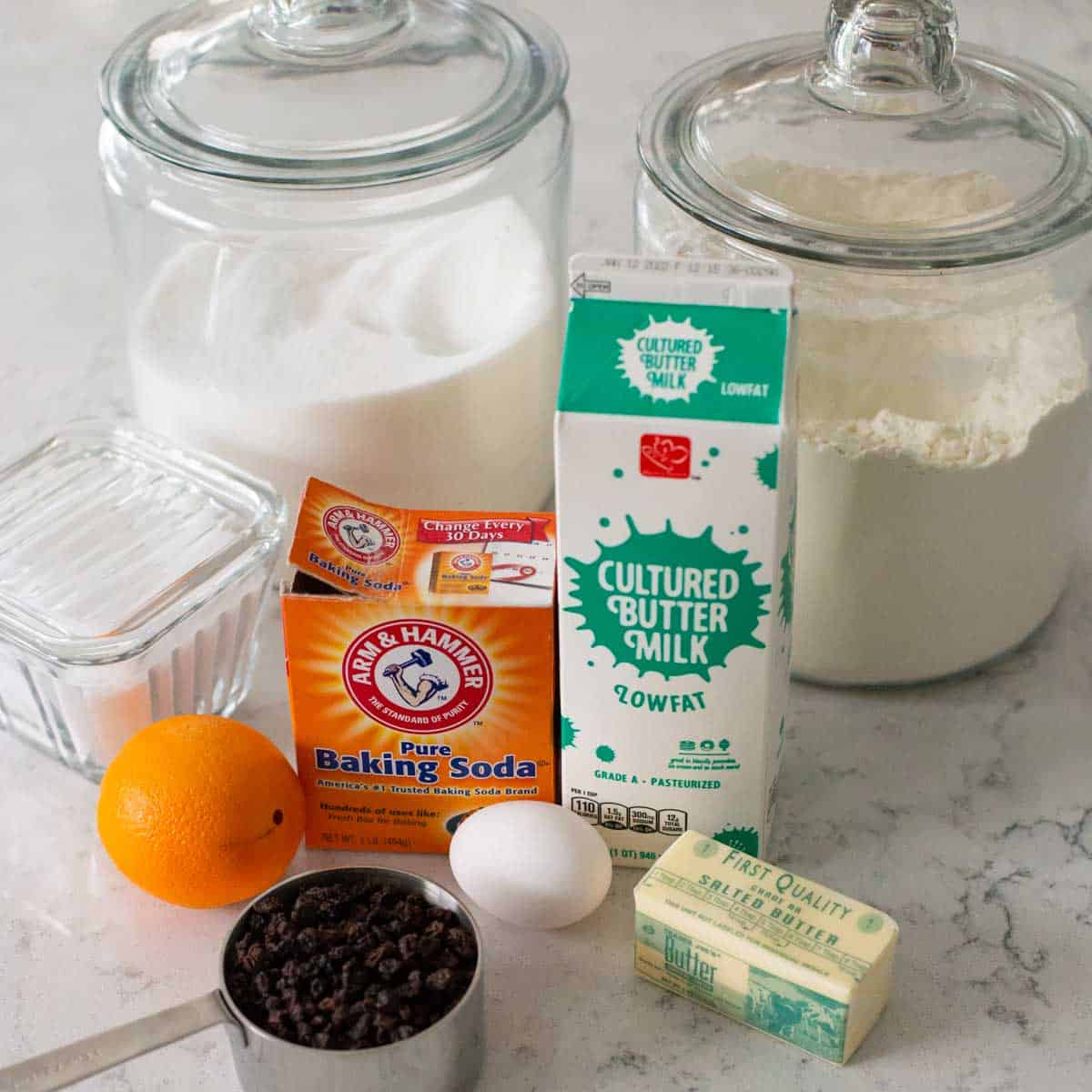 Traditional Irish soda bread has a very short list of ingredients required:
Flour
Sugar
Buttermilk: If you don't have any on hand, you can make your own by combining 1 cup milk with 1 tablespoon lemon juice. Stir and let sit for 5 minutes before using.
Butter: Be sure to keep it ice cold before using.
Egg
Orange
Dried currants: These are the more traditional ingredient but if you can't find them, you can substitute raisins in your bread. I recommend chopping them so they are smaller in size and mimic the texture of the currants.
Baking soda: The only ingredient that helps the bread to rise. No yeast is required here!
Salt
Make the Dough in a Stand Mixer
The entire dough recipe is made right in a stand mixer.
It is important to keep the buttermilk and butter cold before using them. I recommend measuring the dry ingredients first and then prepping the dairy last.
Add the flour, sugar, baking soda, and salt to the bowl of your stand mixer and stir them together on low.
Then, measure the buttermilk in a 2-cup measuring cup. Add the egg and whisk them together with a fork.
Zest the orange right over the top and set the cup aside.
In a small bowl, toss the dried currants with a little flour. This helps coat them and prevent them from sinking to the bottom of your dough as it bakes.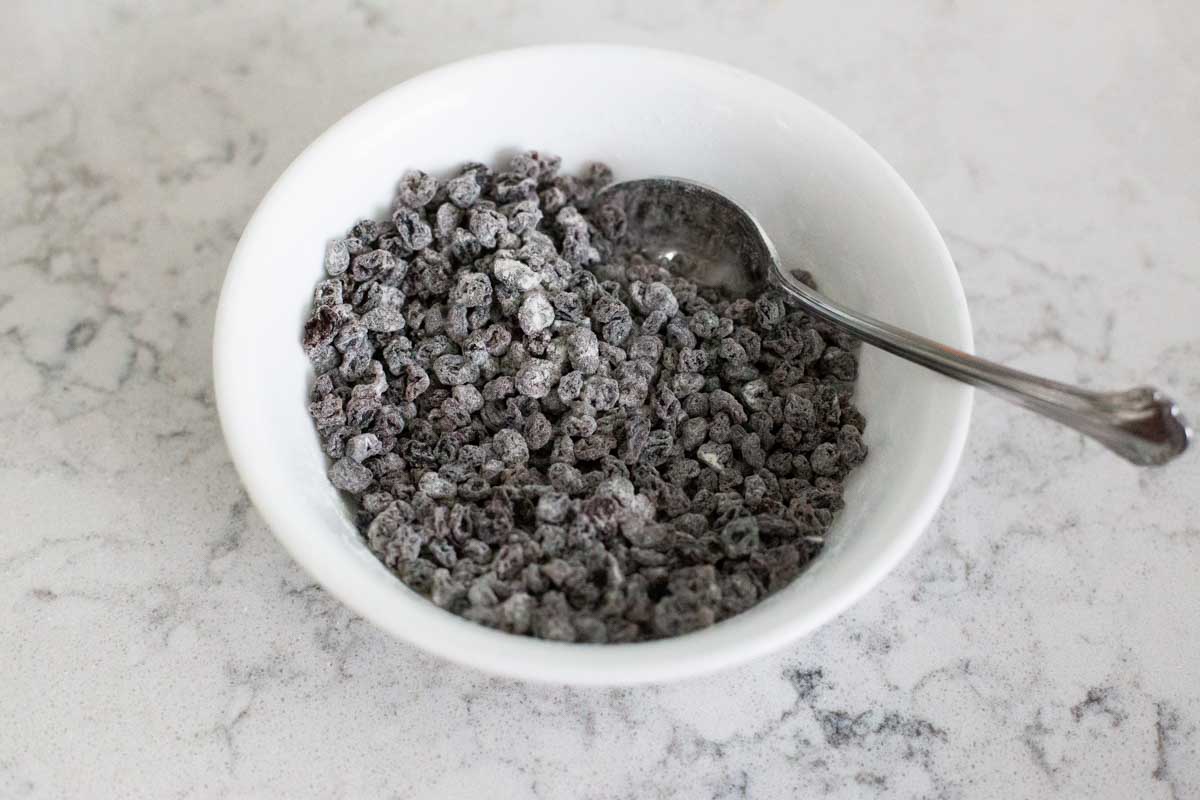 Keep the butter in your fridge until you are just ready to use it so it stays cold.
Chop the butter into small cubes and add it to the stand mixer. Mix on low speed until incorporated (image 2 below.)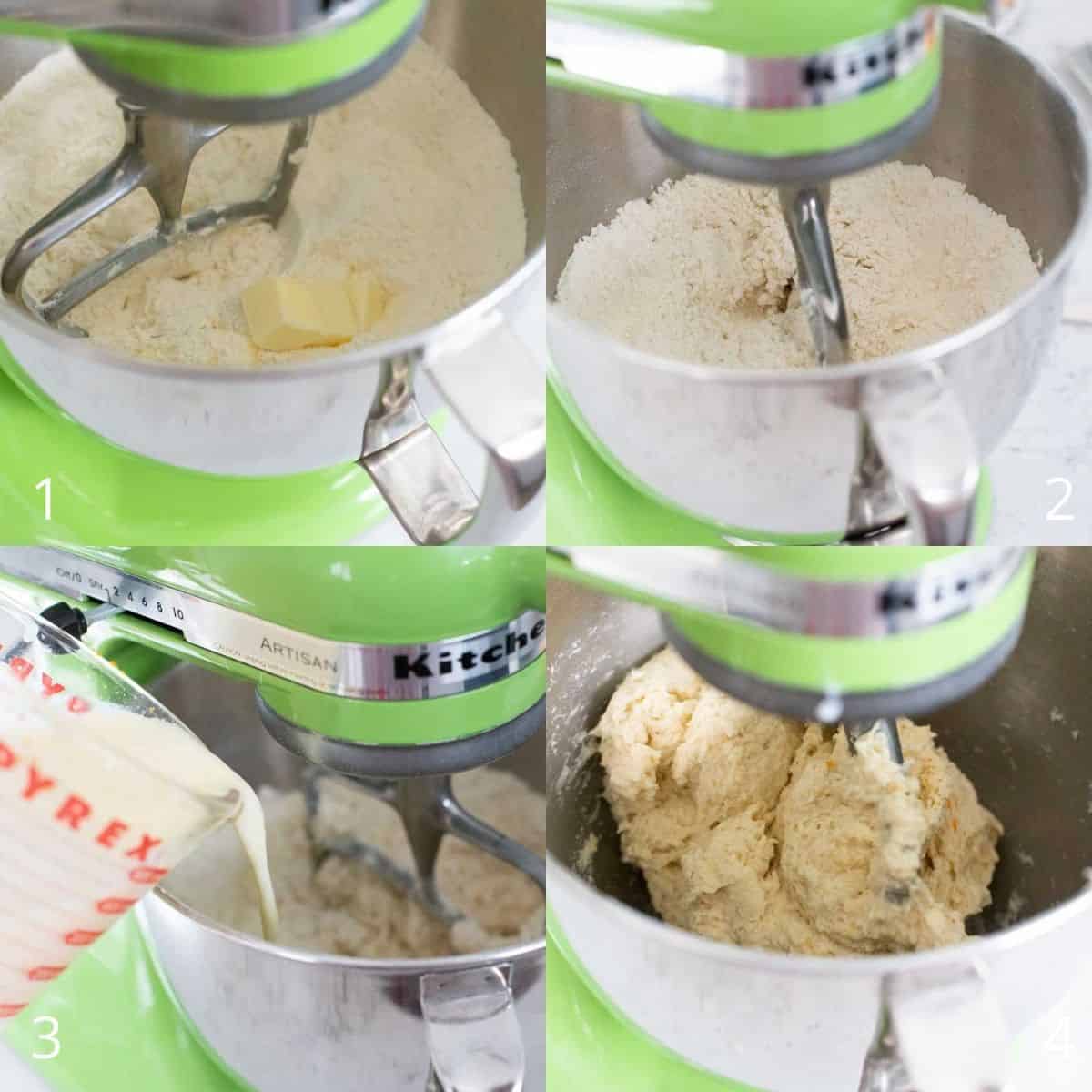 Pour the reserved buttermilk mixture into the mixer and continue to stir until the dough forms.
Add the prepared currants to the dough and mix until just blended.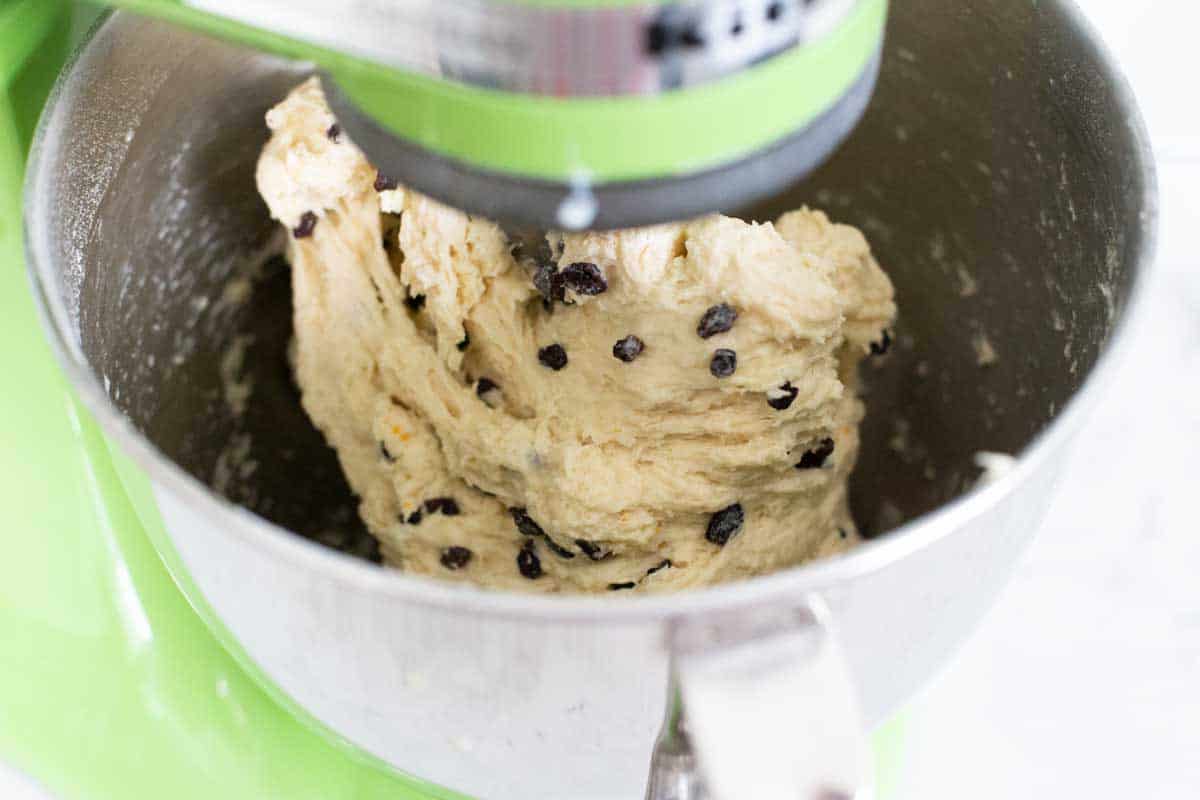 Knead and Shape the Loaf
Turn the entire contents of the mixing bowl out onto a lightly floured baking mat.
You may notice that the currants are not evenly incorporated at this point. Simply knead the dough a few times by hand to even everything out.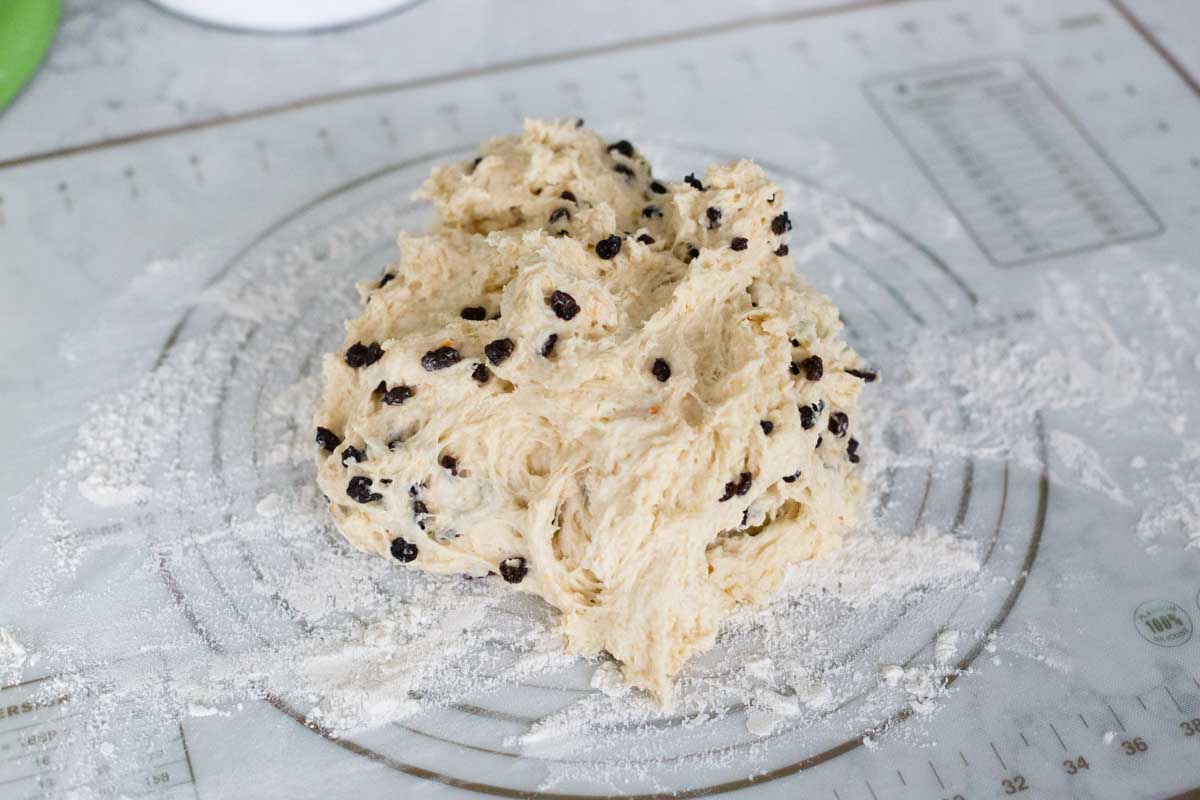 Form the dough into a disc and transfer it to a baking sheet lined with parchment. Use a serrated knife to slice a small X on the top of the dough to help release steam as it bakes.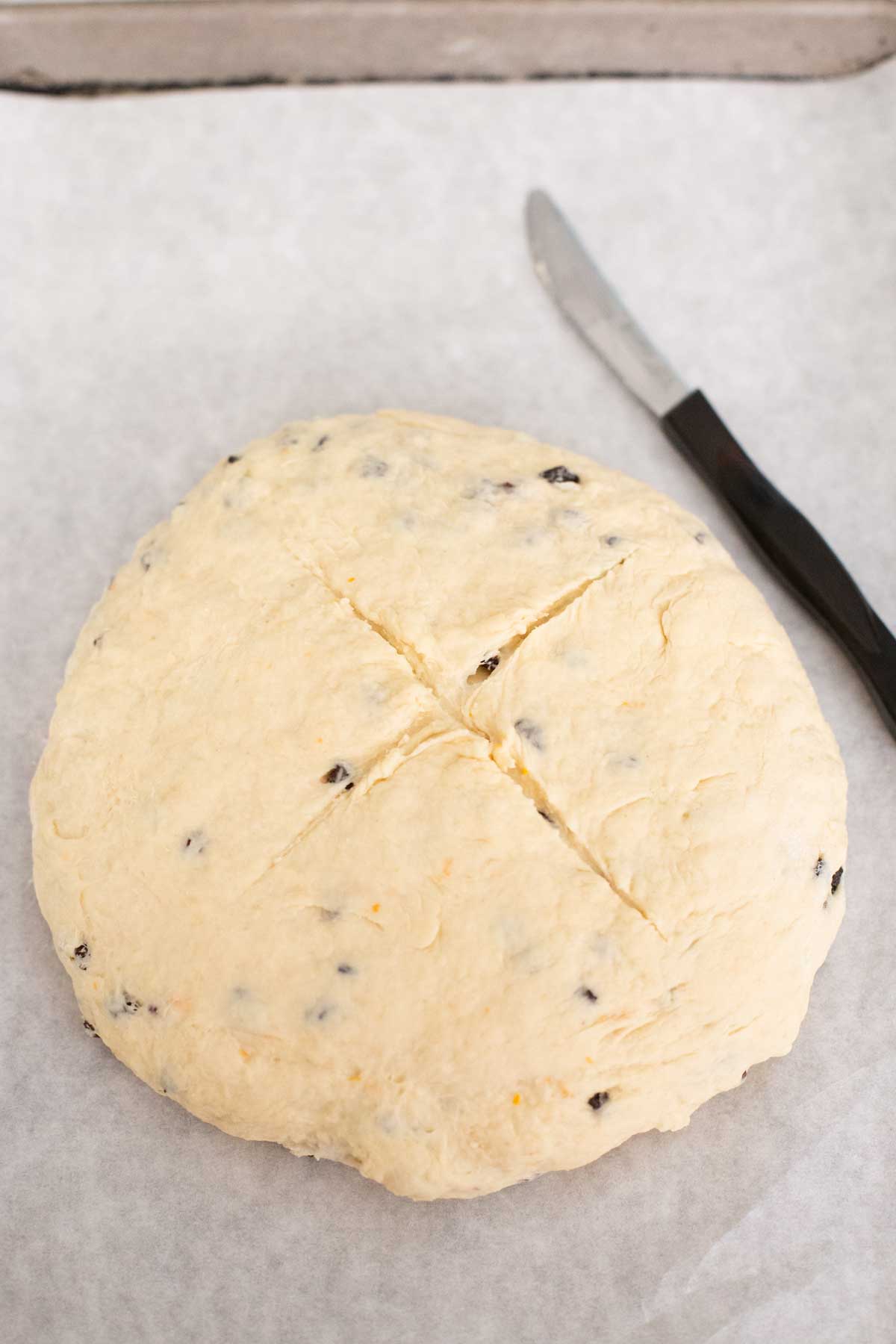 Bake in Oven
Preheat the oven to 375°F and bake the Irish soda bread for 50 min - 1 hour.
A cake tester inserted in the center should come out clean and the bread should make a hollow sound when you tap it.
If the bread begins to get too dark but the baking isn't finished, simply cover the bread loosely with a bit of aluminum foil.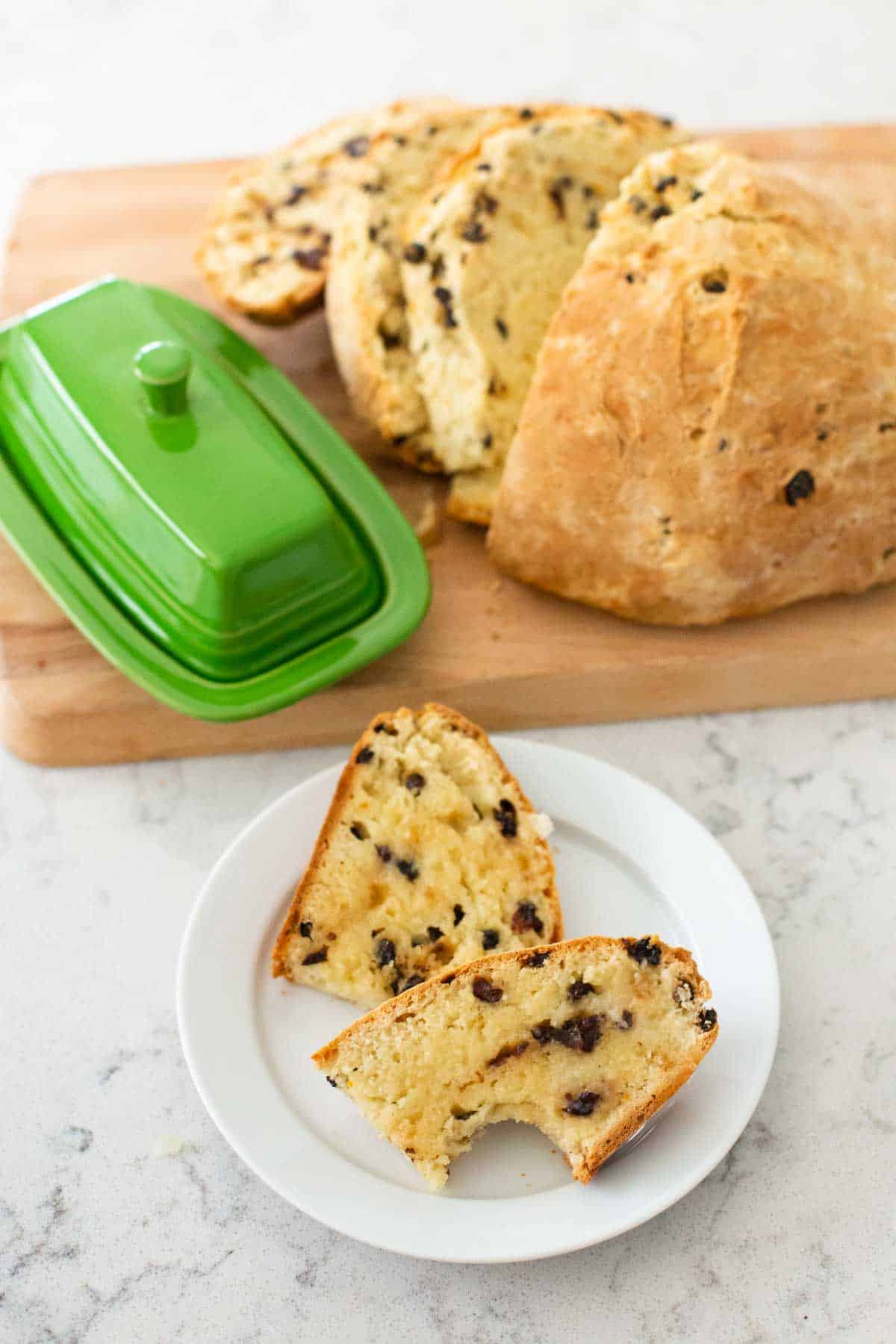 Serving Tips
Irish soda bread makes a delicious simple breakfast treat. I love to serve warm slices with a bit of butter.
This easy bread would also make a fun side dish for a warm and cozy Irish meal.
Bread Machine Variation
I've adjusted this oven recipe for even easier baking right in your bread machine. If you're short on time or are worried about the final bake, let your bread maker do all the work!
You can find this recipe and many more in The Ultimate Bread Machine Cookbook.
Just be prepared, my Irish soda bread bread machine recipe does add a little yeast to ensure a perfect rise. You'll want to have some on hand before you bake.