Irish Beef Handpies are a great St. Patrick's Day dinner idea for families that don't like corned beef. These easy make-ahead hand held pot pies are filled with savory beef and tomato mixture and can be assembled and frozen. Bake them directly from the freezer for a quick dinner.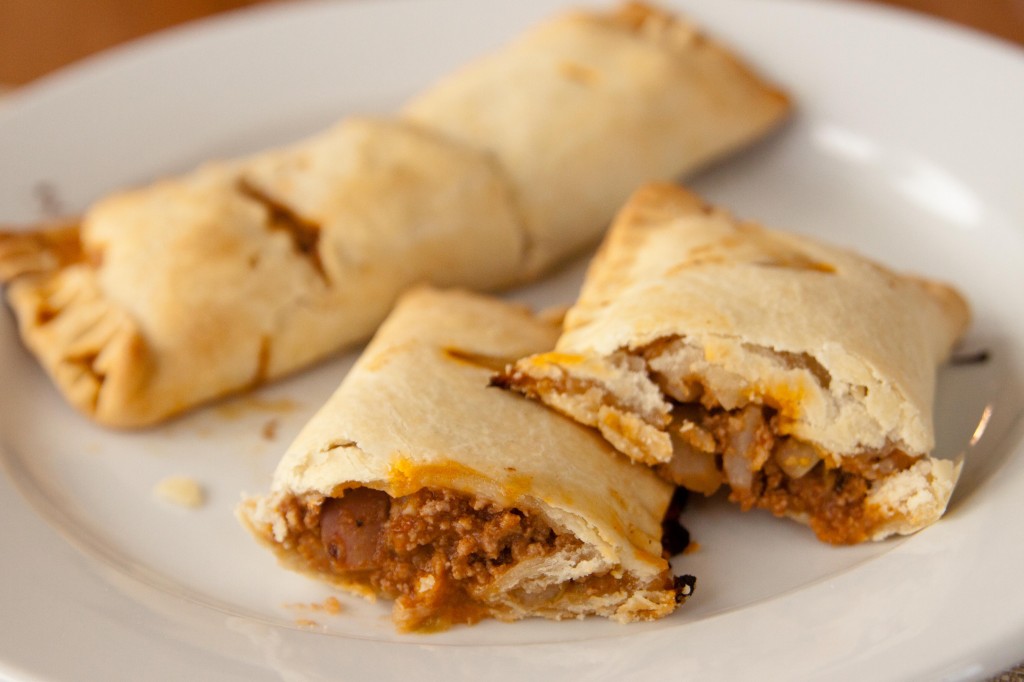 I have been saving this recipe for Irish Beef Hand Pies for three years. I cannot believe it took me this long to try it. We're just not really a corned beef and cabbage type of family for St. Patrick's Day. I know both Handyman Tim and the Peanut would turn up their noses at the cabbage part and I refuse to make the corned beef all alone.
This recipe is the perfect compromise. Although it calls for ¼ head of a cabbage, the vegetable just sort of melts down into the ground beef and potato mixture as it cooks. After Tim happily cleared his dinner plate he shared a funny story about one of his "poor coworkers" who's wife was going to subject him to cabbage for dinner that night. Tim shook his head with such pity for the poor fool. I had everything I could do to not laugh in his face as I told him, "You know you just ate cabbage for dinner, too." Ha!
Even with full knowledge of the existence of the cabbage, he went on to eat this meal for leftovers on Saturday. A successful recipe if ever there was one!
The recipe says you can assemble the pies and then freeze them before cooking. I doubled the recipe so I'd have plenty for another meal in the freezer for some other weekend. I haven't tried baking my frozen ones yet, but I think it might be even easier to just pre-make the filling and freeze that as is. You could then assemble the pies fresh the night you make them. Just depends on how comfortable with pie crust you are.
This meal was so tasty, it is officially going to be our St. Patrick's Day meal for years to come.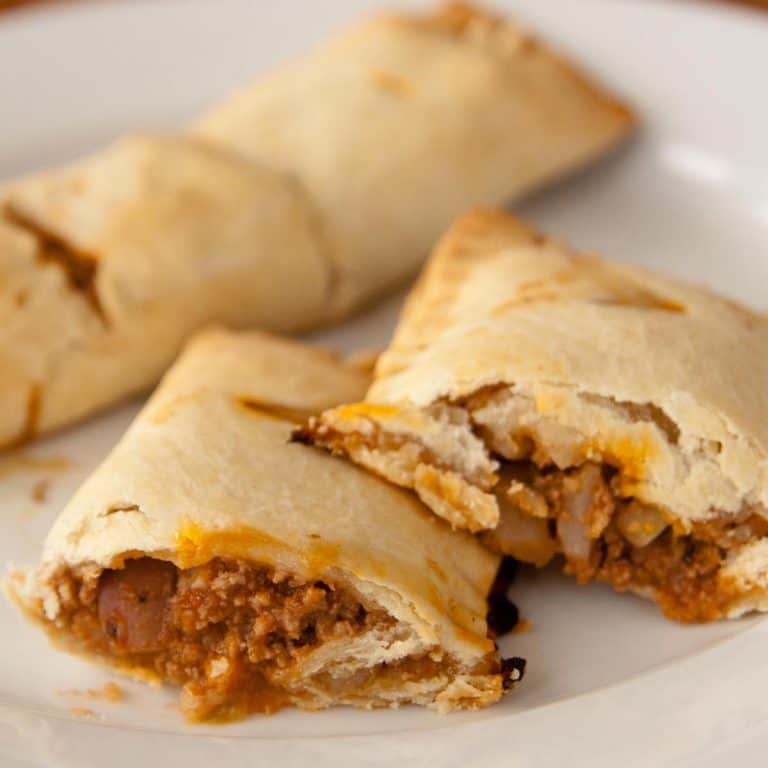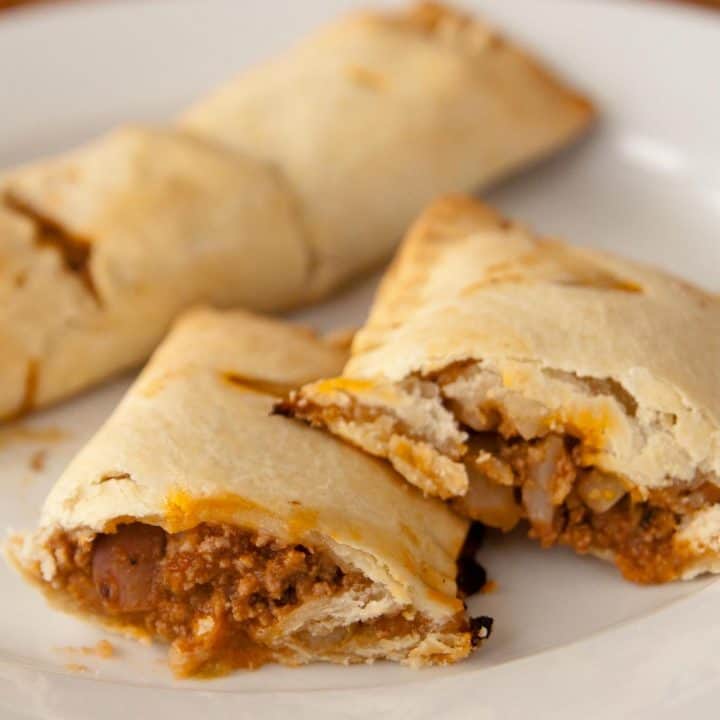 Irish Beef Hand Pies
These Irish Beef handpies are perfect for making ahead of time and freezing for St. Patrick's Day dinner.
Ingredients
1 tbsp vegetable oil
¼ head green cabbage, shredded
½ pound red potatoes, scrubbed and diced
1 pound ground beef sirloin
3 tbsp tomato paste
½ tsp Worcestershire sauce
½ tsp dried thyme
2 (9-inch) pie crusts, prepared from the refrigerator section 
Instructions
Preheat oven to 400°F.
In a medium saucepan, heat oil over medium; add cabbage and potatoes. Cook until beginning to brown, 7 to 9 minutes.
Add beef; cook, breaking up meat with a spoon, until no longer pink, about 5 minutes. Stir in tomato paste, Worcestershire, thyme, and 1 cup water.
Cover, and cook until potatoes are tender, about 15 minutes. Lightly mash mixture with a fork. Season with salt and pepper.
Let cool completely. That is a crucial step. Warm mixture will melt your pie crust making it impossible to wrap around the filling.
On a lightly floured work surface, roll each crust into a 14-inch square; cut each into 4 equal squares. Place ½ cup filling on one half of each square, leaving a ½-inch border around the filling.
Brush borders with water; fold dough over filling to enclose. Crimp edges with a fork to seal. With a paring knife or scissors, cut 3 small vents in each.
Transfer pies to 2 foil-lined rimmed baking sheets; bake until golden brown, 10 to 12 minutes, rotating sheets halfway through.
Notes
To Freeze: Prepare through the assembly of the pies. Arrange unbaked pies on a baking sheet (they should not touch); freeze until firm, about 1 hour. Wrap each pie in foil. Place in a resealable plastic bag; freeze up to 2 months.
To Bake from Frozen: Proceed to baking instructions, increasing baking time to 28 to 30 minutes.