Irish Beef Hand Pies are a great St. Patrick's Day dinner idea for families that don't like corned beef. These easy make-ahead individual pot pies are filled with savory beef and tomato mixture and can be assembled and frozen. Bake them directly from the freezer for a quick dinner.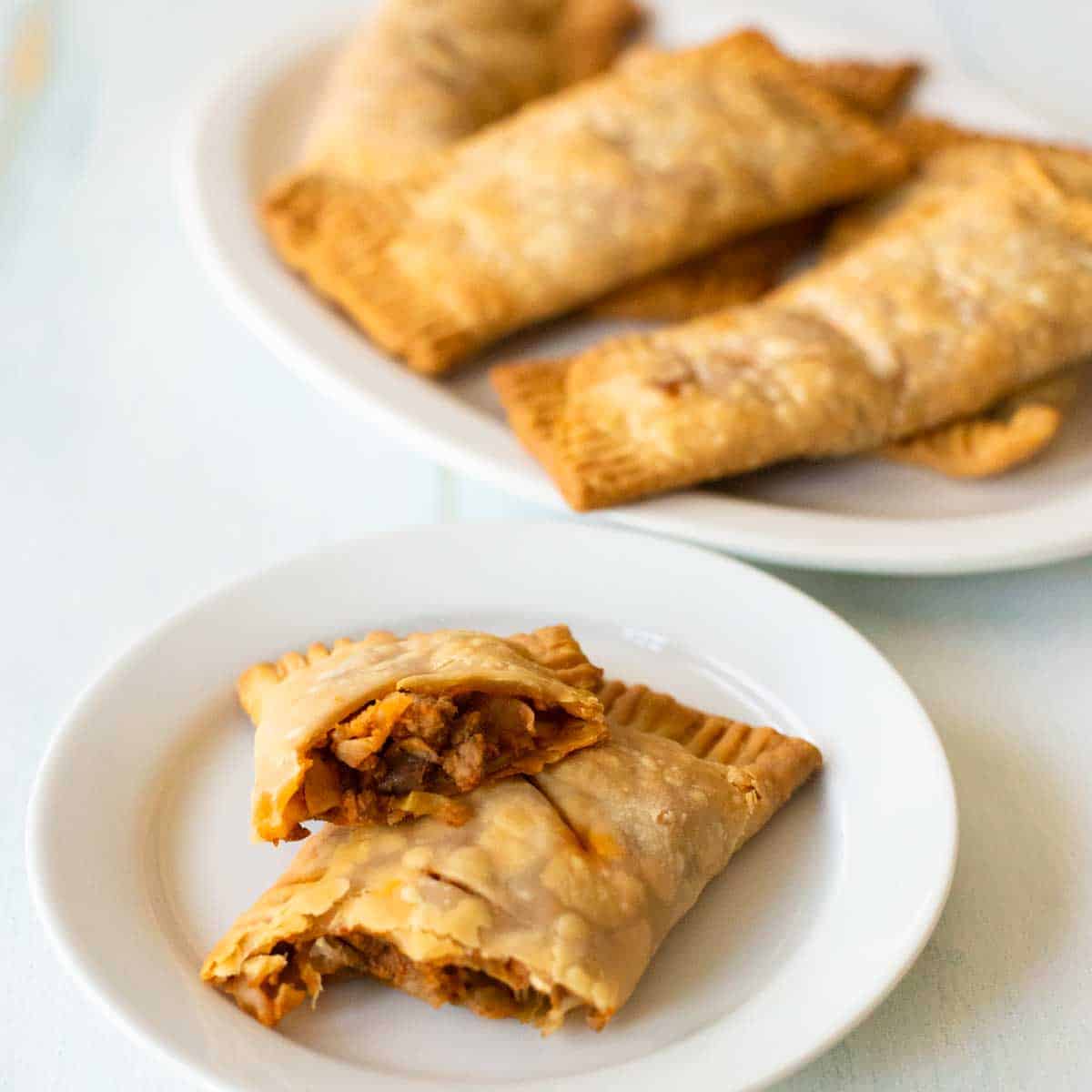 If your family prefers an alternative to corned beef and cabbage for St. Patrick's Day dinner, this recipe is the perfect compromise.
These delicious and flaky Irish beef hand pies use ground beef and potatoes for the filling and a store bought pie crust for quick assembly.
Although the recipe calls for fresh cabbage, the shredded cabbage melts down into the ground beef and potato mixture as it cooks, making it the perfect solution for picky eaters.
When I first served this easy dinner to my own family, my husband happily cleared his dinner plate while sharing a funny story about one of his "poor coworkers" who's wife was going to subject him to cabbage for dinner that night.
If he didn't notice the cabbage in the mix, I bet your family won't either!
Jump to:
Hand Pies or Beef Pasties?
Is this a hand pie recipe or a beef pasty recipe? Depending on where you're from, it could be considered both.
Hand pies, or pasties, are individual portions of filling wrapped in pie dough and baked to a crispy finish. They are meant to be picked up and eaten by hand vs. with a knife and fork.
It's a fun way to serve a meaty pie filling to your family instead of a traditional round pie-shaped pot pie.
They are also easier to freeze and enjoy in smaller portions if you want to just bake one or two at a time instead of the whole batch.
Ingredients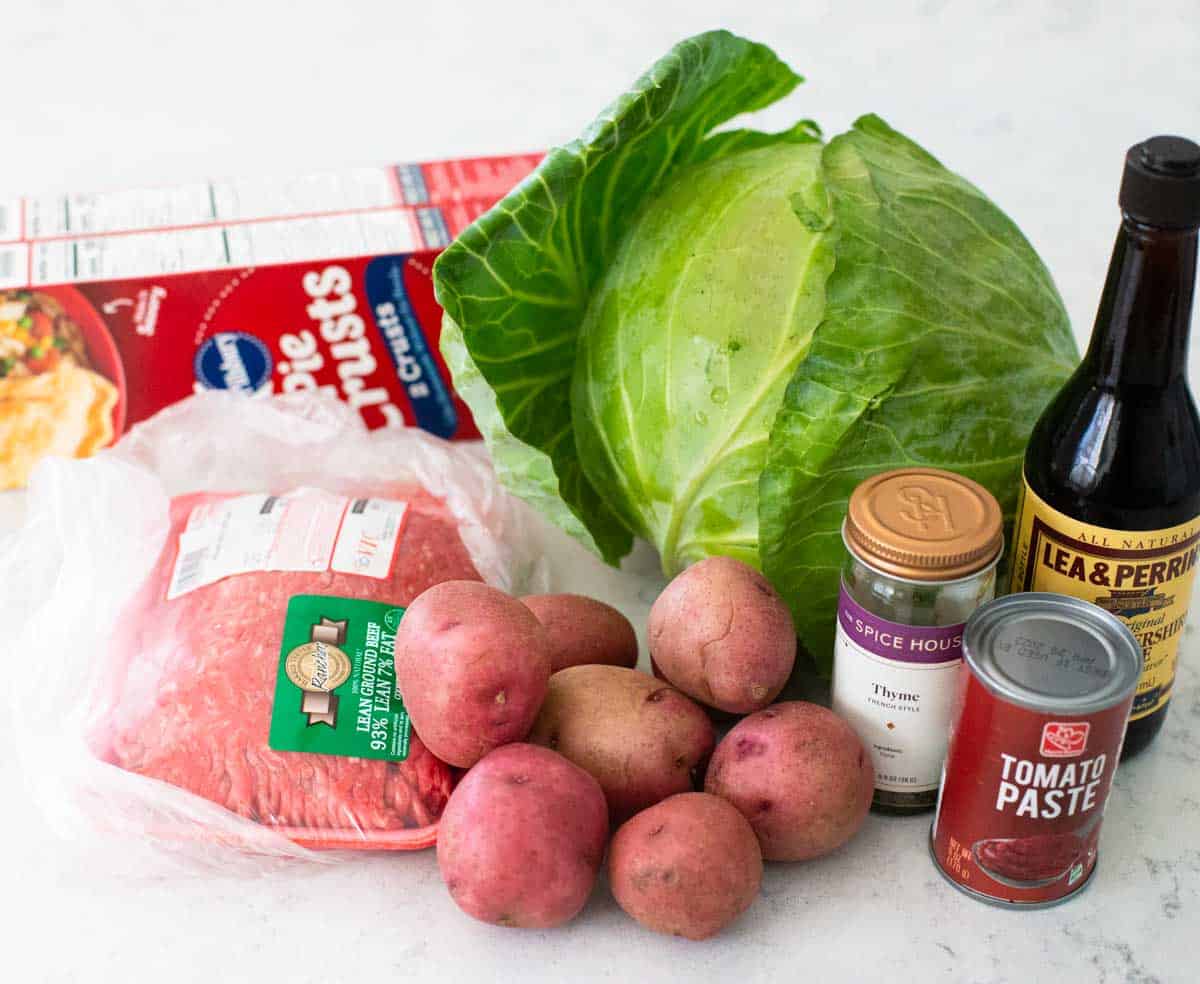 While hand pies, or pasties, come in a variety of filling flavors, this Irish beef version has simple, traditional ingredients:
Ground beef
Fresh cabbage
Red potatoes
Store bought pie crust dough: This keeps the recipe extra-easy, but you could substitute homemade pie dough if you prefer.
Worcestershire sauce
Tomato paste
Dried thyme
Check the recipe card below for quantities and instructions.
Prepare the Beef Filling
The first step to making the beef hand pies is to prepare the beef and potato filling.
Everything goes into the pie crust fully cooked, when you bake the assembled pasties, you're just baking the crust and heating the filling through.
Wash and chop the potatoes, then shred the cabbage. The thin strips of cabbage make the vegetables cook more quickly and melt into the filling.
Since you won't need the entire head of cabbage for this recipe, you can use whatever is left to make my favorite easy fried cabbage with caraway seeds for another meal.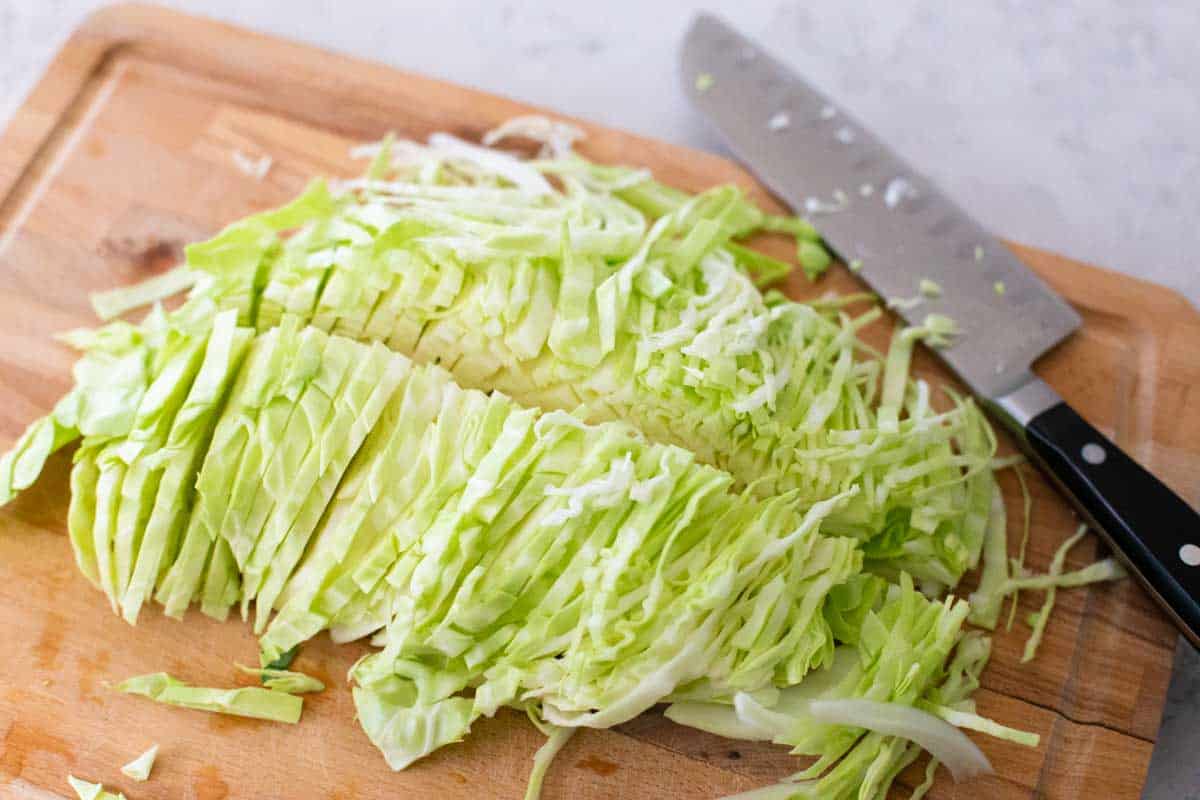 In a large pot, heat the oil over medium heat. Add the potatoes and cabbage and stir.
Once the cabbage starts to cook down, add the ground beef and break it up with your spoon.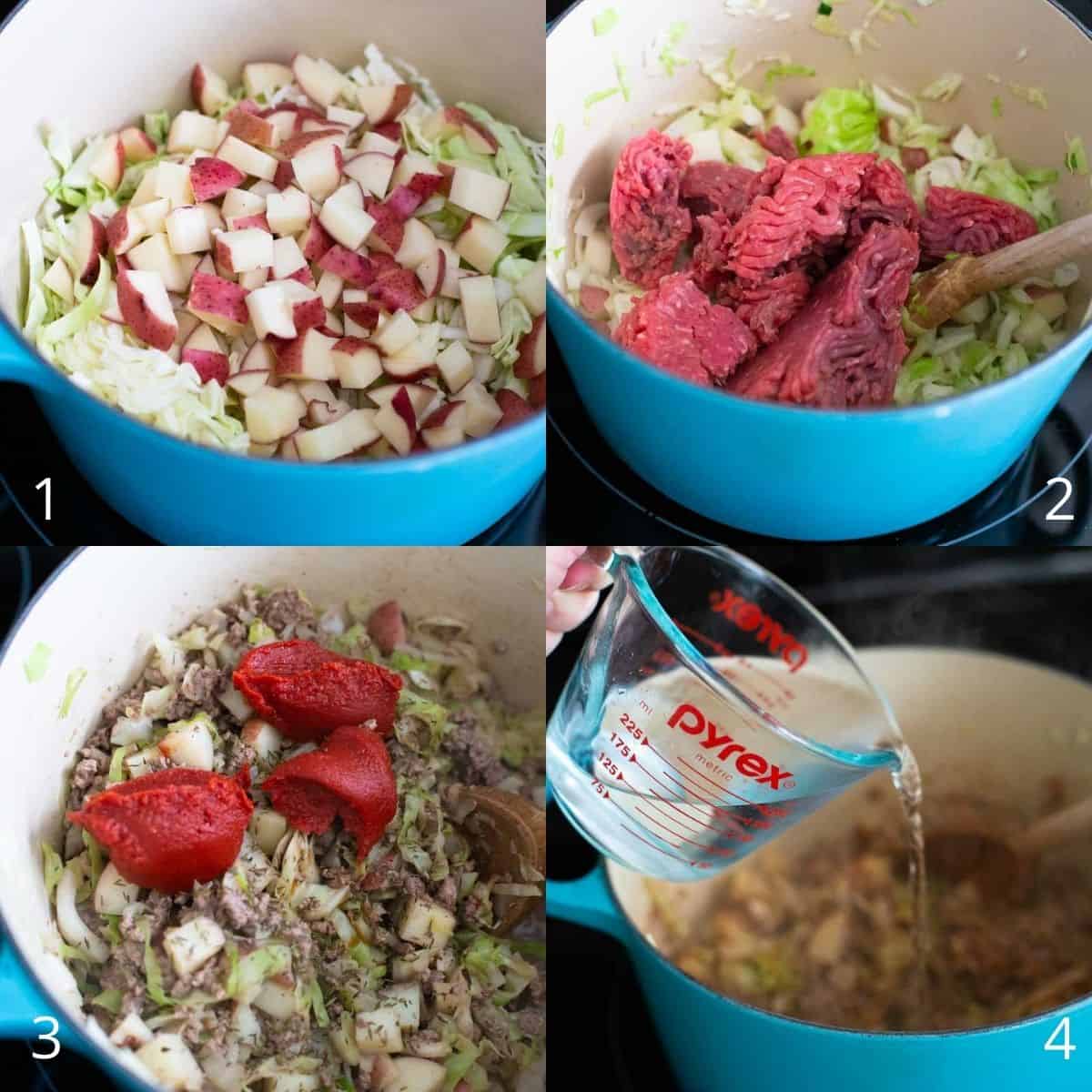 Once the ground beef is browned, add the tomato paste, Worcestershire sauce, and thyme. Stir to combine.
Add a cup of water, stir together, and cover the pot. Cover and continue to cook until the potatoes are softened.
Transfer the beef filling to a large mixing bowl. Use a fork to mash the potatoes and stir the mixture together.
Let the filling completely cool before assembling the hand pies or the hot beef could make the pie dough too soft to work with.
Assemble the Hand Pies
To keep this recipe extra easy, I used two boxes of refrigerated pie crust.
Let the dough soften for a few minutes and unroll it on a lightly floured baking mat.
Use a rolling pin and your fingers to gently roll the circle of dough into a more square-like shape for easy pie forming.
Cut the dough into four equal pieces with a pizza cutter.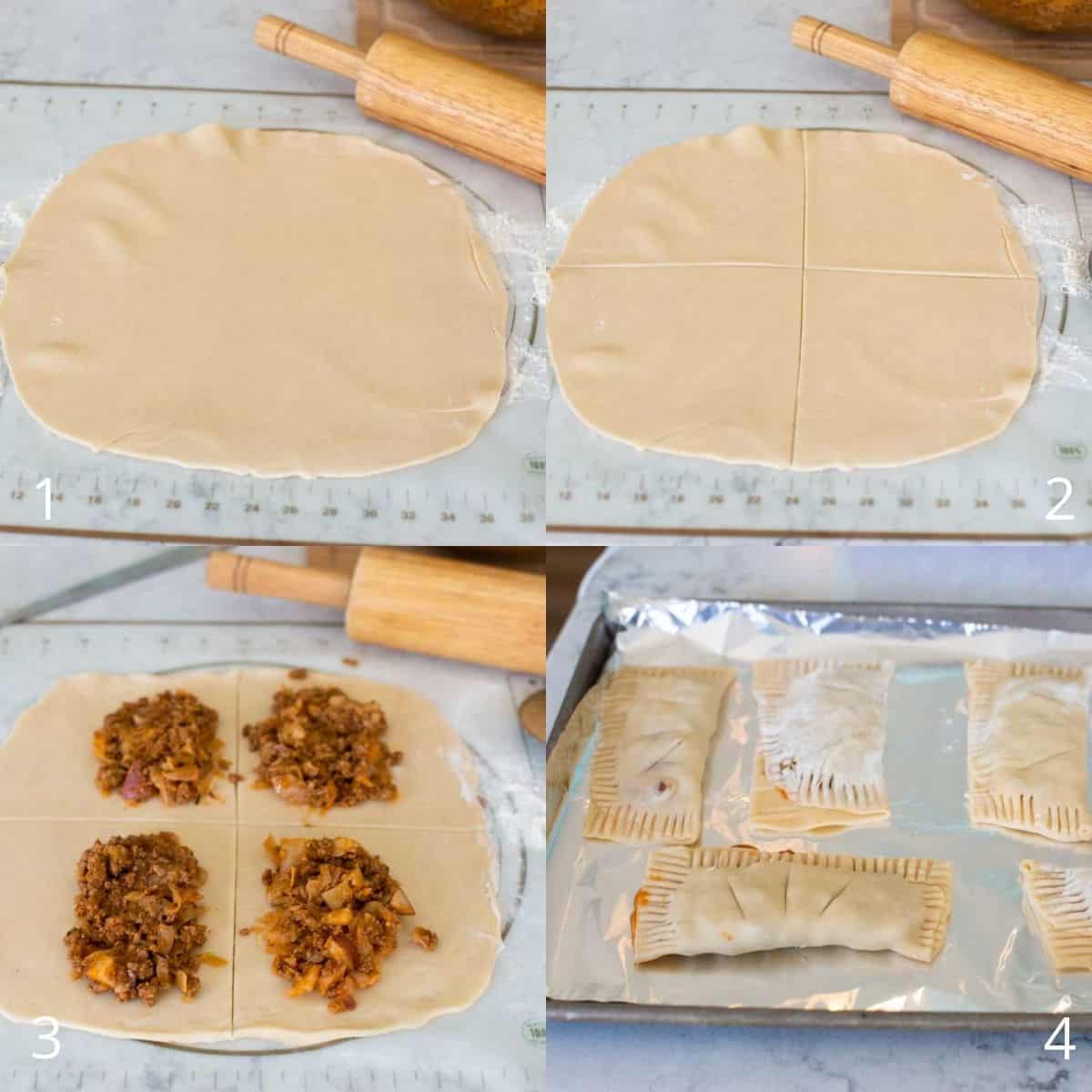 Add ½ cup completely cooled filling to each portion of dough. Fold it over to seal in the beef filling and use a fork to press the edges together.
Use a spatula to transfer the pies to a baking sheet lined with foil. Use a paring knife to slice three slits on the top of each pie to help release steam when they bake.
How to Freeze
If you plan to freeze your hand pies, transfer the baking pan to the freezer at this point. Once the pies are frozen, wrap them individually in foil and transfer them to a plastic baggie for storage.
You can bake them directly from frozen by unwrapping them and adding additional time to the final bake.
Bake the Hand Pies
Preheat the oven to 400°F. Bake the hand pies for 20 minutes, rotating the pans half way through.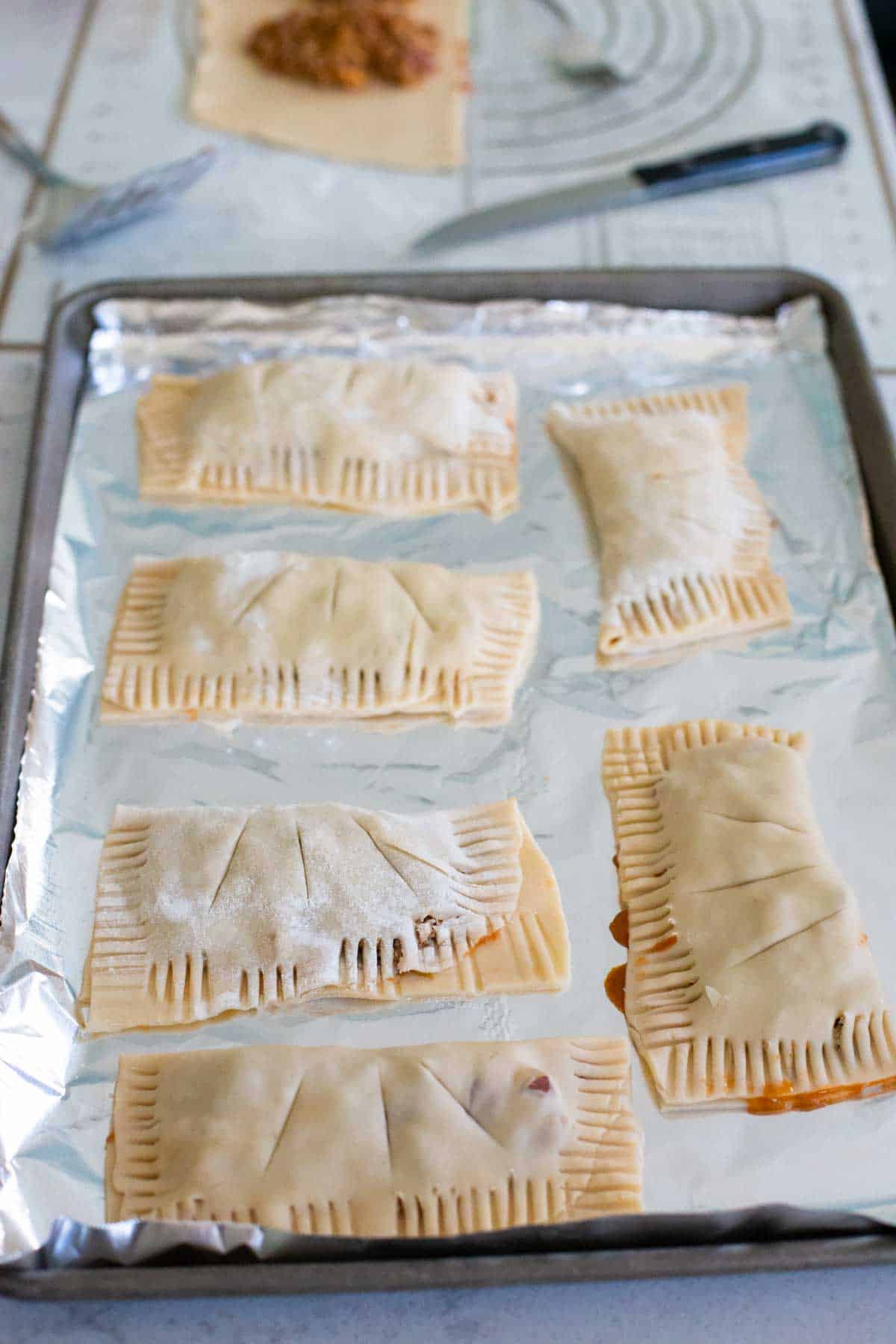 Bake the pies until the crusts are golden brown.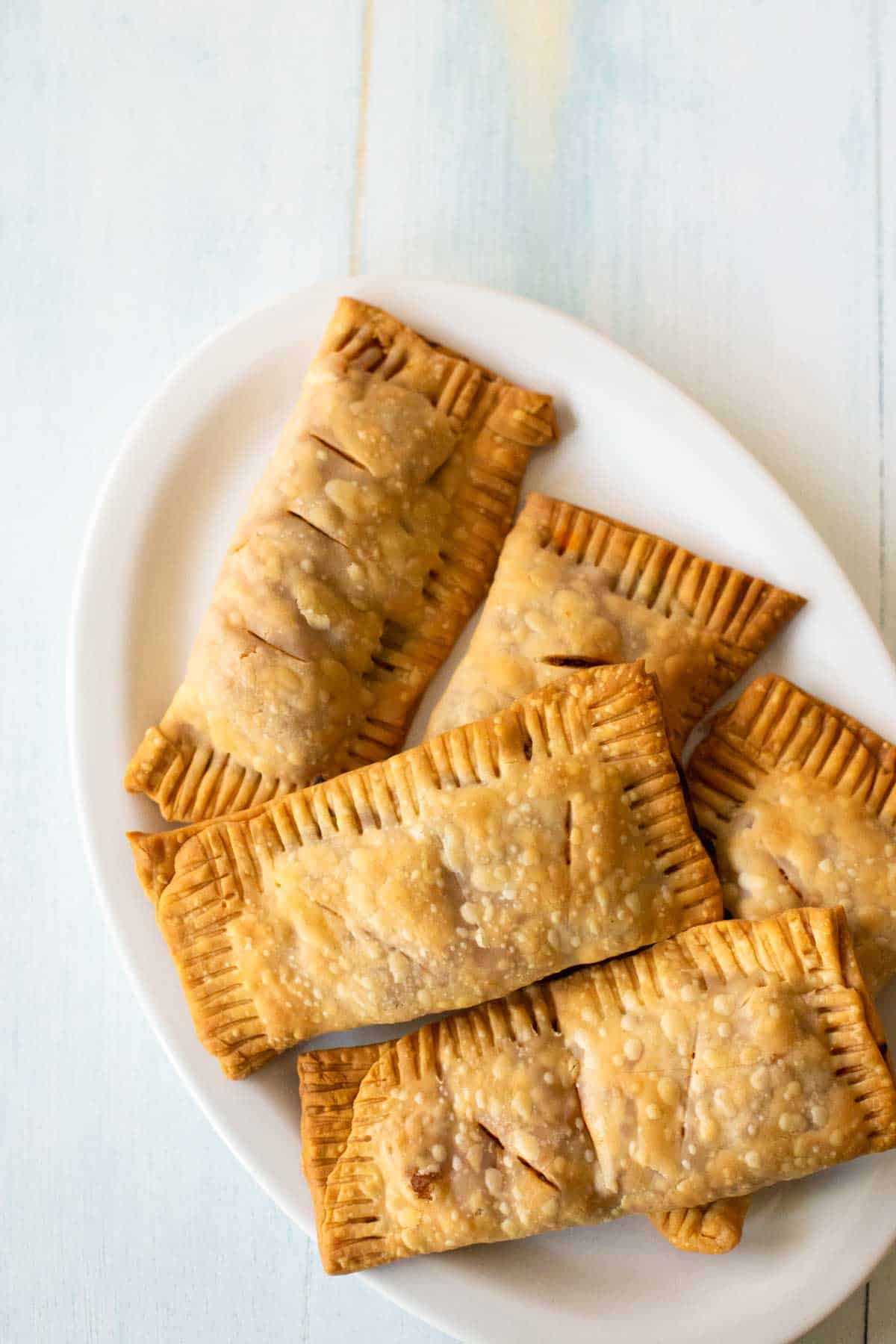 Easy St. Patrick's Day Ideas
Looking for more St. Patrick's Day fun? Check out these simple ideas for celebrating as a family.
If you've tried these Irish beef hand pies or any other recipe on PeanutBlossom.com please don't forget to rate the recipe and let me know where you found it in the comments below. I love hearing from you!
FOLLOW along on Instagram @peanut.blossom as well as on Pinterest and Facebook.